What is "Our Perfect Circles" Novel All About?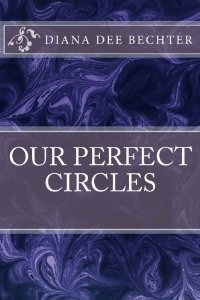 "Our Perfect Circles
" is a newly published sci-fi novel by new-to-the-scene author Diana Dee Bechter. It is a fun read for anyone who craves a suspenseful and entertaining story. There are all kinds of crazy dramatic twists that leave the reader wanting more.
The story takes place in a small old coal-mining town in Western Pennsylvania. The two main characters are Nellie and Lorrie Bach, identical 17 year old twins that are very opposite in personality. Nellie is a carefree innocent teen that loves to ride horses and her sister Lorrie is the rebellious hot 'bad girl' in town.
Just shy from starting their senior year of high school, they begin to notice strange things happening in their town. All of the animals around town are getting restless and acting up, and the twins observe strange white orbs in the night sky. Although the two of them are more or less enemies, they begin to bond and rekindle the closeness they had as children as they set out to investigate the supernatural phenomena occurring in their small town of Easterling, Pennsylvania. They get more than they bargained for when they realize that they have a lot to do with the strange events that are happening, and realize their DNA sequences hold a big secret. Lorrie has been hiding a big secret that may have a lot to do with the kind of person she has become. Things begin to spiral out of control for Lorrie and Nellie gets distracted by a new love. The story builds up to an amazing climatic ending and there is also a shockingly big surprise.
This book will surely intrigue the reader. It is a perfect mix of fun, science-fiction, mystery, and drama. There is a sequel to "Our Perfect Circles" called "Circles Never End" that is currently in the works.
At Amazon, you can purchase "Our Perfect Circles
".
Books
Analysis of The Visionary - A Poem by the Brontes
What is "Our Perfect Circles" All About?
Storytelling in Ireland as Seen in "Reading in the Dark"