Top 15 Colleges in the World That Are Hard to Get Into
Post-secondary education is a competitive world, filled with young adults fighting for GPAs, internships, and job opportunities. The application and admissions process can be a rude awakening to the inherent stresses of college life, when you suffer the disappointment of being denied entrance to your dream school. As you slowly offer yourself over to the resignation of attending your safety school, you can at least know you aren't alone in this pain. But what makes a school difficult to get into in the first place? Sometimes it simply is the acceptance rate. Other times, the students already on campus may have an above average median GPA, or exceptional test scores. Still more are skills based institutions like music schools, where the proficiency of applicants demands a good deal of work to even apply. The colleges below are examples of the extremes of each of these cases, where excellence in learning is overshadowed by the daunting feat of landing that acceptance letter.
North Academic Center, City College of New York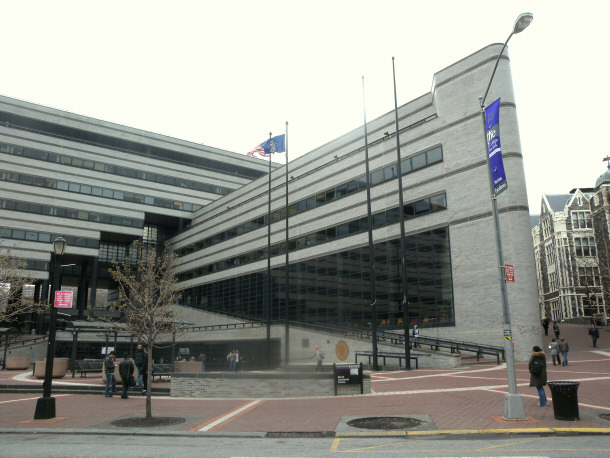 ---
15) Curtis Institute of Music (Philadelphia, Pa.)
Located in the heart of the city of brotherly love, this conservatory is an extremely small and exclusive institution. They have an enrollment of fewer than 180 students, meaning that every selected person will get individualized attention from instructors. This also means that they strive to foster a very tight knit community. As such, they truly make it their duty to see that every student who is accepted succeeds. The school touts that it has a "learn by doing" approach since it was founded in 1924.
Curtis Institute of Music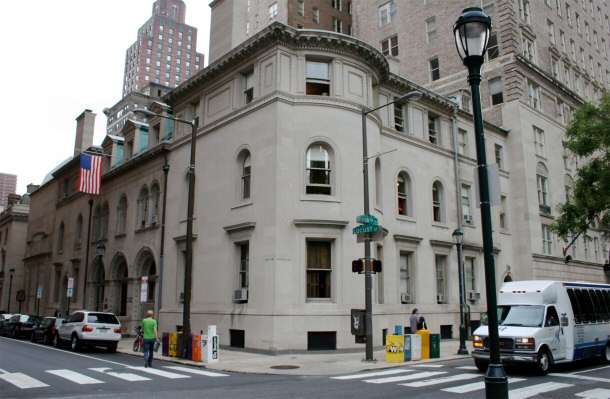 By Alsandro via Wikimedia Commons
The guidelines to getting in are as strict as you would imagine for such an elite school. If they are overloaded with certain musical or artistic types they will refuse to audition them. For example, currently brass and tenor trombones and piano students are not going to be auditioned. The application fee is only $150, which is more expensive than Juilliard, but less expensive than some of the schools listed. The major catch is that you must audition in person; they will not accept any remote applicants.
Lenfest Hall, Curtis Institute of Music

Depending on where you live, the travel alone could be very costly. However, the Curtis Institute of Music provides eligibility to all students for a full tuition scholarship. This way they try to insure that everyone who attends the institution is there on their skill alone.
---
14) The Juilliard School (New York City)
This private conservatory has been around since 1905, and has a well-known reputation for developing many talented musical and dance performers as well as dramatists. Juilliard produces many famous alumni. Past students include Robin Williams and Kevin Spacey.
The Juilliard School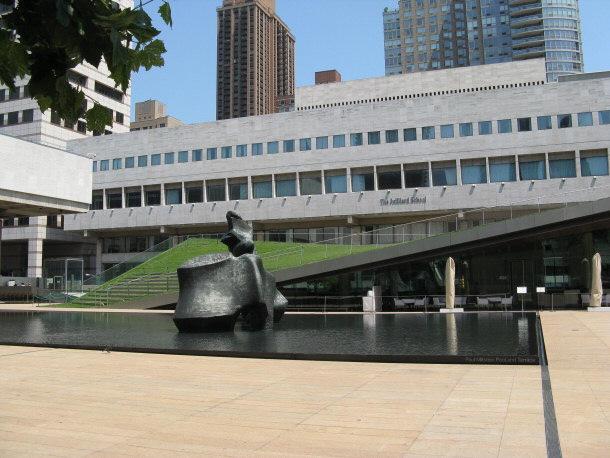 By Yair Haklai via Wikimedia Commons
Its acceptance rate is not much higher than the top universities on this list, but unlike many colleges, class ranking, GPA, and standardized test scores aren't criteria for admission, and only GPA is required for consideration. As a candidate, you are ranked purely on expression of your aptitude to succeed at your intended major—most programs require an audition of some kind.
Julliard Rehearsal Classroom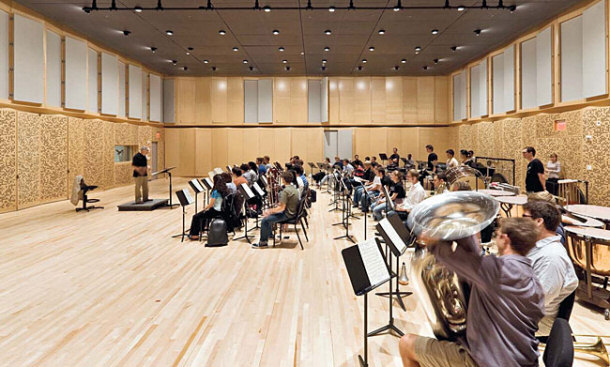 ---
13) United States Military Academy (West Point, N.Y.)
It's going to come to no surprise to anyone that West Point has extremely high standards. This institution is the subject of legends, drama, and even blockbuster movies. West Point graduates are almost guaranteed success. However, West Point has been riddled with controversy and scandal. It is only in recent memory that women were allowed into the institution as students. Even though its doors are open, many say that it is not as inclusive as policy dictates and find it unwelcoming. That coupled with the already intimidating fact that it is West Point adds anxiety to the application process.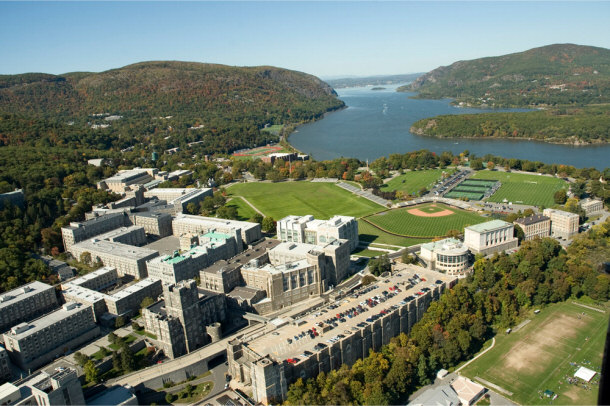 Students must be between the ages of 17 and 23 to apply. They are not allowed to be married, pregnant, or under any obligation to support a child. They must be - with some exceptions - citizens of the United States of America, in addition to all academic and physical requirements. Women and men must complete the same assessments; however women are required to take a self-defense course instead of boxing or wrestling.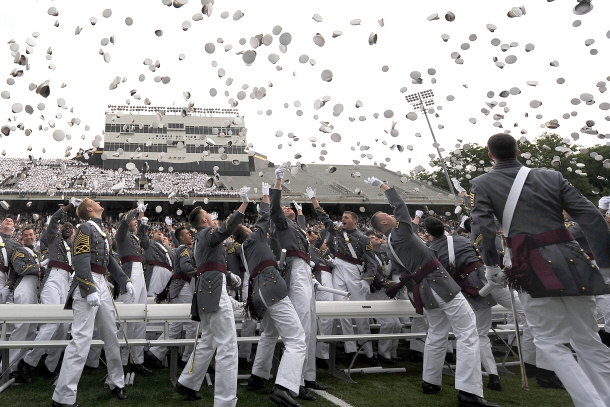 Provided you meet the requirements, you then must get a nomination from a West Point alumni or current faculty to be accepted to the institution. Once you're in West Point, staying in is also difficult. Grades and academic probation alone are not the only things students could do to get in trouble: West Point also claims to have very strict moral codes of conduct as well.
---
12) Cambridge University (Cambridge, England)
Officially recognized in 1231, Cambridge University was originally founded by members of Oxford who fled after a dispute with townsfolk. Over the centuries, the top U.K. universities have kept certain common traditions while finding individual personalities. The university boasts such prestigious alumni as Sir Isaac Newton, and in its history, has produced 89 Nobel Prize winners. Maybe this is why no one complains about its international acceptance rate of two percent. The acceptance rate in general is around 18 percent. One interesting fact about the school's admissions is that a couple of the independent colleges in the university system only admit women. This is because originally, women were not admitted to any of the Cambridge schools, and so these colleges were founded to counteract that. Though males-only is no longer the policy at the university in general, the tradition still remains.
King's College Chapel, Cambridge University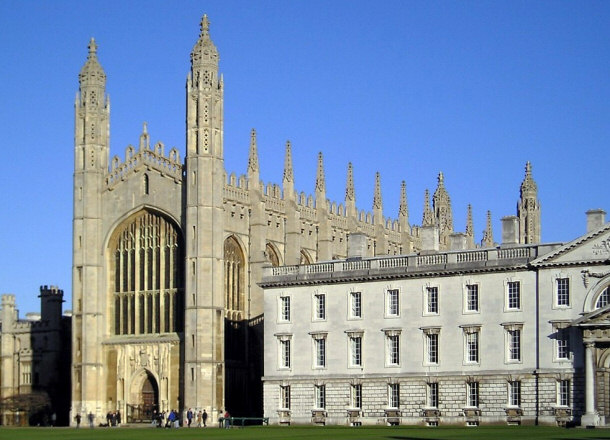 By Christian Richardt via Wikimedia Commons
There are two established science parks on campus. These are used for research and start-ups for student led projects, and have given Cambridge a reputation as technological leaders and innovated globally. Science and engineering aren't the only fields of note here, either, as many alumni of the university are celebrated international artists, athletes and performers.
Donald McIntyre Building, Faculty of Education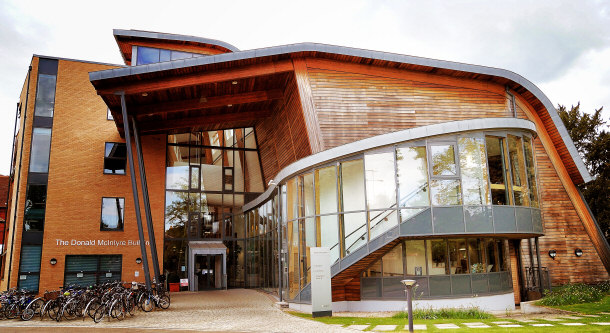 By Kuo via Wikimedia Commons
---
11) Oxford University (Oxford, England)
This collegiate research university is noted for being the home of the prestigious Rhodes Scholarship. It also sponsors the Clarendon Scholarships as well. But if you don't hold either of those, simply attending this school earns you enough of an academic reputation. The school has an acceptance rate of around 18 percent. In 2011, that represented 3,233 students. Within that number, only 189 came from EU countries outside the U.K., and only 349 came from non-European countries. Oxford's nationalistic policies reduce international acceptance rates, then, down to around two percent or less per year.
Aerial View of Oxford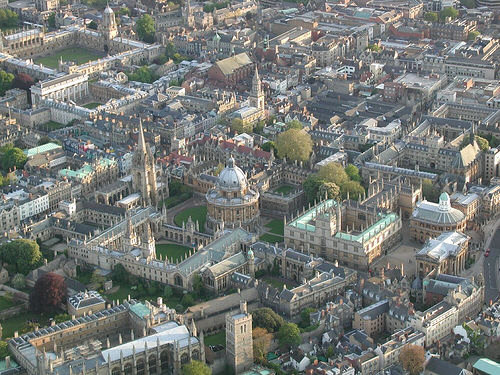 Oxford is made of 39 self-governing colleges that focus students' academic life around programs that provide for all your scholastic needs, including residence halls and study communities that actually take a forefront to the classes, lectures, and laboratories. The idea is that you learn best as a student surrounded by the positive pressure of dedicated peers. As the English-speaking world's oldest confirmed university program, Oxford's methods really can't be argued with. Founded in 1096, the school rapidly expanded roughly a century later when King Henry II banned English students from attending school in Paris, France. From then on, the school maintained a standard of excellence that ensures its only rival in the U.K. is the aforementioned Cambridge.
Radcliffe Camera Viewed from the Tower of the Church of St Mary the Virgin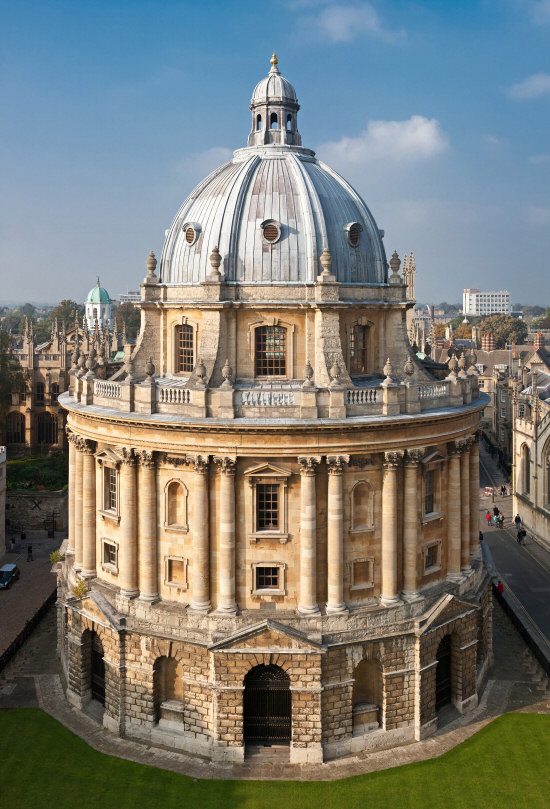 By Diliff via Wikimedia Commons
---
---
10) Peking University (Beijing, China)
Admission to Chinese undergraduate universities depends on your results on the National Higher Education Entrance Examination, or the gaokao. Less than 0.2 percent of gaokao testers will gain admission to China's top five universities, which includes Peking University. The university encompasses 30 colleges across12 departments, and offers 93 separate programs for undergraduates. Emphasis is placed on the basic sciences, with expansion into the applied sciences slowly catching up in recent years. There are 216 research institutes available to graduates and undergraduates, which is part of what maintains this school's reputation as not just a top national but world institution.
Weiming Lake, Peking University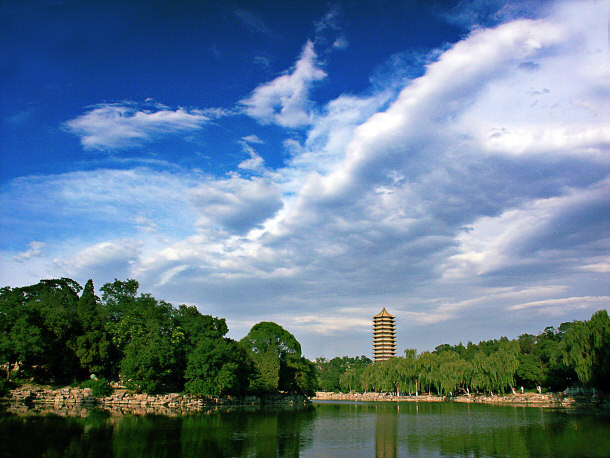 By endeneon via Wikimedia Commons
The school is known for more than its academics and career opportunities as well. The main campus is often referred to as "Yan Yuan" or gardens of Yan. It is located in the Haidan District of western Beijing, by the Yuan Ming gardens and the Summer Palace, an idyllic area of gardens, palaces, and lakes first inhabited by China's emperors during the Jin dynasty. The beauty and history of the area make it the perfect setting for the manifestation of China's modern commitment to education and scholarship.
Peking University Building of Life Sciences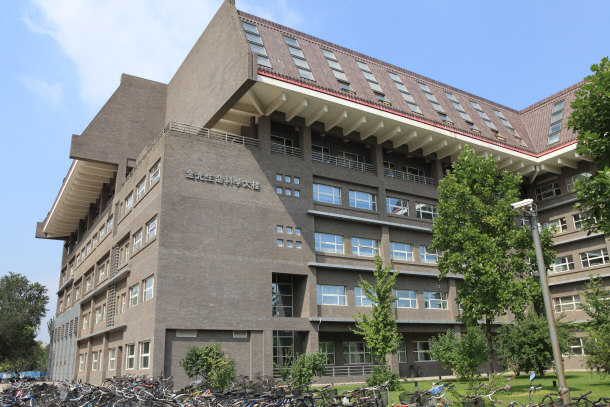 By Jucember via Wikimedia Commons
---
9) National Tsing Hua University (Beijing, China)
This national university isn't far away from Peking University. It is situated on 406 hectares of the imperial grounds of the Qing Dynasty, and boasts a student population of 28,000 students split evenly between graduate and undergraduate majors. The school has been a university since 1925, and became a national school in 1928. The faculty of this university is prolific publishers in SCI, EI and ISTP—well known science journals. Its 155 research institutes are slowly gearing themselves towards commercialization, with Tsing Hua's ultimate goal being becoming an international leader for engineering entrepreneurship. For this reason, the school is sometimes nicknamed "China's MIT."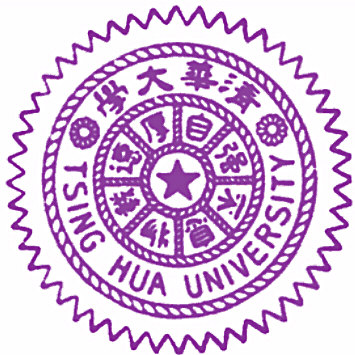 Is Tsing Hua a true competitor for the U.S. institution that also appears on this list? Its $60 million in venture-capital funds and expansive Pioneer Park reserved for research and student innovation seem to think so. But if you compare the 100 technology companies it has spawned thus far to MIT's impressive 5,000 businesses, Tsing Hua has a ways to go. That said, business investors and forecasters feel Tsing Hua's boldness in approaching encouragement of student-led research and development may be a key not just to maintaining the school's elite reputation, but expanding it in the future.
Department of Mathematics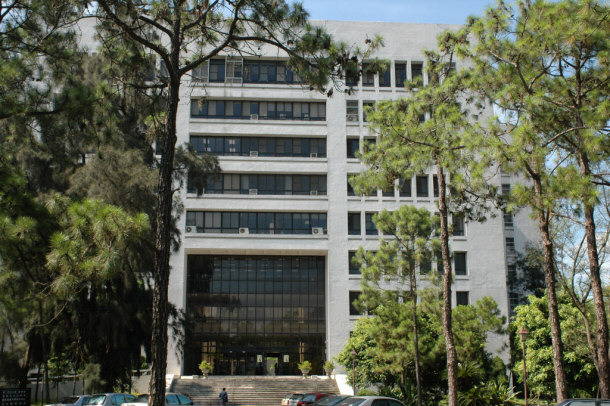 By NIKON CORPORATION via Wikimedia Commons
---
8) Seoul National University (SNU) (Seoul, South Korea)
SNU has expanded over the last six decades, now encompassing 16 colleges and 65 research institutes. Some of its programs boast the world's lowest admissions rates—less than one percent. Overall acceptance rate is about 20 percent for international students, and slightly higher for South Korean citizens. The university is partnered with Samsung and Hyundai to offer top engineering research opportunities. It also excels among business schools, with 55 percent of South Korea's Fortune 500 CEOs being alumni of the school. Half of all lawmakers in the country are from SNU, as well as 88 percent of judges.
Main Gate, Known as the "Sha" Gate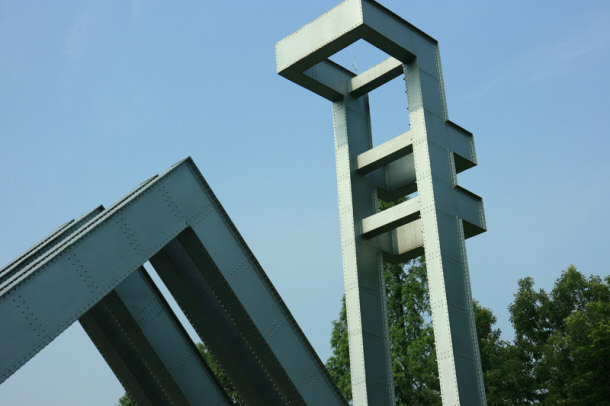 SNU prides itself on staying on the cutting edge, and you can see they are clearly achieving that. The school even offers dual degree programs, allowing students to take one or two years of classes at its Korean campuses, then continue on to earn a dual-degree internationally at the U.S.'s Duke University, France's Essec, or China's Peking University. Once you get there, though, you might not want to leave for other institutions, no matter how elite. The school easily costs one-eighth the price of a comparable U.S. school, and maintains class sizes of 15 to 30 students across its many programs.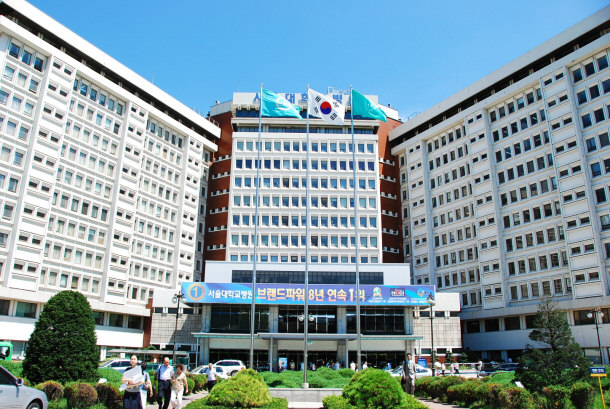 ---
7) Amherst College (Amherst, Mass.)
A member of the prestigious Five Colleges Consortium in Massachusetts, Amherst College takes academics seriously. Students are encouraged to participate in the 100 various organizations on campus, but fraternities have been banned since 1984. The athletics program is one of the oldest in the nation, and stands on a tradition of excellence in its athletes that extends off the field and into the classroom. Its 13 percent acceptance rate shows that the cultural atmosphere at the small liberal arts institution isn't a turn off to students interested in its 33 fields of study.
Amherst College Buildings


With many of its 1800 students living on campus, college life at Amherst is about personal achievement and continual improvement. While retaining many traditions from the past, the college is working at meeting and surpassing modern sustainability standards with a 500 acre land and water wildlife preserve among its holdings. Another unique trait is the prevalence of a cappella singing groups on campus, including the Bluestockings and Route 9. This is just one more reason Amherst College earned the number two ranking in the 2014 edition of Best College's National Liberal Arts Colleges list.
---
6) Pomona College (Claremont, Calif.)
Like Amherst College, Pomona holds an admission rate of 13 percent to control its student population. Enrollment averages around 1600 students, and like many liberal arts colleges, is evenly split between men and women. The small campus is an advantage for students seeking a more personal environment, and greater access to faculty. Over half of Pomona students study abroad at some point in their academic career, and many go on to noteworthy careers.
Harwood Court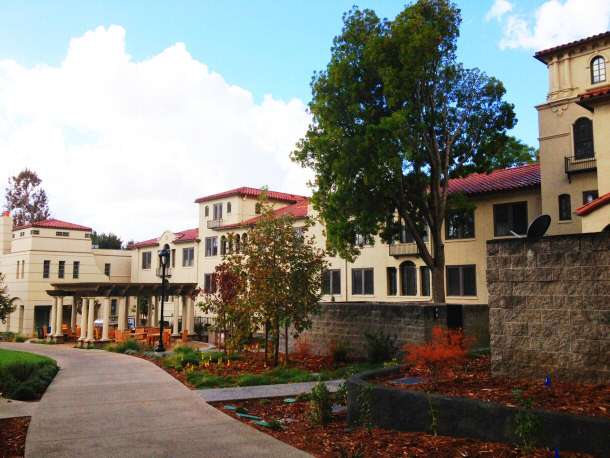 By Nostalgicwisdom via Wikimedia Commons
Located in the San Gabriel Mountains, the college continues the tradition of its founders' vision to give a West Coast answer to the New England LACs. Still, rather than simply filling that mold, Pomona is also unique in its student life, as it is home to a secret club called the "Mulfi" that leave notes dealing in social commentary around campus. The school also hosts an annual Ski-Beach Day, with participating students skiing at a resort in the morning, then traveling down to the beach in the afternoon. Additionally, around 97 percent of students choose to live on campus in one of 14 residence halls, which helps keep the various organizations and events on campus lively and unified. This lends the school popularity as much as its stellar academics.
College Gates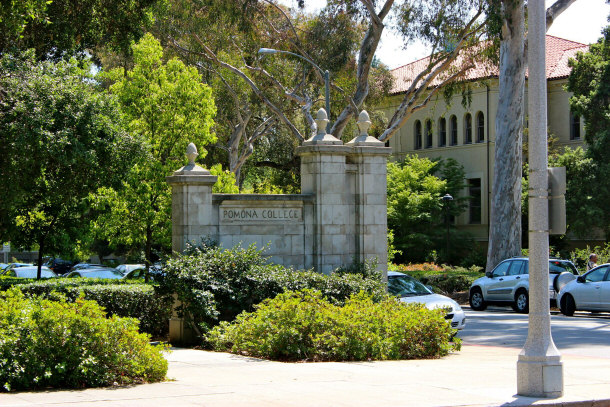 By Officialpomonacollege via Wikimedia Commons
---
5) Yale University (New Haven, Conn.)
Yale is scaling the list of difficult universities to gain admission to. Its early acceptance rate is down below six percent for 2017; current admission is on par with its rival Harvard further up the ranks. Yale's students boast top GPAs and test scores like many of the other Ivy League schools, but it also puts an emphasis on creativity, innovation, and ambition among its students in a way that seeks to break out of the traditional Ivies mold without sacrificing scholarship and tradition. This means the school is already looking for a very narrow type of student.
Yale Old Campus Courtyard



By Jdbrandt from Wikimedia Commons
A former Yale President openly admits the vast majority of students that apply to Yale are more than capable of doing the work required. It is your personality and expression that set you apart as a successful candidate, much more than simple academic rigor. Its alumni network is strong, and its admissions board must have a discerning eye, because many Yale graduates go on to be world leaders. While this strengthens opportunities for future students, it also brings accusations of nepotism on the school that adds an unfair disadvantage for some candidates. It's important to remember, though, that for many competitive schools, the sheer volume of candidates can easily explain admittance hurdles.
"Marble Cube," Yale's Beinecke Rare Books and Manuscripts Library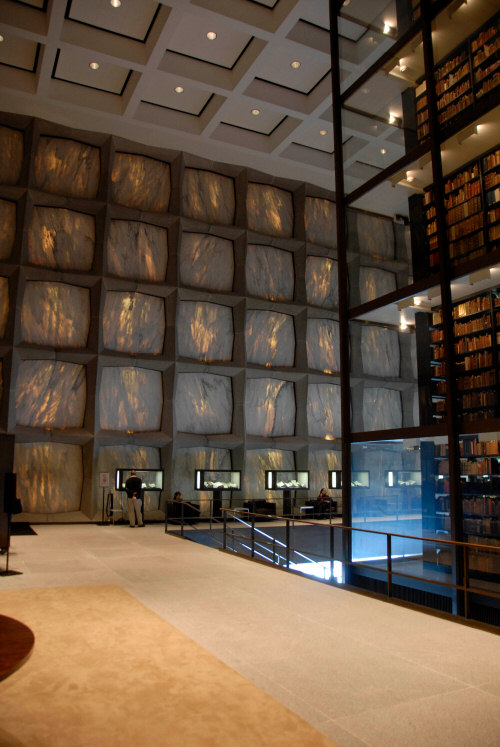 By Jdbrandt from Wikimedia Commons
---
4) Indian Institute of Technology Delhi (New Delhi, India)
With 150,000 candidates on average and only 4,000 slots, this engineering school's acceptance rate of less than 3 percent is actually significantly more daunting than that of the U.S. Ivy Leagues yet to come. Additionally, general admittance is done based on scores from a single test: the Joint Entrance Examination (Advanced) or JEE. If you don't come out with the top percentile in that, you're done, no second chances.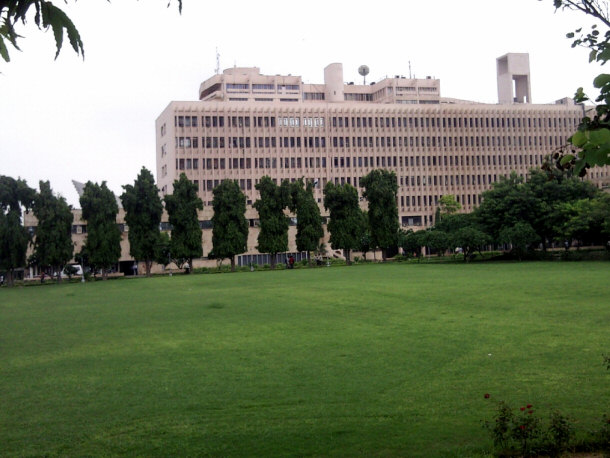 By Simplyme.ananth via Wikimedia Commons
What keeps this from being number one on this list is the fact that certain portions of the available seats each year are reserved for particular categories of students. The school runs an outreach bridging program that helps these key quota students work up to the rigorous academic requirements for admission. On top of this, recently, some general admission students have astonished the public by giving up seats to boycott the IIT of Delhi as well as other IIT campuses. Reasons have included rising costs, loss of confidence in the school, and accusations of unfair admissions practices. The school denies these issues, citing numerous needs based scholarship and financial aid programs, the continued use of the standardized test alone to determine admittance, and the number of graduates who go on to excel at elite graduate programs worldwide. Has IIT lost its competitive edge? That may depend on whether or not you're holding one of those highly prized acceptance letters.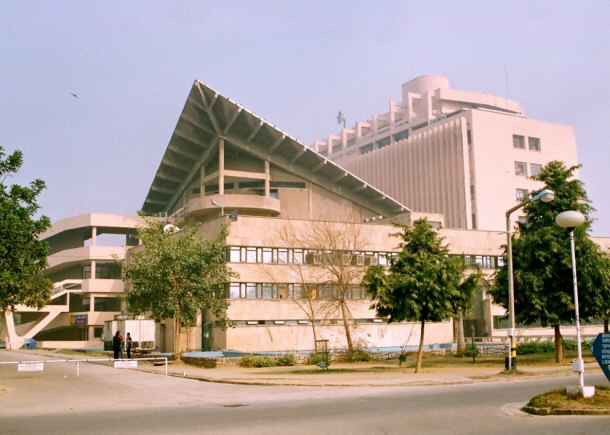 ---
3) California Institute of Technology (Caltech) (Pasadena, Calif.)
Located 11 miles outside of Los Angeles, this small, private institution only enrolls 997 undergraduates, which hopefully makes its acceptance rate of 11.8 percent sound a little more palatable. On the other hand, with a student to faculty ratio of 3:1, classes sizes averaging around 20, and "self-governing" living centers that entice students to live on campus for their entire academic career there, denial to this STEM center might be more bitter than some of the others on this list.
Robert A. Millikan Memorial Library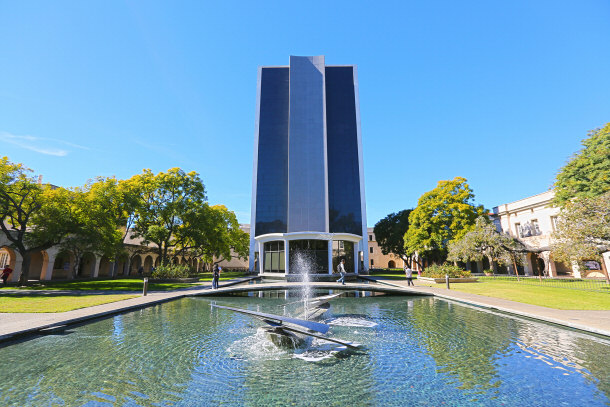 By Canon.vs.nikon via Wikimedia Commons
If you manage to gain acceptance, this top-ranked research institute holds endowments and internship opportunities from NASA, the National Science Foundation and the Department of Health and Human Services. It also encourages entrepreneurship and innovation. Since 1995, its graduates have started over 80 successful companies. Its faculty obtains an average of 180 patents a year. Among its elite alumni are the founders of Hotmail, Intel, and Compaq. Caltech prides itself on reaching out to the best and brightest, and is also competitive on needs-based scholarships and financial aid packages. While it might be a struggle to get in, clearly the effort is well worth it, for the chance to learn from a faculty boasting 32 Nobel prizes among their number.
Walter and Leonore Annenberg Center for Information Science and Technology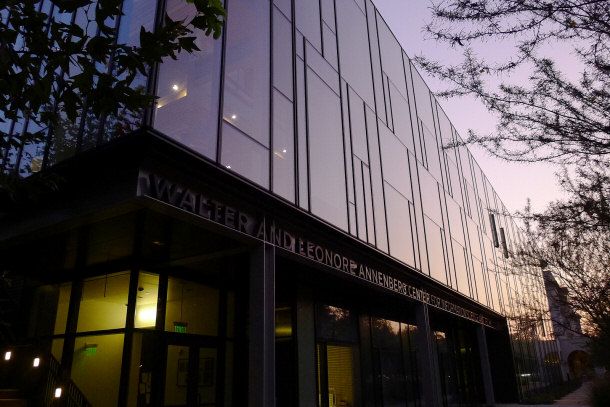 By Canon.vs.nikon via Wikimedia Commons
---
2) Massachusetts Institute of Technology (MIT) (Cambridge, Mass.)
MIT has always been a competitive school, taken in the elite among future scientists, mathematicians, and engineers. But admittance rates have dropped by half in the past ten years, with 2013's 8.2 percent rate the lowest in the history of the school. Nearly 19,000 students applied to MIT, and only about 1500 got in. Of those that did, the median SAT score in math was from 750 to 800—in other words, if you hope to have a shot, your test scores had better be perfect. Particularly because despite the difficulty of admissions, the college saw a five percent rise in applicants from last year to this.
MIT's Building 10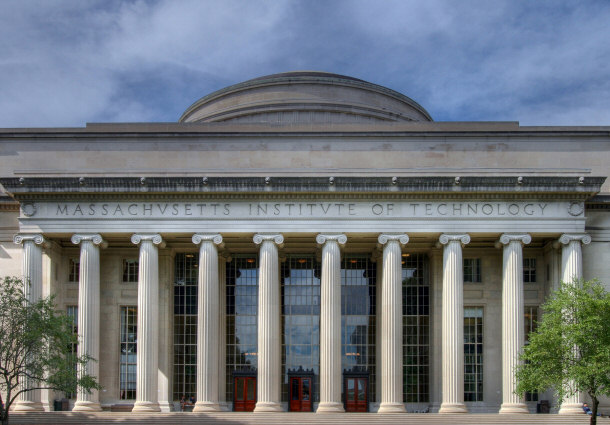 By Madcoverboy via Wikimedia Commons
Like Harvard, MIT is very much a brand among institutions of higher learning. And it's a reputation well-deserved, as the college doesn't just instruct, but fosters a passion in its students for science and engineering. Hands on learning, externships, internships, co-ops, and research projects are heavily encouraged, and the very culture of its campuses is infused with the STEM mindset as a way of life. Acceptance notifications are sent out at 6:28 p.m. on March 14, in honor of the mathematical concept of pi.
Aerial View of MIT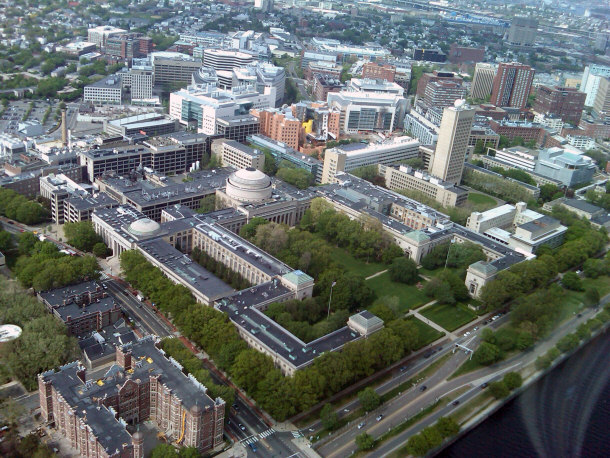 By DrKenneth via Wikimedia Commons
---
1) Harvard University (Cambridge, Mass.)
In the U.S., Harvard University is more than an institution of higher learning: it is a brand and symbol of formal post-secondary education. But the dream of many becomes the reality of only a select few: the university currently has a seven percent acceptance rate—and it's creeping lower. Getting into this elite college takes a long term plan, and even longer preparation. Many parents who aspire to sending children to this place start encouraging them intellectually as toddlers, stressing about even what preparatory kindergarten to send them to.
Harvard Square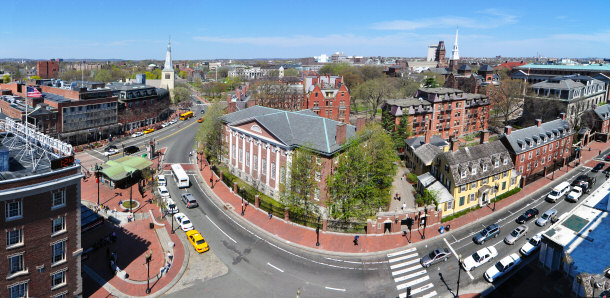 By User:Chensiyuan via Wikimedia Commons
Think that sounds a little preposterous? If you take into account the multidimensional admission criteria and the demands of Harvard students, it might seem less far-fetched an idea to look ahead 13 years or more. Not only does a prospective student have to have a strong GPA and top test scores from high school, but extracurricular participation and leadership skills must be demonstrated as well. Many students are screened out with basic applications, and even legacies are now required to go through a second round admissions interview with a representative of the school. Having the privilege of attending Harvard takes one part preparation, one part dedication, and two parts sheer luck.
Harvard Medical School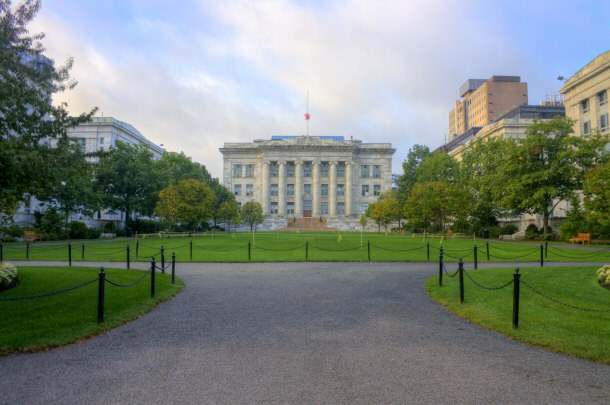 By SBAmin via Wikimedia Commons
---
Conclusion
Some students thrive on the competiveness of college, honing their intellectual and personal skills to fulfill long-schemed ambitions and become leaders. Others buckle under pressure and leave for a different path in life. Many take a middle road, managing a way through and discovering themselves as they go. Whether you choose to throw your hat in the ring for one of these prestigious institutions or opt for a sound but more realistic bid at a school with less rigid admissions, college is the experience you make it. Anyone can succeed anywhere, if you are willing to put in the work and keep your eyes peeled for opportunities.
College
Top 15 Colleges for Learning Computer Science
Top 15 Colleges in the World That Are Hard to Get Into
Top 15 Ways to Make Money in College
Top 10 College Time Wasters
15 Crazy College Courses Undertaken
Older and Wiser: 7 Reasons Why College is a Great Fit
Ways to Survive Freshman College Year
What Can I Do With a Degree in Science?