Older and Wiser: 7 Reasons Why College is a Great Fit for Older Students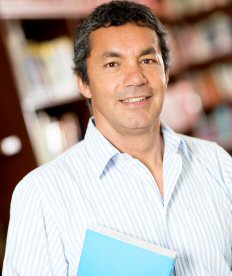 The last time you stepped into a classroom, you were battling a stubborn outbreak of acne, the brown bag lunch in your locker was stolen, and you were content with a "D" on your final English exam. When you walked across the stage at graduation, you were done with the banal halls of education. You thumbed your nose at higher learning. Or, maybe, college was just beyond your reach for more noble reasons.
You entered the workforce taking a minimum wage job, worked your way up the chain of command, earned greater responsibilities and higher pay. No matter your efforts, however, you struggled to get ahead. Opportunities outside of work, and within, slipped through your fingers because you were lacking a simple document that catapulted someone else into the position of your desire. You were missing a college degree.
You have considered going back to school, but feel you are too old. You are out of practice or too intimidated to seriously consider a return.
Here are 7 reasons why it is time to change your mind.
You are not alone.
If you are stuck in the antiquated mindset that college is for fresh-faced teenagers straight out of high school, toss those beliefs to the curb, and take another look. The number of non-traditional students is on the rise. According to the National Center for Education Statistics there are 17.6 million undergraduates. Thirty-eight percent of those enrolled in higher education are over the age of 25. Non-traditional students include single moms, older students, adults looking to change careers, or any other situation not recognized as the traditional path. In today's college environment, you will find a diverse population of traditional and non-traditional students alike. Older students will have no trouble finding classmates close to their age. This is particularly true for general education requirements such as English, College Algebra and History. As you begin to take upper-level courses, same-aged peers may thin out, but by then, you will have already proven college is exactly where you belong.

Colleges offer flexibility.
As technology and student needs have evolved, so have college offerings. Many classes can be taken in the evenings and weekends to accommodate working schedules. Through on-line courses and distance learning, many requirements can be met while never having to commute to a physical campus. Additionally, colleges have developed satellite campuses in various cities in the same region. Satellite campuses or branch campuses are detached from the main university and offer accessibility to a larger number of students. Finally, intercession courses, and block courses are available as well. These courses generally require longer days, or more days in class per week, but can be completed in fewer weeks that traditional courses.

Colleges provide options besides degrees.
The traditional paths of two- and four-year degrees are no longer the only options provided at college campuses. Today, it is possible to receive training and certification in a variety of occupations such as accounting, biotechnology and pharmacy technician without investing money in general education requirements. Certifications take less time to earn than do degrees, are far less costly and open occupational doors that would otherwise remain closed. In some cases, employers are willing to foot the cost for certification. Check with yours.

Real life is credit worthy.
Surprise! You have lived your life! In some distance learning programs, life experiences can pave the way to credits earned. Perhaps you have lived overseas while mastering a second language such as Japanese or German. Or you have been trained at work in Microsoft Office, fully understanding all of its applications. Potentially, you could earn credits without taking a traditional class.
To find out if life experience qualifies as earned credits, send in your transcripts as well as a description of your life experience. After evaluation, the college will help you design a plan to earn a diploma. This plan will include exams, demonstrating your life experience knowledge, and completing additional coursework.
Tips on choosing a program in distance learning:
Make certain the program is regionally accredited and recognized by both the United States Department of Education (USDE) and the Council for Higher Education Accreditation (CHEA). Most brick-and-mortar universities receive the same accreditation.

Contact the school's guidance office for direction in applying for credit.

Provide a portfolio, upon request, that proves experience. The portfolio should include resumes, job descriptions, work samples, references, certificates and awards.
Before choosing this distance learning, research it well. If you are promised a degree based entirely on real life experiences, you are likely dealing with a non-reputable entity designed to churn out easily attained diplomas. These diplomas will hold no value in the eyes of employers.
Earning potential is increased.
Georgetown's Center on Education and the Workforce estimates college graduates with a bachelor's degree earn 84% more over their lifetime than do high school graduates. Unless you are one of the lucky few, how hard you work will not be reflected in returned income if you have not obtained a degree.
To better illustrate why, suppose a group of five men agree to race one another. Four of the men come equipped with high tech shoes, spandex attire and a personal coach who has trained them for the last 4 years. The fifth man shows up in loose fitting shorts and t-shirt, canvas shoes and a bag full of donuts. When the whistle blows, although it is possible, it is unlikely the fifth man will win the race. The odds are stacked against him. Despite being willing to participate, he is unprepared. He is lacking the proper equipment and training.
Improving your earning potential is no different. Up until now, you have been willing to run the race, but you have not been fully prepared. The odds have been against you. You are competing with colleagues who are better trained and better equipped. You have survived this long with few skills and fewer opportunities. Imagine the potential of earnings when a degree shifts the odds in your favor.
Education builds confidence.
Going to college can be a scary proposition no matter who you are. For first time entrants, regardless of age, doubts can creep in. For others who have some college experience, re-entering college can be equally intimidating. Anxiety is natural. It is also fleeting. With each college credit earned, you will have tangible evidence of accomplishment. Along with meeting educational requirements, interpersonal, speaking and management skills will be strengthened. Your confidence will build. Remember, adult students are often the best students. Motivated by real world experience, adult students set the standard in the classroom.

You deserve the same success as your peers.
If you feel you have not lived up to your potential, it is easy to compare your achievements with your current circle of friends as well as people from your past. It takes one high school reunion to magnify the gap between classmates who went to college and those who opted for a direct entrance into the workforce. It might cause you to question skipping college altogether. You might wonder, "Is it too late?"
The opportunity to attend college has no expiration date. It is never too late. If anyone deserves an education, a more secure future and occupational opportunities, it is you.
Conclusion
Earning a degree can open so many doors for the non-traditional student. Now more than ever, colleges are adapting their curriculum and class structure to accommodate students who require greater flexibility. If you want to change fields, enter college as a first-time student or earn those last few credits that will secure a degree, what are you waiting for? College is a great fit for you!
College
Top 15 Colleges for Learning Computer Science
Top 15 Colleges in the World That Are Hard to Get Into
Top 15 Ways to Make Money in College
Top 10 College Time Wasters
15 Crazy College Courses Undertaken
Older and Wiser: 7 Reasons Why College is a Great Fit
Ways to Survive Freshman College Year
What Can I Do With a Degree in Science?