Top 15 Best Rides and Roller Coasters at Cedar Point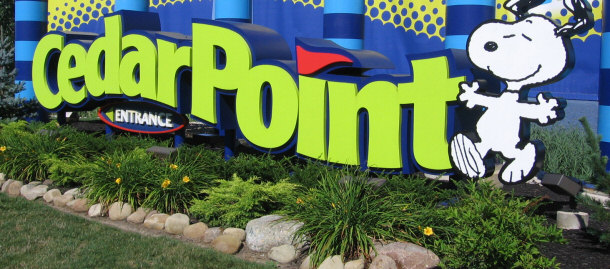 Cedar Point is truly a rollercoaster lover's dream destination. Cedar Point has gained international notoriety as the park houses the largest collection of record-breaking roller coasters on the planet. Featured thrill rides at the park include Top Thrill Dragster, Millennium Force, and GateKeeper. All of the recent buzz surrounding Cedar Point makes many park-goers forget that Cedar Point has been open for more than 145 seasons, first opening its gates in 1870. Located in Sandusky, OH, Cedar Point covers the 364 acres of the Cedar Point Peninsula which protrudes into Lake Erie.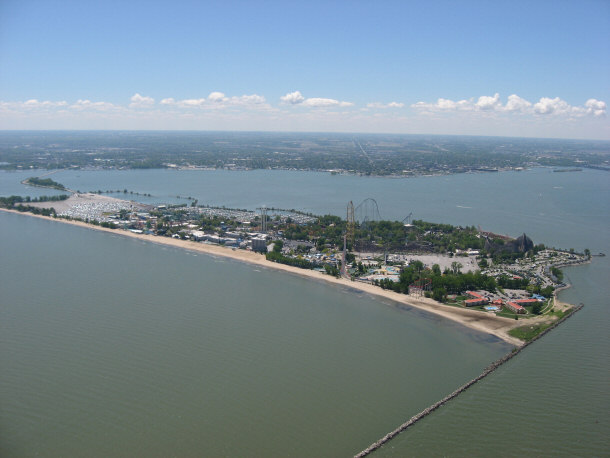 The park boasts more than 150 rides, shows, and attractions and was voted "Best Amusement Park in the World" for 16 consecutive years by the readers of Amusement Today. Cedar Point offers guests 72 rides, 17 of which are roller coasters making Cedar Point truly the "Roller Coaster Capital of the World." It is the only one in the world that has four roller coasters taller than 61 meters and is the only park in the world that can claim having roller coasters in all four international height classifications.
Cedar Point's Giga Coaster Millennium Force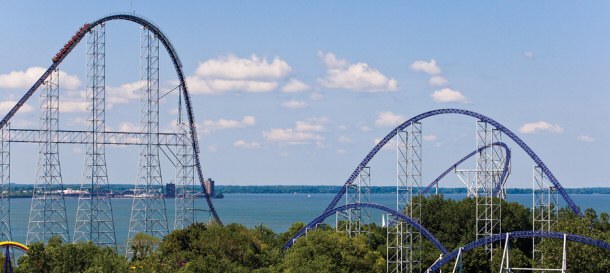 The four major classifications are Kiddie, Hyper, Giga, and Strata. Kiddie is any coaster smaller than 25 feet. A Hyper Coaster is a coaster with a drop ranging from 200 feet to 299 feet. A Giga Coaster is one with a drop height ranging from 300 feet to 399 feet. Lastly, a Strata Coaster refers one with a height of more than 400 feet. Let's take a closer look at some specific rides at Cedar Point that help to position the park as having one of the best collections on the planet. As Cedar Point has been steadily earning a reputation as catering mostly to thrill seekers due to the vast popularity of its record-breaking roller coasters, Cedar Fare (Cedar Point management) has attributed a rating system based on the severity of each ride and attraction that was modeled after alpine ratings. Representing green circle all the way to double black diamond, each ride has a numerical rating between 1 and 5.
---
15) Mine Ride
The Cedar Creek Mine Ride opened in 1969 and is Cedar Point's second oldest operating coaster. This ride offers an experience that just about anyone will feel comfortable riding. The height requirement is 48" and the top speed is 40 mph. The ride is a perfect addition to Frontiertown which is gold rush boom town inspired section of the park located towards the absolute center of the park. The Cedar Creek Mine Ride gives guests the sensation that they are passengers aboard a runaway mine train, only increasing the thrill level as carts shoot in and out of steel track sections that look as if they were carelessly placed on decrepit train trusses. The ride's total duration is 2 minutes on the nose. Cedar Point has given this ride a thrill rating of 4.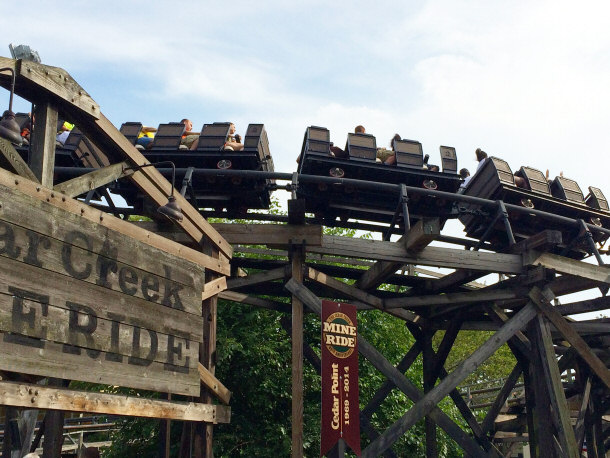 By Gregory Varnum via Wikimedia Commons
The ride is composed of an initial lift hill with a 48 foot drop, a tunnel, sections that are bridged over watery lagoon sections, and a signature helix whirlwind at the finish. The ride is better known as the Mine Ride, and it features mine train carts on a steel railway that twists and turns, rapidly descending and ascending. This is one of two roller coasters in the theme park that has two separate lift hills, and was originally manufactured by Arrow Dynamics.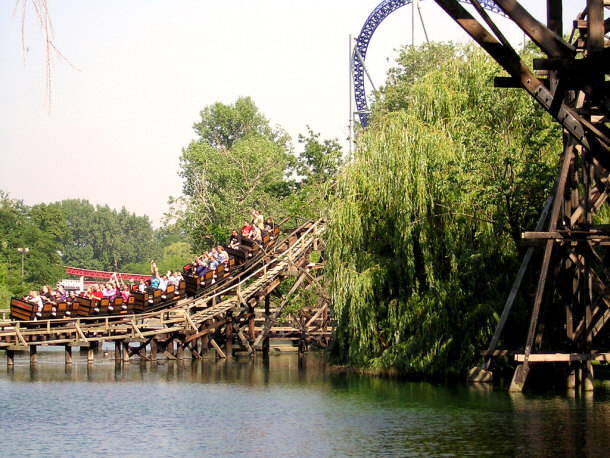 By Chris Hagerman via Wikimedia Commons
---
14) Top Thrill Dragster
The Top Thrill Dragster is one of only two Strata Coasters currently in existence and is every thrill-chaser's fantasy. The height requirement is 52" and it is one of the shortest thrill rides in the park with a total duration of only 17 seconds. The coaster was manufactured by Intamin, AG and was designed to give guests the sensation that they are along for the ride in a top-fuel drag racing car. The ride even has a starting light tree that it runs through just as is done at the race track, then once it reaches green passengers are blasted into the sky. Cedar Point gives Top Thrill Dragster a thrill rating of 5.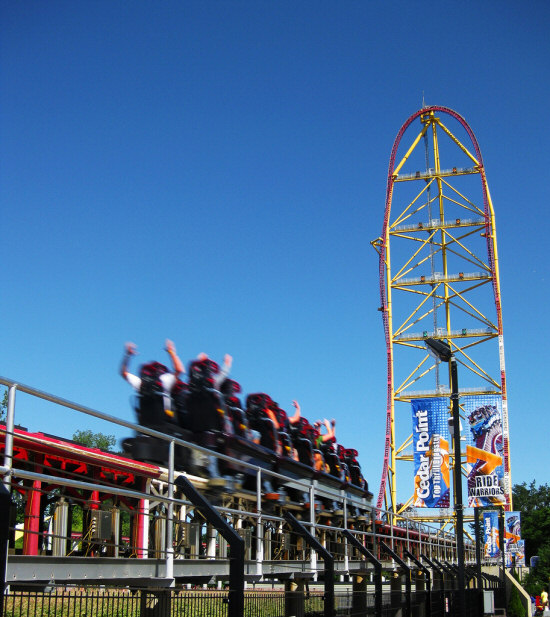 By Craig Lloyd via Wikimedia Commons
Built in 2003, it was the first full circuit roller coaster to exceed 400 feet in height. The ride rapidly accelerates guests from zero to 120 mph in less than 4 seconds, making it the fastest coaster in the park. Nothing else compares to this incredible roller coaster in the whole theme park, especially if speed is what you seek. What the Top Thrill Dragster lacks in duration, twists and turns, it makes up for in sheer thrill. Only get on board if you're prepared for a quick, jolty start and a face-melting, speedy experience!
---
13) Maverick
The Maverick roller coaster has been operating since May 2007 and was manufactured by IntaRide, LLC. The height requirement is 52" and the Maverick cost $21 million to complete. Total ride duration is 2 minutes, 30 seconds and has a top speed of 70 mph. The Maverick's objective is to give guests thrills beyond just tall drops and top speed. Riders can look forward to a ride that has just about as many twists, turns, and airtime as a rodeo. The Maverick also has a thrill rating of 5.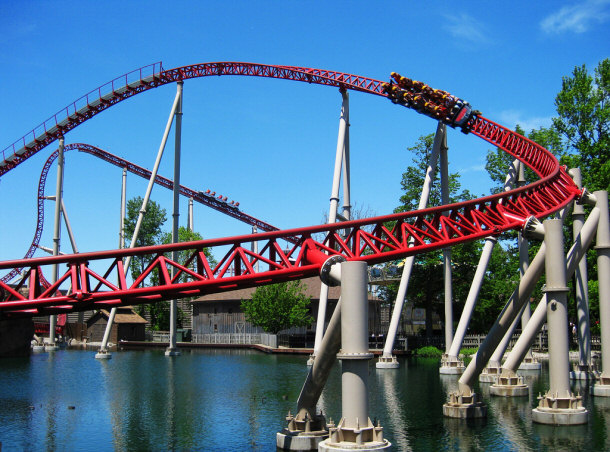 By cra1gll0yd via Wikimedia Commons
The coaster has a capacity of 1,200 people per hour and its biggest drop measuring 100 feet. The maximum vertical angle is 95 degrees, and the Maverick pushes guests through a twisted horseshoe roll. The ride begins with a 400-foot-long speed launch through a pitch black tunnel.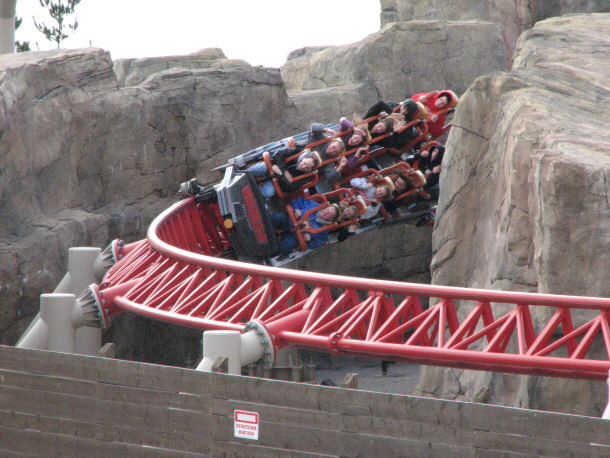 By rollercoasterphilosophy via Wikimedia Commons
---
12) Blue Streak
Blue Streak has its own unique charm given that its the oldest roller coaster in the entire park. Constructed in 1964 by the Philadelphia Toboggan Company, the Blue Streak's height requirement is 48" and total ride duration is 1 minute, 45 seconds. Guests can look forward to the old-world charm of a rickety wooden roller coaster that reaches a top speed of 40 mph. Cedar Point gives the Blue Streak a thrill rating of 4.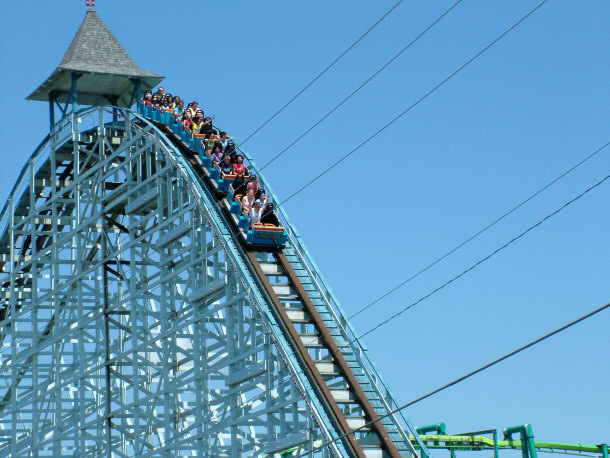 By Stratosphere via Wikimedia Commons
As the coaster ages, maintenance must be continually performed on the track and wooden trusses to ensure many more years of safe operation. The Blue Streak's initial lift hill has a height of 78 feet and the ride has a traditional out and back layout. The Blue Streak in spite of its age, continues to be a park favorite for many visitors. Guests appreciate an almost nostalgic riding experience that also includes great although quite brief, views of other major park attractions.
---
11) Gemini
The Gemini roller coaster is a racing roller coater meaning that there are two trains that run side-by-side, along parallel steel tracks, built on a wooden structure. The Gemini was built in 1978 by Arrow Dynamics and has a 48" height requirement and a top speed of 60 mph. The ride's total duration is 2 minutes, 20 seconds. Cedar Point's thrill rating for the Gemini is a 5.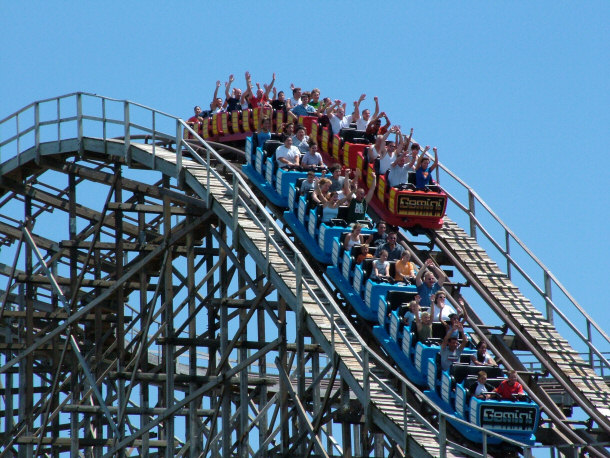 By Nick Nolte via Wikimedia Commons
Guests race against drops, twists, turns, lots of airtime and fantastic climaxing corkscrew turns all while racing towards the finish line. The initial lift hill measures 118 feet and guests plummet downward at a 55-degree angle.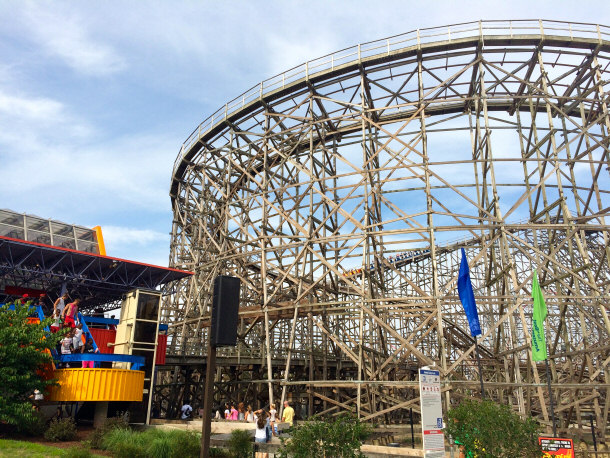 By Gregory Varnum via Wikimedia Commons
---
---
10) Magnum XL-200
The Magnum XL-200 is best known as just the 'Magnum' and was manufactured by Arrow Dynamics in 1989. The Magnum was the world's first hyper coaster as well as the tallest, fastest, and steepest roller coaster around. The Magnum gives guests beautiful views of Lake Erie along a surprisingly bumpy, 2 minute flat ride. Top speeds aboard the Magnum reach 72 mph and riders must be 48" tall to ride this icon of the roller coaster universe. The Magnum's thrill rating is 5.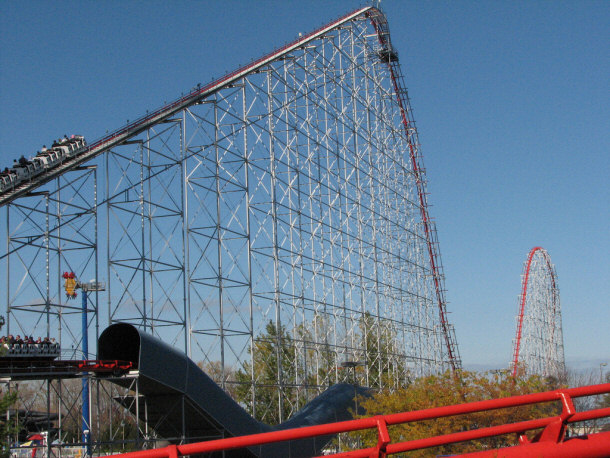 By a_d_y_a via Wikimedia Commons
The Magnum XL's first hill is 200 feet tall and because of its proximity to the northern shoreline, on a clear day you can see all the way to Canada! This makes the Magnum particularly exciting and well worth the wait which can exceed 2 hours during peak operating points of the season.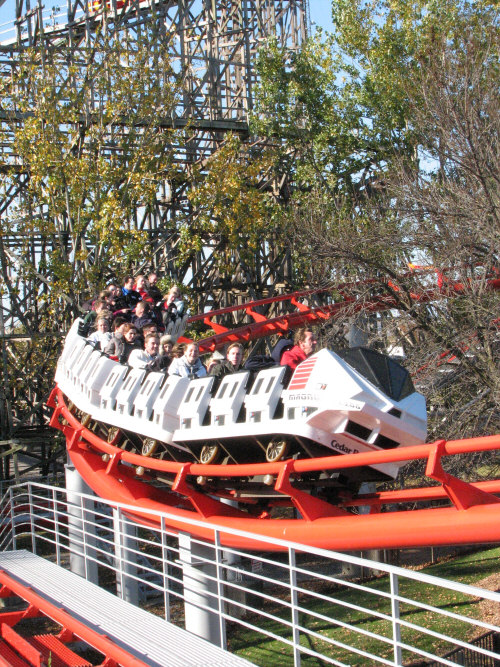 By Jeremy Thompson via Wikimedia Commons
Accelerating extremely quickly down the first steep hill the cars reach maximum velocity, firing the cars over a number of bumps and hills. Three thrilling tunnels that include abrupt drops that seem to cut it so close to the roof, decapitation seems possible. It also features its famous 'pretzel' turn that along with a bumpy as well as exhilarating ride, showcases beautifully scenic views of the shoreline.
---
9) GateKeeper
Cedar Point's latest attraction rises high above the front gate as if it had been there all along. Gatekeeper is a full-circuit wing coaster that rapidly shoots guests through two keyholes, situated on adjacent columns that rise above Cedar Point's front gate. GateKeeper's addition to Cedar Point's rollercoaster inventory allowed for 7 more world records to be claimed. GateKeeper is the longest wing coaster, fastest non-launched wing coaster, has the tallest inversion on any roller coaster (170 feet), the longest drop on a wing coaster (164 feet), and the most inversions on a wing coaster (6). GateKeeper also means that Cedar Point now has the most roller coaster track at one park (56,702 feet) and the most rides at one park (72). GateKeeper's duration is 2 minutes, 20 seconds and reaches a top speed of 67 mph. Cedar points thrill rates GateKeeper as a 5.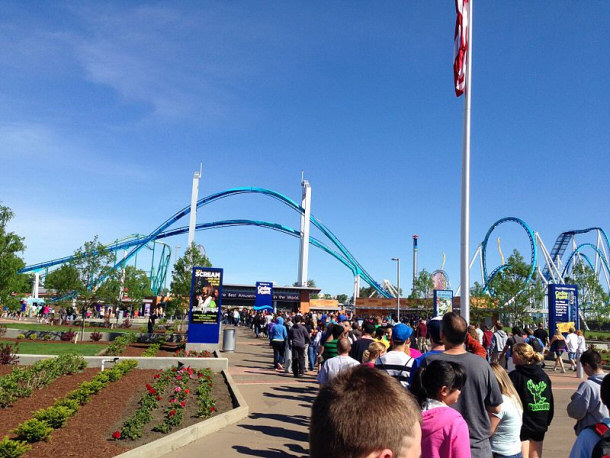 By Martin Lewison via Wikimedia Commons
The winged goliath was manufactured by Bolliger & Mabillard and has a lift hill that stands 170 feet above the ground. Riders can look forward to an unabated flight experience that pushes thrills and adrenaline to new levels as riders shoot through GateKeeper's two keyholes. Very close proximity to these modern obstacles only increases the ride's intensity and GateKeeper also gives riders a great opportunity to look down on the park's entrance. GateKeeper cost $30 million in total investment to bring to life but the money was well spent as approximately 1.9 million guest rode it during the 2014 season, and GateKepper is the most ridden coaster in the park. While visiting Cedar Point make sure to ride this ride first because it has a curious ability to give visitors a great perception of how the park's rides are organized. While flying around like superman, see if you can get a plan together as far as what you plan to ride and in what order and then see if you can even remember it after the ride is over.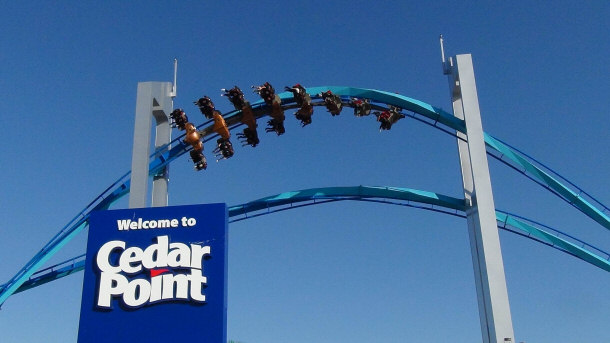 ---
8) Mean Streak
The Mean Streak was built in 1991 and was constructed by the Dinn Corporation. It took 1.7 million board feet of southern yellow pine to build this wooden monstrosity. The track system is so extensive that it takes maintenance personnel literally days to walk the tracks and inspect the trusses, as its performed in sections. Riders will enjoy a thrilling chase through twisting and turning wooden structures and a total ride duration of 2 minutes, 45 seconds. Riders must be 48" to ride the Mean Streak. Speeds aboard this wooden beauty top out at 65 mph. Mean Streak's thrill rating is a 5.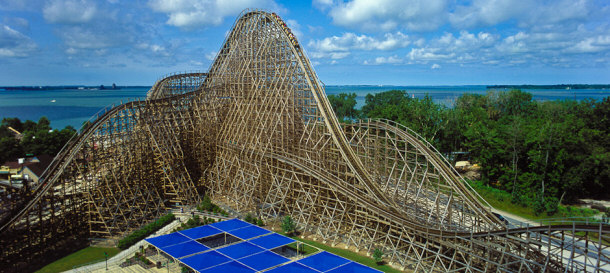 Mean Streak has a 161-foot-tall first hill that preps riders for the more than 5,400 feet of track that lies ahead of them. The roller coaster has been re-tracked a number of times, and many sections were totally replaced before 2012, instead of just being refurbished or fixed. The only other wooden coaster in North American that even comes close to this baby is The Beast at King's Island which actually has two giant lift hills.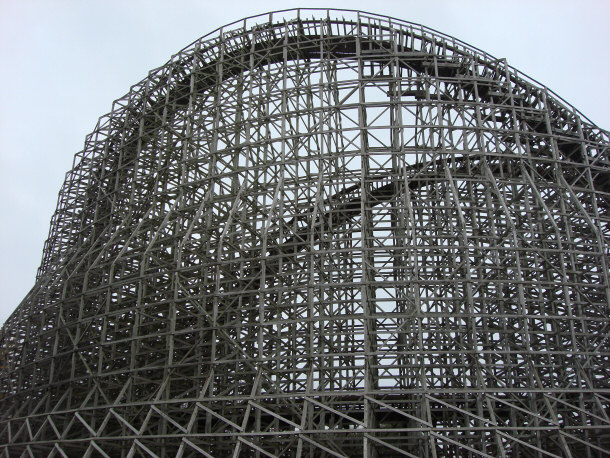 By Cmedinger via Wikimedia Commons
---
7) Wicked Twister
The Wicked Twister is a second generation steel inverted impulse roller coaster, and stands as the tallest and fasted inverted roller coaster in the world. It was opened to the public in 2002 and was constructed by Intamin, AG. Wicked Twister cost 9 million dollar roller to manufacture, and only has a ride time that lasts 40 seconds. The upside of a short ride cycle time is that many more guests can ride it, but only guests who are over 52" tall may ride it. Guests reach a top speed of 72 mph while aboard Wicked Twister. Wicked Twister's thrill rating is a 5.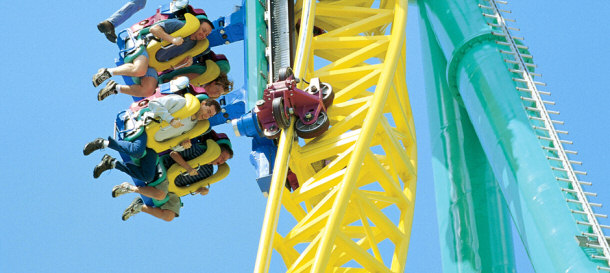 The roller coaster has one of the largest drops in the theme park, at 206 feet, and Wicked Twister is anything but an ordinary coaster. Classified as double-twisting impulse coaster, guests are rolled around in intense 450 degree spirals positioned at each end of the ride.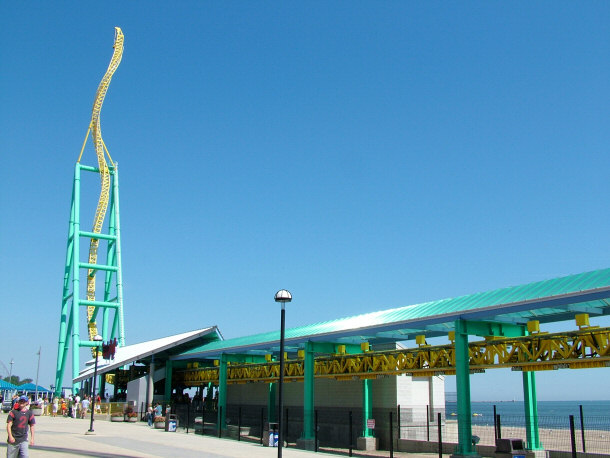 By Stratosphere via Wikimedia Commons
---
6) Raptor
The Raptor is the famous inverted roller coaster at Cedar Point where guests get to "kick the sky". Intense barrel rolls and rapid acceleration along its smooth, steel tracks gives guests the sensation that they are inside the cockpit of a fighter jet. Built in 1994 with a price tag of nearly $12 million, Raptor was certainly worth every penny as it has become an extremely popular park attraction. The Raptor was manufactured by Bolliger and Mabillard. The raptor runs through a cobra loop, barrel rolls, and hard G rolls. Top speeds reach 57 mph. The total ride duration is 2 minutes and guest must be 54" to ride the Raptor. The thrill rating for the Raptor is a 5.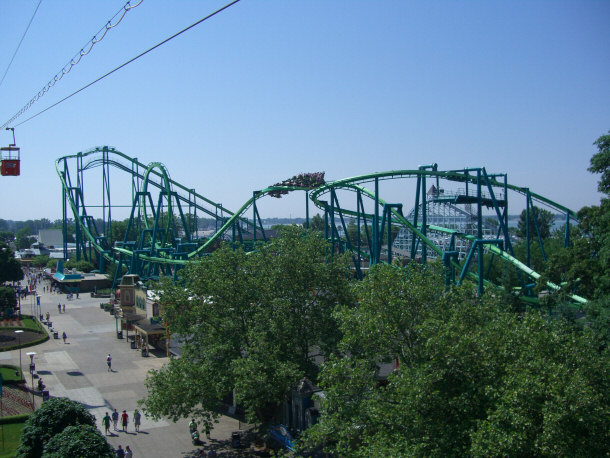 By Coasterman1234 via Wikimedia Commons
You really do feel like you're riding the Raptor, and you'll be turned upside down a total of six times throughout the ride, before you are returned to the station. The now famous slogan 'There goes the floor and you're out the door. Enjoy your ride on Raptor!' is played through the speakers as you are dragged from your feet and sent speeding round the track. A large platform propelled by hydraulics drops below, leaving guests without anything under the feet except exhilarating views of the ground and sky spinning around them.
Raptor's Infamous Cobra Loop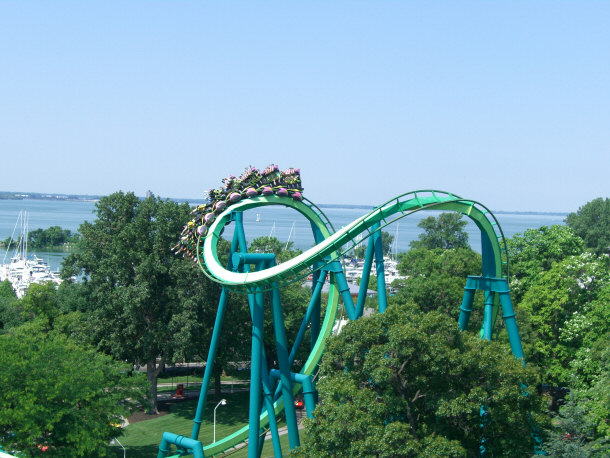 By Coasterman1234 via Wikimedia Commons
---
5) Mantis/Rougarou
The Mantis roller coaster is a seriously 'out there' kind of coaster, and the only one of its kind in Cedar Point. With this ride, you'll be standing up! The coaster is known as the Mantis because there are simply no seats, and all passengers stand like a mantis as they climb the incredible height of this Bolliger and Mabillard roller coaster. Current plans call for a revamping of the Mantis with scheduled updates including a new paint job and new station house. Due to these renovations the Mantis is currently closed and the new ride will be called Rougarou.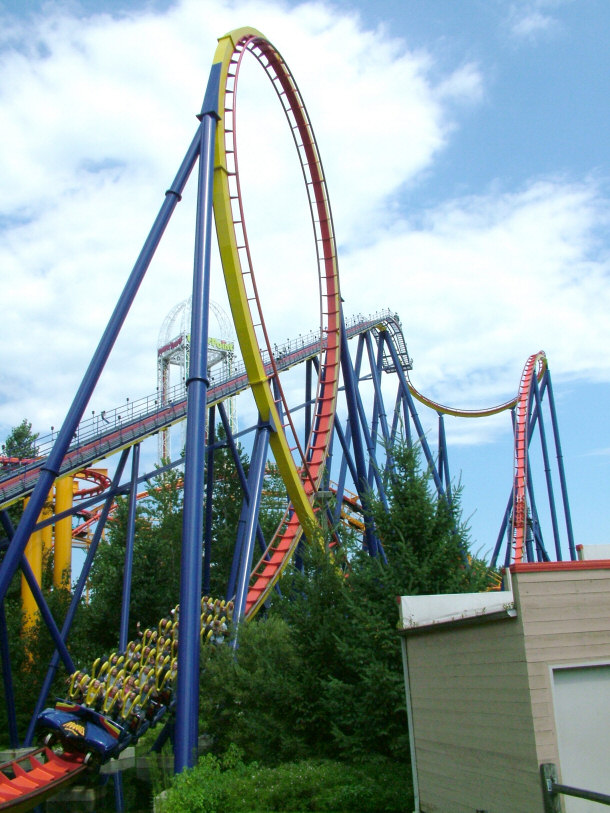 By Stratosphere via Wikimedia Commons
The ride takes you up a higher 145 feet, and then dives you straight back down through a 119 foot loop, all while you stand up, strapped into the roller coaster train.
---
4) Iron Dragon
The Iron Dragon has been operating since 1987 and cost 4 million dollars at the time to build. Today, it's still one of the most popular roller coasters in the theme park, despite not being one of the tallest or fastest. It has a height of 76 feet and a maximum speed of 40 mph, but it is the experience of the ride is what drives its popularity. Total ride duration lasts 2 minutes and the Iron Dragon was manufactured by Arrow Dynamics. Cedar Point's thrill rating for the Iron Dragon is a 4.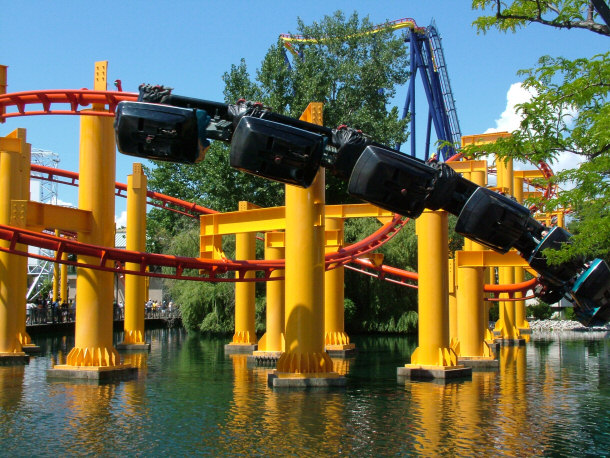 By Stratosphere via Wikimedia Commons
The lift hill is 76 feet tall and since its built using the suspension style, it means that the cars are hanging underneath the track. This means that the train can swing from side to side, unlike a conventional roller coaster. Passengers are essentially dangled from the carts and taken along an exhilarating path through artificial lagoons as well as a number of wooded areas. It really does feel like you're flying and it certainly feels much quicker than 40 mph, as guests fly through its banked turns.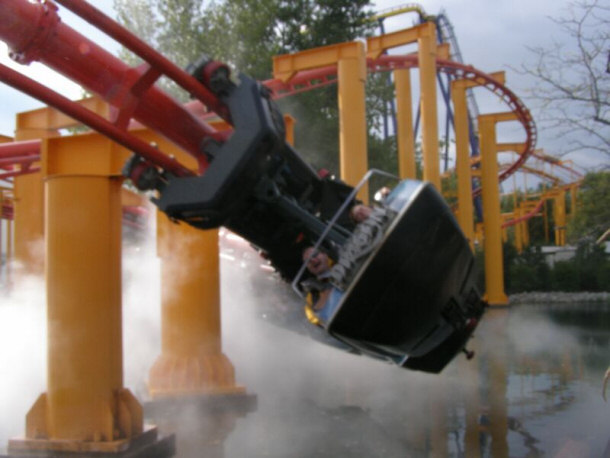 By Chris Light via Wikimedia Commons
---
3) Corkscrew
This roller coaster, manufactured by Arrow Dynamics, was the first ever ride in the world to invert its passengers three times during one run. Guests are thrown through a series of intense, banking corkscrews over guests walking along Cedar Point's legendary 3-mile long midway. Total ride duration is 2 minutes flat. Riders must be 48" to ride and top speeds aboard the corkscrew reach 48 mph. The thrill rating for the Corkscrew is a 5.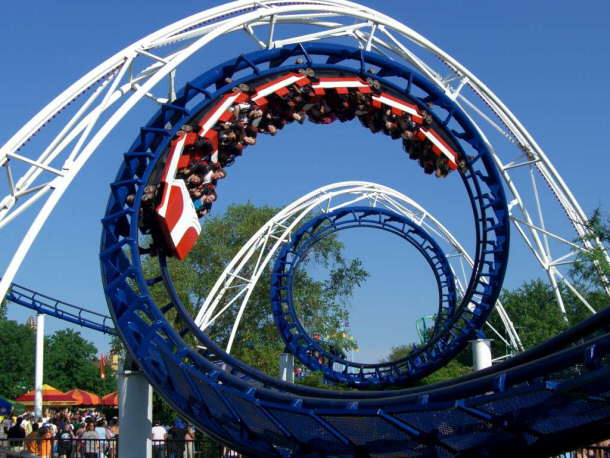 By Coasterman1234 via Wikimedia Commons
Guests can watch their traveling companions get thrill thrill on, all from the safety of many of the park's food and beverage services located along the park's midway. Riders are taken up 85 feet to the ride's lift hill and then plunged downward at a 30-degree angle towards a series of sharp banks and turns. The last part of the ride are the corkscrews that made this ride a record breaker. Best advice for this ride taken from advanced riders is to absolutely not eat right before boarding! Lateral and vertical G combinations can make even the most experienced riders sick, especially on very hot summer days at the park.
---
2) Power Tower
The power tower is no boring old roller coaster and stands tall above the park as the only four-towered drop tower ride in the world. Hydraulic cylinders attached to an aircraft steel cable connected to an internal piston, propel riders up and down the 240 feet of steel track. The ride pushes guests faster than free fall speeds, giving a variety of sensations along the lines of weightlessness.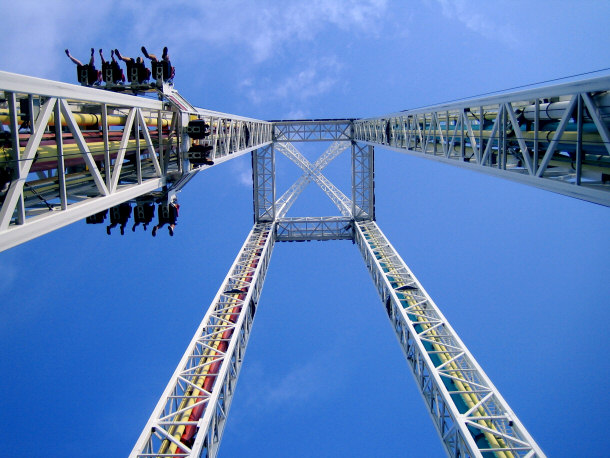 By James via Wikimedia Commons
Power Tower was manufactured by S&S Sports Power, Inc and has a top speed of 50 mph. The ride opened in 1998 and anyone who has experienced a Demon Drop type of ride, should check out a free fall ride's newest upgrade. Riders must be 52" to ride and the thrill rating is a 5.
Power Tower Rising High Above Cedar Point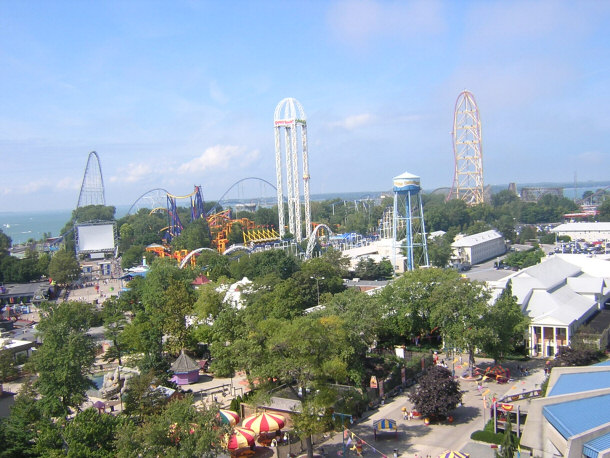 By Larry Pieniazek via Wikimedia Commons
Riders can choose to either be blasted to the top in a blink of an eye or to be plunged downward from the top. The drop sequence is particularly cool because along with an amazing ride, great views of the park that are depended on where your seat faces. There is a level of fear and anticipation as riders sit, lightly bobbing up and down at the top until the drop commences. This contraption will take you and other passengers up and down a number of times before the ride is finished.
---
1) Millennium Force
Millennium Force first opened in 2000, replacing the giant wheel ride at the park. This steel Giga roller coaster reaches an impressive 310 feet in the air, and has a 122-degree half corkscrew at the top. Millennium Force's price tag was $25 million dollars to design and construct and replaced the Giant Wheel ride. Total ride duration is 2 minutes and guests must be 48" to ride. This ride claims records like the first ever complete-circuit roller coaster to top 300 feet and longest drop on a complete-circuit roller coaster. Also sharpest drop angle, a staggering 80 degrees, is also reserved to the Millennium Force. Manufactured by Intamin, AG the top speeds aboard the Millennium Force reach a staggering 93 mph. The thrill rating for the Millennium Force is a 5.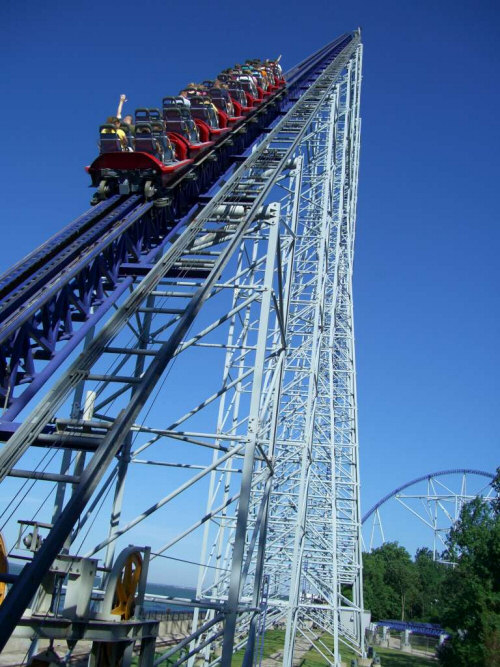 By Coasterman1234 via Wikimedia Commons
The Giga Coaster has a capacity of 1,600 passengers every hour, has three trains and nine cars and can seat up to 36 passengers per train. The queue to the ride is found right behind the Celebration Plaza station, between the station for the Millennium Force and the area in which its track makes its final, intensely banked turns. Guests waiting in line get a front row preview of what lies ahead of them, and riders go flying by the queue.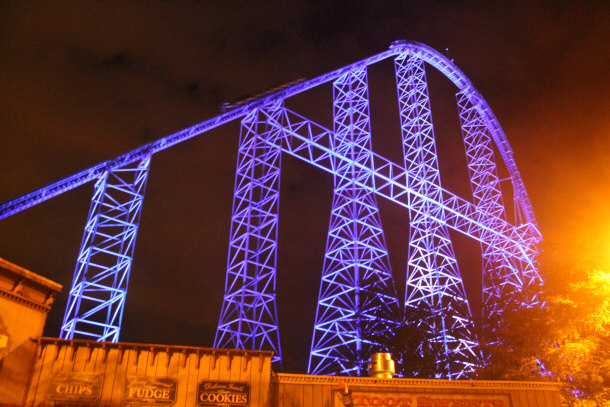 By Connie Ma via Wikimedia Commons
Millennium Force has really increased the demand for Cedar Point's Fast Lane System, which is a paid program where guests can jump to a much shorter queue for a price. During the peak parts of the season the Fast Lane System can really be worth your while as wait times for Millennium Force can be easily more than two hours.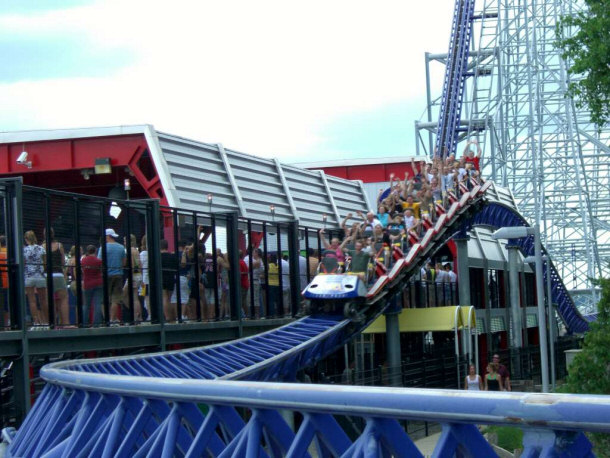 By Coasterman1234 via Wikimedia Commons
---
Conclusion
Cedar Point really does have the most impressive collection of extreme rides and roller coasters, but it also has many family-oriented attractions that everyone can enjoy together. Attractions we didn't touch on here that need mentioning are Soak City Water Park, go-karts, mini-golf, and arcades. Don't think for a moment that Cedar Point could be arguably the best park on the planet without any water attractions! Cedar Point also has an on-property hotel called the Breakers, allowing guests to spend days on end experiencing the park with little concern for the drive home or the wait times for the most popular rides. Cedar Point also has extensive docking availability, allowing visitors from nearby Marblehead, Kelly's Island, Put-in-Bay to access the park via watercraft. Whatever it is you're looking for, Cedar Point is sure to have plenty of it.
Fun Stuff
Top 15 Best Rides and Roller Coasters at Cedar Point
Top 15 Best Water Parks in the World
Top 15 Las Vegas Casinos with the Best Odds of Winning
Top 15 Things That Happened in Vegas Stayed in Vegas
Win at Fair and Carnival Games: Get that Stuffed Prize!