10 Ridiculous Feuds Between Bands
Introduction
There's nothing wrong with a little healthy competition. In fact, many successful individuals in their respective fields – from the sporting field, to the business world, to the entertainment industry – have credited competition as the thing that led them to obtaining the success they have as it pushed them to achieve heights they'd never even dreamed possible. The music industry is perhaps the exception. Certainly, some musicians regard competition amongst their peers as a good thing, but many others see it in a much different and absurd (and sometimes even tragic) light.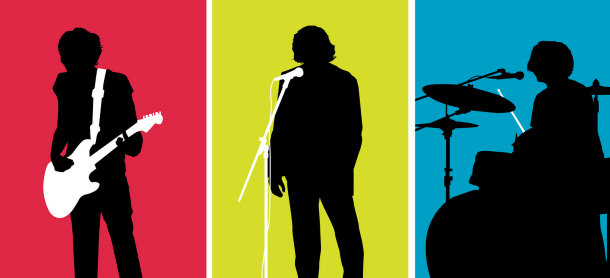 Sometimes rivalries in the music industry are just about publicity. If there isn't an inherent competitiveness amongst artists, their respective record labels are sure to create one for the sake of concert ticket and album sales and, hey, some free publicity... Other times there are all types of reasons – most of which have been somewhat if not totally ridiculous... and in some cases gotten way out of hand.
---
10) Blur and Oasis
Despite being better known for their internal fights, the band Oasis also had time to indulge in moronic rivalries with the band Blur. The bands Blur and Oasis both achieved success around the same time. With distinctly different sounds, it was inevitable that the media, fans and record labels would compare the two – arguing which was better – establishing what would initially be a relatively healthy, attention-seeking publicity stunt.
Liam and Noel Gallagher of Oasis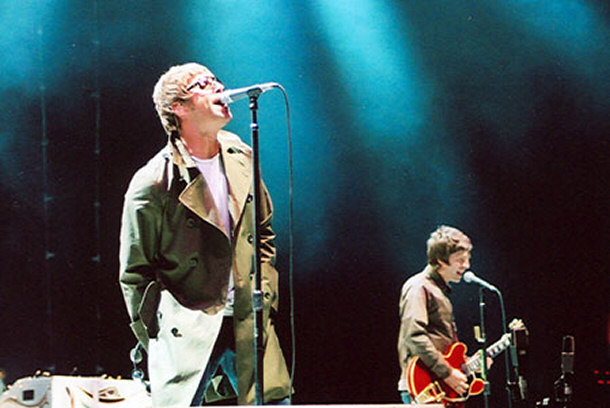 By Will Fresch, via Wikimedia Commons
However, despite relatively innocent beginnings, the rivalry got serious when Oasis' guitarist Noel Gallagher publicly stated that he hoped Blur's front man, Damon Albarn, would fall victim to AIDS and die.
Blur Performing Live in Rome - July 23, 2013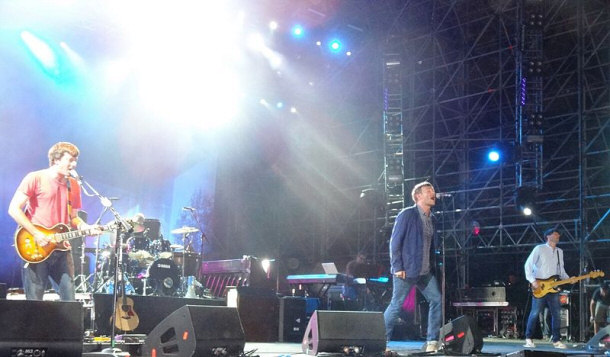 By Σπάρτακος (Own work), via Wikimedia Commons
Despite the harsh words exchanged, the rivalry never became more than two bands being obnoxious to each other with the only real competition taking place on the music charts. In the mid 1990s the singles 'Country House' by Blur, and 'Roll With It' by Oasis were released on the same day as part of a publicity stunt. The rivalry was known as the Battle of Britpop, which Oasis (in theory) won given their number of hits and overall commercial success.
---
9) The Eagles and The Eagles
The most ridiculous feuds come from within the bands themselves, with the band members turning on one another for various reasons that can range from legitimate (one band member writes more songs, so wants more money), to random and/or totally nonsensical reasons.
The Eagles Reunited With Don Henley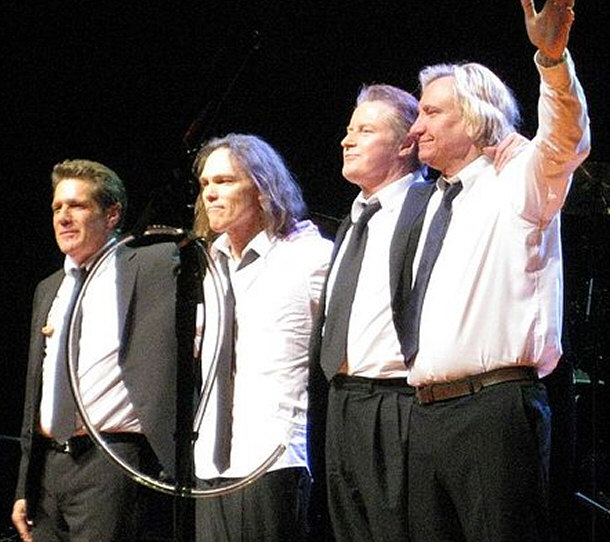 By Jorge isury, cropped by Senhordopoder (File:Eagles.jpg), via Wikimedia Commons
The Eagles broke up in 1982 due to an inability to agree on the direction of the band. This came about as a result of the two primary songwriters Don Henley and Glenn Frey, who had always had a fiery relationship, giving up on their working relationship. Hints that the relationship wasn't particularly healthy or beneficial came while recording their last album, 'The Long Run' (1979). Shortly after the release of the album Henley and Frey pursued their respective solo careers.
Don Henley Performing a Concert as a Solo Artist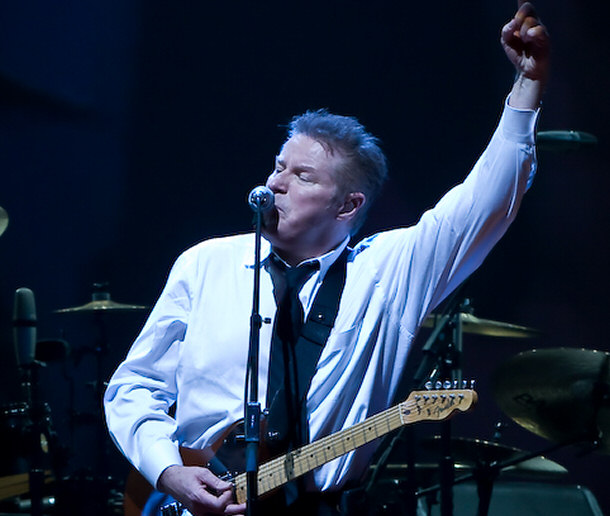 By Steve Alexander (originally posted to Flickr as Don Henley), via Wikimedia Commons
Although Henley stated that the band would never reform – not unless Hell froze over – the band reformed in 1994 for a reunion tour. However, it wasn't long before Henley was once again complaining about the musical direction of the band, highlighting that all still was not well amongst the band mates.
---
8) Metallica and Megadeth
The origins of the feud between Metallica and Megadeth date back to Metallica's formation. Megadeth founder, Dave Mustaine was Metallica's first official lead guitarist when the band formed back in 1981. He was initially the perfect fit – given that he's one of the greatest metal guitarists of all time. The problem was the extreme alcohol abuse, which ultimately saw Mustaine cut from the band.
In the fallout, Mustaine formed Megadeth and heavy metal fans abruptly fell into two categories – Metallica fans and Megadeth fans. Despite their hardcore fans, Megadeth was always considered second best to Metallica.
Metallica Live at The O2 Arena, London, England in 2008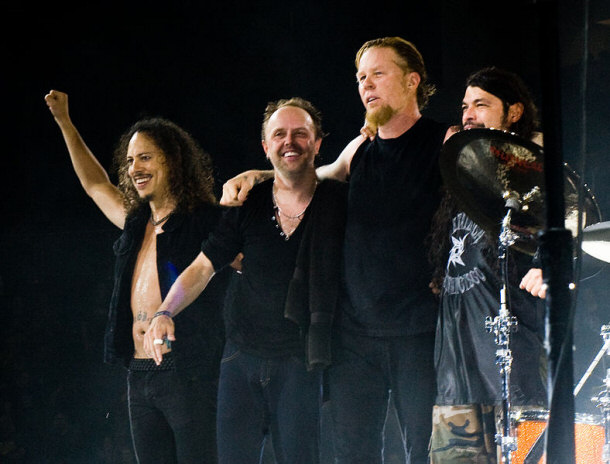 By Kreepin Deth (Own work), via Wikimedia Commons
Throughout the course of each band's career, Mustaine made numerous complaints about Metallica in the media. Despite having left the band, most complaints revolved around Metallica's use of his music because he was featured on Metallica's first four albums.
Megadeth Playing at Metalmania in 2008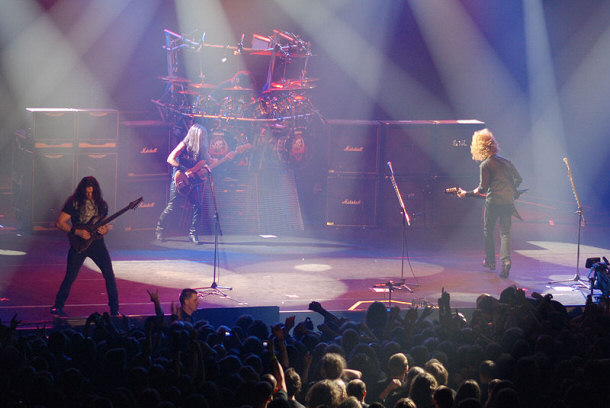 By commons: Lilly Mpl.wiki: Lilly Mreal name: Małgorzata Miłaszewska (Own work), via Wikimedia Commons
The feud was further aggravated with the recording of the documentary 'Some Kind of Monster' (2004), when Mustaine and Metallica's drummer, Lars Ulrich, participated in a counseling session over their dispute. While Mustaine had agreed to participate, he did not want the footage to be included in the documentary after the session was filmed. Having already signed a release form before the session, Metallica ignored Mustaine's change of heart and included the footage. The bands have since found peace after everything. It took nearly 30 years.
---
7) Axl Rose and Bob Guccione Jr.
Traditionally feuds in the music industry involve bands. Sometimes, however, the rivalries extend beyond those with musical ability and involve journalists, as was the case when Axl Rose of Guns 'n Roses took on Bob Guccione Jr.
Axl Rose Playing Live in Nottingham, England in 2012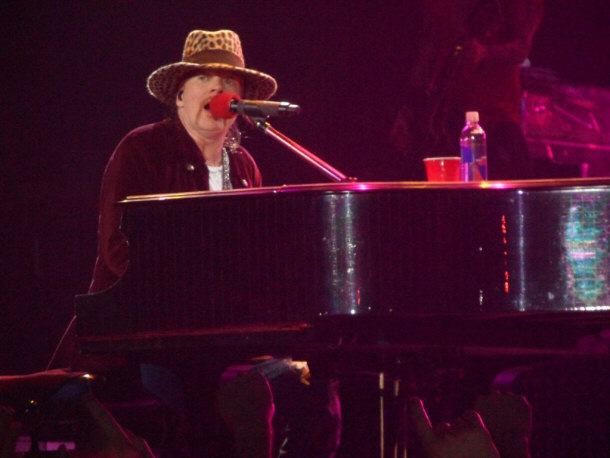 By Delusion23 (Own work), via Wikimedia Commons
Apparently, Bob Guccione Jr. inadvertently started this one when his magazine at the time, 'Spin' (1985 – 2012) published an interview contract with the band, in which the band members (specifically Axl Rose) make ridiculous demands.
Bob Guccione Jr. at Spin Magazine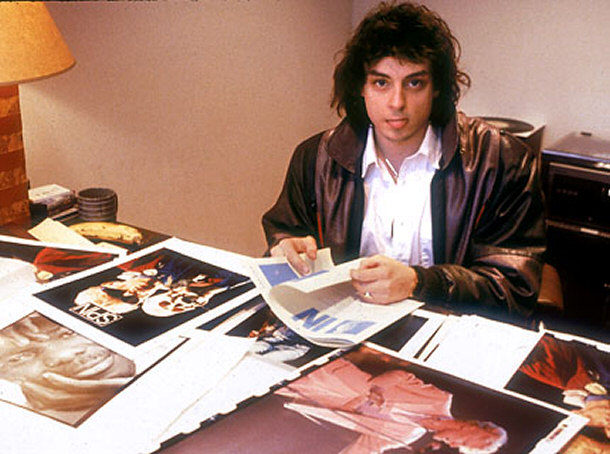 Rose was so irate that he recorded a vitriolic rant for the song 'Get in the Ring' for the album 'Use Your Illusion II (1991). Rose accuses Guccione of making up lies and antagonizing him. Rose challenges Guccione to fight him. Rose hadn't anticipated that Guccione would reply, let alone counter by accepting the challenge. In the letter accepting the challenge, Guccione even mentions he was trained in Karate.
Rose never answered Guccione's letter.
---
---
6) Mike Patton and The Red Hot Chili Peppers
An icon of the industry, Mike Patton is beloved by most in the music industry for his personality, sense of humor and his incredible vocal range. With the notable exception of The Red Hot Chili Pepper's (RHCP) front man, Anthony Kiedis.
Mike Patton Performing at Mondo Cane in 2007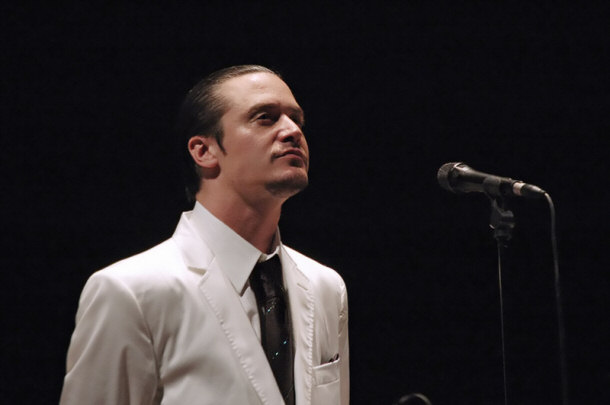 By Luke Skyworcel (Flickr), via Wikimedia Commons
The feud began with Faith No More's single, 'Epic' (1989). As far as Kiedis was concerned, the song itself was bad enough as it blended the genres of rap, metal and funk – something RHCP had already done. Kiedis felt they'd been ripped off (even if Faith No More had also been doing that for year, though without the commercial success of the RHCP). Then came the video clip in which Patton is dressed up in a goofy fashion, jumping around and rapping in a wild, semi-comical fashion. Kiedis' felt that he and his band had pioneered the idea of mixing music genres and producing wacky video clips, and that RHCP had been plagiarized. Kiedis made a point to let his feelings be known publically. Given the absurdity of the allegations, Faith No More pretty much ignored the controversy, letting their music – with a much wider range of influences – speak for itself.
Red Hot Chili Peppers Front Man Anthony Kiedis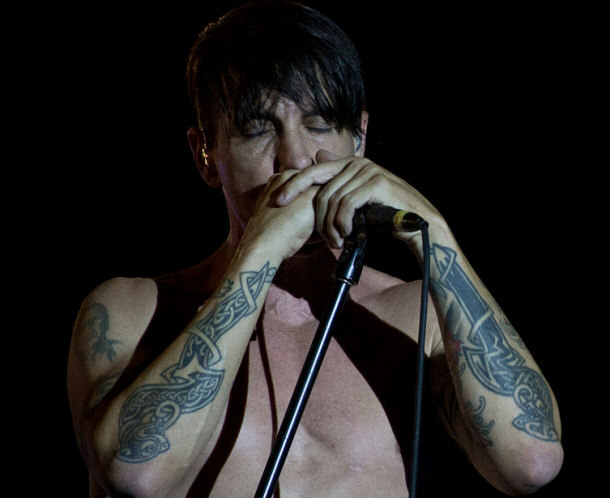 By Kadellar (Own work), via Wikimedia Commons
The feud would intensify years later when Patton's other band, Mr. Bungle, had its album 'California' (1999) held off to accommodate for RHCP's 'Californication' in order to avoid confusion. They were annoyed by the issue but accepted it, given the fact that RHCP was a bigger band and were held in a higher regard in the industry.
The rivalry hit its peak during Mr. Bungle's European tour, when RHCP refused to play any venue that Mr. Bungle would be playing. Ultimately, with RHCP being the bigger band, this blocked Mr. Bungle from booking concerts at the larger stadiums across the continent.
Mr. Bungle's revenge move was to dress up like RHCP and perform intentionally terrible covers of the band's songs. Patton simulated shooting up heroin, referencing Kiedis' battles with drug abuse. Even with the dissolution of Mr. Bungle, Kiedis is still believed to be holding a grudge against Patton and his various other projects.
---
5) Nirvana and Guns N' Roses
With the release of the single 'Smell Like Teen Spirit' (1991) and the subsequent cultural phenomenon of the grunge movement, the hard rock styling of Guns 'n Roses (GnR) suddenly seemed musically and culturally out of touch. Nirvana and GnR stood at either side of the rock spectrum, with Nirvana embracing an entire new attitude to music. GnR was adhering to the often misogynistic and simply-minded sex, drugs and rock n' roll ethos of rock dinosaurs.
Nirvana in 1992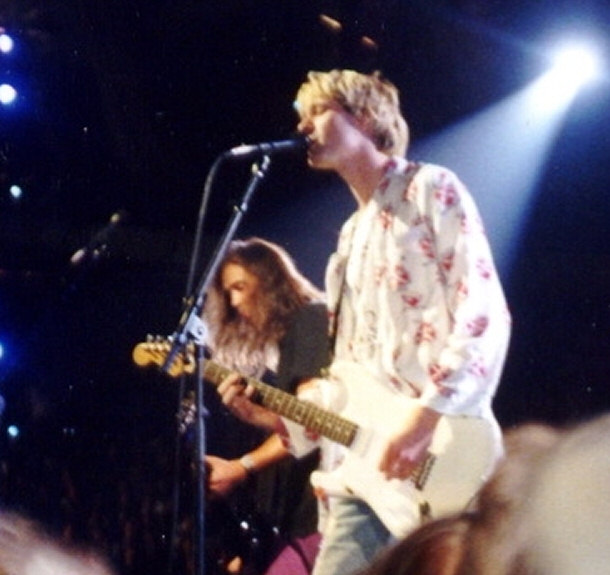 By P.B. Rage from USA (More Kurt -- too rad), via Wikimedia Commons
The majority of the feud played out between the front men of either band – Nirvana's Kurt Cobain and GnR's Axl Rose – and began (or at least became public) when Rose invited Nirvana to tour with them. Cobain flatly refused.
Guns N' Roses Performing at Nottingham Arena in 2012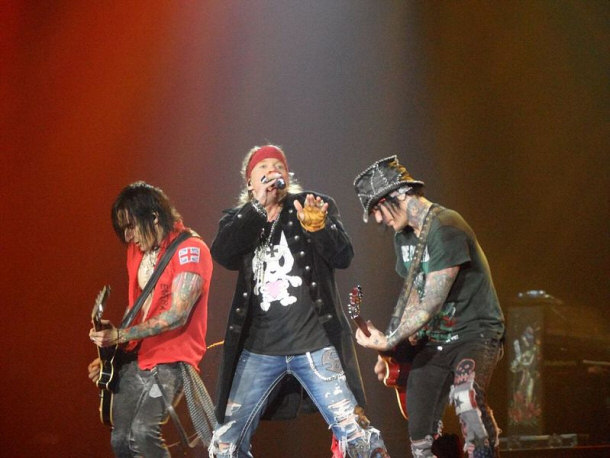 By Delusion23 (Own work), via Wikimedia Commons
Thus, began a verbal slinging match in the media as members of either band took every opportunity to slander the other. Ultimately, the feud came to an abrupt end with Cobain's suicide, after years of depression and drug abuse, in early 1994.
---
4) Pavement and Smashing Pumpkins
After the Pixies – who influenced bands like Nirvana, U2, REM – Pavement were one of the most influential bands that most people outside of the music industry have never heard of. Much like the Pixies, Pavement spent their whole career avoiding mainstream attention as best they could, refusing to sign with a major label, despite many high profile bands and musicians citing them as a major influence and many critics listing them as one of the best bands of the 1990s.
Pavement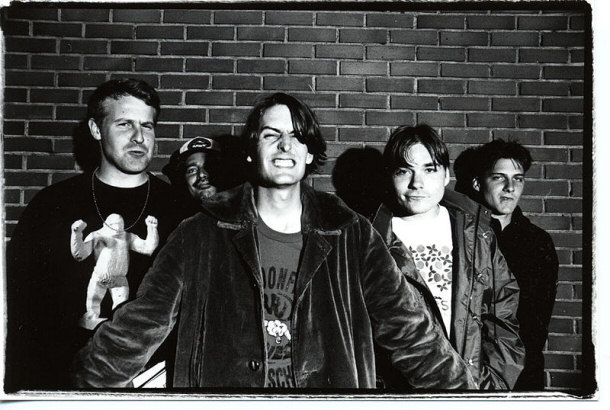 The feud between the band and the Smashing Pumpkins pretty much began and ended with Pavement's song, 'Range Life' which features some mildly derogatory lyrics about the Smashing Pumpkins. Basically, the song is written in the first person, from the perspective of an old hippy, perplexed at actions of the younger generation, with the smashing Pumpkins epitomizing the youth in the context of the song. Smashing Pumpkins front man Billy Corgan took the reference as an insult.
The Smashing Pumpkins at Le Grand Rex in Paris, France in 2007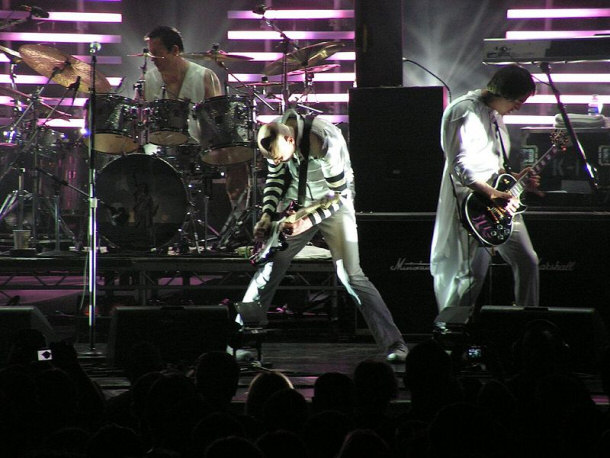 By Matthew F from GA (The new Smashing Pumpkins), via Wikimedia Commons
Quick to at least attempt to clear up any confusion before things got out of hand Pavement's front man, Stephen Malkmus, repeatedly explained the story behind the song, but Corgan didn't believe the explanation and continued to hold a grudge against Pavement.
Despite the fact that the feud is essentially one-sided, Corgan was irate enough over the song that it resulted with him threatening to renege on his commitment to tour with Lollapalooza '94 if he had to play alongside Pavement.
Even with Pavement breaking up in late 1999, Corgan still has hurt and very bitter feelings over the band and their moderately successful song. As late as October 2012, Corgan made reference to the song in an interview with 'Time Out New York', decreeing that it had become an anthem for those that loathe both his band but especially him.
---
3) Michael Jackson and Paul McCartney
Not only were Michael Jackson and Paul McCartney once friends, but they even performed together in the 1980s. Despite spending the majority of his childhood as a performer, Jackson knew little about the business side of the entertainment industry. When he asked McCartney about some advice relating to the financial side of things, McCartney encouraged Jackson to invest in publishing rights. He hadn't expected that Jackson would go out and buy the rights to a large portion of the Beatles back-catalogue.
Michael Jackson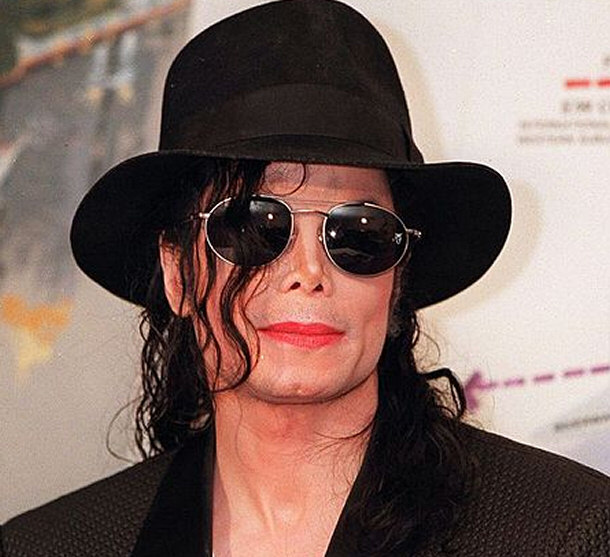 By OguzJackson (Own work), via Wikimedia Commons
Long after McCartney initially lost creative control of his own music, The rights to the Beatles catalogue became available. McCartney intended to purchase the rights himself to ensure that the music wouldn't be misused in cheesy TV and radio adverts. Jackson, however, was determined to purchase them himself. Jackson not only out-bid McCartney, but also out-bid his former band mate's widow, Yoko Ono.
Paul McCartney Performing in Dublin, Ireland in 2010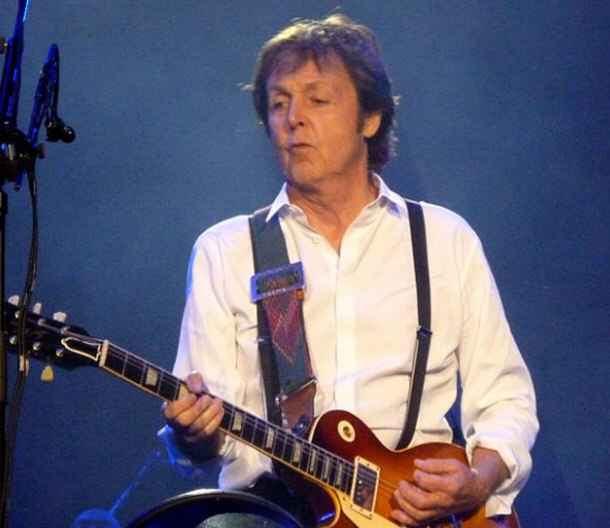 By Fiona (originally posted to Flickr as Paul McCarteny), via Wikimedia Commons
While Jackson went on to make millions by selling out the songs in any and every way, McCartney was furious as he and many Beatles fans alike felt Jackson had sullied the band's legacy.
Worst of all about the incident was that not only did McCartney again lose creative control of the art he helped create, but he also inadvertently set the whole bitter episode rolling by encouraging Jackson to purchase the publishing rights in the first place.
---
2) Joe Tex and James Brown
Although it didn't take James Brown long to establish himself as an icon on soul music, it didn't come without its challenges. Joe Tex was a worthy challenger. Despite being signed to the same record label, there was a legitimate rivalry between the two. With both men possessing genuine talent and charisma, music critics and fans alike couldn't help but draw comparisons. Unfortunately for Tex, the comparison almost invariably came out in Brown's favor.
While the comparison of the two's music was inevitable with either maintaining that they were better, the feud really began when Tex accused Brown of stealing his signature dance moves. Tex would then call out Brown for effectively stealing his song, 'Baby, You're Right', when Brown re-wrote (and some would argue improved) the song a year after the original release.
James Brown - The Godfather of Soul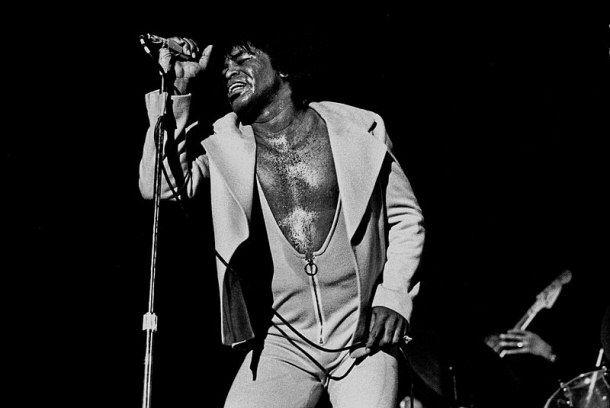 By Heinrich Klaffs, via Wikimedia Commons
Tex then accused Brown of stealing Bea Ford, who was once married to Tex. Despite their separation, Tex still considered Ford "his woman". Brown had intentionally sought her out as a back-up singer, purely to antagonize Tex. After achieving his goal, Brown wrote to Tex, stating that he could have Ford back. Tex responded with the song 'You Keep Her'. In the song he actually referenced Brown by name.
It would be his prank at a concert when he opened for Brown that would take the feud to another dangerous and insane level – even by Brown's standard of crazy public behavior. Tex came out on stage dressed as the hobo equivalent of Brown with a worn-out cape, staggering about the stage in a slapstick fashion, mocking Brown's signature on-stage attire and behavior.
Joe Tex's Trade Ad Photo For His Single "Hold What You've Got"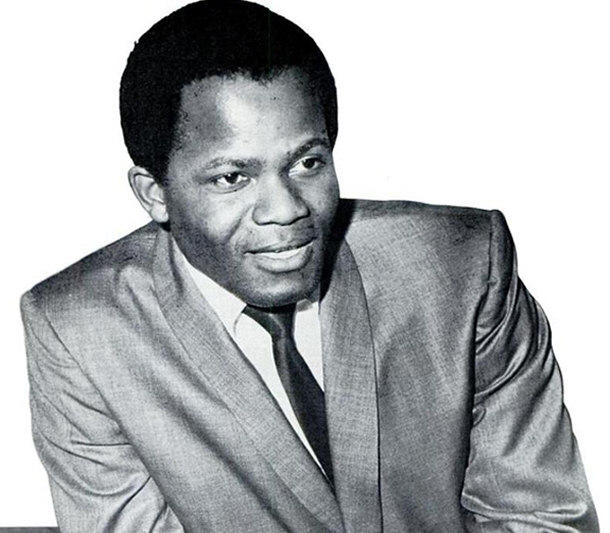 While Brown's fans in the audience took the prank in good humor, Brown himself wasn't amused. After Brown finished his performance for the night, he sought out Tex, finding him in a local bar. Done with words, Brown brought guns with him. He entered the bar and fired wildly, seemingly without regard for his intended target as he injured several bystanders, which triggered return-fire.
Tex retreated unscathed, while Brown fled – reportedly throwing $100 bills over his shoulder to cover the damages and injuries inflicted. He later paid the club owners for the disturbance, while none of the injured sought official compensation.
It would seem that the incident saw the end of the rivalry between Tex and Brown. Now that Tex was aware of the depth of Brown's ego, his volatility and, most disturbingly of all, Brown's utter disregard for human life, Tex thought best not to revive the rivalry for the rest of his and Brown's respective careers.
---
1) 2Pac VS. The Notorious B.I.G.
While grunge dominated the early 1990s, it was rap that had the biggest musical impact in the mid 1990s. And there were no two bigger icons of the industry and music genre than Tupac Shakur (otherwise known as 2Pac) and the Notorious B.I.G (otherwise known as Biggie Smalls). They were equally as big as Cobain in their respective field of music. However, while Kurt Cobain had struggled with the stardom, Shakur and Biggie basked in it. The problem was that they just didn't want to share it with the other.
Infamously and tragically, the two were caught up in the East Coast vs. West Coast feud that permeated the rap industry, which would lead to both men dying tragically.
At the centre of the feud were the record companies Bad Boy Records, based in New York City, and Death Row Records, based in Los Angeles and the squabble over publicity. With the majority of the national media focused on Death Row Records, Bad Boy Records embarked on a diss campaign against their competition.
Tupac Shakur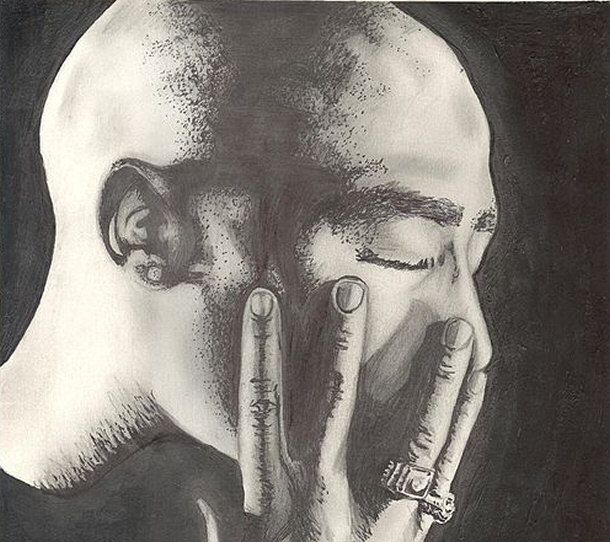 By Makaveli75 (Own work), via Wikimedia Commons
With Shakur (Death Row Records) and Biggie (Bad Boy Records) the representatives of their respective labels, they were essentially obliged to attack the other through their explicit, inflammatory lyrics and publicity stunts. Back and forth the verbal and sometimes physical accusations and altercations (in one instance Shakur was shot 5 times) went, until one night when Shakur was shot to death in Las Vegas after attending a Mike Tyson fight. Biggie was gunned down six months later – most likely in retaliation for Shakur's murder.
Biggie Smalls - The Notorious B.I.G.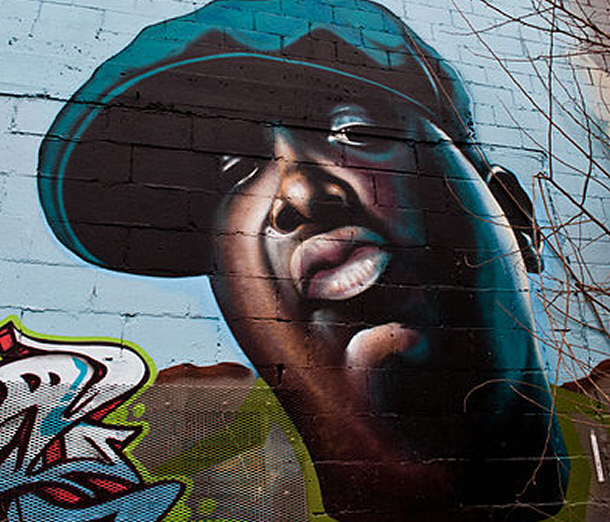 By Tom Check from Prescott, USA (Biggie smalls), via Wikimedia Commons
As volatile and bloody as the dispute ultimately became, the reality is that the media made the dispute between Shakur and Biggie and their record labels much bigger than it actually was. It was simply a publicity stunt gone horribly wrong. Furthermore, although the media, hardcore fans and a number authors and filmmakers such as Nick Broomfield – with his documentary 'Biggie and 2Pac' (2002) – made a big deal about the rivalry and the two murders, there's little evidence to establish a legitimate connection.
To date, neither murder has been solved. In all likelihood, Shakur's death was the result of a payback hit, resulting from an altercation earlier in the night. In regard to Biggie's murder, while Death Row Records may have been involved, there's not enough evidence to support charges.
Whatever the case, their respective deaths took the idea of music industry rivalries – especially absurd rivalries – to a new level that accented the absurdity, senselessness and wasted energy of violence and the tragedy of unrealized potential.
Music
Top Lists:
10 Ridiculous Feuds Between Bands
9 Remarkable but Underappreciated Musicians