Almond: The Magic Pill For Hunger, Weight Loss and Cholesterol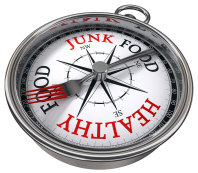 Introduction
What are the three things that you are thinking about all the time? For most people, the number one thing is eating or snacking. The second is losing weight. And the third is that you want to be cutting back on your cholesterol levels.
Now what if I told you that I had a magic pill that does all three? It is a snack, it helps you lose weight, and it helps you cut down on your cholesterol. Have I discovered a magic pill that people have been waiting for? Well would you believe me if I told you that this magic pill is more commonly known as the almond!
Almonds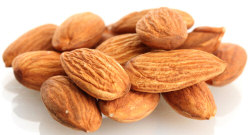 I love almonds and any opportunity that I get I am eating them. The almond is the magic pill and this is one of the world's most amazing foods. They taste absolutely great, they are full of fiber, and they are a tremendous source of protein. Almonds are a good source for vegetarians to get protein and with the fiber that they contain they digest slowly in your system making you feel fuller for much longer. By feeling fuller longer you are much more likely to lose weight.
They can help you to reduce your cholesterol by approximately 9% and one of the reasons for this is that they contain one of the healthiest good fats that you can eat and this is a mono unsaturated fat. Now one thing about fats that you have to understand is deciding which has more calories. The options are the nasty saturated fats or the healthy unsaturated fats. The surprising answer is that they both have the same amount of calories, as fats have the same caloric count.
Healthy Fats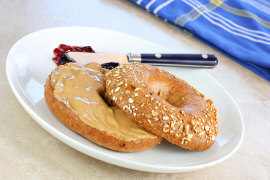 You should also try to eat almond butter instead of peanut butter. Any kind of substituting traditional unhealthy foods is highly recommended. Try to think of this as being similar to peanut butter and you want to eat the one that is free of any sugars and that the almonds are processed in the butter only and nothing else. The reason for this is that almonds contain their own oil which makes it way to the top. This needs to be stirred before eating and you really need to try this with some whole grain toast. And I really cannot think of eating a healthier breakfast besides a whole grain cereal Another example would be instead of regular ice cream, try to get the coconut milk ice cream. The latter is much lower in calories and dairy free.
Conclusion
Remember almonds are the perfect snack and just a handful a day can lower your cholesterol, help you lose weight and they are just a great substitute for anything that could be considered bad for you like french fries or other unhealthy foods. Almonds are the perfect snack and certainly a miracle pill.
Diet & Nutrition
Top Lists:
Top 15 Foods That Help Migraines
24 Food Additives That You Should Consider Avoiding
Top 15 Healthy Spices From India
15 Disgusting Ingredients In Your Food
15 Best Foods For Brain Health
15 Foods That Are Surprisingly Good for You
Top 15 Organic Produce That's Better Than Conventional
15 Weird Interesting Facts About Vegetables
10 Best Cleansing & Detoxifying Foods
Informational:
Evaluating Diet Plans: Which One is Right for You?
The Essential Health Benefits of Ginger
The Health Benefits of Kale
Top Natural Appetite Suppressants That Will Help You Lose Weight
Almond: The Magic Pill For Hunger, Weight Loss and Cholesterol
How Effective is Phen375 in Losing Fat?
What Are Health and Losing Weight Benefits of Unique Hoodia?
Organic Foods – Are they better than Conventional Foods?
Facts about Alcohol
Best Ways to Get a Good Night's Sleep
General Benefits of Green Tea
Health Benefits of Inositol Supplements
Anti-Aging Foods to Stay Young
Who is Responsible For Overweight Children?
My Secret to Losing 100 Pounds in 6 Months
How and When to Use HCA Extract?