Thighplasty: Is a Leg Lift Procedure Right for You?
Improving the Looks of Your Legs
A leg lift or thighplasty is a surgical procedure that is recommended for toning the skin on the inner or outer thigh, getting rid of excess skin below the buttocks, or enhancing the shape of the leg. Either the skin is pulled tight to make it look smoother or implants are used to underscore the shape. To initiate the process, the surgeon takes measurements of the legs before scheduling the surgery.
Before and after thighplasty surgery: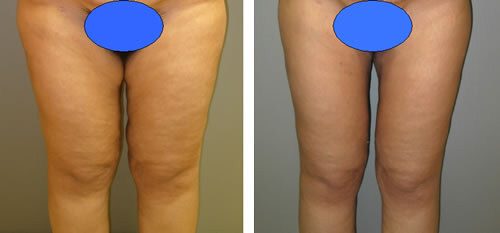 A Basic Overview of the Procedure: What is Involved
During the procedure, a general anesthesia is administered or a local anesthesia is used at the surgery site. The doctor then makes an incision - usually in the upper part of the inner thigh. The length of the cut depends on the amount of excess skin that needs to be removed and the extent of surgery. Flab or additional skin is trimmed before the remaining skin is tightened and sutured shut. Generally, the procedure will last, on average, from two to four hours overall. Sometimes a thighplasty is combined with liposuction surgery.
General area of thighplasty incisions: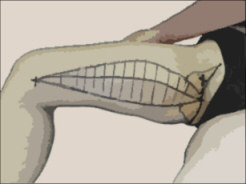 Side Effects:
The patient will usually experience some numbness, soreness, swelling, and bruising, all which will subside after about a week. A pain medication is typically prescribed to minimize any discomfort.
Post-operative Care
Post-operative care includes placing bandages and dressings at each incision site. Usually, a compression-type garment is worn to encourage healing. In some cases, a tube may be inserted below the skin for the collection and drainage of blood and fluids. If absorbable sutures are used, they typically will dissolve in two to three months. Removable sutures are taken out after a couple weeks. Patients must secure the help of a family member or friend to drive them home and care for them following the surgery.
Recovery
It takes about two weeks to recuperate from the procedure and return to work. Strenuous activities can resume after a month to a month and a half.
Who are Good Surgery Candidates?
Good candidates for leg lift surgery desire more shapely and toned legs, both which they haven't been able to achieve through either their diet or exercise regimen. Candidates who benefit from the surgery often exhibit excess skin in such areas as outer thigh, inner thigh, or just below the buttocks. The patient should be serious about following a healthful diet and exercise routine as well. Candidates are expected to maintain a healthy weight for at least a year before the surgery. During that time, they shouldn't experience an major fluctuations in weight.
Another before and after picture of thighplasty is a surgical procedure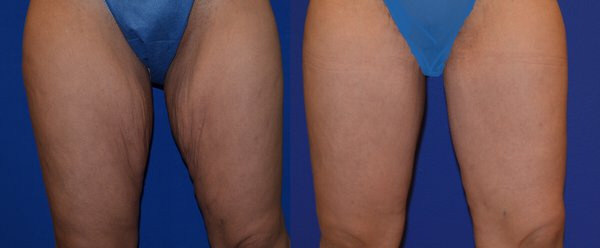 Permanent Results
Results from a leg lift procedure are seen right away. Any scars usually fade after a year. As long as you're committed to following a healthy menu and receiving regular exercise, the results will be permanent. While the skin may start to lose some of its firmness over time, generally the tone and shape of the legs will not change significantly.
Medicine & Treatments
Top Lists:
Top 15 Hangover Cures That Actually Work
Top 15 Unusual Ways To Treat Diseases
Informational:
Computerized Physician Order Entry and ePrescribing
Health Data and Importance of Digitization
Nursing Information Systems – Vendor Market Analysis
Telehealth - Healthcare Informatic's Golden Egg
EHR, EMR, PHR – The Digital Future of Health Data
Bloodless Surgery – An Effective Alternative to Blood Transfusion
Medicines That Have Changed the World
The Process of Female Egg Donation
How Chemotherapy Treats Cancer
Thighplasty: Is a Leg Lift Procedure Right for You?
Treating Acne with Laser Therapy: Can it Benefit You?
Using Tanning Beds to Treat Vitamin D Deficiency
Choosing Birth Control
Social History of Patent Medicines
Biology
An Introduction to the Cells of Organisms
Cardiovascular System and Energy Systems