Homemade Fabric Softener Recipe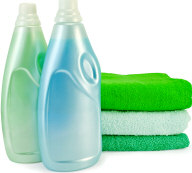 How much do you spend each month on laundry products? Think about it and add up the amount of money your detergent and fabric softener costs you. Now total that for one year. The answer may shock you. I know it shocked me! In my quest to save money, I have used some great recipes, for homemade laundry detergent and now for fabric softener too! By making these yourself you can save a lot of money and the homemade versions work just as well as the commercial brands. Although doing laundry is a necessary evil, that does not mean you have to spend a fortune on it. Below are two recipes for homemade fabric softener - one is for a liquid and the other is for crystals which is also very popular.
Homemade Liquid Fabric Softener
This is the recipe I personally use. It is the least expensive recipe and only costs about $3.00 to make. If you purchase a gallon of vinegar you will have enough ingredients left over to make 2 batches of this fabric softener.
What You Will Need
2 cups of scented hair conditioner - I buy Vo5 because itís only $.79 a bottle but you may use whatever brand or scent you prefer.

3 cups of white vinegar

6 cups of hot water

1 container to mix everything

A funnel or pitcher to pour the mixture into a bottle

An old laundry detergent or fabric softener bottle
The Process
Pour the conditioner, water and vinegar into a container. Mix well until all lumps have disappeared and the mixture is smooth in texture. Do not shake. Once the mixture is smooth, use your funnel or pitcher to fill your detergent or fabric softener bottle. Voila! Homemade fabric softener that smells great and takes almost no time to make. This recipe yields about 11 cups of fabric softener per batch. Use ľ cup for each load of laundry.
Homemade Fabric Softener Crystals
This recipe uses essential oils to give the crystals a pleasant scent. Essential oils are a bit on the expensive side and range from $5-$15 per bottle. However, you have a much wider range of scents to choose from and the bottle of essential oil lasts for a long time. You may also be able to find less expensive essential oils online.
What You Will Need
4 cups of Sea salt

4 cups of Epsom Salt

20-30 drops of essential oil - Pick your favorite scent or combine scents such as lavender and vanilla to create your own unique scent. If you desire a stronger scent, simply add more essential oils.

1 container with a lid

That's it!
The Process
Mix all of the ingredients together in your container. Place the lid on the container and you are finished. Depending on the size of your laundry load you will need 1/4 to Ĺ cup of crystals per load. This recipe for homemade fabric softener crystals leaves your clothes feeling soft and smelling wonderful.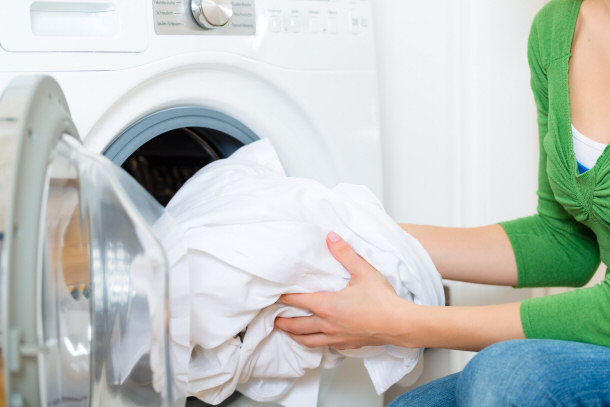 Homemade fabric softeners are inexpensive, easy to make and these recipes can be easily increased to make larger quantities.
DIY
8 Steps to Give Yourself a Manicure at Home
Proper Candle Care and Safety Tips
Top 30 Unexpected Uses for Coca-Cola
Homemade Fabric Softener
Homemade Orange Cleaner
20 Uses for Reused Dryer Sheets to Clean Your Home
Easy Homemade Fabric Refresher
Save $$ Using Homemade Laundry Soap
My Blacklight Garage Party Room