15 Interesting Things You Should Know about Amazon.com
Amazon is well known for being an online bookseller, but today, the company is much more than that. The American electronic commerce firm is based in Seattle, Washington, and is the largest online retailer in the world. It began as a bookstore, but now it sells CDs, video, DVDs, MP3 downloads, software, electronic equipment, toys, food and pretty much anything else you can imagine. Not only that, but the company now even has its own brand of electronic devices, making it a company that has diversified to meet market demands, and a company that has grown quickly since it was incorporated in 1994.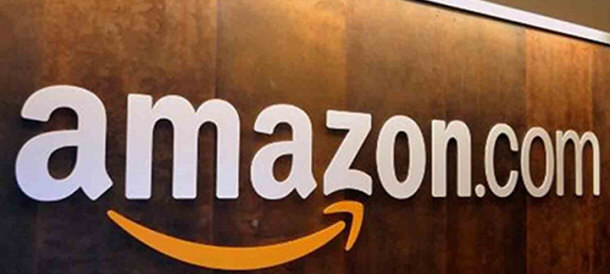 There are lots of interesting things to note about Amazon, including amazing statistics and features of the company that benefit the consumer. We've listed 15 of the most impressive statistics and things to remember about Amazon that could benefit you.
---
15) Origins
Bezos came up with the idea for Amazon with a view to avoiding any regret for not getting involved with the online revolution any earlier, and it certainly proved fruitful. He left his job as the Vice-President of a Wall Street company called D.E. Shaw & Co and moved to Washington.
Jeff Bezos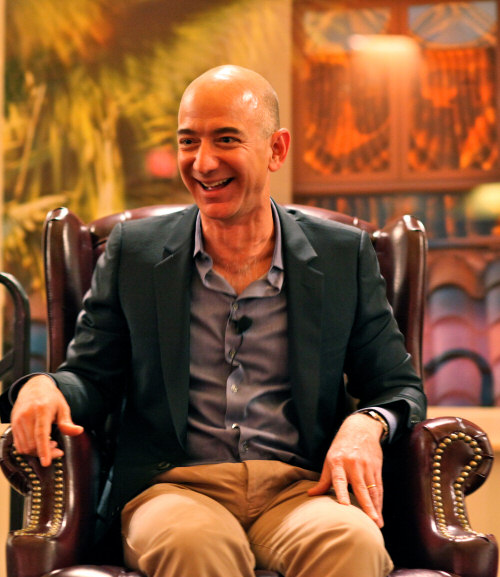 By Steve Jurvetson via Wikimedia Commons
It was here that he began creating a list of 20 products that could be marketed and sold online, and later narrowed this list down to a just five products that showed the most promise for being sold on the Internet. He decided that books, videos, software, CDs and computer systems were had the most potential for being sold online, but later decided that his business should focus solely on books. Little did he know that his online book store would soon go back to the original five products that he considered.
The name Amazon was chosen, along with its logo, to show that anything could be sent to anywhere in the world – hence the line moving from A to Z. The company was created, and Amazon was later incorporated by Jeff Bezos, and the website went live in 1995. The initial business plan of the company suggested that there would not be any profit for between four and five years, which meant that stockholders were not happy with the thought of investing. However, the Internet grew and Amazon survived, and quickly began growing quicker and quicker, earning a revenue of more than $1 billion by just 2001. This began a whole new trend of online shopping and a brand new way to purchase books, software and computers.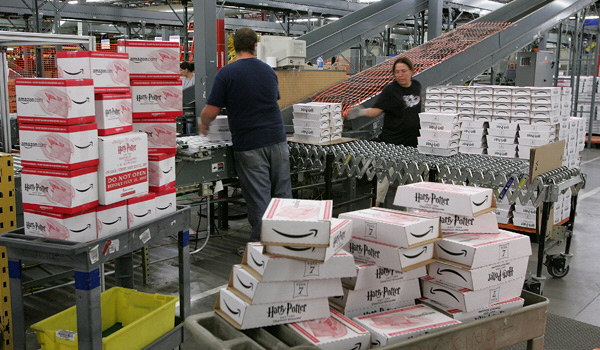 ---
14) Wish List
Wish lists are a pretty neat feature on Amazon. This is a personalized list that you can create which includes all of the things that either yourself, or your business/organization, would like to own from the Amazon store. Friends, family, fans and benefactors can simply take a look at your wish list and get you the perfect present. It's a really simple way to ensure that your birthday, Christmas or other holidays bring you the best presents!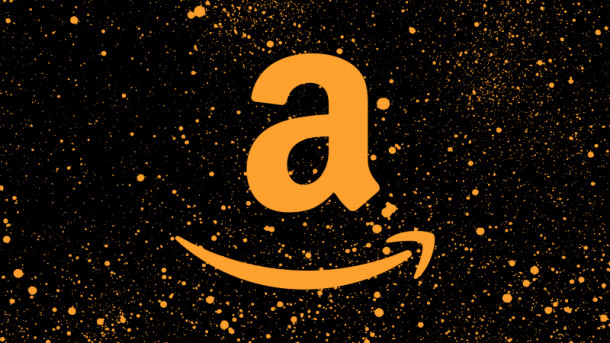 You can create your own wish list by signing up to Amazon. You can add items by simply browsing the store and when you find a product that you'd like to own in the future, click the 'Add to Wish List' button at the top, which should be near the shopping basket. You'll then be asked to name the list that you would like the product to be listed under, and to confirm privacy settings. You can create a wish list that just you and a couple of others can visit, or one that anybody can see.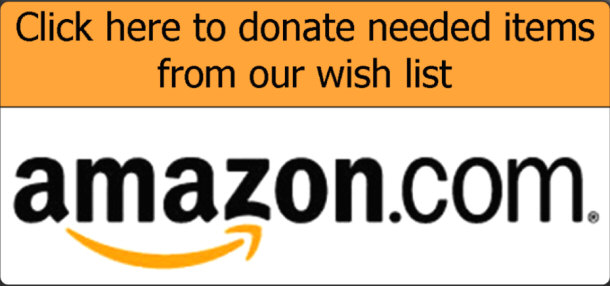 As well as creating your own wish list, you can search for other wish lists that have been created. You can look people up by their name or their email address, meaning that you can buy the best presents for your loved ones by finding the products they'd love to own online.
---
13) Number One Selling E-Tailer
Did you know that Amazon is now the biggest electronic retailer on the planet? What started as a simple bookstore has grown to a company worth more than $48 billion in online sales, and which enjoyed a huge 40.6% growth in 2011. The company is going from strength to strength, and it is significantly bigger than the second largest online retailer, Staples, which has made online sales of over $10 billion.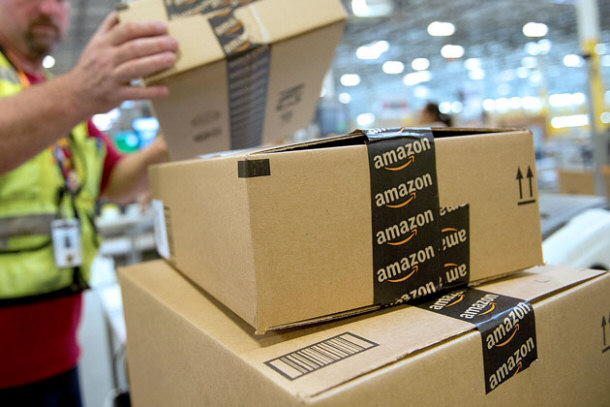 Amazon has become so successful due to its newfound diversity and ease of use offering customers the chance to purchase nearly anything they can think of from other users online for discount prices. You can purchase used and new products alike, and look for the best deal, which other retailers often cannot offer. On top of this, Amazon now has its own range of products like the Kindle, as well as Kindle apps that have become immensely popular on a range of platforms. The company is growing rapidly and is set to remain the largest online e-tailer for the foreseeable future.
---
12) 137 Million Customers Per Week
We know that Amazon is popular, but when you consider that it serves more than 137 million customers every week, everything is put into perspective. This incredibly number is unmatched by any company that operates online. Furthermore, there are now more than 152 million active Amazon customer accounts on the website, and while it may have taken eight years for the company to make a profit, today it is one of the most important online companies in the world. It has changed the way we shop and created a culture of convenience that may not have appeared without the innovative bookstore website.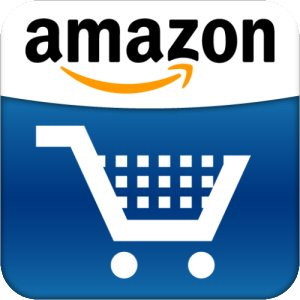 With 137 million customers each week, Amazon has more than 19.5 million customers every day, which is roughly the same amount of people who live in Beijing, China. It's also the same amount of American citizens who earn and live off less than $6 thousand per year, and one third more than the entire voter turnout for the Presidential elections in 2010! An astonishing figure indeed!
Amazon Warehouse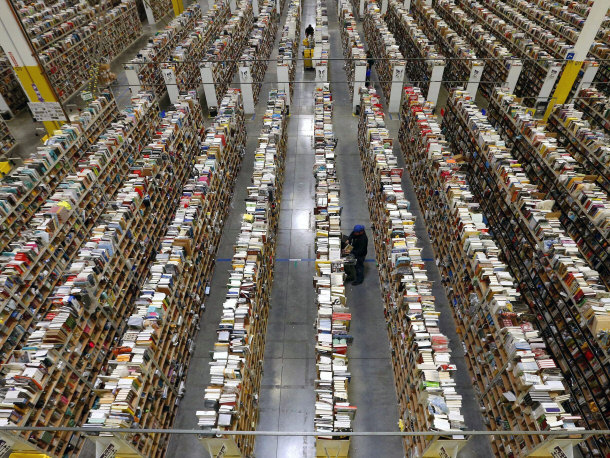 ---
11) Unique Users 5X More Valuable Than Ebay's
What exactly does more valuable mean? Well, this figure suggests that Amazon customers spent five times more than the average eBay user. It's been shown that the average eBay user will spend around $39, whereas the average Amazon user spends roughly $189.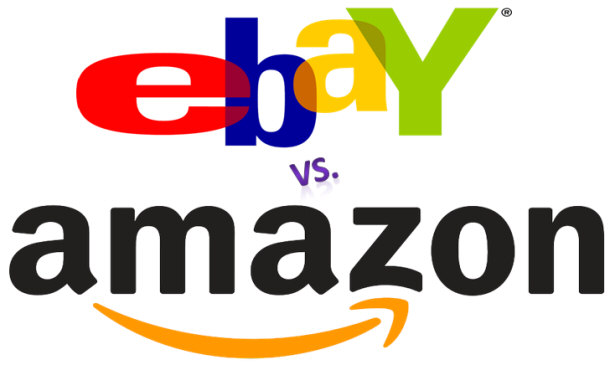 This means that even if eBay were to continue catching up with regards to unique user accounts and activity on its site, it still wouldn't be able to match the sales that Amazon makes, simply because these customers tend to spend more.
---
---
10) 1/10 of North American Ecommerce
If you were to split up all of the ecommerce and sales in North America into a pie, then Amazon would have a 1/10 slice of it. This might not sound like much, but when you consider that Office Depot, Wal-Mart, Apple, Dell and Sears all share a slice of this pie that is around the same size as Amazon's own slice, it is put into perspective. The rest of the pie is essentially made up of crumbs. More than 1,000 other online retailers are left fighting over what's left, and picking up little more than just a bit of crust!
Wal-Mart Home Office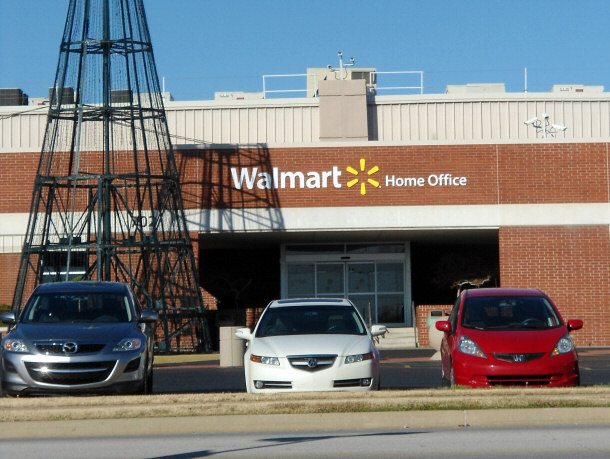 By Brandonrush via Wikimedia Commons
This further backs up claims that Amazon is the most successful and popular company online, but it also proves the diversity of the products made available through the company. Companies like Office Depot, Staples and Apple all offer a very limited range of products. Amazon, in fact, offers products that all three of these different retailers can.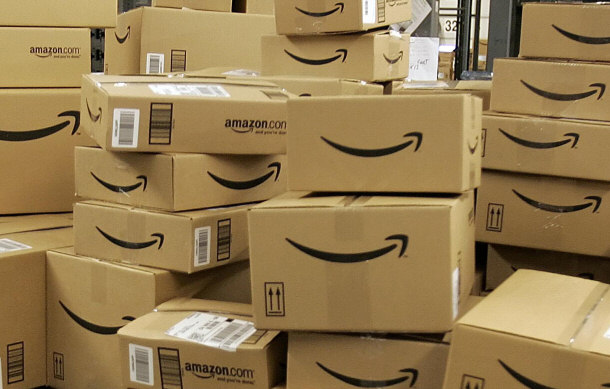 ---
9) Amazon for Our Planet
Amazon values corporate responsibility, and this can be seen in its planet-saving concept called Amazon for Our Planet'. This concept is based on Amazon's drive to find ways to reduce their impact on the natural environment. Due to the nature of online shopping, it is significantly friendlier than traditional forms of shopping, but it's still not perfect. Online shopping means that there are air miles for products, there is packaging that often goes to waste and a great deal of resources are used to create and distribute the products themselves.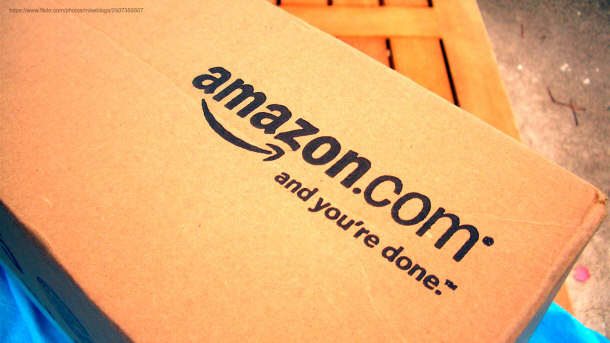 One such concept that Amazon has developed is 'frustration-free packaging'. This is an initiative that has been in the making for a number of years, and is designed to make is much easier to access their products from within their packages. This means you won't be cutting your hands on difficult plastic packaging or risking opening boxes with sharp kitchen knives. As well as being much easier to open, these new kinds of packaging are also 100% recyclable, meaning that the impact on the environment is significantly reduces. There are not more hard clamshell cases, and no more environmentally unfriendly wire-sealed packages.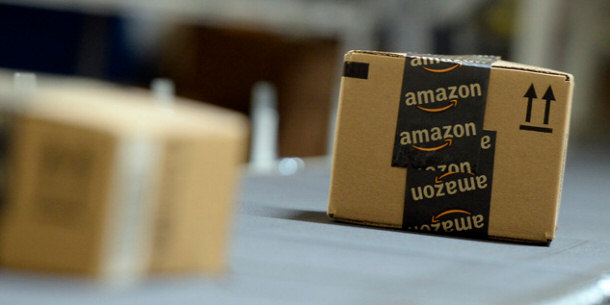 Furthermore, most orders are now shipped on corrugated containers that are made from more than 40% recycled fibers. Then, when these have been used, the whole container is recyclable and can be used in future paper products. Even the air pillows in Amazon packaging are recyclable and non-toxic. The company has taken huge steps to ensure that they are responsible and green, which is something many companies simply don't take the time for.
---
8) Cloud Platform
Amazon has now even branches out into offering its own web services. The company has created 'Amazon Web Services', which is a new cloud computing service. This online service is ideal for people that need flexibility and access to files no matter where they are. Amazon has a huge range of services available from its AWS website, including auto scaling, elastic load balancing, marketplace, Amazon Route 53, Amazon Virtual Private Cloud and Direct Connect. There are also content delivery services found in the form of CloudFront, payment and billing services and database options.

Ultimately, Amazon Web Service is all about accessing files wherever you need, them, storing important and confidential information, creating online payment systems and managing online database systems. This is a service that can be used on a personal level as well as a professional level. You can even try AWS for free and get 750 hours of Amazon EC2 running Windows, Mac or Linux.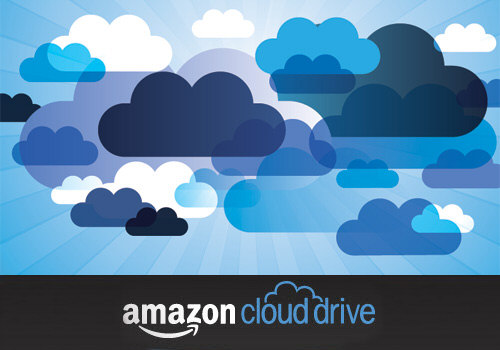 ---
7) Warehouses
Amazon is using some of the most incredibly technology to ensure that it gets maximum efficiency and accuracy when it comes to shipping orders that have been placed. In Amazon's many warehouses, and in all of the new warehouses that are appearing across California and the rest of the United States, robots are used to find the right product and pack it in the appropriate boxes for customers. These robots come from Kiva, an the Kiva system works with three components.
The first components is the retrieval robots that are small and on wheels. These robots move around the warehouses, and then there are the tall and upright racks of products, which are known as pods in the industry. Finally, there are the human workers that make sure the robots are working properly and performing the right tasks. This Kiva system means that humans can get on with their job, while the robots take care of retrieval of products across the vast warehouse space.
Kiva System Robot
|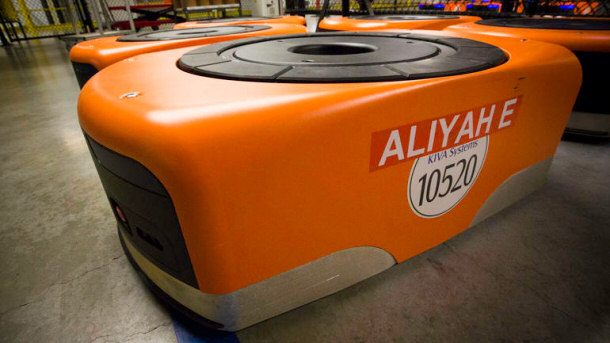 Human workers are used to pick the products from a specific shelf when a robot goes to that area. As orders come in, the Kiva software will assign each robot as box, and will tell the human worker which box on the robot that the item needs to be placed on. The robots use a laser pointer to show human workers which item they are seeking from the rack.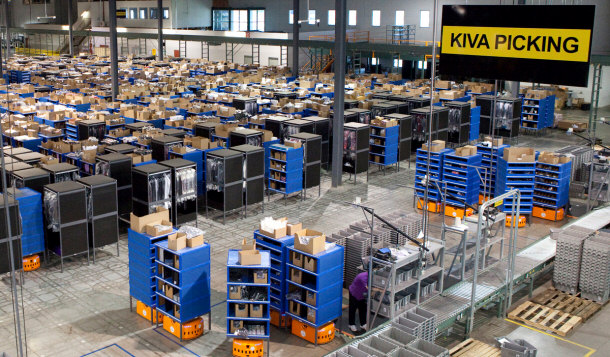 This isn't the only example of how Amazon utilizes the newest technology to ensure that workers can do their job to the best standard possible. In fact, Amazon spent more than $2 million on installing air conditioners in each of its fulfillment centers when workers were finding the heat difficult to work in. Not only that, but Kiva warehouses that do not use humans can also be kept in the dark. Robots do not need light to function, so many warehouses for Amazon function in the dark and totally autonomously.
---
6) 49 Minute Downtime
Amazon has been making more than ever recently, with 2012 seeing the company achieve net sales of more than $60 billion, which means it has tripled its net sales over the last five years. This means that for every minute that Amazon is operating, it makes, theoretically, $116,229.07. When you consider that Amazon recently had an uncommon downtime, in which its home page was down for 49 minutes, it's easy to see how Amazon executives might have been pulling their hair out.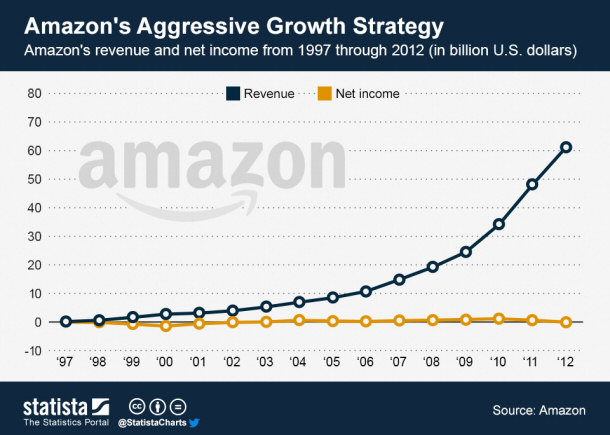 With website downtime of 49 minutes, Amazon has made a predicted loss of more than $5.7 million! This huge sum of money could make up nearly 700,000 emergency thermal blankets, or 28,643 Amazon Kindle Fire HD tablets. It's a huge sum of money, which is why Amazon have commented that this shouldn't happen again, and that consumers should be able to continue enjoying their usual seamless experience on the Amazon shopping website. Regardless, this experience really hits home how much this huge company makes. Imagine earning nearly $6 million in less than an hour!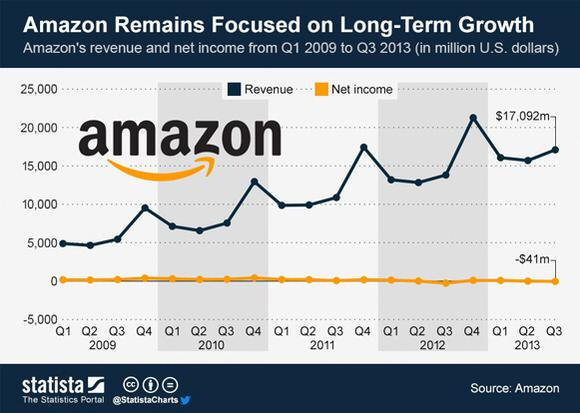 ---
5) Kindle
The Amazon Kindle was the very first venture into electronics for Amazon. The initial device was a white e-book that used e-ink to display text as if you were reading from a book. The Kindle series of e-book readers were designed, marketed and sold by Amazon, and users of the device were able to browse and download e-books, magazines and newspapers directly from Amazon using its wireless network capabilities. The device is designed to give people the chance to carry a huge number of books with them at any one time, but not have to stare at a glossy, LCD screen that may reflect light. The screen is designed to look just like a piece of paper with ink, making it easy to read in direct sunlight, and with its backlight, easy to read in the dark as well.
Japanese Kindle Fire HDX


By さぱしあvia Wikimedia Commons
The Kindle has had a number of redesigns now, and has recently entered its sixth generation. The most modern version of the Kindle is the Paperwhite 2013, and as well as existing as an e-reader, there are now also a number of tablets available under the Kindle brand. These tablets were designed to compete with the iPad by offering a lower price, different features and conveniently smaller screen. These LCD tablets include the original Kindle Fire, the Kindle Fire HD and the most recent Kindle Fire HDX.
2nd Generation Kindle Paperwhite 4GB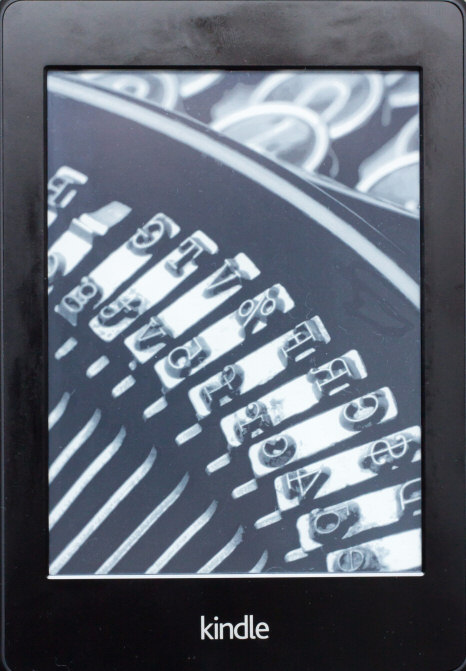 By Webysther via Wikimedia Commons
---
4) Amazon Prime
Amazon Prime is a new paid membership to Amazon that comes with a number of benefits. When you sign up, you can enjoy the services for 30 days free, before you begin making payments. Membership of Amazon Prime means that you can enjoy free one-day delivery that's totally unlimited on millions of items across the store. Not only that, but there is no minimum order size, meaning that you can enjoy one-day and free delivery on anything that you order.

If that wasn't enough, Amazon Prime also brings you more than 350,000 Kindle books to you for free that you can borrow and return whenever you want, or use on your Kindle. For all of this, you pay just $79 per year. You'll also enjoy unlimited instant streaming of thousands of TV shows and movies, as well as the new prime Instant Video service.
Fire Phone with Amazon Prime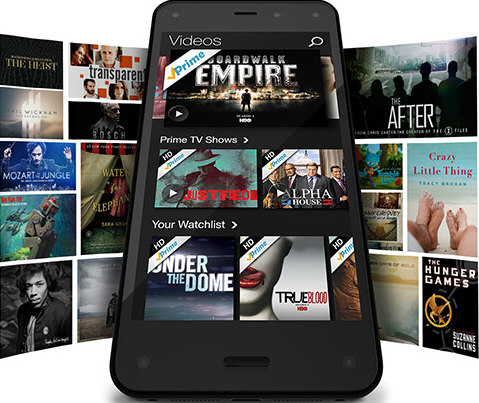 You can start your 30 day free trial by visiting the Amazon website and signing up if you're not currently a member, or simply upgrading your current account if you have signed up for Amazon services in the past. It's a great service that shows that Amazon is dedicated to continuing diversifying, providing new products and services for its valued members and customers.
---
3) Sell on Amazon
Another great feature on Amazon is the sell feature. This can help you earn extra cash by getting rid of objects you no longer need, want or use. If you only want to sell a little, then you can sign up for a basic Amazon account. This lets you sell in 20 different categories on the website, and you will pay a small fee for everything you sell. However, if you wish to sell professionally on the sign, then you can sign up for a monthly fee of $39.99.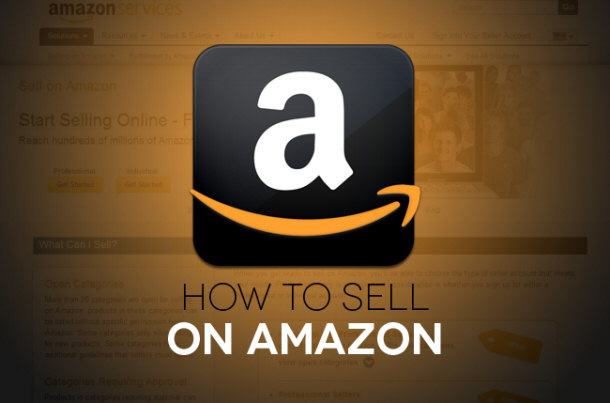 With this, you can sell products on Amazon, and place your trust in the website's ecommerce and trading system. You'll also enjoy fraud protection and access to millions of customers shopping online, which other ecommerce sites simply cannot offer.
Fulfillment by Amazon also means that you can sell it, and Amazon will ship it. The company has spent more than a decade working with millions of customers and orders and now has one of the most efficient fulfillment networks in the whole world. You can let Amazon professions store, pack and then ship the products that you want to sell, meaning that you don't have to do this yourself or even manage your own warehouse. This takes a load off your own back and increases your sales. Simply sit back, pay a competitive monthly fee and watch millions of customers come flying by!

Finally, you can even use Amazon product ads to improve your visibility on the website. These ads have no monthly fees and no minimum spend requirement, and can let you set a daily budget with cost-per-click. When a customer sees your advert and they are interested, they can click and purchase the product directly from you.
---
2) Careers
Amazon doesn't just offer great opportunities with regards to buying products or selling. In fact, Amazon is always recruiting and its website has great options for people who are leaving university and people who want to work in the customer service industry. Applicants will be best suited for a career with Amazon as long as they wish to become a master of the skills necessary to meet and exceed customers' expectations again and again.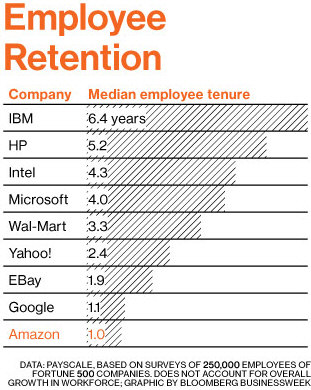 Amazon aims to be the most consumer-centric company in the world, allowing people to find everything they want. For this reason, the work environment at Amazon is fast-paced and always evolving, meaning that applicants to work with the company need to be passionate about their role and delivering results not only for the company, but also for the many dedicate customers.
The brightest minds are hired by Amazon, and each new team member will be challenged to improve their abilities throughout their career with the company. Those hired must be decidedly the best people for the position as well as a positive individual who will help reflect only positive sentiments about Amazon; essentially becoming an ambassador for the company. Service sector employees must be competitively compensated and they must have a better than average relationship with the company they are working for. Disaster occurs in service marketing when front-line employees are not suited for the responsibilities due to personality or other character flaws like an abrasive speech tact.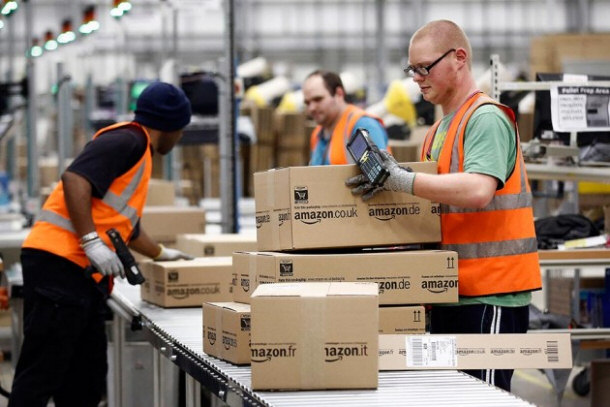 Contact with unsuited employees, in the long-run, only decrease Amazon's positioning with consumers and many thousands of dollars in potential sales. The perfect Amazon employee should be a master of what's known as service recovery (service marketing term designating a situation where some employee must go above and beyond to keep the customer who was initially wronged by some action or communication with the company). An example of service recovery that is specific to Amazon's business model would be if say an order did not ship when it was supposed to and the customer calls to complain. Immediately the representative should upgrade the customer's shipping arrangements to the most expedient option necessary and apologize for any inconvenience.
---
1) Revenue
Amazon is an incredible example of a successful ecommerce company, and to understand how it performs so well, you simply need to look at the revenue figures for the company. One particular area of revenue for Amazon is often forgotten about, but in fact, the ad revenue for the company is pretty substantial.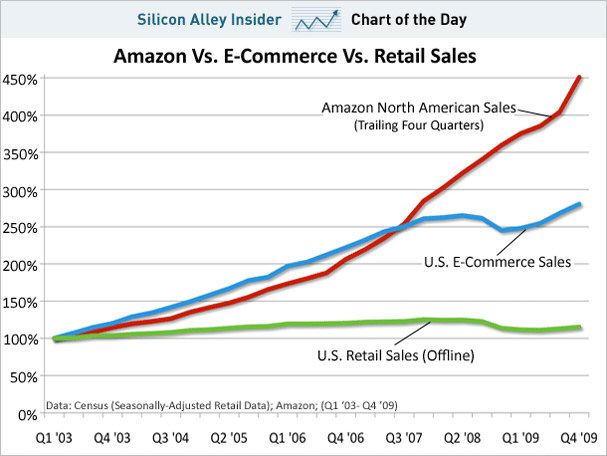 The ad revenue for Amazon recently show that last year, the online trading company made more than $610 million in net ad revenues, and that this year, it is expected to top $835 million. The figure for 2012 shows an increase of 45.5% from 2011, and the expected figure for this year will make a further increase of 36.9%.
Without advertisements, however, Amazon still has incredibly substantial net revenue. In just the first quarter of 2013, Amazon has announced that they have made a huge $16.07 billion, increasing by 22% over last year's figures. This figure beat the estimates from the Wall Street journal, leading to speculation that the company will once again outperform in upcoming quarters.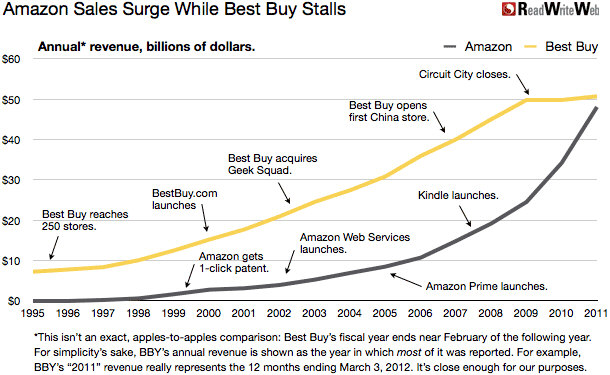 As for ad revenues, it is expected that Amazon will continue developing its strategy and making consistent growth in the field. Amazon will continue gathering data from businesses and through its retail sales and improve its current strategy. By reaching out to precisely the markets they need, Amazon will no doubt break even more records and net the expected $1.1 billion in ad revenues by 2015.
---
Conclusion
Amazon is one of the most successful examples of how pushing yourself to do something can result in success. It is also a sign of how the markets are changing, and these interesting facts show that we should expect significant changes over the next five to 10 years. Amazon is always adapting and changing and manages to stay ahead of the game. We may well see further improved services from the company, or totally new innovation from competitors.
Business
15 Cases of Extreme Brand Protection
15 Interesting Things You Should Know about Amazon.com
Top 15 Low-Budget Business Ideas
15 Interesting Facts about Walmart
5 Business Email Personality Types - Which One Are You?
Dreaming Your Business Team to Success
How to Turn a 'No' Into a 'Yes' For Business Sales
15 Projects That Started as a Joke and Ended Up Successfully
Mastering The Art Of Delegation Leadership
How To Set Business Goals And Objectives
How to Properly Motivate Your Employees
The Importance of Video Surveillance in the Workplace
Starting Your Own Business: Important Things to Know
Best Ways to Advertise Your Freelance Writing Business
The Power of the World Wide Web for Business
Starting Your Own Business: Important Things to Know
How to Set Up a Home Office
How to Accept Credit Card Payments Online on Your Website
The Advantages of Online Franchise Business
Basics of Marketing Plans for Small Business