How to Set Up a Home Office
Set up your office so that you have as few distractions as possible - and few excuses to get up from your desk and go to a different part of your house. Consider purchasing a small refrigerator or at least a cooler for your office so you can fill it with cold drinks and won't have to go to the kitchen instead. Small coffee makers are very inexpensive and can give your office a more "corporate" feeling.
Try, as much as possible, to mimic the type of schedule you'd have in a corporate office. Take a break in the morning and afternoon. At noon, get away from your office and have a nice lunch. At the time that you've decided to quit work, turn off your computer, leave your office, and close the door.
And remember this - if you have "one of those days" when the universe appears to be conspiring to prevent you from doing your work; be kind to yourself. Remember that one of the joys of working from home is that you do get to set your own work schedule. If you are having one of those days when everything seems to be going wrong (and we all have them), count your blessings and be thankful for the things you can control.
Your Perfect Home Office
Let's say that you've decided that the guest room that is never used will be a perfect office. You're ready and excited to set up your home office.
The very first thing you need to do is to take out all of the bedroom furniture if you're using a spare bedroom, and either put it in storage or sell it. Remember, this isn't a sometimes office/sometimes guest room. This is where you'll run your business.
After you've taken all of the furniture out of the room, measure it. You may need to calculate what percentage of your household expenses is used to maintain your home business so you can deduct those on your income tax. (To find out for sure, talk to the accountant who will be filing your business tax returns.)
If necessary, paint the walls a nice color that you like. Remember, you're going to be spending a lot of time in this room, so make it pleasant!
If the room you've chosen for your office doesn't already have a separate telephone line, have one installed. You want a dedicated telephone line for your business. Having only one line for your home and your home office makes you look unprofessional. Also, a second phone line makes it easier to answer the phone in a professional manner. When people call your home-based business they shouldn't get someone, especially a child, who just says, "Hello." When this happens, clients may think they've misdialed and hang up. Even if they don't hang up, this doesn't give your business the professional image you want it to have.
Furniture and Equipment You'll Need
Next, you're ready to start adding your office furniture and equipment. The basic pieces you'll need are the following: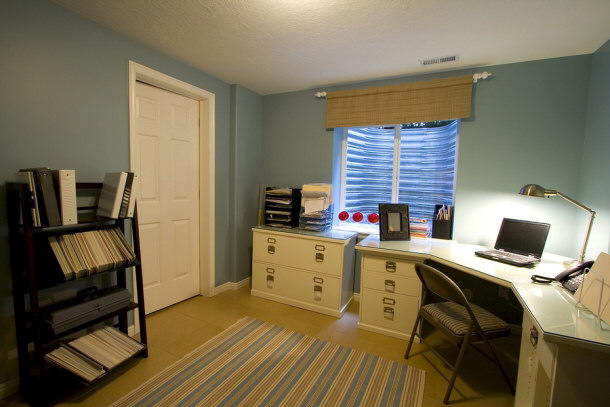 Filing Cabinet(S) And a Good Filing System: If you keep your records in order, you'll find that it's much easier to prepare your income taxes as well as take care of the day-to-day business. Think about using a system of baskets. These can be attractive and an easy place to store your list of things to do, receipts, etc. until you have time to file them properly.

A Desk and Comfortable Chair: In the beginning, you don't have to buy a lot of new furniture. Get comfortable, functional, and affordable furniture, and be frugal in the beginning. When you start making a profit, you can re-evaluate your needs. Just make sure your desk is large enough to hold a computer and still leave enough room for a desktop workspace. While you can save money on a desk, don't scrimp when buying your chair. You'll be spending a lot of time sitting in it and you need a chair that is comfortable and won't leave you with a backache at the end of the day. Adjustable chairs - where you can adjust the height, tilt of the seat, and the lumbar support - are a good investment.

Table for your printer and fax if your desk isn't large enough to hold them.

An answering machine, so you can record professional-sounding messages for those times you can't answer the phone.

A Computer: Consider what business tasks you're going to use your computer for before you buy one. Will you want a desktop or a laptop?

A Printer: Most of the time, you'll only need to print your documents in black-and-white, so if you're watching your pennies, it's okay to go with a cheaper printer in the beginning (especially since you'll probably be sending documents to your clients electronically anyway). But color printers are so cheap these days, and you can write off all of your equipment as business expenses, so you might as well pop for a nice color printer if you can.

A Copier: I know you might be wondering if you'll ever need this, but in my experience, you'll use a copier more often than you think. For example, a client has a document that he or she wants to incorporate into one that you're writing, but doesn't have electronic files for it. Plus he needs to have the original back. If you don't have a copier, you'll need to either copy it at your client's place of business or stop by a quick copy place, like Kinkos, which can cost you a small fortune.

A Fax Machine: If you don't have one built into your printer. If you prefer, you can get fax software that will allow you to send and receive documents on your computer.

A Speaker Phone or A Headset Phone: These are especially useful if you are involved in conference calls or telephone meetings with your clients.

A Cell Phone: This is essential for those times that you have to be out of your office and get a call from a potential client. You can give your clients both your cell-phone number and your home-office phone number. When youíre out of your office, you forward your home-office phone calls to your cell phone and never miss a call.

A Briefcase.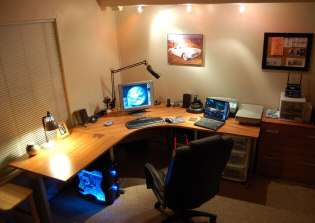 Take some time to arrange your office so that it works efficiently and is a pleasant place to spend your time.
Be sure that you have good lighting. You need good task lighting In addition to overhead lights so you can look at papers on your desk while working on the computer or talking on the phone.
Think of creative ways to use your walls for storing supplies and project materials, like on a large white board on one of your walls where you can write your deadlines and make notes that you don't want to forget.
To save a bit of money when furnishing your office, think outside of the box. You don't have to buy expensive filing systems at the local office supply store. Many times, you can find creative, usable storage Items at a hardware store. Check out the kitchen and bath areas and you'll find a number of inexpensive storage options.
Keep Your Office Organized
Have a place for your supplies, and then, most importantly, keep them in their designated places. If you use your staple puller, put it back in its place when you're finished using it. Don't put your supplies down on your desk, filing yourself that you'll store them properly later. If you don't, it won't be long before your supplies are scattered and you won't know where any of them are.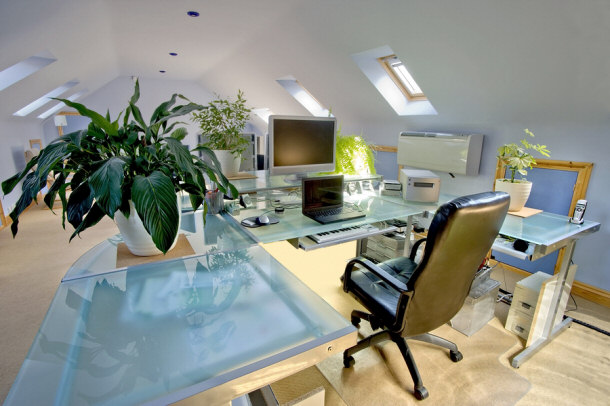 If you have a family or roommates, make sure that they all know that your supplies are strictly off-limits. Keep tape, scissors, etc., in other parts of your house for them to use. If they "borrow" your supplies anyway, consider putting them under lock and key (the supplies, not your family). There's nothing worse than being on deadline and unable to find a single paper clip!
Make sure you have a good filing and backup system for your electronic files as well. USB flash drives are small and inexpensive. If you ever accidentally spill a drink on your computer while its running (okay, I know we're not supposed to set our cup of coffee or can of soda next to our computers while we work, but it happens), you'll thank your lucky stars that you had the wisdom to spend a few bucks on a flash drive. They typically are very small but have very large storage capacities. Since they don't have any moving parts, they're very reliable.
In addition to using a flash drive, you can back up your critical files on a remote server. If you do a search on the Internet for file storage sites, youíll find several that you can use. Some of them are free. The beauty of using a service like this is that your files are safer than they would be on your own computer. Plus, if you're at a client's office and need to access one of your files, you'll be able to log onto your account from there as well.
If you're building a home office from scratch, get the most technologically advanced wiring you can afford. Also, look into wireless options. You'll appreciate the flexibility you'll gain by being able to work anywhere you want, including outside on the deck when the weather is nice.
Take your home office as seriously as you would if you were setting up an office in a building outside of your home. Think of worst-case scenarios and how you would protect your valuable equipment and data.
Now, contact the telephone company and get your new business telephone number, and connect your computer to your Internet Service Provider, you're nearly ready to open your doors for business.
Five Rules for Your Home Office
Set up Your Home Office: Set up your home office so it's separate from the rest of your house. Ideally, you can use a spare room for your office and shut the rest of the house out by shutting the door. If you can't spare a room, make sure you have at least a desk where you can keep your business materials organized and they won't be disturbed when youíre not working. A separate work space helps you separate your work life from your home life. When you go to your office, it helps you put some distance between your work and your home life. It also helps your family to see that you're working and shouldn't be disturbed.

Keep Your Home Office Neat: Since most freelancers handle all aspects of their businesses themselves, itís especially important that you keep your paperwork organized. Try to handle each piece of paper only once. If it needs to be filed, put it where it should be. If it isn't needed, throw it in the trash. Don't collect paper. You need to be able to sit down in your office and go to work without having to clear a space or hunt for a particular piece of paper. Getting your home office organized and keeping it that way prevents distractions and wasted time. Keep all your relevant working materials in your work space. Having to walk into another room to retrieve a file can be a serious waste of time.

Minimize Distractions: You need to be able to concentrate on your work, but if your children are running in and out of your office, your home phone is ringing off the hook, and people are ringing your doorbell, you're going to be too distracted to do your work.

Post Your Deadlines In A Prominent Place: As I mentioned before, keep a white board on your wall where you can see it. Draw several lines on the white board and then use different colors of markers to write the deadlines for different projects and milestones that you must meet. Take a little time each morning to review the white board and make sure that it's up-to-date. In addition to the white board, keep your schedule on your computer and on your electronic assistant device so you can keep track of appointments.

Keep Track Of Your Time: This can't be emphasized enough. If you're working on an hourly rate, you obviously have to keep track of your time. When you're being paid for the overall project, you need to track your time so you can determine if you've estimated your project price correctly. One of the questions people ask most often is how to estimate a fair price for a project that will enable them to make a profit. You can't estimate how much to charge for a project with any reliability until you know how long it takes you to do different tasks.
In addition to tracking your time working on projects, you also need to track the amount of time you spend on the tasks required to run your business, such as sending out invoices, marketing, and bookkeeping. Tracking the amount of time you spend on these tasks can help you see where you're spending too much time so you can try to find more efficient ways to do things. It's also important so you can know what your billing rate should be. Whenever you're working in your business, no matter what you're doing, keep track of the amount of time you spend on each task.
Business
15 Cases of Extreme Brand Protection
15 Interesting Things You Should Know about Amazon.com
Top 15 Low-Budget Business Ideas
15 Interesting Facts about Walmart
5 Business Email Personality Types - Which One Are You?
Dreaming Your Business Team to Success
How to Turn a 'No' Into a 'Yes' For Business Sales
15 Projects That Started as a Joke and Ended Up Successfully
Mastering The Art Of Delegation Leadership
How To Set Business Goals And Objectives
How to Properly Motivate Your Employees
The Importance of Video Surveillance in the Workplace
Starting Your Own Business: Important Things to Know
Best Ways to Advertise Your Freelance Writing Business
The Power of the World Wide Web for Business
Starting Your Own Business: Important Things to Know
How to Set Up a Home Office
How to Accept Credit Card Payments Online on Your Website
The Advantages of Online Franchise Business
Basics of Marketing Plans for Small Business