By: Sha - at February 19, 2013
What Does Freelance Writing Mean?
Freelance writing is one of the best jobs in the world. Freelance writing means writing as a free and independent writer or contractor. Freelance means you are an independent contractor and work under different arrangements for each client or project. You work according to your own preferences and schedules. As an independent contractor (freelancer) you choose the amounts of work, assignments and types of jobs you want to take on. You choose a project or client you want to work with and work independently. There might be contracts and arrangements you should make with each client as needed.
A freelance writer is an independent writer, you are on your own, and you are your own boss when writing as a freelance writer. As a freelance writer you write for a set of multiple clients for a specific payment for each write-up. You can write on a single topic for the clients on different websites that facilitate writing platforms and opportunities. If you have established yourself as a good writer the clients can contact you for ongoing writing projects and this option may turn into a good source of getting paid regularly.
Types of Freelance Writing
There are many different kinds of freelance writing. Some of them include:
Web writing
Business writing
Academic writing
Marketing writing
SEO writing
Ghost writing
Writing for magazines
Grant writing
Proposal development or writing
Writing ads
Writing press releases
Writing reviews
You will not become a freelance writer overnight by writing only a few articles or writing projects. If you truly want to be a freelance writer then you will need to figure out what you are good at writing, and then start using your talent writing for clients, freelance websites or content mills, and for your own blog or website etc. You may choose to write for only clients or for your own blog or website, or you may choose all the writing options you find suitable and that best showcase your abilities. Once you will begin writing, you will understand your strengths and weakness and can take up writing projects accordingly.
Options for Freelance Writers
You have two options when writing as a freelance writer. The first option is writing on chosen topics set by clients or particular writing websites. Another option is writing on your own chosen topics. When you are looking for online jobs you are interested to write on, you are generally given the topics. You might be able to pick a writing project or job and then write it and finally submit it to get paid. You can get writing jobs online in many other ways. If you have a blog and write there regularly then many clients might offer writing jobs online to you. If you write for other blogs or websites as a guest blogger or writer then many clients might contact you to write their content. But you have to write on their chosen topics unless you are given the choice to write on your own chosen topics.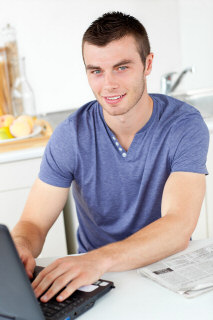 The other option is if you want to write online on your chosen topics. You will need a writing platform to write and publish your articles on. The best option is to setup your own blog and start writing. You are your own boss and can write anything and on any topic you find suitable. If you do not want to start your own blog yet or do not know anything about how to setup a blog (although it is extremely easy and does not require you any technical expertise) then you have to find a platform where you can write on. There are many writing websites where writers can write articles, essays, reports, product reviews, blog posts, forum posts etc.
The opportunities in freelance writing are endless. There are many people who do not know something you know. If you have a passion for something and can express that in words then there are people who will love to read that. Write about anything you know and share with others. If you have fairly a good command of English you can reach a large audience of many thousands living everywhere in the world. Write about something that you think will make some sense and the readers will find interesting.
Final Words
A freelance writer is someone who writes for many different clients and companies. A freelance writer does not belong to any particular company or client. There are ample opportunities that exist online for freelance writers to earn a living by being a full-time freelance writer, or supplement their regular income by writing part-time. Whichever route you want to explore, you must need to ensure that you can write helpful and unique content for your audience to become a freelance writer. Without some knowledge of something, a flair for writing and sharing with people it is not possible to succeed in freelance writing. If you have the knack for writing then freelance writing is the best option for you to make money online at your convenience.
Jobs
Top Lists:
Top 15 Most Physically Demanding Jobs in the World
Top 15 Quick & Easy Money Making Schemes that Work
15 Unusual Medical Professions
15 Unusual Ways Used To Source For Jobs
15 of the Most Underappreciated Jobs
Informational:
Time Management Tips for Freelancers
How to Successfully Work From Home
How to Provide Excellent Customer Support
How to Ace Your Job Interview
How to Successfully Work From Home
Radiation Therapy Career Analysis
Tips for Building Your Freelance Writing Portfolio
Tips for Freelancers to Avoid Burnout
What Does Freelance Writing Mean
Where to Find Legitimate Data Entry Jobs Online
How to Cope with a Pay Cut
Online Jobs from Home for Stay at Home Moms
What are the Benefits of Work from Home Jobs?
Can a Freelance Writer Make a Living Writing Online
Trends in the Job Market and the Growth of the Service Sector