15 Ridiculous Uses for Gold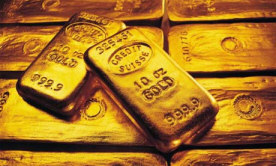 The mining of gold predates most precious metals. When found little changes need to be made, and the metal does not need to be combined with other elements. America is not the main source for gold worldwide. Instead, you need to head to South Africa. More than 66 percent of international gold supply comes from this nation alone.
Even though gold is a rare and valuable commodity, many people use it for ridiculous purposes. Sometimes, it is included in edible dishes, and we've all seen dental implants that have been made of solid gold. So, what are the most ridiculous uses of gold that have been documented in history?
---
15) Use of Gold During Surgery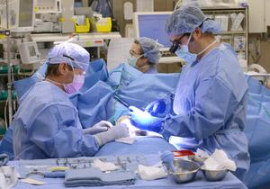 This will certainly raise a few eyebrows. The World Gold Council believes that this precious metal has been used for medicinal purposes for over 4,000 years. It's understood that the first successful use of gold during a medical procedure was in China, way back in 2500 B.C. Although this idea may seem extravagant, there is a simple reason why gold is sought after for during surgery: the metal doesn't erode easily, and there is a minimal risk of infection.
One popular treatment which includes gold is the care given to sufferers of prostate cancer. The gold may only be tiny – the equivalent to three pieces of long-grain rice – but helps doctors to determine where cancerous cells are, and how to eradicate them.
Meanwhile, gold even has the power to eliminate paralyzed nerves that may gather in the face. In some cases, such a condition can stop a sufferer from being able to close their eyes. When a gold-plated system is installed underneath eyelids, the weight ensures that a person is able to do so safely. They won't have any problems falling asleep from now on.
There is a reason why large amounts of gold aren't used in their purest form. The main one is that it can be quite soft. When combined with other sanitary materials, this makes it easy to ensure that any foreign objects inserted into the body will last for an extensive period of time.
---
14) Shirt Made Out of Gold
Some people love to make a fashion statement. However, if you were planning to wow friends at a party, it's not very likely that you would decide to invest in a shirt that's made entirely of gold. This was the decision of Datta Phuge, an Indian man who has something of an obsession with gold. It's believed that the shirt cost approximately $250,000 to make, but this does depend on the value of the commodity at the time.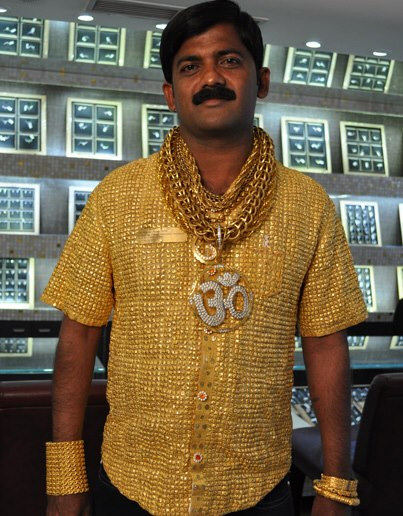 If it is any consolation, he is quite selective on the occasions where he wears the shirt. Considering that he needs a security guard to ensure that his well-being and investment remain safe, you could say that this purchase is far more hassle than it is worth.
Modern media widely reported the elaborate purchase. Even his wife has an extensive collection of gold jewelry. It is estimated that she has more than 1,000 lbs worth of the precious metal to choose from when she's getting ready in the morning. Not bad at all.
---
13) Gold Use In Space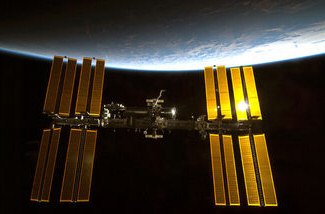 This ridiculous use certainly seems out of this world. For many years, astronauts have chosen to use gold extensively when they are in space to complete missions. The main reason for this is because gold has the power to protect them from the penetrating rays of the sun. Not only are the visors worn by professionals plated in the precious metal to prevent their eyes from being blinded, but we often find it installed on rockets and other spacecraft to stop overheating and radiation.
Back here on earth, many businesses seem to think that the idea requires further attention. If you head to the Royal Bank Plaza tower in Toronto, you will notice that all of their windows are plated with gold. Although it may seem like an elaborate investment, the reasons are practical rather than esthetic. Due to how gold prevents heat from the sun from entering a building, this ensures that energy bills are kept as low as possible. Seems like a good idea, but surely it wouldn't result in too many savings?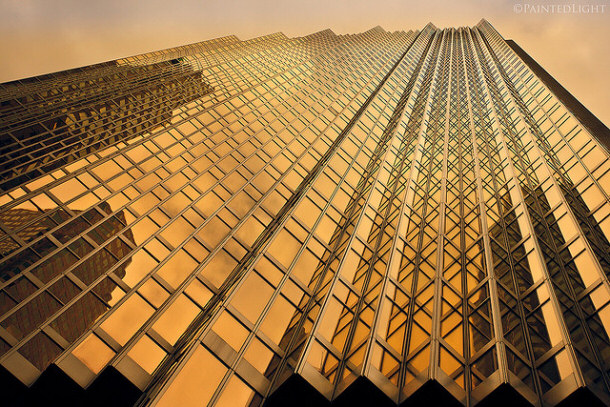 When it comes to some interesting factoids about the gold at the Royal Bank Plaza tower, try this for size. The combined weight of the gold is over 705 kg, and if it was to all be sold in the marketplace, it would fetch a prize tag of more than $1 million. It's believed that 24-carat gold is used, with only thin layers required to keep the building cool.
---
12) Gold USB Drive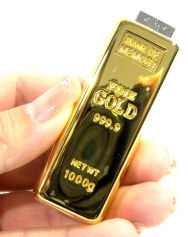 Many technology lovers argue that the USB Drive is dead. After all, we now rely on the Internet to ensure that files are transferred safely. You might be annoyed if you had purchased a gold-plated USB drive. Especially if you are the type of person who leaves their drive in computers, forgetting to disconnect it and take it with you once you are finished.
Not only does it look good, but it performs well, too. If you needed to get files transferred fast, it could transfer 10 high-quality songs in just one second. The USB drive also has 8GB of storage, and it came with encryption security to ensure top-secret files remained that way. At a cost of around $600, we've certainly ended up muttering to ourselves that this use of gold is "ridiculous."
---
11) Cosmetics Use Gold
If your partner starts asking for beauty treatments that involve gold as an active ingredient, you'll likely be wincing at the price tag. However, it's important to remember that the use of this precious metal in cosmetics has been going on for centuries. Cleopatra, one of Egypt's most iconic Pharaohs, was one pleased customer. Long-held beliefs suggest that gold helps to rejuvenate skin and keep us looking young.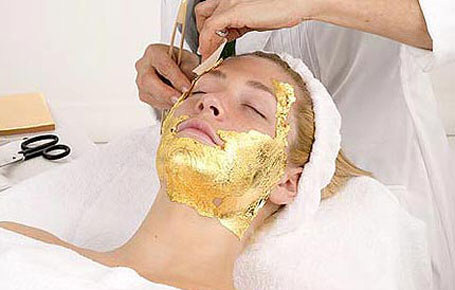 Other health benefits include how it is able to prevent aging that may be caused from excessive sun light exposure. Even the most stubborn of wrinkles can be eliminated if gold is applied continuously. Many spa centers offer the treatment to willing customers, with thin sheets of 24-carat gold leaf applied to form a face mask. This usually occurs after small grains of the metal are rubbed into the skin, with a sumptuous warming effect. Something to look forward to! In recent years, such treatments have become more widely available, meaning they aren't as exclusive as they once were.
---
10) The Yacht with Gold-Plated Toilets
Yachts are loved around the world because they are a great way to show how wealthy you really are. However, in some cases, a fancy boat that you'll be able to sail around the world isn't enough. That's why an Arabian entrepreneur decided that he wanted to change the set up of his Majesty 13 yacht. The main modification involved layers of 21-carat gold being applied three times to the porcelain toilets. Each one of the cubicles cost more than $15,000 to create by hand.
Majesty 13 yacht: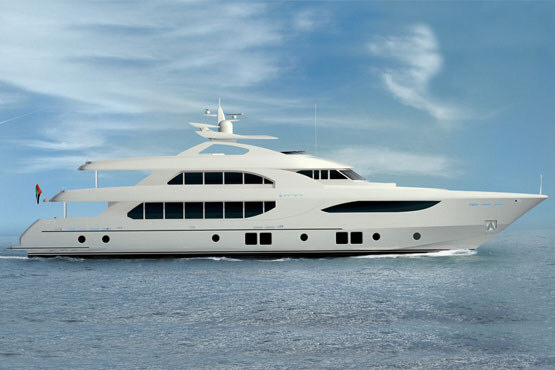 Majesty 13's Gold Plated Toilets: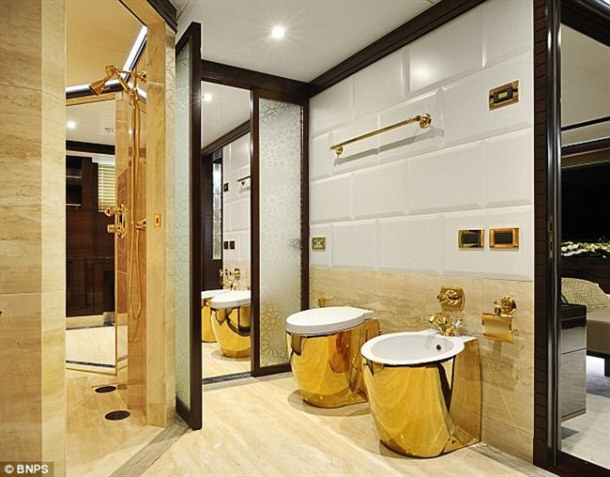 Tecma, the company behind the luxurious line – labeled "Privilege" – also said that platinum was available. Useful if you have a preference as to which precious metal you want to use for your throne! At an international boating convention, details were also revealed as to how the toilets were made, with the gold being subject to temperatures of close to 2,200 degrees to ensure they fitted each toilet perfectly. Your guests would certainly thank you for your hospitality if you had these toilets on board.
---
9) Gold Champagne Bottles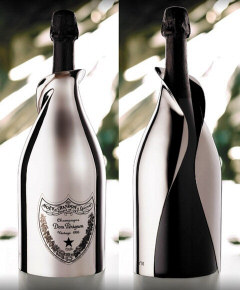 It could be argued that one of the most ridiculous uses for gold is if it's intended for food or drink. After all, it might look good, but there won't be any left to enjoy once you've consumed it. Back in 2005, Dom Perignon, the iconic Champagne manufacturer, wanted to ensure that their established clientele could welcome in the New Year stylishly. As such, they created the White Gold Jeroboam, which contained three liters of bubbly.
One benefit to investing in it is that its bottle is made out of white gold. It's estimated to cost $40,000, although there are cheaper versions available on the market. Within the bottle is vintage Champagne that originated in 1995, some 13 years before the special edition hit the market. Other champagnes to include gold include Luxor, which was made using gold flakes. This was intended as less of a collector's item, and comes in at less than 40 times the price of the Dom Perignon. You could say one of the most painful things of going for the more expensive option is how you would feel incredibly guilty after finishing the Champagne.
---
---
8) Gold Lollipops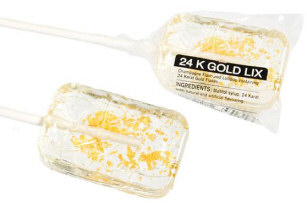 Yes, you heard – there are even gold lollipops. This is probably an aim to target younger enthusiasts of this precious metal. In fact, it could even be regarded as a decadent treat for those who are young at heart. Even a wine-flavored offering is available for under $10, including genuine flakes of 24-carat gold. There are now several companies that offer this sweet, gold-leafed treat to their clients.
Interestingly, there was quite a backlash once this particular product was released, including an article published by The Huffington Post. One critic even argued that it would be far better to spend the money on a good bottle of wine, especially considering that the gold on the lollipop is tasteless. Its overly decadent nature makes the whole product ridiculous. Perhaps this is a worthwhile gift for the thrill of the experience, more than the actual taste you would have to look forward to.
If you were thinking of buying one for your child, not a good idea! First up, as most of the lollipops taste like alcohol, it's highly possible you could be breaking the law. There are a number of fruit-flavored, gold-free lollipops you could have purchased instead.
---
7) Gold Vacuum Cleaner
It seems like the retail world has taken a promise to make every conceivable purchase in the world gold. The next ridiculous use for this precious metal is on a vacuum cleaner, which has been plated with 24-carat gold. Just 100 were made by the manufacturer, at a cost of $1.5 million each. If the mere concept of a household appliance that's covered in gold wasn't enough, it seems like the company behind the vacuum cleaner hasn't grasped a vital flaw: if someone is rich, surely they wouldn't be cleaning their own property, requiring the thrill of gold-plated machines to see them through?
This particular model was made by the company Go Vacuum. Initially, there was also a lot of skepticism in the media as to whether or not the appliance was genuine. Despite this, staff at the company had confirmed the vacuum cleaners had entered production. The first vacuum took six months to make. Those who are feeling flash and actually purchase one of the cleaners, also have the opportunity to have their names engraved along the side.
$1.5 million Dollar Gold Vacuum Cleaner: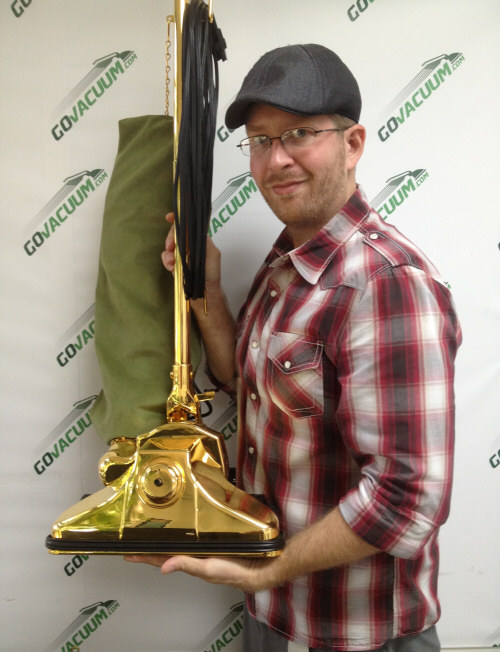 We were further tempted by how the appliance seems to boast substance as well as style. The specification includes a powerful motor and sturdily-built wheels, ensuring that you'll be able to glide around your home in no time.
---
6) Gold Ice Cream Sundaes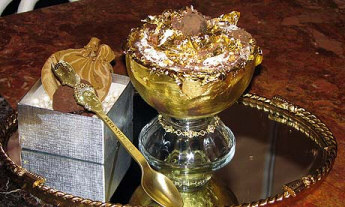 As you might have guessed, if you wanted to buy the world's priciest ice cream sundae, you should expect the finished product to contain gold. That's the case with the Golden Opulence Sundae. This dessert has been available for the past nine years, costs $1,000 to make, and is available at the chain of Serendipity 3 restaurants. Their flagship locations are located in New York and Washington, DC. According to the Guinness Book of World Records, it was recognized as the costliest ice cream sundae that money can buy.
As well as the inclusion of 23-carat gold leaf which is safe to eat, there are also rare ingredients including ice cream made from Madagascan vanilla pods. Truffles, caviar, and the world's most expensive form of chocolate are also combined in the mix. Don't worry if you were unable to determine whether or not you were eating gold. A 18-carat golden spoon is provided as a powerful reminder.
Interestingly, the restaurant estimates that it takes several days to make it. The main reason for this is because of how ingredients need to be sourced from around the world in advance. For those on a bigger budget, their Frozen Haute Chocolate (the word "haute" means "fine cuisine" in French, as well as being a play on the word "hot") is also the world's priciest dessert. Yes, before you ask – it does come with edible chocolate, not to mention a spoon encrusted with diamonds that's yours to keep. It is worth more than $14,000!
World's Priciest Dessert ($14k+): Frozen Haute Chocolate: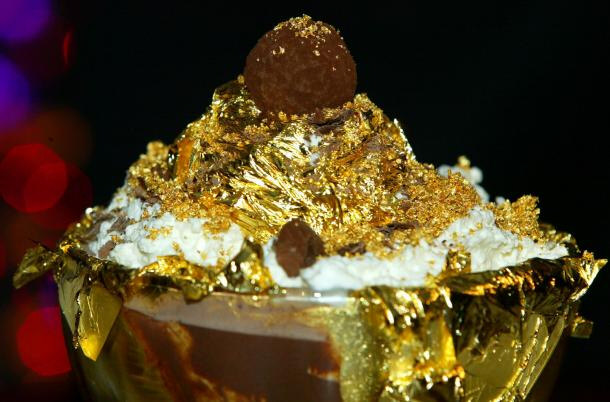 ---
5) Gold ATM
Some might argue this is a sensible use for gold, others not. After all, why on earth would you want to withdraw bars of gold from an ATM? These machines have started popping up in Abu Dhabi, a city in Dubai. At first, there was one, but there were recent confirmations that two more would be arriving.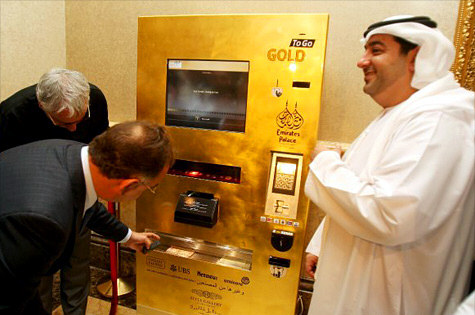 As you would expect, the technology behind the cash machine is pretty hi-tech. Due to the continuing changes in the price of gold in the international marketplace, the latest prices are updated through a computer screen connected to the Internet. That said, this could leave you pretty annoyed. What if you had bought a 10 g bar of gold in the morning, only to notice the price had dropped considerably later in the day?
As well as bars of gold that range in size, it's also possible to get engraved coins. The main reason why the ATM was launched in the United Arab Emirates, instead of in Europe where this ATM was first invented, is because of how many entrepreneurs continue to deal in gold here. It looks unlikely that such machines will become popular in U.S. shopping areas soon.
---
4) Gold Pet Mattresses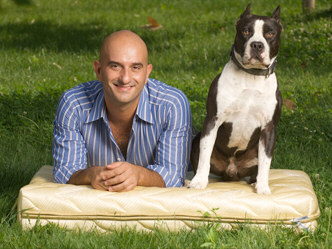 Threaded with high-quality gold, the striking thing about these mattresses for dogs is how they have sold more successfully than the equivalent products available for humans. This is probably because of how the sector for luxurious pet accessories is thriving, even during the global financial crisis. Another incentive is the cost – at $3,000, a gold pet mattress costs 90 percent less than full-size bedding for humans.
One of the main reasons why such an idea is ridiculous is because of how dogs are notoriously able to sleep anywhere. Additionally, they are hardly going to get a better night's sleep, with an enhanced mood, as a result. Then again, if your pampered pooch resides in the living room, the addition of a gold mattress could certainly make the place look more stylish… even If the cost of the product matches the price of all the other items in the room combined.
According to the inventor responsible, demand has surged after the company had a request from a long-standing customer. A practical advantage is because of how the mattress will last for a long time, as well as how the precious metal prevents the growth of bacteria. Comes recommended if you have excessive levels of money to spare, treat your animals like your kids, and find it downright annoying that you're continually paying for new mattresses for your dog.
---
3) Gold Plated Smartphone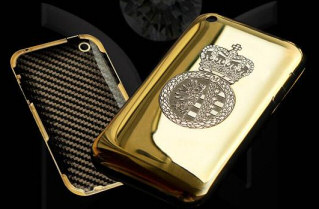 It's hard to decide what's more ridiculous – the fact that you can get a smartphone that's smothered in gold, or how this expensive product will be replaced by a more sophisticated model in just a few months. That said, if you've got enough money to shell out $15 million on a smartphone, getting a replacement quickly shouldn't be a worry.
This particular product comes from Stuart Hughes, the same jewelry designer who had worked on the yacht mentioned earlier.
It's an iPhone that has a diamond-encrusted Apple sign, as well as a smooth, gold backing. The main emphasis lies on the Home button, which includes a 26-carat, rare black diamond. Hughes has added this exclusive model to his Apple range, also featuring a $170,000 iPad.
Usually, this designer makes his smartphones to order, resulting in people requesting gadgets using the diamonds and gold that they might already have lying around the house. According to Hughes, the product took more than two months to perfect. As such, you might have a bit of a wait on your hands, especially considering the time it takes to complete one order. The final complement to the iPhone is how the glass was reinforced with sapphires, to give it a truly elegant touch. Top tips include to refrain throwing it against the wall after a frustrating phone call, and to make sure you don't leave it in your taxi on the way home from a fun night out.
---
2) Gold Rolls Royce
The Rolls Royce is an expensive car, envied around the world already. In recent years, it has also become incredibly popular in China, with rich entrepreneurs who have a passion for getting personalized luxury items. Stuart Hughes also created the Rolls Royce Phantom Solid Gold. Within this vehicle is 120,000 g of 18-carat gold. Security was even considered with this vehicle (which is probably wise,) and the car is completely bulletproof.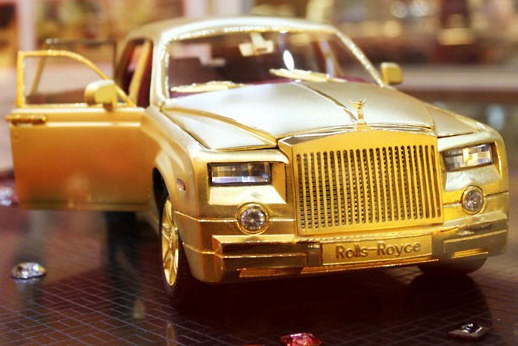 Lovingly made over the course of a year and a half, such a car would set you back $8 million. We'd regard this as a ridiculous use of gold, not least because you would feel incredibly nervous parking it somewhere. The recipient of this model was an entrepreneur in the Middle East, but his identity was withheld to prevent any untoward behavior. It's believed that another one is currently in production, meaning that there will only be two in the world.
---
1) Gold Aquarium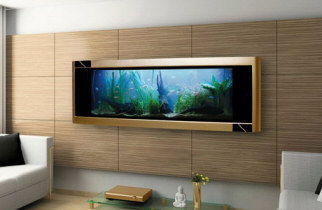 Last but not least, the most impressive addition to any home would be an aquarium. At a cost of some $5 million, three Aquavista Dinosaur Gold edition aquariums were made. The precious metal has been applied in a rectangle that frames the reinforced glass. All in all, the 24-carat gold used in the aquarium weighs 68,000 g. In many ways, this particular purchase is ridiculous because of how it draws attention from the real spectacle – the sealife found within the glass. For those who are able to afford such an item, the automatic lighting and heating, plus the digitally-controlled feeding station, means that it only requires three hours of maintenance on an annual basis.
Each of the aquariums took four months to make, and any potential suitors will be able to take comfort in the fact that free shipping is included along with the aquarium.
In addition to gold, this rare aquarium also offers an exclusive ingredient: mammoth tusks. Running alongside the aquarium, these exclusive items date back more than 60 million years, and were lovingly installed to create an excellent impression. You could argue that it's a shame that the tusks aren't on exhibition for the world to see in a museum, but the world of luxurious and exclusive products is to irresistible for many entrepreneurs to ignore.
---
Conclusion
It's important to remember that gold is a commodity. As such, as our ability to mine it depletes, the price of the precious metal will rise heavily. This could mean that ridiculous uses for gold become less evident in our society. After all, if you have 100 kg of gold, and the prospect of buying more is looking unlikely, are you really going to use it all to modify a car, a yacht, or even an aquarium?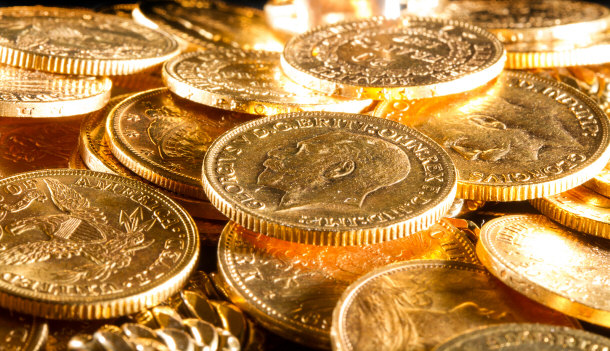 The reason why many people rely on such elaborate products is because they become a Viblen good. This is an economic term that is used to describe where value within goods lies. If you have a wealth of millions of dollars, it's likely that you would want to show the world how rich you are. You would see buying a gold-plated car or the freedom to buy a $25,000 dessert, as the opportunity to show others your wealth. The satisfaction lies within knowing what something costs, or the ability to explain to someone how much was paid for something.
For many, this is seen as ridiculous, materialistic, and almost immature. However, it's still worthwhile to note how gold can be an excellent investment to make, or something that offers financial security for the future. Given the influence that such elaborate products have in the world today, having access to the precious metal could see you make a small fortune if you decided to sell it to an entrepreneur hungry to use gold elaborately.
Nature
Top Lists:
15 Fascinating Facts about the Amazon Rainforest
15 Remarkable Facts About Bacteria
15 Remarkable Facts About Jellyfish
15 Little Known Facts About Elephants
15 Fascinating Facts about Earthquakes
15 Odd And Interesting Facts about Monkeys
Top 15 Myths about Snakes
Top 15 Myths about Horses
Top 15 Creepy Deep Sea Creatures
15 Unexpected Animals That Can Kill You Quickly
Top 15 Spider Myths
15 Beautiful Animals that are Now Extinct
Top 15 Most Amazing Snakes Around the World
15 Fascinating Facts about Snow
Top 15 of the World's Rarest Flowers
10 Most Emotional Animals
15 of the Most Venomous Creatures to Roam the Earth
15 Unusual Animal Defense Mechanisms
15 Unusual and Less Known Uses of Rocks
15 Unique Forest Creatures Less Known To Man
15 Interesting Facts About Time
15 Unknown Parasites You Never Knew Existed
15 Weird Trees Around The World
15 Wild Animals Deadly to Humans
15 Exotic Insects That Are Harmful & Deadly
15 Ridiculous Uses for Gold
Informational:
Preparing for a Disaster
Proof That We Are What We Are!
What is the Meaning of Life?
The Trend and Challenges Facing the Urban World
Creation Narratives and the Evolution Creationist Debate