Aging in the NBA
Introduction
With the retirement of Jason Kidd (1994 – 2013) and Grant Hill (1994 – 2013) at the end of the 2012 – 2013 National Basketball Association (NBA) season, spectators saw not just the end of two phenomenal careers, but a fitting conclusion for two of the greatest players of all time – as they left the game on their own terms.
Retiring at the age of 40, what is perhaps most remarkable for Kidd and Hill is that both left behind a legacy that never saw their respective talents significantly wane with age. Kidd never lost his passing ability, court vision and basketball IQ that made him one of the greatest point-guards of all time. While Hill's career was indeed hindered by injury over the years, it never marred other factors that he had to offer to the league, such as character, personal strength and leadership.
This is why age and aging is a curious thing in the NBA. In a league with no shortage of young athletic talent, the reality is that older players still have their place in the league – even if it's one that younger, up-and-coming players are eager and always willing to usurp or at least try to.
Like many other sports, age is generally not an asset in the NBA. When the youthful athleticism fades from a player's game, their career is soon sure to follow. It's only in a few rare cases that players can manage to overcome the wear and tear of time and continue to produce and contribute at a high level for their team.
It's a rare combination of talent, dedication, luck and personal strength that sees such rarities as Kidd and Hill succeed against the odds and, more importantly, the inevitable ravages of age.
Casualties of Age
Over years the NBA has seen a number of good to phenomenally great players felled by age. No sooner had they arrived than they were announcing their retirement or being forced out of the league due to their inability to significantly contribute – pushed aside in favor of younger players with potential on their side.
Once nicknamed "Stevie Franchise" given his tremendous talent and phenomenal athleticism, Steve Francis (1999 – 2008), went from being a household name amongst sports fans for his consistent highlight real-maker plays to struggling for a game in a matter of just a few years. By his early 30s, he was no longer capable of competing in the NBA nor even overseas, where the competition is significantly less intense than in comparison to the NBA.
Gilbert Arenas was another whose career took a sudden and unexpected turn. It was only shortly after signing a multi-year, multi-million dollar contract worth well over $100 million that his career faded into obscurity. Upon signing the contract, he was expected to lead his up-and-coming team, the Washington Wizards, to the top of the league, bringing a legitimate challenge for the championship.
This objective, however, was put on hold (then later abandoned all together) when Arenas was suspended for a season. Ultimately, upon reflection, the phenomenal contract was one of the worst decisions in the history of the Washington franchise – a franchise with no shortage of horrible decisions to its name, such as wasting the number one pick in the 2001 NBA Draft on a player like, Kwame Brown (2001 – present), a player whose talent was as questionable as his character.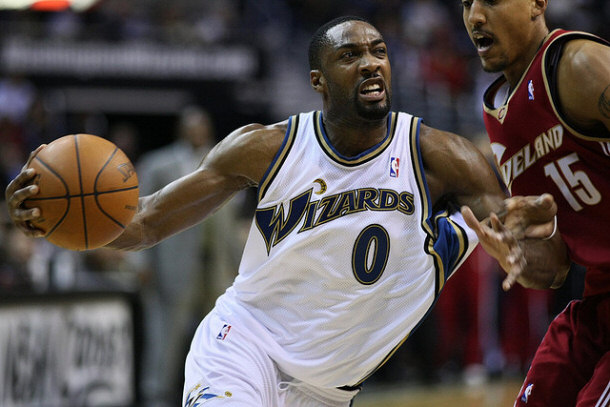 After a year-long suspension, Arenas (now in his late 20s) returned a year older, maybe a little wiser, but no longer the star player he had once been. Once known as a franchise player – one that could be counted on to lead the team with his athletic talent, competitive nature and innate leadership qualities – seemed to have lost a little bit of everything that had once made him great and the key to Washington's success.
The year off shouldn't have had any real impact on Arenas' game, as Arenas had come back in good health, but the year away from the league was the beginning of the end. Arenas was later traded to the Orlando Magic, where he was soon waived. After a brief stint with the Memphis Grizzlies, Arenas' career in the NBA was at an end by his early 30s.
Arguably one of the most unfortunate careers that was hindered by age was Tracey McGrady (1997 – present). Entering the league straight out of high school, McGrady's arrival into the NBA, though short on playing time, was met with much speculation and excitement over his natural athleticism and talent, but moreover because of his potential.
While McGrady's first few years were the source of much personal frustration with the Toronto Raptors, as he was forced to sit on the bench and watch his team mates, it was just a matter of time before he'd make his mark in the league. Following in the footsteps of the greatest NBA player off all time, Michael Jordan (1984 – 2003), McGrady would win multiple scoring-titles in the league.
Amongst many other great performances throughout his career, was one particularly phenomenal game against the San Antonio Spurs. With his team down and facing certain defeat, McGrady scored an incredible 13 points in 35 seconds to secure the win, making for one of the greatest scoring performances in league history. However, despite such performances and managing to remain in the league, even now in his mid 30s, he's no longer the star player he once was, as injury has ultimately colluded with age to all but end the career of one of the greatest player's in recent years.
Age and Immaturity
Age and maturity don't necessarily go hand-in-hand. While the ravages of age have claimed many players' careers, sometimes the players and their petulance are squarely to blame.
Allen Iverson (1996 – 2010) was at one time a force in the league. In 2001, beyond winning the league MVP, he also led his team, the Philadelphia 76ers, to the NBA finals up against the Los Angeles Lakers, with their dominating duo of Shaquille O'Neal (1992 – 2011) and Kobe Bryant (1996 – present). Despite losing in a best of seven games series, Iverson led his team to a historic game one victory on the Lakers' home court.
Remarkably, despite his reputation for an aversion to practice, Iverson managed to retain much of his athleticism and talent as he aged. However, his personality and ego conspired against him to secure an unfortunate and senseless end to his NBA career. He refused to accept anything less than a starring role on a team, thereby making it unappealing for any team to consider signing him. Even teams that were struggling opted to steer clear of Iverson. Despite his talent, the drawbacks of having to deal with his personality and lack of maturity still greatly outweighed any and all positives that he might bring to any team.
Stephon Marbury (1996 – 2009) also sullied his legacy with his petulance. He'd always been a star player from high school, through to college and even from the second that he entered the NBA. Naively, he had always expected to be a star play.
Growing up in New York City, Marbury's dream was to play for the city's team, the Knicks. After bouncing around the league, he finally landed in his dream destination with his dream team. The dream would soon become a nightmare, though – inexplicably, it was Marbury himself who made sure of it.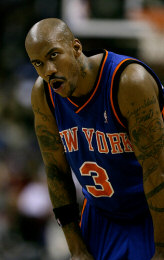 As he entered his 30s, Marbury was still at least a decent player, even if he wasn't the star he had always been. The Knicks franchise was struggling and eager to rebuild with younger players. Once it was clear to Marbury that he was no longer going to be a starting point guard, he wasn't happy. Given his history as one of the best point guards in the league, team officials had wanted him to remain with the team and serve as a mentor to the younger players. Marbury had other ideas. He still wanted to play – either that or he wanted his contract bought out. For all that it was worth.
While the team indeed offered to buyout Marbury's contract, which was worth more than $20 million, he wanted ALL the money, not just a portion of it, which is customary for contract buyouts. Ultimately, the saga dragged on for months – within the organization, on the court and in the media.
Marbury was finally released just before the trade deadline, which meant that he was free to join another club. He chose to finish out the season with the defending champions, the Boston Celtics. While the team had a good run at another championship that year, they fell short to the Los Angeles Lakers. Unable to play a starring role on the team, Marbury opted to give up on the NBA and play overseas, where his talent was still at a high enough level to secure him a starting role on a team.
Exploring opportunities overseas, where they can get more playing time, is something many older NBA players do when their playing time wanes in the league. Much like in Marbury's and Iverson's cases, this usually happens, not necessarily because of a lack of talent but, rather, a serious lack of self-awareness, professionalism and perhaps more importantly maturity.
Consistent Evolution
It's inevitable that as a player ages, they'll lose their athleticism, no longer being the player they once were and will no longer be able to contribute as they once had. Often this signals the end of their career. While that has been the case for a number of players, others have managed to overcome the seemingly inevitable. Many players who were once dominant manage to alter their game and playing style to a point where what was once their weaknesses are now their strengths.
Initially just noted for his athleticism and scoring ability, Michael Jordan took the early criticism and suggestions that he was essentially just a one-dimensional player, as a motivator to push himself to work on and strengthen his defensive game. He later won Defensive Player of the Year (DPY) in 1988.
Furthermore, when Jordan was characterized as being a selfish player, he worked on his passing ability, subsequently getting his teammates involved in plays, rather than just scoring himself. Jordan would continue his commitment to improving his game as he aged by adding or adjusting his game constantly.
Always eager to follow in Jordan's footsteps, Kobe Bryant would look to Jordan's work ethic and also alter his game and develop new skills in later years to compensate for earlier skills that diminished with age.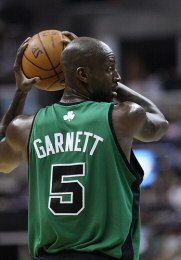 As a player, the evolution of Kevin Garnett (1995 – present) also took a similar path to Jordan. He entered the league right out of high school with an impressive, though rough game. Despite being packed full of talent and potential, he was considered a risk when the Minnesota Timberwolves selected him with the fifth pick in the 1995 NBA Draft. He quickly made his way into the starting role for the team, before becoming the team's star player.
For a number of years, his intensity and athletic prowess was the spark for his team – a team not noted for their energy. As he aged and lost some of his athletic intensity, he put his intensity to another use.
Garnett was traded to the Boston Celtics, a team always known for a defensive-minded style of play. Though always noted as a strong defensive presence, Garnett suddenly became the best (or at least the most important) defensive player in the league, taking DPY honors in 2008.
With clear aspirations to dethrone Jordan as the greatest player of all time, LeBron James (2003 – present) has also worked tirelessly to improve his game. Only time will tell if James has the talent to surpass Jordan in regards to being the best player of all time. Nevertheless, Scottie Pippen (1987 – 2004) a former teammate of Jordan's, once described James as perhaps the greatest athlete (though, not necessarily greatest player) to ever play in the NBA, given his versatility as both an athlete and as a player, with his ability and skill-set so intricate that he could play any position adequately if not perfectly on any given night.
Aging into Superstardom
One of the most curious things about aging in the NBA is that some players don't reach their potential until they are in their 30s – a time at which many of their peers see their careers come to an end. Perhaps the best example of this is Hakeem Olajuwon (1984 – 2002). He is a two-time, back-to-back Finals MVP and NBA champion. Although he was a star player from the second he entered the league in 1984, he never reached his full potential until he was in his 30s. With the first retirement of Michael Jordan in 1993, the scene was set for Olajuwon to come out of the shadows and not only prove himself to be the greatest center in the league, but the best overall player in the league.
Likewise, Steve Nash (1996 – present) one of the greatest point-guards to ever play the game is another player who didn't reach his prime until his 30s. Unlike Olajuwon, Nash's arrival in the NBA wasn't seen as significant. Despite his potential when he was drafted in the 1996 NBA Draft, Nash struggled to make an impact in the league in his initial years and was traded from the Phoenix Suns to the Dallas Mavericks.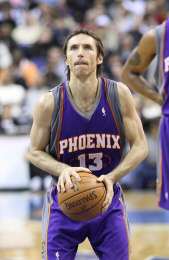 It was in Dallas where Nash would be teamed with another player Dirk Nowitzki (1998 – present), whose own rise to an All Star caliber player correlated Nash's own evolution. Together, the two would work on their respective and collective game, quickly becoming one of the best combinations in the history of the game.
When Nash became a free agent as he entered his 30s, his unique combination of talent, maturity and leadership skills were of such a high caliber that he was able to command an expensive, multi-year contract. In the following seasons, Nash would win back-to-back MVP awards, for his talent and leadership skills.
In 2010, despite being in his mid 30s Nowitzki would sign a massive contract to stay with Dallas. While some questioned the wisdom of the amount involved, especially considering Nowitzki's age, he would show his critics that he was worth it, when he led his team to an championship against the highly favored, Miami Heat, with their combination of three much younger superstars, LeBron James, Dwayne Wade (2003 – present) and Chris Bosh (2003 – present).
From Superstar to Role Player
Many players have trouble at the latter end of their careers, particularly in regard to admitting to themselves that they are no longer the star players they used to be. They need to acknowledge that, while they can no longer contribute like they used to they still have plenty to contribute to a team. In a game where egos are big and they take longer to fade than does their talent, this realization is something that players need to make, though few do.
Even while the potential of youth is often favored over experience, veteran players are still crucial to a team's success and longevity, regardless of a veteran player's time on court (or if they even play at all). In many cases, a player's presence and influence on the other, younger players is enough of a positive impact to justify their position on a team's roster.
In 2012 and 2013, Juwan Howard (1994 – present), who had once been a star player – first in Michigan as part of the "Fab Five" and then when he entered the NBA – played a key role in the Miami Heat's two championship seasons, due to his knowledge, maturity and leadership skills – despite barely even playing. His teammates had often joked that he was more of a coach than a teammate, given his limited minutes of playing time, coupled with his intangible, invaluable contributions of experience and leadership to the team.
His impact was similar to other players before him like Moses Malone (1974 – 1995), who went from being a three-time MVP to an intermittently used back-up player. So too was the case for Dikembe Mutombo (1991 – 2009) one of the greatest defenders in the history of the league – with four back-to-back DPY. Over the course of his career, he went from being a starter and the defensive anchor of a team to being a solid role player and veteran role model for the younger players on his team.
Even Michael Jordan finished his career as a backup player, moving from a starting position on the Washington Wizards to become a reserve, when the team's coach decided that that would be best for the team.
Conclusion
Nowitzki and the Dallas Maverick's defeat of the much favored Miami Heat with their relatively young players – James, Wade and Bosh – epitomized the importance of age in the NBA. Upon joining forces, the Miami Heat immediately began talking about dominating the league – before they'd even played a single game. Unlike each and every championship team before them, they expected the trophies to be handed to them. Given their youth and talent that rivaled (and in most cases vastly overshadowed) their competitors, it had appeared that it would be the case.
It was fitting then that it would come from the least likely source – the aging and, as many had speculated, over-the-hill Dallas Mavericks with their aged or rapidly aging core of Dirk Nowitzki, Jason Kidd and Jason Terry, all of who were in the mid 30s. Though all three were past their respective prime, when combined with younger talent the team was a collective force.
It was this that was the key to the team's success – the combination of young players and veterans, with each bringing something different but equally important to the team. In a game and a league dominated and sometimes even obsessed with youth, the 2011 NBA Champion Dallas Mavericks staunchly illustrated that every player has something to contribute to a team. Sometimes that's in spite of age. Other times, though, it's because of the maturity, experience, knowledge, leadership or just the intangible that comes only with age.
Basketball
8 Mediocre Players Who Made It Big (Financially) in the NBA
The Difference Between Streetball and The NBA
Aging in the NBA
Cool Sport Stuff
14 Interesting Facts About Mascots