8 Mediocre Players Who Made It Big (Financially) in the NBA
Introduction
In the game of basketball, there are two main types of players. There are Superstars, like Michael Jordan, Lebron James and Kobe Bryant, and then there are role players, such as, Robert Horry, Shane Battier, and Will Perdue.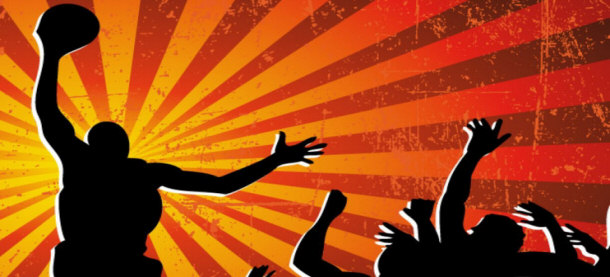 The problem for NBA executives, front offices, scouts and coaches, can sometimes be telling the two apart. Below is a list of 8 of the most notable players to be treated to Superstar paychecks for sitting at the end of the bench.
---
8) Tim Thomas
Prior to entering the NBA, Tim Thomas had a heap of potential. While he wasn't necessarily expected to have a huge impact on the league, he was anticipated to be a solid role player with the potential to become a key player in any team's success. Standing at 6'10, Thomas possessed something many at his height don't – athleticism, with a soft shooting touch. A combination of which is a huge asset, given the inherent difficulty for any and all opposition to counter.
Tim Thomas Playing For the Bulls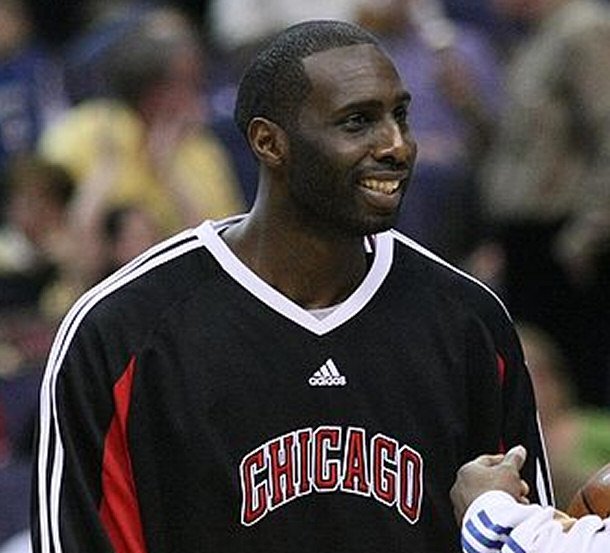 By Keith Allison (originally posted to Flickr as 00055490) [CC-BY-SA-2.0], via Wikimedia Commons

Following his time at Villanova University, Thomas was drafted by the New Jersey Nets in the 1997 NBA Draft. He was abruptly shipped to the Philadelphia 76ers for their pick, Keith Van Horn. Despite his talent, potential and a solid rookie season, trades would become a common factor throughout Thomas' career. He was traded to the Milwaukee Bucks in 1999, before making various (and in some cases multiple) stops at the New York Knicks, Chicago Bulls, Phoenix Suns, Los Angeles Clippers and Dallas Mavericks.
Thomas' career ended in 2010 when he asked that his contract with the Mavericks be terminated so that he could to tend to his sick wife. Thomas' career was somewhat solid – but only as an interchangeable role player, with the biggest highlight of his career being when he received a 6 years contract worth $67 million.
---
7) Austin Croshere
Selected in the 1997 NBA Draft with the 12th pick by the Indiana Pacers, Austin Croshere had a versatile game that suggested he could be a solid starter – maybe even a star player. Standing at 6'10, with a knack for shooting 3-pointers, Croshere had the ability to play either the small forward or power forward positions.
Shortly after entering the league, he proved himself to be a solid role player when he helped contribute to the Pacers' Playoff run in 2000, which was the first time the team had reached the finals since joining the league.
Austin Croshere During 2000 Playoff Run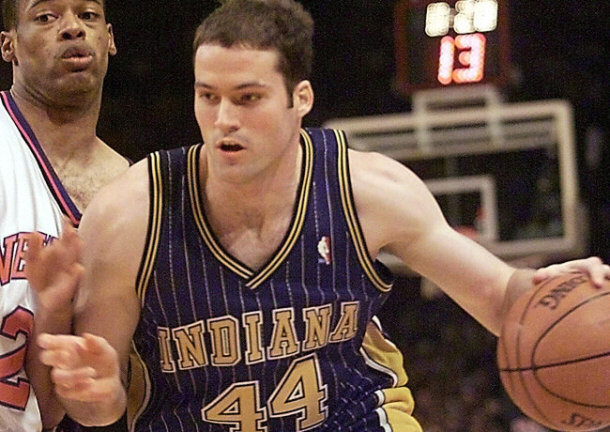 Thanks to his performance in the Finals, Croshere was given a 7 year, $51 million contract. The Pacers, however, soon realized that, while they had given him the contract based on the potential he displayed, he had in fact already peaked. The contract soon became a liability, restricting the team significantly in the years to follow.
Under coach, Isiah Thomas, Croshere barely played over the course of three seasons. While Croshere was utilized as a reliable role player under the team's next coach, Rick Carlisle, he was never as talented as his contract would suggest.
In 2006, Croshere was traded to the Dallas Mavericks, and a year later signed with the Golden State Warriors. He finished his career playing for the Milwaukee Bucks and the San Antonio Spurs, before retiring and becoming a color commentator.
While Pacer fans will likely opt to remember Croshere for his versatility, as a solid role player and appreciate the part he played in the Pacers' run in NBA Finals in 2000, most basketball fans remember Croshere for his ridiculous contract. Which ultimately goes to show how just a few well-timed games in the NBA can lead to an insanely lucrative payoff.
---
6) Brian Grant
Known for his ferocious rebounding ability and blue-collar minded defense, Brian Grant was always going to be solid role player. Whether he possessed the potential to be a starter or at least a sixth man was always debatable.
Taken with the 8th pick in the 1994 NBA Draft by the Sacramento Kings his first contract was a $29 million over 5 years. In 1997, he opted out of that deal, signing with the Portland Trailblazers for $56 million, over 7 years.
Brian Grant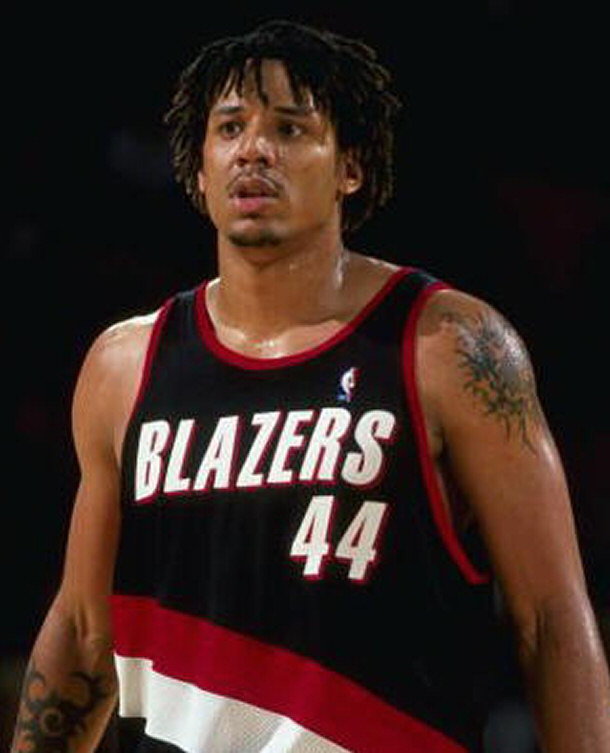 It was in Portland that Grant was given the opportunity to prove himself a starter. Ultimately, after three years, he was considered a solid role player, but only an intermittent starter.
Disgruntled with Portland, Grant signed an $86 million contract, over 7 years with the Miami Heat. Grant again failed to evolve into a true night-in night-out starter. In 2004, Grant and his massive contract were bundled into the trade that brought superstar, Shaquille O'Neal, to the Heat from the Los Angeles Lakers. Grant was waived after a year with the Lakers.
He was then signed by the Phoenix Suns but shortly thereafter traded to the Celtics. He was again waived by the Celtics and announced his retirement, due to injuries.
Ultimately, Grant had a solid career. His style of play and basketball IQ were valuable assets in the league. His talent, however, never really justified the numerous lucrative contracts he received. In the end, Grant is remembered more for being a part of the deal between the Suns and the Celtics that sent Rajon Rondo (who was nobody at the time but would bloom into a superstar not long after) to the Celtics.
---
5) Raef LaFrentz
Raef LaFrentz was drafted 3rd overall in the 1998 NBA Draft by the Denver Nuggets. His selection by the Nuggets seemed like a no-brainer. Standing at 6'11, LaFrentz was just a solid shot-blocker, as would be expected. He was also a decent jump shooter – contrary to what one might expect. This coupled with an impressive college career, made LaFrentz an intriguing prospect. However, after an ACL injury, he only played 12 games in his rookie season.
LaFrentz Pictured to the Right While Playing For Kansas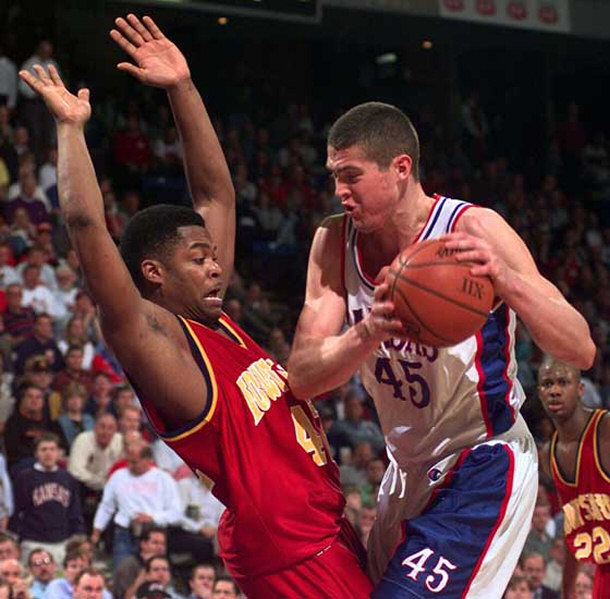 When he'd recovered from the injury, LaFrentz's first few years displayed significant talent and potential, with solid numbers in blocks and rebounds especially. Despite his performance, in 2002, the Nuggets traded LaFrentz to the Mavericks. He would finish the season with a record as the first player in the league's history to make 200 blocks, coupled with 150 3-pointers in a single season. Also in 2002, LaFrentz signed a $70 million, 7-year contract with the Mavericks. However, a year later, his was traded to the Celtics. After a couple of solid but far from impressive performances, he was traded to the Portland Trailblazers where he finished out his career.
---
4) Bobby Simmons
Very few players who receive the NBA's Most Improved Player Award (MIP) fail to go on and become star players. Bobby Simmons is one of the exceptions. He won the award in 2005, after being drafted 41st overall by the Seattle Supersonics who then traded their draft rights to the Washington Wizards. Before he'd really been given a chance prove him, Simmons was traded to the Detroit Pistons before briefly returning to the Wizards. Finally, in 2003 Simmons signed as a free agent with the Los Angeles Clippers and it would be during his second year with the team that he would have a break-out season.
Bobby Simmons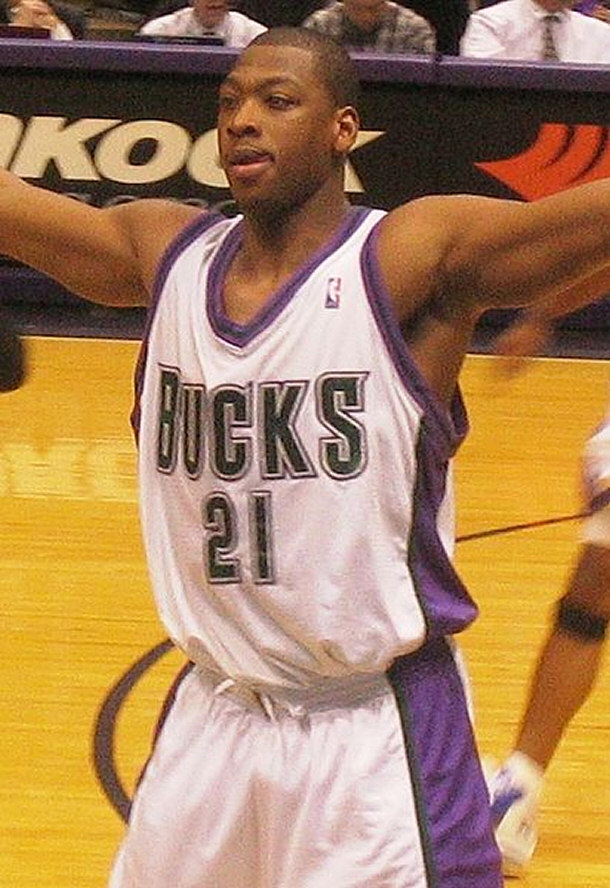 By photo taken by compujeramey (Jeramey Jannene) (flickr) [CC-BY-2.0], via Wikimedia Commons
Following his successful season, Simmons signed with the Milwaukee Bucks in 2005 for a 5 year, $47 million contract. Despite his promise, Simmons would never relive the glory of his MIP season. In 2006, an injury resulted in Simmons missing the entire 2006 – 07 season.
In 2008, Simmons' contract was traded to the New Jersey Nets. Simmons last few seasons in the NBA consisted of short term contracts with the San Antonio Spurs and Los Angeles Clippers, with his only real legacy in the league being that he was one of the few players to win the MIP who didn't go on to have at least a solid if not successful career in the league.
---
---
3) Erick Dampier
Erick Dampier was a 6'11 defensive minded center. He was drafted in the 1996 NBA Draft by the Indiana Pacers. He had a solid rookie season, but was trade in 1997 to the Golden State Warriors, in order for the team to obtain star player, Chris Mullin. Dampier served as the Warrior's starting centre for the next seven seasons. While he was reliable at his position, Dampier still hadn't fulfilled his potential.
As he was coming off his best season when he became a free agent, Dampier was dealt to the Dallas Mavericks in a sign-and-trade deal, worth $70 million over 7 years. He played for 6 seasons, with statistics that echoed those from his years with the Warriors. Dampier was traded before the final year of his contract then waived by the Charlotte Bobcats.
Erick Dampier Playing for The Miami Heat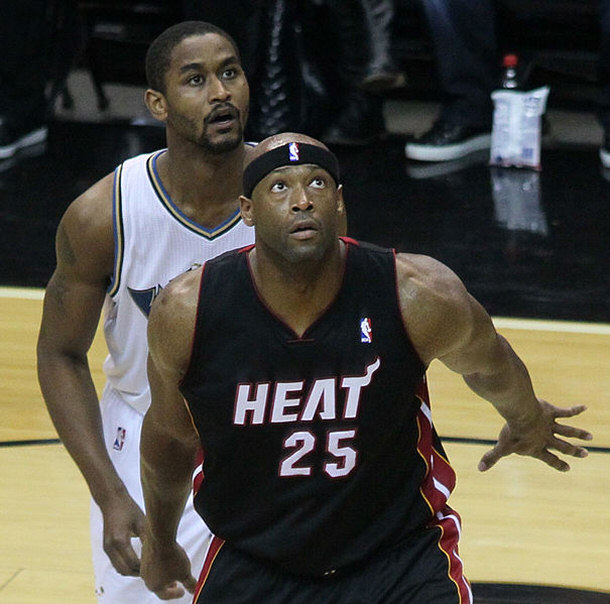 By Keith Allison from Owings Mills, USA (Erick Dampier) [CC-BY-SA-2.0], via Wikimedia Commons
With his career all but over, his legacy is that of a solid defensive player, who made it big financially. In his attempt to secure a last-minute championship ring, he joined the Miami Heat in 2011, who ultimately lost the Finals to the team that traded him away, the Mavericks. He ended his career at Atlanta.
---
2) Jim McIlvaine
James "Jim" McIlvaine played seven seasons in the NBA. At 7'1 he excelled at the defensive end of the floor. He was already known as a defensive anchor when he made the jump from college basketball to the NBA, being taken 32nd overall in the 1994 Draft, by the Washington Bullets.
He experienced limited playing time as a back-up, but displayed great defensive potential. In 1996, McIlvaine left Washington in free agency and joined the Seattle Supersonics. They saw McIlvaine's defensive presence, coupled with his potential, as the missing piece to their championship aspirations. McIlvaine was given a 7 year contract worth $33.6 million.
McIlvaine Playing for The Seattle Supersonics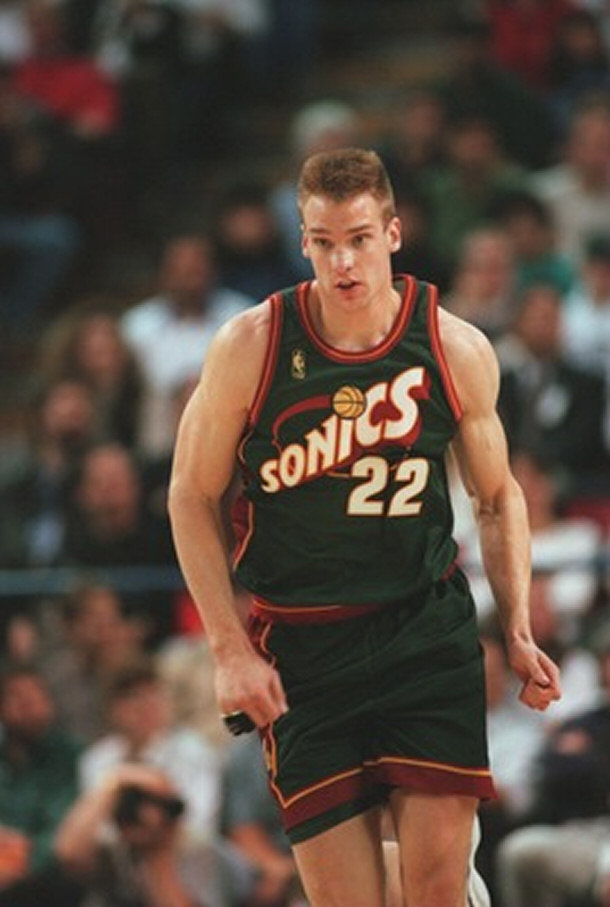 He was supposed to be teamed up with All-Star Shawn Kemp, forming a solid defensive frontcourt. However, Kemp was irate over the fact that the Supersonics officials would give such a lucrative contract to an unproven talent, while refusing to offer him an extension.
Kemp demanded a trade and the team that had just fallen short of winning the championship the year before was essentially dismantled a year later, after the team's chemistry soured – largely due to Kemp's displeasure with team officials.
Ultimately, McIlvaine's contract led to Kemp being traded to the Cleveland Cavaliers, while Seattle got Vin Baker in return. The trade is considered one of the worst in league history. McIlvaine's following years with the Supersonics were uneventful as the team failed to advance beyond the second round of the playoffs, while McIlvaine himself never developed into the defensive anchor Seattle officials had hoped.
In 1998, with his contract now proving to be a liability, McIlvaine was sent to the New Jersey Nets to create salary cap space. McIlvaine's final years in the NBA were filling with glimpses of talent and injury. His contract was a bought out in 2001, bringing an injury-riddled end to his largely disappointing career.
---
1) Jon Koncak
Jon Koncak was selected by the Atlanta Hawks with the 5th pick in the 1985 NBA Draft. Despite his high selection and the fact that Koncak played for the Atlanta Hawks for ten seasons, his career was largely insignificant, before finishing his NBA career with the Orlando Magic, retiring in 1996.
Jon Koncak Playing for The Atlanta Hawks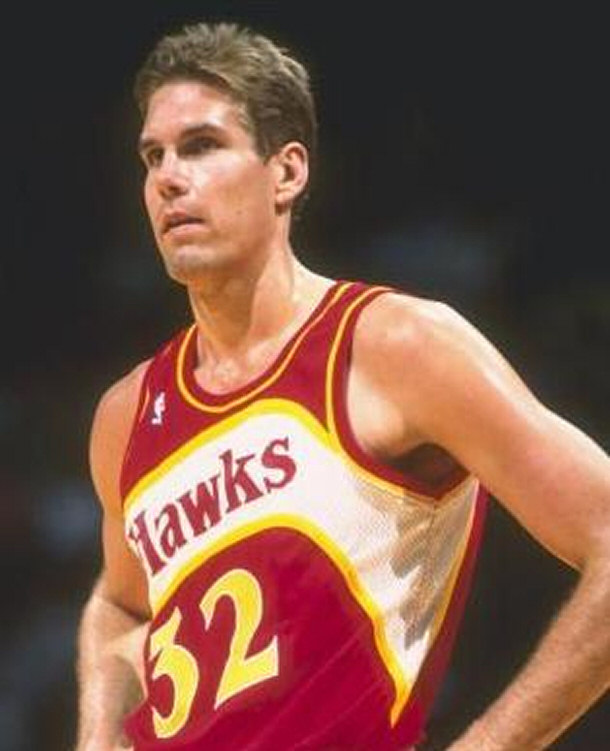 Koncak is remembered, though. Specifically, for his six-year, $13 million contract with the Hawks in 1989. Not only was that a ridiculously large sum in general during that time (especially for someone who was just a reserve) but it involved more money than other significantly better players were making – even legendary players, such as Michael Jordan, Larry Bird and Magic Johnson.
The Hawks were ridiculed for both the absurdity of the contract but also the residual consequences the team inflicted on itself as the contract essentially barred them (due to salary cap restrictions) from signing any significant players available in free agency for years to come.
Basketball
8 Mediocre Players Who Made It Big (Financially) in the NBA
The Difference Between Streetball and The NBA
Aging in the NBA
Cool Sport Stuff
14 Interesting Facts About Mascots