Lunar Bowling: A Great Choice for Entertainment at Night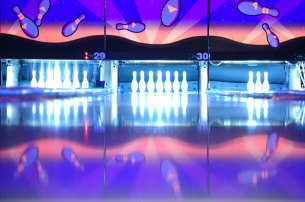 It's a Friday night and you and your friends are looking for something to do. The bar scene is getting stale, the dance clubs are playing all the same music you've heard for weeks, and you've seen every movie that has recently opened. The question on everybody's mind, old and young alike, is what are we going to do tonight? As you go through the list of the usual things to do your search starts for some entertainment that can honestly count as a uniquely different experience. Why not combine the lights, loud music, and social scene typically associated with bars and clubs with one of America's favorite past times?
Lunar bowling, or cosmic bowling, provides a great experience for all age groups. The pulse pounding music, neon lights, and lasers projecting all over transform the normally reserved atmosphere of a bowling alley into a practically psychedelic experience. The best part is that you don't have to dance unless you feel like doing a victory dance after rolling a strike!
Lunar Bowling - New "Spin" on Bowling
Every town, no matter how small or quaint it may be, has a bowling alley in the area. Chances are at least one night out of the week designated for lunar bowling. Lunar bowling has been a great success because of its ability to attract people who wouldn't typically want to go bowling by integrating the feel of clubbing with the very traditional nature of the sport of bowling. Young people enjoy it because it affords them an opportunity to stay out much later than their parents would typically allow in a place with lots of other young people. Young women and young men have used some nights out at lunar bowling to find dates and even foster new relationships.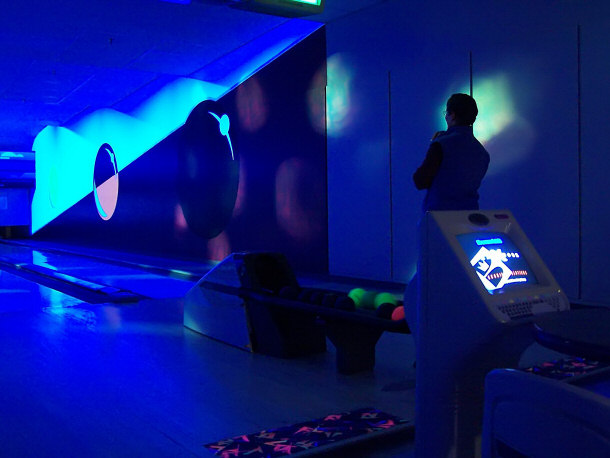 Bowling provides a great forum to get your friends, family, and coworkers together for a little friendly competition. What better way to dish out some humiliation than to get your buddies into some bowling shoes and out on the lanes. Over beers, burgers, and bowling, alliances will be formed with a winner crowned at the end of the night. The best part of bowling is that no matter how well you score everyone always has a good time. Another advantage of bowling is that it is relatively cheap compared to the other typical night life activities. There is no high cost covers, expensive drinks, pricey dinner menus, or lines to wait in outside with a bouncer asking if you're on the list. Even if you have friends who have never bowled before they will have no problem picking it up and will still find a way to enjoy themselves. All you will need is a lane, some shoes, and your friends.
Lunar Bowling Great for Dates
Cosmic or lunar bowling is also a great first date destination. Instead of doing the same old dinner and a movie routine, bowling offers a much less pressured situation to get to know one another. There is always something going on between taking turns bowling, scoring for one another, as well as others playing beside you on neighboring lanes. The almost chaotic atmosphere of a bowling alley makes it nearly impossible to have any uncomfortable silences between you and your date.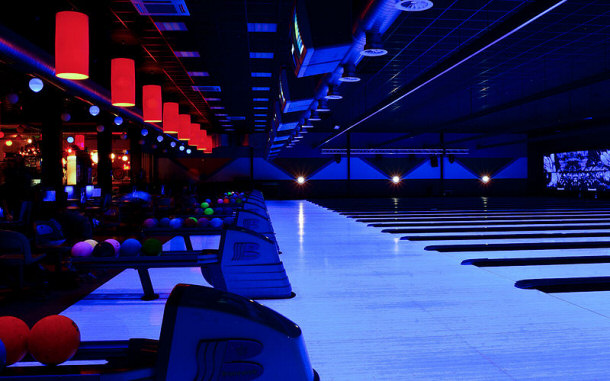 Photo by CherryX
One other thing is that choosing lunar bowling as a date destination has a built in ice-breaker where you will both have to change into bowling shoes. Sounds funny but no one really likes to put on bowling shoes that have been worn by countless others so while changing the pressure is shifted away from yourself momentarily. In a time where too often we find ourselves in lazy lethargic activities like watching movies or eating out, bowling offers an opportunity to be physically active while socializing with friends.
Dining and Bowling - Whole New Experience
Some bowling alleys have even taken the bowling experience to an entirely different level where restaurant quality dining is offered right alongside the bowling lanes. A great example of a success of delivering fine dining paired with bowling is The Corner Alley located at 402 Euclid Avenue Cleveland, OH. Instead of the traditional menus of bowling alleys that typically include nachos, hot dogs, burgers, French fries, and chicken wings the Corner Alley has a much more refined menu. Food selections range from the traditional bowling alley fare like chicken wings to a wide variety of sandwiches as well as classier entrees like grilled salmon. Patrons can sit down and enjoy their meals before, after, or during their games creating an entirely unique bowling experience.
So the next time your friends and you are sitting around with nothing to do think about giving bowling a chance. Whether it is has been years or you have never gone in your life, it is sure to be a fun and add some variety to your night life. Check out your local bowling alley and ask them when they have lunar bowling. It is defiantly something to see and might just change your opinion of bowling as something that old overweight men do after work to a new and trendy experience. Next time your friends ask you what are we going to get into tonight sharply reply, "We're going lunar bowling!"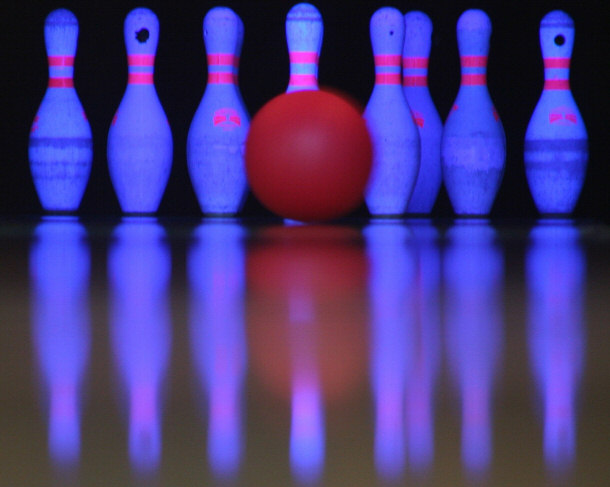 Bowling
Lunar Bowling: A Great Choice for Entertainment at Night
Cool Sport Stuff
14 Interesting Facts About Mascots