Everything About Shoelaces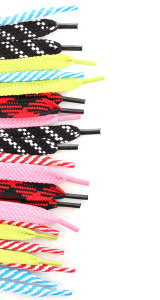 There are many different styles of shoelaces. They come in an array of lengths, colors, and shapes. Some styles of laces may work better for certain types of shoes. Some people may just have a personal preference on what type of style of laces they like. Others may want to add a splash of color or fashion to their sneakers. This article will break down everything you need to know about shoelaces.
Lace Types and Lengths
Laces are categorized by what type of shoe they are made for, and also by shape. They can be any color and made of many different materials including leather, cotton, hemp, or synthetic fibers such as nylon. The sizes (in inches) are generally 27", 30", 36", 45", 54", 60", 72"; although they can vary by style or brand. For replacing old or worn-out laces, you can use a tape measure if you are not sure how long the laces are. There is also a general guideline for figuring out what size shoestring you will need.
27"-30" fits shoes with 2 or 3 pairs of eyelets
36"-40" fits shoes with 4 or 5 pairs of eyelets
45" fits shoes with 6 or 7 pairs of eyelets
54" fits shoes or boots with 6 to 8 pairs of eyelets
60"-72" fits boots with 7+ pairs of eyelets
Different Shoe Lace Styles
Keep in mind that flat and wide laces are better suited for canvas styles and skate shoes, while round and oval ones are better suited for athletic styles.
Flat
Round
Oval
Wide
Other Shoe Lace Styles
Waxed Dress (waxed laces are usually thinner and stiffer than unwaxed, and commonly worn in men's dress shoe styles.
Unwaxed Dress
Casual
Boot
Specialty Laces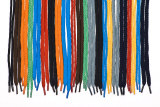 With new innovations in shoelaces, there have been laces created to turn shoe styles into slip-ons, and also ones that are elastic with special locks to keep them secured. These types of laces can be a godsend for a disabled or elderly person, who may have a harder time trying to tie laces.
Elastic Spiral Spring
Elastic Laces
Fashion Laces
Tap Shoe Laces
Fun Fact: The hard, plastic casings at the ends of the shoestrings are called aglets.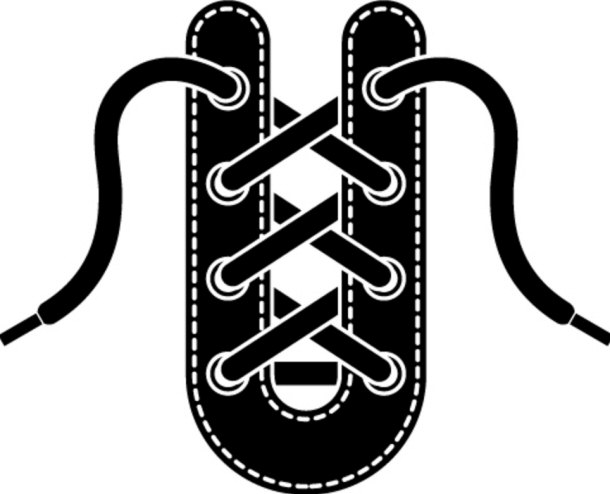 Fun Lacing Ideas
An interesting way to lace up shoes is called bar-lacing. Instead of lacing shoes the traditional cross-over way, they are laced in a way that creates straight lines on laces across the shoe's tongue. This video demonstration can show you exactly how to bar-lace.
There are many other cool ways to lace up shoes including checkerboard lacing, spider web style, cross-lock, and starburst lacing. There are many YouTube videos that explain exactly how to do these.
It can also be fun to use multiple or mismatched shoestrings if going for a fun look. There are many different novelty shoestrings out there such as light-up ones or neon ones. Get creative and jazz up your sneakers with fun laces to really express yourself.
Accessories
8 Fun Ways to Wear a Floral Clip/Pin Accessory
Everything About Shoelaces