Women's Shoe Size 10 ˝ is Frustrating, But There are Solutions!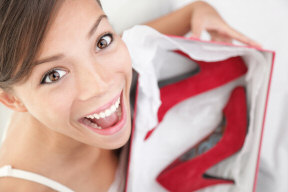 I am a Ladies shoe size 10 ˝, and it is not an easy size to be. Rarely are shoe styles available in a 10 ˝. For me, 10's are generally too small and 11's are generally too big. Most Women's shoes are not available in half-sizes after size 10; they continue on in full sizes only. There are 10 ˝ out there at specialty retailers and online in very few select styles, but who wants to go through all that trouble and have such a limited selection just to get shoes? In my experience, most of all the cute styles don't exist in a 10 ˝, even online. It can be very frustrating! However, I have come up with a solution to get shoe styles to fit and I would like to share my secrets.
Note: The same solutions can be applied for size 11 ˝ feet and so forth.
Choosing Styles that Run Small or Big
There are going to be styles of shoes that do not run true to size. You can take advantage of this if you are 10 ˝ like me. A size 10 that runs big will fit like a 10 ˝ as well as a size 11 that runs small. This is the most common way I can find shoes that work for me. You do need to try on many styles and go through much trial and error but it is worth it to find a great fitting pair of shoes. Sometimes choosing size 10W (wide width) will fit because the width compensates for the half-size.
Wearing Certain Socks and Hosiery to Help Fit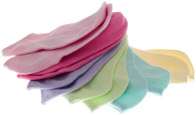 Many of my shoes are either a size 10 or size 11 due to the fact that 10 ˝ basically does not exist. I have found that by wearing different socks of various thicknesses really can make a big difference in the fit of the shoe. With closed-in casual styles that are a little bit snug, I will wear either thin ultra-low no-show socks, or very thin trouser socks. This creates a little more room for the foot. With styles that are a little too big, I will wear very thick and cushioned socks to help fill up the extra space and gapping in the shoe.
Doctoring Up with Shoe Care Products
The three main shoe care products I would recommend for "in-between" size feet are: Heel Grips that stick around the inside back of the shoe, Comfort Grip Pads for under the ball of the foot, and Full Comfort Inserts.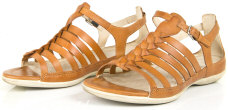 Many of my sandals, casual, and dress shoes are a size 11 that I have doctored up. Comfort Grip Pads are great, they add cushioning to the ball of the foot, help fill up that extra half-size, and help keep your feet from sliding forward. They are available in various qualities from basic foam to massaging gel for added comfort. Heel Grips will help any slipping in the back heel area. They have a rubbery grip to them and can also help prevent blistering in shoes that are a bit too big. Often times I will use both the Heel Grip and Comfort Grip Pad in conjunction with one another for maximum effectiveness. Full Comfort Inserts seem to work the best for me in size 11 boot styles and also athletic style shoes to bring them down to about a 10 ˝, and they also help make them extra comfy and cushioned.
Other Advice
Sometimes there are certain styles of shoes that will just work for me. A current trend is flats that "curl" up around the foot, often times they have a rim on the upper made of elastic to "hug" the foot. I can get these in a size 11 and the shape and elasticity will keep them on my feet without having to doctor them. I have also had luck with canvas shoes in a size 11. To shrink them up, I immerse them into very hot (not boiling) water. Then I will dry them in the hot sun. Usually they will shrink up just enough to fit perfectly.
Shoe Stretchers: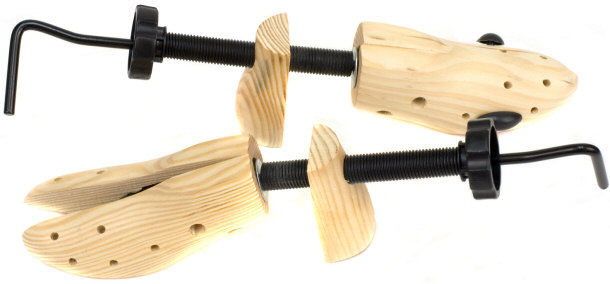 There are also wooden shoe stretchers that are able to help stretch out the length and/or width. They are widely available to purchase online but could cost up to $50 for a good one. Just be mindful about what materials your shoes are made out of if you opt to try this method. Leathers and fabrics will stretch easier without damaging the material than vinyl-type and synthetic man-made materials. Some of these devices even have attachable components to help stretch areas that need to be roomier such as to accompany a bunion or a larger toe box area.
Final Thoughts
Until the shoe market for half-sizes after 10 changes, people like me will have to just have a bit more of a challenge to find properly fitting shoes. But with these tried solutions, selecting cute, comfortable styles is more possible and there is no need to give up hope anymore.
Clothing
Women's Shoe Size 10 ˝ is Frustrating, There are Solutions!
All the Different Types of Socks