All the Different Types of Socks
All About Socks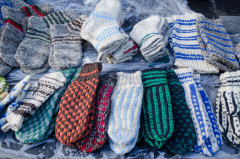 We wear them almost every day, and there are so many different kinds. Some are better than others as far as quality and comfort. With so many different styles to choose from, it's important to know which size and type is right for your needs.
Men's Socks
Generally there are three different sizes for men's socks; there are also special sizes produced for larger feet and ankles:
Medium/Youth (shoe size sizes 3-9).
Large (shoe size 6-12).
Extra Large (shoe size 12-16).
Men's socks come in many different varieties:
Dress Socks:

(Some styles are specifically made to stay up around the calf)

Over the calf length.
Mid-calf length.
Athletic Socks: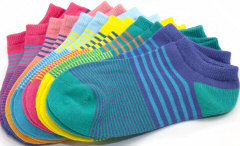 Some styles are available with a support band around the arch, and some styles have the ability to wick away moisture. They are categorized into five basic styles listed from shortest ankle cuff to tallest:
No-show
Low-cut
Quarter length
Crew length
Tube sock
Specialty Socks:
Work/heavy duty.


Socks for specific sports.


Diabetic/medical needs socks.

Women's Socks
Women's socks are available in a large array of styles, sizes, and colors. Generally, the sizes run medium/large (shoe size 4-10) and extra-large (shoe size 10-12). Because of the numerous different styles of footwear, there are socks specifically designed to wear with certain types of styles.
Nylon/Knit Socks
No-Show Socks.


Low-cut (wear with boat style shoes, canvas, some flats and dress styles).
Ultra low-cut (wear with lower cut flats and pumps).
Peep-toe no-shows (wear with peep-toe style flats and pumps).
Trouser Socks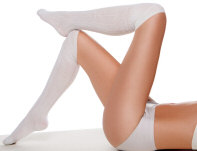 Available in various colors and designs.
Can be sheer or opaque.
Great to wear with business dress/casual shoes.
Bobby Socks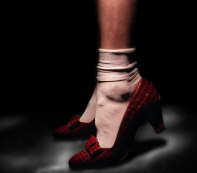 Have a thick upper that can be folded over to make a cuff around the ankle.
Slouch Socks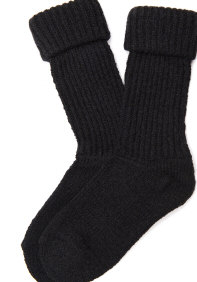 Fashion sock with a long top that can be pushed down and worn gathered around the ankle.
---
Knee-High Knit Socks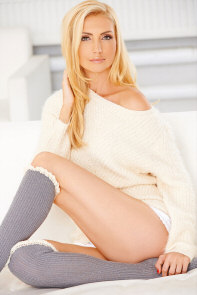 Great to wear with tall boots.
Often worn with school uniforms.
Hosiery
Hosiery sizing is different than traditional sock sizing. Please refer to the chart for proper sizing.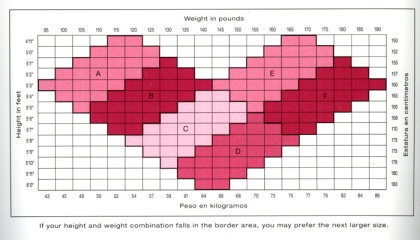 Knee-High Nylons
A thinner, longer, sheerer version of a trouser sock.

Thigh-High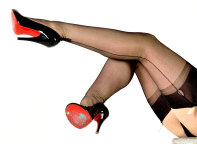 A longer version of the knee-high.
Usually has an elastic thigh-band to help keep them secure.
Many women enjoy wearing them with their lingerie, often attaching a garter belt.
Pantyhose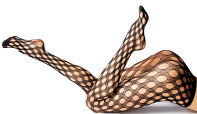 Control top helps keep your tummy held in and your buttocks lifted up.
Sandal foot styles do not have a reinforced toe seems.
Available in sheer or ultra-sheer.
Tights

Available in an array of styles, materials, and thickness; including fishnet, fleece-lined, printed, and footless.
Tights are thicker and sturdier than pantyhose.
Women's Athletic Socks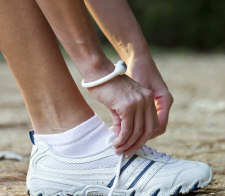 Women's athletic socks are generally arranged by four types listed from shortest ankle cuff to tallest:
No-show
Low-cut
Quarter length
Crew length
Women's Fun Socks

Women are lucky to have such a vast array of fun-styled socks to choose from. Some are patterned and colorful, others are fuzzy and soft. Some even have fun little details on them such as metallic threading or embellishments.
Acrylic/Fuzzy
Wear these with caution! Sometimes they can leave "toe-fuzz" between toes.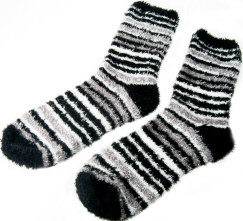 Fun-Patterned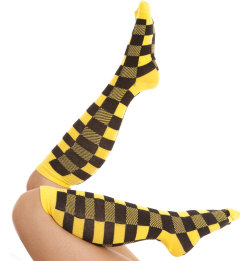 Embellished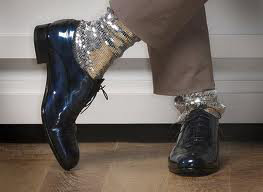 Toe-Socks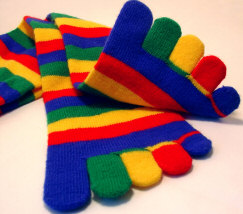 Crazy/Mismatched Socks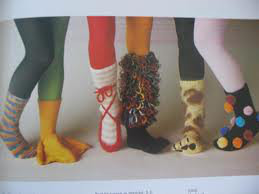 Women's Specialty Socks
Women also have special work, sport, heavy duty, and socks for specific medical needs. There are even socks that can help you moisturize your feet.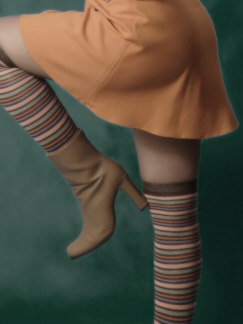 Kid's Socks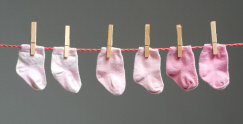 Kid's socks are broken down into four different sizing groups; infant's, toddler's, children's, and youth.
Infant's:
XXS is for 0-6 months.
XS is for 6-12 months.
Toddler's:
Small fits a toddler's shoe size 5-9, or roughly 1-4 years old.
Children's:
Medium fits a child's shoe size 9-3, or roughly 5-9 years old.
Youth:
Large fits a child's shoe size 3-9, or roughly 10-15 years old.
Kids have just about the same selection of styles as men's and women's socks, they're just much smaller. There are socks for babies and toddlers that have rubber grips on the bottom to keep them from slipping on slick floors. Many styles of dress socks for little girls have fancy ruffles.
Be mindful of the material that your socks are made out of. Acrylic and polyester are very sturdy and shape-holding materials, but can trap moisture and make feet stink and sweat. 100% Cotton is best choice for breathability; however cotton wears down easily and can lose shape. You can choose a cotton/polyester or a cotton/acrylic blend for a compromise. To keep your socks in their best shape, follow the cleaning instructions on the package. Also be mindful that you get what you pay for; usually the pricier the sock, the better the quality. Many people have a certain brand they prefer, so it is helpful to find and read reviews from other consumers about the brands of socks they have worn so it will be easier for you to make an educated choice when it comes to buying socks.
Clothing
Women's Shoe Size 10 ½ is Frustrating, There are Solutions!
All the Different Types of Socks