By: Sha - at March 20, 2013
Best CPM Advertising Networks for Website Monetization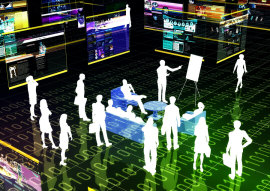 Alone in the USA millions of Americans shop online every day, and online shopping continues to increase worldwide. Different businesses use online advertising targeted at these shoppers. Advertisers spend billions of dollars on various advertising programs placing their ads on many different websites. You can become part of the recent boom in internet advertising, with an opportunity to make some serious money. CPM is one of the most lucrative online advertising programs for bloggers and webmasters.
Monetize Your Website
There are many ways to monetize a blog or website. Using a CPM ad program is one of the best ways to monetize your website. All you need is a blog or website with a good amount of traffic. You should always experiment with different types of ads until you find which advertisements work best for you. Generally, a blog or website with very high web traffic makes a lot of money from CPM ads. CPM ads are a very popular ad program for both advertisers and publishers (such as you). Advertisers pay you for each impression of their ad displayed on your blog. Click here to learn more about CPI and CPM ads.
CPM Advertising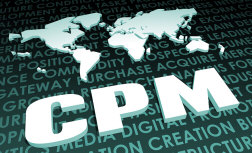 CPM ads allow you to get paid just for the traffic you get to your website. But you are going to need a lot of traffic to earn decent amount of money from CPM ads. You have to sign up for a CPM ad program with a company or advertising network such as Google AdWords. There are many advertisers, companies, advertising networks, or merchants that will pay for you to display CPM ads on your site. You should check the requirements set by an individual advertiser or company and find out if you and that particular advertiser are a good match. Some companies may set requirements based on traffic where (for example) you may need 5,000 unique visitors or 20,000 page impressions a month.
Best CPM Ad Networks to Join
I have compiled a list of the most popular and best paying CPM ad networks. You can check out these ad networks and choose ones that fit your requirements. These CPM ad networks have different membership requirements. Here is the list of best CPM ad networks:
Tribalfusion.com
Advertising.com
Cpxinteractive.com
Casalemedia.com
Technoratimedia.com
Burstmedia.com
Vibrantmedia.com
Adify.com
Valueclickmedia.com
Clovenetwork.com
Adpepper.com
There may be more CPM networks that pay good ad rates in addition to the above-mentioned networks.
Conclusion
CPM ads are a great way of earning a lot of money from your blog or website. You need to concentrate on improving your website by writing more quality content, and by providing helpful information to your diverse and sizable audience. Doing so will increase traffic to your website and help you earn money from CPM ads.
Join Vimeo Today to make money with video marketing
Internet
Top Lists:
Top 15 Myths about Google
15 Real Life Videos that Went Viral
15 Ways That Social Media is Killing You
15 Cool Facts About the Internet
15 Fascinating Facts about the Advent of Social Media
Informational:
The Basics of Cloud Computing & How it Got Started
Introduction to Web Services
Paypal - Great for Businesses and Personal Transactions
Best CPM Advertising Networks for Website Monetization
Do Websites Get Stronger As They Age?
Best Ways to Promote Your Website Online
Tips on Selling Domain Names for Maximum Profits
New Media in the 21st Century
Best PayPal Alternatives for Online Payment Options
How to Make Money Writing Reviews Online
Best Ways to Monetize a Blog or Website
Make Money from Micro Jobs Websites
What are CPC, PPC, CPM, CPI, PPI, CPA and CTR
Is Social Media or Business Blogging Right for Small Business?
How Can You Make Money Writing Online
A Guide to Using Torrents
Different Ways of Writing Articles From Home to Make Money
How Can You Help a Child or Teen with an Internet Addiction?