By: Sha - at February 3, 2013
How to Make Money Online from Affiliate Marketing
What is Affiliate Marketing?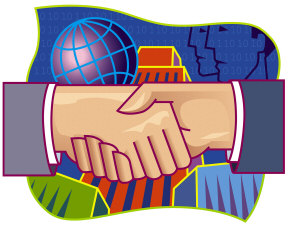 Affiliate marketing is a contract between a website owner and an online merchant or advertising agency. It is technically a revenue-sharing venture between the website owner and the online merchant. The website owner agrees to publish the advertisements of the merchantís products and services on the website to help sell the products and services or to perform specific tasks by sending traffic to the merchantís website. The website owner earns a commission or a flat amount of money which is agreed on in advance per sale or task performed by the customers. The website owner who sends traffic to the merchantís website or online store is called an affiliate. The way both the affiliate and the merchant market the products or services is called affiliate marketing.
Types of Affiliate Marketing
The publishers or the webmasters can usually earn money in three ways through affiliate marketing. These are:
Pay Per Click (PPC)
Pay Per Sale (PPS)
Pay Per Lead (PPL)
Pay Per Click (PPC) Affiliate Marketing
In PPC marketing, you earn money online from your blog or website every time a visitor goes to a merchantís website through the merchantís ads placed on your blog or website. To put it more simply, when any visitor to your website clicks on an ad of any merchant and leaves your website to the merchantís website you are paid a certain amount of money for this action by the merchant.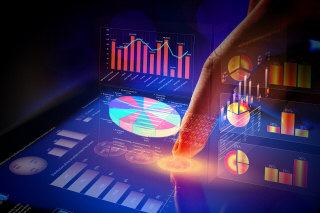 The amount you earn per click may depend on the agreed-upon commission, and the product or service that is advertised on your website. The strength of traffic to your website can also determine the amount of money you may get from PPC affiliate marketing. You might get paid once you accumulate a certain amount of money or minimum amount. Your earnings might be automatically electronically transferred to you, or you might need to request the merchant to make a payment. If you do not have an online payment service or do not want to receive money online, the merchant might mail a check to your address at regular intervals. Also the money might be paid to you at regularly scheduled times, for example once a week, every two weeks, or once a month.
Pay Per Sale (PPS) Affiliate Marketing
PPS affiliate marketing allows you to earn money every time a sale is made on the merchantís website by any visitor who went to the merchantís website through the merchantís link placed on your website. This is an action-oriented type of affiliate marketing. If you are an affiliate then you might earn a commission or percentage of the money made by the sale, or a flat rate, depending on the agreement between you and the merchant.
Pay Per Lead (PPL) Affiliate Marketing
You earn money online from PPL affiliate marketing when the visitors to your website click on an ad that goes to your merchantsí websites and do specific tasks, such as to register or sign up for a product, service or subscribe to a newsletter, then you might earn a previously determined amount of money.
Advantages and Disadvantages of Affiliate Marketing
You can earn extra money without having to do anything other than placing the ads on your website as an affiliate. You do not need to sell or promote anything. You actually make money without having to invest anything or promote anything. You just sit back and wait for the money to roll in, that's it!
From the merchantís point of view, affiliate marketing is very lucrative for online merchants. Affiliate marketing is a great way to promote their products and services online by attracting customers through their ads placed on the affiliatesí websites. They can place the ads all over the Internet, choosing thousands of affiliates. Affiliate marketing is also a very cost-effective advertising program for the merchants. The merchants only pay the affiliates when the desired result is achieved through the ads on their affiliatesí websites.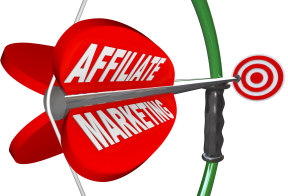 There are a few disadvantages too. If an affiliate does not choose a reliable merchant then the affiliate might not get paid in advertising for the merchant. So it is important that you run background checks of the merchants before you enter into an affiliate agreement. The merchantís reputation might be affected if any of its affiliates promote the merchantís business in nasty ways. If an affiliate has materials that some people might consider objectionable on the affiliateís website then this can harm the reputation of the merchant. That is why both the affiliate and merchant should be aware of the disadvantages too. However, the advantages outweigh the disadvantages vastly. Besides the disadvantages with affiliate marketing are seldom seen.
A very reputable place to sign up and browse legitimate products to promote for commissions is ClickBank, they currently have the highest commissions on the planet, upwards to 75% commissions on most products. This is thanks to the fact that 95% of the products sold through their marketplace are digital products that have hardly no overhead expenses. Affiliates are earning a lot through Clickbank. It is also easy for merchants to sell digital products through ClickBank as well.
Conclusion
Affiliate marketing is one of the best ways to earn money online for website and blog owners. There is literally, nothing to do from an affiliateís side besides creating content for it's visitors. However, there are few things that you should remember to do as an affiliate. Always pick a reliable merchant. Do not pick a lot of merchants but only select a few trustworthy merchants who have a good record of paying money on time to their affiliates. To succeed in making money from affiliate marketing as an affiliate you will need a lot of traffic to your website. To attract a lot of traffic to your blog or website you need to provide a lot of fresh content and update your blog or website for your visitors frequently.
Web Marketing
Creating a Newsletter that Produces Impressive Results!
How To Legitimately Get Images For a Website?
Landing Pages Ė Converting Clicks to Leads
How To Increase Your Adsense Income
Effective Email Marketing
Things to Consider Before Selling Products Online
Tips for Setting Up an E-commerce Site
Exploring Keywords And Google Bombs
How to Write Great PPC Ads
Understanding Google's PPC Auction Model
How Bot Malware Activity Can Harm Your Website
How To Make Static HTML Templates Using Include Files
Learn Why This Website Uses Static HTML Over a CMS
Page Rank & Link Building Tips and Advice
Top 10 Tips to Improve your SEO Skills
How to Choose Good Affiliate Programs to Make Money Online?
How Long It Takes to Make Money Online from Blogging
How to Make Money Online from Affiliate Marketing
Make Money from Your Website Using Online Ads
How to Setup a New Online Store?
What are the Benefits of Article Marketing?
Will Google ban your site for duplicate content?
How to effectively cloak Clickbank Hop links
Better AdSense Placement for more Clicks
Affiliates or AdSense, What earns more MONEY?
Kill Your Day Job With Internet Marketing
How Effective Business Blogging Is for Business Owners?
Why Register A Domain Name?
What are the Benefits of Internet Advertising?
What is SEO and Why SEO is So Important?