Tips for Setting Up an E-commerce Website
Using E-commerce on your site is a quick and easy way to begin selling on the Internet. Even though it's fairly straightforward, there are a number of things to consider about your E-commerce site in order to maximize your sales potential. It's important that you present your products and services in a clear and understandable way.
Choose Proper Hosting For Your E-commerce Site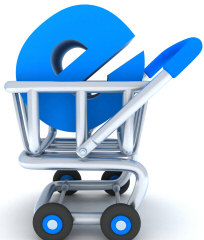 Additionally, your E-commerce website will now be more mission-critical to your business, because it generates revenue. So it's important to consider the reliability of your host. Simply put, if your E-commerce site is down you are losing money. So properly setting up your site and having a good reliable host is vitally important. There are number of considerations to keep in mind when choosing a host. First of all, there is reliability. Even when using a simple E-commerce solution, it is still important that your host offers reliable service with guaranteed uptime for your site.
For standard information-only type websites, if the site is down for a brief amount of time, it's not a big issue. But if you are selling products or services and your website is down, you are losing money and you could be losing customers as well, customers that may not come back. So if you have some reliability issues with your host, you may want to find a more reliable host before you begin selling on your site. If this is going to be a new site, you will want to carefully check out your host and make sure that they have a very reliable network and good service. Another hosting consideration is what kind of tech support or customer service your potential host offers.
Questions To Ask Your Host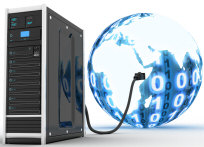 It's important to consider how knowledgeable they are and how quickly they can resolve issues if you should have one on your website. How quickly they respond to tech support issues is vital. And are they available on the phone? These are important questions to consider, because they have a direct impact on your sales. When it comes to customer service, do not take their word for it. Of course every hosting provider claims that they have the very best in customer service which may not always be the case. So take some time to do your homework first. Does the host have a user forum? If they do, spend some time on the forum and see what the general mood is, are their current customers happy, or are there a lot of problems and complaints? This is a good indicator of the quality of the host.
Put The Hosting Provider To The Test
Also, you might try calling their tech support and see how long it takes to get an answer, and how knowledgeable and polite the technician seems to be. A little bit of time spent double-checking your host in advance of selling items from your website can go a long way in assuring that your site will be up and reliable and serve your customers well. Another point is, when planning to sell items from a site using a simple E-commerce solution, it's important to take time to plan out your products or services and how you'll present them.
E-commerce Site Layout
Plan Your Site Layout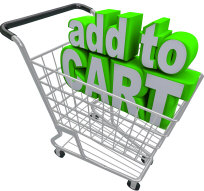 When you are going to be selling from your website by adding a buy button, there is a danger that the product or service may look out of place, like an afterthought. This can impact sales because your potential customers may wonder if you are serious about selling from your website and if they are going to be receiving a good quality product or service, and value for their money. So it's worth the time and effort to carefully integrate your products and offerings into your website and present your products in the best way possible. This will reassure your customers that you are a quality business. A good point to keep in mind is that you don't have to be big to be professional.
Most websites that use simple E-commerce solutions are smaller companies or private individuals, who are selling a limited number of items or products or services on the Internet. The point to keep in mind is that you don't have to be a large company to be professional. If you are adding E-commerce to an existing website, this may be an ideal time to analyze the look and feel and design of your site, to see if it can benefit from a redesign. You want to be sure that your site inspires confidence and represents your company well. It could be a simple, single page website or it could be a much larger site with a larger number of products that are added manually one at a time.
Plan For Growth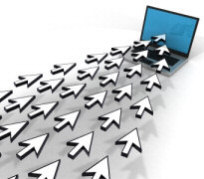 Is your E-commerce site going to grow to the point where you need to have a larger solution? It's better to look at that upfront. But the simple buy button solution can work very well, for even a large number of products. The important thing is, you meet expectations and make it easy to buy. Most of your potential customers are accustomed to shopping on the Internet, and most E-commerce sites work in a similar fashion. So it will be important that the design and navigation of your website meets customers' expectations and makes it easy for them to find the products and buy.
Think Like Your Customers
Spend time examining the hierarchy and the flow of your website and your products, even if it is only one or two products to make sure your customers can easily find them and that the decision to buy is easy. Purchasing decisions are made rather quickly. So if a person is on your website and wishes to buy, you want to make it easy as possible so they can act quickly on this desire. Anytime you spend working on your site analyzing its layout and design, its look and feel, in order to offer an appealing and easy to follow and understand presentation to your potential customers, is time well spent.
Finally....
There is an old saying that you don't invite guests over to a dirty house. And this applies to websites as well. When you begin to sell products or services from your website, you will be getting new visitors and hopefully new customers. So spend time getting your house in order, so to speak, and make sure that your website is visually appealing and easy to navigate and sells your company and your products well.
Web Marketing
Creating a Newsletter that Produces Impressive Results!
How To Legitimately Get Images For a Website?
Landing Pages – Converting Clicks to Leads
How To Increase Your Adsense Income
Effective Email Marketing
Things to Consider Before Selling Products Online
Tips for Setting Up an E-commerce Site
Exploring Keywords And Google Bombs
How to Write Great PPC Ads
Understanding Google's PPC Auction Model
How Bot Malware Activity Can Harm Your Website
How To Make Static HTML Templates Using Include Files
Learn Why This Website Uses Static HTML Over a CMS
Page Rank & Link Building Tips and Advice
Top 10 Tips to Improve your SEO Skills
How to Choose Good Affiliate Programs to Make Money Online?
How Long It Takes to Make Money Online from Blogging
How to Make Money Online from Affiliate Marketing
Make Money from Your Website Using Online Ads
How to Setup a New Online Store?
What are the Benefits of Article Marketing?
Will Google ban your site for duplicate content?
How to effectively cloak Clickbank Hop links
Better AdSense Placement for more Clicks
Affiliates or AdSense, What earns more MONEY?
Kill Your Day Job With Internet Marketing
How Effective Business Blogging Is for Business Owners?
Why Register A Domain Name?
What are the Benefits of Internet Advertising?
What is SEO and Why SEO is So Important?