How to Legally Get Images For Your Website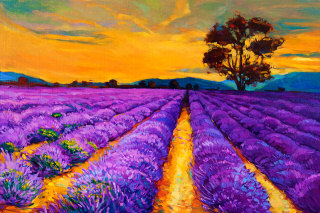 After 8 years of web marketing, I can tell you first hand that the proper use of images does indeed increase your search engine rankings and the overall popularity of your website. People like to see pictures, and they do enhance any article or blog post.
If you browse around on this site (YurTopic), you will see pictures on just about every article. I started this site back in January of 2013 and images has always been a very important aspect of this website. So it has been of my best interest to make sure we are doing images properly and in the best way possible to avoid any legal issues.
Why Can't I Just Take Any Image?
Learning how to legitimately (and legally) obtain images for your website is crucial, especially if you plan on making a BIG site with a lot of content. If you steal images from other websites to put on your own site, then you are setting up a potential target for yourself for others to actually sue you!
If you take someone else's image without permission and use it for commercial purposes (such as displaying ads around it), then you are at risk of being sued by that person. Images can be copyrighted just like most other "works". And it doesn't matter if you attribute and credit the stolen picture, they can still sue you.
What are the Chances of Being Sued for Stolen Images?
The chance is actually relatively slim. Most people will generally send a DMCA takedown request for their stolen image. However if they see that your site is ranked highly on Alexa with also a lot of pages indexed in Google, they will then know that the site is making a substantial amount of money. In this case there is a much higher probability that they will sue you or ask for compensation for their stolen image.
The bigger and more popular the site, the more likely you have a chance of being sued by someone. Here is a quick chart I put together that generally shows you what could happen with stolen images:
What Could Happen With Stolen Images: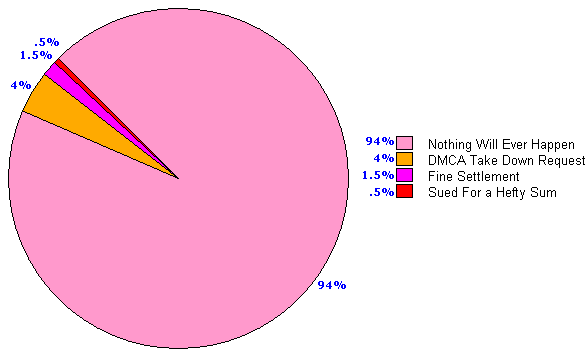 .5% of being sued is very slim! Keep in mind this is for one image. If you have hundreds, if not thousands of stolen images on your site along with a lot of traffic than you might as well just expect to be sued any day.
Small sites that get hardly any traffic are generally safe with stolen images because it would not be worth the time, money, and lawyers involved in dealing with legal cases of stolen images. Small sites will generally get DMCA takedown requests before anything else. Although the chance of someone trying to sue you is still there.
So if you plan on making a big website that will stand the test of time, then learning how to legitimately obtain images for your site is crucial for reducing the amount of DMCA takedown requests you need to handle, along with any fine settlements, court cases, and loss of profits you may endure. All of these can cause many headaches down the road.
Starting a site with using only images obtained from Google Image search can seem like a great idea at first, but if you keep on building that site with stolen pictures over the years and have accumulated a LOT of pictures, then it will be a pain to go back and replace/delete them all. So it is best to obtain images the correct way right from the start.
How to Legally Obtain Images For Websites
Rest assured there are many great places to find amazing pictures that you can legally use for your site without spending a ton of money.
For building YurTopic.com, we use 3 main methods for obtaining legal pictures. And they are:
1) Stock Image Company
Stock images are by the millions! There are many stock image places out there that you can use to obtain images for your site. They cost anywhere from 15 cents per image all the way to 100 dollars (or more) per image, depending on where you get the image from and the type of license that comes with it.
Just about all images on this site that does not have a credit for them are obtain from bigstock.com. BigStock is where we have been getting about 70% of all our images. That's a lot of images! With my plan we got, we are allowed to take up to 50 images per day costing about $2,800 a year. That comes out to about 15 cents per image. That is if we take all 50 every day for the whole year. Most stock image places will have deals similar to this.
You get to keep all the images you obtain from stock image places indefinitely, so you will never have to worry about any legal issues.
Check out these 4 beautiful pictures that were obtained from BigStock: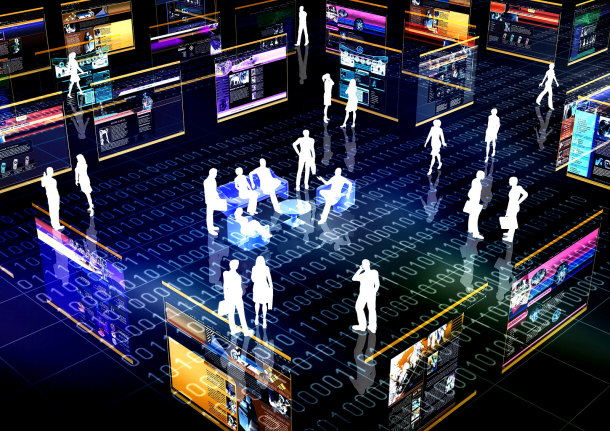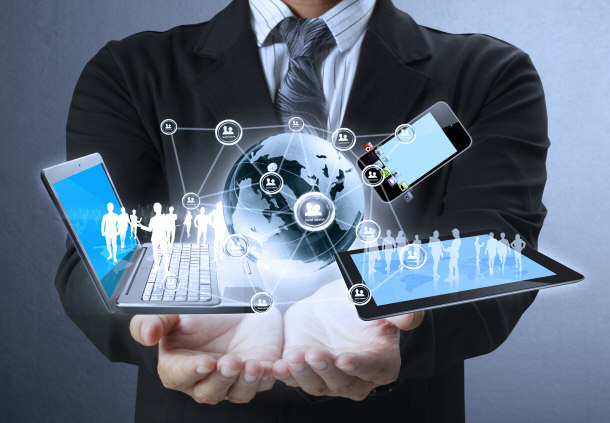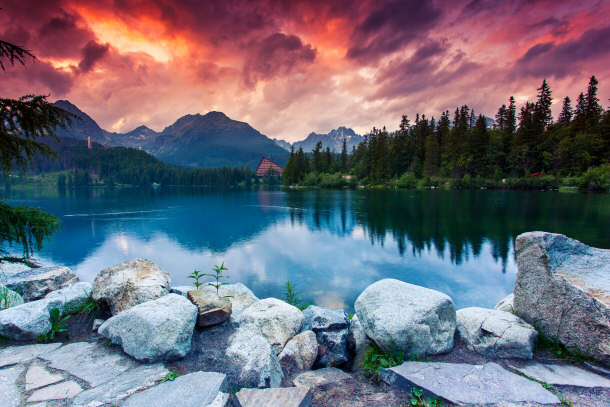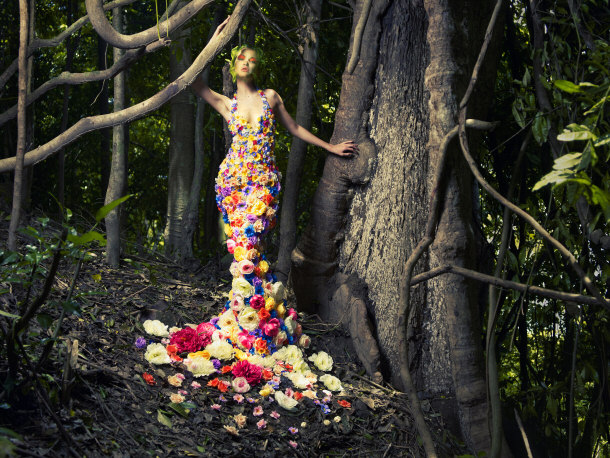 There are literally millions of these stock pictures that can be used legally for your website. With stock images you generally do not need to provide credits or attributions for the images.
2) Creative Commons Images
Images that you can use freely (and legally) for your website can be found from the Creative Commons official website search (CC Search).
Creative Commons Free Image Search:

Creative commons provides a variety of licenses that image owners can use to label their images under. These licenses range from non-commercial use to commercial use, to allow others to modify the images or not, along with a few other licenses.
With this search, make sure the "use for commercial purposes" is checked (if your website is used for commercial purposes). And if you plan on making any changes to the images, such as cropping, changing of colors, etc., then make sure the "modify, adapt, or build upon" is checked as well.
Then you need to select one of the places to search from. I highly recommend just choosing the "Google Images" here. Reason being is because Google Images will search all those other places at the same time, thus giving you a much wider variety of free image choices to pick from.
The negative aspect of using Creative Commons images over a stock image is that these images generally require a link back to the original image source. This will leak out page rank and allow an exit link for your web visitors. But overall I think it is worth it in the end. Pictures are valuable content, and it is worth it to provide links back to the original picture source in order to obtain the image. Not to mention these pictures are free to take, unlike stock images.
When finding an image to put in your website, I would try to find a stock image first before you try the CC Search.
At the time of this writing there are literally over 40 million pictures available under the Creative Commons search, so finding legitimate images for your site should be a piece of cake.
The 2 Most Important Things You Need When Crediting Creative Common Images Are:
The Author's Name (or nickname).
The link to the original picture.
As long as you have those 2 things on your page somewhere, then you should be good. Unless the author of the image specifies to be credited differently. You will see how we credit these images below.
With the Creative Commons search there is generally 2 places that you will find most of these images from, and they are Flickr and Wikimedia Commons. There are a few other ones in there as well, but Flickr and Wikimedia Commons will come up 95% of the time.
Flickr Images:
With Flickr images you will generally need to provide a link back to the original image on Flickr along with providing credit for the author on your site. Here is an example of a free picture taken from Flickr along with how we credit the creator of the image: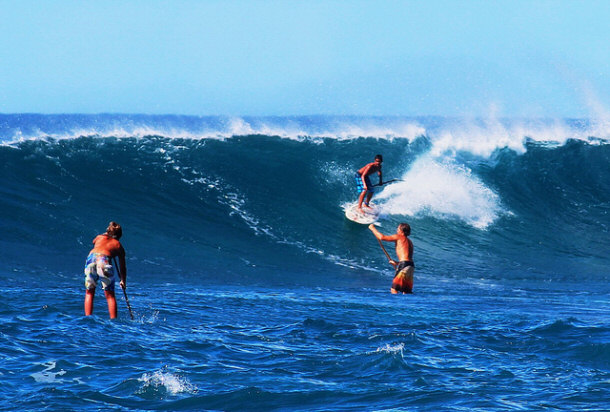 Notice how the image itself is a link to the original Flickr image, and if you hover your curser over the image you will see the author credit.
We get the author credit from the "More ways to share" icon from Flickr, it looks like this:

After clicking that little icon, it brings up this screen, and then we only need to grab the title out of the image: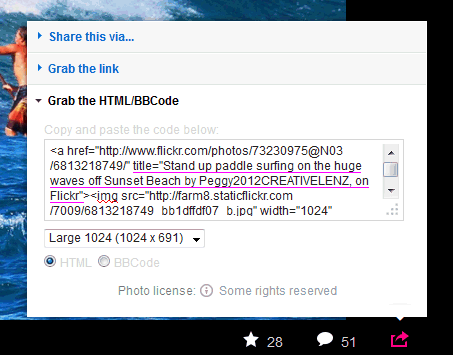 This "title" code is what you will need in order to credit the author properly. You then put this code in the source code of your webpage right after the image. This creates that drop down title hover effect on these images.
The reason why we only grab the "title" and not the whole code is because we download the images and store them on our own web server, so we do not need that other code.
Here are a few more examples of gorgeous images (freely, legitimately, and legally) taken from Flickr: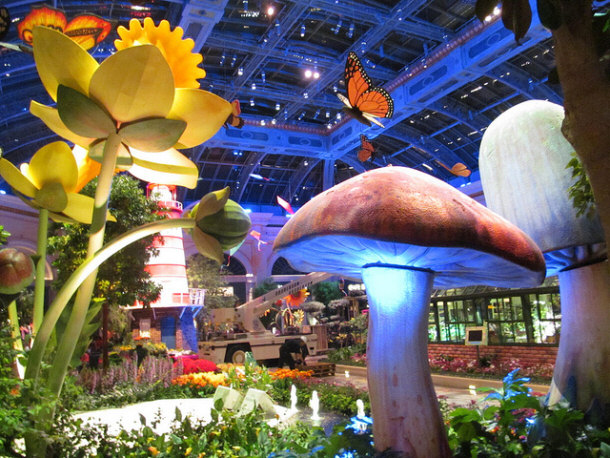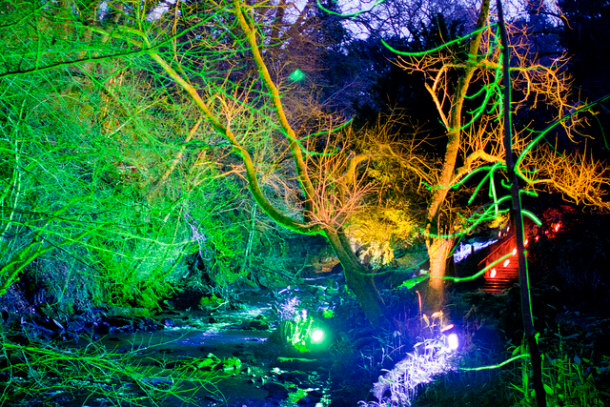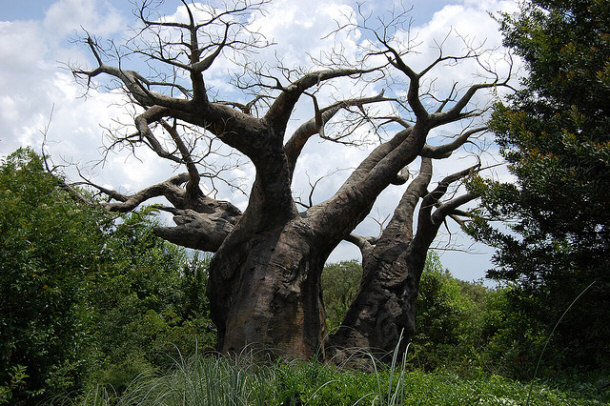 WikiMedia Images:
To credit WikiMedia images is similar to Flickr, except you generally just paste an HTML snippet code at the bottom of the images, just like this:

By Frédéric de Villamil (Flickr: Xmas New York City) [CC-BY-SA-2.0], via Wikimedia Commons
So with Wikimedia, as you can see the credit and link to the original image is right there at the bottom of the image. This "credit" code was taken from WikiMedia at this link here on that image page: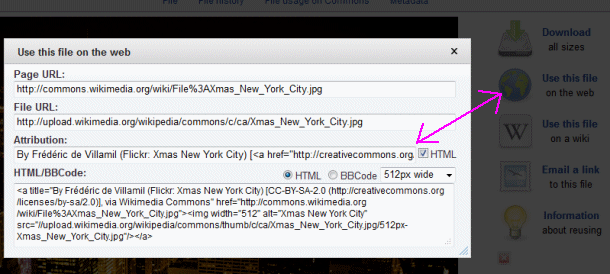 You want to "check mark" the HTML box at the Attribution part, then grab that code to put under your image on your web page.
NOTE: We personally do not use the other stuff because we download the image and store it on our own web server.
Public Domain Images
Sometimes when taking images from WikiMedia you will see this underneath the Attribution part: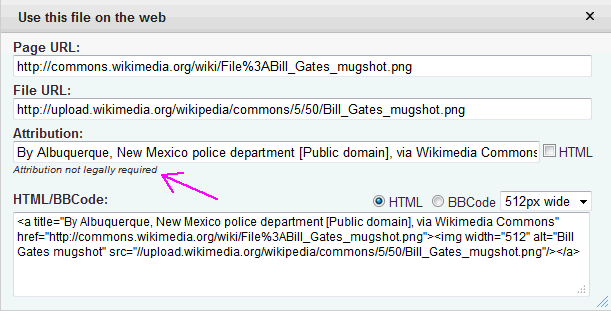 When you see "Attribution not legally required" you do not need to grab the Attribution part to put on your web page if you do not want to.
The reason for this is because most government pictures, along with many others are in the Public Domain. Public Domain pictures mean that the copyright may have expired, or the image does not legally belong to anyone. These images can be freely taken without providing credits, since no one officially owns them (or can own them). So keep an eye out for this when grabbing WikiMedia images.
Here are a few more beautiful images taken from WikiMedia Commons: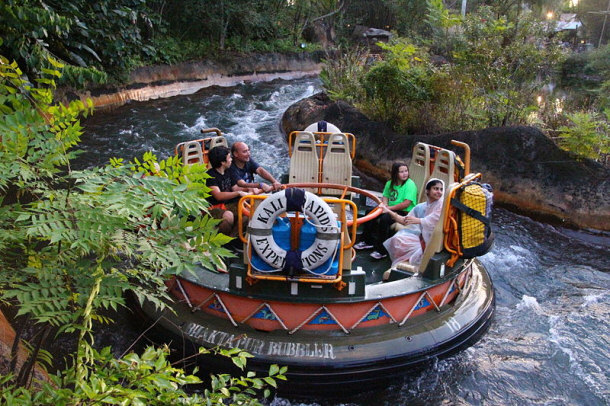 This image was made by Loadmaster (David R. Tribble) - (Own work) [CC-BY-SA-3.0 or GFDL], via Wikimedia Commons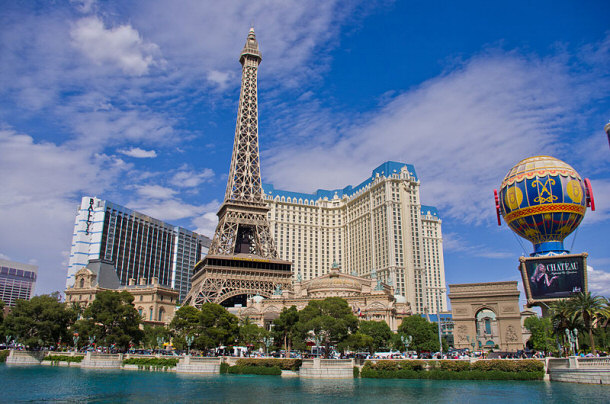 By Antoine Taveneaux (Own work) [CC-BY-SA-3.0], via Wikimedia Commons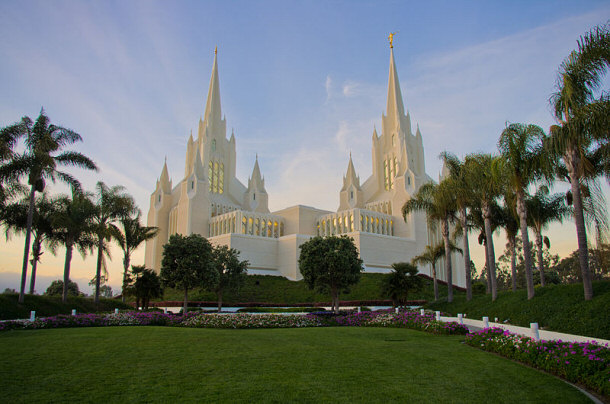 By Antoine Taveneaux (Own work) [CC-BY-SA-3.0], via Wikimedia Commons
3) Amazon Images
Did you know you can legitimately use Amazon product images as long as you link to their products? It's true and as a matter of fact we have been doing this quite a bit throughout YurTopic.com.
You can also make a small amount of commission for each sale if you link to their products using an affiliate link after signing up with their affiliate program (called Amazon Associates). Here is a quick example of what I'm talking about: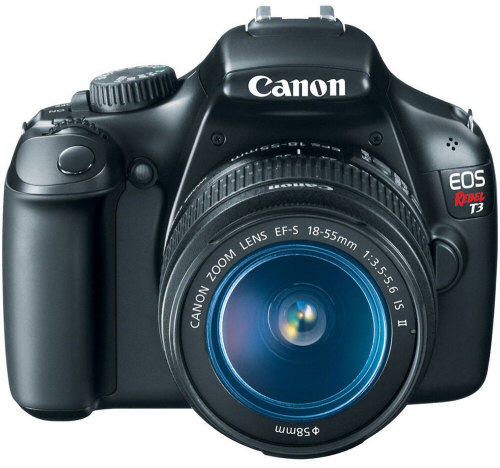 There are many other places to obtain legal images from, but the ones listed above are the "big" places to use and are the places we use ourselves. You can find virtually any image with the methods listed above.
Google Image Search?
Lets say you cannot find a legal image for something from a Stock Image place or from the CC Search. You may be tempted to use straight up Google Image Search as a last resort. If this is the case, then here are some pointers if you choose to go this route (which I'm not really recommending):
NOTE: I am not actually recommending taking images from Google's Image search to put on your own site, since all of these images are subject to copyright. So use this information at your own risk!
When taking random images from Google Images, you should take note where the image you want to take originally came from. You can find this out by copying the image's location URL and paste it into the Google Image's "Search by Image" Function. You can find this function from the camera icon here: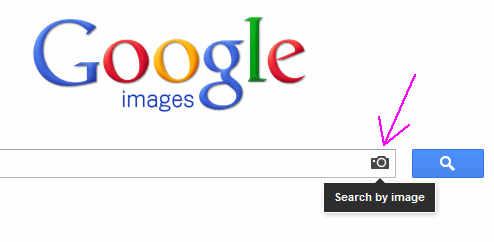 Clicking on that little camera icon brings up this screen here: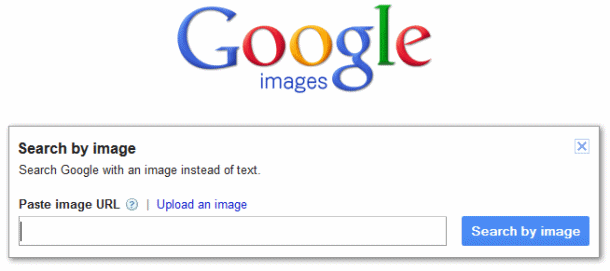 Here is where you will paste an image's URL or you can simply upload an image. This tool let's you find everywhere else an image is located at.
This comes in handy if determining if taking an image will result in someone getting angry at taking their image or not. When using this tool you will want to browse around the various sites that contain the same image and do some investigation as to where the image originally came from. You do this by finding someone that legally credits the picture. Please keep in mind that this is not always accurate due to the nature of the world wide web and people stealing stuff everywhere.
Generally big websites, such as the following will most likely credit images where they actually originally came from:
Yahoo
Wikipedia
MSN
CNN
About.com
Huffingtonpost.com
CNET.com
nytimes.com
livejournal.com
FoxNews.com
eHow.com
wikiHow.com
TripAdvisor.com
IGN.com
ndtv.com
wsj.com
WebMD.com
reuters.com
Buzzfeed.com
washingtonpost.com
wordreference.com
There are many others, but these are the top ones that come to my mind first. So if you see the image you want being hosted at one of these sites, then I would generally not take the image, or at least investigate the image to see where it came from so you can find a way to also legitimately take the image as well.
Do Not Steal Stock Images!
One word of caution is to never steal an image from a Stock Image place and put it on your website. Stock image companies use bots to crawl the web to find their pictures, if they find someone who took their image without their permission then you have a much higher probability of being sued and facing legal issues by one of these stock image places.
As a matter of fact, 80% of all people getting sued for stealing images are from stock image companies!
Do Not Steal From Getty Images!
Getty Images, one of the most popular stock image companies, scans the web on a regular basis and has sued many people for taking their images without permission. I have read many horror stories of people getting sued by this stock image company. It is literally part of their business to find people to sue! That is why it is so important to investigate the image you want to take from a Google Image search.
When is it Safe to take a certain image from Google Images?
It is generally never a 100% safe to take an image from a Google Image search, but if you have the following requirements met after investigating the image via Google's "Search by Image" tool, then it is generally safer when:
The image is not on a big name website.
The image is clearly not found from a stock image company.
If you found the original image source and it appears that taking their image will not hurt their profits in anyway.
If dozens of other websites also have that same image.
Conclusion
Images say a thousand words, but can take thousands of dollars away from you if used illegally! So take my advice and take images properly right from the start of your website project and you will be rest assured that all the images on your site are legally taken. You will sleep more soundly at night knowing that you will not have to deal with any legal issues down the road.
Web Marketing
Creating a Newsletter that Produces Impressive Results!
How To Legitimately Get Images For a Website?
Landing Pages – Converting Clicks to Leads
How To Increase Your Adsense Income
Effective Email Marketing
Things to Consider Before Selling Products Online
Tips for Setting Up an E-commerce Site
Exploring Keywords And Google Bombs
How to Write Great PPC Ads
Understanding Google's PPC Auction Model
How Bot Malware Activity Can Harm Your Website
How To Make Static HTML Templates Using Include Files
Learn Why This Website Uses Static HTML Over a CMS
Page Rank & Link Building Tips and Advice
Top 10 Tips to Improve your SEO Skills
How to Choose Good Affiliate Programs to Make Money Online?
How Long It Takes to Make Money Online from Blogging
How to Make Money Online from Affiliate Marketing
Make Money from Your Website Using Online Ads
How to Setup a New Online Store?
What are the Benefits of Article Marketing?
Will Google ban your site for duplicate content?
How to effectively cloak Clickbank Hop links
Better AdSense Placement for more Clicks
Affiliates or AdSense, What earns more MONEY?
Kill Your Day Job With Internet Marketing
How Effective Business Blogging Is for Business Owners?
Why Register A Domain Name?
What are the Benefits of Internet Advertising?
What is SEO and Why SEO is So Important?