Top 15 Things to Do in Albuquerque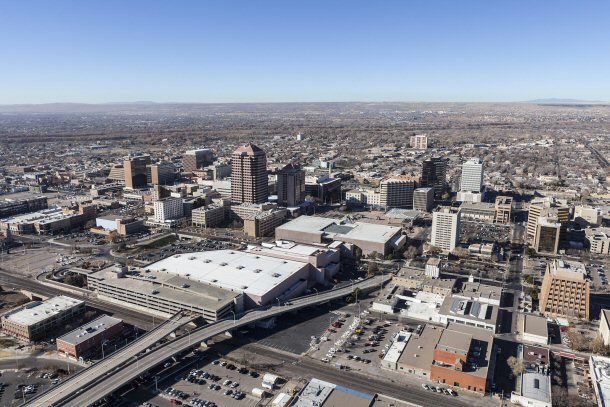 For travel destinations in the American southwest, Albuquerque doesn't come to mind as quickly as Santa Fe or Taos. That's a shame because this laid back, culturally eclectic city in the high desert of New Mexico holds many surprises for the visitor. Albuquerque sounds fairly old by American city standards due to it being founded in 1706 but by local standards that's nothing; the Spanish conquistadores were there first, and the Native American people of the area predate the city by far. Albuquerque soaks up all of these local traditions from the past into its own unique mix of history and heritage, while still developing for the future. If you decide to visit this funky southwestern jewel of a city, here are some things not to miss.
---
15) Albuquerque Old Town
Albuquerque has expanded over the years from its start as a small rural town into the largest city in the state of New Mexico. The city has grown like a tree does, out from the center, and the center of Albuquerque is still thriving. Albuquerque's Old Town, as the original section of the city is called, is an area that is has adobe architecture, small shops, restaurants, art galleries, quaint small streets and the wide Old Town Plaza. The area is still comprised of historic adobe buildings, roughly ten square blocks, and is still a focus of community life for the city of Albuquerque.
Albuquerque enjoys over 300 days a year of sun and beautiful weather, making it a joy to wander through the streets as well as explore the little shops. If you want to see Native American art or pick up some turquoise jewelry, you'll find it here. There are plenty of restaurants as well as cafes; a number of other Albuquerque attractions either border the Old Town and are a short walk or ride away. If you want a tour of the historic area there're multiple options that are available: a pedi-cab tour, a trolley tour or a walking historical tour. For a few shivers, you can even book a ghost tour of the area!
Old Town restaurants and stores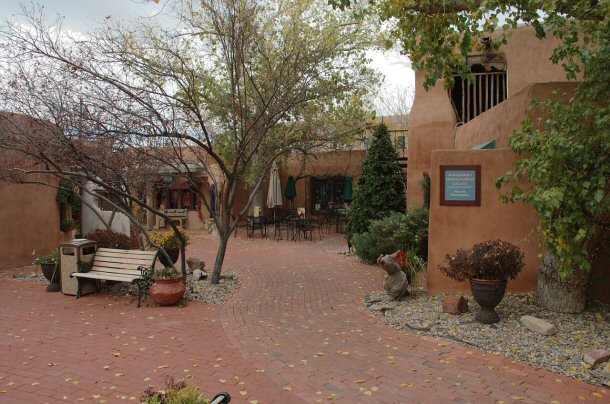 By Malcolm Tredinnick, via Wikimedia Commons
Old Town Plaza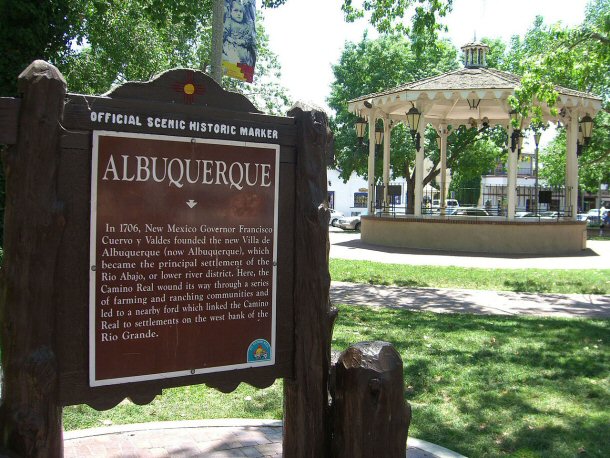 By Nightscream, via Wikimedia Commons
---
14) Church of San Felipe de Neri
On the north edge of Old Town Plaza sits the Church of San Felipe de Neri, the first Catholic church in Albuquerque and a local landmark for hundreds of years. The original church was built in 1706 but collapsed in 1792: construction on the current church building was completed a year later. A rectory, convent and school were attached to the parish over the years: various changes as well as additions to the architecture of the main church have also been undertaken too. Restoration work is currently underway to make sure that it and the associated buildings stay in good repair for the years to come.
Exterior of San Felipe de Neri Church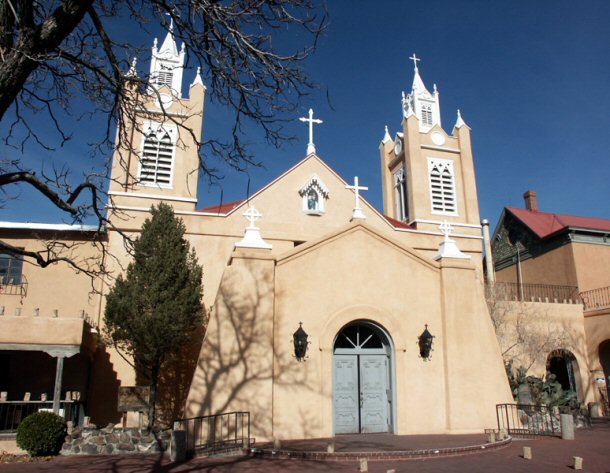 By Camerafiend, via Wikimedia Commons
The church is open to the public and includes a museum of art along with some of the artifacts that have been used in the edifice over the years. It is a beautiful place to get out of the sun for a rest, while soaking in more of the local culture and beautiful architecture of this landmark church. The Church of San Felipe de Neri is still an active church with a thriving congregation, so it may be closed to the public at times for services. At other times it provides a peaceful place for contemplation, for viewing the church's art, gazing at the buildings or simply taking a rest.
Inside San Felipe de Neri Church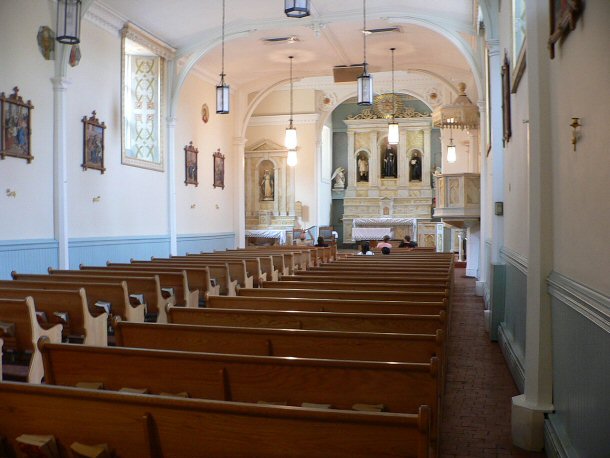 By Mark Pellegrini, via Wikimedia Commons
---
13) Paseo del Bosque Trail
Albuquerque takes its outdoor fun seriously and one of the prime examples of this is the Paseo del Bosque Trail. National Geographic featured the trail when it named Albuquerque as one of the best U.S. cities for outdoor activities and Sunset Magazine has named it one of the best trails in the entire western U.S.
The Paseo del Bosque is a 16-mile multi use trail, entirely paved and completely uninterrupted by any roadways. This makes it an ideal place to walk, run, skate or ride bikes through the city for sightseeing. There are numerous points at which you can join or exit the trail, although not all of these provide parking. If you are connecting by car, make sure you locate an area where you can park until you come back from your adventures. Many attractions are within reach of the trail in addition to simply walking, biking, enjoying the beautiful weather and site seeing the city of Albuquerque. Public art displays are located at Central Avenue, Tingley Beach and several other sections of the trail. You can connect to the Rio Grande Valley State Park, the National Hispanic Cultural Center and other attractions from the Paseo del Bosque.
Central Ave and 5th Street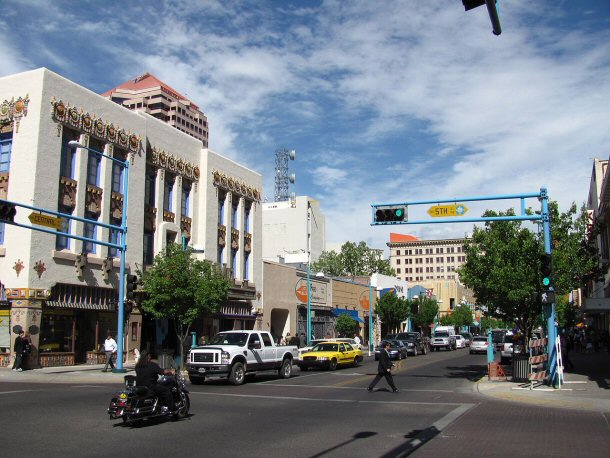 By John Phelan, via Wikimedia Commons
National Hispanic Cultural Center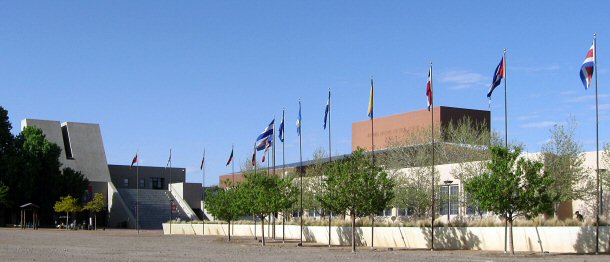 ---
12) Open Space Lands
The Paseo del Bosque is not the only place where you can enjoy the great outdoors in Albuquerque. The city owns over 28,000 acres of land in and around the city that are managed for conservation of natural resources; they also provide opportunities for outdoor recreation as well as education. Albuquerque's Open Space Division manages 25 separate parks and facilities, many of them specialized for educational or recreational use.
If you are interested in the natural geography and habitats of the area then you can explore the Sandia Foothills Open Space or the Rio Grande Valley State Park. The West Mesa Open Space contains the remains of five dormant volcanoes, including lava flows and other volcanic landscape features. The Open Space Farmlands are comprised of five working farms that are managed as part of the Open Space division; they provide a link to agricultural space that gives the residents of Albuquerque the opportunity to experience farming landscapes, take advantage of educational opportunities and enjoy special events without needing to travel miles away from the city. Other Open Space areas offer places to have picnics and some may be reserved for private events, dog parks, golf courses, hiking trails, special areas for off-road vehicles, etc. Whatever your outdoor interests are, the Albuquerque Open Space Division has something to offer you.
Rio Grande Valley State Park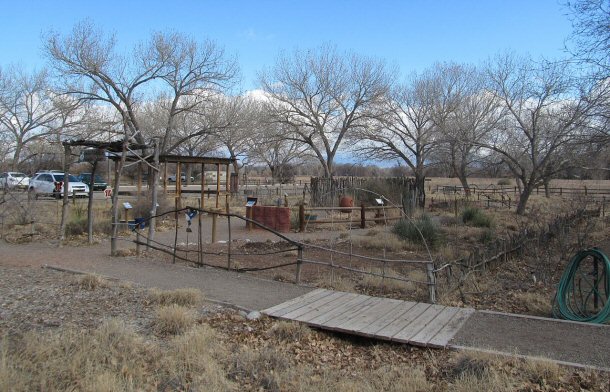 By John Phelan, via Wikimedia Commons
Vulcan Volcano located in the West Mesa Open Space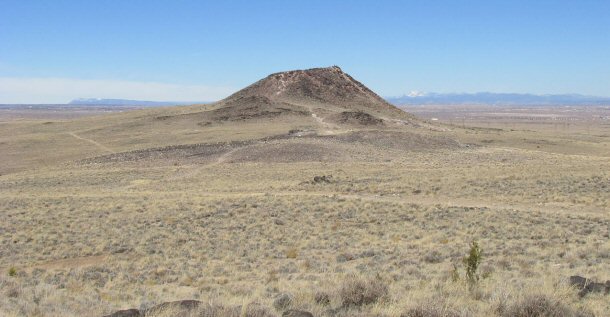 By John Phelan, via Wikimedia Commons
---
11) Albuquerque Museum of Art and History
If you want to explore Albuquerque's rich cultural history, it's well worth the time, then swing through the Albuquerque Museum of Art and History. This museum sits on the edge of Albuquerque's Old Town and it houses a full collection of artifacts that catalog as well as illuminate the city's past. The exhibits include armor used by the Spanish conquistadores, who were the first Europeans to explore and settle in the area, and an actual 19th century chapel. Artwork by renowned local artists are also represented, including works by Georgia O'Keeffe and Peter Hurd.
Exterior of Albuquerque Museum of Art and History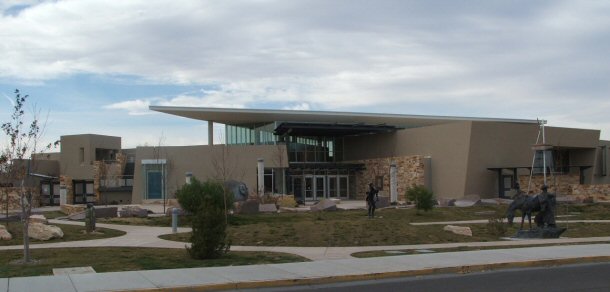 The museum is open from Tuesday through Sunday, and it includes museum facilities, such as: a café, store and guided tours of the exhibits. In addition to the museum's permanent collection, which focuses on the history and art of Albuquerque, the museum also brings in world class temporary exhibitions. Recent temporary collections have included many exhibits, such as: landscapes by contemporary artists; an exhibit on the history of human settlement and exploration in the Rio Grande valley; a collection of Goya's satirical etchings released in 1799 and other exhibits, which display the cultural heritage of Albuquerque itself or the people who have settled here over the centuries.
Early Settlers display outside the museum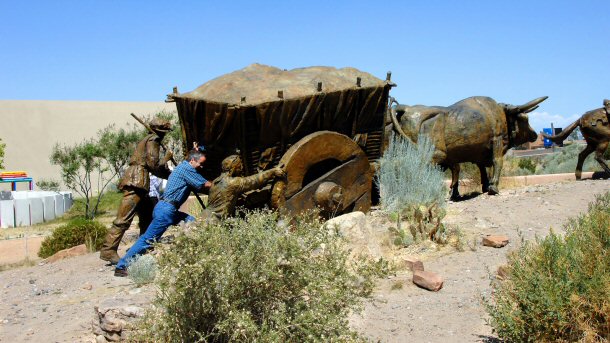 ---
10) Albuquerque Flea Market
If you like hunting up a bargain or finding a one of a kind buy then check out the Albuquerque Flea Market because it has something for everyone; it includes 1,300 vendors and covers 25 acres. Both old and new items are on display: antiques, collectibles, handcrafts, traditional Native crafts, jewelry and more. It is a flea market, so you never know what will turn up on a given week. It may take some searching to find the gems but that's the nature of the market. For a better selection, get there early because the serious flea market shoppers are on the hunt at the crack of dawn. There are plenty of food vendors, so even if you don't go to shop then you can try out some of the tastes of New Mexico.
---
---
9) ¡Explora! Children's Museum
If you are traveling with children then a must visit attraction is ¡Explora! Children's Museum; even adults may find themselves having fun for hours, playing in the exhibits. ¡Explora!'s mission is to give kids and grownups the opportunity to learn with handson activities, giving kids the chance to play as well as interact with the exhibits centered around science, technology or art. Instead of lectures and spoken tours, kids can look at materials under a microscope, play with light, shadow and color or explore geometry using basic shapes as well as tools. Exhibits are mostly small and totally kid friendly; this is not a museum where "look but don't touch" applies. In the friendly spaces of ¡Explora! Children's Museum, your kids can engage their imaginations to the fullest by delving deep into whatever catches their fancy and you might find yourself spending lots of time playing with some of the exhibits too.
Exterior of ¡Explora! Children's Museum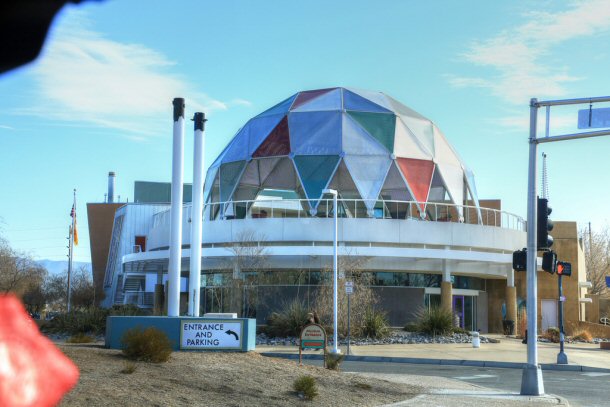 Even if you don't have kids, ¡Explora! offers something for you. The museum hosts Adult Night sessions, where adults get the chance to explore a scientific topic in depth or enjoy live entertainment. The range of activities changes from month to month but there's always something new and exciting to experience. ¡Explora!'s Adult Night events have become popular with many locals, such as: college kids, grandparents, singles groups, couples on dates, professionals, retirees and everyone in between.
Interior of ¡Explora! Children's Museum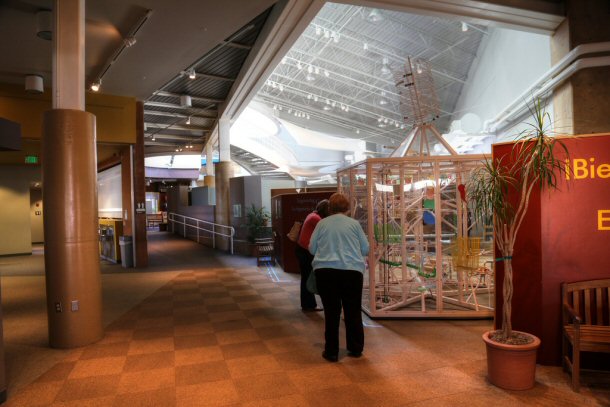 ---
8) National Museum of Nuclear Science & History
This is a museum for those interested in more recent U.S. and world history. New Mexico was home to one of the Manhattan Project's crucial facilities, the Los Alamos plant where the first nuclear bombs were constructed and tested. The National Museum of Nuclear Science & History seeks to educate visitors about America's nuclear history, from the first weapons tests through all aspects of modern nuclear power plants. Affiliated with the Smithsonian Institute, the museum lays out the history of the Atomic age. Its displays include: the basics of atomic theory; the political and military history of World War II, which led to the creation of the first atomic bombs; the nuclear standoffs of the Cold War; modern uses of nuclear science and technology that includes nuclear medicine. Many of the museum docents are former members of the U.S. military with extensive expertise about their subject areas and a great talent for educating the public about the sometimes murky, rumor-laden corners of our nuclear past. Understanding nuclear science and technology is vital to see us into the future; the National Museum of Nuclear Science & History is helping to educate the next generation about our nuclear history as well as about what the future may hold.
Exterior of The National Museum of Nuclear Science & History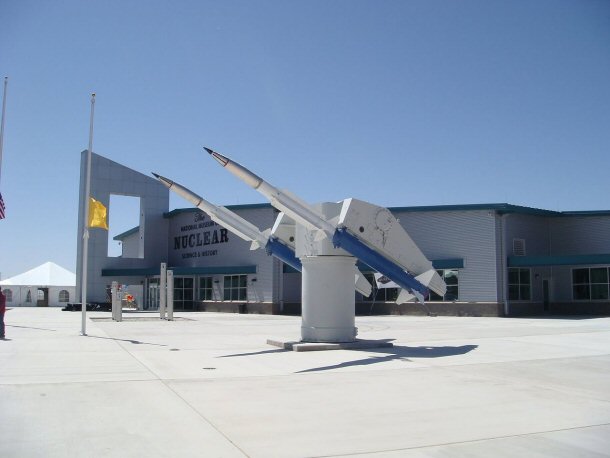 By byteboy, via Wikimedia Commons
An exhibit in The National Museum of Nuclear Science & History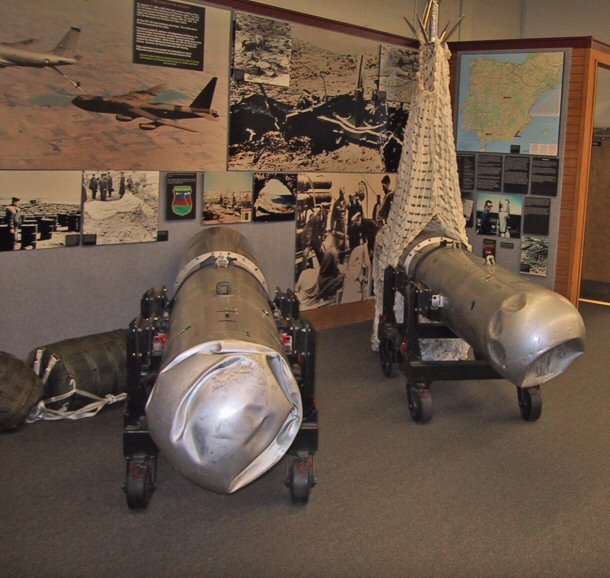 ---
7) Albuquerque Biopark
The Albuquerque Biopark is a unique set of facilities that can keep your family entertained and learning all day. It is a combination of a zoo, aquarium and botanic gardens. The Rio Grande Zoo houses more than 250 species of animals and is set in a lovely area along the Rio Grande River. Different shows and attractions occur throughout the year, such as: feeding sea lions, riding on camels as well as watching a bird show. The Albuquerque Aquarium specializes in showing aquatic animals found in habitats from the neighboring Rio Grande right down to the Gulf of Mexico. The attractions include a 285,000 gallon shark tank, presumably the sharks aren't taken from the Rio Grande. For an unforgettable evening, you can book a sleepover in the aquarium and "sleep with the sharks". The botanic gardens provide over a mile of pathways through gardens of every kind: some are formal, whimsical and exotic. There is a desert conservatory, a dragonfly pond, a seasonal butterfly pavilion and more to enjoy in the Botanic Garden that will delight your senses.
The Rio Grande Zoo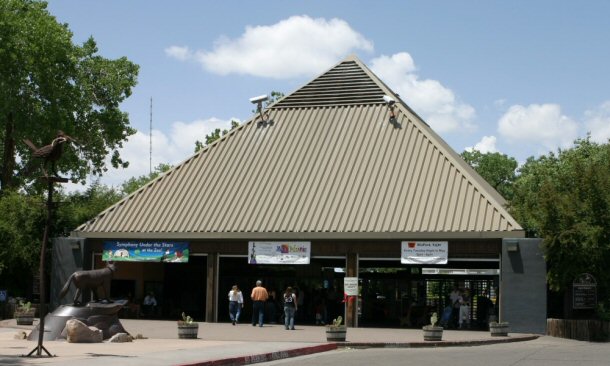 By Cburnett, via Wikimedia Commons
---
6) Tinkertown Museum
Tinkertown is a one of a kind place that's not like anywhere else; it started as the hobby of a man named Ross Ward, who grew up in the Midwest and was enchanted by the work of amateur carvers who constructed tiny farms as well as villages. Taking up carving and "tinkering" himself, he started carving figurines for his local general store in 1962. He was a self taught artist who also painted, etched, drew and sculpted. For more than 30 years he worked as a painter at carnivals, traveling all over the country.
Tinkertown is the result of Ward's desire to create his own folk art environment; it includes figurines he carved when he was in high school till the end of his life. Ward carved figures and animated them at Tinkertown, constructing extravagant as well as wacky scenes that come to life in front of your eyes. There are tiny western towns, miniature circuses, small carnival shows and collections of odd Americana of every description. Tinkertown is a tiny world of its own that showcases creative spirit and boundless fun through the vision of one man for everyone to enjoy.
---
5) Indian Pueblo Cultural Center
The area was settled by the Pueblo Indians long before any Europeans arrived in the American southwest and they were given that name by the famous Spanish explorer named Francisco Vasquez de Coronado. The Pueblo Indians were not a single tribe or group but shared the common characteristic of living in settlements the Spanish called pueblos, meaning "towns", and this set them apart from more nomadic natives of the American west.
Exterior of the Indian Pueblo Cultural Center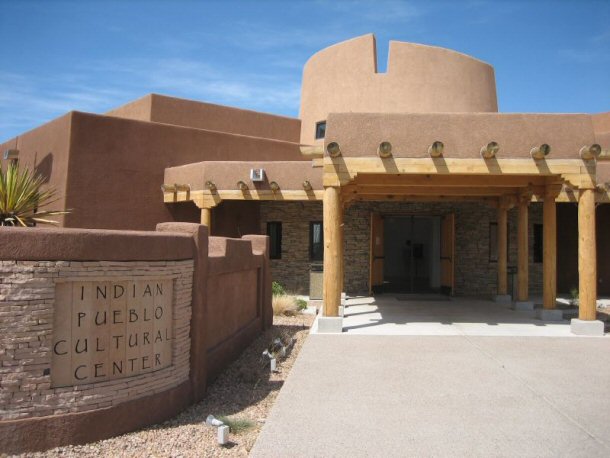 By Jonny Brownbill, via Wikimedia Commons
There are five American Native pueblos located close to Albuquerque and the Indian Pueblo Cultural Center exists to celebrate pueblo history as well as culture. The Center delineates the differences between various pueblo groups and showcases art specialties from different pueblos. The liveliest displays are the demonstrations of ceremonial pueblo dances, which are held in the museum's central courtyard. These dances are otherwise only performed for pueblo ceremonies on feast days or other special occasions and the demonstrations at the Indian Pueblo Cultural Center are one of the few opportunities for visitors to see these beautiful living parts of Pueblo culture. If you want to see a demonstration dance then check ahead with the museum for their schedule because sometimes feast days or other occasions take precedence.
Interior of the Indian Pueblo Cultural Center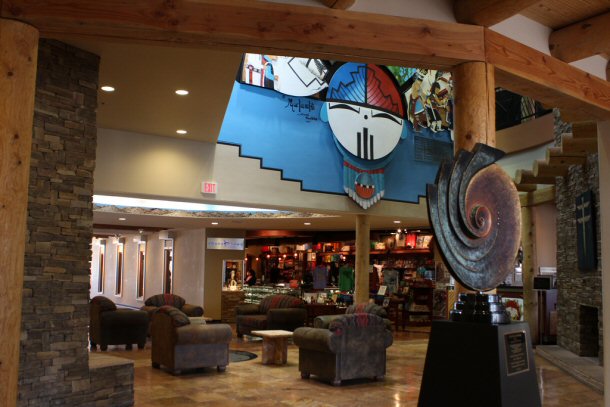 Indian Pueblo Cultural Center Dancers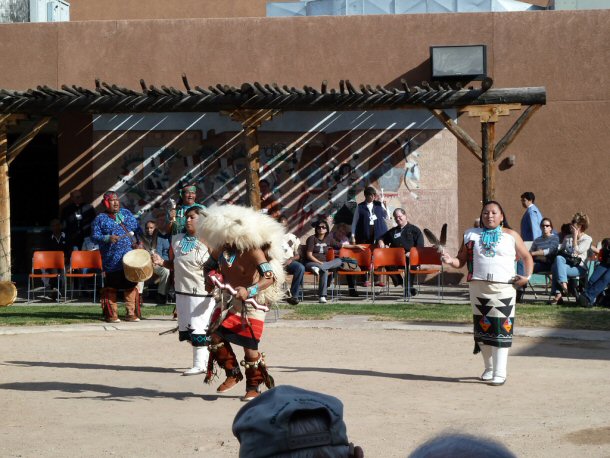 ---
4) The Petroglyph National Monument
Petroglyphs are rock carvings made by chipping away at a rock surface with a stone hammer and chisel to expose lighter rock underneath. Petroglyphs are found in many sites across the southwest but one of the richest sites is located near Albuquerque at The Petroglyph National Monument. It is estimated that there may be 25,000 along 17 miles of rock escarpment inside the monument park and most of them were made by the ancestors of today's Pueblo Indians, who have lived in the area of the Rio Grande for more than a thousand years. Scientists estimate that most of the carvings at Petroglyph National Monument were created between 1300 and 1700 CE but there are a few which may reach back as far as 2000 BCE, others were created by Spanish settlers.
You can start your exploration of the petroglyphs by stopping at the park visitor center, where park staff can direct you to the various trails on which you can see sets of petroglyphs. There are trails with different degrees of difficulty, so you can plan for a rigorous hike or a much gentler exploration.
Petroglyph National Monument entrance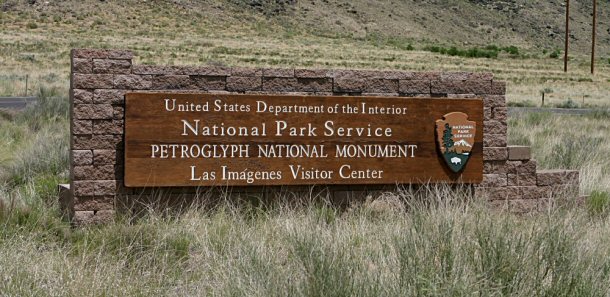 By cburnett, via Wikimedia Commons
The Petroglyph National Monument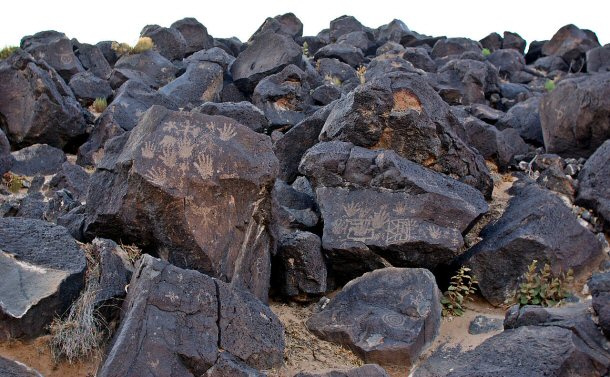 By Samat Jain, via Wikimedia Commons
---
3) Sandia Peak Tramway
If you don't mind heights then there is no better ride in Albuquerque than the Sandia Peak Tramway. The Tramway is a Swiss built cable car system that lifts visitors from the city up to the top of the Sandia Mountains, a rise in elevation of about 4,000 feet. The ride takes about 15 minutes and travels 2.7 miles, giving stunning views of the Sandia Mountains over the rugged terrain of crags as well as canyons. Take the tram up at sunset and you'll see a whole new level of beauty in the southwest scenery as the sky lights up in glorious sunset color around you.
Exterior of The Sandia Peak Tramway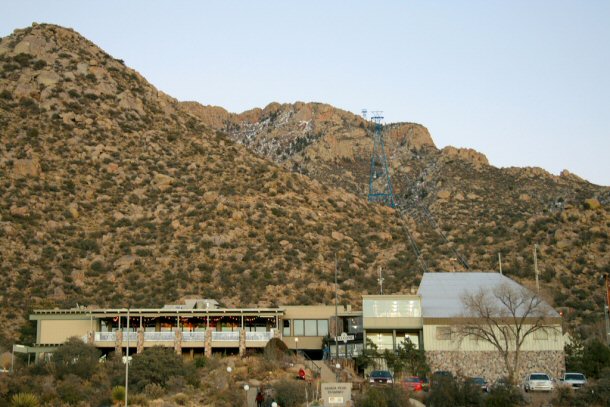 During ski season, the Tramway provides access to the Sandia Peak Ski Area where you can ski or snowboard. In the summer, you can hike along the peak trails or bring your mountain bike. There is a forest visitor's center a few miles along the trails from the Tramway, where you can have lunch before hiking back for your return trip down the mountain. Be mindful of the altitude though, Albuquerque is at roughly the same height above sea level as "Mile High" Denver and the tram will take you up over 10,000 feet above sea-level. It may be best to give yourself a few days to acclimate to Albuquerque's altitude before you take the trip to Sandia Peak.
Sandia Peak Tramway cable car ride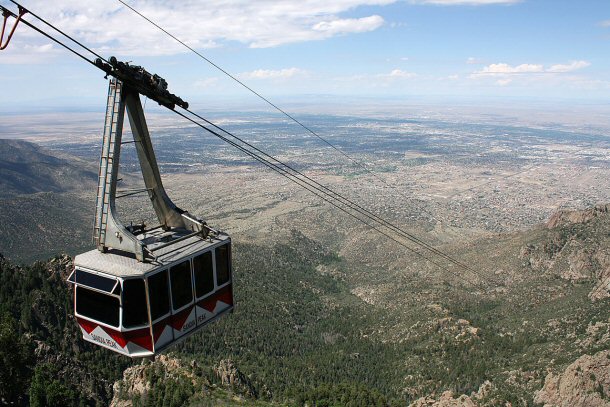 By AdamSelby, via Wikimedia Commons
---
2) ¡Globalquerque! Music Festival
Albuquerque is home to many special events and festivals over the course of the year; if you visit at the right time you can take advantage of great opportunities for art, music, as well as other forms of entertainment. One of the biggest of these festivals is the ¡Globalquerque! Music Festival, where Albuquerque embraces its own cultural pluralism that is made of multiple overlapping cultural influences that have made their home in the southwest. In the spirit of this cultural acceptance and celebration, ¡Globalquerque! is a truly international festival that brings in artists from all over the globe to showcase their own musical styles. The 2013 lineup includes artists from the U.S., Mexico, India, Taiwan, Sierra Leone, Ireland, Argentina, Ethiopia and more.
¡Globalquerque! includes the Global Village, which is an area of booths showcasing food, crafts and culture from around the world. Local cultural groups are also welcome to come and be a part of the Village. It is a marvelous opportunity to see, touch and taste offerings from many cultures, chat with artisans as well as gain a bigger appreciation for the diversity of our planet. Walk the Village, sample foods you've never heard of and pick up a souvenir or two to remind you of expanded horizons.
Globalquerque 2012 performance by Zeb and Haniya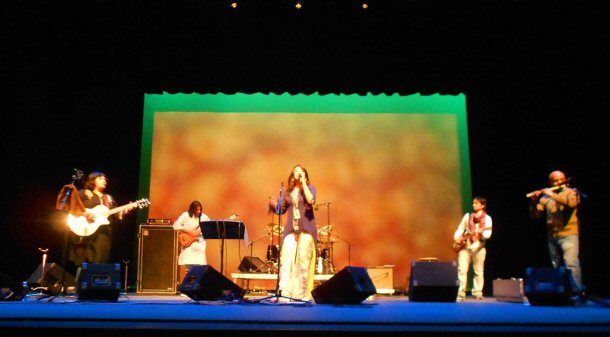 By Carptrash, via Wikimedia Commons
---
1) Albuquerque International Balloon Fiesta
More than any other event, Albuquerque is known for the annual International Balloon Fiesta. It takes place every October and it's an outstanding spectacle of color that has over 500 balloons that take to the sky in close company. The two weeks of the festival offer more than just balloon viewing, there is a packed schedule of events happening both on the ground and in the sky. Everyday there is a mass ascension of balloons, morning or evening balloon "glows", fireworks, special event competitions, concerts and other entertainments. There are precision flying events that are beautiful for anyone to watch but especially interesting for those who fly balloons and understand the skill involved. Of course, if you want to go up in a balloon yourself there are many opportunities to take advantage of. Even if you don't, you can still get an idea of what it's like by following one of the webcams taken up in many of the balloons that show views of the festival from the air. Take advantage of the Balloon Discovery Center, an area which explains the science and technology of flying air balloons. Kids will enjoy the opportunity to "fly" a balloon simulator at the Discovery Center then will go back outside and appreciate the balloons in flight after seeing what kind of work goes into hot air ballooning.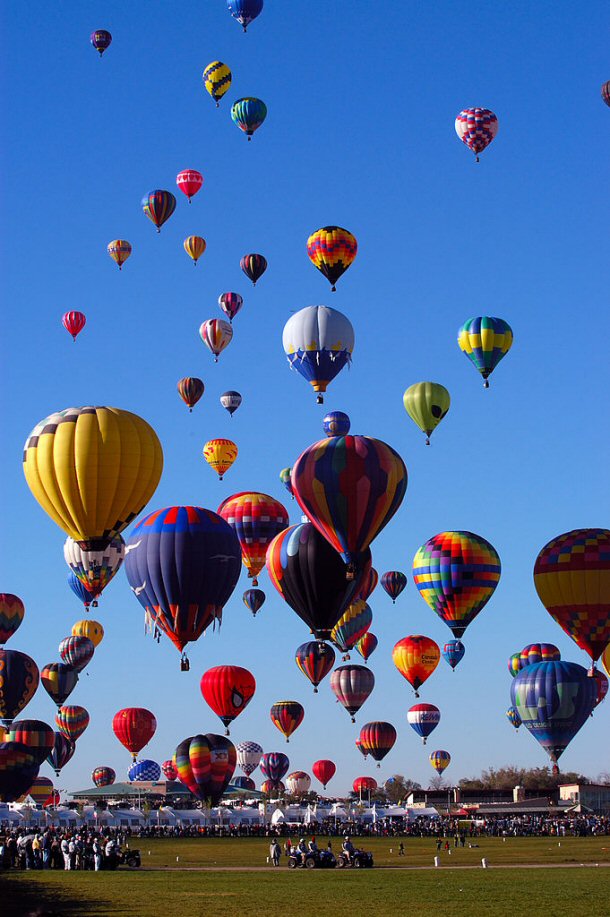 By Eric Ward, via Wikimedia Commons
---
Final Words
Albuquerque offers much for visitors of every kind and if you love getting outdoors as well as hiking or exploring then there are opportunities for you in every direction. If you appreciate history then you will love the city because it's bathed in it, from the Old Town, the surrounding pueblos as well as the ancient rock carvings to great museums. If modern entertainment is your scene then check out one of the many festivals that happen throughout the year. Sample the local cuisine, browse quaint or funky little shops, breathe in the desert air and appreciate a million miles of clear blue sky above your head. If you've never visited Albuquerque, a world of adventure awaits you there.
Vacation Destinations
Top Lists:
Top 15 Interesting Places to Visit in the Bahamas
Top 15 Fun Things to Do in Miami, Florida
Top 15 Fun Things to Do in Chicago
Top 15 Best Unknown Things to do in Las Vegas
Top 15 Fun Things to Do in Hollywood
Top 10 Best Places to Visit in Turkey
The Top 15 Best Things to Do and See in Sydney
Top 10 Things to Do in Edinburgh
Top 10 Things to do on Oʻahu
Top 15 Things to Do in Albuquerque
Top 15 Interesting Places to Visit in Spain
Top 15 Places to Visit in New York City
Top 15 Things to Do in Portland Oregon
Top 15 Things to do in Greece
Top 15 Places to Visit in Houston Texas
Top 15 Interesting & Safe Places to Visit in Mexico
Top 15 Interesting Places to Visit in the Netherlands
Top 15 Interesting Places to Visit in Thailand
Top 15 Interesting Places to Visit in Switzerland
Top 15 Interesting Places to Visit in Portugal
Top 15 Places to Visit in San Francisco
Top 15 Interesting Places to Visit in Shanghai
Top 15 Interesting Places to Visit in Puerto Rico
Top 15 Interesting Places to Visit in Norway
Top 15 Interesting Places to Visit in Las Vegas
Top 15 Interesting Places to Visit in Jamaica
Top 15 Interesting Places to Visit in Croatia
Top 15 Interesting Places to Visit in Belgium
Top 15 Interesting Places to Visit in Bangkok
Top 15 Things to Do in Rio de Janeiro
Top 15 Things to Do in Monaco
Top 15 Interesting Places to Visit in Dubai
Top 15 Interesting Places to Visit in Amsterdam
Top 15 Things to Do in New Zealand
Top 15 Interesting Places to Visit in Paris
Top 15 Interesting Places to Visit in Italy
Top 15 Interesting Places to Visit in Singapore
Top 15 Most Interesting Places to Visit in Berlin
Top 15 Best London Attractions
15 Little Known Facts About New York City
Disney World Articles
Top 15 Disney World Rides for Adults
Top 15 Disney World Rides for Kids
Top 15 Disney World Resorts for Adults
Top 15 Disney World Resorts for Kids
15 Fascinating Facts About Disney World
Top 15 Fun Things to Do at Disney World's Animal Kingdom
Top 15 Fun Things to Do at Disney's Hollywood Studios
Top 15 Fun Things to Do at Disney World's Epcot
Top 15 Fun Things to Do at Disney World's Magic Kingdom

Shorter Top Lists:
Top 10 Tourist Attractions in San Diego
Top 10 Tourist Attractions In India
Top 10 Things to Do In Kansas City
5 Places You Should not Miss in Brazil
Top 5 Things to do in New York City

Informational:
Best Tourist Attractions In Vietnam
Taking in the Sights in Shanghai
Top Tourist Attractions in Perth, Australia
Nice places to visit while in Great Britain
Sampling the Foods at the Night Markets in Taipei
What to do for a Kenya Vacation
Best Attractions in Victoria, B.C.
Photos of the Luxor Hotel in Las Vegas