Top 15 Interesting Places to Visit in Amsterdam
Amsterdam is one of Europe's best cities to visit. With over 12.2 million tourists visiting every year, Amsterdam ranks in the top 10 cities in Europe for tourists. Visitors come for both business and personal travel, with its many cultural sights drawing in 66 percent of visitors. Although art and museums are not always the top tourist destinations thought of when you hear Amsterdam, there has been continuous rise in cultural tourism in Amsterdam. In 2011, there was an increase of tourists who visited a museum during a visit, from 73 percent in 2007 to 85 percent.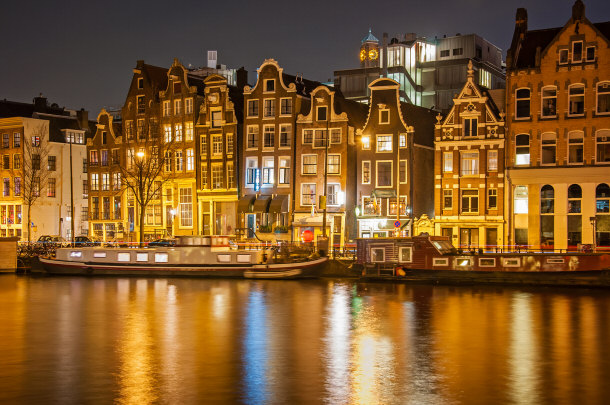 With its airport a central hub for many flights entering Europe, you can easily take a few days during a layover to visit the city or make it your destination. With its historic canals, museums, history, infamous red light district and coffee houses, there is something for everyone to enjoy in Amsterdam. It is also very easy to get around in Amsterdam. It is notorious for its bikes, and you can easily rent one yourself. Public transportation is ready available, and there is even the canal system to help you get around. If you do visit Amsterdam, be sure to include these 15 interesting places to visit on your travel itinerary.
---
15) Red Light District
Amsterdam is famous for its Red Light District. Many people may not be inspired to visit this area, known for its infamous debauchery and sex shows, prostitution, and more. However, it provides an interesting experience for those brave enough to walk its streets. Although some parts may be shadier than others, walking through the district, known as De Wallen, is typically safe, especially during the day.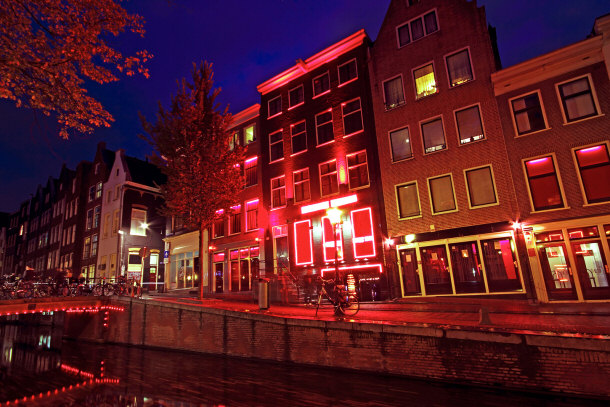 As long as you stick to the more touristy areas, you do not have to worry about your safety; you just might see some shocking things. Although it is not a family friendly destination, there are plenty of interesting sights to see for the curious tourist. Of course, there are the infamous red lighted windows of the city's prostitutes, along with many stores selling all kinds of sex toys.
Coffee Shop in Amsterdam's Red Light District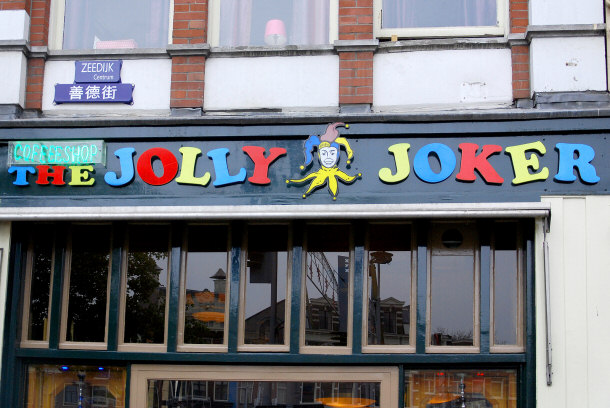 One of the most interesting parts of walking through De Wallen is it its depravity, providing an interesting juxtaposition to the historic townhouses and other historical and monumental architecture in the district. You can enjoy part of Amsterdam's beauty and just close your eyes for the rest, if you feel too uncomfortable. If you are looking to actually check out a live sex show, Casa Rosso and Bananenbar are popular shows. If you want to learn the history and behind-the-scenes information about Dutch prostitution, you can take a walking tour with a former sex worker. There is plenty to see and learn about in this section of town, even if you are not looking to partake in its main attractions.
---
14) Vondelpark
Sometimes, you just want a place to relax and enjoy nature in between more active things to do in a city. Walking around a city can become exhausting no matter how beautiful it is. Sometimes, you just want to see some green and sit in a park, especially if you are not used to living in a city. London has Hyde Park, New York has Central Park. In Amsterdam, Vondelpark is the perfect option for taking it easy, especially on a sunny, warm day.
Muziektent in Vondelpark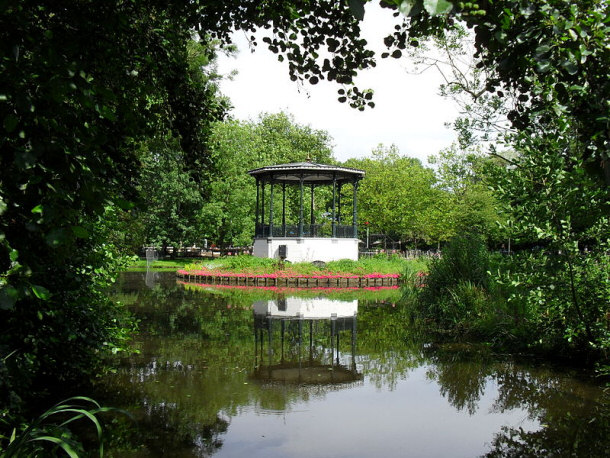 By Marcel mulder (Own work) [CC-BY-SA-3.0-nl], via Wikimedia Commons
Many locals agree and make their way to Vondelpark to sit, read, eat, drink, and have fun. Although there are many park options in Amsterdam, Vondelpark is the largest green space in the entire city. There are many beautiful sculptures to enjoy as you walk along the park, including one by Picasso. It can be just like walking through an open air museum.
While relaxing in Vondelpark, you can picnic, drink, and enjoy the day. In the summer, there is live music and kids' activities at the Openluchttheater for outdoor entertainment. Every year there is different entertainment, but you can find the schedule online or at the tourist office.
A Sunday Afternoon in Vondelpark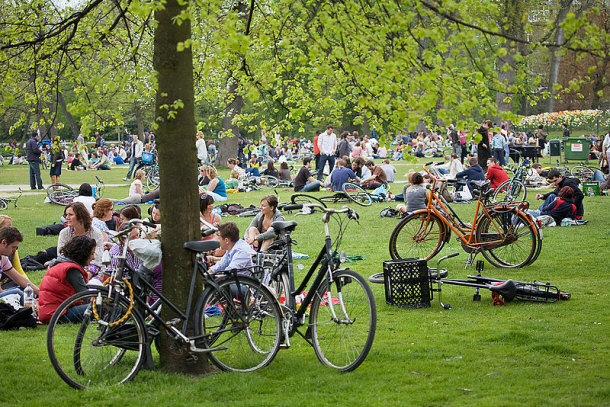 If you find there are too many people at Vondelpark and you want a quiet, serene place to relax, try the hidden Begijnhof, which began life as a 14th century convent. It is a little nook of serenity where you cannot even hear the city and its sounds.
---
13) Stedelijk Museum
If you are a lover of modern and contemporary art, then the Stedelijk Museum, which rivals MoMa and the Tate Modern for featuring contemporary art, must be on your list of places to visit. It is located in the Museum Quarter on the Museumplein. With famous pieces representing all the influential modern art movements, like impressionism, cubism, and pop art, those who appreciate modern and contemporary art can spend hours looking at important and influential pieces.
Stedelijk Museum Seen From Van Baerlestraat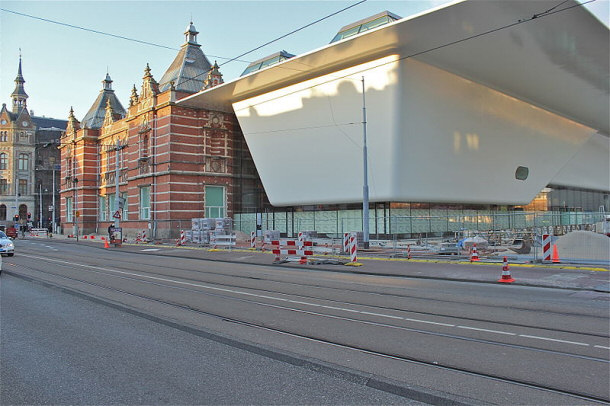 By Aarnout2007 [GFDL or CC-BY-SA-3.0], via Wikimedia Commons
With pieces from Matisse and Cezanne, to Rodin and Andy Warhol, you will get to see great works from the modern masters as well as other important and talented artists. You might even find a brand new favorite amongst the many beautiful pieces. Additionally, you can see pieces from the Dutch Art Nouveau movement. There are various traveling exhibitions, but the permanent collection will please any contemporary art aficionado.
Stedelijk Museum Amsterdam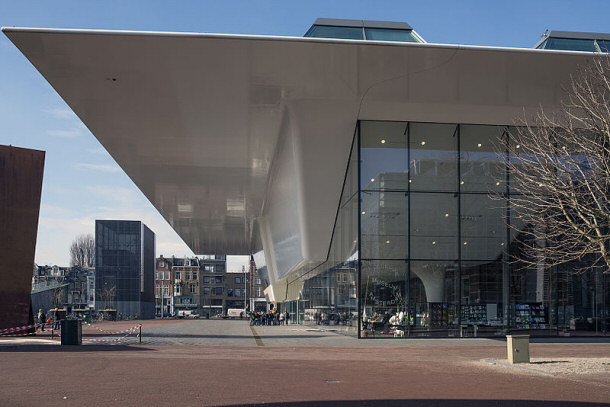 By Hpschaefer www.reserv-art.de (Own work) [CC-BY-SA-3.0], via Wikimedia Commons
If you really love contemporary art, Amsterdam still has a strong artistic culture, and you can visit many galleries featuring new artists. You can even bring some of the art home with you. Furthermore, there is fun street art you can see as you walk through the streets of Amsterdam.
---
12) Amsterdam Tulip Museum
In the 1600s, tulips were more valuable than gold. Although their value eventually decreased, they are still a major attraction to the Netherlands. Lucky travelers who visit between March and May can see these beautiful flowers in full bloom. However, if you miss out, you can still enjoy some tulips at the Amsterdam Tulip Museum.
Dutch Tulips and Windmills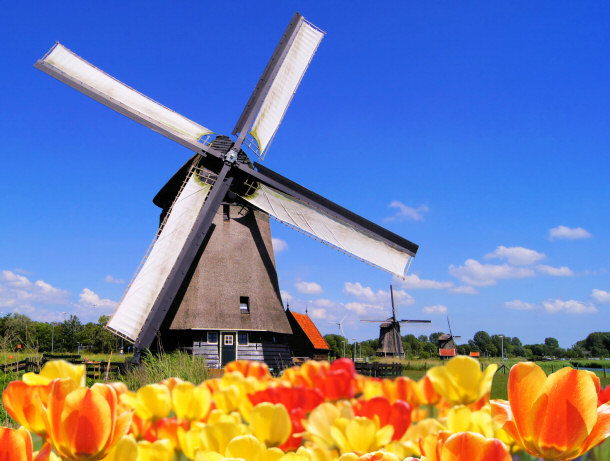 You can follow the history of the tulip and its importance to the Netherlands economic history, especially during the 17th century. There are pictorial narratives of the tulip's history in the Netherlands, including how tulip blubs are cultivated and the different types of tulips out there. There are also interesting multimedia exhibitions.
Storefront Entrance to Amsterdam Tulip Museum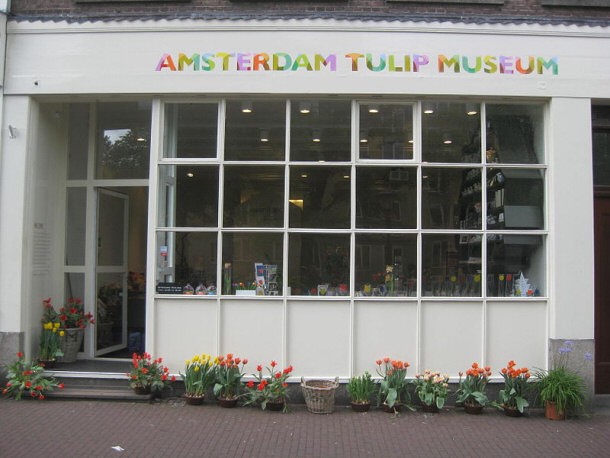 By Geneticcuckoo (Own work) [CC-BY-SA-3.0], via Wikimedia Commons
For anyone who loves flowers or gardening, you will really enjoy a trip to the Amsterdam Tulip Museum. You will be amazed that a simple flower has such a deep history and importance both to a culture and to all of European history. Even today, the tulip remains a viable part of Amsterdam's and the Netherlands' economic industry.
---
11) Westerkerk
Westerkerk is the biggest church in the city. Built between 1619 and 1631, it was the first purposely built Protestant church in Amsterdam, and remains an important part of the city. Its bell tower, known as the Westerkerk Tower or Westertoren, is one of the city's most important symbols. As you walk through the Old City center, you will see the looming Westerkerk Tower, which reaches 275 feet high. You can walk up the tower and see a beautiful view of Amsterdam from the sky. You will be amazed at the difference looking at the city from above makes, and you can have fun pointing out the different sights you have seen while at the same time getting familiar with the canal system.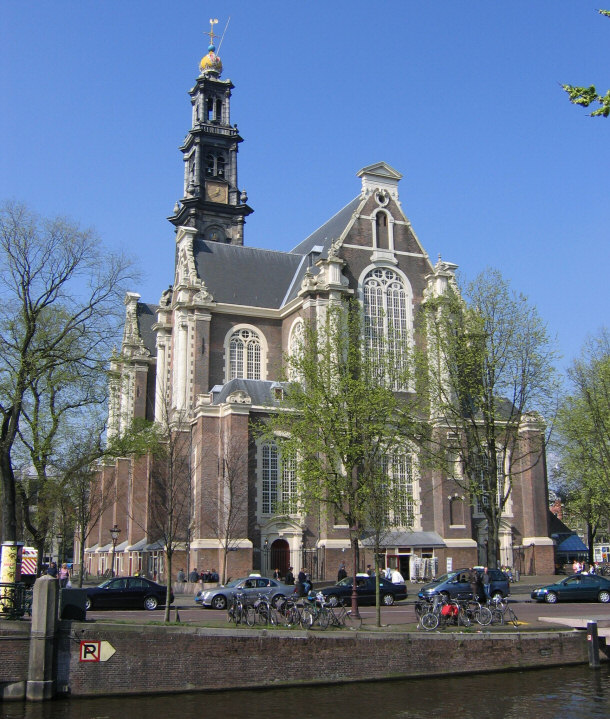 The church itself features beautiful paneling and painting. You should walk through the church and enjoy a beautiful protestant church from the 17th century. Westerkerk also was mentioned several times in Anne Frank's diary, making it one of several places to visit in relation to that book.
Traditional Pipe Organ Inside Westerkerk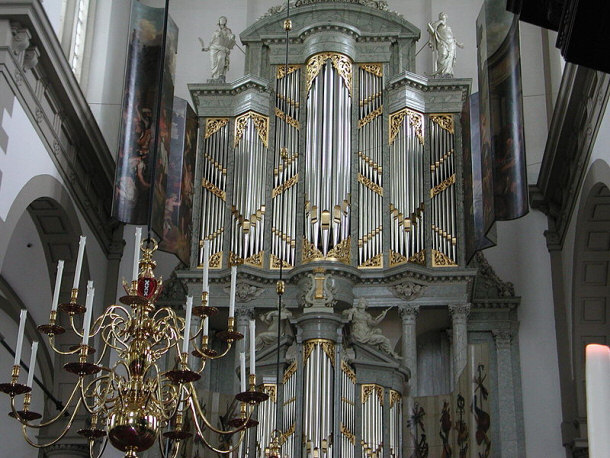 By P.H. Louw [CC-BY-2.5], via Wikimedia Commons
As you walk around this historic neighborhood, you can enjoy many of the beautiful historical buildings such as the church and feel the historical importance of the area.
---
10) Reypenaer Cheese Tasting Room
If you like cheese, then you must visit the Reypenaer tasting room. Reypenaer cheese is unique to the Netherlands and is matured naturally by following the same historic ripening process used for many, many years. This process provides a distinctive and complex tasting cheese that has a very strong and lovely aroma. By making a reservation and visiting the tasting rooms, you get to experience all the various flavors and aromas of the cheeses, led by an expert cheese taster.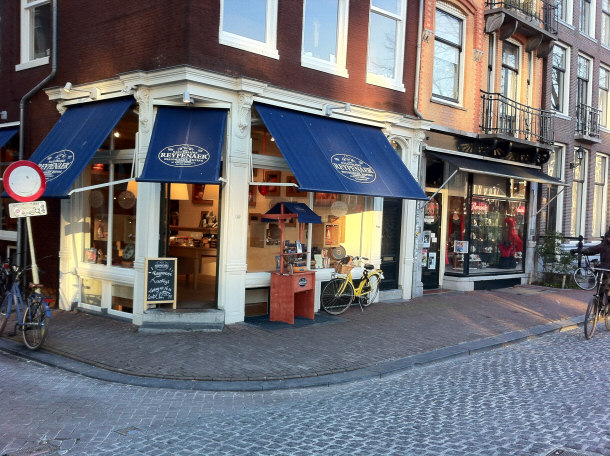 There are only 20 people allowed per tasting, and each one lasts for about an hour. Wine is provided as part of the experience. Wine and cheese are often paired together, and the experts at the tasting room know exactly the right wine to bring out the flavoring of the cheese to enhance the experience even more. You will learn so much about cheese and how much it can differ depending on how it is created.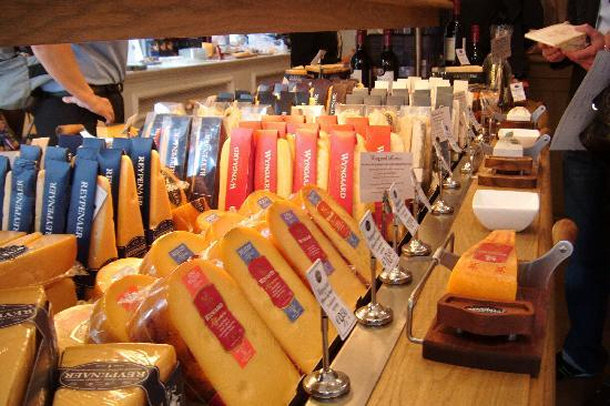 Even if you are not a cheese connoisseur, anyone who enjoys artisanal foods or tasting events will enjoy time at the Reypenaer Cheese Tasting Room. You will have a hard time finding good cheese at home once you have indulged in the beautiful, naturally handcrafted Reypenaer cheese.
---
9) Zaanse Schans
A short hop outside of the city, and you can see all the stereotypes of the Netherlands in one little village. This little village is still functioning, but seems more like a museum than a town. There are six windmills, a cheese farm, and a wooden shoe workshop. You can learn about the history and symbolism of the clog by visiting the wooden shoe workshop, and perhaps bring yourself home a pair.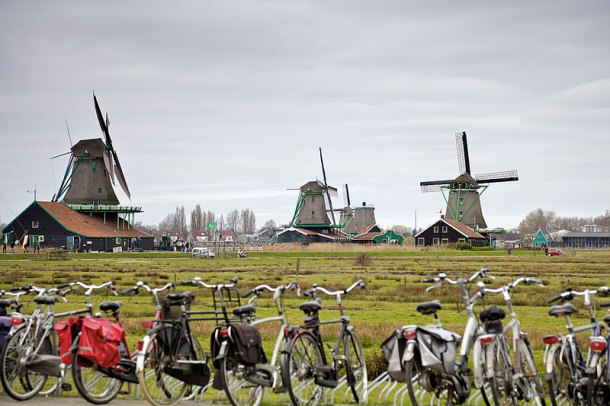 Much of the town's beautiful, historic architecture and traditions are still intact, making you feel like you have transported through time when you visit this idyllic village. You can actually take a tour into one of the functional windmills. If you are looking for traditional artisanal Dutch products, then Zaanse Schans is the perfect stop for you to find just what you are looking for. There is a chocolate and biscuit company to visit and enjoy their goods.
Historic Buildings of Zaanse Schans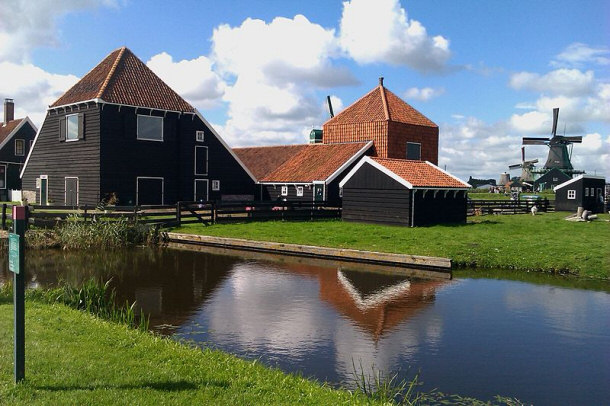 Lipatden at en.wikipedia [CC-BY-3.0], via Wikimedia Commons
You will feel transported into a time lost to history once you enter Zaanse Schans. When you leave, you will feel like you just walked through the version of Holland found in Epcot Center or It's a Small World.
---
8) Museum Ons' Lieve Heer op Solder
When you brave a venture into the Red Light District, be sure to check out the hidden church in Museum Ons' Lieve Heer op Solder, or Our Lord in the Attic. On the outside, this museum looks just like a typical 17th century mansion on the canal. However, there is a hidden Catholic church that dates back to when Catholicism was banned in the Netherlands.
Exterior of Museum Ons' Lieve Heer op Solder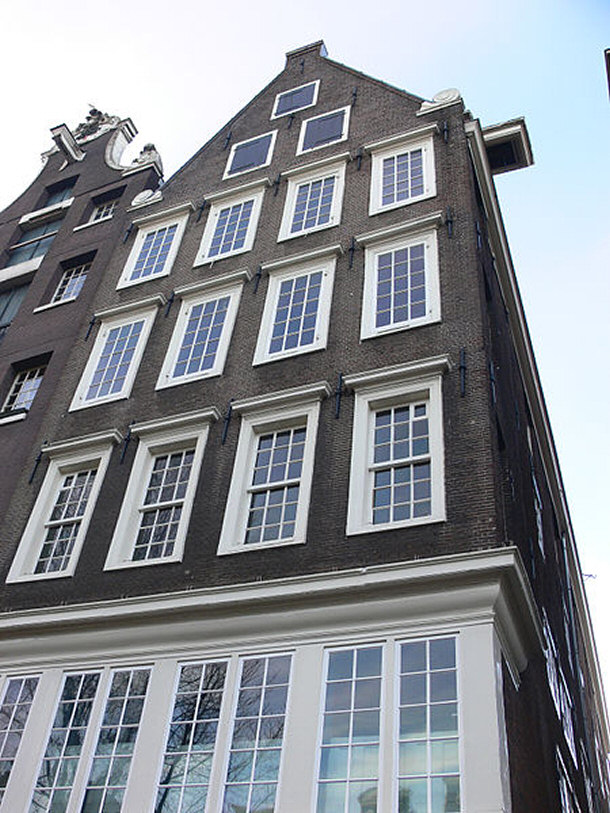 By Remi Mathis (Own work) [CC-BY-SA-3.0], via Wikimedia Commons
Although it is called "Our Lord in the Attic," the church actually is comprises the top three floors of the house. The church was theoretically hidden; but authorities were well aware of it and allowed it to operate, demonstrating the history of Amsterdam's tolerance. The house remained a church for two centuries, until the first Catholic Church in centuries was built in the late 1800s, and then it became a museum.
A Look Inside Ons' Lieve Heer op Solder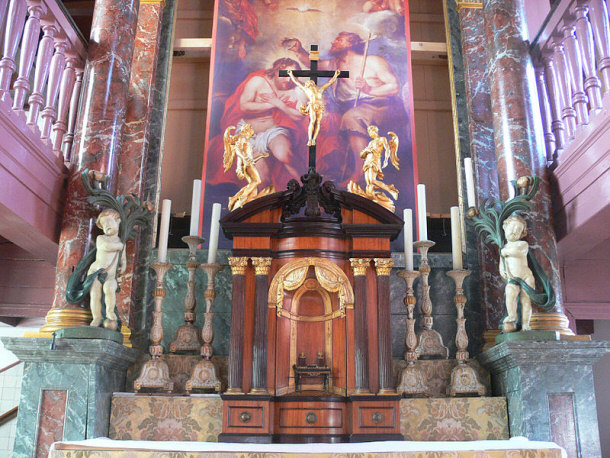 By Remi Mathis (Own work) [CC-BY-SA-3.0], via Wikimedia Commons
Along with seeing the church and how it worked, you will get to see how an affluent merchant lived in the 17th century by touring the bottom floors. There is period furniture and other accessories, making it look just like it did back in the 1600s. You will get a wonderful history lesson of both daily life and religion by walking through this beautiful museum.
---
7) Bloemenmarkt
Another of the great places to visit and see beautiful tulips and other flora is the Bloemenmarkt, which offers tourists a chance to purchase flowers and bulbs. It is actually a floating flower market on the Singel; the only one in the world. There are 15 shops selling flowers and garden supplies, although some also sell souvenirs.
Bloemenmarkt Flower Shops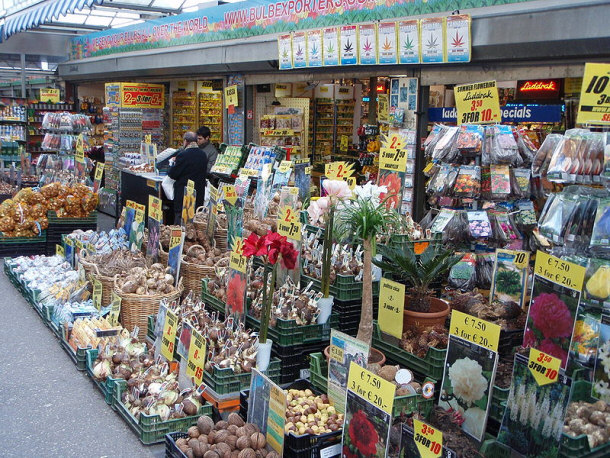 By VirtualSteve (Own work) [GFDL or CC-BY-SA-3.0-2.5-2.0-1.0], via Wikimedia Commons
These shops are permanently ensconced on barges. As you walk along the stalls, you can find a great deal on some beautiful flowers to bring home with you, although you should check the import and export laws before purchasing any tulip bulbs or other floral souvenirs. However, most of the wares are sold in order for international tourists to be able to safely take them back home.
View of the Bloemenmarkt From Across the Canal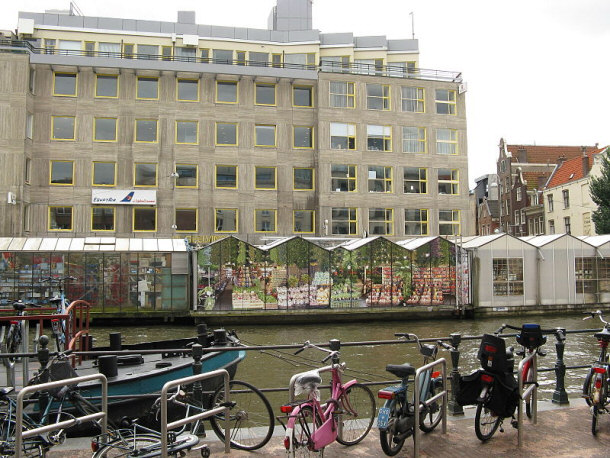 By James Whisker [CC-BY-SA-2.0], via Wikimedia Commons
When you plant the bulbs in your garden, you will remember your trip to Amsterdam as they bloom in all their glorious colors.
---
6) Rijksmuseum
The Rijksmuseum, or national museum, is one of the many important art museums that you should visit in Amsterdam. At the Rijksmuseum, you can see thousands of the great Dutch masterpieces, including Rembrandt's De Nachwacht. This museum holds some of the top collections in Europe, along with the world's largest assortment of Dutch master paintings.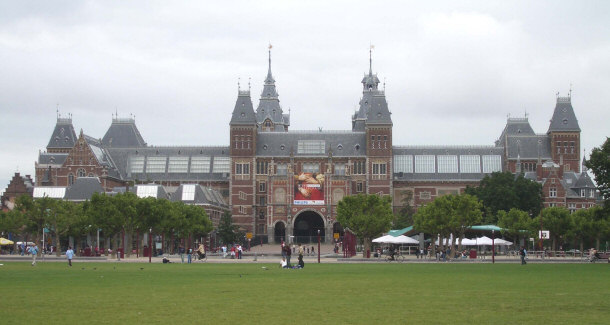 Dutch painters have featured in many of the important European art movements throughout history. By taking a stroll around the Rijksmuseum, you will get to see beautiful Dutch artists, along with many other important pieces of both Dutch cultural history and that of the rest of Europe. If you love art, or just want to see how the Dutch impacted the art world, you should make the Rijksmuseum a priority on your visit to Amsterdam.
Rembrandt's The Night Watch On Display in the Fragment Building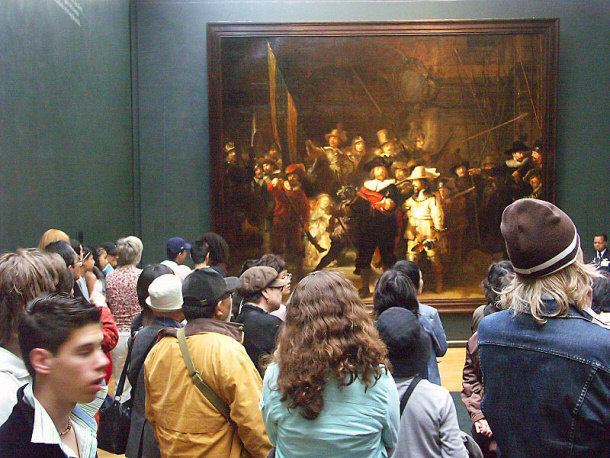 If you are not the biggest fan of art and can only choose one art museum to visit, the Rijksmuseum offers the best overview of all the art movements and masters important to Dutch history and culture.
---
5) Vincent Van Gogh Museum
Vincent van Gogh is one of the most famous Dutch painters. His post-impressionist paintings were worthless during his own life, leaving him to die penniless. He suffered mental problems, and is well known for having cut off his own ear as a present for his girlfriend. However, he created masterpieces during his 10 years as an artist that are beloved throughout the world today.
Vincent Van Gogh Museum Exterior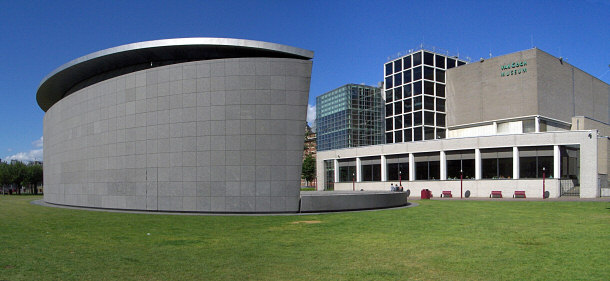 In the Van Gogh Museum, you can learn more about Van Gogh's history as an artist. It has the world's largest collection of his work, along with many of his contemporaries including the impressionists, realists, and post-impressionists. In the permanent collection, you can enjoy the famous Sunflowers and many of his other masterpieces. They are displayed chronologically, so you can see the development of Van Gogh as an artist.
Interior of Vincent Van Gogh Museum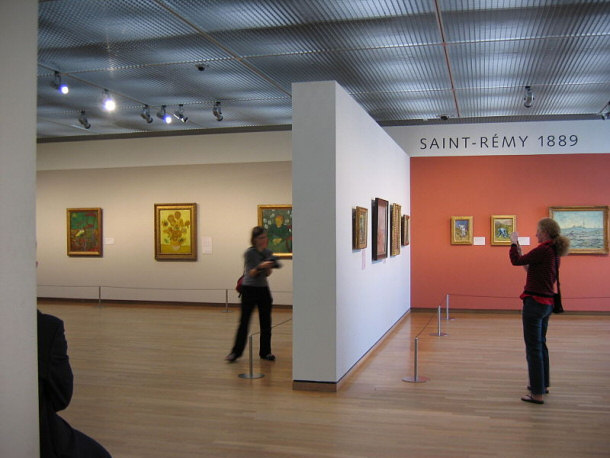 By Minke Wagenaar from Amsterdam, NL (Van Gogh Museum Amsterdam 159) [CC-BY-SA-2.0], via Wikimedia Commons
As you see his contemporaries nearby, you can see how he was influenced by some of their artwork and what he did that was intrinsically his own style. There is also a rotating exhibit featuring many of the famous 19th century artists. You never know what other beautiful artwork you may fall in love with while at the museum. If you enjoy Van Gogh's work at all, you should definitely check out this museum.
---
4) Historic Canals
Venice may be the most famous of the canal cities, but Amsterdam could fight for that title. The canals were built as an important part of 17th century Amsterdam's defense and transport. Citizens would use the hundreds of canals to travel from place to place. Although hundreds of these old canals were filled in to become roads once the automobile became the more fashionable way to travel, there are still 165 historic canals.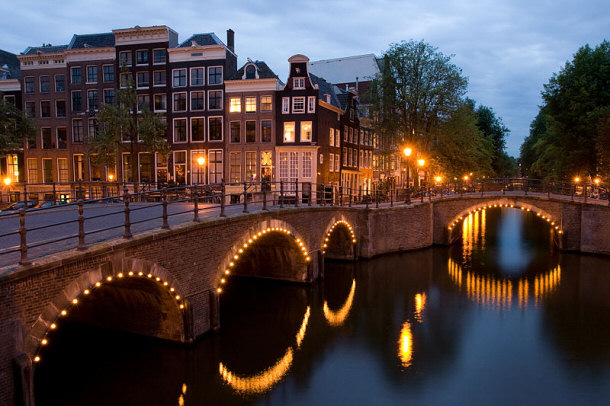 The Canals of Amsterdam became a UNESCO monument in 2010. The canals are beautiful, and the architecture surrounding the canals is uniquely Dutch. You can walk along the canals and take a canal tour to better get a sense of the beauty of Amsterdam. Many companies offer tours that will also give you a history of the city. Taking a canal tour will also provide you with an idea of the way the city is structured, making it an ideal way to start your trip and get acquainted with Amsterdam.
---
3) Tulip Farm Keukenhof
Just a small drive outside of Amsterdam, Keukenhof Tulip Farm is a must see for any tourist who is there between March and May. In fact, there are tours from the Amsterdam airport that run daily for anyone with a long enough layover. The Keukenhof is a planned garden that has seven million blooming bulbs, along with other floral displays. It is less than an hour on a bus from the airport and very easy to get to.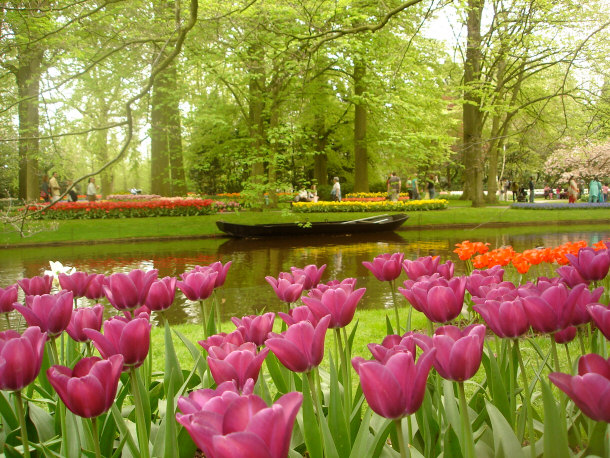 The March through May tulip growing season is the only time the garden is open. You can walk around rows and rows of brilliantly colored tulips. If you love flowers, you can easily spend all day walking amongst the gorgeous fields of tulips in every color imaginable. You can also buy some as a souvenir when you walk out. Even if you are not a flower lover, you will enjoy the brilliant colors of Keukenhof.
A Historic Well at the Keukenhof Tulip Farm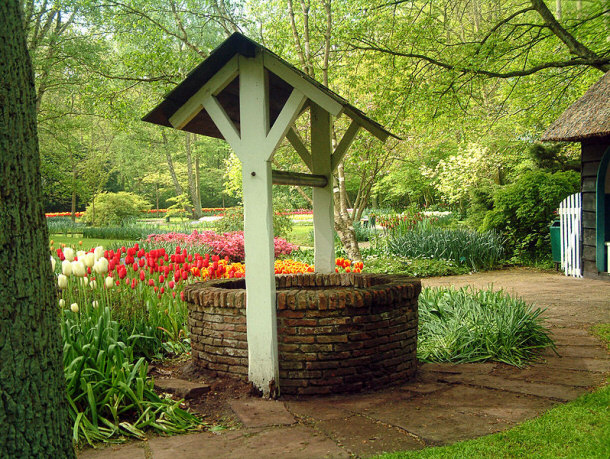 By PeteBobb, via Wikimedia Commons
In the surrounding area, there are many of the commercial tulip and bulb forming areas, so you can see some of the behind-the-scenes of the industry, even in the off season.
---
2) Rembrandt House Museum
Another important Dutch master is Rembrandt, and you can visit a museum dedicated to him at the Rembrandt House Museum. Although many of his famous works are in museums around the world, including the Rijksmuseum in Amsterdam, you can see many rare etchings in this museum. During his own lifetime, Rembrandt was best known for his nearly three hundred etchings. Almost the entire collection of Rembrandt's etchings is at the museum.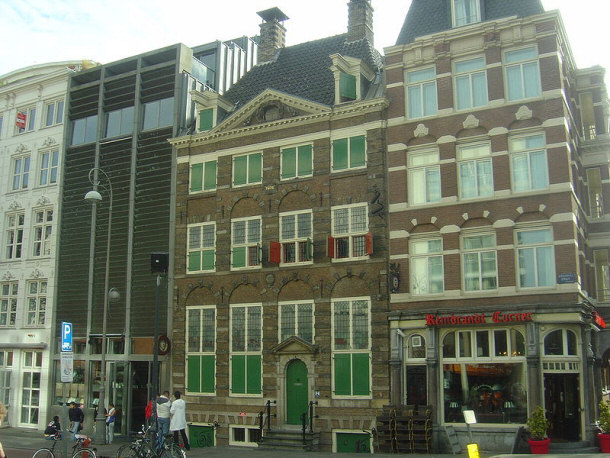 By DIMSFIKAS [CC-BY-SA-3.0], via Wikimedia Commons
In the museum, there are also various paintings by his forerunners, contemporaries, and disciples to provide a full look into the importance of Rembrandt. The museum is held in Rembrandt's old home, restored to how it looked during the time he lived there. Not only will you see how the artist lived during his lifetime, you will also get a strong idea of how someone lived in Amsterdam in the 17th century. Much of Rembrandt's old furniture survived and is featured in the house, providing the feel of transporting back through time. You can enjoy art and history in this museum.
---
1) Anne Frank's House
World War II was a dark time throughout Europe, especially for the Jews. Amsterdam was not saved from this dark history, and one of its most famous citizens was an unlucky Jewish girl who chose to chronicle her life through her diary: Anne Frank. Anne, her family, and three others hid in the attic of a house along the canal of Amsterdam, thanks to some brave people. This house is now a museum dedicated to Anne Frank and the plight of the Jews during the Holocaust. By visiting the house, you can see exactly how small an area the Franks and others lived in for years. They successfully hid through most of the war, but they were found and sent off the camps where most of the family, including Anne, ultimately perished.
Tourists Lining Up Outside of Anne Frank's House and Museum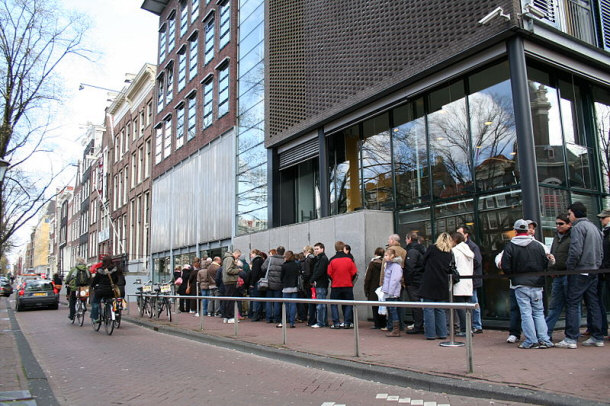 It is a somber experience, but it is truly a must see on any list for Amsterdam. You can also leave notes of your experience, and read those of others and see exactly how much of an impact Anne has had throughout the world with her small diary. The small attic where they lived was such a cramped space; you will be amazed at how they survived as long as they did. Anne and her family may have died, but her spirit lives on through her diary and this simple but touching museum dedicated to her. For further information on the plight of the Jews in Amsterdam, you can visit the Verzetsmueum, which details the resistance movement in the Netherlands, and the Jewish Historical Museum.
---
Final Words
When you visit Amsterdam, there are so many vastly different experiences to be enjoyed. You can see beautiful gardens and flowers, enjoying a connection with nature. Then you can enjoy art and cultural impact of the Dutch in the numerous museums. You can explore the beauty of the canals and the historical architecture of the city. There are numerous restaurants, clubs, bars, and shopping opportunities to keep you entertained in addition to the other important places to visit. If you are really adventurous, you can visit the red light district or a coffee house. Whether you are a family, a young group of friends, or a solo traveler, there is so much to enjoy in Amsterdam. However, if you only have a little bit of time in the city, be sure to visit as many of these 15 places as you can. You will come away with a great overview of Amsterdam, the Netherlands, and the history and impact of the city on Europe and the world.
Vacation Destinations
Top Lists:
Top 15 Interesting Places to Visit in the Bahamas
Top 15 Fun Things to Do in Miami, Florida
Top 15 Fun Things to Do in Chicago
Top 15 Best Unknown Things to do in Las Vegas
Top 15 Fun Things to Do in Hollywood
Top 10 Best Places to Visit in Turkey
The Top 15 Best Things to Do and See in Sydney
Top 10 Things to Do in Edinburgh
Top 10 Things to do on Oʻahu
Top 15 Things to Do in Albuquerque
Top 15 Interesting Places to Visit in Spain
Top 15 Places to Visit in New York City
Top 15 Things to Do in Portland Oregon
Top 15 Things to do in Greece
Top 15 Places to Visit in Houston Texas
Top 15 Interesting & Safe Places to Visit in Mexico
Top 15 Interesting Places to Visit in the Netherlands
Top 15 Interesting Places to Visit in Thailand
Top 15 Interesting Places to Visit in Switzerland
Top 15 Interesting Places to Visit in Portugal
Top 15 Places to Visit in San Francisco
Top 15 Interesting Places to Visit in Shanghai
Top 15 Interesting Places to Visit in Puerto Rico
Top 15 Interesting Places to Visit in Norway
Top 15 Interesting Places to Visit in Las Vegas
Top 15 Interesting Places to Visit in Jamaica
Top 15 Interesting Places to Visit in Croatia
Top 15 Interesting Places to Visit in Belgium
Top 15 Interesting Places to Visit in Bangkok
Top 15 Things to Do in Rio de Janeiro
Top 15 Things to Do in Monaco
Top 15 Interesting Places to Visit in Dubai
Top 15 Interesting Places to Visit in Amsterdam
Top 15 Things to Do in New Zealand
Top 15 Interesting Places to Visit in Paris
Top 15 Interesting Places to Visit in Italy
Top 15 Interesting Places to Visit in Singapore
Top 15 Most Interesting Places to Visit in Berlin
Top 15 Best London Attractions
15 Little Known Facts About New York City
Disney World Articles
Top 15 Disney World Rides for Adults
Top 15 Disney World Rides for Kids
Top 15 Disney World Resorts for Adults
Top 15 Disney World Resorts for Kids
15 Fascinating Facts About Disney World
Top 15 Fun Things to Do at Disney World's Animal Kingdom
Top 15 Fun Things to Do at Disney's Hollywood Studios
Top 15 Fun Things to Do at Disney World's Epcot
Top 15 Fun Things to Do at Disney World's Magic Kingdom

Shorter Top Lists:
Top 10 Tourist Attractions in San Diego
Top 10 Tourist Attractions In India
Top 10 Things to Do In Kansas City
5 Places You Should not Miss in Brazil
Top 5 Things to do in New York City

Informational:
Best Tourist Attractions In Vietnam
Taking in the Sights in Shanghai
Top Tourist Attractions in Perth, Australia
Nice places to visit while in Great Britain
Sampling the Foods at the Night Markets in Taipei
What to do for a Kenya Vacation
Best Attractions in Victoria, B.C.
Photos of the Luxor Hotel in Las Vegas