Top 15 Interesting Places to Visit in the Bahamas
The Bahamas are a unique vacation spot, consisting of hundreds of islands and cays located in the Caribbean Ocean just south of Florida and north of Cuba. The Bahamas are home to the worldís third largest coral reef ecosystem, boasting some of the clearest water on the planet. Snorkel and scuba enthusiasts can enjoy visibilities of up to 200 feet below the surface.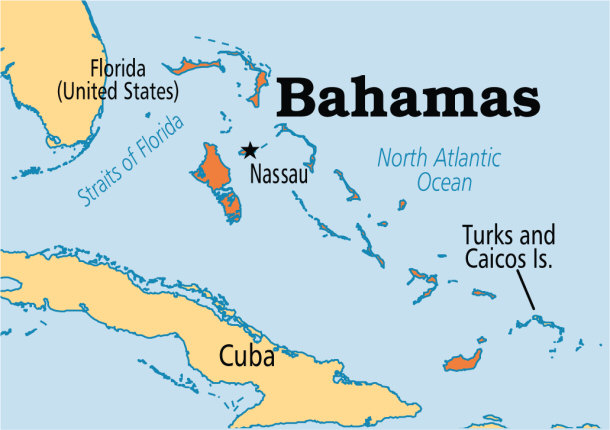 The Bahamas have been an independent country since 1973 and before then were a British colony. English remains as the Bahamian national language and since the islands are very close to the United States, the Bahamas have always been and continue to be a popular destination for American tourists. The northern Bahamian islands are just 50 miles off the coast of Florida! With so many places to explore in the Bahamas, the islands serve as a very popular stopping point for many cruise lines. Cruise passengers enjoy an opportunity to explore all of the beauty and allure the Caribbean and Bahamian islands have to offer.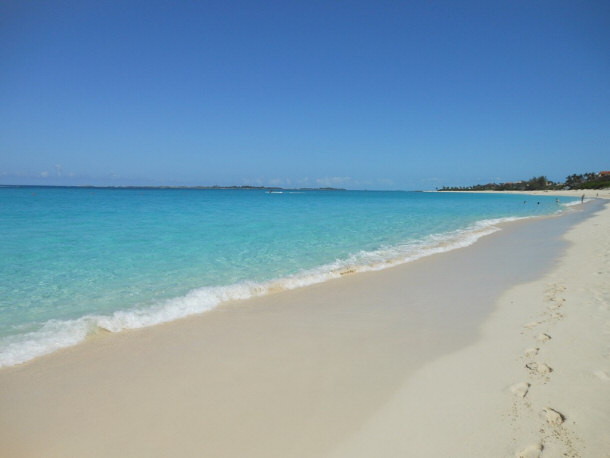 More than 4 million people visit the Bahamas each year, with most visitors hailing from the United States. The Bahamas offers tourists cultural experiences, outdoor adventures and beautiful tropical landscapes. Depending on what your interests are, these top Bahaman attractions will whet your appetite for the Caribbean lifestyle of simple and pleasurable living.
---
15) Atlantis Aquarium (Nassau)
If youíre not keen on getting into the water with all of the fish and tropical marine life the Bahamas have to offer, then the Atlantis Aquarium is the place for you. The Atlantis Aquarium allows visitors to experience the local marine life without ever setting foot in the water. Located in the major city of Nassau, the aquarium is easy to access and houses more than 50,000 aquatic animals in over 8 million gallons of salt water. The aquarium also offers 14 lagoons for visitors to explore, making this aquarium feel more like a natural habitat rather than a man-made attraction.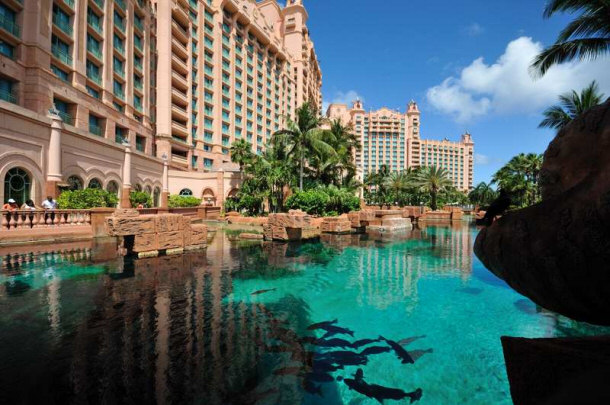 These lagoons showcase underwater ruins, sharks, barracudas, sting rays, and more. At the Mayan Temple Shark Lagoon, visitors can take a heart-racing water slide through the lagoon, viewing sharks on either side of them through a glass tunnel. If youíre not so adventurous, you can view the shark lagoon from grounded vantage points that offer panoramic views of the tank. Nurse sharks and hawksbill turtles are also on display in the surrounding lagoons.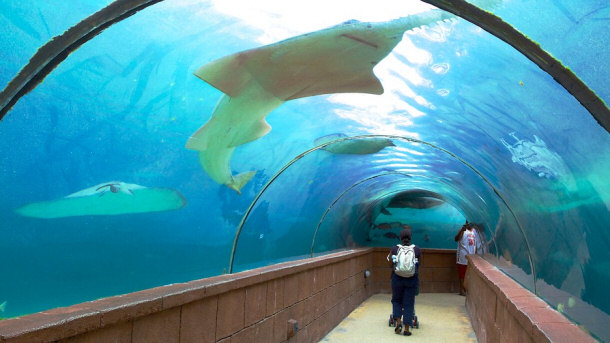 Access to some or all of the aquarium and its surrounding lagoons is restricted during high occupancy resort times, so be sure to plan ahead in order to purchase a pass. If you donít plan to snorkel while in one of the most beautiful places in the world to view marine life, then the beaches and lagoons of the Atlantis Aquarium are a must-see.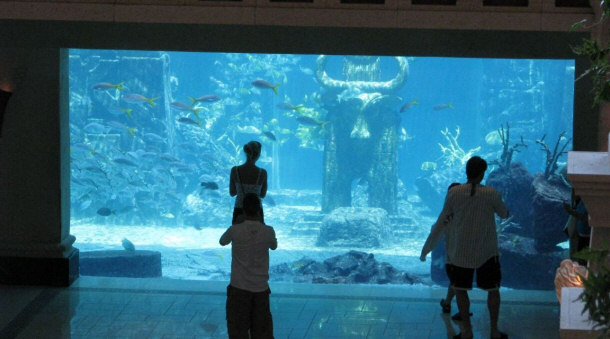 ---
14) The Hermitage (Cat Island)
Cat Island is located near the Tropic of Cancer and is off the beaten path. The peak of Cat Island is Mount Alvernia, measuring in at 206 feet and is highest point in the Bahamas. Jerome Hawes settled on Mount Alvernia in 1939 and at the summit built a medieval-style monastery. A stone staircase leads visitors to the top of the mountain where they can experience ruins of the monastery. Views from the monastery consist of breathtaking Caribbean views where most of the Bahamian horizon can be seen. Father Hawes hand-crafted the steps of the monastery and also constructed a chapel complete with bell towers.
View of Caribbean from Top of Mount Alvernia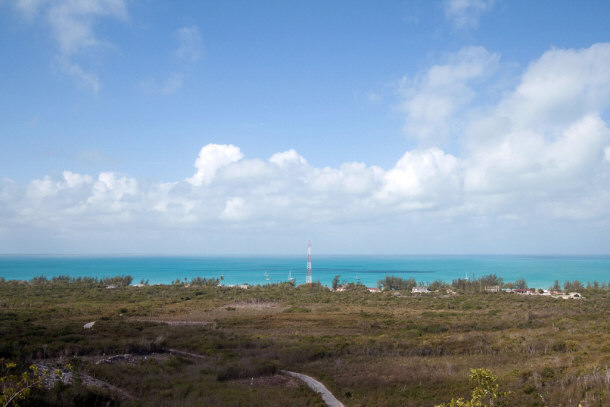 By Shane.torgerson via Wikimedia Commons
The ruins of the monastery are still in decent condition, and visitors can walk through its various features. It is a veritable paradise on the sea and a testament to the mixing of old and new world traditions. Mixing modern aspects of culture along with traditional components is central to the Bahamian culture, and also happens to be Mount Alvernia's central motif.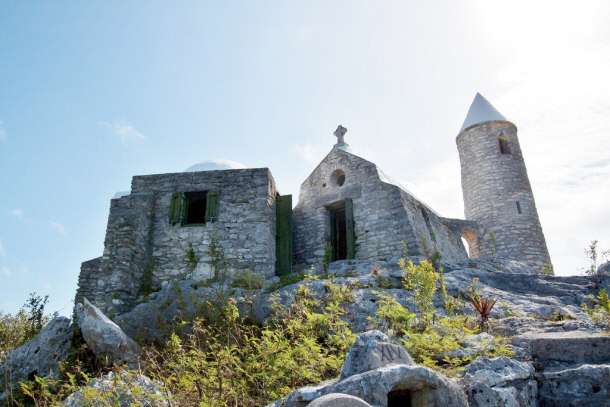 By Shane.torgerson via Wikimedia Commons
---
13) Dunmore Beach Club and Restaurant (Harbour Island)
If a busy day at Atlantis Resort or in the large city of Nassau is too overwhelming for you, then head on over to Harbour Island to the Dunmore Beach Club and Restaurant. To get there youíll need to fly into Eleuthera and then take a water taxi. The club and restaurant offer a much more relaxed way of life for visitors, a pace more closely resembling Bahamian life than the busy chaos of crowded resorts. The club has its own beach with umbrellas, where you can relax and enjoy what you came to the Bahamas for: the ocean breeze and calm waters. The restaurant serves authentic local cuisine and menu items range from ceviche to curried crab cakes to jerk chicken pasta.
Dunmore Beach Club Restaurant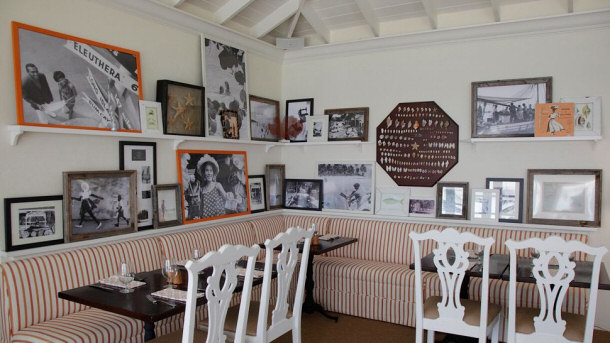 Guests stay in cottages with their own balconies and dine together in the club restaurant. A cottage will run you anywhere from $350 per night in the summer to $950 per night during high season in the winter. If you think vacations that have too many things to do will have your head spinning rather than resting, then the Dunmore Beach Club and Restaurant is the perfect spot for you. And if you want to get a little bit of work done while breathing in the sea air, the resort also offers wi-fi throughout the property.
Inside Ocean View Suite at Dunmore Beach Club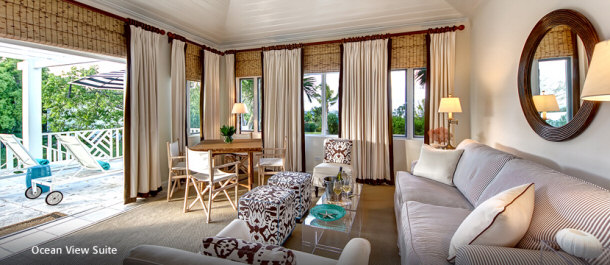 ---
12) The Cloisters (Nassau)
If historic charm is what you look for on vacation, then The Cloisters in Nassau is one of the most intriguing places to visit on the islands. The Cloisters are ruins of a 14th century French monastery. The monastery was brought over to the United States in pieces in the 1920ís and then transported again, piece by piece, to the Bahamas in the 1960ís. The pieces were then assembled to replicate the original monastery in France.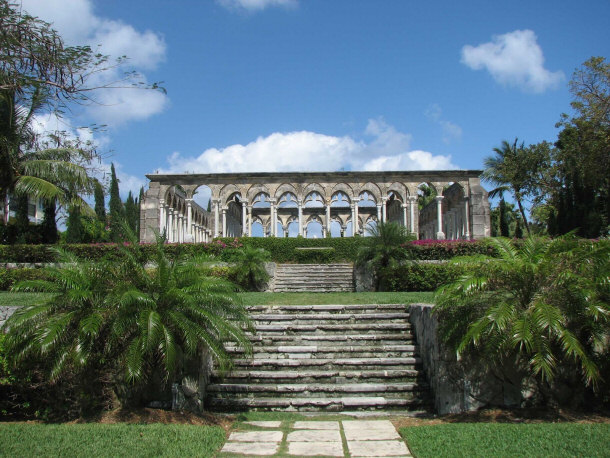 The Cloisters are located on Paradise Island and can be accessed fairly easily. Admission is free. Each aspect of this attraction, including statues, landscaping, and a gazebo are spectacular. It is a serene spot for reflection and slowing down. It is a rather large collection of stones and can take a few hours to see them all. From The Cloisters, visitors can also experience magnificent views of the harbor. It is one of those secret places in the Bahamas that you wonít regret venturing out of your way to see. Itís a real gem on a lovely island.
---
11) The Exumas
The Exumas are located 35 miles southeast of Nassau and boast pristine beaches. If youíre looking for a luxurious vacation, check out The Exuma Cays, home to boutique style resorts that cater to those with a little extra to spend on their trip to the Bahamas.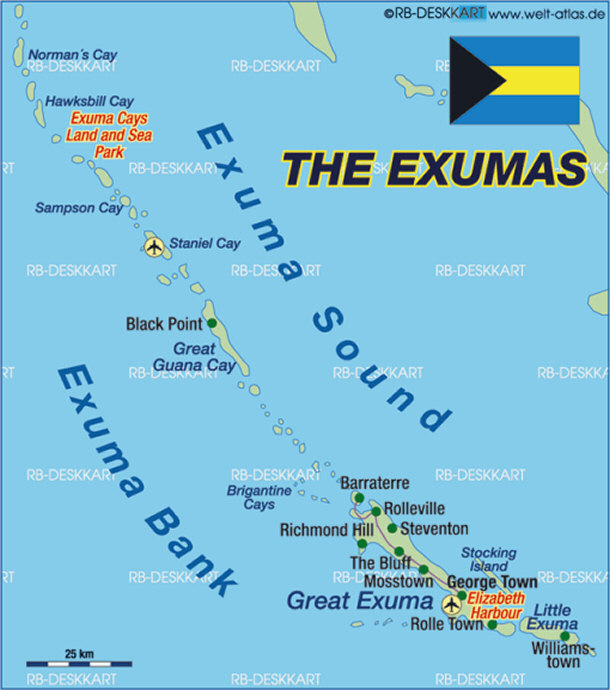 At Fowl Cay Resort, you can rent a villa for anywhere from $1,400 per night to $2,700 per night, but everything from meals to boat rental is included in your stay. It is indeed a private getaway with all the perks.
Fowl Cay Private Island & Resort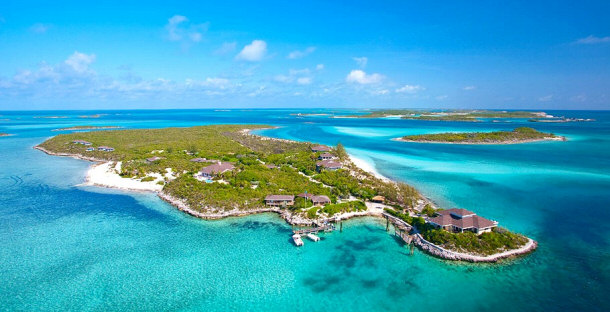 If thatís not your style, Great Exuma and Little Exuma offer the leisurely lifestyle that draws many tourists to the Bahamas year after year. Georgetown is the capital of The Exumas and is located on Great Exuma Island.
The Exuma Islands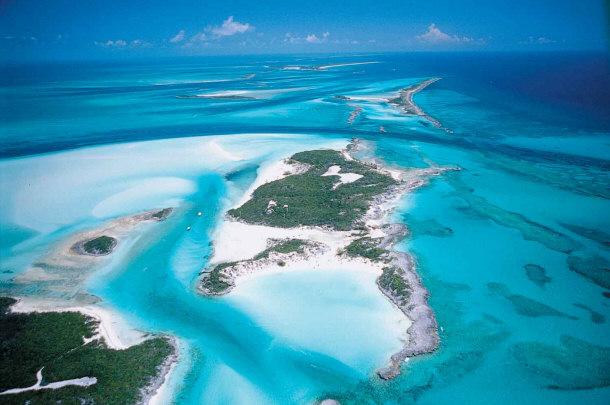 It is said that pirates used Georgetownís harbor back in the 17th century. Two-acre Lake Victoria offers kayaking, sailing, and boating to its visitors. Bonefishing is also popular in Georgetown.
Bonefishing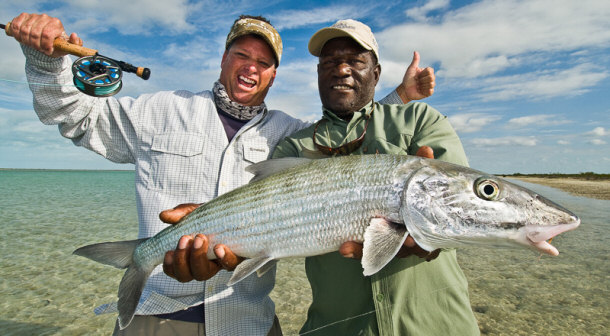 Great Exuma is so safe that people hardly ever lock their doors, so you wonít have to worry about pick pocketing or any other common tourist concerns while away from home. The people in The Exumas are extremely friendly, so donít be surprised if you spend a majority of your days striking up conversations with complete strangers.
---
---
10) Andros Island
If shopping is more your speed and pastime, then the straw markets on Andros Island are a perfect stop for you. Visiting here is a fascinating experience, because itís the largest of the islands, yet itís not very developed.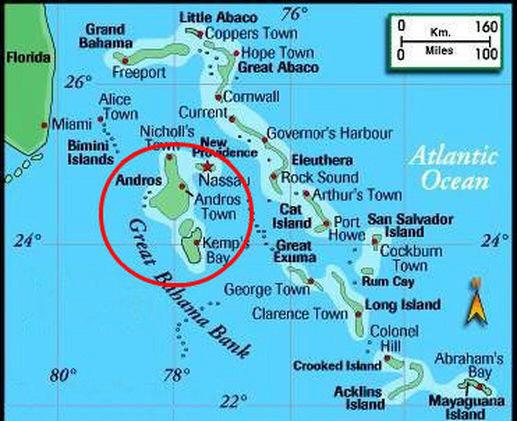 The specialty at the straw markets on Andros Island is Androsia, a colorful batik. Batik is a handmade cloth and Androsia takes inspiration from the Bahaman islands. You can purchase clothing already made or fabric by the yard to bring home and make your own unique Bahaman items.
Androsia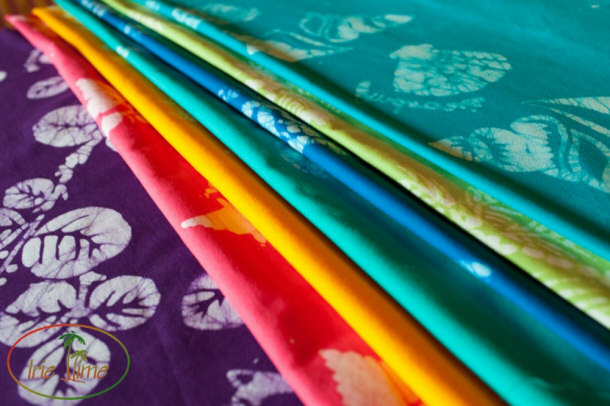 Androsia is also the name of the company that was started in 1973, the year of Bahaman independence. While on Andros Island, you can visit the batik factory to see how the fabric is made. Even though you can purchase Androsia items on other islands, thereís nothing like buying it from the place where it originates. In the Red Bay and Fresh Creek areas, you can shop other markets for wood carvings and other unique souvenirs.
Fresh Creek Inlet, Andros Town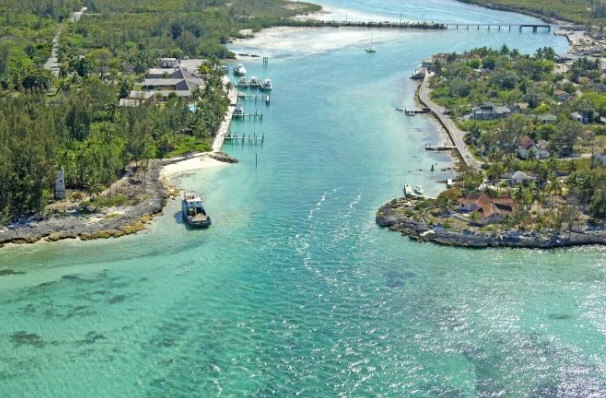 There are other things to do than shopping on the island. The third largest barrier reef is located off the coast of Andros Island, so snorkeling is a top choice for visitors. The island is the fifth largest in all of the Caribbean and offers boaters and fisherman a paradise to explore. Some even consider Andros Island the bonefishing capital of the world. Wetlands and freshwater lakes are signatures of this vast island. Its minimal development makes Andros Island the perfect spot for nature lovers and adventure seekers who are looking to explore the nooks and crannies of the Bahamas.
---
9) Rum Cay
Dating back to long before Christopher Columbus landed in the Caribbean, Rum Cay used to be home to the Arawak Indians. At Hartford Cave, their petroglyphs can still be found. Utensils and other dining ware, such as bowls and plates, have also been found in the cave.
Arawak Woman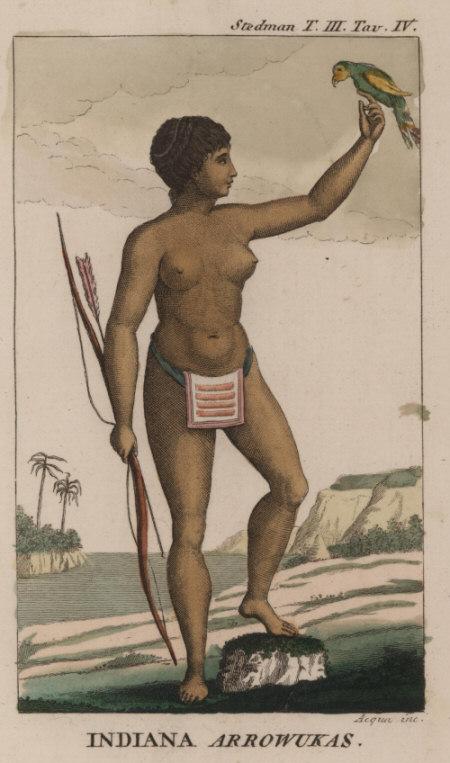 Rum Cay gets its name from a wrecked ship carrying whiskey. In 1861, a British ship by the name of the HMS Conqueror sank off its coast and the shipís remains make up one of the top dive spots to explore marine wreckage in the entire Caribbean.
Engraving of HMS Conqueror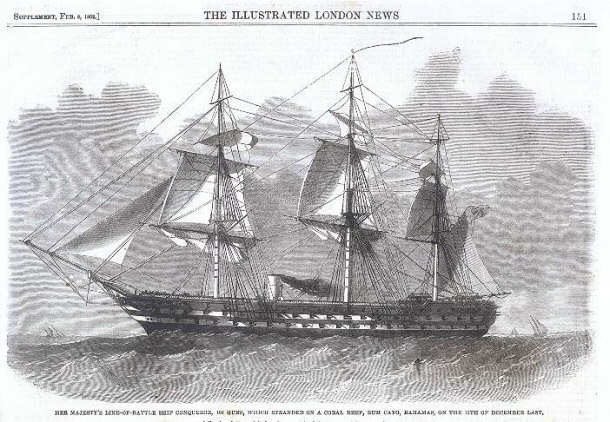 If youíre adventurous, Rum Cay is the place for you. With some of the best waves in the Caribbean, Rum Cay is a prime spot for learning to surf for the first time or perfecting your wave riding skills. Scuba diving is also a popular activity as you can explore the continental shelf and view friendly and social dolphins and sea turtles from below. The best thing about Rum Cay is that you can fly directly there from Florida or from Nassau.
Rum Cay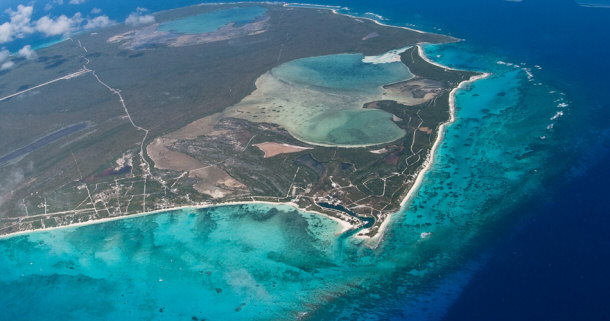 ---
8) Cable Beach (Nassau)
On Paradise Island lies one of the most spectacular beaches in the Caribbean. Cable Beach is a 4-mile-long beach with white sand. Multiple hotels and resorts can be found along Cable Beach, so you can stay here for days without having to leave. There are also numerous restaurants and other amenities.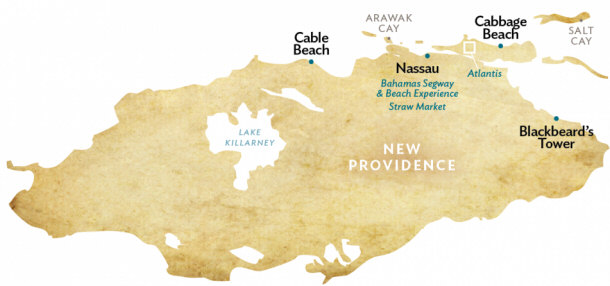 The waters off the coast are turquoise and full of marine life. If youíre not staying at a hotel near the beach, you can purchase day passes for around $20 to access it. Cable Beach isnít as secluded as some other places in the Bahamas, but it offers entertainment and dining if youíre looking for a balance between relaxation and activity. Itís one of the most popular places to visit when people disembark from cruise ships.
Sunbather's View at Cable Beach, Paradise Island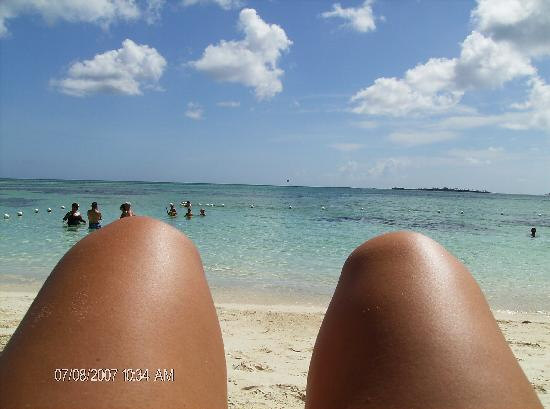 ---
7) Historic Forts (Nassau)
The Bahamas is bursting with historical charm, and what better way to experience it than to walk through the historic forts of Nassau. The Old Fort of Nassau, Fort Fincastle, and Fort Charlotte can all be found in Nassau.
Fort Fincastle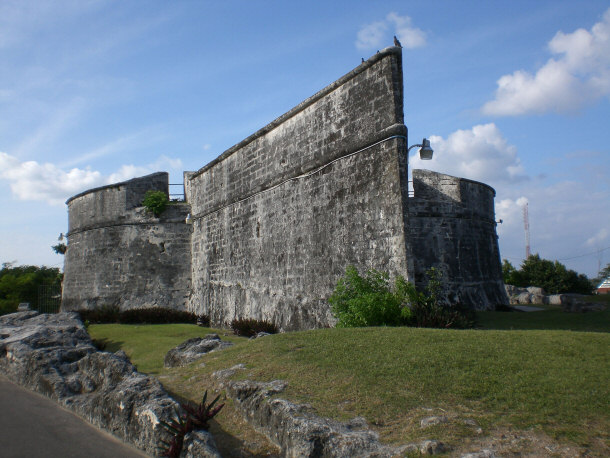 By Taugenichts80 via Wikimedia Commons
The Old Fort of Nassau was demolished at the end of the 19th century, and a hotel and community have been built around its remains. Old Fort Bay and Old Fort Club exude the charm of the 19th century fort, and historic pieces still remain. The club and its restaurant overlook a beautiful Nassau beach. Fort Fincastle dates back to 1793 and visitors can experience its remains. It was built atop Bennettís Hill and you can take a guided tour Monday through Sunday.
Fort Fincastle, Bennett's Hill, Nassau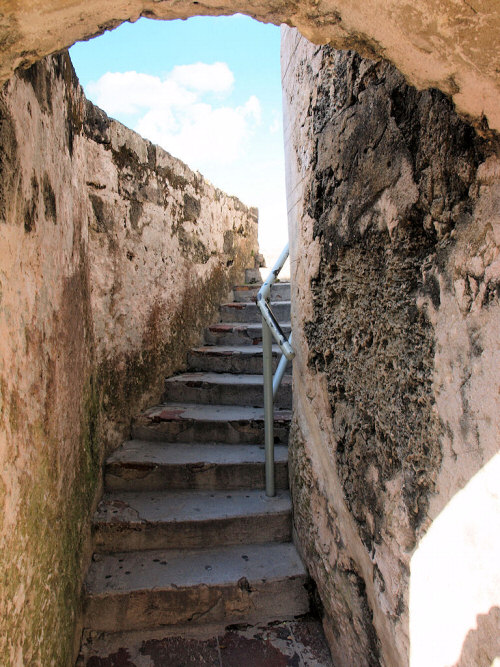 Fort Charlotte is the largest of all of Nassauís forts and was built in 1789.
Fort Charlotte



By Ahodges7 via Wikimedia Commons
The fort was never used in battle, though, and not a single shot has come from the fort outside of practice. The fort has a waterless moat, dungeons, ramparts, and a draw-bridge. You can also get a guided tour of the fort Monday through Sunday, and itís free to visit. Even though the fort was never attacked, the ruins are a reminder of what life was like in 18th century Caribbean islands, and the views from it are stunning.
---
6) Lucayan National Park (Grand Bahama)
Lucayan National Park is a 40-acre national park that was built in 1977. Inside the park, one of the longest underwater cave systems in the world is preserved. Six miles of caves and tunnels have been discovered here.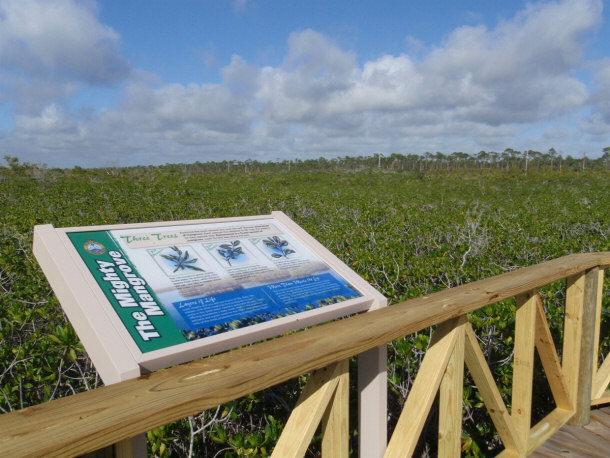 Thousands of pine trees make their home in this national park, a rare site to see in the Caribbean. Orchids also grow wild here along with other rare flower species. Six ecosystems are represented in the park, the beach being only one of them.
Gold Rock Beach is another popular place to visit as it is is by far one of the best beaches on Grand Bahama island, and itís quite secluded. Itís a perfect spot for relaxing away from the hustle and bustle of Freeport. If you take a guided tour, youíll also have a chance to visit some of Lucayanís famous caves.
---
5) Benís Cave (Grand Bahama)
Although Benís Cave is found in Lucayan National Park, it deserves its own spot on the list. Itís one of two inland blue holes in the park. The upper water is fresh, while the under water is salty. The only way to experience Benís Cave is to dive with an authorized, professional dive instructor. During the dive, youíll be able to see stalactites, stalagmites, a halocline, and fossils. Bats abound here.
Ben's Cave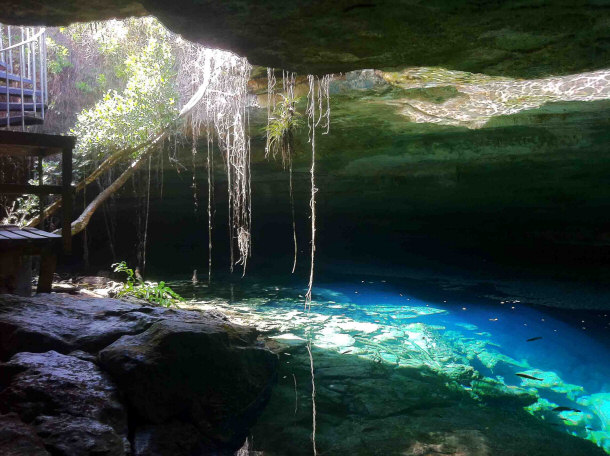 You are able to walk into the cave via a boardwalk, but the real memorable experience comes by diving into it. Calabash Eco Adventures is one local company that organizes these diving tours. For less than $200, you can get a full 6-hour excursion with one hour of dive time with an experienced diver and guide.
---
4) Blue Lagoon Island (Nassau)
If you want to get up close and personal with dolphins, then spend a day on Blue Lagoon Island. You can also swim with sea lions here. Blue Lagoon Island is also known as Salt Cay. It is the most popular attraction and activity in Nassau, offering things to do for every interest. To interact with the dolphins and sea lions, passes range from $90 to $185, depending on what you desire to do.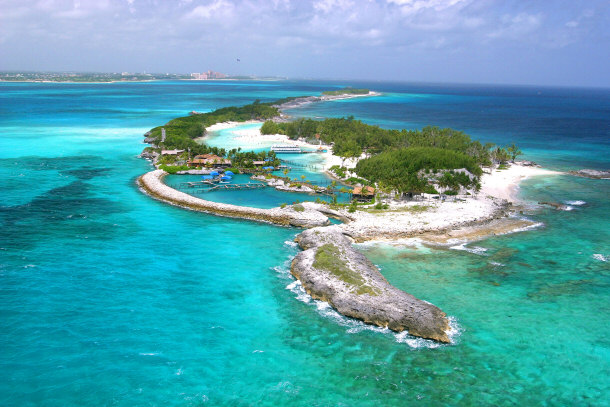 By Dolphins via Wikimedia Commons
If youíre not into swimming with or touching large marine animals, you can buy a cheaper beach pass and relax along the islandís shores. Until the late 19th century, the lagoon was a salt marsh. During World War II, the Allies used the island as a secret training base. Itís a special place and a must see if youíre in Nassau.
---
3) Majorís Spot Cay (The Exumas)
Wild pigs can be found swimming along the shores of Majorís Spot Cay in The Exumas. Nearby Staniel Cay pig owners couldnít stand the stench of their pigs, so they took them to Majorís Spot Cay and left them there. These pigs have become so accustomed to tourists feeding them that they greet any boat that enters the cay.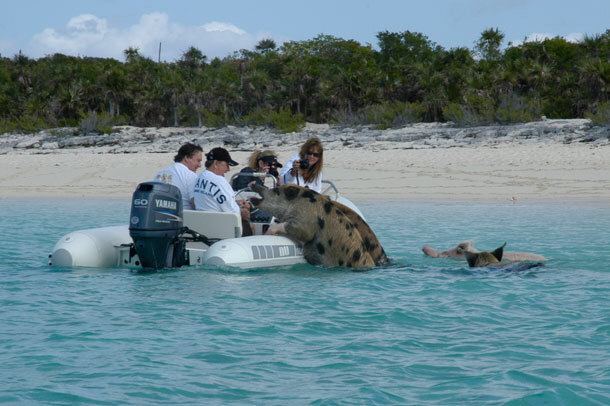 They are friendly and non-aggressive, making them a unique site to see in the Bahamas. These swimming porkers are Major Spot Cayís most popular attraction. Some tourists visit The Exumas just to experience them. It might just be worth the trip.
---
2) Bimini
Known as ďThe Island in the Stream,Ē Bimini Island (actually two separate islands separated by a short ferry ride) is one of the prime places to visit in the Bahamas for fishing, snorkeling, and diving. It is situated on the edge of an underwater cliff. Sugar Sand Beach is one of the most pristine beaches in the world. If youíre looking for seclusion and a true getaway, then Bimini fits the bill. In 1926, the ship S.S. Sapona was grounded during a hurricane and its wreckage is one of the best shallow dive sites in the Caribbean for viewing ship wrecks. Ernest Hemingway loved coming to Bimini to escape life, enjoying its laid back way of living. Jimmy Buffet also enjoyed time on Bimini while writing his book.
North Bimini Island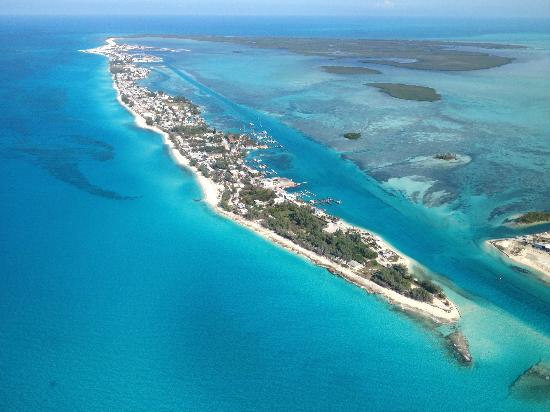 Dolphins cluster at the north of the island, so snorkeling or diving is likely to be well rewarded. The Gulf Stream keeps Biminiís coral life lush and vibrant, and black coral gardens are popular among divers and snorkelers. Vising the ďHealing HoleĒ will give you a glimpse into the mangrove and natural spring systems in the Bahamas. Entertainment and restaurants are also available on Bimini. In fact, it used to be a place where people could store and enjoy alcohol during the days of prohibition. Its 50-mile distance from the Florida coast made it a prime location to hide liquor. Some think Bimini Road was part of the lost city of Atlantis. Martin Luther King, Jr. also visited Bimini and a statue to commemorate his visit and inspiration to the people of Bimini stands in Alice Town. The Bimini Boa is native to Bimini and can be seen along the Bimini Nature Trail.
---
1) Abacos
The Abaco islands in the Bahamas are still probably one of the Bahamasí best kept secrets. The Abacos offers the seclusion and leisure that some lesser known islands offer, yet it also boasts the cultural and entertainment activities that the busier cities like Nassau and Freeport brag about. The Abacos are relatively easy to access via plane and one of the main colonial towns, Hope Town, is bursting with life. It doesnít have the resort and tourist feel like other Bahamas islands do, so itís appealing to those looking for a balance between relaxation and action. Donít be fooled though; there are so many things to do in the Abacos.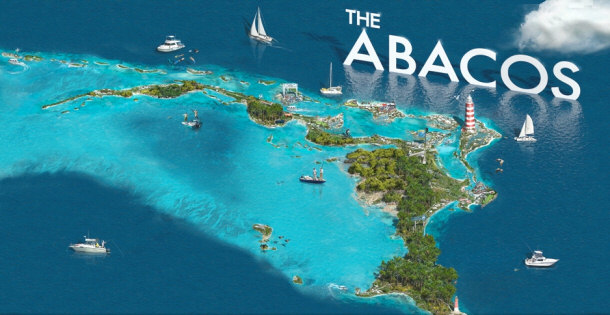 Hope town is located on Elbow Cay and is ideal for families, couples, and groups. It doesnít have the massive cruise ships or goods hawkers like the main islands, so itís attractive for those looking for a truly relaxing vacation. At the same time, it is a vibrant community with a lot of flair. You can taste delicious local fare and hear authentic Bahaman music any night of the week here. While there are a few inns and hotels on the island, it is ideal to rent a small house or villa through a real estate company. The famous candy-striped lighthouse is popular among adults and children alike.
Sailing in the Sea of Abaco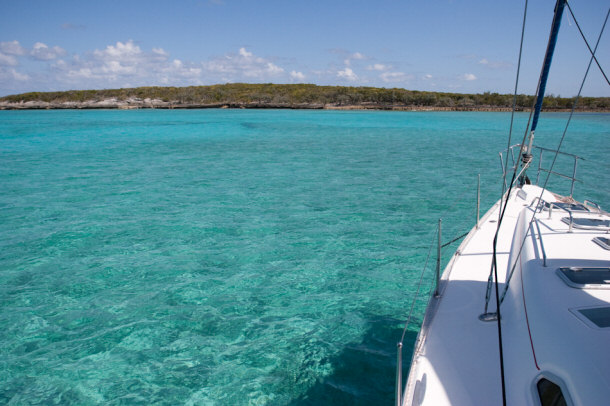 Most people can be seen riding bikes or walking around the island. Sailing is quite popular in the Abacos, but so is sitting by the beach and enjoying the calm waters. The Abacos have some of the best beaches in the Bahamas. If you plan to visit the Bahamas to snorkel or dive, the Abacos offers some of the best in the Caribbean. Elbow Cay has consistently good visibility, so the chances to see schools of fish are high on any day. The waters are also quite calm, so itís safe and relaxing to snorkel or dive here. Mermaid Beach has a colorful reef and is a hot spot among snorkelers.
---
Conclusion
With its close proximity to the United States, the Bahamas is an ideal getaway for families, honeymooners, single travelers, and groups of friends celebrating together. It offers a perfect balance between action and down time. Make sure to figure out which island or islands are right for your style of travel. If possible, spend some time island hopping to get a real feel for what itís like to live a Bahaman life. Each island has its unique lifestyle and culture, but as a whole, the Bahama islands offer beautiful scenery and a serene location to forget why you needed a vacation in the first place.
Vacation Destinations
Top Lists:
Top 15 Interesting Places to Visit in the Bahamas
Top 15 Fun Things to Do in Miami, Florida
Top 15 Fun Things to Do in Chicago
Top 15 Best Unknown Things to do in Las Vegas
Top 15 Fun Things to Do in Hollywood
Top 10 Best Places to Visit in Turkey
The Top 15 Best Things to Do and See in Sydney
Top 10 Things to Do in Edinburgh
Top 10 Things to do on Oʻahu
Top 15 Things to Do in Albuquerque
Top 15 Interesting Places to Visit in Spain
Top 15 Places to Visit in New York City
Top 15 Things to Do in Portland Oregon
Top 15 Things to do in Greece
Top 15 Places to Visit in Houston Texas
Top 15 Interesting & Safe Places to Visit in Mexico
Top 15 Interesting Places to Visit in the Netherlands
Top 15 Interesting Places to Visit in Thailand
Top 15 Interesting Places to Visit in Switzerland
Top 15 Interesting Places to Visit in Portugal
Top 15 Places to Visit in San Francisco
Top 15 Interesting Places to Visit in Shanghai
Top 15 Interesting Places to Visit in Puerto Rico
Top 15 Interesting Places to Visit in Norway
Top 15 Interesting Places to Visit in Las Vegas
Top 15 Interesting Places to Visit in Jamaica
Top 15 Interesting Places to Visit in Croatia
Top 15 Interesting Places to Visit in Belgium
Top 15 Interesting Places to Visit in Bangkok
Top 15 Things to Do in Rio de Janeiro
Top 15 Things to Do in Monaco
Top 15 Interesting Places to Visit in Dubai
Top 15 Interesting Places to Visit in Amsterdam
Top 15 Things to Do in New Zealand
Top 15 Interesting Places to Visit in Paris
Top 15 Interesting Places to Visit in Italy
Top 15 Interesting Places to Visit in Singapore
Top 15 Most Interesting Places to Visit in Berlin
Top 15 Best London Attractions
15 Little Known Facts About New York City
Disney World Articles
Top 15 Disney World Rides for Adults
Top 15 Disney World Rides for Kids
Top 15 Disney World Resorts for Adults
Top 15 Disney World Resorts for Kids
15 Fascinating Facts About Disney World
Top 15 Fun Things to Do at Disney Worldís Animal Kingdom
Top 15 Fun Things to Do at Disney's Hollywood Studios
Top 15 Fun Things to Do at Disney World's Epcot
Top 15 Fun Things to Do at Disney Worldís Magic Kingdom

Shorter Top Lists:
Top 10 Tourist Attractions in San Diego
Top 10 Tourist Attractions In India
Top 10 Things to Do In Kansas City
5 Places You Should not Miss in Brazil
Top 5 Things to do in New York City

Informational:
Best Tourist Attractions In Vietnam
Taking in the Sights in Shanghai
Top Tourist Attractions in Perth, Australia
Nice places to visit while in Great Britain
Sampling the Foods at the Night Markets in Taipei
What to do for a Kenya Vacation
Best Attractions in Victoria, B.C.
Photos of the Luxor Hotel in Las Vegas