Top 15 Interesting Places to Visit in Bangkok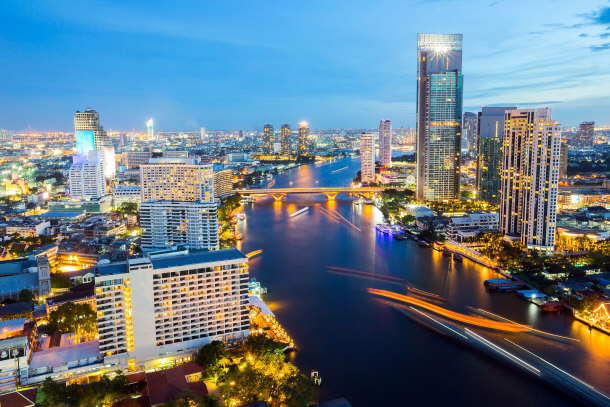 In 1984 the British musician and actor Murray Head, along with the Swedish singer Anders Glenmark, proclaimed that "one night in Bangkok and the world's your oyster". Now, even though the Mass Communications Organization of Thailand banned the song in 1985 due to its negative connotations of the city, there is some truth to this lyric. The capital city of Thailand is a flourishing center of vast contrast and is predicted to be the city with the most international visitors in 2013, according the Global Destination Cities Index forecast.
From culture to shopping and to spirituality, take your pick of what draws your attention the most.
---
15) The Robot Building
Yes, you read that correctly. Bangkok might not be Tokyo in regards to unusual and futuristic references to technology, but with this architectural piece from 1986 certainly has the charm. Located in Bangkok's business district Sathorn, the building has played host to the United Overseas Bank since 2005 and was originally commissioned by the Bank of Asia. Its architect Sumet Jumsai na Ayudhya was in fact, unsurprisingly, inspired by a toy robot belonging to his son. If you are a bit pressed for time and still want to see an unusual sight, see if you can make a small detour over a road tangent to it.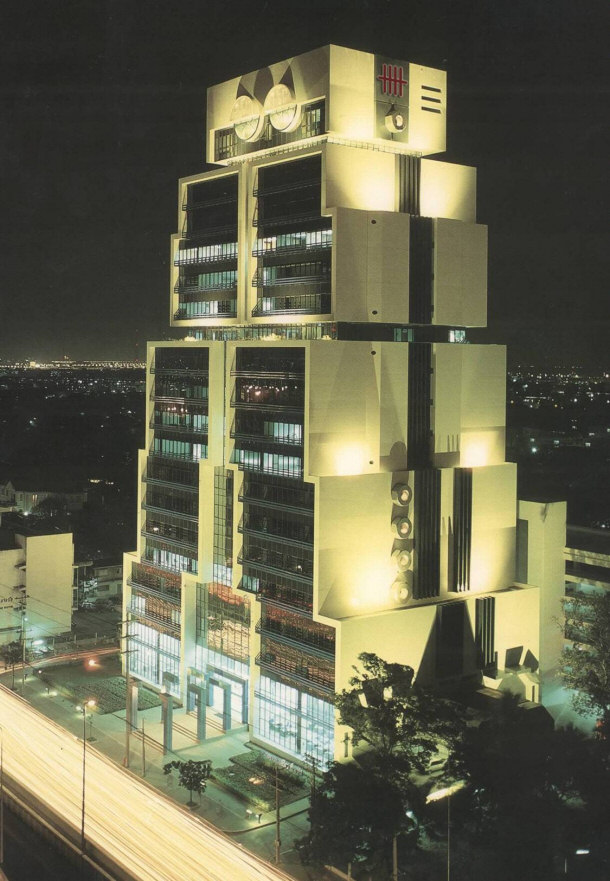 By Sumet jumsai (Own work), via Wikimedia Commons
As a building with 20 floors, the Robot Building isn't one of the most dominant features of Bangkok's skyline, but it can still be easily seen from Silom Road.
---
14) The Elephant Building
After the Robot Building, this one doesn't come by quite as shocking. Partially located in the North Bangkok Business District and in Chatuchak – a district that will be mentioned again at a later point – the Elephant or Chang Building is so distinctive that it was placed fourth in CNNGo's top 20 list of the World's Most Iconic Skyscrapers in 2011. But the question is, why an elephant? The elephant, specifically the Asian elephant, is Thailand's national animal and symbolizes good luck, wisdom, power and peace. Although to elaborate on the importance of the elephant in Thai culture would be a bit excessive, just know that they are of great importance to the history, culture and religion of Thailand. The Elephant Building won't be the first depiction of the animal you'll see in Bangkok and certainly not the last.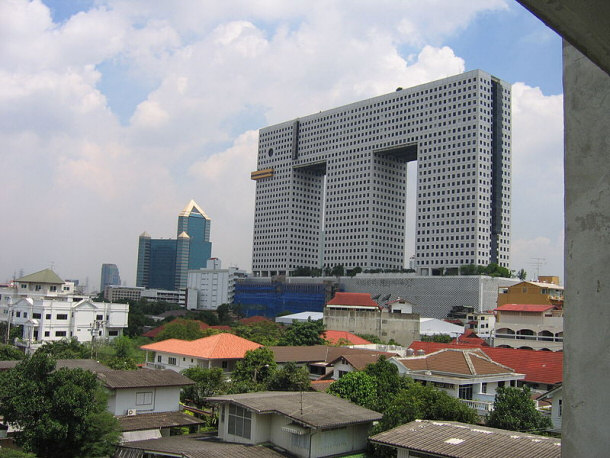 By Jarcje (Own work), via Wikimedia Commons
Unlike the Robot Building, it has a bit more to offer than 'just' an unusual design. Consisting of three towers, of which two are office spaces and one residential, the Elephant building also houses a swimming pool, gardens, a bank, post office, parking garage, and a shopping area. The top most floors that connect the three towers house expensive residential suites. In total, the Elephant Building has 32 floors and the first connected floor is to be found on the 25th.
---
13) Hawker Stalls and Restaurants
Let's talk about one of the most beloved past-times in Southeast Asian culture: food! Covering a city that occupies over 600 square miles, just thinking about all the places to visit is going to make you hungry at some point. A great advantage of cities like Bangkok is that you literally can find food on every corner. If it isn't in the form of a restaurant, then most definitively in that of a hawker stall. They all vary in what they have to offer, ranging from traditional Thai to international foods, sweets, pastries, and even drinks. Most unusual, at least to tourists, among what is offered would be the stalls offering to stir-fry fresh insects of your choice. Now, you don't have to necessarily go ahead and try one of the crispy fried creepy crawlies, even if the vendor is most enthusiastic about offering them to you, but taking a peek is interesting and really doesn't hurt – promise!
Typical Bangkok Hawker Stalls (Street Food)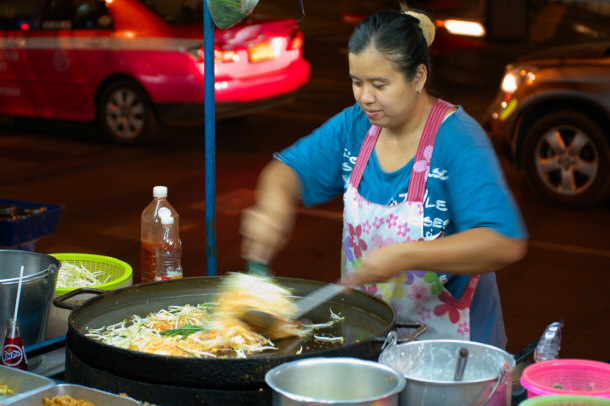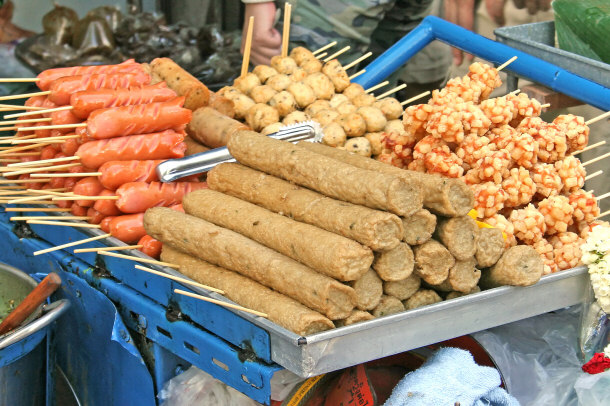 Should you have enough of sampling your way through Thai cuisine on the road, you can head for one of the many restaurants within the city. Thailand might not be a huge country when compared to some others on the world map, but it has its regional tastes just as well. You can try the northeastern kitchen with its salads, grilled meat, and sticky rice at restaurants like Isaan Rot Det or go for the spicier, southern variant at Ruen Mallika. If you're really into traditional Thai home cooking, take a peek at Chote Chitr and Taling Pling.
---
12) Siam Square
Fashion isn't necessarily dominated by the French and Italians. Siam Square is the main home of independent Thai fashion, and several native designers have set up shop there. Located near the central Chulalongkorn University, Bangkok's shopping mecca is not really a square, but a small area filled with shops and malls, mainly catering to young adults due to its close proximity to the university.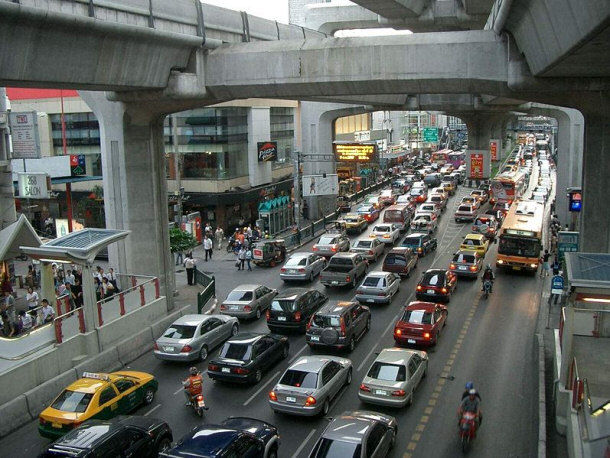 Over all, if you've planned ahead and brought a relatively empty suitcase with plans to fill it up, Siam Square is where you should go. Make sure to save some tax money by asking the sales assistant to fill out a VAT Refund Form and attach the tax invoice and inform yourself on the exact procedure of getting your VAT refund. Should your travel plans be of a less splurging nature, you still won't be able to avoid Siam Square.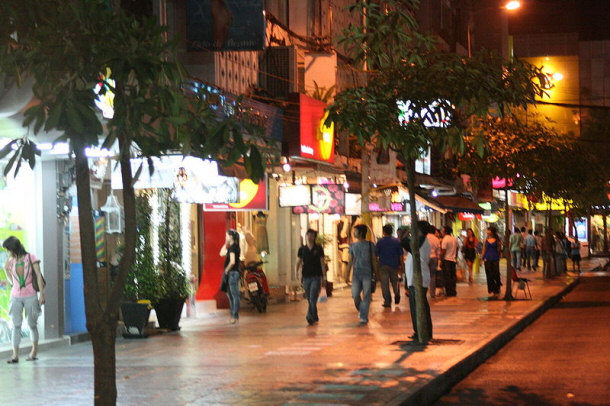 By Sry85 (Own work), via Wikimedia Commons
Located in its vicinity are some other places on this list like the Jim Thompson House and the Bangkok Art and Culture Center. Other nearby sightseeing spots are Madame Tussauds, the Queen Savang Vadhana Museum, Siam Ocean World (the largest aquarium in Southeast Asia), a Hindu shrine, and a Thai temple.
---
11) Jim Thompson House
James Harrison Wilson Thompson was an Office of Strategic Services operative who is best known for being the co-founder of the Thai Silk Company and for his vanishing act in Malaysia's Cameron Highlands. He came to Thailand was after Japan's surrender at the end of World War II and was involved with the organization of the local OSS office. After leaving the army in 1946, Jim Thompson became involved in reviving the Thai hand-woven silk industry and founded the Thai Silk Company with George Barrie. For the Thai people, the company's success, which reached full acknowledgement when its products were used for the costumes in the musical The King and I, meant that thousands could escape poverty. Most importantly for the Jim Thompson House in Bangkok, he was a collector of Thai structures and worldly and religious Asian art that now can be found at this museum.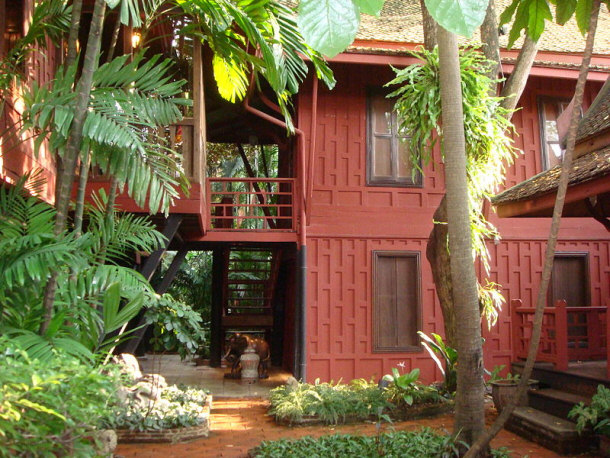 By Millevache (Own work), via Wikimedia Commons
Fun fact: while working for the US Legation, Jim Thompson was colleagues with Kenneth Landon, whose wife wrote the book Anna and the King of Siam, which later inspired the King and I.
---
10) Wat Kalayanamitr
Even though Wat Kalayanamitr is a bit off the classic tourist trails, it can still be easily found as it is located on the river bank and in the old port district. The temple, besides being interesting in architecture, houses three national records.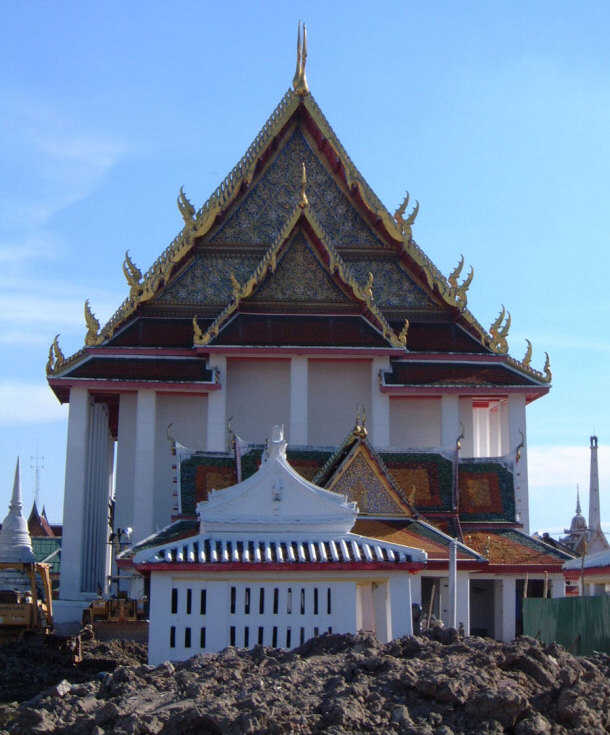 One being the biggest sitting Buddha, which is why it also has the highest roof finial and Thailand's biggest bell. The sitting Buddha statue is 45 feet wide and 147 feet tall. Put into relation, the Buddha statue is as wide as the Hollywood sign is high and just a bit shorter than half a football field.
Gigantic Buddha Inside Wat Kalayanamitr

You might want to remember those numbers for the following temple.
---
---
9) Wat Pho
The Temple of the Reclining Buddha belongs to Bangkok's biggest temples. The name of this temple is accurately chosen: the complex houses a 45 foot tall and 138 foot long reclining Buddha covered in gold leaf. This impressive statue alone is a good reason to visit Wat Pho. In the hallway just after the entrance, where you can buy a bowl of coins, you'll find 108 bronze bowls to drop coins in.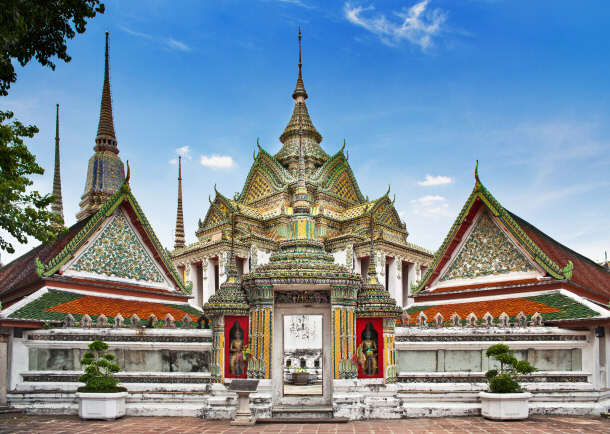 Doing so is said to bring good luck and even if you're not the superstitious type, you'll be doing a good deed. The coins in the bronze bowls are used to support the monks in their task of renovating and preserving the temple. To sweeten up your visit, it's also known as the place where the traditional Thai massage first began and you can get one there. Before Wat Pho was a temple, the location of it was where people were educated in traditional Thai medicine and till this day the temple is pretty much the first public university in Thailand.
A Relief Inside Wat Pho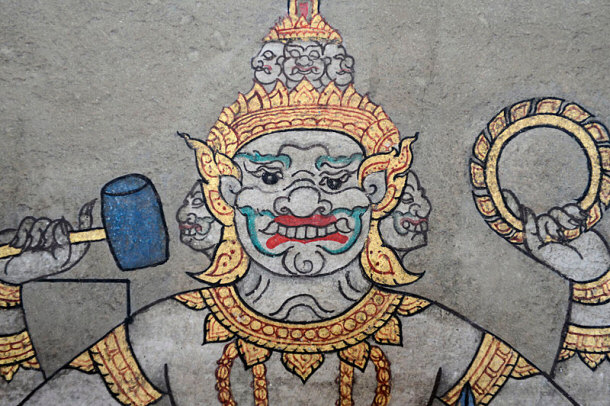 By Godot13 (Own work), via Wikimedia Commons
Belonging to the temple complex is the open air hall of the Traditional Medical Practitioners Association Center, where the technique of Thai massage is taught.
---
8) Yaowarat - Chinatown
When you're exploring the north of the Old city, you can't miss entering Chinatown. The entrance is marked by a large and very classical ceremonial Chinese gate, and beyond, you'll feel like you've entered another world.
Map of Yaowarat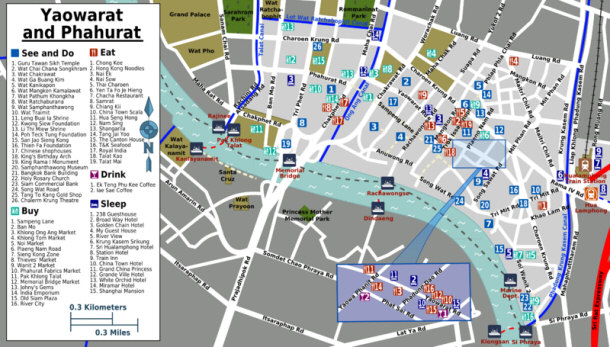 By Globe-trotter (Own work based on OpenStreetMap.org [1].), via Wikimedia Commons
Chinatown is where the Chinese community in Thailand has preserved its culture and lifestyle since their relocation from Ko Ratanakosin in 1783. The most distinguishing mark of Chinatown is how it seems to have completely avoided the surrounding urbanization with its narrow roads and alleys.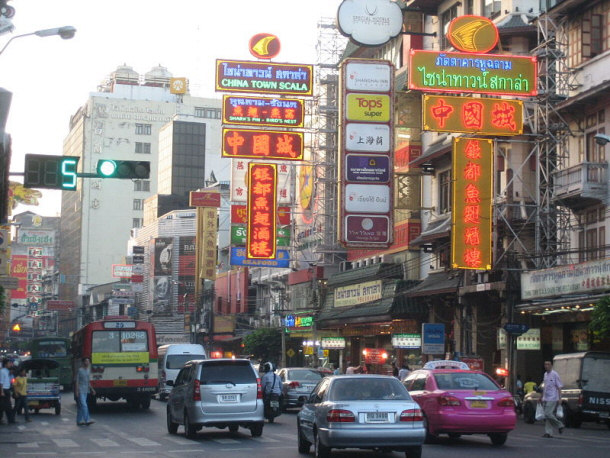 By Naoto Nojima (Picasa Web Albums [1]), via Wikimedia Commons
Whatever you're looking for, be it food, an unusual shopping experience beyond the classic malls and shopping centers, or simply some contrast to what lies beyond Chinatown's bubble of existence, you're very likely to find it here. If you arrive in the timeframe of certain Chinese festivals, you can also be treated to traditional celebrations like a lion dance during Chinese New Year or try some moon cakes during the autumn Moon Festival. Most importantly, if you're trying to shop a bit cheaper, Chinatown is the best place for some good old bartering and haggling.
---
7) Lak Mueang
Technically, a Lak Mueang (city pillar) can be found in almost every city in Thailand and contains a shrine in honor of the city spirit deity. Although beautiful in classic Thai architecture and of historical value due to most likely being built by King Rama I in 1782, what makes the Lak Mueang of Bangkok really interesting for you to take a longer look than the usual building photography trip are the traditional dances held at regular intervals. Traditional dances, categorized into classic and folk, are considered a major art form in Thailand. The dances you can see in a Lak Mueang are of the classic style and here you'll see the performance of an excerpt of a slower dance called Lakhon Chatri, which has its roots in traditional Malay dances.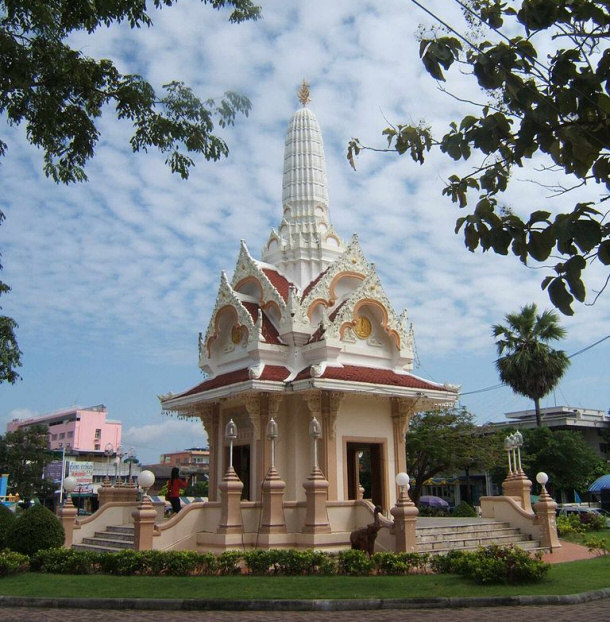 By Media lib (Own work), via Wikimedia Commons
You needn't worry if you miss the date of a certain dance as they are performed several times throughout the day, as local dancers are paid by worshippers of the spirit deity. There are other possibilities to experience the magic of traditional Thai dances, if you're feeling like you want to see the whole span of different types during your stay or if you're visiting again and want to vary things a bit. Most notable would be the Khon masked dance, which you can experience in combination with a good meal at the Sala Thai restaurant.
---
6) Chatuchak Weekend Market
Should you be looking for something to bring back home other than the boring tourist t-shirt and really don't want a friend wearing that "My friend went to Bangkok and all I got was this lousy t-shirt", then the Chatuchak Weekend Market is the place to visit. Noteworthy traditional Thai crafts found in stores there are cutlery from forged steel, shadow theater puppets, brassware, Thai silk, and woodcarving. Most importantly, you won't have to worry about buying a product that just came off a factory production line quite as much.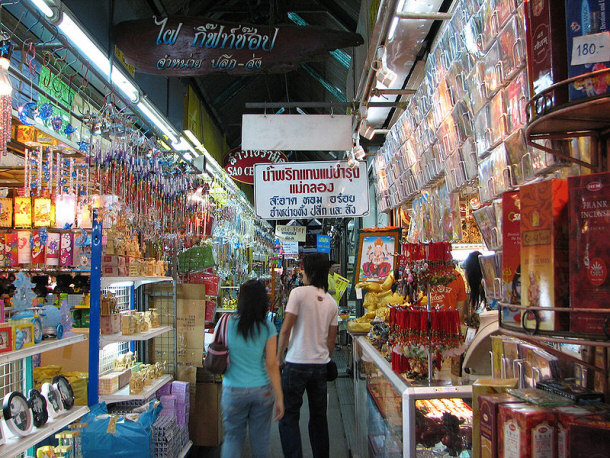 By edwin11_79, via Wikimedia Commons
Thai souvenirs are trending more and more to originality and local products, supporting local artisans and manufacturers. If you're not quite sure if the product you're interested is adherent to these beliefs, look out for the OTOP logo, marking an item as village goods. In general, the Chatuchak Weekend Market serves a variety of goods beyond crafts and souvenirs, so even if you're not quite ardent about getting those, the market is worth a little milling.
---
5) Bangkok Art and Culture Center
To get a look at how contemporary Thai art is progressing, be sure to visit the Bangkok Art and Culture Center. Due to its central location in downtown Bangkok, it's easy to find and visit, not to mention hard to overlook with the current huge statue of what is described as a space woman displayed in front of it. The BACC aims to be a place where culture is easily accessible to everyone through programs for all media: music, theater, art, film, and design. Additionally, it houses an art library. Also, it regularly plays host to events of cultural and educational nature.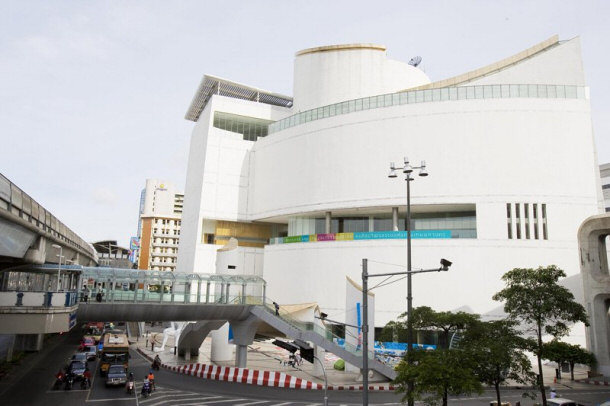 By Cush2k (I took it at Phatumwan junction), via Wikimedia Commons
For visitors, it's interesting to check what the current exhibit is prior to visiting and see how much time you plan on spending. If you have that, give yourself some room, because you'll be very likely to get hung up in the many other things to do such as bookshops, one of the restaurants, or the café.
---
4) The Traditional Thai Puppet Theater
Shadow theater, or Nang Yai in Thai, is another long standing drama tradition in Thailand, going as far back as the fifteenth century. Though it was on the verge of vanishing from people's consciousness in the shadow of the modern movie. That might be one of the reasons why the Traditional Thai Puppet Theater is under the patronage of the Royal family today. Similar to a movie, a large white screen is used. A light is placed behind this screen, traditionally a fire, and the performers use large and heavy puppets made from buffalo hide. The performance is accompanied by a band, and the story is told in form of songs and chants. The main source of the story is the Thai national epic "Glory of Rama", which is based off the Hindu Ramayana, and you might be familiar with several depictions of singular scenes because it is a wide-spread topic in traditional Thai art.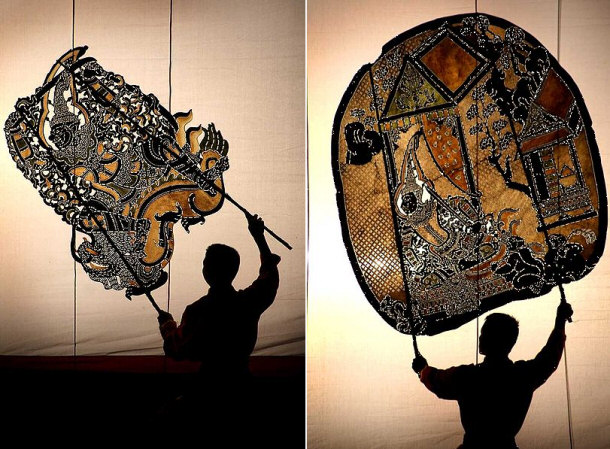 By Steve Evans from Citizen of the World, via Wikimedia Commons & Second Photo
Because the epic itself is far too long to play in one sitting, Nang Yai performances break the story into single episodes. Even if the performances are traditionally held in Thai, making understanding them a bit difficult, there's something magical about the elaborate puppets' shadows dancing in front of a flickering light. A shadow theater show can be a unique experience to add to your list of things to do.
---
3) The Floating Markets
You'll remember seeing references to one of the Floating Market in quite a few movies. Narrow long boats with one or two passengers wedged between piles of fresh fruits, vegetables, and food, which is sometimes even cooked on the boats, all trying to maneuver along a narrow river road. In and around Bangkok you'll find four major floating markets: the most popular ones, Damnoen Saduak and Amphawa, and the remaining two, which are considered to be more authentic, Taling Chan and Khlong Lat Mayom. Whichever you prefer, you'll experience each the best in the morning hours, when it isn't quite as hot and the most vendors are floating along.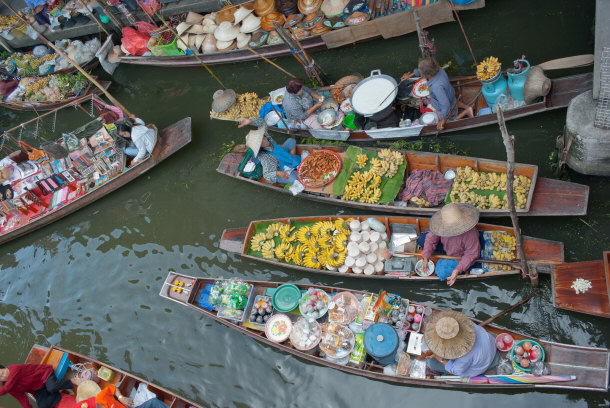 It may be hard to believe with the amount of international visitors the floating markets experience, but there was a time, long before the majority of Bangkok's waterways were being built over, when this was where locals would do their daily grocery shopping. There was an entire phase in Thai history during which floating markets had all but vanished from daily life. Only in 1987, when Chamlong Srimuang, the governor of Bangkok back then, reinitiated them in honor of the 60th birthday of King Bhumibol, did these historical features return to Bangkok. It's a good thing they did, as visiting a floating market, even if you aren't planning on buying anything, is a wonderful experience that will make you feel like you just stepped back in time.
---
2) Wat Arun/Chaeng – The Temple of Dawn
The iconic architecture of the Temple of Dawn will very likely feel very familiar to you. Located on the west bank of the Chao Phraya River, the Buddhist temple paints an exotic and majestic picture with colorful decorations of colored glass, seashells and porcelain adorning its spires, of which the over 210 foot high one on the bank is considered to be a world-famous landmark. According to legend, King Taksin arrived at the temple upon the break of dawn in the mid-18th century, after fighting his way through the Burmese army in Ayutthaya.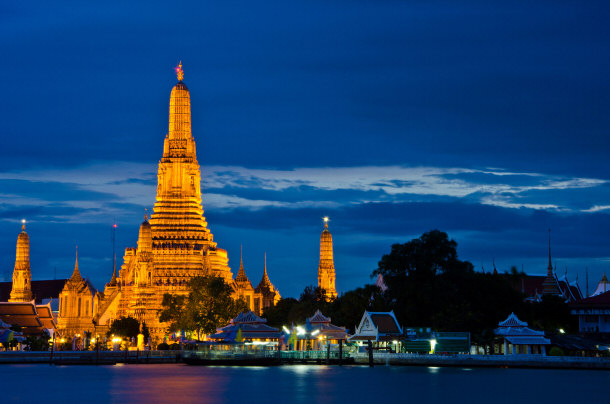 Later, after the Ayutthaya kingdom fell, he instigated renovations and renamed the temple to the name it's referred to by the locals – Wat Chaeng. Befitting the name, you'll have the most breathtaking view of the temple when you experience it during dawn hours, or alternatively, during sun set, when the sunlight reflects on the glass and porcelain ornaments. Other noteworthy features of the Wat are the Chinese soldier and animal figures situated around the base of the spires. When you're planning on entering the Wat during your stay, make sure to dress accordingly in respect to Buddhist belief. This means that you should cover your shoulders and make sure to show no skin above your knees. Also, it is common practice to take off your shoes before entering a temple.
---
1) The Grand Palace and Wat Phra Kaew
Located in the Old City, the Grand Palace and the nearby Temple of the Emerald Buddha are Thailand's most sacred locations and are the top places to visit, especially if you're in Bangkok for the first time. Even if the palace hasn't been the home of the Royal family, nor host of the royal government, since the 20th century, it is still used for ceremonies and celebrations. Part of the complex is the former buildings of the Thai ministry, the state departments and the mint. Besides the imposing appearance of the palace itself and varying architectural styles of the other buildings, Rattanakosin Island, upon which the Grand Palace and Wat Phra Kaew are to be found, is decorated with beautiful gardens, courtyards, and pavilions.
The Grand Palace and Wat Phra Kaew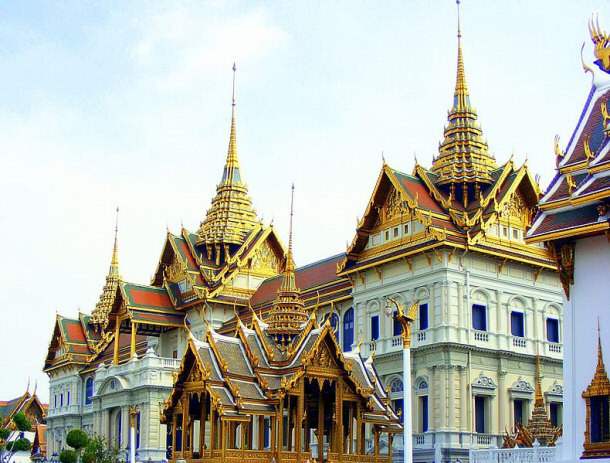 By Tevaprapas Makklay, via Wikimedia Commons
All of them were imagined by one of the many kings of Thailand's history. So exploring the island is not only impressive, but is the best way to see a vast selection of historical styles. Construction on the palace began when King Rama I moved the Thai capital from Thonburi to Bangkok, after Rattanakosin Island was artificially created by the digging of canals. The Palace can be sorted in to smaller areas, making your visit less confusing if you go through one part at the time. A royal chapel was built, and now this chapel has become the temple housing the famous Emerald Buddha. What makes this statue so noteworthy is that it has been made out of a single slab of green nephrite, despite the confusing name, and it is said to be over 2000 years old. Modern analysis however, dates the Buddha statue back to the fifteenth century. Legend states that the Emerald Buddha went on a small odyssey from India to Burma, Cambodia, Laos, and only then to finally be housed in Thailand.
Side View of The Grand Palace and Wat Phra Kaew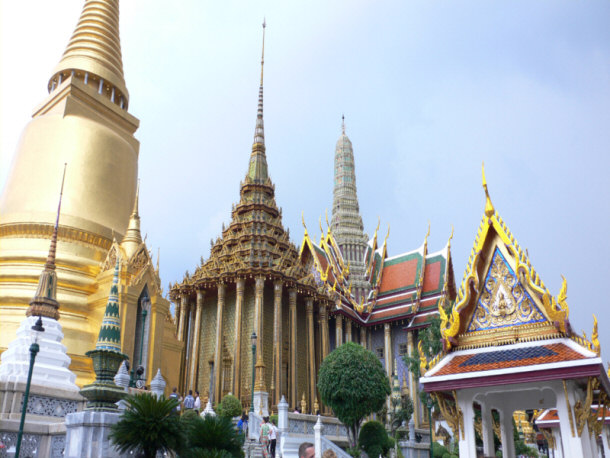 By Khemkhaeng (Own work), via Wikimedia Commons
Depending on the season, the Emerald Buddha will wear different robes, which are changed in a ceremony by the ruling King of Thailand. For the Thai people, this is a very important date in their calendar, and, if you plan your visit right, you might come right on time. The festivals celebrated in the Grand Palace complex are just as colorful as Thai architecture and is accompanied by music, food, and dance. On some occasions, members of the Royal family will travel down the river to the Grand Palace in an artfully decorated boat.
---
Final Thoughts
No matter what your main reason for visiting Bangkok, it is a guarantee that you'll find something to suit your tastes. Most importantly, take your time and be curious. The Thai people are very kind and helpful, so if you are lost in this big bustling city, don't be afraid to ask for some assistance. Especially if you are the type who's curious about Bangkok from a local perspective, you can ask at your hotel reception or one of the many shopkeepers to recommend you something. Just make sure to pick up some literature on the dos and don'ts of Thai culture. The last thing you want to do is disrespect the royal family. Last but not least, a safe trip and enjoy your stay!
Vacation Destinations
Top Lists:
Top 15 Interesting Places to Visit in the Bahamas
Top 15 Fun Things to Do in Miami, Florida
Top 15 Fun Things to Do in Chicago
Top 15 Best Unknown Things to do in Las Vegas
Top 15 Fun Things to Do in Hollywood
Top 10 Best Places to Visit in Turkey
The Top 15 Best Things to Do and See in Sydney
Top 10 Things to Do in Edinburgh
Top 10 Things to do on Oʻahu
Top 15 Things to Do in Albuquerque
Top 15 Interesting Places to Visit in Spain
Top 15 Places to Visit in New York City
Top 15 Things to Do in Portland Oregon
Top 15 Things to do in Greece
Top 15 Places to Visit in Houston Texas
Top 15 Interesting & Safe Places to Visit in Mexico
Top 15 Interesting Places to Visit in the Netherlands
Top 15 Interesting Places to Visit in Thailand
Top 15 Interesting Places to Visit in Switzerland
Top 15 Interesting Places to Visit in Portugal
Top 15 Places to Visit in San Francisco
Top 15 Interesting Places to Visit in Shanghai
Top 15 Interesting Places to Visit in Puerto Rico
Top 15 Interesting Places to Visit in Norway
Top 15 Interesting Places to Visit in Las Vegas
Top 15 Interesting Places to Visit in Jamaica
Top 15 Interesting Places to Visit in Croatia
Top 15 Interesting Places to Visit in Belgium
Top 15 Interesting Places to Visit in Bangkok
Top 15 Things to Do in Rio de Janeiro
Top 15 Things to Do in Monaco
Top 15 Interesting Places to Visit in Dubai
Top 15 Interesting Places to Visit in Amsterdam
Top 15 Things to Do in New Zealand
Top 15 Interesting Places to Visit in Paris
Top 15 Interesting Places to Visit in Italy
Top 15 Interesting Places to Visit in Singapore
Top 15 Most Interesting Places to Visit in Berlin
Top 15 Best London Attractions
15 Little Known Facts About New York City
Disney World Articles
Top 15 Disney World Rides for Adults
Top 15 Disney World Rides for Kids
Top 15 Disney World Resorts for Adults
Top 15 Disney World Resorts for Kids
15 Fascinating Facts About Disney World
Top 15 Fun Things to Do at Disney World's Animal Kingdom
Top 15 Fun Things to Do at Disney's Hollywood Studios
Top 15 Fun Things to Do at Disney World's Epcot
Top 15 Fun Things to Do at Disney World's Magic Kingdom

Shorter Top Lists:
Top 10 Tourist Attractions in San Diego
Top 10 Tourist Attractions In India
Top 10 Things to Do In Kansas City
5 Places You Should not Miss in Brazil
Top 5 Things to do in New York City

Informational:
Best Tourist Attractions In Vietnam
Taking in the Sights in Shanghai
Top Tourist Attractions in Perth, Australia
Nice places to visit while in Great Britain
Sampling the Foods at the Night Markets in Taipei
What to do for a Kenya Vacation
Best Attractions in Victoria, B.C.
Photos of the Luxor Hotel in Las Vegas