Top 15 Interesting Places to Visit in Belgium
Belgium is a small but beautiful country in Northern Europe. It borders France, the Netherlands and Germany, and it actually has three official languages: French, German and Dutch. The language barriers tend to correspond to the proximity of nearby countries. The French speaking part of Belgium is closest to France, the Dutch is closer to the Netherlands, and the German speaking is closer to Germany. There are over 11 million people living in Belgium today. It is a constitutional monarchy with a new king, King Philippe. This beautiful country is known for its beer, chocolates, and waffles, and it is responsible for inventing French fries. In addition to their food and beer heritage, Belgium has a long history of art and culture, with many different places to see. Belgium has a rich history, reflected in its beautiful architecture and cities.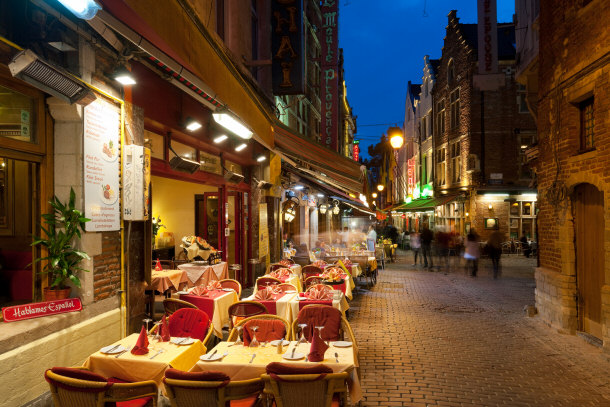 When you visit Belgium, whether it is on your way while doing a driving tour of Europe, or just to see Belgium, you should make time to take in these fifteen places when you visit.
---
15) La Maison des Maitres Chocolatiers Belges
All around the world, Belgium is known for its chocolate. Therefore, if you are in Belgium, then you must visit La Maison des Maitres Chocolatiers Belges, which translates to "House of the Belgian Master Chocolate-makers. In this house, located at the Grande Place in Brussels, you can see ten artisans making traditional Belgian chocolate. They come from various parts of the country, and each has a unique way to create chocolate. You get to see the creation, made from the finest ingredients, like pure cocoa butter.
Inside of La Maison des Maitres Chocolatiers Belges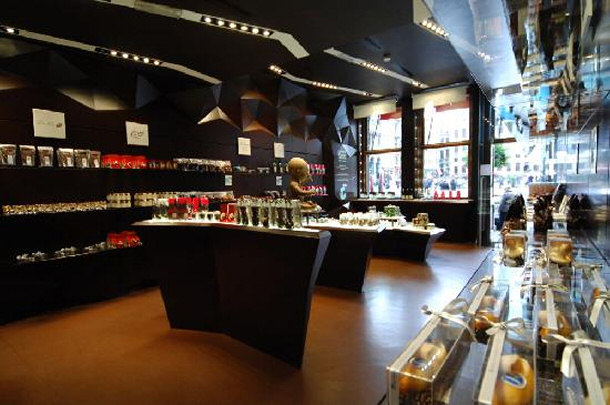 Courtesy of Tripadvisor.com
You will have a new respect for chocolatiers after visiting La Maison des Maitres Chocolatiers Belges. You not only get to watch the artists at their work, you can taste the artwork afterward. You might try to bring some home to your friends and family, but somehow it may not make it that far. When you get home, eating chocolate will never be the same after you have tried some of the best chocolate in Belgium, and possibly in the entire world.
---
14) Ducasse de Mons
Only taking place in June, the Ducasse de Mons or the Doudou, has been a tradition in the town of Mons since 1349. This festival re-enacts the slaying of the dragon by Saint George, and is actually a UNESCO-recognized festival as a Masterpiece of the Oral and Intangible Heritage of Humanity.
Parade Members During Ducasse de Mons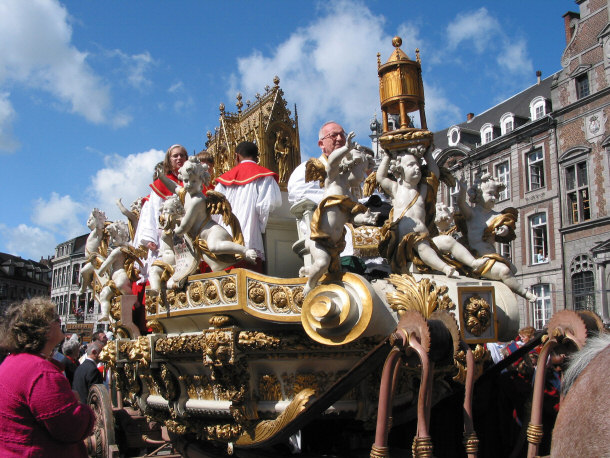 By Marie-Claire, via Wikimedia Commons
During the festival, you are supposed to try to grab the tail and pull out any hair and ribbons of the dragon that moves through the crowd swinging its tail. If you are fortunate enough to get one, then you will have good luck. While you are in Mons for the festival, or if you are unable to visit Belgium in June, there is plenty to see in this quaint town. Victor Hugo called Mons a very strange town. There is a mix of numerous architectural styles in Mons, making many feel that the town is blessed with whimsical buildings.
Gathering Outside of Car d'Or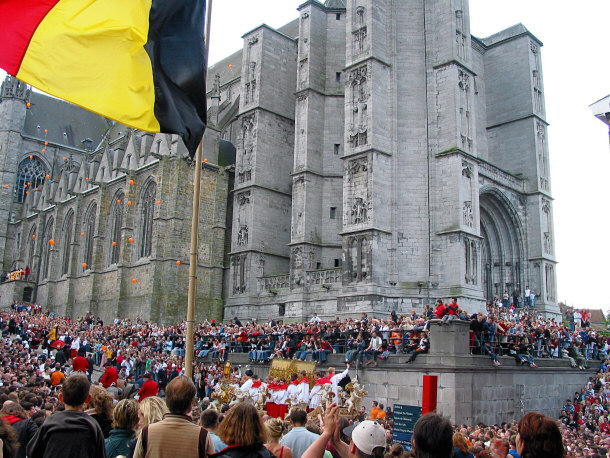 By Jean-Pol GRANDMONT, via Wikimedia Commons
The Town Hall itself is worth checking out, built between 1458 and 1477 in a Gothic Style. You should also look at the 270-foot high Belfry that is also a UNESCO World Heritage Site. There is plenty to see in Mons, regardless of whether you can make it for the famous Ducasse de Mons or not.
---
13) Manneken Pis
You may have seen a picture of Manneken Pis, as he is probably one of Belgium's most famous residents. You can find him in Brussels at the junction of Rue de l'Etuve/Stoofstraat and Rue du Chene/Eikstraat, not far from the Town Hall and la Grand Place. His name literally means "little man pee," and he is a small, sculpted fountain depicting a little boy urinating. Manneken Pis first arrived in Brussels in 1618 or 1619, and was created by Hieronymus Duquesnoy the Elder. There are numerous legends and stories surrounding him, and he has actually been stolen several times. The Manneken Pis you will see on your visit is actually a replication fashioned in 1965. The original version is now at the Masion du Roi or Brooshuis at the Grand Place.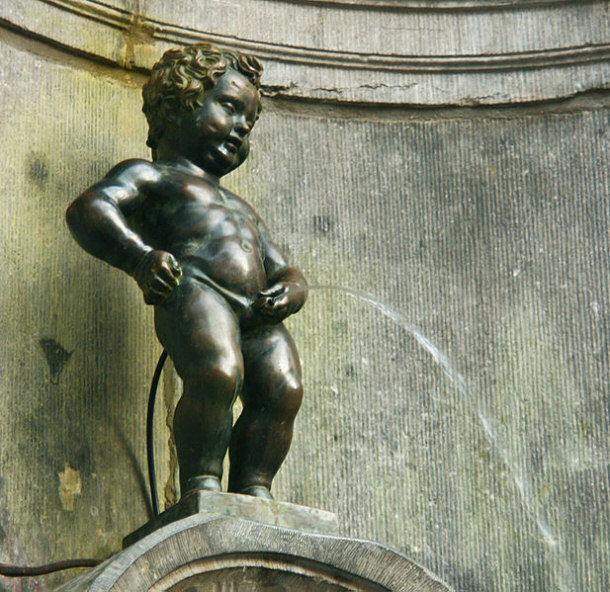 By Markus Koljonen (Dilaudid), via Wikimedia Commons
The most famous legend about Manneken Pis has him as a two-year-old lord with a troop battling against another lord. To encourage them, his troops put him in a basket in a tree, and the boy urinates on the enemy troops, who lose. A similar story involves a young boy spying on a foreign power fighting against Brussels. He sees a burning fuse that is meant to blow up the city walls, and urinates on it to save the city. There are many more such legends circulating about this little statue, which also has important traditions.
---
12) Antwerp
Antwerp is a beautiful city that is famous for its nightlife and creative history. It features numerous funky bars and restaurants for you to enjoy. If you visit Antwerp for the food and bars, you should be sure to try gin, jenever. Fashionistas love visiting Antwerp for shopping. The Antwerp Fashion Academy is known for producing hot talent in the fashion world, and there is also the Antwerp Fashion Museum to check out. You can shop around Antwerp and find many fashionable items that have not yet hit the bigger cities.
Antwerp's Cathedral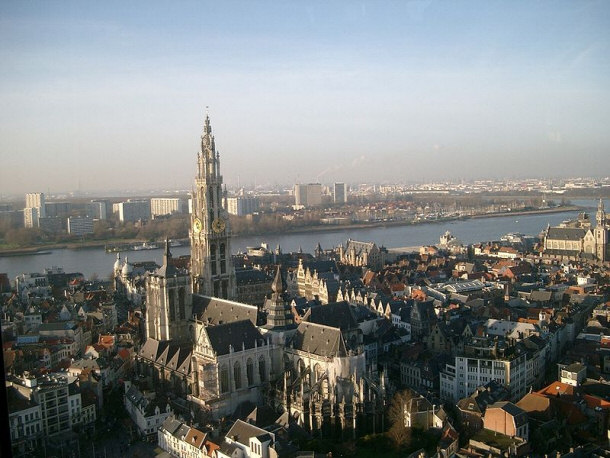 By Fuss, via Wikimedia Commons
The center of the city has beautiful medieval buildings alongside more modern buildings. Antwerp has a long history of artists in residence, including its famous citizens, Rubens and Van Dyke. Centuries later, you can still see the mark left behind by these two important artists. If you love art, be sure to visit Koninklijk Museum voor Schone Kunsten and the city's cathedral.
---
11) Strawberry Stands of Wepion
If you love fresh strawberries, then you have to visit the strawberry stands of Wepion. Be sure to go during the summer growing season. The strawberries alone make Wepion one of the places to visit in Belgium. For over 150 years, the perfect climate of Wepion has produced delicious strawberries, making it the capitol of strawberries in Belgium. During strawberry season, the local farmers line the streets with their stands, selling their juicy, delicious goods to locals and tourists alike.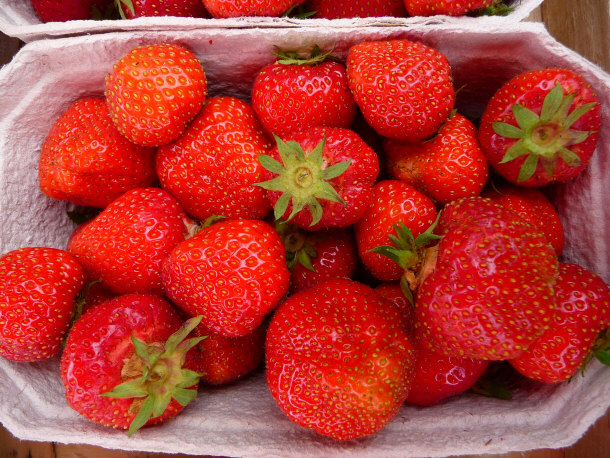 By 3268zauber, via Wikimedia Commons
Even if strawberries are not on your favorite food list, you should still take a moment to indulge in these fresh and succulent varieties, unless you are allergic. While you are enjoying your strawberries, you can wander around the charming little town of Wepion. You can also look for a café or restaurant specializing in Belgian waffles and enjoy fresh Wepion strawberries and cream on top of delicious, freshly made waffles.
---
10) Ghent
Ghent may just seem like a university town; however, it is a gorgeous place that you must explore. In fact, many Belgians take the trip to Ghent themselves. Ghent is not a town to drive through, especially as the beautiful town center is closed to any vehicle traffic. You can wander around on foot or bicycle, or you can enjoy the city on a boat, floating along the numerous canals. You should definitely check out the Gavensteen, or Castle of the Counts, a medieval fortress.
When you take the time to look at the castle, be sure to take a moment to look at the battlements and torture chambers that still exist. It is an incredible experience, especially if you love castles. If a castle does not tickle your fancy, you can also enjoy looking at the many 13th-century Gothic churches or 17th-century canal houses. Ghent is not a place to go if you are looking for the hustle and bustle of a city. Visiting Ghent is all about relaxing, spending all day in a café, and enjoying the beauty of the city.
Ghent Canal in the Twilight of the Evening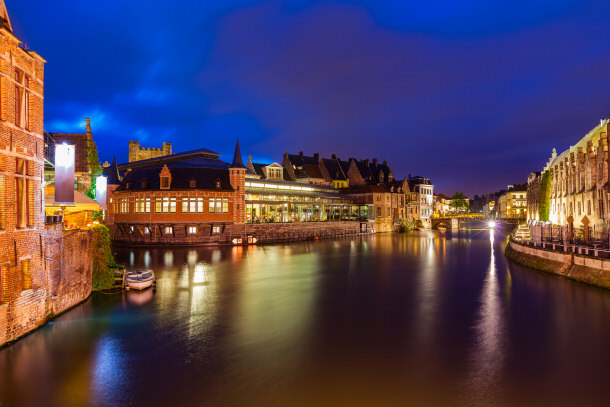 It does feature many places to see for art and culture education, including numerous museums, about a hundred churches, and hundreds of other historical buildings.
---
---
9) Liege Train Station
The newly opened train station in Liege was designed by world-renowned architect, Santiago Calatrava. It is a beautiful building worth checking out. It features a monumental arch that is 160 meters long and 32 meters high. It is a modern building that is both functional as well as architecturally beautiful.
City of Liege



By Jacques Renier, via Wikimedia Commons
This station is actually a very important hub and is connected to the high-speed rail network. Over 15,000 people use it every day. The best way to check it out is to take a train to Liege from one of the bigger cities, like Brussels, and then stay for a day or two to enjoy the rest that Liege has to offer.
The Liege-Guillemins Rail Station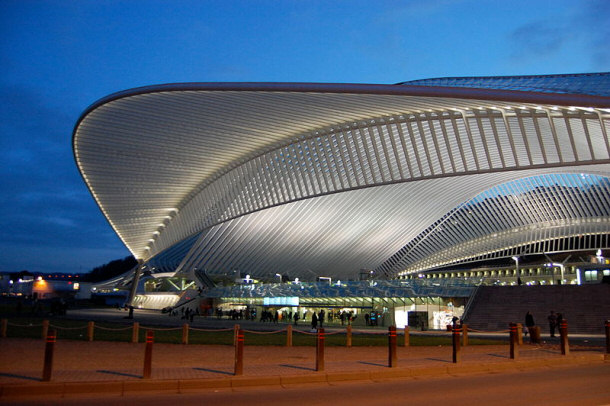 By Santiago Calatrava Valls, via Wikimedia Commons
What the Station Looked Like in the 1970s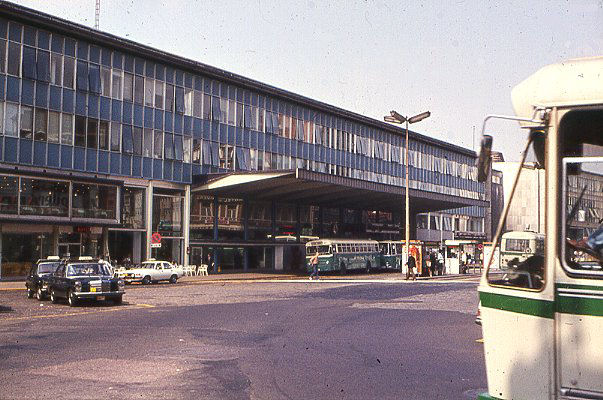 There are numerous historical cites and art to enjoy in the many museums. You must go to the citadel in Liege and explore its winding path of steps through the orchids and courtyards and stop to relish the view at the top. If you are here on a Sunday, check out the La Batte Sunday market, which is the oldest, and largest, in Belgium.
You will enjoy your stop in Liege, no matter how long you end up staying in this beautiful town.
---
8) Van Gogh's House in Mons
For a time, famous post-impressionist painter Vincent Van Gogh lived in the Belgian town of Mons. During the years of 1879 and 1880, Van Gogh worked as a church missionary and lived in a miner's house while painting during his free time. In 1972, the house began to fall apart and become decrepit. Fortunately the tourist board and others saved it from destruction, and the renovations even included assistance from some of Van Gogh's descendents. Their diligent efforts, as well as their painstakingly sharp attention to detail, made it to look just as it did when Van Gogh lived there. There is now a permanent exhibition of mainly reproductions of his famous work housed inside the rehabilitated structure.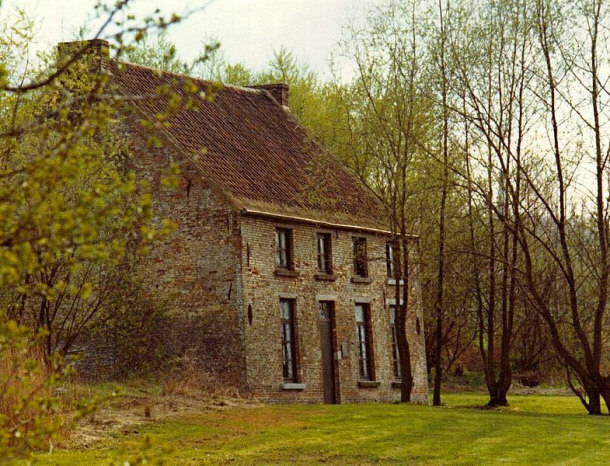 By Jean-Pol GRANDMONT (own workCanon EF – Canon Lens 100 mm F2,8), via Wikimedia Commons
They are proud to now have an original piece titled "the Diggers," as part of their permanent collection at this artistically historical site. The Van Gogh house today serves as a museum, and is kept in the exact same manner that it was when Van Gogh lived there. Additionally, they have exhibits with many of Van Gogh's correspondence and papers, providing you with an inside look into the troubled artist's mind. There is also an audiovisual tour you can take around the house while you are there to gain a keener understanding of Van Gogh. If you are a fan of the artist, modern art, or art in general, then Van Gogh's house in Mons should definitely make your list of places to visit while in Belgium.
---
7) SPA, the Pearl of the Ardennes
SPA in Belgium is the original spa, after which all other spas are named. Visitors began to going there for the hot-spring water in the 14th century and new visitors never stopped coming. The waters around Spa were thought to heal and treat a variety of ailments. By the 18th century, the tourists drawn to it made it a true resort town.
SPA - The Pearl of the Ardennes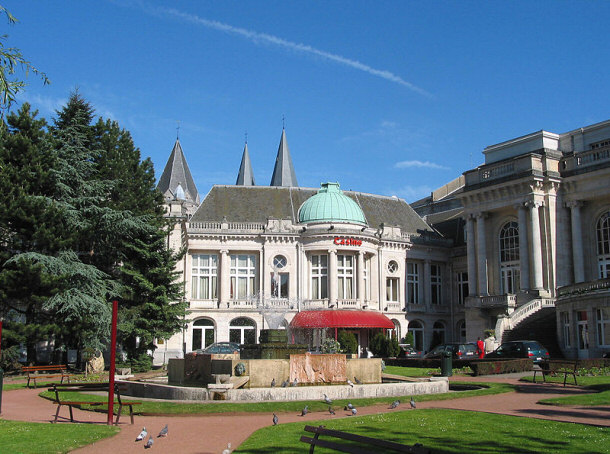 By Jean-Pol GRANDMONT, via Wikimedia Commons
Capitalizing on the tourists, the first casino in the world was built here in 1763, and you can still visit there today. You can also still have a relaxing visit to Spa, enjoying a little piece of serenity surrounded by its beauty. There are beautiful hills and rivers and springs all around Spa, which is in a wooded valley. If you want to be even more relaxed, visit the Thermes de Spa and indulge in many modern spa treatments, like massages, facials, steam rooms, and much more.
You can also swim in the healing waters, just as visitors have been doing for centuries. If you have any interest in the history of laundry, be sure to check out the Laundry Museum, which shows the evolution of washing from ancient times to today.
---
6)) Ancient Citadel of Namur
One of Belgium's historical places to visit is the ancient citadel of Namur. Built during the third and fourth centuries, although reconstructed during the 13th and 14th centuries, this ancient citadel surrounds the town of Namur. As one of Europe's largest citadels, this ancient citadel has much more to offer in that it is extremely close to many castles that you must visit while in Namur. If you enjoy fairy-tale castles with turrets, be sure to look at the Castle of Veves.
Citadel of Namur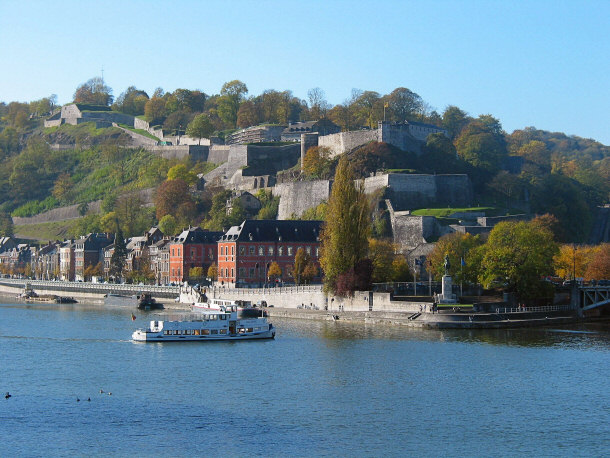 By Jean-Pol GRANDMONT, via Wikimedia Commons
Built back in 1410, the original family still resides in this castle after six hundred years. For a more modern structure, look to the Castle of Annevoie which was built in the late 18th century. It is a beautiful chateau featuring gardens and fountains that you can ramble through to your heart's content. If that isn't enough for you, you can visit the Castle of Lavaux-Sainte Anne, which features three museums and a collection of stuffed animals in addition to its impressive use of a dome.
Castle of Lavaux-Sainte Anne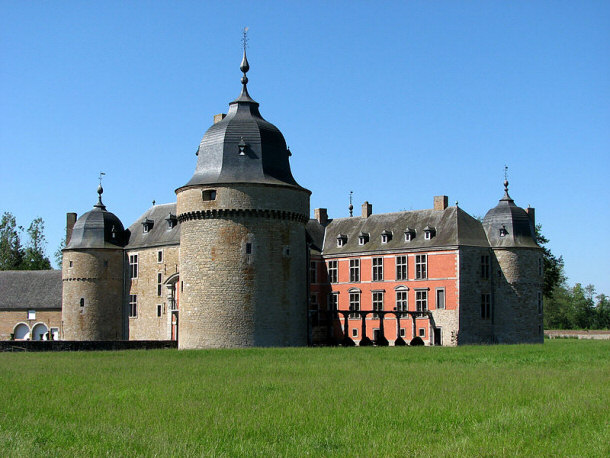 By Tamba52, via Wikimedia Commons
The Castle and Gardens of Freyr, which have 300-year-old orange trees, are also a must see while visiting around Namur.
The Castle and Gardens of Freyr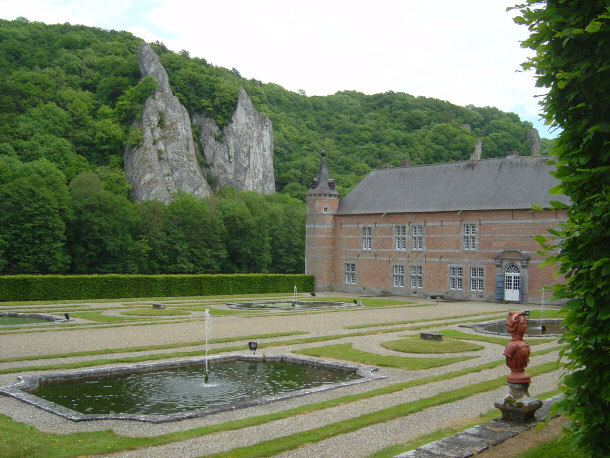 By Ben Pirard, via Wikimedia Commons
After you have marveled at the citadel and castles, spend some time perusing this beautiful city set on the Meuse River. There are many boutique shops for anyone who loves to shop, and finding unique clothes and other goods could be a great adventure for yourself or any other traveling companions.
---
5) The Royal Palace
Belgium is a constitutional monarchy with a brand new king, King Philippe, who was crowned king on July 21, 2013, after his father abdicated the throne. As with any monarchy, there is a royal palace. In the center of Brussels lies the Belgian Royal Palace. The royal family does not reside here, instead they live in the Royal castle of Laeken which is just outside of Brussels. The Royal Palace is used for the actual running of the government similar to a house of parliament.
The Royal Palace - Brussels, Belgium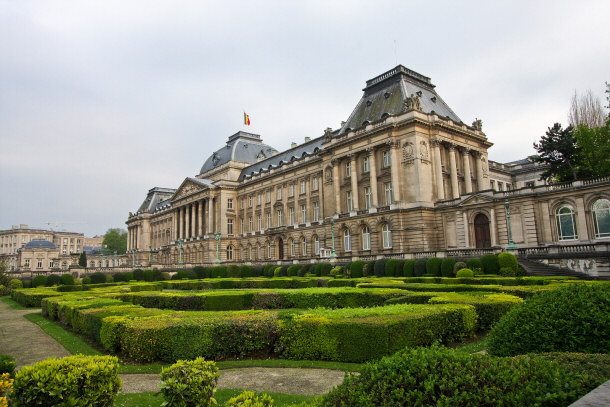 The King deals with the various affairs of the state, grants audiences, and other royal duties. The Grand Marshal of the Court, the King's Head of Cabinet, the Head of the King's Military Household and the Intendant of the King's Civil List also have their offices located at the Royal Palace. There are State Rooms for official receptions, and apartments for foreign heads of state when they visit. Nearby is the Palace of the Nation, of the Parliament building. They are built facing each other with a park in between to symbolize the constitutional monarchy of the country. The beautiful neo-classical building standing there today was only built around 1900, although the history of the palace can be traced back to the 11th century.
---
4) Mardasson Memorial and the Wood of Peace
The Battle of the Bulge is one of the most famous battles of World War II, and it took place in Bastogne. The town of Bastogne has never forgotten the sacrifice of the thousands of American soldiers who died during this battle, while saving the town from the Nazis. In memoriam of the duty, honor, and sacrifice these soldiers demonstrated during that battle, there is a Sherman Tank from the 11th US Armored Division in the center of town.
The Mardasson Memorial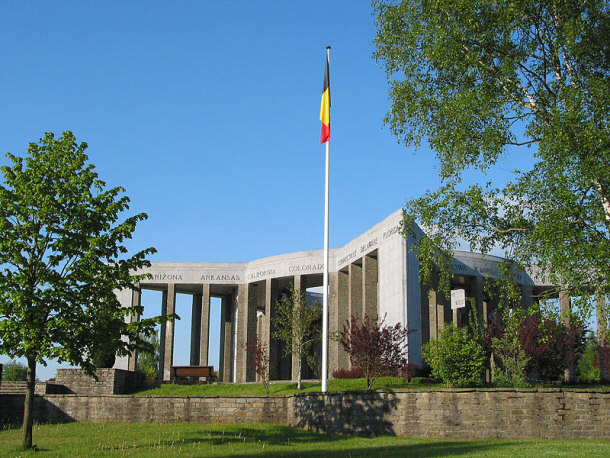 By Jean-Pol GRANDMONT, via Wikimedia Commons
However, the real memorial is just outside town and is called the Madasson Memorial. It honors the 76,890 American soldiers killed, wounded, or missing during the battle. It is a sight to see and pay honor and respect to those who made the ultimate sacrifice. On the 50th anniversary of the Battle of the bulge, a Wood of Peace was created just outside town. In 1994, every veteran who returned to Bastogne got to choose a tree to bear his name forever. The entire 4000 trees that make up the Wood of Peace are dedicated to all soldiers, veterans, and those who died, both American and Belgian, and all civilians who fought and died during the winter of 1944-1945.
Wood of Peace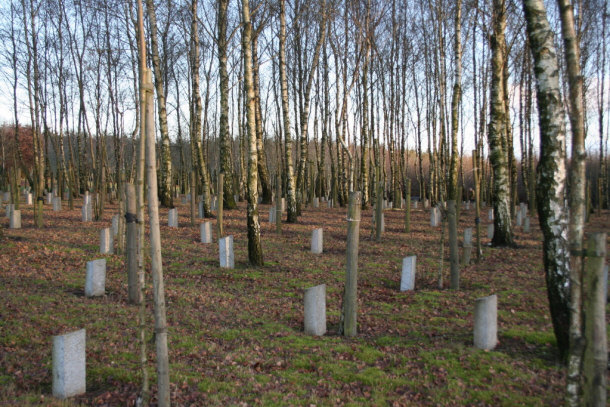 Courtesy of triggertimeforum.yuku.com
From above, this Wood of Peace bears the emblem of UNICEF, a mother and child, which is universally known as the symbol of human tenderness. If you had any family members who fought in the Battle of the Bulge, or even just World War II, you will treasure the respect and honor that this town has provided to those who fought for them, the majority of whom were foreigners.
---
3) Historic Center of Bruges
Bruges is a beautiful medieval city that you must stop and see during your tour of Belgium. The historic center of Bruges is a UNESCO world Heritage Site because of its preservation of medieval Flanders architecture. Just walking around the town center, which is closed to cars, will fill up your entire camera's memory if you are not careful. There is just so much to see and photograph! You can also take a boat around the numerous canals for a peaceful tour of this majestic, medieval city. In addition to its architecture, Bruges is famous for its lace. You may want to check out some lace shops and bring some pieces home with you while you are visiting Bruges.
Bruges Town Center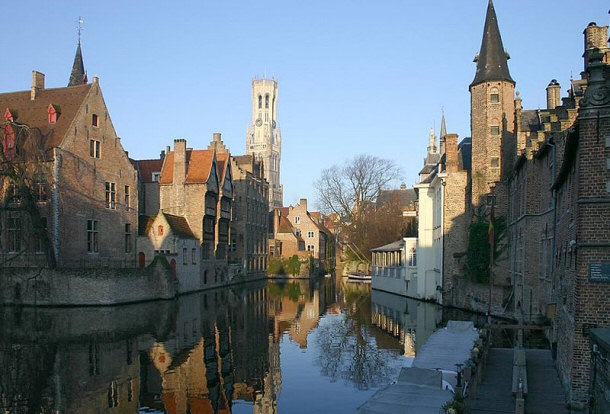 By Elke Wetzig, via Wikimedia Commons
Walking around and checking out the chocolate shops is another good strategy considering there are over 50 of them just in Bruges. You may end up eating nothing but chocolate for your entire visit, and still not hit every single place that Bruges has to offer. For those who prefer beer to chocolate, you have your choice of locations to check out like the De Hlave Maan brewery.
Bruges City in Belgium World Heritage Site of UNESCO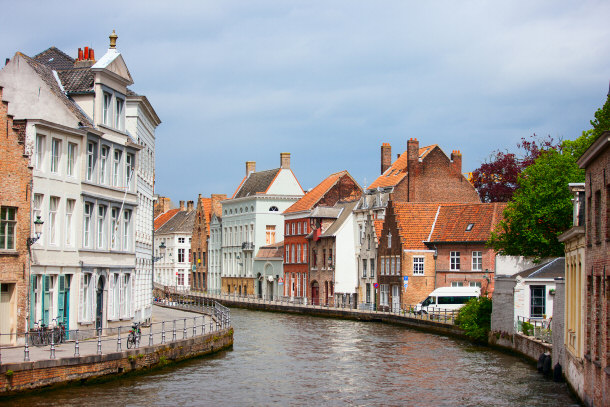 If you have room left for food, there are numerous five-star restaurants and other great places to eat, including some that serve delicious waffles, that are easy to find when wondering around Bruges.
---
2) Atomium
Atomium was built in 1958 for the world fair held in Brussels that year. However, it continues to be one of the places to visit in Brussels and Belgium. Andre Waterkeyn designed the construct, with architects Andre and Jean Polak constructing the inside.
It is 102 meters high and has many elevators. The design is a unit cell of an iron crystal magnified to 165 billion times the shape. There are nine, 18 meter stainless steel spheres connected together with tubes housing enclose access escalators.
Enclosed Escalator Inside Atomium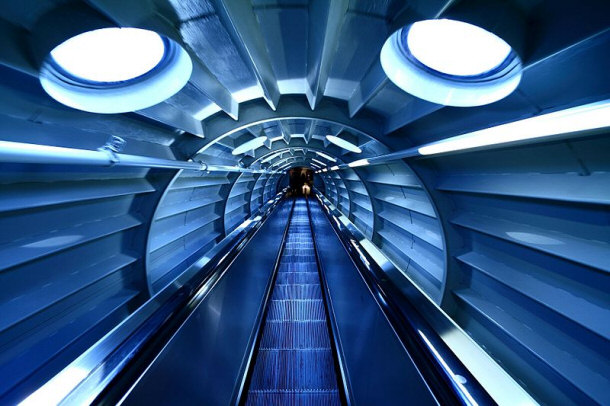 By Harald Hoyer from Schwerin, Germany (Atomium EscalatorUploaded by russavia), via Wikimedia Commons
You can go into five of the spheres to look through exhibit halls and other things. From the top, you can look out over Brussels. You will not encounter many places like Atomium in your travels around the world. It is truly a unique structure that will definitely make for an interesting discussion when you get home. How often do you get to walk around a humongous atom? When you visit Brussels, you can do it whenever you like. Just another example of how Belgium is a perfect mixture of medieval architecture and modern innovation. Brussels is a fantastic look at how the old world meets the modern world in a visually symphonic manner.
---
1) Grand Place, Brussels
La Grand Place, also known as Grote Markt, is basically just the town center square of Brussels. However, it features numerous buildings worth seeing and must be on your list of places to visit. Many of the buildings date back to the late 17th century. It provides an eclectic blending of architectural and artistic styles that really demonstrates the culture and society of Brussels.
The buildings in the Grande Place were built for both public and private use. The significance of this area can be traced back to a reference in 1174, when it was known as Nedermarckt, or Lower Market. Seven streets run into this area, creating a market place that was once surrounded by stalls and houses but now has beautiful buildings. It remained an important marketplace until 1959. The entire square was actually destroyed in 1695 by a bombardment by the French army.
---
Final Thoughts
Belgium is not always at the top of the list of places to visit when people are touring around Europe. However, it features many beautiful and quaint towns that are worth a look. Brussels, Belgium's capital, has numerous museums, historical buildings, and modern marvels. Most tourists begin and end their visit to Belgium at Brussels on their way to Paris, Amsterdam, or some other of the must-see cities in Europe. However, those tourists are missing out on so many experiences. If you have the time, be sure to look further afield and visit some of these other locations. From medieval towns, to castles, to wonderful food and drink, you will find something that pleases you. Additionally, you will know more about Belgium than its wonderful chocolate, beer, waffles, and Pommes Frites (or French fries as you may know them). Just walking along the beautiful streets will provide a much more calming experience than some of the bigger and more touristy cities of Europe. You may never want to leave the beauty of Belgium, with its perfect mix of history, culture, and modern living. Belgium truly is a country that mixes the medieval world, with the modern world in a perfect marriage of visually spectacular attractions.
Vacation Destinations
Top Lists:
Top 15 Interesting Places to Visit in the Bahamas
Top 15 Fun Things to Do in Miami, Florida
Top 15 Fun Things to Do in Chicago
Top 15 Best Unknown Things to do in Las Vegas
Top 15 Fun Things to Do in Hollywood
Top 10 Best Places to Visit in Turkey
The Top 15 Best Things to Do and See in Sydney
Top 10 Things to Do in Edinburgh
Top 10 Things to do on Oʻahu
Top 15 Things to Do in Albuquerque
Top 15 Interesting Places to Visit in Spain
Top 15 Places to Visit in New York City
Top 15 Things to Do in Portland Oregon
Top 15 Things to do in Greece
Top 15 Places to Visit in Houston Texas
Top 15 Interesting & Safe Places to Visit in Mexico
Top 15 Interesting Places to Visit in the Netherlands
Top 15 Interesting Places to Visit in Thailand
Top 15 Interesting Places to Visit in Switzerland
Top 15 Interesting Places to Visit in Portugal
Top 15 Places to Visit in San Francisco
Top 15 Interesting Places to Visit in Shanghai
Top 15 Interesting Places to Visit in Puerto Rico
Top 15 Interesting Places to Visit in Norway
Top 15 Interesting Places to Visit in Las Vegas
Top 15 Interesting Places to Visit in Jamaica
Top 15 Interesting Places to Visit in Croatia
Top 15 Interesting Places to Visit in Belgium
Top 15 Interesting Places to Visit in Bangkok
Top 15 Things to Do in Rio de Janeiro
Top 15 Things to Do in Monaco
Top 15 Interesting Places to Visit in Dubai
Top 15 Interesting Places to Visit in Amsterdam
Top 15 Things to Do in New Zealand
Top 15 Interesting Places to Visit in Paris
Top 15 Interesting Places to Visit in Italy
Top 15 Interesting Places to Visit in Singapore
Top 15 Most Interesting Places to Visit in Berlin
Top 15 Best London Attractions
15 Little Known Facts About New York City
Disney World Articles
Top 15 Disney World Rides for Adults
Top 15 Disney World Rides for Kids
Top 15 Disney World Resorts for Adults
Top 15 Disney World Resorts for Kids
15 Fascinating Facts About Disney World
Top 15 Fun Things to Do at Disney World's Animal Kingdom
Top 15 Fun Things to Do at Disney's Hollywood Studios
Top 15 Fun Things to Do at Disney World's Epcot
Top 15 Fun Things to Do at Disney World's Magic Kingdom

Shorter Top Lists:
Top 10 Tourist Attractions in San Diego
Top 10 Tourist Attractions In India
Top 10 Things to Do In Kansas City
5 Places You Should not Miss in Brazil
Top 5 Things to do in New York City

Informational:
Best Tourist Attractions In Vietnam
Taking in the Sights in Shanghai
Top Tourist Attractions in Perth, Australia
Nice places to visit while in Great Britain
Sampling the Foods at the Night Markets in Taipei
What to do for a Kenya Vacation
Best Attractions in Victoria, B.C.
Photos of the Luxor Hotel in Las Vegas