Top 15 Disney World Rides for Adults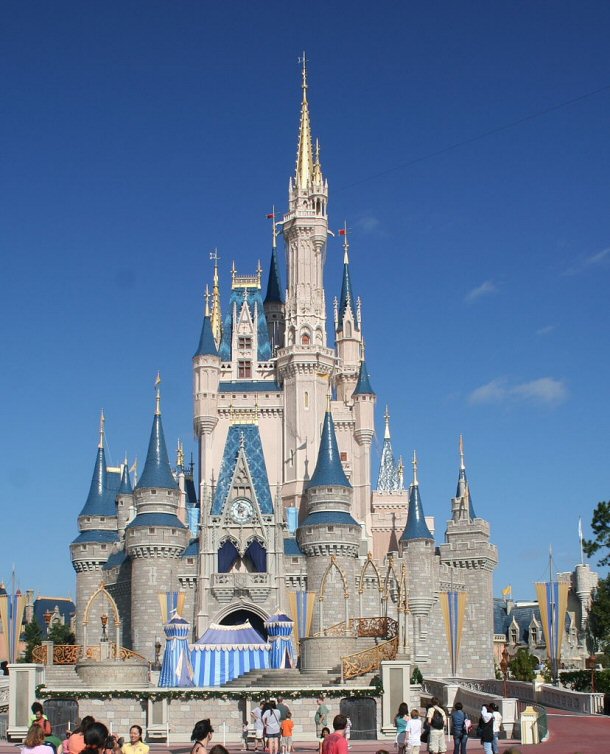 Disney World might be the absolute Holy Grail for youngsters who want to meet all of their favorite cartoon characters but that doesnít mean you canít have fun as an adult. During your trip to Disney World with your kids, there are lots of things to do and some of these include rides that you can enjoy with the kids. There are also rides that you may want to enjoy alone or with your partner, while the kids are having fun in the kids clubs. We have listed the top 15 rides to be enjoyed by adults, with or without kids.
---
15) Rock Ďní Roller Coaster Ft. Aerosmith
The Rock Ďní Roller Coaster came to life in 1999 and itís remained incredibly popular since; it's enclosed steel ride that is found at the end of Sunset Boulevard. The Roller Coaster is a favorite with teens and adults, as it accelerates from 0 to 60 miles per hour in an incredible 2.8 seconds. This amazing feat makes the roller coaster the second fastest ride available in the Disney World resort, following closely behind the Test Track.
Outside of the Rock 'n' Roller Coaster Ft. Aerosmith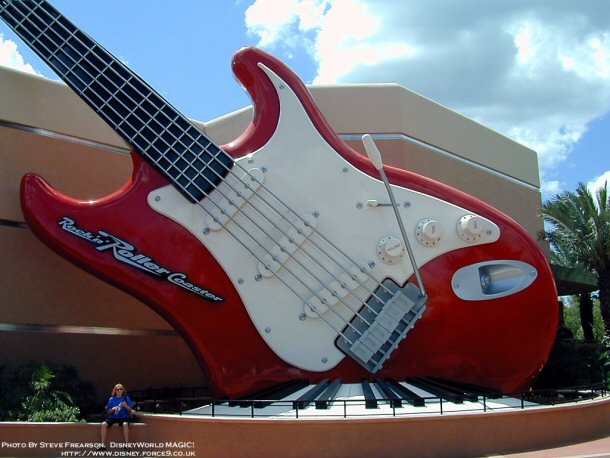 Courtesy of www.wdwmagic.com
The roller coaster has five trains but four run at any one time. This means that the queues may be quite big but kept manageable and moving frequently. The music element comes in the form of speakers in each cart, where five are found in each seat. Aerosmith worked closely with designers from Disney to create a specific and unique soundtrack for the roller coaster, this soundtrack has been used and updated since its opening more than 10 years ago. As of 2007, new songs on the soundtrack include Nine Lives, Love in an Elevator, Walk This Way, Young Lust, Sweet Emotion, Back in the Saddle and Dude (Looks Like a Lady).
Inside the Rock 'n' Roller Coaster Ft. Aerosmith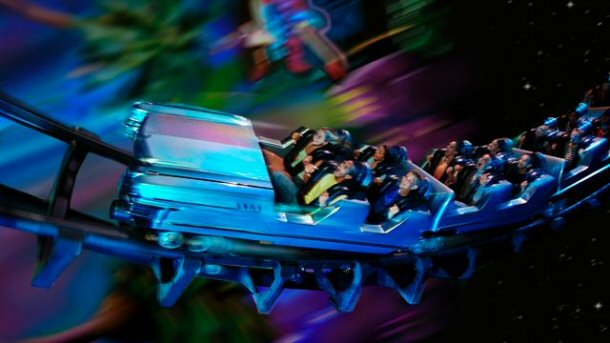 ---
14) Test Track
Test Track is the fastest roller coaster ride available at Disney World and while itís enjoyed by kids, tweens and teens, itís a great attraction for adults as well. The thrill ride has you seated in a concept vehicle that takes you on a speedy spin around a track. The simulation car has six seats and has you enjoying some of the most forward thinking technology as well as ideas in any theme park.
Test Track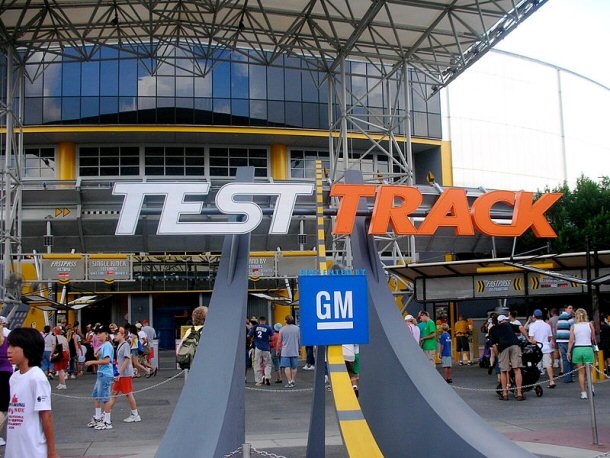 By UpstateNYer, via Wikimedia Commons
The simulation car lets you read visual charts as you spin through rough and flat terrain. You can maneuver your car just the way you want it, speeding round 50-degree curves and scaling hills that climb anywhere up to three stories in the air. Itís one of the most insane rides out there and it feels incredibly real. The speed may not be physical but the design is set to make you feel like youíre travelling at the speeds outlined on your screen.
In the Second Spin part of the road, you can design your own vehicle and see how well it scores in a test drive. You can create your own commercial of the design of your vehicle and even email it home so that you can share it with your friends as well as family. You can take your newly designed vehicle across difficult terrain on the simulator and pose for a photograph in your virtual dream car. Itís perfect for adults who love their cars and a great experience for young budding race car drivers.
Test Track Interior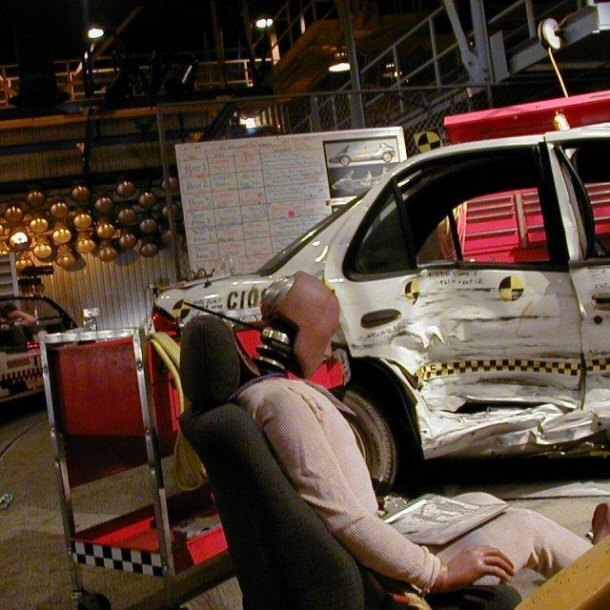 By ManoaChild, via Wikimedia Commons
---
13) Tower of Terror
The Tower of Terror is another popular ride among parents and older visitors. This is found right near the Rock Ďní Roller Coaster and has a distinct Twilight Zone theme to it. The ride has big drops, is a thrill ride and one of the scariest in the whole resort. It has some physical considerations that are not ideal for young people and the disabled.
Tower of Terror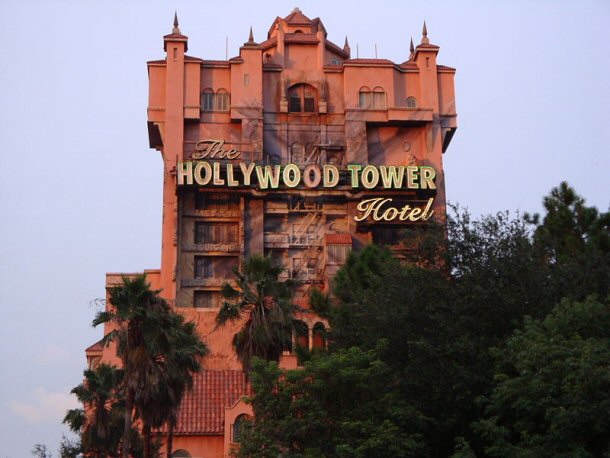 By Childzy, via Wikimedia Commons
The adult and teen oriented haunted house takes you through the famous Hollywood Tower Hotel, which was once the hotel chosen by the rich and famous until it was eventually closed in 1939. Today, you can walk through its dark libraries that are packed with weird historical artifacts and enter secret passages that take you into boiler rooms then directly into the 5th dimension. Itís a haunting, strange and trippy experience thatís bound to make you tense at every corner.
When you get to the elevator, youíll be launched upwards into the unknown and taken through dark, petrifying rooms. The 5thdimension is found on the 13th floor, where youíll come across Twilight Zone scenery and sounds.
You can learn about the story behind the building and the Twilight Zone television series at this ride, which is great for diehard fans or people who have become intrigued by the show after their spooky experience in the Tower of Terror.
Tower of Terror Lobby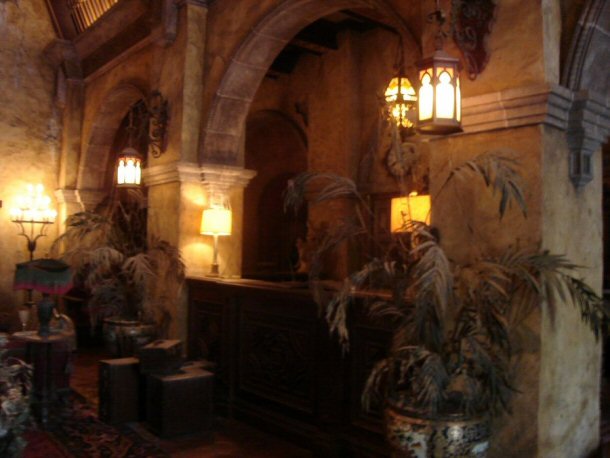 Courtesy of www.deviantart.com
---
12) The Sum of All Thrills
The Sum of All Thrills is a really exciting and innovative ride found in the Epcot part of Disney World. This ride is sponsored by Raytheon, and it gives every person on the ride the chance to design their own ride.You can use a touch screen and mathematical tools to create your own ride through this simulation system.
The ride first opened back in 2009 and today, it is one of the most popular rides for teenagers as well as adults. The interactive touch system makes it easy to determine how high your ride goes and the speed it travels at. Once youíve completed it, you will be able to get on board the robotic simulator and experience everything as if it were real. The 4D robotic simulator combines movement, sound and vision to create an experience that is hard to tell apart from a real ride.
---
11) Soariní
Soariní is a popular ride for both kids and adults, and it would be wrong to ignore it because itís popular with kids too! If youíre spending time with your children or youíre going alone, this Epcot attraction is a must-see. This is a ride that, like the Sum of All Thrills, uses a simulator to create an unforgettable experience.
Soarin' Entrance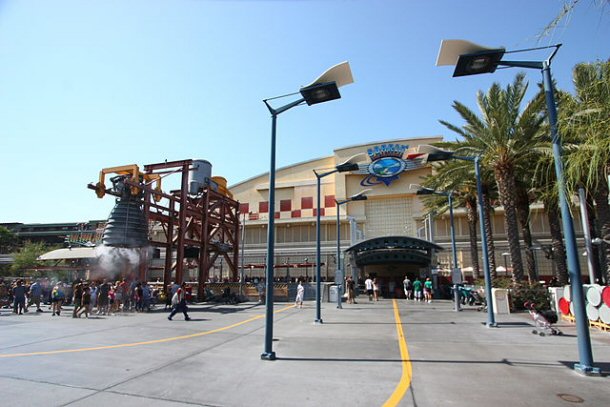 This ride will not have you creating your own ride but instead will take you on flying tours across California. You'll skim atop the largest and most majestic redwood forests of America then weave around landmarks like the Golden Gate Bridge. Youíll feel like youíre really flying as you hop aboard your simulated hang gliding contraptions and sit in front of the incredible IMAX projection screen. The experience feels just like it would if you were flying and you can even play mini games as you fly through the beautiful California scenery.
Soarin' in Action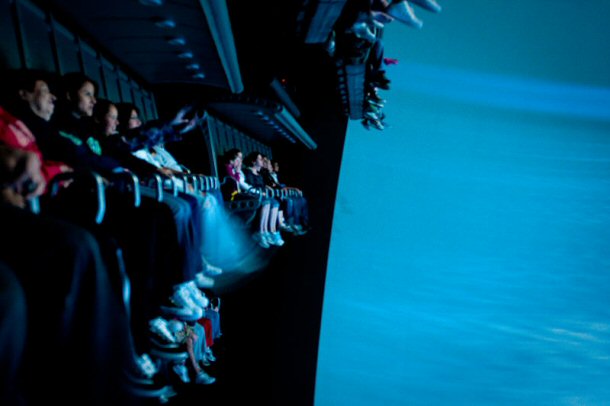 By Josh Hallett, via Wikimedia Commons
---
10) Primeval Whirl
Primeval Whirl is definitely not for the faint hearted, this roller coaster is designed to spin and slide. It takes you right back to the dinosaur age. Okay, so maybe itís not really a time traveling device, but itíll certainly give you a thrill. Every cart is circular and youíll spin around as you go down the roller coaster track.
Entrance to Primeval Whirl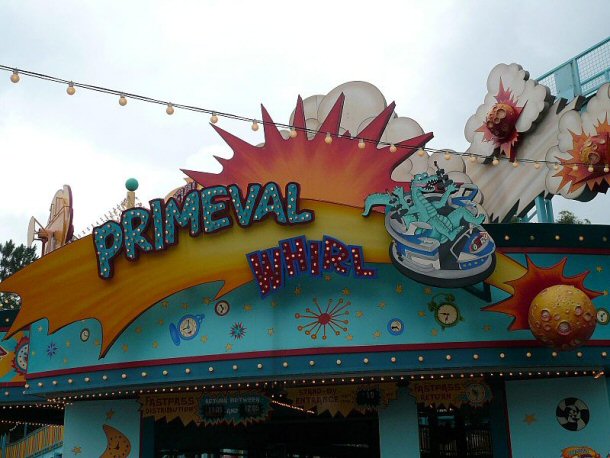 By Michael Gray, via Wikimedia Commons
This carnival style ride attraction takes you through dips and turns. Youíll fly by cartoon dinosaurs, fossilized jigsaw puzzles and more. The dinosaur theme may not be all that impressive as an adult but the ride itself is pretty entertaining. Itís certainly one of the more difficult to ride attractions in that youíll have to hold on pretty hard. Itís certainly not for anyone with a weak stomach, either. The spinning doesnít stop right until the end and it simply doesnít compare to anything else in the whole resort.
Primeval Whirl Coaster in Action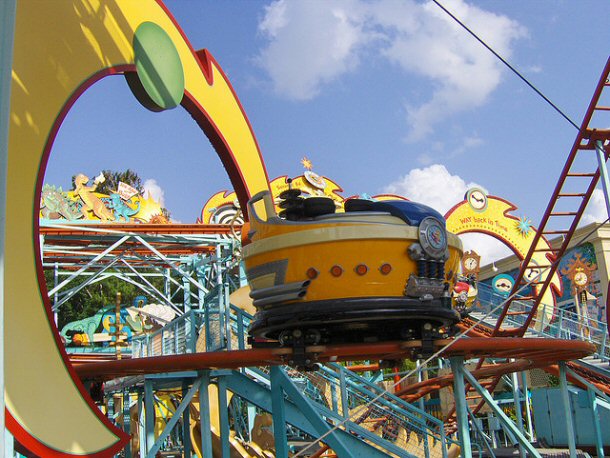 ---
9) Space Mountain
Space Mountain is another popular attraction among the older guests and teens, the ride makes it feel like youíre traveling at stupendous speeds throughout outer space. Youíll be boarded into a rocket vehicle and when all system are ready, youíll ascend 180 foot up a virtual mountain and launch into the deep universe. The ride is accompanied by sound effects and music, it'll feel as if you are literally shooting past satellites as well as stars during your simulation journey.
Space Mountain view from the Monorail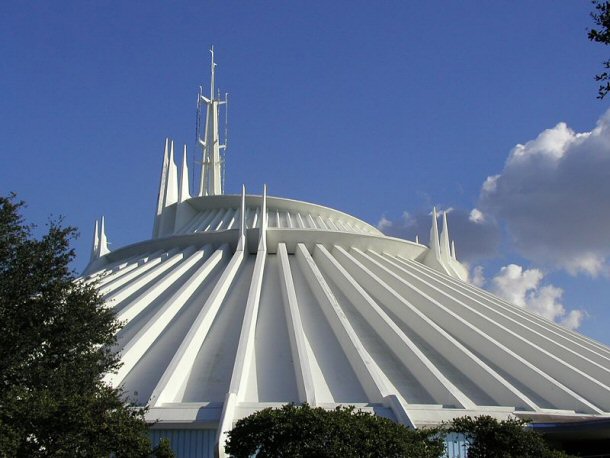 By Benjamin D. Esham, via Wikimedia Commons
Youíll also feel gravity pushing and pulling on you as you enter into a wormhole that brings you back firmly onto the ground. It might sound strange but the ride is even approved by a NASA astronaut. The idea came about in the late 1960s but it was only in 1975 that the technology became available to make the attraction work. Gordon Cooper, an astronaut from Mercury 9 and Gemini 5, approved the ride and immediately made it a popular attraction. It still holds up today as one of the best rides in the resort and itís definitely worth trying!
Space Mountain Ride


By William M, via Wikimedia Commons
---
8) Big Thunder Mountain Railroad
For the big kid at heart, Big Thunder Mountain Railroad is another great ride to try. The idea behind the attraction is that the train carriages and general surroundings are possessed by the ghosts of dead gold miners who were killed in a flood. The ride is often enjoyed by children but itís certainly not designed specifically with children in mind. It is a jolty, unpredictable ride that has twists and turns across the track, taking you indoors and outdoors.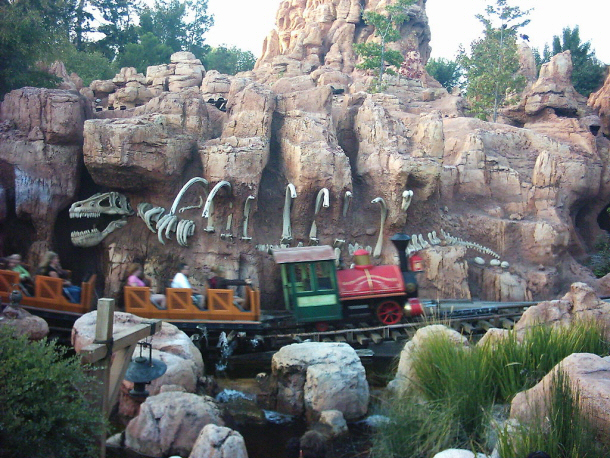 The first version of this ride opened in 1979 and the second updated version appeared in 1980. The whole ride is designed and based on Re Rock Canyon and it has a less Ďtameí offering than similar Ďghost trainí rides, meaning itís not ideal for small children or the disabled. Its maximum speed is 30 milers per hours and there are three lifts, two indoors and one outdoor.
---
7) Splash Mountain
Splash Mountain is another really fun ride at Disney World, and while popular with kids, itís just as much fun for an adult. The thrill ride will be sure to get you wet, so donít get on board unless youíre willing to get soaked! This is a log flume ride that travels much further than most as it drifts down a long and meandering river that passes through many sites.
The log flume ride is based on the classic 1946 Disney tale called Song of the South, where a crafty rabbit is being chased by a bear and a fox who are trying to eat him. The ride follows the adventure of the rabbit and includes more than 950,000 gallons of water. There are three dips and the waterfall is five stories high! Itís invigorating, fun, wet and hilarious, great for people of any age as long as youíre not afraid of water.
Splash Mountain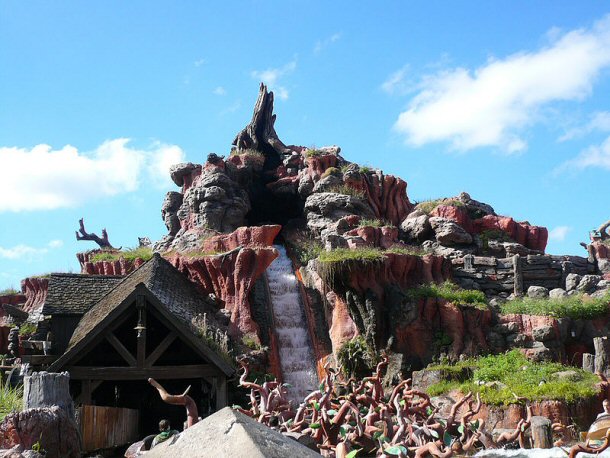 By Michael Gray, via Wikimedia Commons
---
6) Fantasmic
Fantasmic in Disney World can be found in Sunset Boulevard, it's a 30 minute fireworks and water extravaganza can be experienced by everyone. Itís not so much a ride but more an experience, where immersive effects and animatronic figures are accompanied by some of the most amazing technology. It really brings Disney to life and while it may well be enjoyed by a young audience, the 30 minute show dazzles everybody who witnesses it.
The fireworks and water show features characters from The Lion King, Aladdin, Cinderella, The Little Mermaid, Peter Pan, Sleeping Beauty as well as Beauty and the Beast. To make it more interesting is that it's interrupted by the Evil Queen and other evil characters from Disney. Mickey eventually saves the day using the power of imagination and the amazing finale will bring out your inner child.
---
5) Great Movie Ride
The Great Movie Ride can take you right into the movies and gives you an incredible 18 minute tour of some of the most famous movies to ever come out of Hollywood. The slow ride can be found in Hollywood Boulevard and it lets you relive some of the most incredible moments in movie history. You can become a part of the movies by acting and posing along side audio animatronic replicas of movie stars from Aliens, Casablanca, Fantasia, Mary Poppins, The Wizard of Oz, The Public Enemy as well as many more.
Your tour will even include a full reproduction of the Grauman Chinese Theater, complete with footprints, handprints and signatures of some of the biggest stars from the world of Disney.
---
4) Pirates of the Caribbean
The Pirates of the Caribbean raft ride is incredibly popular with teenagers and adults at Disney World. The raft ride features drops and dark passages, itís a great way to feel what life was really like during these pirate ages. The raft tour will take you through the Old World and the trip will be accompanied by the sound of the well known anthem "YoHo, YoHo (A Pirateís Life for Me)" that was sung by Captain Jack Sparrow in the film.
Pirates of the Caribbean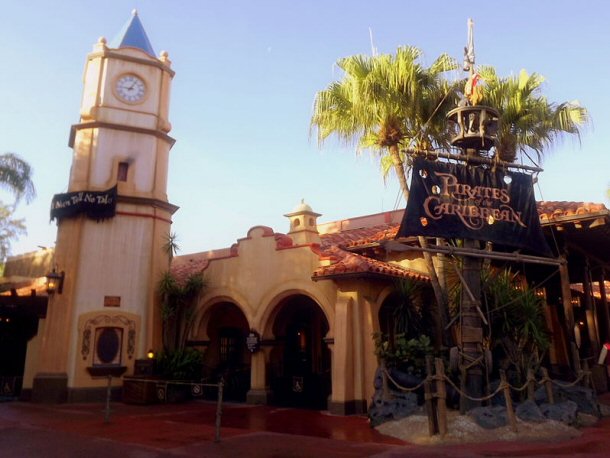 By Mttbme, via Wikimedia Commons
Once you have experienced the 17th Century on your tour, youíll also be able to experience some of the replica scenes from the movies that include the Pirate Grotto. The grotto is home to the Hurricane Lagoon and the Dead Manís Cove, which gives you an insight into what pirates had to live like when sailing. Thereís also the town square and The Fort, which let you learn more about the life of regular people in the 17th century with pirates. It also explains how war worked with such limited technology at the time.
The attraction was first designed to be a wax museum and wasnít initially designed to be specific to the Pirates of the Caribbean. At first, it was simply a pirate attraction and after the New York Worldís Fair, Walt Disney decided that audio animatronics were the best way to bring pirates to life.
Three years after the fair, in 1967, the pirate themed attraction opened in Disney World with some of the most modern and impressive special effects of the time. Today, the attraction is as popular as ever and features updated animatronic technology.
Inside the Pirates of the Caribbean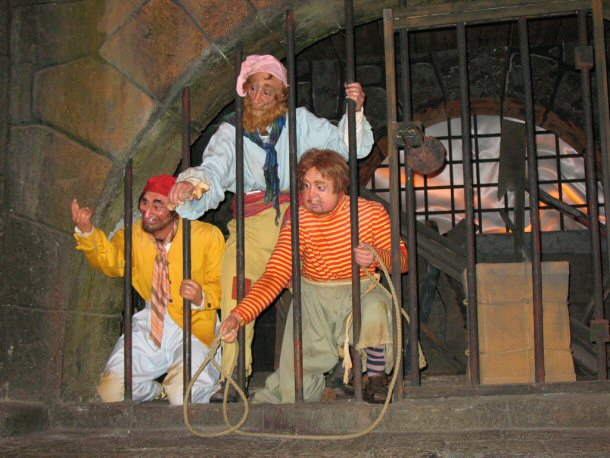 Courtesy of www.deviantart.com
---
3) Ellenís Energy Adventure
Ellenís Energy Adventure is an Epcot attraction that features a 45-minute look at time, space and energy through multimedia outlets. This is a talk given by famous TV show host Ellen DeGeneres and accompanied by the one and only Bill Nye the Science Guy. During the talk, you will encounter some of the biggest prehistoric creatures and youíll learn how the fossil fuels that are used today were formed from ancient life forms as well as organic matter. The smell of prehistoric swamps will be pumped into the room and youíll see how volcanoes really look when they are erupting.
Ellen's Energy Adventure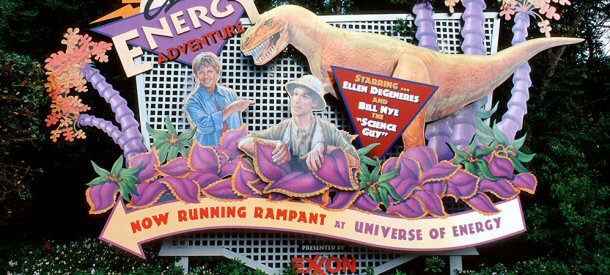 The journey back in time will include surround cinema as you experience the Big Bang, the event that is thought to have begun the very universe that we live in. After all of the visuals have finished, Bull Nye the Science Guy joins Ellen to talk about energy and the problems that we face today. It may sound like a lesson in science but itís really fun. Itís a great way to inform the kids and keep adults interested who enjoy science as well as care about their environment.
---
2) Studio Backlot Tour
The Studio Backlot Tour is another popular attraction, where you can go behind the scenes of some of the most famous movies and see how the special effects were created. Itís classified as a slow ride but itís certainly one of the more enjoyable attractions for older guests.
Studio Backlot Tour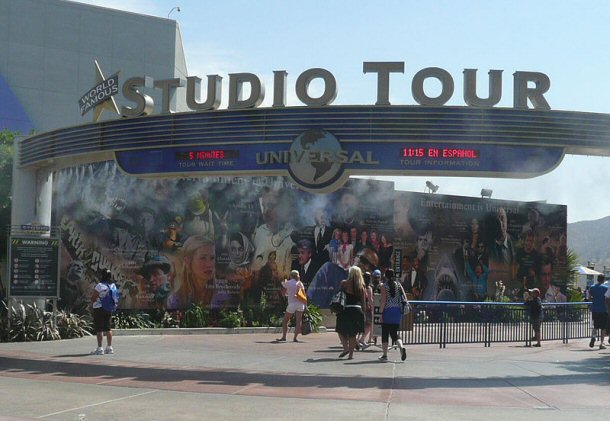 By Anothercountry, via Wikimedia Commons
A particularly exciting part of the Studio Backlot Tour is the demonstration of a sea battle in warships and airplanes. You can become a part of the harbour attack, looking out from an observation deck to see how sea battles are filmed and later edited to create the amazing scenes we see in modern as well as older war movies.
If youíd like to properly take part in the harbour attack demonstration then be sure to arrive early. Tell cast members that youíd like to be a part of it and they will fit you in if other people have not already volunteered for all of the available roles. Not all requests can be granted but if you arrive early enough, you can certainly be a part of the re-enactments.
Thereís also the tram tour that takes you to Catastrophe Canyon, this tour begins after the harbour attack show and it takes you to the backlot where all of the props are housed from a wide range of Disney movies.
Some of the warehouses can be walked through, where you will recognize a number of familiar items from your famous movies and get straight back on the tram to see even more of the Hollywood sets. Some popular things to see during the tram tour are Earful Tower, creative costuming, The Boneyard that features vehicles from Who Framed Roger Rabbit?, The Love Bug, Herbie and the backstage area of the Extreme Stunt Show.
Finally, you can take a detour during the second part of your trip and see what a real movie set is like. You can make your way across rickety bridges, watch fireballs shoot from tanks and see how a wide range of special effects are made right there on the set.
Back to the Future Movie Set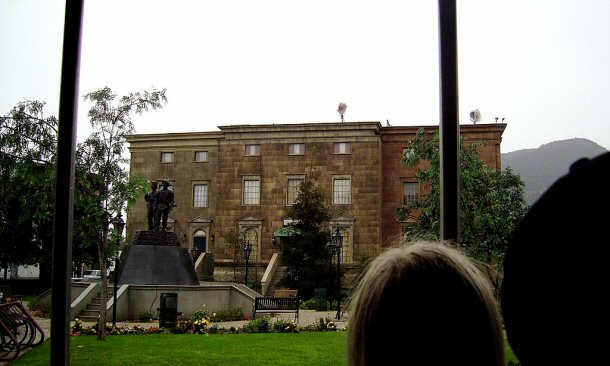 ---
1) Itís Tough to be a Bug!
Ever wondered what bugs actually do, other than creep you out when they appear under your cupboards or on your ceilings? The "Itís Tough to be a Bug" exhibit at Disney World is a great way to learn about insects and the importance they add to our lives. This is considered a little too scary for younger kids but if you are with older kids then itís perfectly suitable. Itís also great if youíre without the company of children! Part of the charm of Disney World is that it is educational as well as fun and Itís Tough to be a Bug! finds the perfect balance between these two things.
It's Tough to be a Bug! Entrance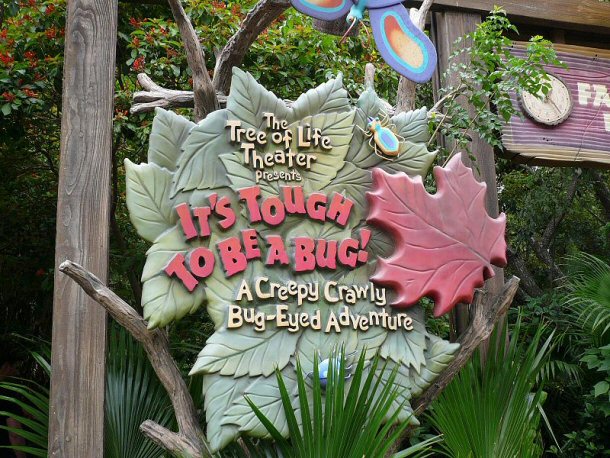 By Michael Gray, via Wikimedia Commons
This ride will see you walking along a long and winding pathway that is surrounded by tangled branches, roots, carvings of animals and depictions of the Tree of Life. This is all found within the Animal Park on Discovery Island. Once you get inside the actual ride, youíll be given 3D glasses before being shown to a seat in the theater, which holds more than 400 people.
The show takes inspiration from the Disney classic "A Bugís Life" and shows you what itís like to be an insect by showing you a film from the perspective of a bug. With the 3D glasses, it feels just as if you have been shrunk and placed into a bugís habitat, making this a truly interesting once in a lifetime experience.
This particular attraction was even popular before "A Bugís Life" even existed, as the concept was surrounded solely around insects. It was later that the characters from the movies made an appearance. Today, itís an incredibly popular attraction that shows off some pretty incredible technology and lets you learn about what it is exactly that bugs do for us.
---
Conclusion
With Disney World, you can do more than just keep the kids happy. In fact, these are only 15 of many other attractions found throughout Disney World that are great for adults. On top of the huge amount of restaurants and bars, there are numerous rides available that are educational and fun. In addition to ride, there are shows and events that are bound to catch your interest.
Be sure to read more about whatís available at Disney World. You might be impressed and surprised by how much is available for adults attending the famous theme park and resort "for kids".
Disney World Articles
Top 15 Disney World Rides for Adults
Top 15 Disney World Rides for Kids
Top 15 Disney World Resorts for Adults
Top 15 Disney World Resorts for Kids
15 Fascinating Facts About Disney World
Top 15 Fun Things to Do at Disney Worldís Animal Kingdom
Top 15 Fun Things to Do at Disney's Hollywood Studios
Top 15 Fun Things to Do at Disney World's Epcot
Top 15 Fun Things to Do at Disney Worldís Magic Kingdom
15 Interesting Facts about Walt Disney