Top 15 Disney World Rides for Kids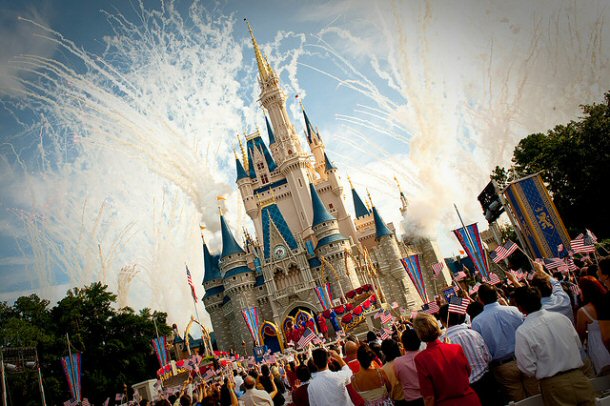 Disney World is more than just a place for kids to have fun these days, it's a resort that has something for everybody. You can find fancy restaurants and children playgrounds to more teenager as well as adult oriented rides. Disney World remains a getaway to keep the kids happy for most families and for this reason, finding the perfect rides for your young ones is really important.
Disney World has four parks and two waterparks to choose from, meaning there are a huge number of individual rides to get around. Magic Kingdom has around 20 rides, Hollywood Studios has roughly 6 rides, Epcot has around 10 rides and Animal Kingdom has about seven rides as well as four shows. In order to make the most out of the time you have at the resort, particularly if you are only there for a day or two, it's important to plan your journey and make your way to the very best rides on offer. Luckily for you, we have the top 15 rides right here that are ideal for families with young kids!
---
15) Spaceship Earth
Spaceship Earth is an attraction in the Epcot park of Disney World, where you step into a huge geosphere to explore the many ages of human communication. This iconic structure appears as a huge ball and it lets you travel back in time to nearly all of recorded history. You'll discover paintings on cave walls, the invention of papyrus by the ancient Egyptians and the Greek systems of mathematics. The enthralling journey is great for kids and adults alike, it's a great way of combining education with fun.
The sphere has audio animatronics inside that provide a narration of the story of man by international super start Dame Judi Dench. The ride lasts for 16 minutes and at the very end of the ride, children can design the future that they want on touch screens. After experiencing the past, children will be able to answer a number of pre-designed questions then the screen will show them the future that they have designed. It's exciting, fun, educational and nothing like any other ride in the world.
Spaceship Earth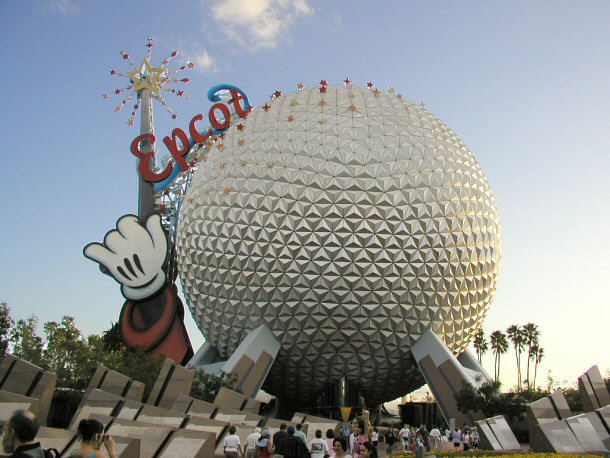 By Benjamin D. Esham, via Wikimedia Commons
Spaceship Earth Inside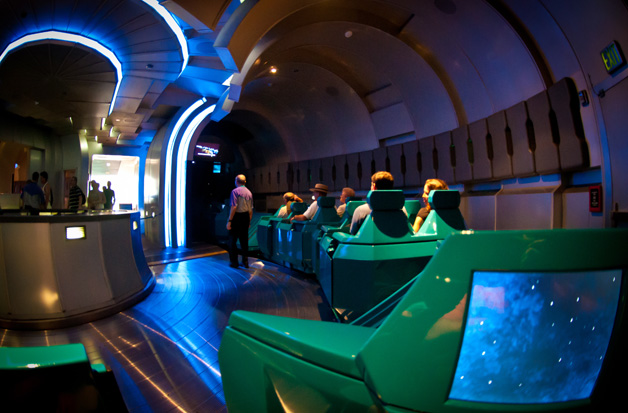 ---
14) Splash Mountain
Splash Mountain is a favorite of many adventurers at Disney World and is described as a thrill ride for kids, tweens, teens as well as adults. This is a log flume ride unlike all the others that lets you visit different areas of the park as you travel down a long and winding river in your hollow log. You'll eventually hit a huge five story splash down.
The ride will have you drifting through caves, visiting swamps and meadows then you'll be accompanied by Br-er Rabbit. The ride is ideal for kids as it has more than 100 different talking and singing audio animatronic characters throughout. This brings life to the ride and lets kids experience a huge range of Disney characters as well as stories.
The ride is based on the classic "Song of the South" from 1946, which sees Br-er Rabbit embarking on an adventure and trying to outwit Br-er Fox as well as Bear who both want to eat him. It's not the best known story among kids but it's certainly a popular ride in the resort.
Splash Mountain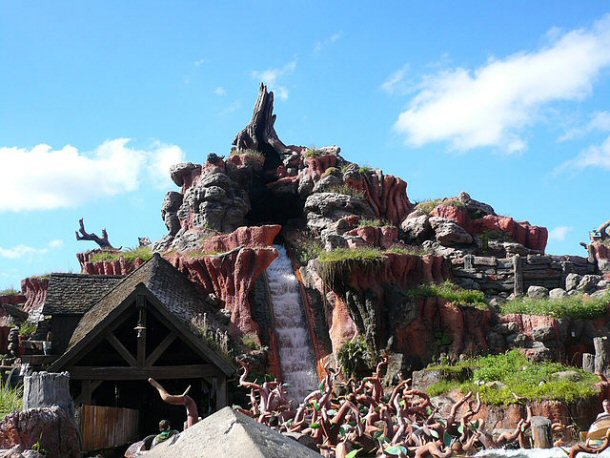 By Michael Gray, via Wikimedia Commons
Splash Mountain Ride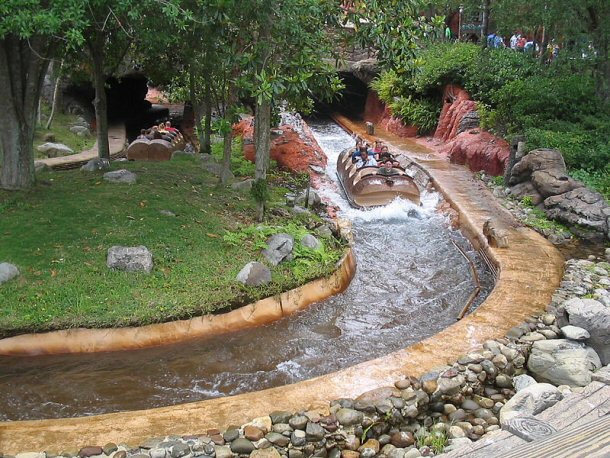 By M.Minderhoud, via Wikimedia Commons
---
13) Maelstrom
Found in the Epcot attraction area, Maelstrom takes you all the way to Norway and back. This ride is available for kids of any height and features just a few small drops that are exciting but not enough to scare young children. The ride is a mysterious and exciting boat ride that takes visitors through swamps, seas as well as rivers that are inhabited by a wide range of magical creatures.
The boat is designed as a 10th century warrior longship and the ride takes you through Norway during days gone by. You'll encounter huge trolls and mysterious creatures then narrowly miss oilrigs as well as other large obstacles with each turn that your longship makes. There's even a 28-foot diagonal drop at the end, which sees the boat speed up and come to an impressive halt at the end of the ride. Available 'til 9PM, this is a great one for the whole family.
Maelstrom Entrance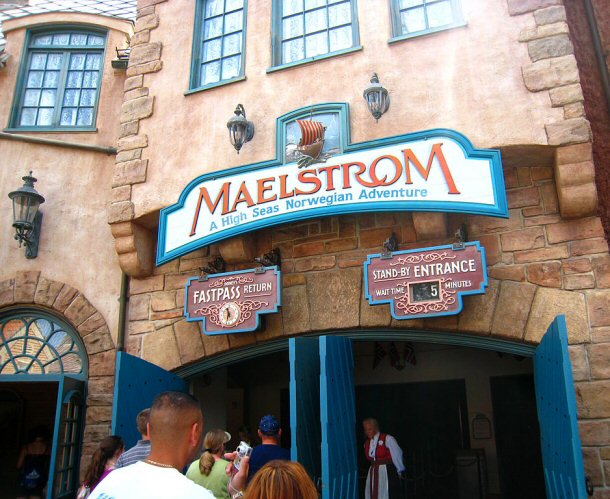 By Kjersti Holmang, via Wikimedia Commons
Maelstrom Ride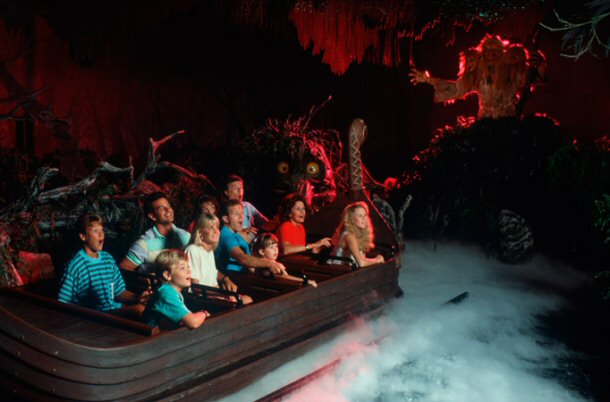 ---
12) Pirates of the Caribbean
The Pirates of the Caribbean began as a movie featuring Johnny Depp and soon became one of the biggest as well as best tales in the movie industry. Featuring Johnny Depp, the original movie sparked interest in a number of sequels and today it's enjoyed by teenagers as well as adults alike. You'll find a great Pirates of the Caribbean ride that is suitable for kids, tweens, teens and adults. Taking away some of the more adult themes found in the movie, this ride affirms that it's the Pirate's life for you!
The ride sees you set rail on a voyage to a long gone time where privateers and pirates commanded the oceans. You'll be able to visit the Pirate's Grotto that features the Hurricane Lagoon and Dead Man's Cove. There's also The Fort that has a 12-gun galleon and a shadowy bay to wander through. There's even a Town Square, Burning City and a Dungeon where you can come face to face with Pirate's in trouble with the law.
Pirates of the Caribbean Entrance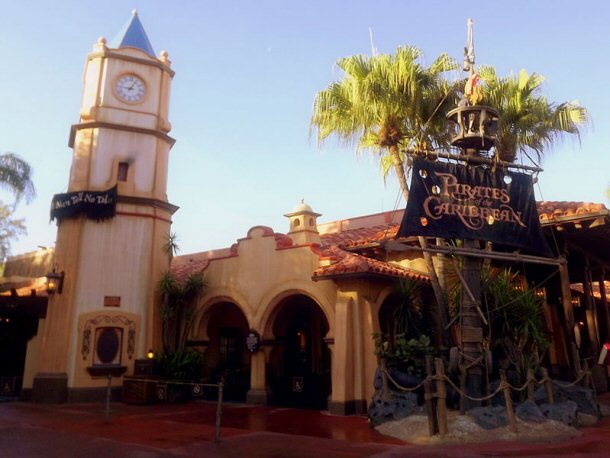 By Mttbme, via Wikimedia Commons
Pirates of the Caribbean ride with Jack Sparrow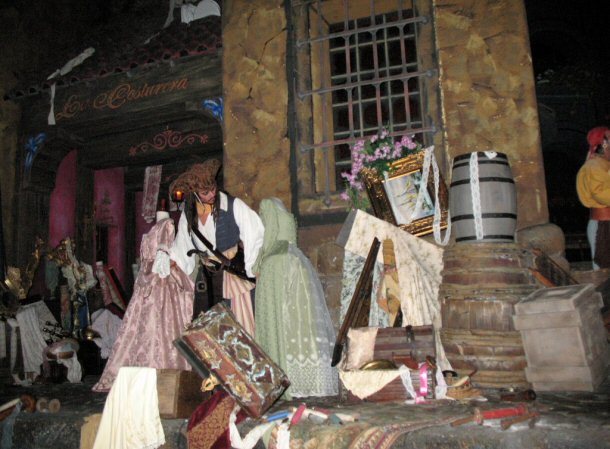 By WDWParksGal-Stock of www.deviantart.com
---
11) The Seas with Nemo and Friends
Another popular Epcot attraction, The Seas with Nemo and Friends is immensely popular with young children. The colorful ride lets you experience the characters from the famous Disney Pixar movie "Finding Nemo". You and the kids can go on the hunt to find Nemo, just like the movie, where you can board a clamobile and descend beneath the sea. Nemo and his friends will swim past you then you'll have to weave between underwater mines as well as escape from Bruce the shark.
After you've found Nemo, you'll be able to experience the huge 5.7 million gallon aquarium where real life versions of the fish found in the movie are homed. Kids can see clown fish in real life and see sharks swim past them in these huge tanks. You can walk at your own pace and enjoy teaching activities, where the young ones can learn about fish in their natural home under the sea.
The Seas with Nemo and Friends Entrance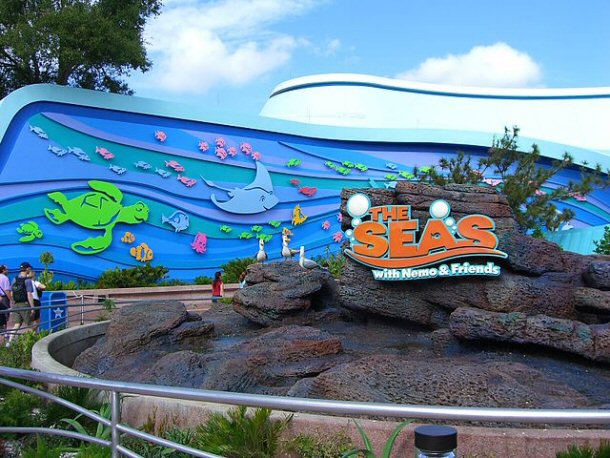 By Reywas92, via Wikimedia Commons
\The Seas with Nemo and Friends Inside Aquarium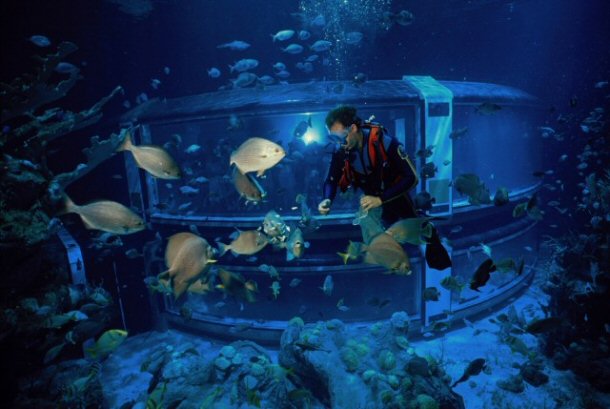 Courtesy of wdwnews.com
---
10) Buzz Lightyear's Space Ranger Spin
Experience Toy Story in real life with Buzz Lightyear's very own attraction in Disney Land! This ride, suitable for all ages from pre-schoolers up, lets you fire lasers to defeat the evil toy Zurg. The ride follows the story from the original movie that has the toys out to destroy Emperor Zurg, a robot mastermind, who has developed a new weapon of destruction. The attraction will see you teaming up with famous characters from the movie and score points by shooting the evil robots as you fly through in a specially made cart.
You'll be taking aim as your cart is spun round and infrared laser sensors will give everyone a point for each toy they successfully hit. At the end of the ride, you can compare scores and see who did best. Don't forget to get a photograph of you and the kids delightfully shooting away to save the world from Emperor Zurg.
Entrance to Buzz Lightyear's Space Ranger Spin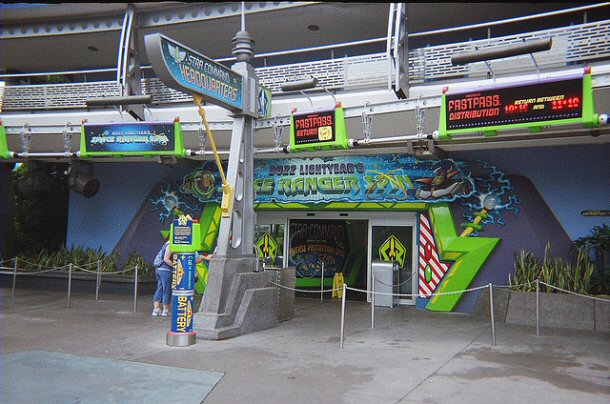 Buzz Lightyear's Space Ranger Spin Inside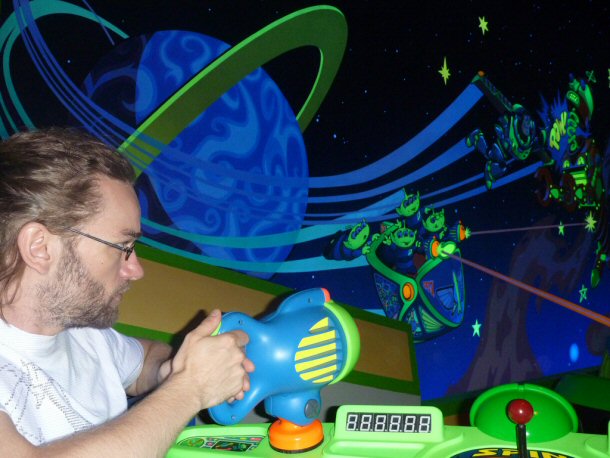 ---
9) The Haunted Mansion
Get spooked with kids, tweens and teens at the Haunted Mansion that is described as a "spine-tingling tour- through a haunted estate". The tour will see you hunting ghosts and avoiding spooky spirits. The large traditional house plunges into the dark and has been functioning since 1971, proving it's a popular attraction!
The first major attraction here is the ghost hunt, where the voice of a disembodied sole will guide you through their estate from room to room but you'll have to find your way out. You'll be able to take part in a séance that's hosted by Madame Leota and all around you people as well as things will materialize.
You can freely walk through the Grand Ballroom, the Portrait Chamber and the Graveyard. This experience lets you make up your own adventure and kids can enjoy the thrills of moving portraits, haunted parties as well as singing from beyond the grave.
The Haunted Mansion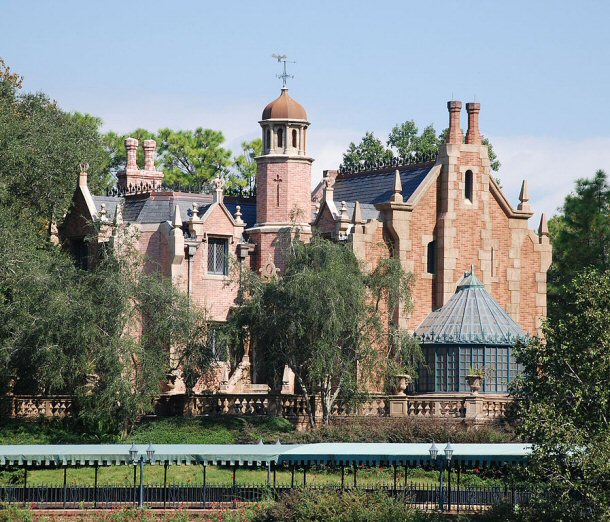 By SteamFan, via Wikimedia Commons
---
8) Mission: Space
Another famous Epcot attraction, Mission:Space, sees kids, tweens and teens experiencing space travel like they've always dreamed of. This is the closest you'll come to the red planet and the rest of our solar system, giving you an experience of what it's like to travel to our of space in modern NASA technology.
A popular feature is the "Rocket to the Red Planet'", where you can board a rocket and fulfil your dream of being an astronaut. You'll be lowered into a harness, be given a simulated experience of what it's like to orbit around the moon, enter hypersleep and later on land on the surface of Mars.
You can choose the level of intensity that you prefer, making Mission: Space a personalized experience that you can design to suit your children of different ages.
Mission Space Entrance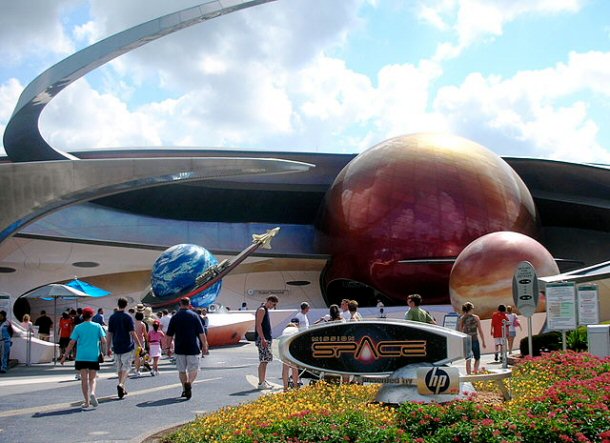 By UpstateNYer, via Wikimedia Commons
---
7) Peter Pan's Flight
Peter Pan is an incredibly well known Disney story for youngsters and older folk alike, making this a great chance to spend some time with the kids enjoying a classic tale. This attraction has small drops and slow rides that can be ridden by people of any height. The attraction lets you sail into the sky with Peter Pan and get on board a galleon. With a dash of pixie dust, you and the kids will embark on an adventure in the sky. Pass unforgettable scenes and characters that made the Peter Pan story so famous.
You'll glide by the Lost Boys, Skull Rock, Pirate's Cove, Mermaid Lagoon and other unforgettable characters as well as scenes from the movie. The ride even takes you through London, where you will fly over Big Ben and right through Tower Bridge.
Peter Pan's Flight, Front of the Building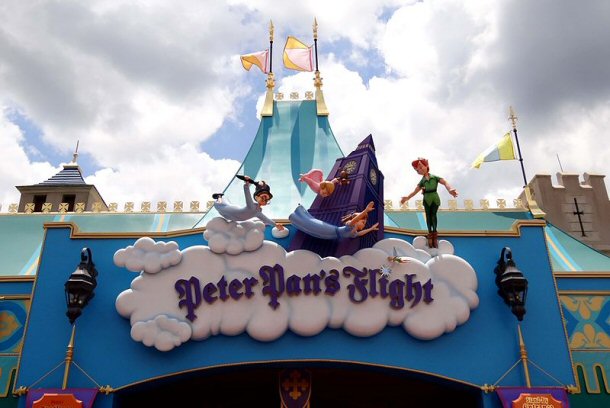 By Kjersti Holmang, via Wikimedia Commons
---
6) It's a Small World
Magic Kingdom presents It's a Small World, an exciting Disney adventure that is adored by pre-schoolers and young kids. You'll get on board a magical, whimsical and fantastical boat that will take you through a colourful wonderland. Dubbed the "happiest cruise that ever sailed", this attraction will take you all over the world! Sail to the British Isles, Western and Eastern Europe, the Middle East, Africa, Asia, Scandinavia, Antarctica and Australia. Before it returns you home, you'll meet children from all over the world who unite and sing you a finale song.
Easily the most colourful ride in Disney World, this attraction is educational, fun and will have you singing songs for the rest of the day. You may also enjoy the authentic attire of all the animatronic children throughout the ride, who show kids the diversity on our planet and the rich culture that comes from each continent.
It's a Small World Outside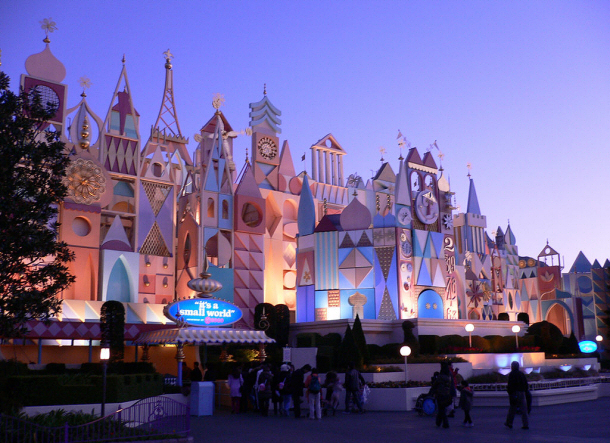 By ARICAD, via Wikimedia Commons
It's a Small World, Africa Part of the Ride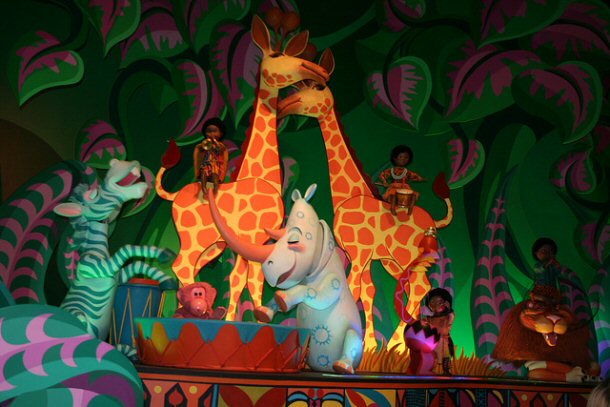 ---
5) Star Tours
Star Tours can be found at the Hollywood Studios Attractions area of Disney World and it's a great event for kids as well as adults of all ages. This attraction celebrations the epic motion picture Star Wars and takes you through a number of eras of the movie by giving you an insight into its production. This is a wonderful chance to experience simulations and some incredible sights.
The most invigorating part of the tour is a simulation that includes three-dimensional video, animatronic figures and a cockpit. You'll feel like you've been placed right into the movie as you take off from planet Earth and take off on a Star Wars style adventure.
The whole attraction lets you explore a number of adventures, giving you a choice between 50 different story combinations. It's an experience that you won't get anywhere else and perhaps the only time you'll ever be able to save Princess Leia!
Star Tours Entrance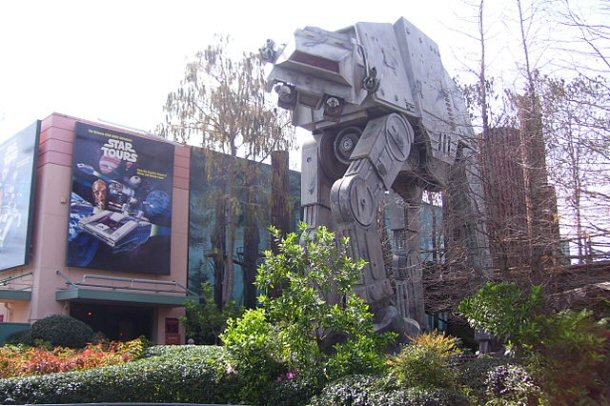 Star Tours Inside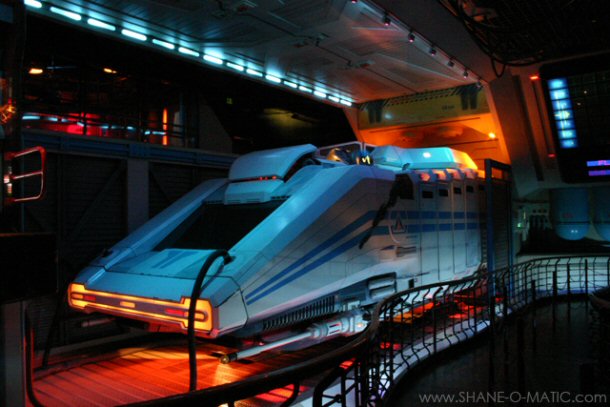 ---
4) Kali River Rapids
The Kali River Rapids are fun for the whole family, giving you all the chance to tour a gorgeous jungle landscape and be enthralled by the drops, spins, twists as well as turns of the river you'll be traveling down. This rafting experience has some physical considerations and is not suitable for the disabled because it requires you to hang on hard as you turn corners then drop down sharp bends.
The tour will take you through elephant squirters who are located above a bridge and these are free to operate, meaning that random strangers passing by can squirt you as you you trundle down the river.
The ride even comes with a message, the earth is important to us! The first jungle you pass through has been destroyed by illegal logging but by the end of the ride, you'll see how beautiful the jungle can be when people take care of it. It's a great way to show your kids the problem with modern society and explain to them from an early age that it's important to take care of the natural environment.
Kali River Rapids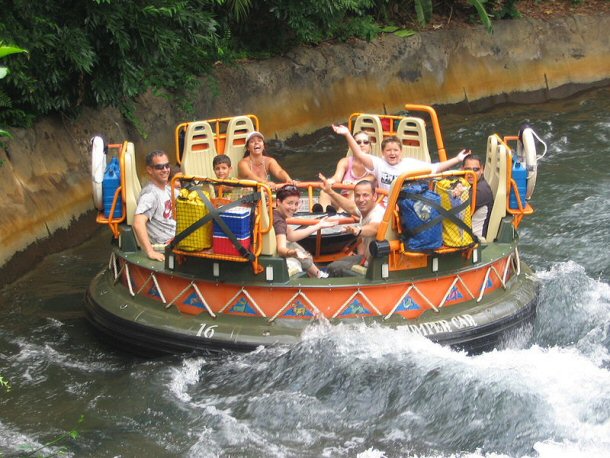 ---
3) Expedition Everest
Expedition Everest is suitable for kids from an early age and takes you through the Himalayan mountains on a speeding train. You'll be running from the Abominable Snowman and have the chance to venture through stone structures in Disney World's very own Tibetan style ruins. You'll enter at the foot of Mount Everest and make your way through museums about the Yeti before you board your train.
The train will take you up a number of large hills that overlook a vast forest and you'll climb a steep hill to the summit. Once you're at the top, you'll begin the exciting and speedy descent down Everest then eventually come to a halt. A broken track lies in front of you and you'll begin racing down the mountain past a shadowy Yeti. Don't tell the kids what's coming because they'll absolutely love the surprise of meeting this scary, legendary creature.
The train then hurtles another 80 feet down the mountain and twists through rocky caves while the yeti chases you. At the end, you'll be able to explore other parts of the Everest mountain, learn more about the legend and explore the modern study of the Abominable Snowman.
Entrance to Expedition Everest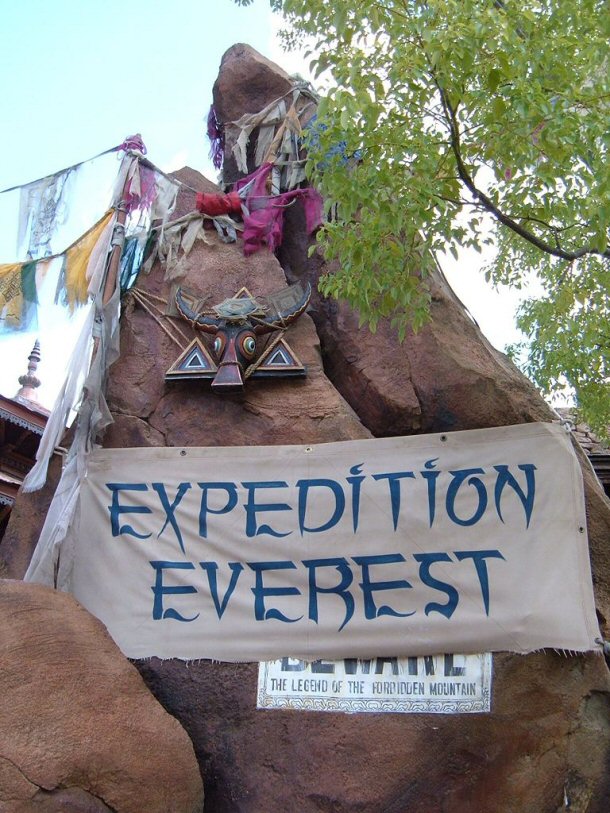 By BrokenSphere, via Wikimedia Commons
Expedition Everest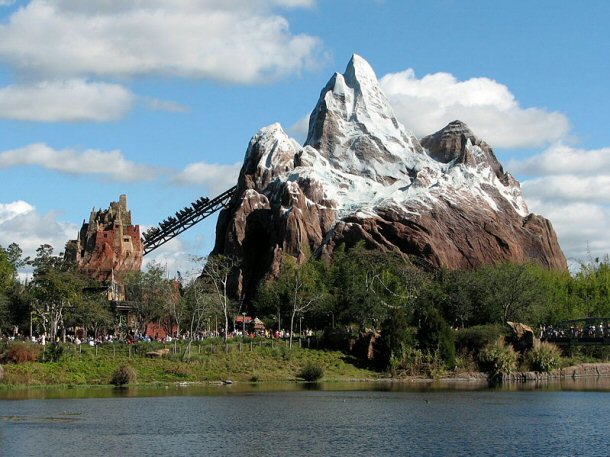 By bdesham, via Wikimedia Commons
---
2) Soarin'
Soarin' is hugely popular with kids of all ages, guests will enjoy small drops and relatively slow movement through this invigorating yet eventful ride. You take flight and fly above some incredible views of California and the experience is comparable to hang-gliding by giving you some of the most beautiful views of redwood forests, rolling waves, ski slopes as well as the Golden Gate Bridge. This interactive experience comes from the amazing IMAC projection dome, which is 180-degrees across. You'll be lifted 40 feet in the air and then surrounded by immense panoramas that make you feel as if you're really flying over these amazing vistas.
During the time spent "in the air", you and the kids can enjoy a number of games. Race with other flying contraptions, collect treasures as you fly a hot air balloon, pop balloons to reveal pictures on the IMAX dome or even create your own virtual landscape by planting seeds and moving the mountains that around you. It's an incredibly interactive experience and a feat of human innovation along with engineering. It's no wonder that Soarin' has quickly become one of the most popular attractions for kids and adults alike.
Soarin' Theatre Ride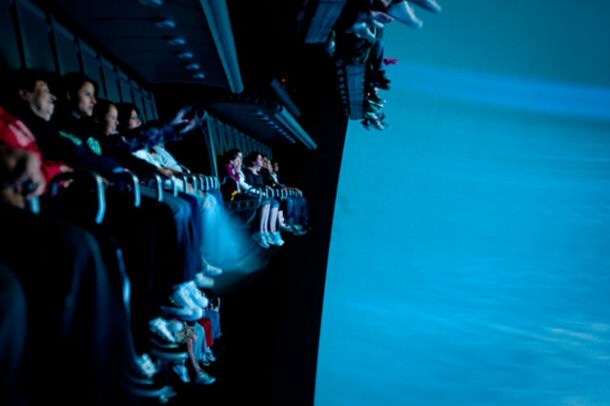 By Josh Hallett, via Wikimedia Commons
---
1) Toy Story Midway Mania!
"Toy Story Midway Mania!" comes at the top of our list of the 15 best attractions and rides for kids at Disney World. This attraction features characters and scenes from one of the most popular Disney Pixar movies ever made. Kids and adults alike can enjoy this Hollywood Studios ride regardless of height. You can experience a number of games and activities throughout the ride.
"Playtime!" will see you climbing aboard a Carnival Ride Tram inspired by 20th century rides, where you will begin an action shooter game. You'll be equipped with 3D glasses and plunged into a Toy Story experience. You'll be shooting moving 3D objects as you battle alongside your favourite Toy Story characters.
You can also enjoy a number of games of skill, like Hamm and Eggs. Hamm and Buttercup will accompany you as you knock down targets using hard boiled eggs, you can even play darts with Rex as well as Trixie. This game sees you popping balloons over a volcano and the green army men haven't been forgotten, either! The third game lets you break plates with baseballs with the green men at their very own firing range then you can enjoy ring toss with Buzz Lightyear and even a shootin' gallery with Woody.
The experience is packed full of games and characters that will be sure to bring a smile to the face of any child as well as keep them amused for hours. It's simply a must see for any family that are visiting the world famous Disney World in Florida.
Entrance to Toy Story Midway Mania!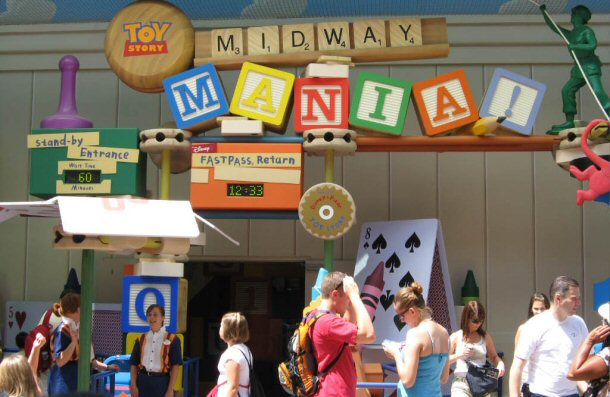 By McDoobAU93, via Wikimedia Commons
Toy Story Midway Mania! Inside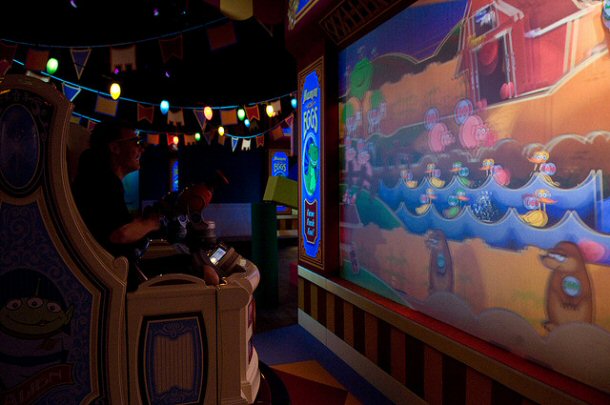 ---
The Resort
Disney World is one of the most famous places on earth to go for rides and attractions. This amazing resort is packed full of characters and stories from the extensive Disney franchise, it has become the 'go to' place for parents who want to give their children the trip of a lifetime. These are just some of the attractions found within the resort but across its four parks, you'll find plenty of other rides as well as attractions that will bring laughter to your child.
Deals are available all the time, particularly in Spring. You'll find that between the middle of February and the middle of June, you can save up to 30% off your room at the resort. You can get bundle park tickets for a fraction of the regular price at this time of year and take six day package deals from travel agents all over the country that offer discounts as well as special extras.
In addition to saving money, you'll be able to enjoy the height of technology in the resort. You will have access to Internet connection, some of the biggest IMAX theaters and events that simulate flying through space. Soon Disney World will have finished its transition away from key cards, too. Visitors will soon be able to use wireless wristbands, known as MagicBands, to get in and out of their rooms as well as check into the fast lanes. These bands, when fully integrated into Disney World's systems, will make the resort stand out from every other resort in the world. It will be easy to get around, have some of the most amazing technology on offer and stay in high quality rooms with food available for all.
---
Conclusion
If you want to give your children amazing memories then give them access to some of the best rides in the world and make the one trip they will remember for the rest of their lives by taking them to Disney World. This venue is internationally known and is the only place that youngsters can experience their favorite movies as well as stories as if they're happening right now. You can dine in a castle at the new Fantasyland in Disney World, which features a bridge to Beast's Castle, a gilded ballroom, huge dining halls and a quick service lunch that is served on fine China.
There's something for everybody at Disney World, especially for those who enjoy fancy dining because there's a number of restaurants that serve a gourmet as well as diverse cuisine. The day time can be all about the kids but the nights can be great family time spent in some of the most stunning restaurants overlooking amazing views across the magical venue.
Disney World is bound win the kids over and these rides are some of the best the world has to offer. Be sure to check them out to have the most fulfilling stay at this internationally renowned resort and theme park.
Disney World Articles
Top 15 Disney World Rides for Adults
Top 15 Disney World Rides for Kids
Top 15 Disney World Resorts for Adults
Top 15 Disney World Resorts for Kids
15 Fascinating Facts About Disney World
Top 15 Fun Things to Do at Disney World's Animal Kingdom
Top 15 Fun Things to Do at Disney's Hollywood Studios
Top 15 Fun Things to Do at Disney World's Epcot
Top 15 Fun Things to Do at Disney World's Magic Kingdom
15 Interesting Facts about Walt Disney