Top 15 Disney World Resorts for Kids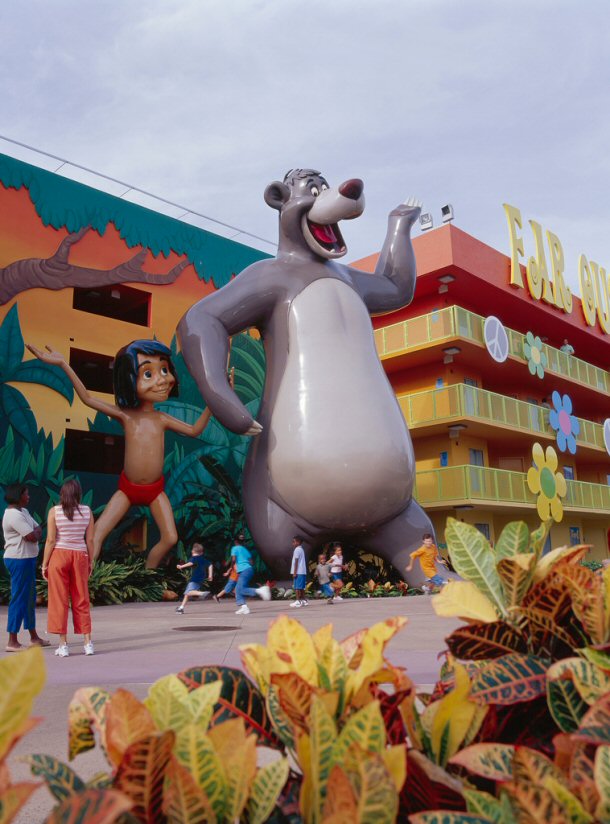 You're preparing for your family vacation to Walt Disney World in Orlando, Florida but there is just one problem, where will you stay? Don't worry because it's a tourist town, there are plenty of resort options that include family friendly ones. Thanks to a number of online travel sites it's not hard to find deals. Once you find a place you like, travel experts recommend reserving it right away because that great deal you found today might not be available tomorrow. While you're looking for a resort, check out these Top 15 Disney World resorts for kids. All of these resorts have garnered a good reputation over the years and all are places that even the pickiest of kids will enjoy.
---
15) Disney Contemporary Resort (Starting at $378 / Night)
The Contemporary Resort was one of the first luxury resorts built inside Disney World and it's the only one where the monorail goes inside the building. The wide open design is completely unique from anything else and kids will love the ability to see the fireworks as well as the Electrical Water Pageant without ever having to leave the grounds of the resort. The Pirate and Pale Fireworks Voyage is a great cruise for kids and leaves right from the hotel.
The proximity to the parks is a major attraction for most parents and children alike. The large rooms the hotel has to offer is wonderful because won't be bumping into each other and the on site pool means you have a great way to cool off after a long day in the Orlando sun. If you are up for a cruise, there is a special one that will accommodate up to 12 people and it picks up from the dock every day. The only thing that many of the kids don't like about this resort is lack of the Disney character motif while you are there.
Disney Contemporary Resort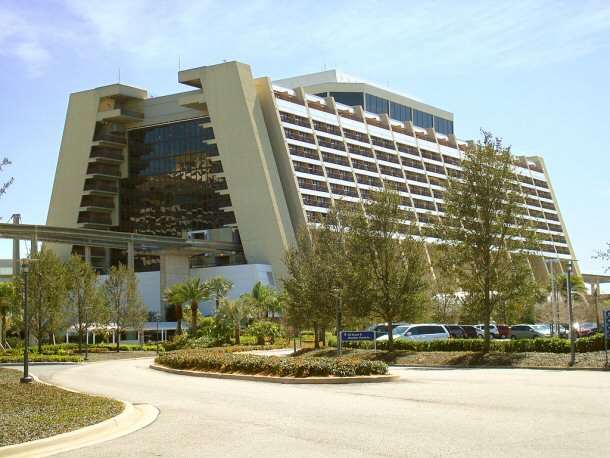 By Csaribay, via Wikimedia Commons
Contemporary Resort Room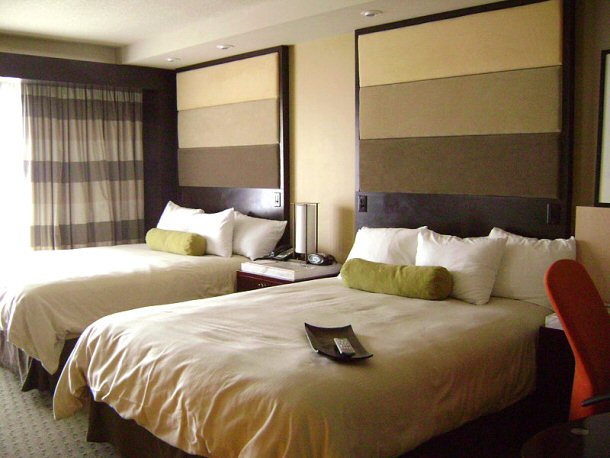 By Matthew Greene, via Wikimedia Commons
---
14) Disney's Yacht Club Resort (Starting at $400.50 / Night)
While the look and feel of the resort may be one that is geared toward adults, there is still a lot for kids to do here and this is really a great place for kids who love the water to stay. They are able to take part in the Albatross Treasure Cruise that is perfect for kids between the ages of four and 10. The cruise departs from the marina every day and comes right back. Another great thing kids enjoy is going on the Illuminations cruise that leaves from the same marina as the kids cruise and parents with really small children will appreciate the on site childcare. If your too tired for a cruise or just want to relax, there is a pool that people of all ages can enjoy!
One of the best features this hotel has is that you are only a five to 10 minute walk from Epcot and Hollywood Studios is only a short boat ride away. This puts just about every section of the resort within a close proximity, so you are able to start having fun as soon as you leave the room. If Disney character themes throughout the resort is something your children want then your going to want to book reservations elsewhere, since there are none at this resort.
Inside the Yacht Club Resort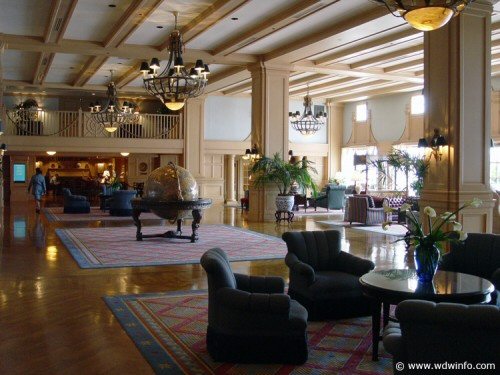 Courtesy of wdwinfo.com
---
13) Disney's Coronado Springs Resort (Starting at $187.88 / Night)
There is a lot to do when you're staying at the Coronado Springs Resort, kids enjoy playing in the Iguana Arcade and swimming in the pool. In addition to being able to take advantage of all of this, kids can take advantage of going to the playground or watching movies under the stars next to the main pool. Just check in with the front desk to see what the movie for the night will be and to ensure that there will be a movie that night before telling your kids that they can go check it out.
If you are hungry then the snack lounge is a great place to pick up something to eat before heading out to the parks. This will allow everyone to have more fun because there won't be any cranky campers to cheer up before entering the happiest place on earth.
Coronado Springs Resort Pyramid Pool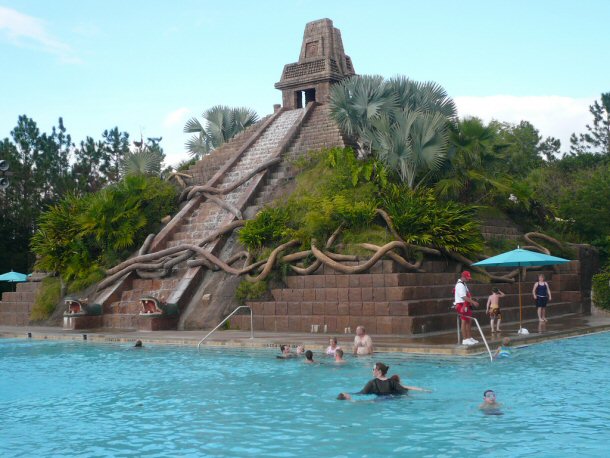 ---
12) Disney's Wilderness Lodge (Starting at $325.13 / Night)
If you like the idea of being close to nature but do not like the idea of being in a campsite then you can opt to stay at Disney's Wilderness Lodge. When you walk into the lodge, you will feel as if you are staying at a cabin deep in the mountains rather than at a resort in the middle of Orlando. This is one of the moderately priced resorts you can stay in that offers rooms quite large in size. In addition to having plenty of space within the room, you will also have access to a fairly large porch for the kids and parents to coexist even if there are inclement weather conditions.
The kids will enjoy the feeling of staying at a lodge without all the camping hassles, the rooms with bunk beds make it even more fun for kids looking for a great room to stay in. The cub's den is a favorite among the small children, while bigger kids enjoy renting bikes and surrey bikes to go exploring around the resort as well as the surrounding areas. There is even fishing that is available and a playground right on the beach that children love playing at.
Wilderness Lodge Inside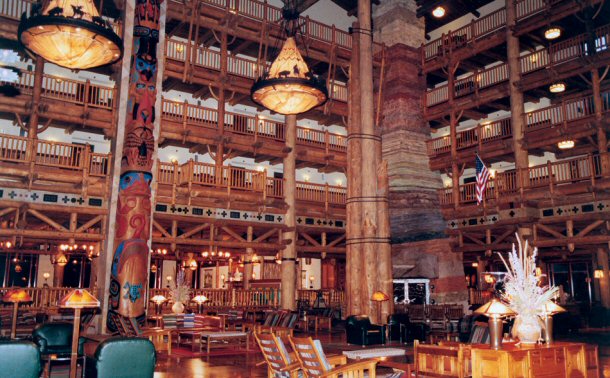 Courtesy of www.thepaintingcompany.com
---
11) Disney's Polynesian Resort (Starting at $482.63 / Night)
Children love staying at the Polynesian Resort as much as parents and the reason why kids love staying at this resort is because of all the great pools that are available. They will feel as if they are staying on an island rather than at just another of the resorts that Disney has to offer. Other than the big pools and tons of places to play, parents as well as children enjoy love that the bedrooms are large enough to keep everyone from feeling cramped inside the room. There are standard and deluxe room plans to give you all the room you need.
On top of the fun you can have while you are staying at the Polynesian Resort, you will also have easy access to the monorail. This provides quick and easy access to the Magic Kingdom as well as to Epcot. It is the only resort that offers the ability to quickly and easily walk to any of the express trains to take you to where you want to go.
Polynesian Resort and Beach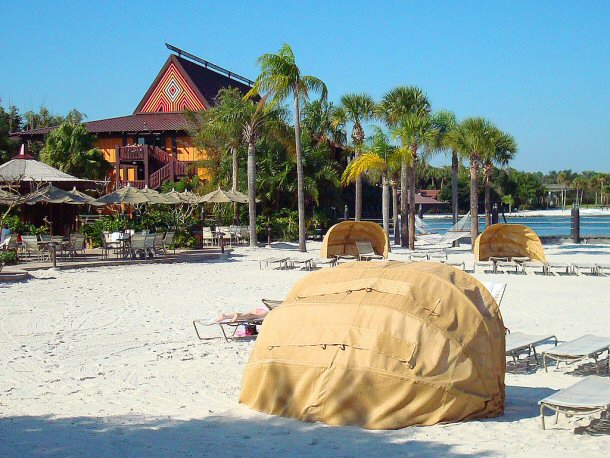 By KahunaChris, via Wikimedia Commons

Polynesian Resort Guest Room


By KahunaChris, via Wikimedia Commons
---
---
10) Disney's Saratoga Springs Resort & Spa (Starting at $367.88 / Night)
When you are staying at the Saratoga Springs Resort and Spa, it's a resort for both the parents and the kids. There are activities that the kids can have fun with where they can do everything from going to the basketball courts to renting bikes and taking a ride throughout the resort. Many of the kids will enjoy playing close to the water on the expansive lawns while others might actually enjoy playing tennis with each other. This is about where the fun ends for the kids and the parents start to have some fun.
The biggest draw for the parents is the fact that there is a spa right on the premises, it's just the kind of thing that some parents need after walking through the parks all day long. Some parents may even take turns going to the park with the kids, while the other has a spa day. This is one of the older resorts that you can stay in but it's still one of the best in terms of accommodations and the kids will enjoy staying here.
Saratoga Springs Resort and Spa Guest Room

---
9) Disney's Boardwalk Inn and Villas (Starting at $411.75 / Night)
If you want to stay close to everything then the Boardwalk Inn and Villas is a great place to stay. In fact, from this location, you are able to walk to Epcot in as short as 10 to 15 minutes. If you are looking to get to Hollywood Studios then you can jump on a boat or walk there as well. This allows you to have less time in which the kids are in the room and more time in which they are in the parks having fun. Kids from four to 10 can have a lot of fun playing around at the Albatross Treasure Cruise at the marina nearby.
The theming of the resort is geared towards people of all ages to enjoy because it gives the feel of walking and staying on a boardwalk might find in several coastal areas around the USA. Walking around with ice cream after the lights go down can be a fun activity for the entire family. However, you will not be able to get a bite to eat while you are staying in the resort but if you are staying in one of the villas then you will have access to a kitchen inside the villa. This means you can save a little money on the high meal prices within the parks and at the resorts.
Boardwalk Inn and Villas Inside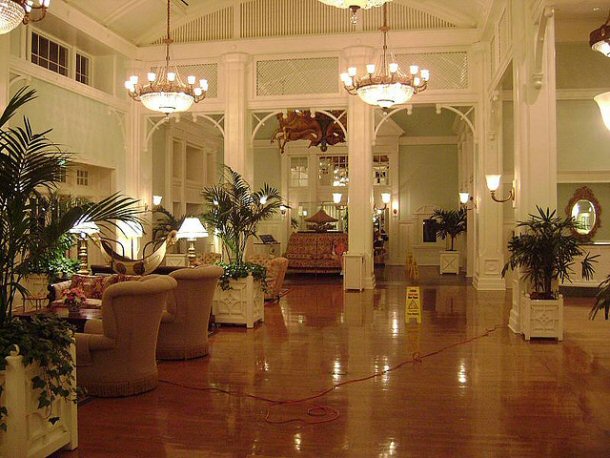 ---
8) Disney's Ft. Wilderness Campsites (Starting at $54 / Night)
If you are looking for something completely different, you can stay in one of the campsites at Disney's Fort Wilderness. This is a truly different way to stay at Disney and some kids enjoy the ability to stay outside in a tent. Think about staying in a tent in the front yard at home and you will have an idea of the kind of fun your kid will be having while you are staying at the campsite. You can even bring the family dog as long as you are willing to keep it on a leash the whole time.
When you are looking to cook, you will be able to take advantage of the charcoal grills and picnic tables that are available with each of the campsites. There is even access for electricity and city water. Of course, if your idea of roughing it is to stay in an RV then there are sites with full hookups so you can have sewer access as well as the water and electricity you will need. To keep you from being bored, you also have access to archery, fishing, watercraft rental, carriage rides and more. Transportation can be a bit confusing but fun, when taking the Ferry. Also, you have a great view of the Magic Kingdom from the beach.
Ft. Wilderness Campsites, Family Camping in a RV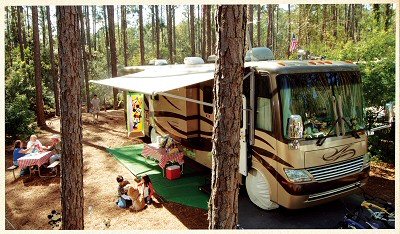 ---
7) Disney's Art of Animation Resort (Starting at $118.13 / Night)
As soon as you arrive at the Art of Animation Resort, it is easy to see exactly why this is such a popular resort for the kids to stay at. Little Mermaid standard rooms are available to stay in, which is a dream come true for your little majesty looking for a room. There are even standard rooms for The Lion King, Cars and Finding Nemo so your rambunctious little ones can get excited about where they are going to be sleeping at as well. The detailed theming in all of these rooms will wow adults and children alike into making you feel as if you have walked into a Disney movie.
Art of Animation Resort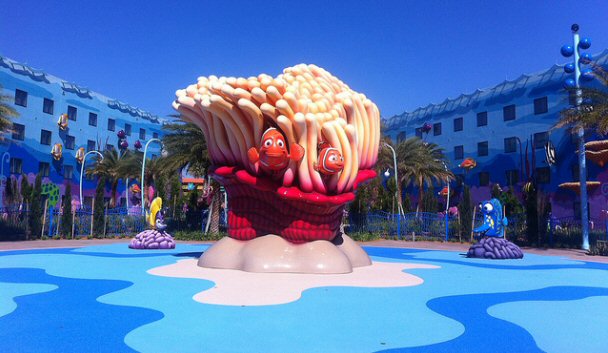 The sprawling resort has multiple playgrounds and pools for kids of all ages. There is a bar right next to the main pool for adults, so you can have some fun while the kids are playing in the pool. You will also be able to get some food in the morning before taking off to go to the park. Everything is done for you, so you are able to leave your car in the parking lot and walk everywhere you want to go that the shuttles will not take you. Just get ready to be blown away as soon as you pull up because this resort is truly mesmerizing.
Little Mermaid Room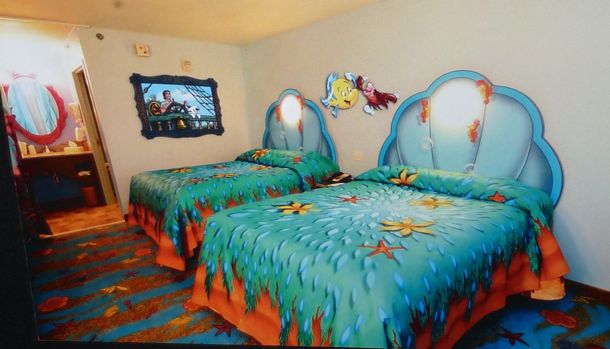 ---
6) Disney's Caribbean Beach Resort (Starting at $182.25 / Night)
There is less for kids to do at the Caribbean Beach Resort but it's still a great place to stay. Among the things that kids will appreciate is the fact that the resort looks like something out of the Pirates of the Caribbean movie set, some of the walkways are even complete with cannons that look like they are ready to sink a pirate vessel. The main thing that the kids love is the beach area where they can play in the sand, they also enjoy the arcade and the pools that are located throughout the villages. Playgrounds and bike rentals are available if you are staying for a while.
There is plenty to eat while you are staying at this resort but there is not much for those who have purchased meal plans, you may be able to find something great to eat that will be moderately priced just by looking through the menu. Snacks and main courses are all available to keep you and your family well fed.
Caribbean Beach Resort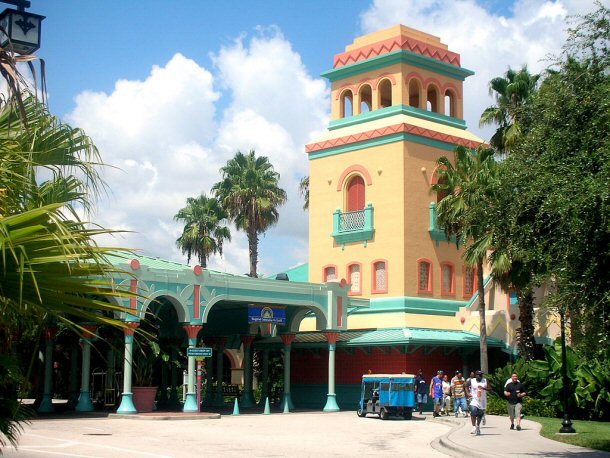 By UpstateNYer, via Wikimedia Commons
Caribbean Beach Resort Pool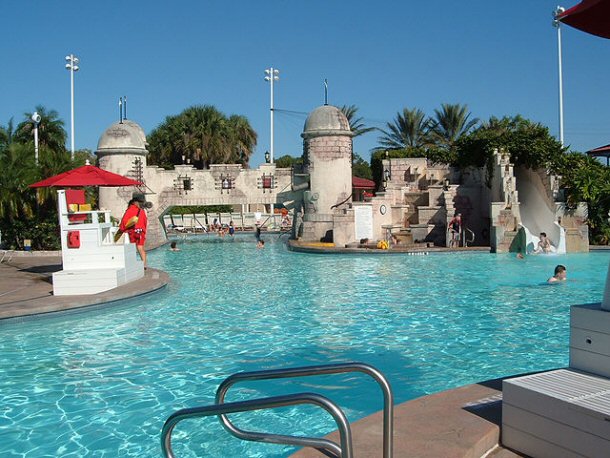 By Michael Gray, via Wikimedia Commons
---
5) Disney Animal Kingdom Lodge (Starting at $319.50 / Night)
This is one of the deluxe resorts you can stay at and it is one that kids really adore. While it does not have all of the colors of the value resorts, it does make kids feel as if they are on the set of a movie and that is what makes being at Disney so much fun to begin with. When you are staying at the Animal Kingdom Lodge, there is a lot of room to move around as well as a balcony that can give you a place to relax outside of the room and still have privacy.
When you are walking around the lodge, you will be able to enjoy all of the scenery that makes it appear as if you're at a lodge in Africa rather than one in Orlando, FL. You will find that there are actually three different properties you can stay at when you are at the Animal Kingdom Lodge: Jambo House, Disney Vacation Club Villas at Jambo House and Disney Vacation Club Villas at Kidani Village. Any of these will put you within close proximity to the parks and will provide you with a great place for the kids to play and have fun.
Animal Kingdom Lodge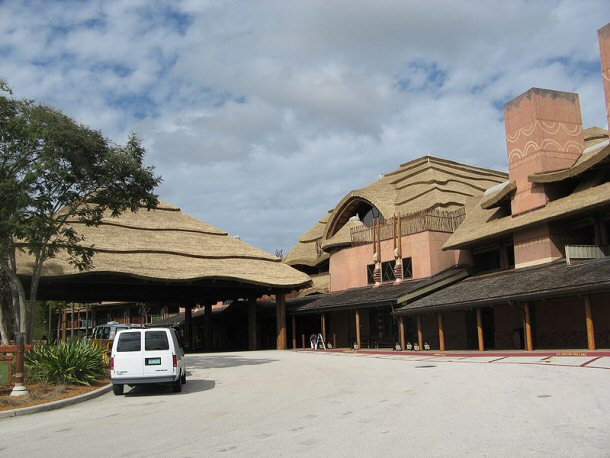 By Micha L. Rieser, via Wikimedia Commons
Animal Kingdom Lodge Inside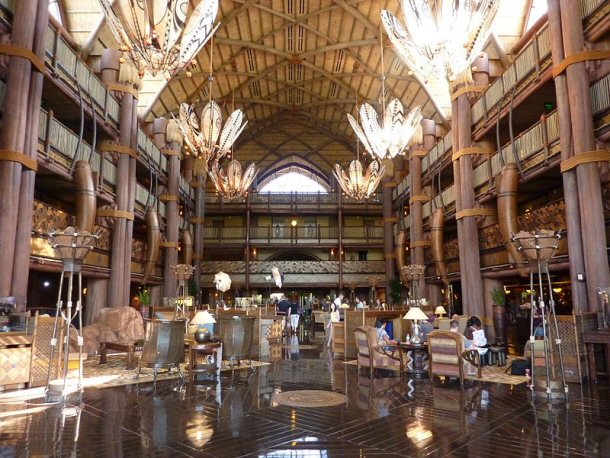 By Dunderklumpen, via Wikimedia Commons
---
4) Disney's All-Star Movies Resort (Starting at $96.05 / Night)
Step into the action when you stay at the All-Star Movies Resort with décor starring characters from different movies, like "Toy Story" and more. Even the handrails of the resort look like movie cells and the top of the resort has some of the little green soldiers hanging around to protect the grounds from attack. Kids can enjoy running around and looking at everything while parents relax by the large pool. Kids pretty much run the resort with everything geared towards what they want.
Parents are not left completely out of the mix when staying at the resort because there is very little to worry about in terms of getting from the resort to the different parks. There is transportation available throughout the day to get people exactly where they want to go, you can even get something to eat at the hotel before you leave to go to the park via the restaurant inside. If you purchase a meal plan, you will be able to eat your breakfast for free.
---
3) Disney's All-Star Sports Resort (Starting at $96.05 / Night)
All Star Sport Resort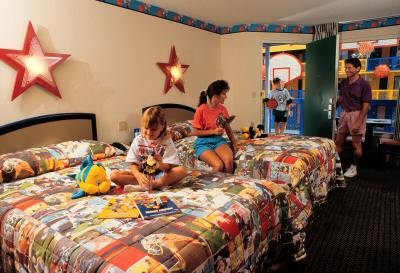 Anyone who has stayed at Disney understands that all of the value resorts and some of the deluxe resorts have lots of kid appeal, while the moderate resorts have less. When you take one look at the Disney All-Star Sports Resort, it is easy to see what people mean. This is because of all the vibrant colors and the decorations that look like they are straight out of the animated movies that Disney has produced over the years. You can practically see Goofy running down the massive football field beside the resort.
In addition to having great décor, the resort is fun because it's on Disney grounds. You are close to everything that you want to do and the resort has a restaurant providing food for those who have purchased the meal ticket plans. The restaurant recently went through renovations to make it even more accessible to guests staying at the resort. Just keep in mind that the resort rooms are pretty small even though they say that five people can stay in a standard room, plan for two or three.
All Star Sports Resort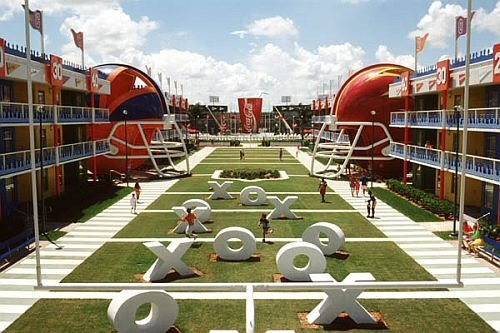 ---
2) Disney's All-Star Music Resort (Starting at $96.05 / Night)
If you are looking for a value resort that the kids will love, you will love staying at the All-Star Music resort. Located right on the Disney property, you will be close to all the action. True, you will have a tiny room to go along with the tiny price but you are not staying at Disney to enjoy the hotel room. You are at Disney because you want to enjoy everything that the amusement park has to offer. The only time that the small room is a downer is when you are stuck inside due to inclement weather.
All Star Music Resort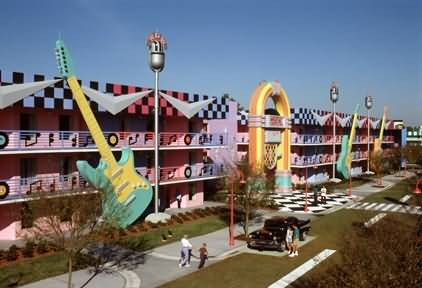 The resort has a great pool and some other amenities you will enjoy. Keep in mind that when you are staying here, you can get a larger room if you are willing to pay a little more. Just ask for one of the family suites where you will have a bedroom that is separate from the kids and the suite can sleep up to six people comfortably. Still, you should spend the majority of your time outside of the room to enjoy what you came to Disney for in the first place.
All Star Music Resort Room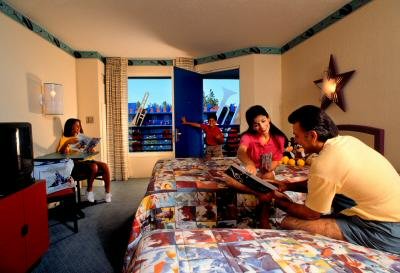 ---
1) Disney's Pop Century Resort (Starting at $106.88 / Night)
Among the newest and most popular of all the resorts that are great for kids at Disney is the Pop Century Resort. Located close to all the action, you will also be able to enjoy the great transportation that will take you right where you want to go without having to worry about massive public transportation buses and trains that are packed with crying kids as well as tired adults. The only thing that parents complain about when they are staying here is that the wireless service is not that great and it can be noisy. The layout of the resort is a bit spread out but then again, you are staying here for the kids.
In terms of why the kids love this resort so much, just one look at the pictures says it all. there are massive characters everywhere, everyone from Roger Rabbit to other popular characters dot the landscape. The rooms are not much more than a place to rest your head with all of the excitement happening within the resort and in the parks. This is a great place to stay to save some money and to ensure that the kids are as happy as can be.
Pop Century Resort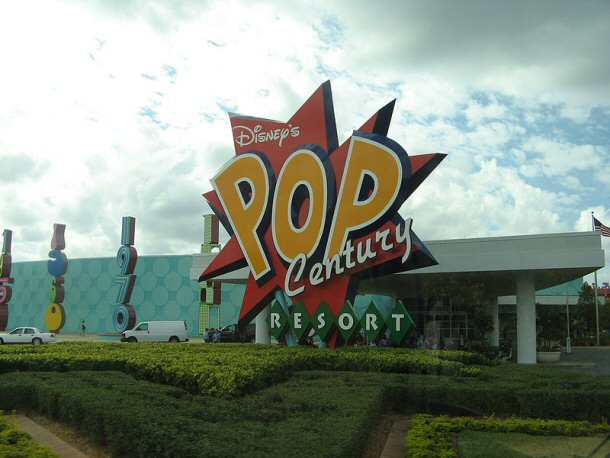 By Micha L. Rieser , via Wikimedia Commons
One of the Pop Century Resort Pools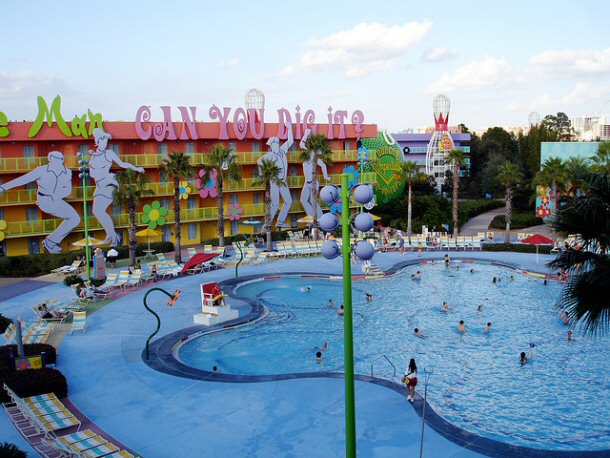 ---
Conclusion
With these 15 great resorts, you should have no trouble planning out your trip to Disney. Just make sure to take your time when looking at each of the different resorts, the amenities that they provide and the money they can help you to save while you are inside of Disney. You may be shocked by how much fun you will have even when you are not exploring the different parks. Some guests have made the decision to show up a few days early or stay an extra few days just to be able to enjoy everything that the resort has to offer. Just because these 15 resorts are perfect for the kids doesn't mean they don't have a bunch of great stuff for the adults on the trip as well.
Disney World Articles
Top 15 Disney World Rides for Adults
Top 15 Disney World Rides for Kids
Top 15 Disney World Resorts for Adults
Top 15 Disney World Resorts for Kids
15 Fascinating Facts About Disney World
Top 15 Fun Things to Do at Disney World's Animal Kingdom
Top 15 Fun Things to Do at Disney's Hollywood Studios
Top 15 Fun Things to Do at Disney World's Epcot
Top 15 Fun Things to Do at Disney World's Magic Kingdom
15 Interesting Facts about Walt Disney