Top 15 Interesting Places to Visit in Dubai
The world is a vast and interesting place, and no matter how many stamps you have on your passport, there is always something left to explore. Commonly known to be the richest city not just in that area but in the world, Dubai is arguably the crown jewel of the Middle East. Originally geared toward fishing, pearling, and textile trade, Dubai holds a wealth of past splendors coming into its own in the modern era.
Dubai Skyline and View of Burj Khalifa - The World's Tallest Man-made Structure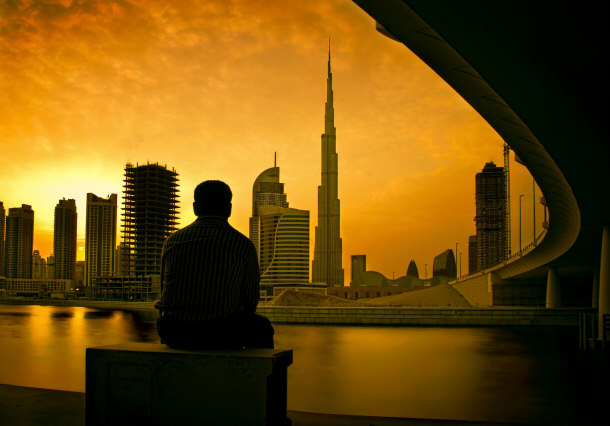 Oil trade is what built this cosmopolitan area, but tourism is just as heavy of a factor in the economy these days. Dubai caters to the world-traveling luxury seeker through numerous places to visit and things to do, such as parks, malls, aquariums, museums, and cultural centers. Read on for a selection from among literally hundreds of wonders available in this desert metropolis.
---
15) Meydan Racecourse
Home of the Dubai World Cup, the Meydan Racecourse--formerly the Nad Al Sheba Racecourse--is a prestigious thoroughbred facility that features a variety of racing events from November to March. Tours are given throughout the day, and attending one of the schedule events could end up being the highlight of your vacation to the area. You can watch the prize money soar as the wealthiest make their bets. The Dubai Racing Club is in a partnership with the racetrack, and they provide an equestrian educational program to pass on the heritage of horsemanship to the younger generations in the United Arab Emirates, ensuring the racecourse's long-term survival.
Aerial View of the Nad Al Sheba Racecourse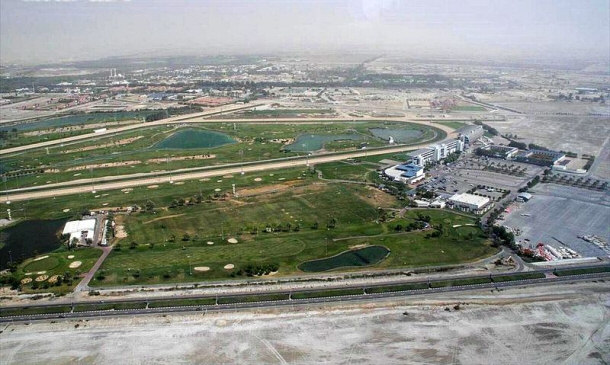 By Imre Solt [GFDL or CC-BY-SA-3.0], via Wikimedia Commons
The grandstand for the races has a full service dining court with several food outlets. The grounds also boast recently reopened golfing, tennis, and an IMAX theatre. There are restaurants and clubs associated with the amenities. If you wish to make your stay last as long as possible, you can book rooms at the Bab Al Shams Desert Resort and Spa, also owned by the Meydan complex. The low rise resort is rich in culture, and just like the track itself it is only about 10 minutes out from the heart of Dubai.
---
14) Satwa District
Al Satwa is known as a hidden treasure among Dubai's many riches. The neighborhood has a wild Bohemian feel and is prized for being a bit off the usual tourist path. Many expatriates use this area to run errands and to do some private shopping in the myriad of outlets that offer everything from pets to tailors--the latter being something the district is widely famed for, particularly concerning men's garments. Great bargains on souvenirs such as custom clothing and Arabian perfumes can be had here, along with ethnic groceries and restaurants waiting to introduce you to the local palate. The Satwa mosque presides over the still very traditional little district, and the area seeps history as much as it does art and poetry, much like some of the neighborhoods of New York City.
Satwa Shopping District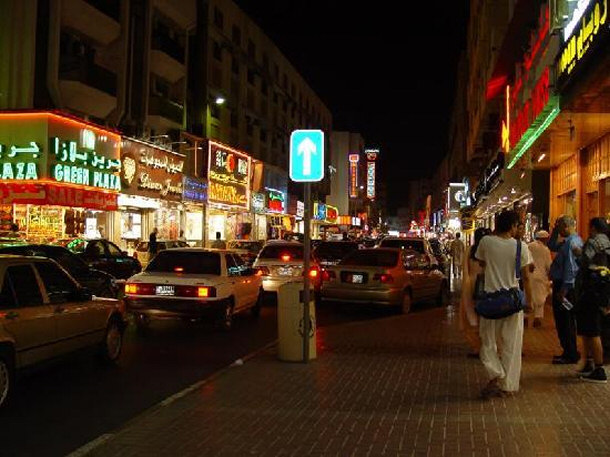 Courtesy of TripAdvisor.com
You can be easily and happily lost in the bustle; surrounding yourself with the sights and sounds many consider the "authentic" Dubai experience that has made this city so great. If that's not enough, this neighborhood is currently endangered, as the UAE and Dubai are considering plans to redevelopment this area into the Jumeirah Garden City.
Don't miss out on your chance for what might be an actual once in a lifetime experience.
---
13) Miracle Garden
Since the hanging gardens of Babylon, what became the Arab world has always been famed for its ability to create thriving, lush places to visit in the middle of the desert. The garden boasts 45 million flowers. There are 45 varieties of flowers in various shapes and colors that are arranged into a variety of displays, from grand heart-shaped arches and layered topiaries to entire patterned walls in bloom. There are dazzling canopies, green carpeted walkways, and art installations such as a path covered by hundreds of colorful parasols.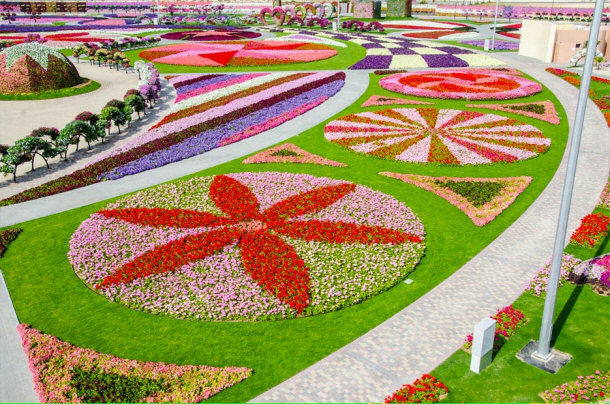 Courtesy of TripAdvisor.com
The garden is currently closed for renovations, and you will soon be able to visit a butterfly museum and garden on the premises, as well as a specifically aromatic garden and a proposed international garden with sculptures from many countries made entirely of flowers. There will also be a children's play area for the whole family to enjoy. One of the centerpieces of the garden is a large flower clock made entirely of plants, with faces that can be changed to fit the seasons. Commercial outlets and mosques are also being added, proof this area is continuing to grow, and would always have something new to show you.
---
12) Jumeirah Mosque
With its towering twin minarets and stately dome, this is possibly the most photographed mosque in the world, and is one of the few in Dubai open to non-Muslims. Tours are given of the facility four days a week, and it is recommended by tripadvisor.com that you allot yourself at least three hours to explore this gorgeous building. Religious demonstrations are given in the presence of visitors that allow you to learn about Islam and come to a better understanding of Muslim practice.
The architecture alone is enough to inspire the spirit, with its medieval Fatimid design that combines harmoniously with the modern build. The mosque is surrounded by beautiful gardens that extend the sense of peace within the place to the outer grounds as well.
You can also appreciate this city landmark at night, as the many intricate details take on a completely new and elegant character in the softer lights that come on in the darkness, allowing the sculpted reliefs to be best appreciated. Just be sure not to linger too long over the sight, because if you're planning to tour it the following morning, you had best get there early as it gets crowded just before the call to prayer around that the tour is centered.
---
11) Dubai Museum
This museum is found within Al Fahidi Fort. Built in 1787, this desert fort still boasts its battlements and cannons. But rather than physical defense of the area, you will find it offers protection to the history and culture of the United Arab Emirates, centered on the development of Dubai itself. There are life sized dioramas depicting the pearl fishers who first settled the area--including scenes that depict pearl merchants with their scales -- and the Bedouin people who followed, continuing their nomadic lifestyle as they traveled the heart of what would someday be a grand city.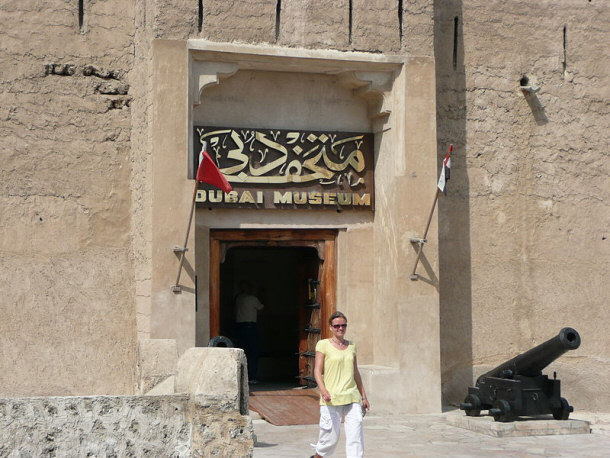 There is information on the date farmers who created irrigation systems and helped the land become fertile, as well as many exhibits displaying the wonders unearthed by desert excavations that date back to the third millennium B.C. The museum's collection includes artifacts representing the many places Dubai has historically traded with. There are representations of the traditional way of life for Dubai, all centered around preserving the cultural awareness of how Dubai was before oil became such a major business.
---
10) The Lost Chambers Aquarium
Located under the Ambassador Lagoon, the Lost Chambers of Atlantis aquarium is run by the Palm resort in Dubai. You will find this magnificent exhibit billed as the "discovered" lost city of Atlantis.
Hotel Atlantis - Palm Jumeirah Dubai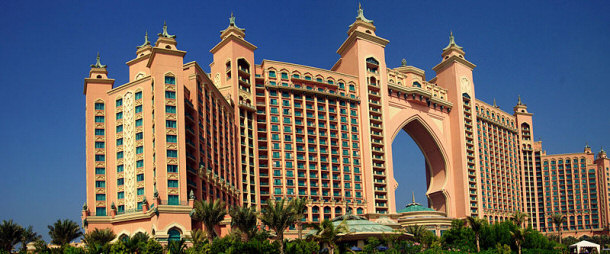 Bgabel at wikivoyage shared [GFDL or CC-BY-SA-3.0-2.5-2.0-1.0], via Wikimedia Commons
The theme is carried through the architecture and the interactive tours, and meandering through the many passages ways to stumble upon walls of water filled with marine life is enough to make you believe you might have found the remnants of another world entirely. According to the park's website, there are 20 different exhibits and 10 separate chambers, with one devoted to an aquatheatre where expert divers give two shows a day.
A Look Inside One of the Massive Tanks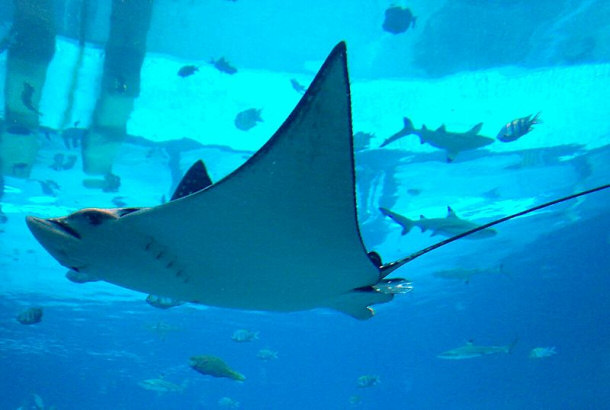 By Bjoertvedt (Own work) [CC-BY-SA-3.0], via Wikimedia Commons
There are also fish feedings, special Family Fun Days with unique things to do and specialized marine education, and luxurious space for private events. There are limited marine adventures where families can see what goes on behind the scenes at the aquarium, and even book a chance to scuba dive in the 11.5 million liter Ambassador Lagoon that supplies much of the exhibits from above. The park is open daily, and even offers online help booking day trip packages, in addition to the discounts and special perks available if you are staying at the hotel.
---
9) Dolphin Bay
Another attraction at the Palm resort is Dolphin Bay, in keeping with the aquarium's aquatic theme. Dolphin Bay offers a variety of unique experiences centered on dolphin encounters. As a guest at the bay, you can touch a dolphin, ride one, swim with a few, and even receive "hugs and kisses" from the creatures. Those who wish to stay on the shore and observe can do so from a private beach, where both complimentary drinks as well as some dolphin education is available. Qualified swimmers can even scuba dive to the bottom of the pool with the animals, and many experiences can be packaged to offer a full day affair if booked in advance.

Courtesy of Atlantis Dubai
Additionally, purchasing time at Dolphin Bay gives you same day access to the on-site water park and a discount on aquarium tickets. You could conceivably make an entire vacation just off all the things to do here when you include the shopping, spa, restaurants and nightclub available to residents as well as those with day passes. There is also a dive center that even conducts offshore tours; one actually letting you swim with the sharks. Finally, there is a helicopter skyline tour that lets you see all of Dubai from the air. If you wish to go all-out, they will let you arrange flights in and out of the resort as well, to make even your arrival and departure the ultimate in both wealth and luxury.
---
8) Ski Dubai
This is the Middle East's first indoor ski resort, and boasts 22,500 square meters of snow year round. There are five separate runs with different features and difficulties, including the world's only indoor black run, which is 400 meters long with a 60 foot drop.
Close-up of Chairlift Inside Ski Dubai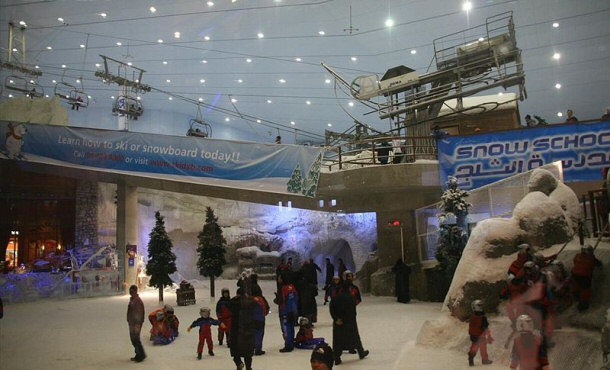 By Imre Solt [GFDL or CC-BY-SA-3.0], via Wikimedia Commons
All clothing and equipment can be rented for the day, and a team of instructors awaits to assist you with any winter sports available. There are also two cafes, a pro shop, and a private children's party area that can be rented. Similar to Dolphin Bay, there are also penguin encounters that allow you to get up close and personal with the black and white birds for up to 90 minutes.
Inside the Massive Structure of Ski Dubai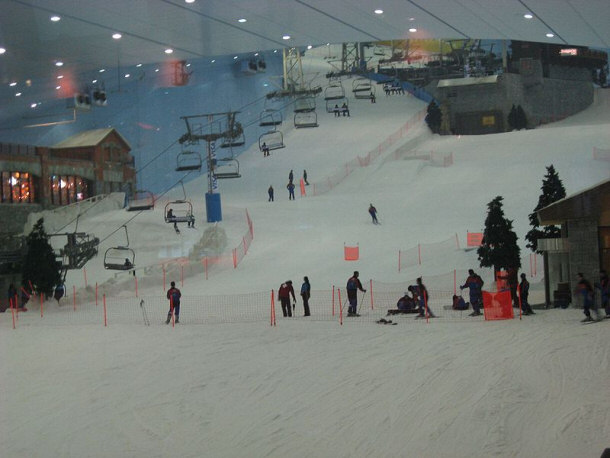 By Keirn OConnor from New York City, United States (Mall of Emirates Skiing) [CC-BY-SA-2.0], via Wikimedia Commons
Within the compound is also a "Snow Park" used for tobogganing and sledding. There is an icy cavern to explore, a snowball throwing area, an observation tower, and even regular snowfalls equipped to run, to give you the authentic experience of a wintry wonderland. Coats, boots, and even socks are included in the package price for a day pass. If you're hard up for snow, this would be the way to experience it for the first time.
---
7) Wild Wadi Water Park
Owned by Jumeirah--who offers access to this park for free to their guests. If you want to experience how themed amusement parks are done in the Arab world, this is the destination for you. The park is centered on the adventures of Juha, a widely known and loved comic folk figure of Arabia. He is something of a trickster, but also wise and noble sometimes. His stories contain both a joke and a lesson, and can be used to understand deeper aspects of reality or simply enjoyed for pleasure.
Aerial View of Wild Wadi Water Park - Dubai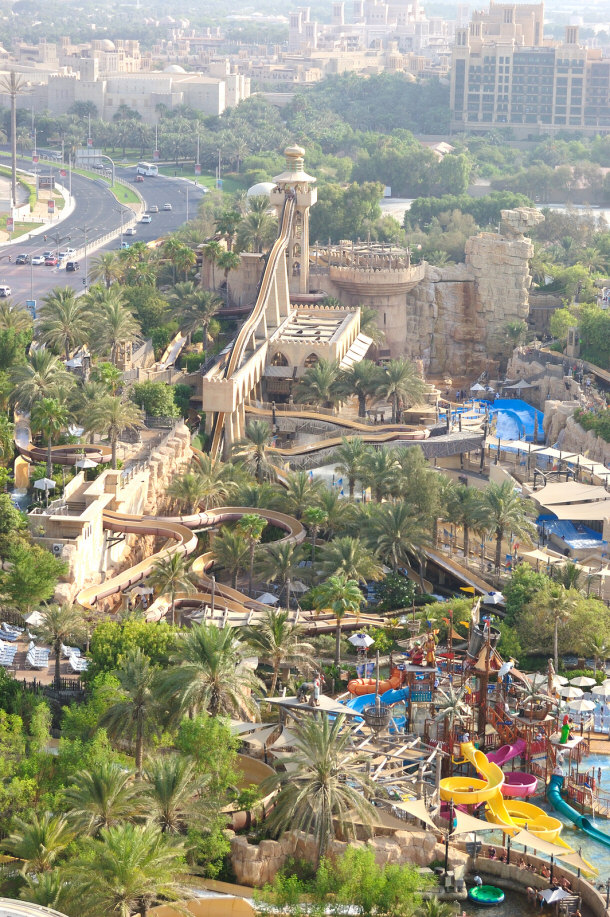 There are a variety of restaurants and five separate retail outlets nestled in among 30 separate rides that have something to appeal to any age, from babies to adults. The park is family-oriented and makes good on this policy at every turn, from the menus to the attractions. Wild Wadi is known internationally, well awarded, and its employees represent some 41 separate nationalities, making this park a unique experience.
---
6) Al Sahra Desert Resort
Outside Dubai on the dunes, Al Sahra resort is an equestrian center with 40 horses and several camels, all at the disposal of guests. Whether you are a beginner or advanced rider, this resort has an experience waiting for you, with a full professional staff to assist, give lessons, or simply to provide equestrian services. Like other resorts, special animal encounters can be arranged, this time with the camels you can ride as well as a provision of camel milk you can try. This resort is about service and tradition, offering not just the thrilling adventures of a good ride, but includes lessons on the culture and heritage of the Arabian people. Upon request, there are silversmithing and pottery classes, a traditional souq, a henna studio, belly dancing, archery, a spice market, and many more activities. It is highly recommended that riding be done in the evening, so guests can watch the sun setting over the dunes.
Al Sahara Desert Resort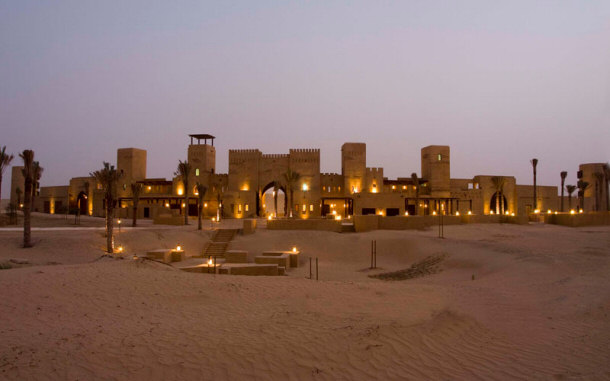 Courtesy of TripAdvisor.com
The resort is set up to pay homage to a traditional Bedouin village, and can provide as much peace and sanctuary in resting at the spa as excitement with pre-planned excursions. Thirty minutes from downtown Dubai, this interesting piece of the Dubai land development has all the amenities of the city coupled with the beauty of the desert.
---
5) Gravity Zone
Billed as an "adrenaline sports center," Gravity Zone is centered on Dubai's only 50 meter bungee jumping experience. In partnership with the UK Bungee Club--a world leader in bungee jumping--the Zone assists with up to 120 jumps a day. It hosts special group events and charity functions, encouraging jumpers to "face their fears" for a good cause. Particularly because any fears are unfounded due to the facility's top rated safety, Gravity Zone offers a very different perspective on fun that has drawn a crowd since it opened.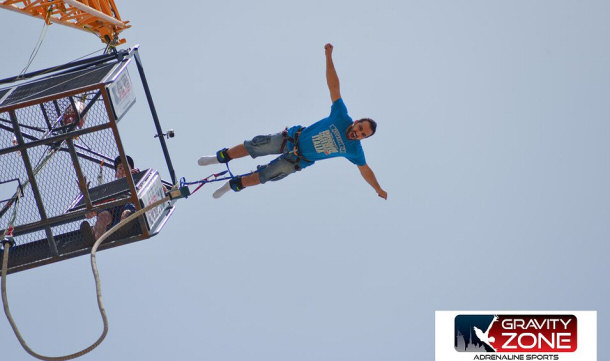 Courtesy of Gravity Zone Adrenaline Sports - Dubai
Gravity Zone emphasizes the origins of bungee jumping with the legend about it originating as the tradition of "Gkol" in the village of Bunlap among the islands of Vanuatu. Gravity Zone is located in the Power Play complex, across from the Dubai Bowling Center. While bungee jumping has increased in popularity since 1979, and is found over much of the world, the Gravity Zone seeks to make the experience unique by catering to clients that wish to turn jumping into an all-day event, combined with other high octane sports Dubai offers, which also includes sky diving and motor cross in other areas of the city.
---
4) Burj Kalifa
This towering piece of modern architecture is the world's tallest building. The Burj Kalifa is touted as a symbol of Dubai's progress and place as a world leader in the modern era. The building is a work of art, combining the principles of Arab design and engineering into a single, sleek structure that bridges the past and future. It is 2,716.5 feet high with over 160 stories, which not only gives it the title of tallest building in the world, but tallest free standing structure as well as the highest floor occupied.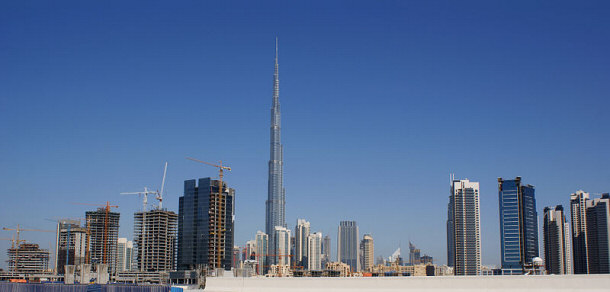 By Nepenthes (Own work) [CC-BY-SA-2.5], via Wikimedia Commons
Visiting the building is said to be not simply observing a site, but to be a total experience. Visitation packages can be booked and purchased, which highlight the observation deck on level 124--also the highest in the world--but also allow the visitor dining in the restaurant two floors below that. The building also boasts 1044 private residences total, 37 office floors of suites, a 160 room hotel, and an 11 hectare park with six water features and 3000 underground parking spaces for residents and visitors. There is also an entire recreation annex and a gym that spans four stories.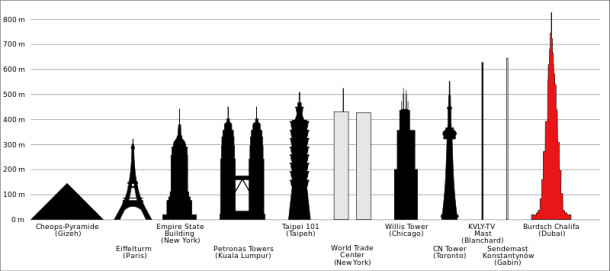 By BurjKhalifaHeight.svg: Rosso Robot (BurjKhalifaHeight.svg) [CC-BY-SA-3.0], via Wikimedia Commons
Care went into every detail of design and construction, from 40 separate rounds of wind tunnel testing to the use of a triple-lobe footprint for the building that is actually based on an abstraction of the Hymenocallis flower. Over 1,000 pieces of artwork were purchased from Middle Eastern and international artists to be displayed through the building, and the interiors of the residences and suites are tastefully done. The suites feature glass, steel, dark stone, and even Venetian stucco, combined with more traditional Middle Eastern rugs.
Fountain in Front of Burj Khalifa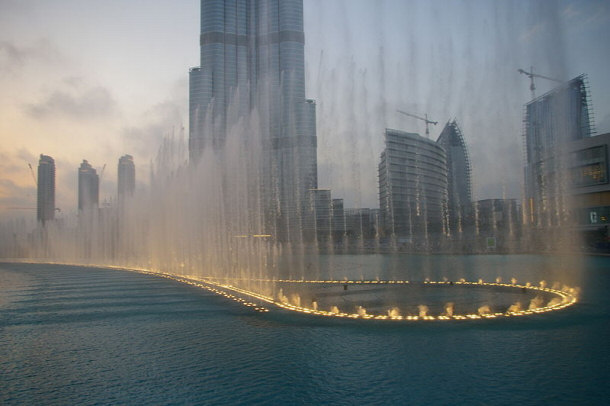 By Rokaszil (Own work) [CC-BY-SA-3.0 or GFDL], via Wikimedia Commons
The local culture of Dubai is prominent through the interior design, but incorporates a number of global elements that remind visitors and residents of the main message behind the tower, which is to show Dubai as the world leader it has become.
---
3) Dubai Creek
Khor Dubai is a saltwater creek running through the city that eventually streams out and ends at the Ras Al Khor Wildlife Sanctuary. Traditionally, its shallow waters have been the only port in Dubai, and you will see they have been important for many commercial ventures in the area, including pearling. Pearling has a special place in Dubai's history, as it contributed much to the merchant culture and established Dubai as a center of commerce long before Dubai founded its oil business.
Pearls also helped establish Dubai as a cultural center and a place of luxury, which has given the city much of its look and feel today. The creek is crossed in several places by a few bridges and a tunnel, a couple of which are going to be given updates in the near future as the city continues to develop. In many places along the creek there are boardwalks and wharfs, as the waters are home to many kinds of marine life that can be fished, and have also traditionally been a place to meet and trade.
You may be interested in watching the fishing, shopping in the traditional markets, or even seeing a few small attractions here and there among the regular workers. The best of these is the Bur Dubai Creekside Promenade, which also features restored buildings with traditional facades and gypsum panels and screens.
---
2) Sheikh Mohammed Centre for Cultural Understanding
As you can see, culture is very important to Dubai, and it will not let you walk away from its brilliant towers and mosques without a proper education in the local custom and beliefs. This educational center is a meeting place for visitors and residents to come together and interact through a variety of programs that facilitates understanding as well as peace. There are educational courses, cultural meals served in the courtyard of a traditional windtower house, mosque tours, and guided visits to the Bastakiya Heritage District. The Bastakiya Heritage District is one of Dubai's most important older neighborhoods, representing the place where Iranian merchants first came and settled in the area.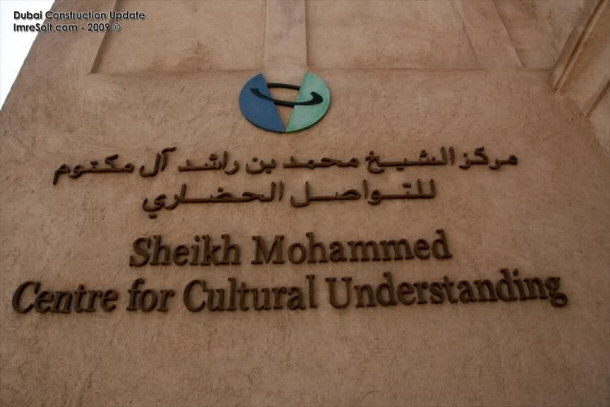 Courtesy of Skyscrapercity.net
The lesson does not end when you leave, either, as you can even become involved with the center online, through the Friends of SMCCU. Watch their calendar of special events, and find everything from special holiday celebrations to art competitions. The center encourages participation from all, and brings in many talented artisans and teachers for a variety of collaboration in art and media to promote the center's message.
---
1) Dubai Fountains
Near the world's tallest building is the Burj Kalifa lake, which is a 30 acre manmade water feature that houses this system of fountains. It is the world's largest choreographed water display, with 6,600 light and 25 colored projectors. Water shoots up 500 feet in the air over a 902 foot length of fountains shaped with swirls and runs that allow a variety of shapes to the dancing jets. Both contemporary and classical Arabic music is used for the show, as well as selections of world music.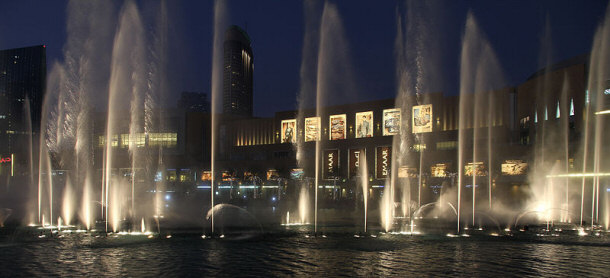 By Donaldytong (Own work) [GFDL, CC-BY-SA-3.0 or CC-BY-SA-2.5], via Wikimedia Commons
The fountain can spray up to 22,000 gallons of water at any given time, and cost 218 million USD to build. The fountains tend to have two afternoon shows, and then several more at 30 minute intervals in the evenings. With a revolving repertoire of routines, you can watch many times and still be surprised and there is a very good chance that you may be watching one of the fountains' sequences for the first time. This kind of variety is indicative of what Dubai really has to offer for tourists; something undiscovered.
---
Final Thoughts
Dubai is a modern marvel in every sense of the word, carefully engineered to be a center of progress and leadership for the entire world from its position so near the cradle of civilization. But when touring the city, you can easily tell its residents are cognizant of where they come from, and quite proud of their heritage. This leads to an interesting mix of old and new at every turn, as evidenced by the variety on this list. Where else in the world could you ride camels and bungee jump in the same day? Who else lets you ski in the middle of the hot desert? Looking deeper, the wonder of Dubai is not just in its glamour and carefully curated attractions. Dubai is a place where the world comes to a crossroads. A place where many people meet over common interests, where everyone comes away with something precious. Whether that something precious be pearls, oil, or a much more worldly perspective.
Vacation Destinations
Top Lists:
Top 15 Interesting Places to Visit in the Bahamas
Top 15 Fun Things to Do in Miami, Florida
Top 15 Fun Things to Do in Chicago
Top 15 Best Unknown Things to do in Las Vegas
Top 15 Fun Things to Do in Hollywood
Top 10 Best Places to Visit in Turkey
The Top 15 Best Things to Do and See in Sydney
Top 10 Things to Do in Edinburgh
Top 10 Things to do on Oʻahu
Top 15 Things to Do in Albuquerque
Top 15 Interesting Places to Visit in Spain
Top 15 Places to Visit in New York City
Top 15 Things to Do in Portland Oregon
Top 15 Things to do in Greece
Top 15 Places to Visit in Houston Texas
Top 15 Interesting & Safe Places to Visit in Mexico
Top 15 Interesting Places to Visit in the Netherlands
Top 15 Interesting Places to Visit in Thailand
Top 15 Interesting Places to Visit in Switzerland
Top 15 Interesting Places to Visit in Portugal
Top 15 Places to Visit in San Francisco
Top 15 Interesting Places to Visit in Shanghai
Top 15 Interesting Places to Visit in Puerto Rico
Top 15 Interesting Places to Visit in Norway
Top 15 Interesting Places to Visit in Las Vegas
Top 15 Interesting Places to Visit in Jamaica
Top 15 Interesting Places to Visit in Croatia
Top 15 Interesting Places to Visit in Belgium
Top 15 Interesting Places to Visit in Bangkok
Top 15 Things to Do in Rio de Janeiro
Top 15 Things to Do in Monaco
Top 15 Interesting Places to Visit in Dubai
Top 15 Interesting Places to Visit in Amsterdam
Top 15 Things to Do in New Zealand
Top 15 Interesting Places to Visit in Paris
Top 15 Interesting Places to Visit in Italy
Top 15 Interesting Places to Visit in Singapore
Top 15 Most Interesting Places to Visit in Berlin
Top 15 Best London Attractions
15 Little Known Facts About New York City
Disney World Articles
Top 15 Disney World Rides for Adults
Top 15 Disney World Rides for Kids
Top 15 Disney World Resorts for Adults
Top 15 Disney World Resorts for Kids
15 Fascinating Facts About Disney World
Top 15 Fun Things to Do at Disney World's Animal Kingdom
Top 15 Fun Things to Do at Disney's Hollywood Studios
Top 15 Fun Things to Do at Disney World's Epcot
Top 15 Fun Things to Do at Disney World's Magic Kingdom

Shorter Top Lists:
Top 10 Tourist Attractions in San Diego
Top 10 Tourist Attractions In India
Top 10 Things to Do In Kansas City
5 Places You Should not Miss in Brazil
Top 5 Things to do in New York City

Informational:
Best Tourist Attractions In Vietnam
Taking in the Sights in Shanghai
Top Tourist Attractions in Perth, Australia
Nice places to visit while in Great Britain
Sampling the Foods at the Night Markets in Taipei
What to do for a Kenya Vacation
Best Attractions in Victoria, B.C.
Photos of the Luxor Hotel in Las Vegas