Top 15 Things to do in Greece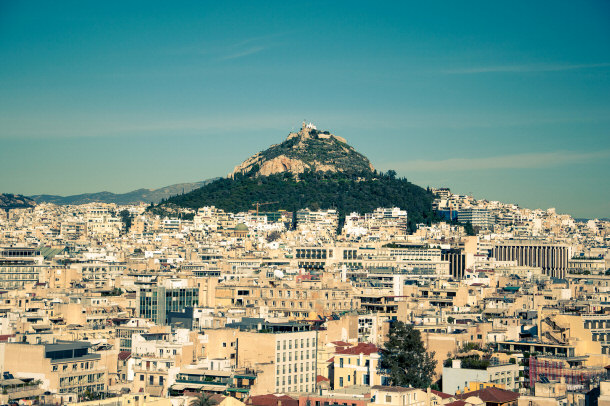 If you are seeking the next place for your ideal vacation and are tired of those same old vacation spots then Greece might be the place for you. It has a long rich history and is located on the beautiful Mediterranean coastline with an incredible number of beaches as well as many kinds of delicious ethnic dishes you'll be able to try while you're there. More than 17.5 million people choose Greece as a vacation spot each year and out of that number around 6 million visited its capital, the city of Athens. Whether you're considering Greece as a vacation spot already or if you need a little persuading, take a look at these top 15 things to do once you're there.
---
15) Swim at Myrtos Beach
The popular Myrtos Beach has been voted the best Greek beach 12 times and if you take the time out of your traveling schedule to spend a day or two relaxing here, you'll see why. This gorgeous beach is made up of round white cobblestones that were created via a geological process called longshore drift, this process and the pounding of the waves on the shore shaped the beach into what it is today. The water has a beautiful turquoise color from the waves picking up extremely fine bits of marble that creates plumes of sediment along the shore. Myrtos beach is located in the village of Divarata and has a road just over a mile long that will get you there in no time at all. In the summer, when tourism is higher than normal, a public bus service is provided to and from the beach. The bus stops just before the beach so you can still have the experience of walking there and enjoying the view of the beautiful mountains on either side, which are called the Agia Dynati and Kalon Oros mountains. There are also a few bars on the hill leading down to the beach and there is a small drink stand on the beach itself if sitting with your toes dipped in the water while sipping an alcoholic drink is your idea of a fun day at the beach.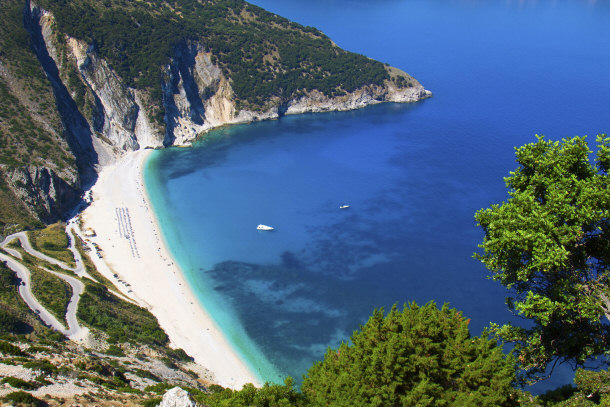 ---
14) Visit the Acropolis Museum in Athens
Although it is not the only acropolis in Greece, the Athens Acropolis is the only one in Greece that can simply be referred to as "The Acropolis". It's an ancient citadel on a rocky outcropping high above Athens that includes a number of buildings and the famous Parthenon. Archaeologists have collected ancient items and placed them on display at the Acropolis Museum while working over the years to reverse the effects of pollution, vandalism and past restoration attempts to the site. Currently there are about 4,000 objects are on display for your viewing and educational pleasure. When you walk across the ground floor be sure to take a look below your feet, the floor is glass and is occasionally transparent so you can see the archaeologists hard at work on the restoration of the site. The site itself can't be visited yet until excavation is complete but this museum is a must see for anyone interested in ancient Greece. You should definitely take a day or two while visiting Athens and make them solely for seeing museums, like the Acropolis.
Main Entrance to The Acropolis Museum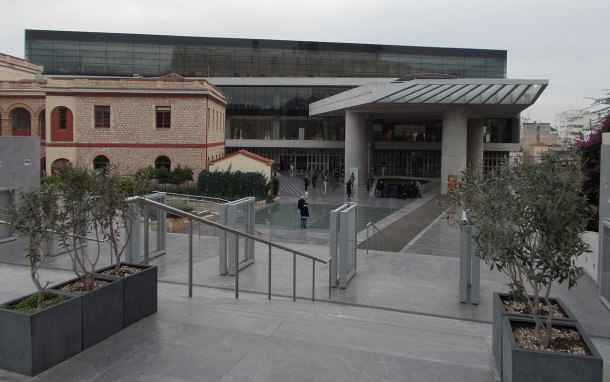 By Odysses, via Wikimedia Commons
Restoration Site Under The Acropolis Museum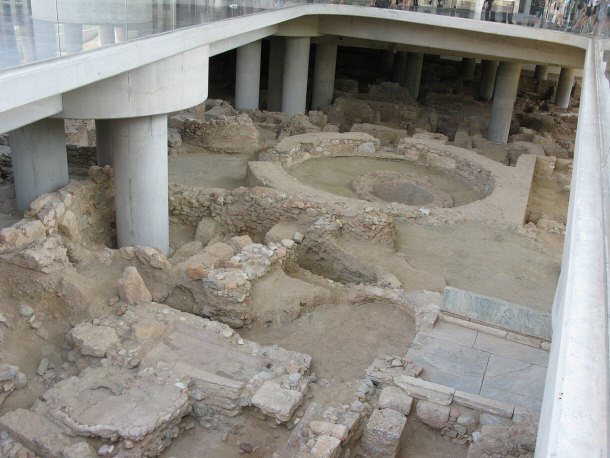 By Tilemahos Efthimiadis, via Wikimedia Commons
---
13) Visit the National Archaeological Museum of Athens
Unlike the Acropolis Museum, the National Archaeological Museum contains artifacts from all over Greece that range from prehistory to late antiquity and it consists of 11,000 exhibits. It is considered one of the greatest museums in the world and has a vast collection of items. Out of the collections there are five permanent ones that include: The Collection of Prehistory Antiquities that includes the Neolithic, Cycladic, and Mycenaean periods; The Sculptures Collection, which contains Greek sculptures from the seventh to fifth centuries B.C.; The Vase and Minor Objects Collection, containing pottery from the eleventh century B.C to the Roman period; The Stathatos Collection that has minor objects from all periods; the Bronze Collection and lastly the Egyptian and Near Eastern Antiquities Collection. Those five permanent collections are the only kind in Greece and includes works dating from the pre-dynastic period to the Roman conquest. Several of the known and discovered golden Mycenaean burial masks are on display here, including the famed Mask of Agamemnon. Admission is inexpensive and if you happen to be in the city on a national holiday they offer free admission to the museum. In addition to the museum and its exhibits of artifacts, the building also houses an 118 year old library that includes 20,000 books on rare ancient art, science as well as philosophy.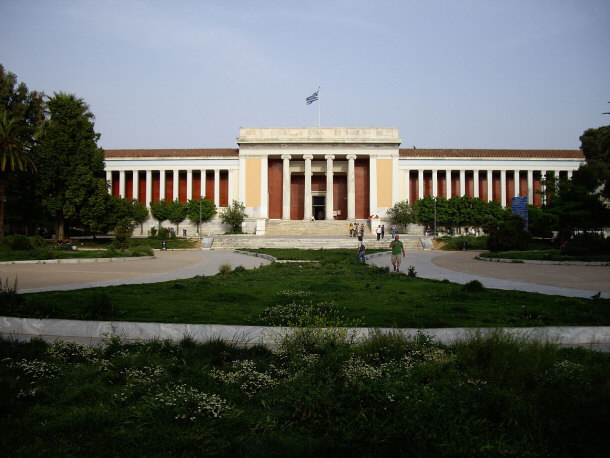 By Dimboukas, via Wikimedia Commons
---
12) Visit and tour Crete
Crete is by far the largest and most populated of Greece's 21 islands, it is one of the places to visit in the country that is almost a mandatory must see spot. The Minoan Palace of Knossos and Crete's main town called Heraklion are available as spots on a combined tour. The combined tour entails an expert guide who takes you within the ruins of the ancient palace and tells you about the myths from Greek culture linked to the place, one of these myths is Theseus and the Minotaur. Afterwards you're taken into the center of Heraklion to learn all about the town, including a guide giving you information about each building and attraction on the tour as you pass it. This all takes place in the comfort of an air conditioned bus. Another great thing to do in Crete, if you're up to it, is a day tour to the national forest of Crete's Samaria Gorge. Leaving early from Heraklion, this 11 mile hike is certainly not for the faint of heart but gives you the opportunity to see the lush green trees and the wildflowers lining the road. Another site on the hike is the animals that can be spotted like, goats and birds. Crete is steeped in history and enjoyable for anyone, so if you can make it here during your trip to Greece then do so.
---
11) Drink some Greek wine
No visit to Greece would be complete without consuming some of their renowned delicious wines, so try to plan your trip during one of its famous wine festivals. As one of the oldest wine producing regions in the world, Greece has been producing the beverage since approximately 6,500 years ago. Greece is home to some of the oldest existing evidence of crushed grapes used for wine and it's easy to see why. The Greeks had a god for wine called Dionysus and the worship of him has led to a love for wine all over Greece. This love translated into wineries holding festivals all over the country. Vinetum, a leading winery, sponsors an exhibition each year around February or March in Athens, Greece called Dionyssia and if you're there during this time it's an absolute must to go. The exhibition has grown each year since its creation and includes tasting opportunities from 120 wineries all across Greece. Each visitor to the exhibition receives a commemorative wine glass as well as the opportunity to taste as many kinds of wines as you would like and talk directly with winemakers themselves about the flavors of the drinks.
---
10) Attend a festival
While you're in town, you might want to consider attending a festival because the many festivals held in its cities each year is a great testament to Greek culture today. It's a great thing to do if you want to immerse yourself in current events of the town you're in and taste its delicious food. The Athens Epidaurus Festival is held from May to October each year and is one of most famous festivals in Greece that includes theatrical, musical and a variety of other cultural events. If music and community unity are your thing then attend the Icarus Festival for Dialogue between Cultures event in Ikaria. It has expanded since the first festival that was held in 2006 each year until 2008 when it started to include other forms of art, like: dance, dance lessons, painting exhibits, photography exhibits, theatre and cinema activities. If you are visiting Greece with your family then attending the Patras Carnival is a great idea for something to do. It's the largest event of its kind in all of Greece and lasts from January 17th through Clean Monday, the first day of Lent. It's been happening for about 160 years and features dances, parades, hunting for hidden treasure and a kids' carnival that culminates in a spectacular fireworks display on closing night.
The Athens Epidaurus Festival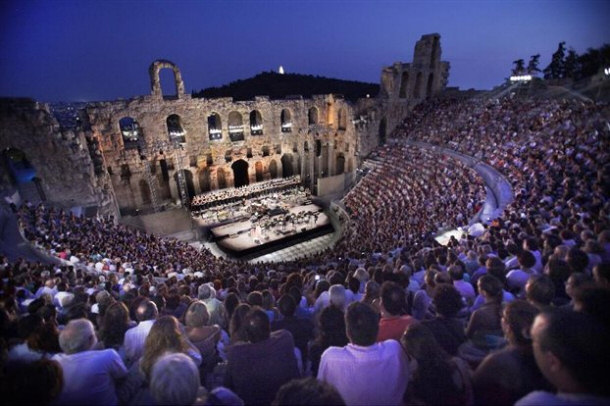 Courtesy of, Greece.GreekReporter.com
Icarus Festival for Dialogue between Cultures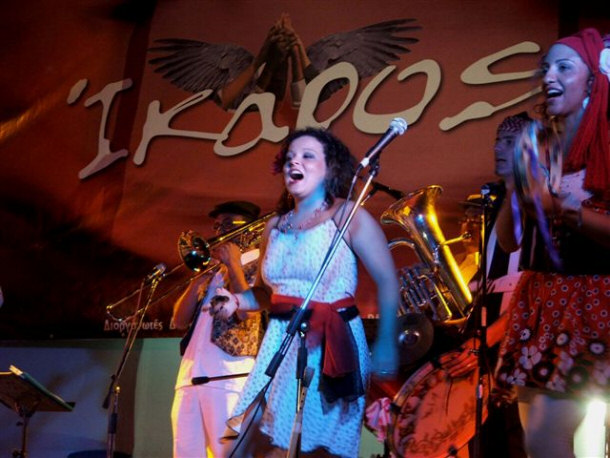 ---
---
9) Visit the Theater of Epidaurus
While you're at the Athens-Epidaurus festival, make sure to visit the Theater of Epidaurus. It was built in the fourth century BC and originally had 34 rows but was increased during the time of the Roman occupation by 21 rows. It seats 15,000 people, so chances are even if the rest of the area seems congested with tourists you won't have trouble experiencing this attraction due to a crowd. The theater should be an important stop on your journey so you can marvel at its feat of engineering; it's been praised and studied by modern historians to have almost perfect acoustics. The secret is in the limestone seats that filter out low frequency sounds and amplify the sounds of whatever is on the stage. To test this out, have your tour guide or a member of your group stand on the stage and scatter the rest of your party along the theatre in various locations. Then have the person on stage say something and see how well you can hear it. You're guaranteed to be amazed whether you visit it on your own, with a group, on a day that has a musical event occurring and even on a day when no special events are occurring.
---
8) Familiarize yourself with Greek mythology
Visit a library or ask a local, if you never took a history or mythology class in school then now's the time to read up. You're in the country of some of the greatest mythological tales about gods, goddesses as well as demigods ever known and you should definitely take advantage of that. If you read up on the deities themselves, you can visit some of the many temples dedicated to specific deities dotted all over Greece. Zeus, the supreme lord of all the gods, and his wife Hera, the protector of marriages, ruled over all of the gods and goddesses. Zeus has a temple dedicated to him in Olympia and Hera had a temple in Olympia too but it was destroyed by an earthquake. If you are visiting Athens then you will undoubtedly hear about Athena, the goddess of war, wisdom and crafts because the city is named after her. Many have heard of Hades too but he isn't considered an Olympian since he ruled the underworld. So if you are traveling Greece then grab a textbook or ask a local to tell you a few stories while you're in the birthplace of this beautiful mythology.
Zeus, the supreme lord of all the gods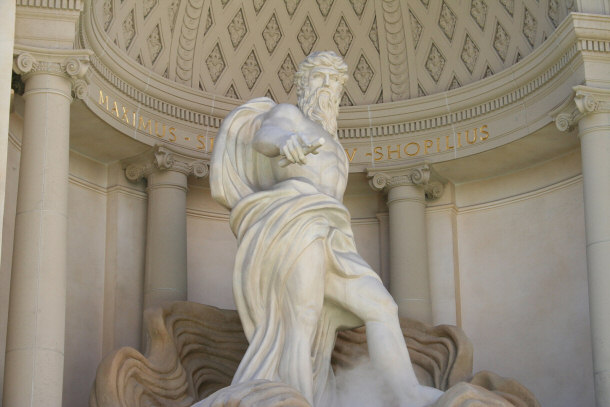 Hera, the protector of marriages and ruled with Zeus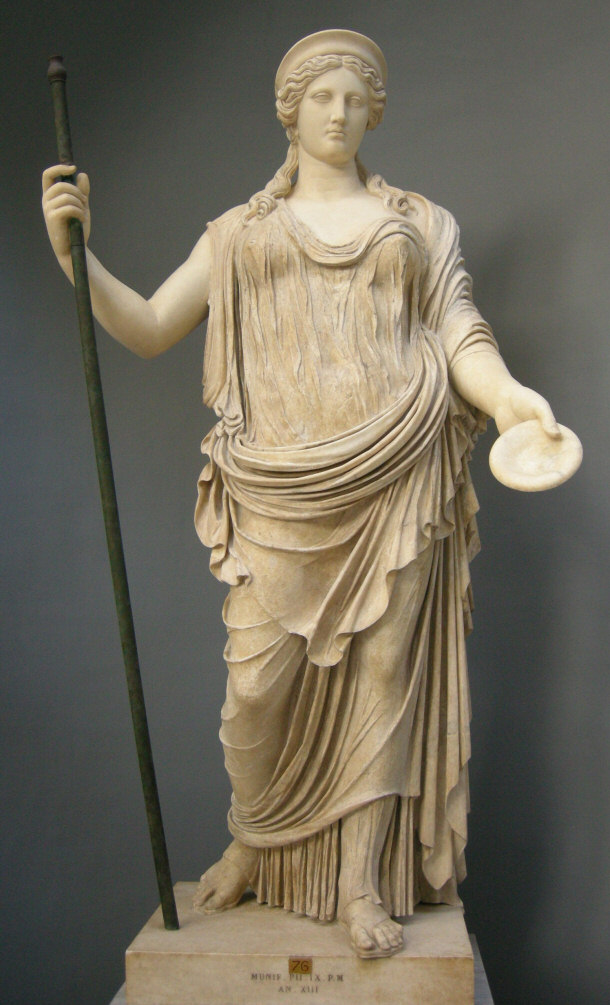 By sailko, via Wikimedia Commons
Athena, the goddess of war, wisdom and crafts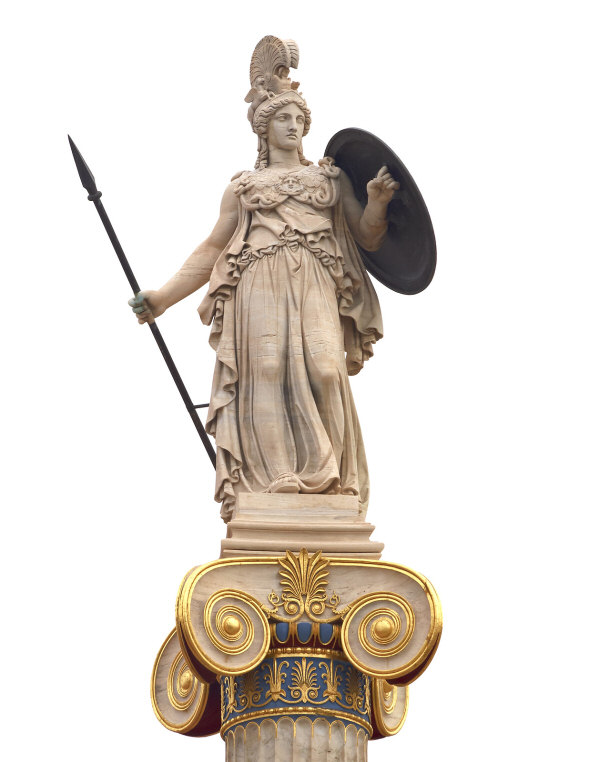 Hades, god of the underworld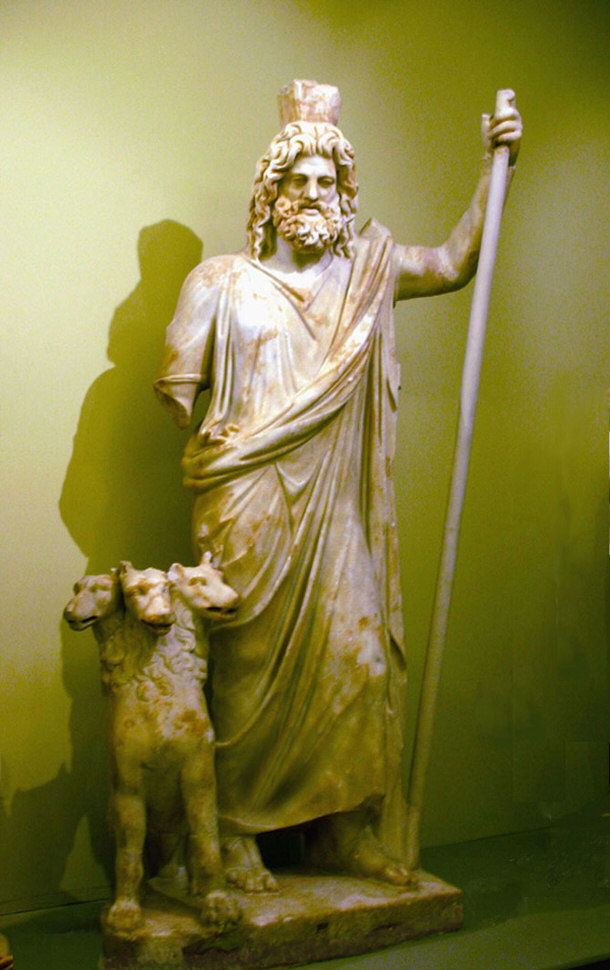 By Aviad Bublil, via Wikimedia Commons
---
7) Take a trip to Delphi
Use all that knowledge about Greek mythology that you gathered and visit a site dedicated to one of the twelve major Olympians. Delphi was the ancient site of the Delphi oracle that was once a priestess at the Temple of Apollo who received widespread attention for her prophecies about and relating Apollo. Over 20 authors mention this Oracle in their works, indicating that she was a widespread part of their culture and mythology. Apollo is one of the gods of light, the sun, truth, prophecy, healing and art. As a patron of the arts, many poets or musicians would do well to say a prayer at this site if visited. Unfortunately, no prayers can be made at the Temple of Apollo because it was torn down years ago but don't let that ruin your time spent in Delphi.
Apollo, the god of light, the sun, truth, prophecy, healing and art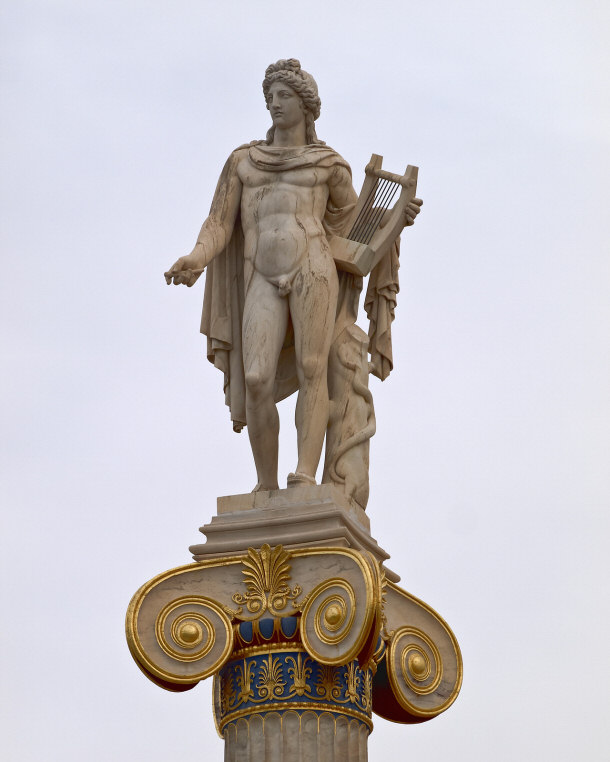 ---
6) Visit a nude beach
Although this might not be everyone's ideal of a fun place to visit on vacation, for many it's the opposite. Visitors to Greece are often extremely excited to visit a nude beach to sunbathe and socialize. Unfortunately, this is something that no amount of planning will leave you truly prepared for because some beaches that allow nude sunbathing one season do not allow it the next. On the other hand, some beaches that were once clothes only have now come to allow nude sunbathing. This means that reviews and word of mouth advice from one year won't always be beneficial for the next. It's best to ask your tour guide or hotel desk manager for advice they would give if this is the type of thing you want and they'll usually be able to tell you which beaches in the area allows nude sunbathing. If you do decide to participate at a nude beach make sure you bring lots of sunscreen, leave your camera at home and wear clothes that are easy to slip in just in case modesty overcomes you.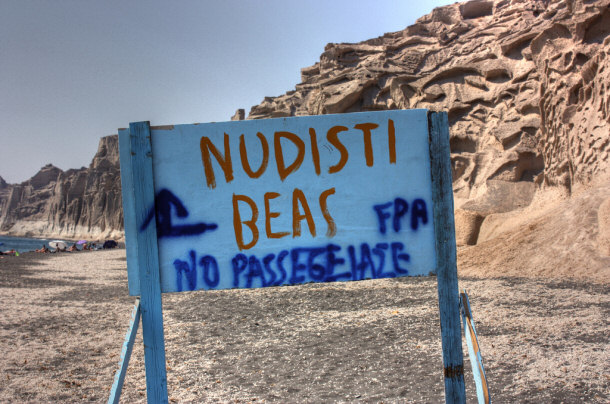 ---
5) View the Temple of Poseidon
If your hotel is in Athens and you want the luxury of a lazy afternoon, book a tour bus to Sounion. It's a four-hour drive from Athens with a tour guide and it will take you to a hill overlooking a spectacular view of the ocean. Atop the hill lies the ruins of a temple built between 444 to 440 B.C., which is dedicated to te god of sea, earthquakes and horses called Poseidon. Of the 42 columns that comprised its original architecture of the temple, 15 stand today. Many people have reported the view of the Aegean Sea to be clear and beautiful to the point of taking your breath away. If feeling weightless atop the world in the ruins of an ancient temple sounds like a feeling you'd like to experience, this should be a stop on your travel itinerary. If you are respectful, hopeful or just plain superstitious, say a prayer to the sea god while standing in this temple. Many believed that a prayer to this deity would protect them from drowning, so if you're planning on swimming then whisper a prayer.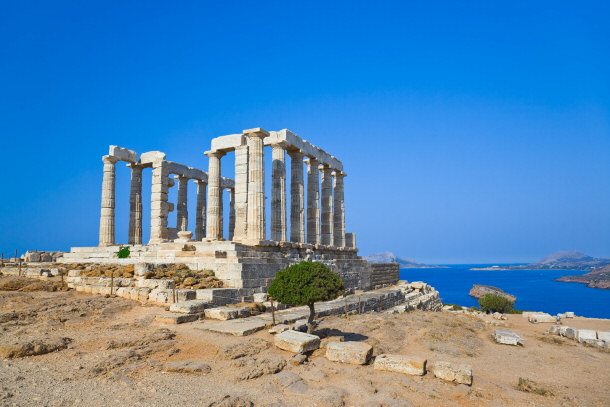 ---
4) Visit Santorini Island
Make it mandatory in your Greece trip to take a journey to this beautiful isle by boat. Officially known as the Santorini caldera, this island cluster is located in the southern Aegean Sea. It is comprised of Santorini (Thera), which is the main island that has the isles of Therasia and Aspronisi across from it, the Kameni islands are in the center. The main island is a beautiful crescent shape that was formed by years of volcanic activity and all who visit have said that the view when approaching by boat is nothing short of breath-taking. While you're there, you'll be treated to gorgeous views from cliffs overlooking the ocean as well as some delicious food. Santorini has gained worldwide recognition for some of the greatest agricultural products to come out of Greece, meaning that any visit there is sure to provide you with a variety of delicious foods to eat. The cherry tomatoe has been widely grown as well as marketed since the 18th century and is in one of the island's signature dishes called tomato balls. Tomato balls are comprised of an onion and tomato paste that occasionally has mint as well as cheese added to the mixture then it is fried into a ball shape. A variety of eggplant grows here too, the white aubergine. It is sweeter and juicier than other varieties of the vegetable due to the features of the soil. The katsouni, a tasty type of cucumber, is grown here as well.
Therasia Island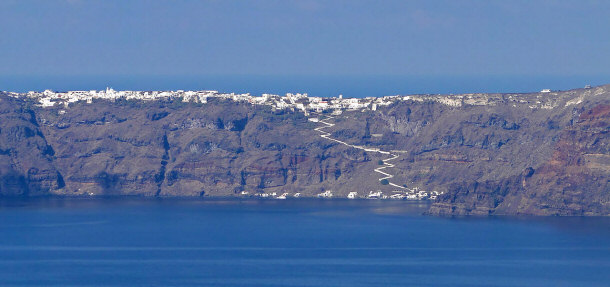 By Bernard Gagnon, via Wikimedia Commons
Aspronisi Island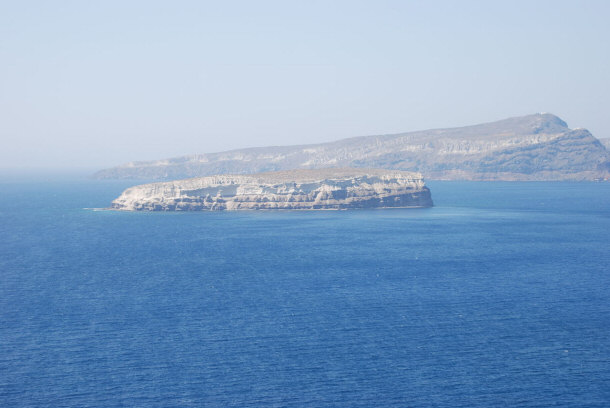 By George Groutas, via Wikimedia Commons
Kameni Islands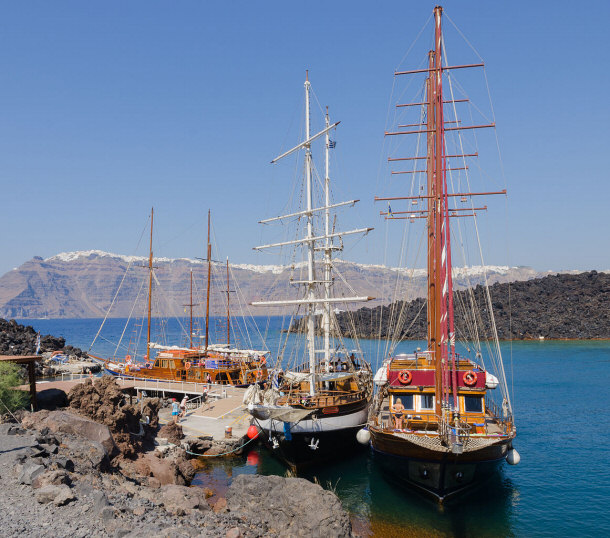 By Norbert Nagel, via Wikimedia Commons
Cherry Tomatoes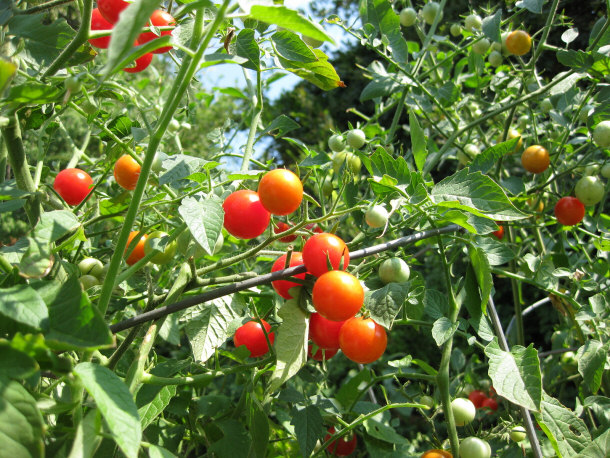 ---
3) Visit the Island of Hydra
The famous Island of Hydra is a beautiful little isle just over 40 miles away from Piraseus, a port on the outskirts of Athens. Ferries, hydrofoils and catamarans depart regularly from this port for trips out to Hydra. If you're wanting to enjoy a slow leisurely boat ride then choose the ferry, it takes about three hours to get there. If you want to get there quickly or want a more thrilling boat ride then hop on a hydrofoil and be ready for a fast bumpy ride. Hydra Island allows no motor vehicles anywhere and all of the transportation once you set foot on its soil is by donkey or bicycle. Since the area is so densely compact, most people just walk everywhere. The island is overall very peaceful with several monasteries and convents as well as buildings dedicated to a variety of art exhibitions. This is a great place to visit if you're looking to experience the beauty of nature rather than a town type setting and it offers great opportunities for hikes all across the island. The hike to the top of Mount Eros is one of the most arduous because the highest point of this mountain is the highest point on the island at 1,961 feet above the ground but it is also the most rewarding due to it beautiful view of the entire island, the Saronic Gulf and the Myrto Sea.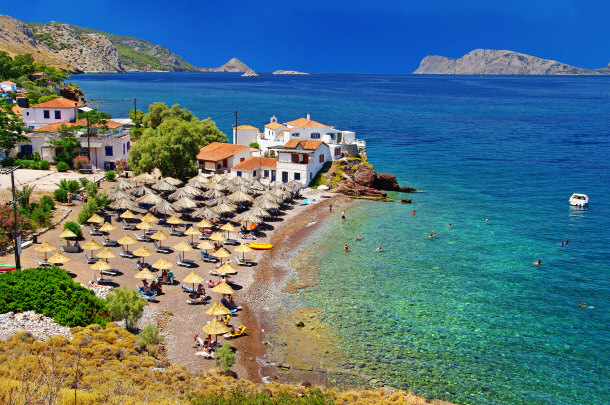 ---
2) Relax at the Pózar Thermal Baths
Take a break from all your walking around hot crowded cities and being sprayed by cold salty water on boat rides by relaxing in the most famous thermal baths Greece has to offer. The water is always 98 degrees and will feel comfortable for any visitor with aching joints, sore muscles or just someone who wants a warm relaxing soak. This peaceful vacation offers 48 individual baths, 6 indoor pools, an outdoor pool, hot tub and spa services. If relaxation isn't all you want then the area at the foot of the Kaimaktsalan Mountain also offers a great wooden staircase leading to 16 prehistoric caves, the Dark Forest, known as one of the prettiest forests in Greece, and a ski resort.
The Pózar Thermal Baths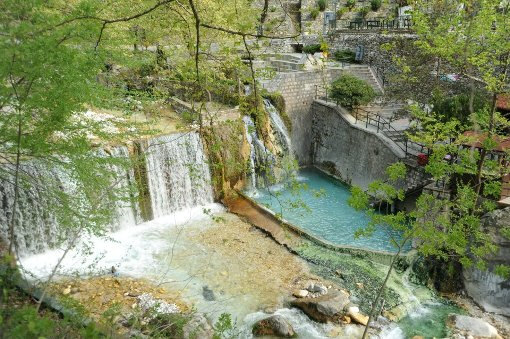 Courtesy of visitgreece.gr
---
1) Visit the Panathenaic Stadium
For any fitness enthusiast or anyone casually interested in the Olympic Games, one of the things to do is visit the Panathenaic stadium. It is an absolute necessity to make your trip complete because it is the site of the first "modern" Olympic Games that began in 1896 and the return of the games in 2004. This stadium has a long history and is also visually stunning; it is the only stadium of its kind in the world made entirely of white marble quarried from Mount Pentéli. Upon entering the stadium visitors are given a brochure available in three languages and the option of an audio tour available in ten languages. Overall, a tour of the stadium takes between 10 and 20 minutes but you might want to stay even longer just to admire the sheer breathtaking beauty of this all marble stadium.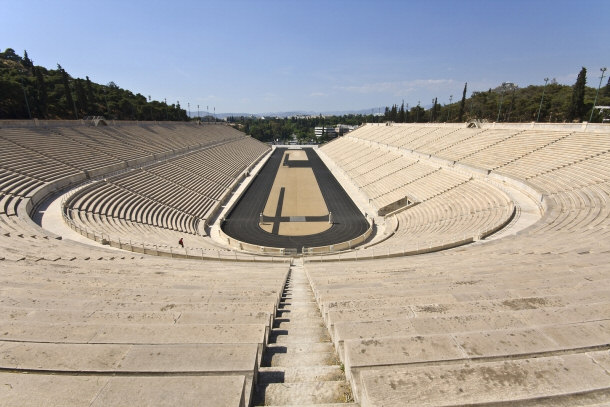 ---
Final Thoughts
Although Greece has long endured a reputation as an archaic dying culture, a visit to the mainland and its surrounding islands will show you that Greece is alive. In recent years, it has flourished with a high influx of tourists and anyone who travels here seems to have nothing but good things to say about it. There are hundreds of attractions from ancient historical sites to beaches and places that entice everyone ranging from scholars to those seeking a relaxing exotic getaway, there truly is something for everyone in this great country. Greece should be high on the list of any vacationer seeking a history filled authentic and unforgettable experience.
Vacation Destinations
Top Lists:
Top 15 Interesting Places to Visit in the Bahamas
Top 15 Fun Things to Do in Miami, Florida
Top 15 Fun Things to Do in Chicago
Top 15 Best Unknown Things to do in Las Vegas
Top 15 Fun Things to Do in Hollywood
Top 10 Best Places to Visit in Turkey
The Top 15 Best Things to Do and See in Sydney
Top 10 Things to Do in Edinburgh
Top 10 Things to do on Oʻahu
Top 15 Things to Do in Albuquerque
Top 15 Interesting Places to Visit in Spain
Top 15 Places to Visit in New York City
Top 15 Things to Do in Portland Oregon
Top 15 Things to do in Greece
Top 15 Places to Visit in Houston Texas
Top 15 Interesting & Safe Places to Visit in Mexico
Top 15 Interesting Places to Visit in the Netherlands
Top 15 Interesting Places to Visit in Thailand
Top 15 Interesting Places to Visit in Switzerland
Top 15 Interesting Places to Visit in Portugal
Top 15 Places to Visit in San Francisco
Top 15 Interesting Places to Visit in Shanghai
Top 15 Interesting Places to Visit in Puerto Rico
Top 15 Interesting Places to Visit in Norway
Top 15 Interesting Places to Visit in Las Vegas
Top 15 Interesting Places to Visit in Jamaica
Top 15 Interesting Places to Visit in Croatia
Top 15 Interesting Places to Visit in Belgium
Top 15 Interesting Places to Visit in Bangkok
Top 15 Things to Do in Rio de Janeiro
Top 15 Things to Do in Monaco
Top 15 Interesting Places to Visit in Dubai
Top 15 Interesting Places to Visit in Amsterdam
Top 15 Things to Do in New Zealand
Top 15 Interesting Places to Visit in Paris
Top 15 Interesting Places to Visit in Italy
Top 15 Interesting Places to Visit in Singapore
Top 15 Most Interesting Places to Visit in Berlin
Top 15 Best London Attractions
15 Little Known Facts About New York City
Disney World Articles
Top 15 Disney World Rides for Adults
Top 15 Disney World Rides for Kids
Top 15 Disney World Resorts for Adults
Top 15 Disney World Resorts for Kids
15 Fascinating Facts About Disney World
Top 15 Fun Things to Do at Disney World's Animal Kingdom
Top 15 Fun Things to Do at Disney's Hollywood Studios
Top 15 Fun Things to Do at Disney World's Epcot
Top 15 Fun Things to Do at Disney World's Magic Kingdom

Shorter Top Lists:
Top 10 Tourist Attractions in San Diego
Top 10 Tourist Attractions In India
Top 10 Things to Do In Kansas City
5 Places You Should not Miss in Brazil
Top 5 Things to do in New York City

Informational:
Best Tourist Attractions In Vietnam
Taking in the Sights in Shanghai
Top Tourist Attractions in Perth, Australia
Nice places to visit while in Great Britain
Sampling the Foods at the Night Markets in Taipei
What to do for a Kenya Vacation
Best Attractions in Victoria, B.C.
Photos of the Luxor Hotel in Las Vegas