Top 15 Fun Things to Do in Hollywood
Do you have dreams of starring in a TV show some day? Have aspirations of becoming the next Brad Pitt? Then Hollywood is the place to be. Every day, scores of people follow their dreams to Los Angeles with the hopes of hitting it big. And it's not hard to spot a celebrity strolling by, as many famous actors, directors, musicians, agents, writers and professional athletes call Hollywood their home.
Intersection of Hollywood and Highland in 1907: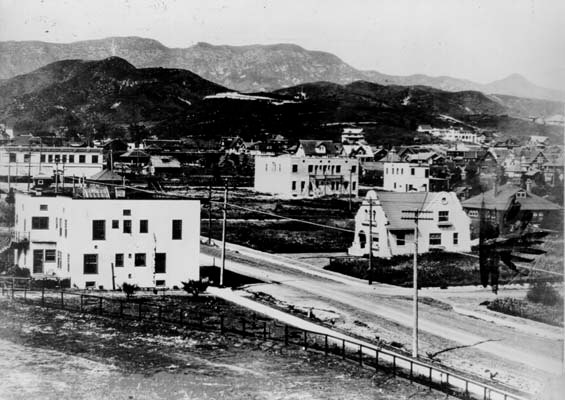 Founded in 1870 as a small community, Hollywood merged with Los Angeles 40 years later in 1910. Only a short time after, the movie industry began to grow and it never stopped. Eventually, Hollywood became the place where you needed to be if you wanted to make it onto the big screen. Today, it's still the entertainment capital of the world.
Nestor Studios Represents the First Film Studio That was Located in Hollywood, California: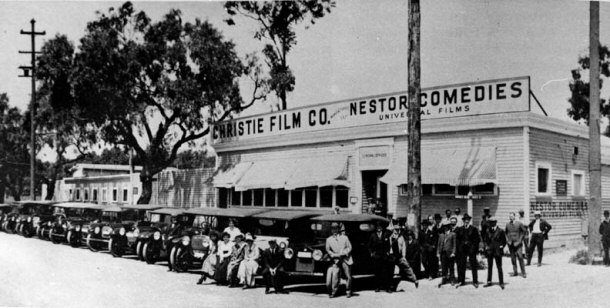 Hollywood draws people to it for a multitude of reasons, aside from fame and chasing stars. There is a booming tourist industry there as well. The glitz and glamour of this city drip from everywhere. There are always sites to see and tours that can show you where the most famous people live. There are also things to do that will allow you to learn about Hollywood's rich history. The problem with Hollywood is that there is so much to do, you may feel overwhelmed. Here is a list of 15 great locations to experience when you visit:
Map of Hollywood District - Los Angeles, CA: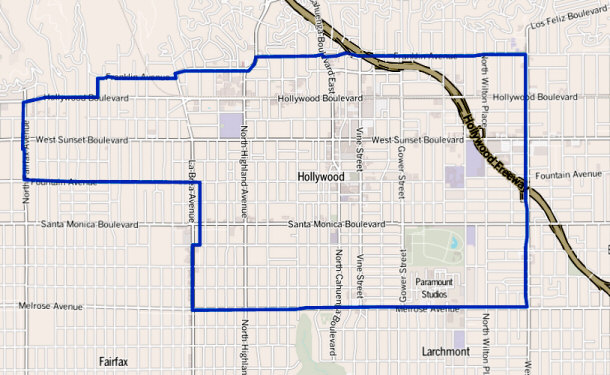 By Los Angeles Times via Wikimedia Commons
---
15) Hollywood Sign
The Hollywood sign was originally known as the "Hollywoodland" landmark symbol and it was built in 1923. It is made up of large white letters that are iconic, and proudly overlook the area. Originally the sign was constructed for advertising real estate, but after becoming widely recognized and beloved, it has remained monument.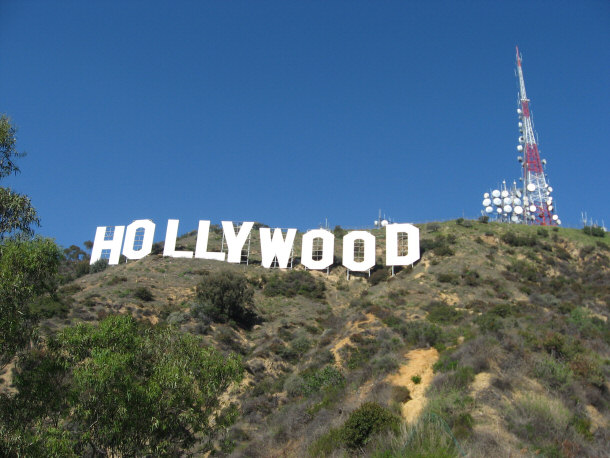 Sadly, no one is allowed to get close to the sign anymore because of years of vandalism and damage to the letters. You can't go up to the sign and touch it, or have your picture taken while standing next to it like you can with other monuments across the country. However, it's still a location anyone that goes to Hollywood should see. You can get a good view of the sign while visiting Griffith Park.
Hollywood Sign as it Appeared During the 1970s at It's Most Dilapidated State: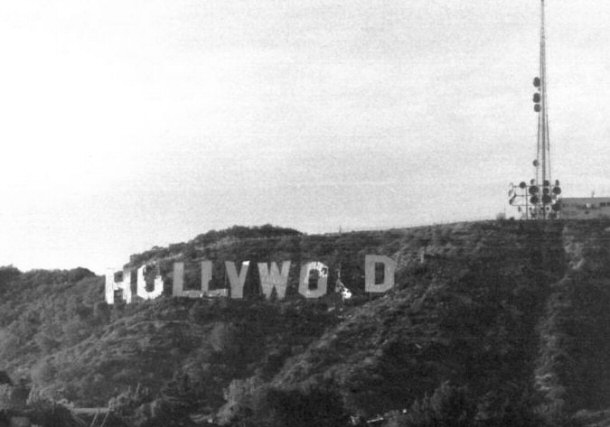 By Bob Beecher via Wikimedia Commons
Even from a distance, the sign sparks a feeling of wonder and excitement. Like the stars themselves, this sign came up from a simple ad to become an iconic symbol of hope for aspiring stars.
Hollywood Sign Shot From an Aircraft - July 2009: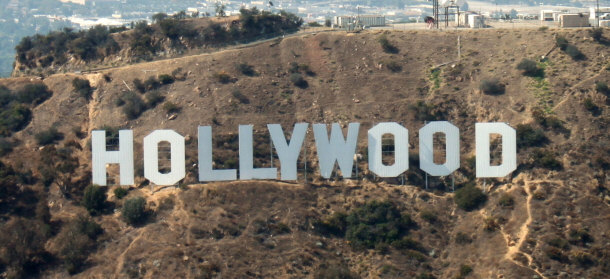 Many people claim that you can't make a visit to Hollywood complete without snapping a picture or two of the 45 foot tall letters. It leaves you knowing that you've actually been to the land of dreams.
Hollywood Sign February 2010: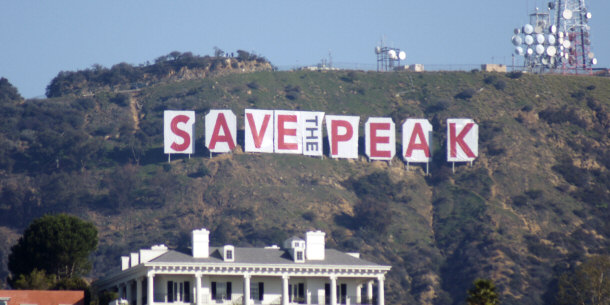 By SAVETHEPEAK via Wikimedia Commons
---
14) The Chinese Theater
The Chinese Theater is located on Hollywood Boulevard. If the name sounds a little unfamiliar to you, it was formerly known as Grauman's Chinese Theater, and before that, Mann's Chinese Theater. Anyone who goes to Hollywood should at least get a glimpse the famous building that stands out for its architecture and eye-catching design.
Grauman's Chinese Theater in November, 2010: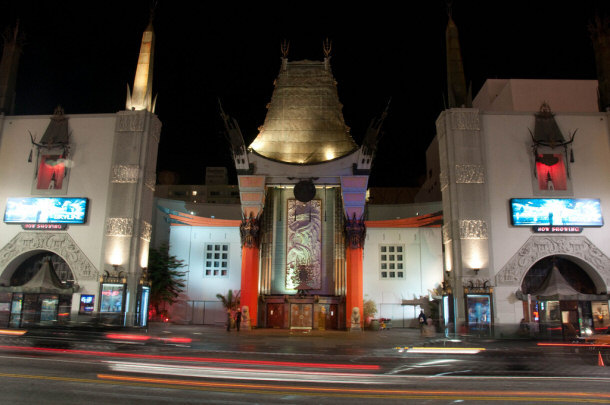 The theater has held numerous premiers of many famous movies, including the original Star Wars trilogy, and this iconic movie landmark was featured in the Mel Brooks film Blazing Saddles. Towards the movie's climax the primary villain runs into the theater in order to hide from the film's protagonist and his trusty sidekick - made up of the town of Rock Ridge's new sheriff and deputy. Soon all three characters begin watching the premiere of the film they are currently making as a means to find out how the elaborate chase scene they are involved in works out in the end. Outside of the world famous theater is Hollywood Boulevard and it's renowned Walk of Fame where stars dot both sides of . The portion of the Walk of Fame that is in close proximity to Grauman's Chinese theater are reserved for some of the most revered entertainers and artists of all time.
Aerial View of Hollywood District and Chinese Theater (Located at Bottom Left):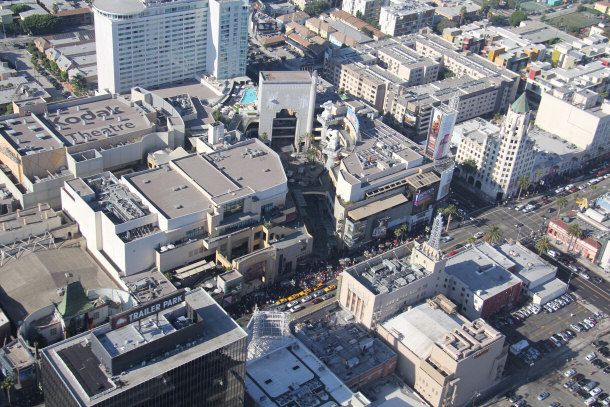 By JCS via Wikimedia Commons
Not only are the movies popular that are shown here, but the design of the building and its surroundings are amazing. The inside of the theater is decorated as beautifully and ornately as the outside.
Ornately Appointed Interior of Grauman's Chinese Theater - Hollywood, CA: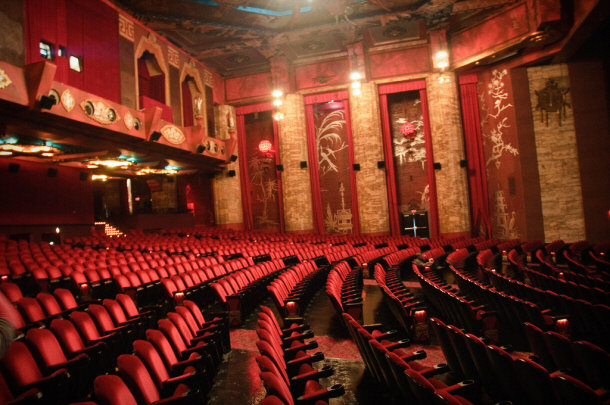 ---
13) Hollywood Bowl
Originally built in the 1920s; the Hollywood Bowl is a large outdoor amphitheater. This gathering place usually has live bands and music festivals. The open plan is inviting and gives off a welcoming atmosphere. With comfortable seats and a picnic area, it's a perfect place to go to enjoy good food and wonderful music.
Hollywood Bowl Amphitheatre with Hollywood Sign and Mountains in Distance: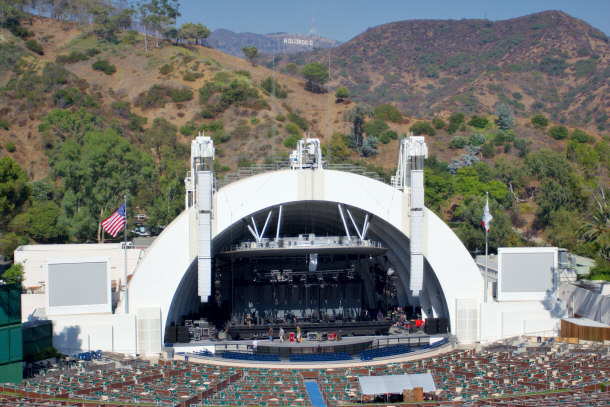 By Matthew Field via Wikimedia Commons
About 18,000 people are able to be seated at the Hollywood Bowl for a show, and often times it can sell out with well-known bands. However, prices vary depending on who is performing, so tickets to see lesser-known bands are much cheaper. Concerts can take place during the day or night, and many evening shows include firework displays that correspond with the music for an all-out, booming experience.
Opening Night at the Hollywood Bowl: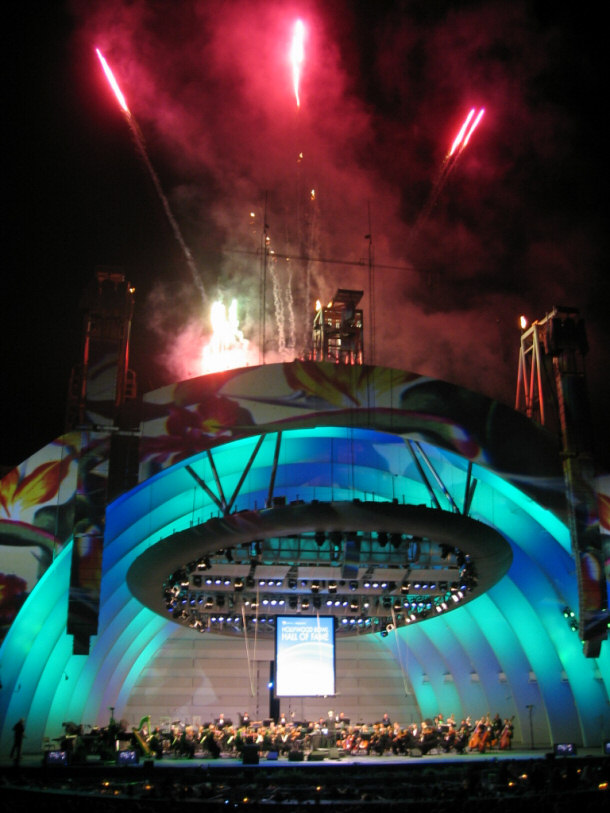 By Knut via Wikimedia Commons
The Hollywood Bowl is located at 2301 North Highland Avenue. If you have an evening to spare and money to burn for an evening out, you won't want to miss it. If you're a musician fanatic and get to see them performing live in Hollywood, this is the place you need to see them.
2010 July 4th Fireworks Spectacle Held Annually at the Hollywood Bowl: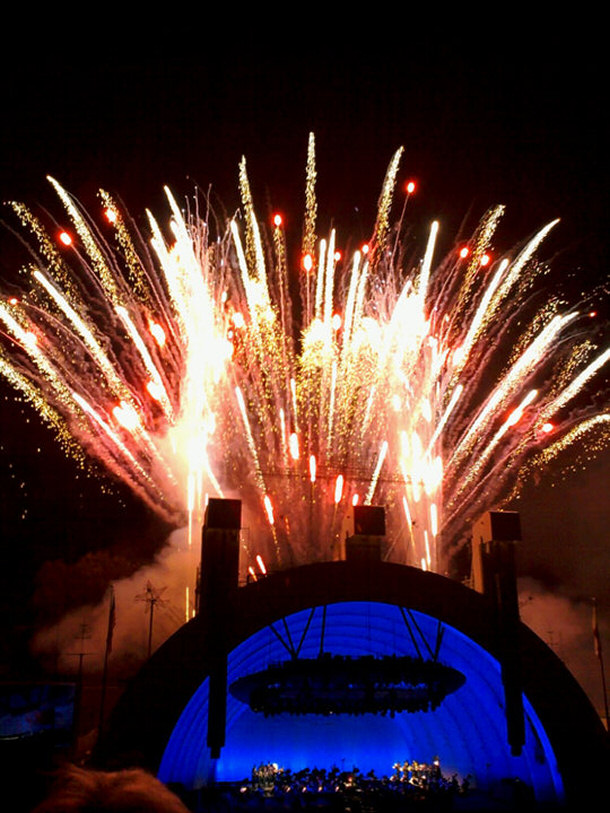 By Natmanso09 via Wikimedia Commons
---
12) Walk of Fame
Hollywood's legendary Walk of Fame runs just a little over a mile down Hollywood Boulevard. It boasts 15 blocks of celebrity stars on the sidewalks. It is so famous that this sight alone brings in more than 10 million visitors each year. The Walk of Fame is very fun because of all the names along the sidewalk and the thrill of being able to hunt down the star belonging to your favorite celebrity.
Michael Jackson's Star Two Weeks after his Death in 2009: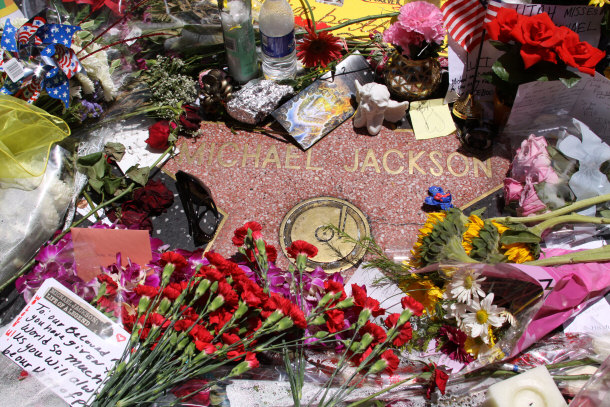 By Taty2007 via Wikimedia Commons
Many names are on the walkway, including Lucille Ball from "I Love Lucy," Mark Hamill from "Star Wars," and the famous actor Charlie Chaplin. Fictional characters such as Big Bird, Kermit the Frog, and Mickey Mouse are also among the stars on Hollywood's Walk of Fame.
Hollywood's World Renowned Walk of Fame at 6801 Hollywood Blvd: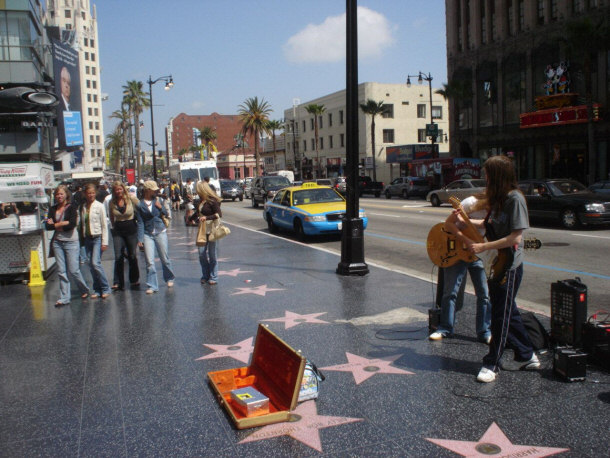 The best thing about the Walk of Fame is the scavenger hunt. Walking along the sidewalks and scanning each tile to find the names of our favorite stars can be good exercise and it doesn't cost a dime. It's a leisurely activity you can enjoy for the whole day if you wish, and you can do it at your own pace.
Mickey Mouse was First Animated Star Awarded a Place on the Walk of Fame: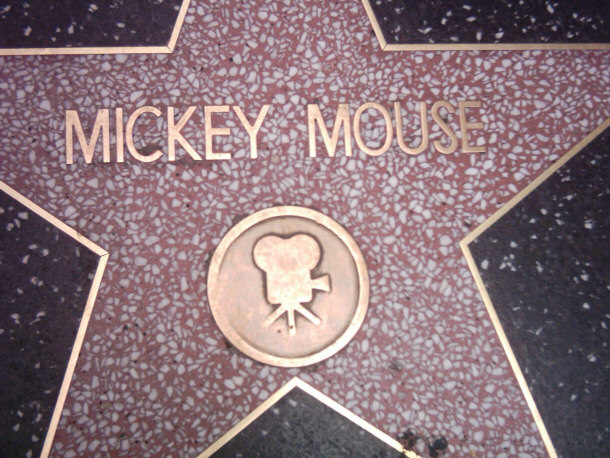 By freshwater2006 via Wikimedia Commons
The other great thing about Hollywood Boulevard is its atmosphere. With so many visitors, it's easy to bump into other people you can hang out with. Maybe some people you met in passing are also looking for Charlie Chaplin's star and once you find where his star is located, hanging out with strangers along the Walk of Fame gives you the added bonus of having someone take pictures for you. One way or another, you are bound to meet someone along Hollywood's Walk of Fame that you click with; even if its only for the afternoon. Who knows, you may even find your new vest friend while strolling leisurely along Hollywood Boulevard.
Pink Terrazzo Stars Comprising Hollywood's Walk of Fame Populate the Charcoal Terrazzo Sidewalks of Hollywood Boulevard: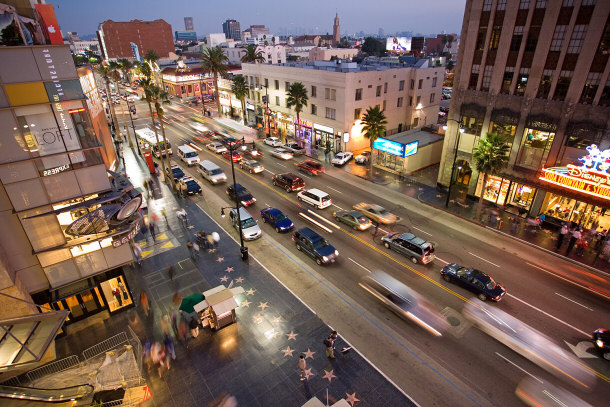 By Diliff via Wikimedia Commons
---
11) Murder Mystery
Taking in a dinner and a show is always a great thing to do. It's a lot of fun to have a meal accompanied by macabre entertainment like a classic murder mystery experience. Many live theaters offer meals with their shows. The Murder Mystery Company of Los Angeles provides an enchanting evening with a thrilling story of mystery that begins to unravel right in front of your dinner table.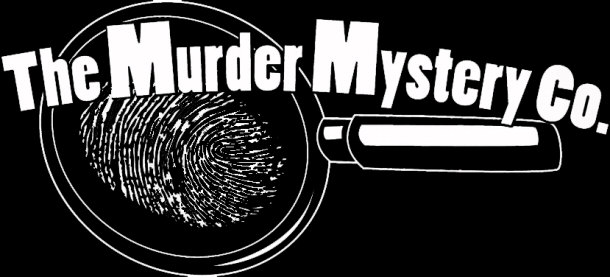 Tickets are a little pricy, but with the addition of the show, dinner actually works out to be quite affordable. A dinner for one is only $35 for a two-hour show, while dinner for five is $60. Many times the attendees are brought into the show, asked for clues, and used as witnesses to solve the crime. Occasionally, you are even accused of murder.
What Guest Should Expect - From the Murder Mystery Company's Website: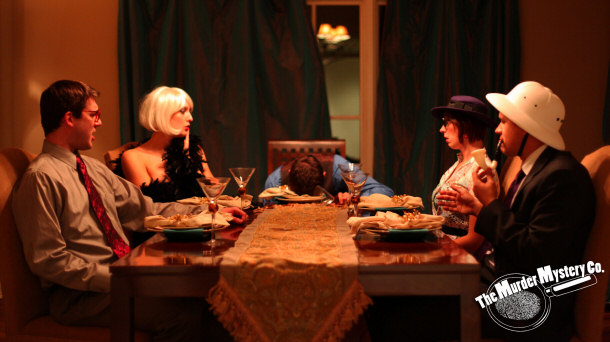 You don't have to feel put on the spot though, since the actors are used to guests who have never acted before. And they will work with you in order to get a good performance. If you feel a little shy, you can always refuse to participate.
---
10) Hollywood Wax Museum
If you have ever wanted to get your picture taken next to one of your heroes in the film world, such as Vincent Price or Bela Lugosi (before they passed), or to come face-to-face with current idols like Johnny Depp, it's not a problem at the Hollywood Wax Museum in Los Angeles.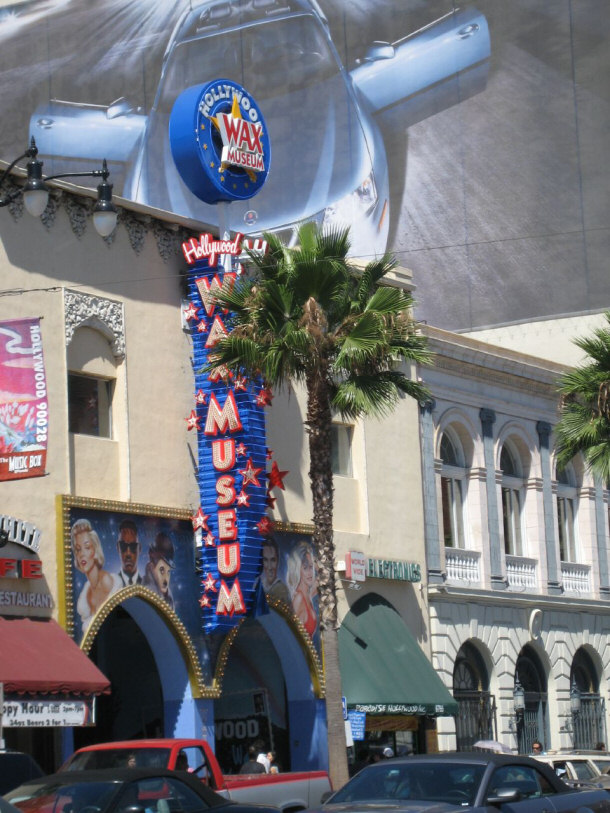 One attraction within the Hollywood Wax Museum's walls that seems to be drawing larger crowds every single season is the Hollywood Wax Museum's Chamber of Horrors. The Chamber of Horrors houses several monsters in a very long tomb-like passage that were the direct result of the necessity of realism in costume and make-up design in film during what is known as Hollywood's Golden Age of Horror.
Bela Lugosi as Dracula: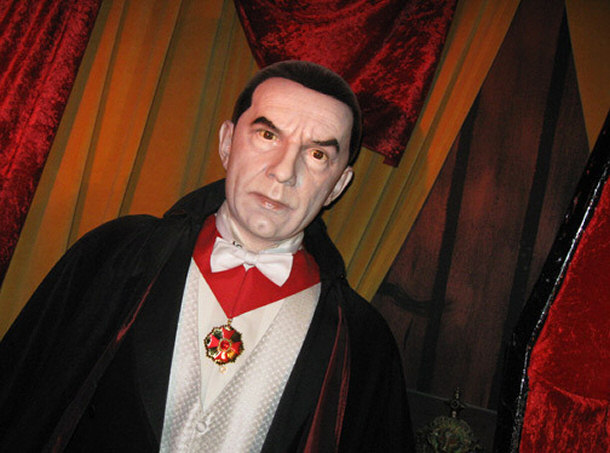 During this era of film-making, make-up artistry as well as special effects made up most of horror movies' budgets. Decreasing studio demand for special effects and costume artists caused by an industry-wide approach to special effects started during the 1990s with digital film technology. Cutting costs became much more important and digital animations spliced with computer generated video effects became the new standard in Horror movies. Modern films used traditional special effects techniques sparingly and began to rely more and more on digitally produced special effects.
Wizard of Oz at the Hollywood Wax Museum - Example of Classic Movie Making where all Effects were Performed with Stage Techniques Instead of Computers: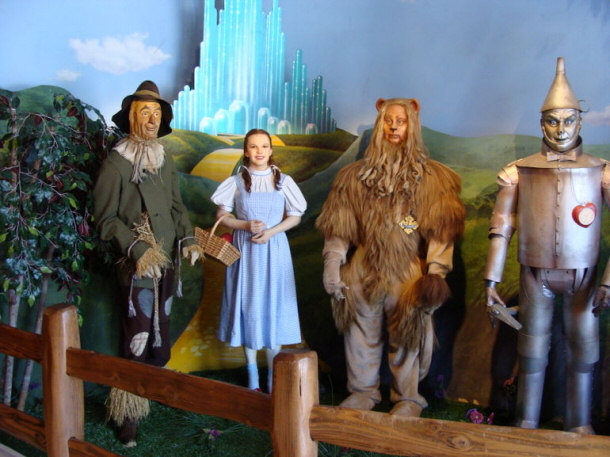 During Hollywood's Golden Age of Horror, studios were constantly looking for their next monster movie along with the best special effects, costume designers, make-up artists and production designers in order to transform simple sound stages and actors into classical horror characters like Dracula, The Mummy, and The Wolfman just to name a few. A typical horror picture's budget during Hollywood's Golden Age of Horror may of made up more than half of a picture's total budget. With the decline of special effects designing legends such as Tom Savini, Gregory Nicotero, George A. Romero, and Stan Winston. These special effects all stars collectively have no shortage of talent, but due to changes in film production styles their methods are becoming obsolete due to a growing desire to minimize production costs. Visitors are invited to appreciate the nostalgic remains of what Hollywood and film making used to be like, and take their time touring Hollywood's Wax Museum's Chamber of Horrors.
Jason Voorhees and Freddie Kruger - Two Characters that Mark the End of the Golden Age of Horror: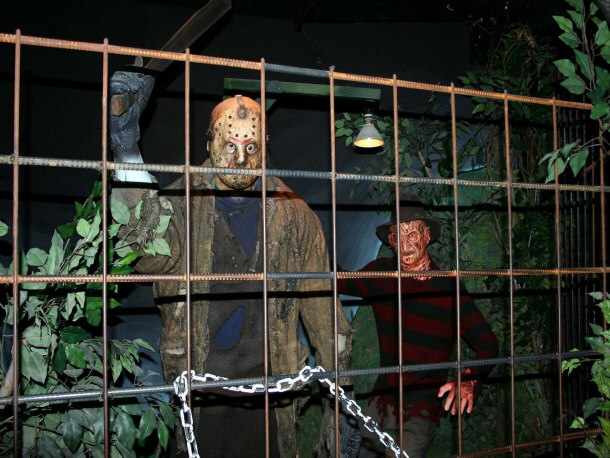 Some of this period of movie history's creations include elaborate monster costumes, props, and portions of horror movie sets. The finished works of the many men and women who made the mystical and fantastical come alive on screen without the use of computers, are on display at the Hollywood Wax Museum's Chamber of Horrors.
The Hollywood Wax Museum's Chamber of Horrors: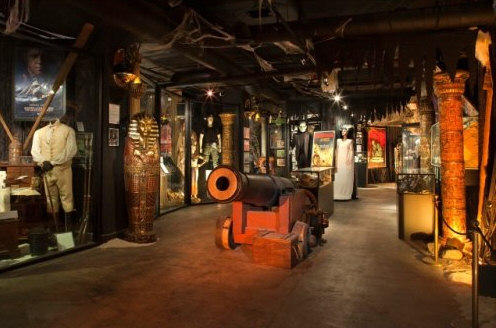 Admission prices are as follows: $17 per adult and $8 per child under 13 years. Seniors get a discount and are admitted for only $15. Children that are five years of age and younger can experience all the thrills the Hollywood Wax Museum has to offer for free provided they are in the custody of an adult.
---
---
9) Guinness World Record Museum
Located right on the Hollywood Walk of Fame is the Guinness World Record Museum. Many of the records printed in the books every year are also recorded in this very location. The museum offers in-depth information of the records that have been broken, as well as information about the people who accomplished them.
Guinness World Records Museum Located in Hollywood, CA: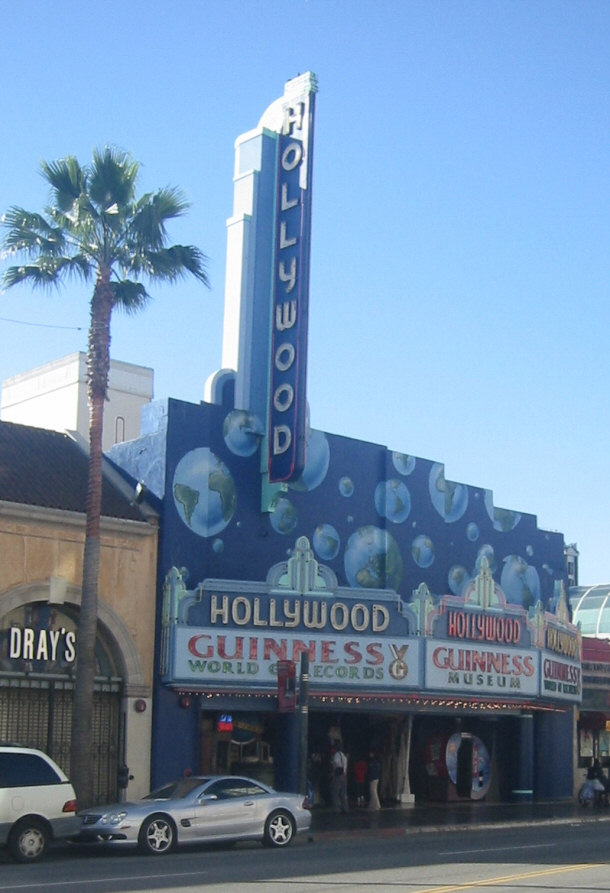 There are also fun interactive displays in the museum, including the exhibit that allows you to compare your weight to the world's heaviest man. You can also compare your height to the world's tallest and shortest men. These displays change every now and again to offer a draw for repeat visits.
World's Most Pierced Woman Elaine Davidson: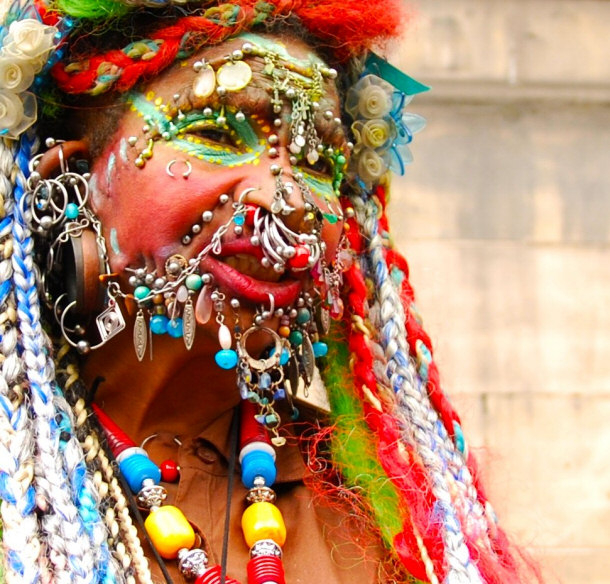 By George Gastin via Wikimedia Commons
Televisions are set up to showcase several accomplishments along with interviews with those that made the records. Feats from the amazing to the gross are all over the museum to be seen and enjoyed by all ages. Prices for admission are $17 for adults; $9 for children between the ages of 5 and 12; and $15 for adults over 55. Ticket prices are reduced by one dollar when bought online instead of at the door.
---
8) Star Line Tours
Since 1935, Star Line Tours have been something you just have to do if you plan to go to Hollywood. Instead of just wandering around by yourself with a map and hoping that you hit everything you wish to, the tour is designed to take people around and show them everything. Charter buses and tour guides provide you with a day of fun and information about the many locations around Hollywood and what is going on there now.
Star Line Tours in Hollywood is Simply Best Way to Experience Hollywood Without Driving: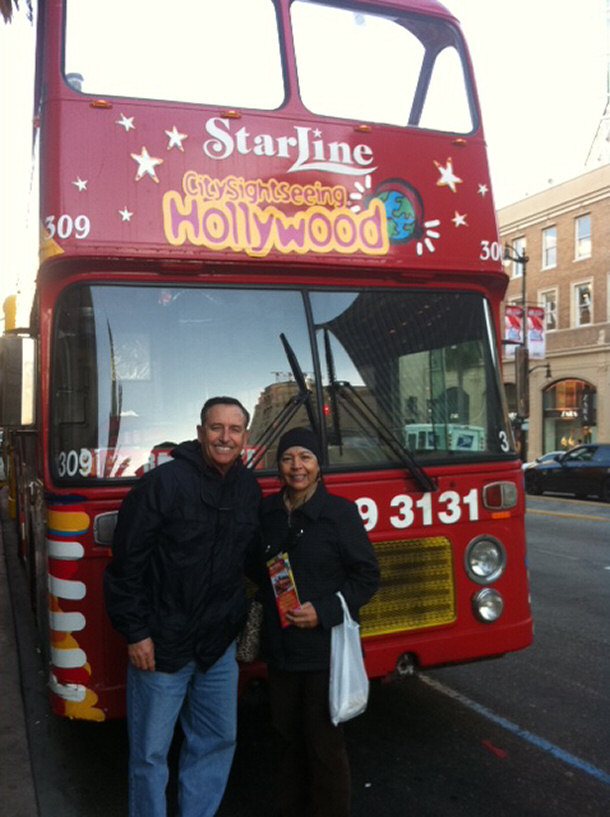 Many times you may even be taken close to a studio that is filming and can catch a glimpse of an actor as you are taken along for your informative tour.
The only downside is that there aren't really any stops. The bus drives past many historical famous areas and your tour guide will describe them to you. Clearly it would take too long to explore it all. It would be a good idea to have a pad of paper with you, or something else to jot down fast notes. That way if you pass by one of interesting places you'd like to look at on your own, you will know what and where it is.
---
7) Sky Bar
The Sky Bar is actually a large hotel that just happens to have a wild and crazy night life inside. It's not very hard to get in, and the place can be very cozy and comfortable. There are plenty of little nooks and crannies to set you up at for a comfortable night, or, if you are feeling much more adventurous, you can go out and enjoy the party with dancing and drinking. The atmosphere is great, and many reviews mark it as one of the best spots to go for partying.
Located in West Hollywood, Sky Bar is One of the Hottest Destination in Los Angeles: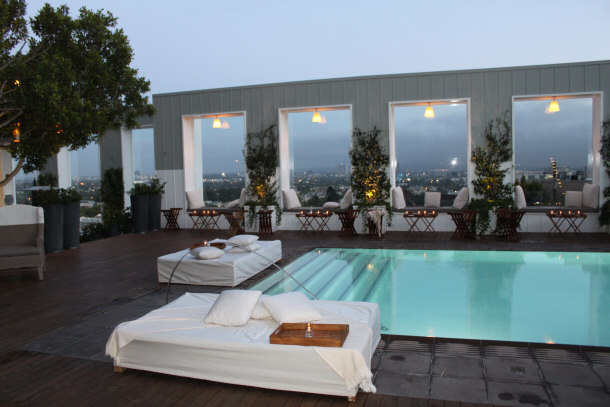 However, be prepared to spend some money here. There is no doubt that California is expensive, but some of the drinks at the bar are incredibly overpriced. It's not the place you go to just to get drunk, because it will cost you an arm and a leg for the privilege. It would be best to get only a couple cocktails and just nurse them as the night goes on. If you wish to leave drunk, it's recommended you go to another bar first to get you started, and then make your way to the Sky Bar for a big finish; one that won't burn a hole in your wallet.
---
6) Sunset Strip
The West Hollywood Sunset Strip is a wonderful place to see during day and night. It's a sight to see if you wish to relax a little and spend the time just hanging out. It is perfect for the last couple of days of your trip before you have to head back home. Many colorful stores dot the two-mile strip of road, along with cafes and bars to enjoy. Several celebrities also hang out specifically in this area, so you might get lucky and get a star to give you an autograph while you are out and about.
Road Sign Toward Beverly Hills Side of Sunset Strip: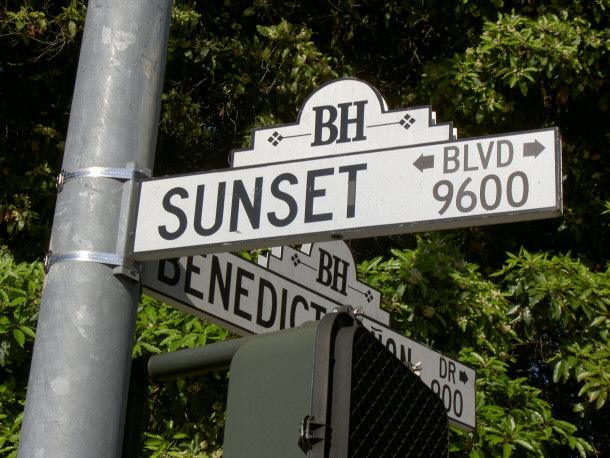 By Mr Bullitt via Wikimedia Commons
At night, the place really comes alive. The bars are all open until very late, some going on until morning. The celebrity you might have run into during lunch could be out in the clubs dancing the night away. Who knows, you may even be able to join him or her for the fun.
Tower Records on the Sunset Strip Located at 8801 West Sunset Blvd, West Hollywood: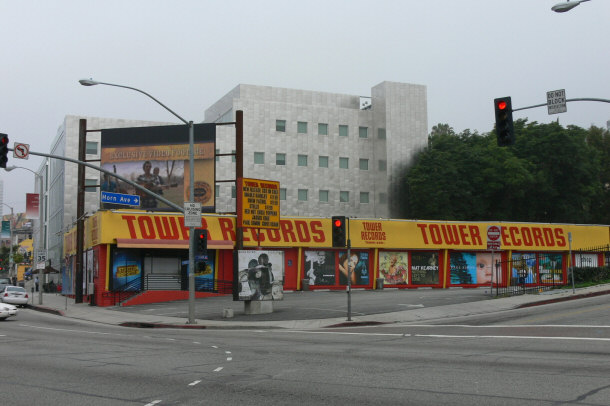 By Mike Dillon via Wikimedia Commons
Famous clubs on Sunset Strip include: The Roxy, Whisky a Go-Go, The Rainbow and The Comedy Club. There isn't really one that stands out above the others, but they are all decently priced and easy to get into.
Whisky a Go-Go Located at 8901 W. Sunset Blvd West Hollywood: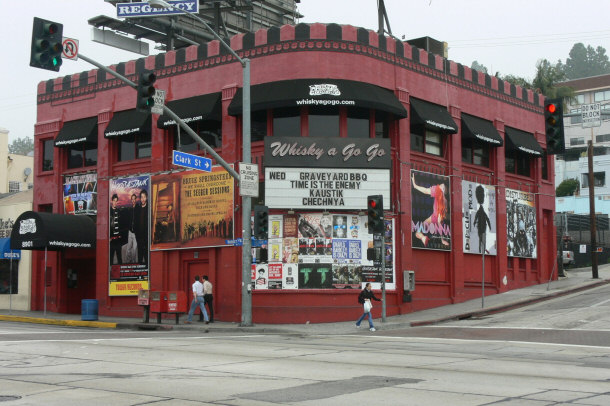 By Mike Dillon via Wikimedia Commons
---
5) Warner Brothers Studios
Warner Brothers Studios is certainly one of the most famous places to see in Hollywood. The well-known sets of various movies and television are displayed here, and the tours are unique, since none of them is exactly like the other.
Now a Historic Monument, the Original Warner Brothers Studios were Located in L.A. - Current Studios Are Located in Burbank, CA: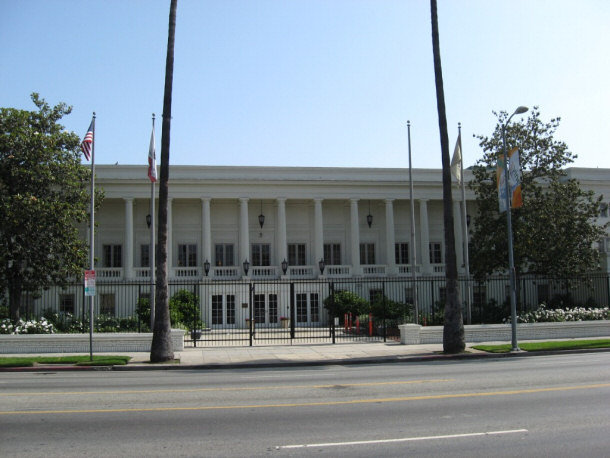 By Doncram via Wikimedia Commons
The three different tours (via cart) offer you a look at back-lots, sound stages, and sets. As production is always running in the world's busiest motion picture and television studio, it is likely to catch a glimpse of a star. Many people state that they come back at least twice to get another experience.
Title Card Used in First Merrie Melodies Short Produced in 1931 for Warner Brothers: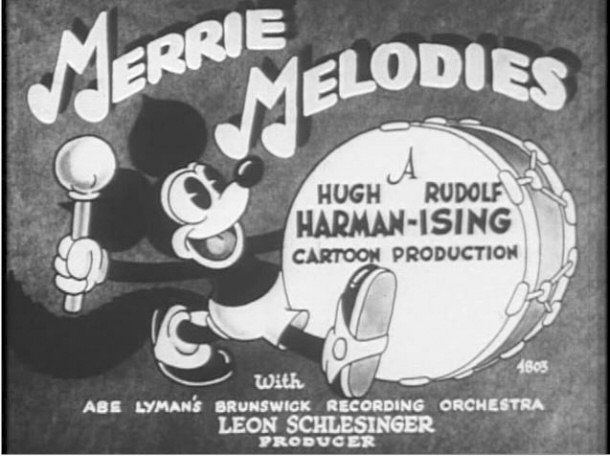 Some cool things to view while at Warner Brothers are: watching folly artists creating sound effects for movies, receiving information about the construction of different stages, walking over the set of a hit television show, discovering over 10 million items in the prop department, and getting to see close-ups of some of your favorite vehicles used in movies, such as the "Back to the Future" car.
---
4) Jim Henson Studios
Jim Henson Studios might not be the largest lot in Los Angeles, but they certainly shine with their own uniqueness. Starting as a variety show starring The Muppets, the franchise has grown to amazing heights. It now boasts more movies and television shows starring the famous puppets than you can shake a stick at. It's clear that these characters will always be popular and live in our hearts. For many of us, The Muppets helped form our childhood and they were our first experience with comedy and entertainment.
Kermit the Frog and Jim Henson Studios in Hollywood: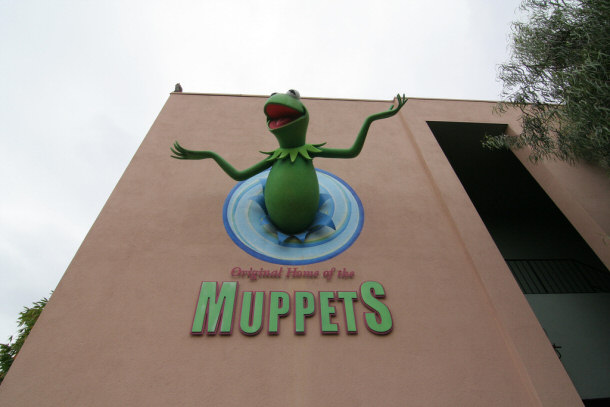 Of course for that reason, tours at this studio are popular. Many want to see just what fresh ideas are being sprouted here, not to mention the place that helped create so many of our childhood memories. The tour itself is outstanding, allowing you to meet some of The Muppets and the puppeteers as well. It lasts about two hours and includes a lunch break. Expect tons of fun!
Jim Henson Studios Located at 1416 North La Brea Avenue, Hollywood: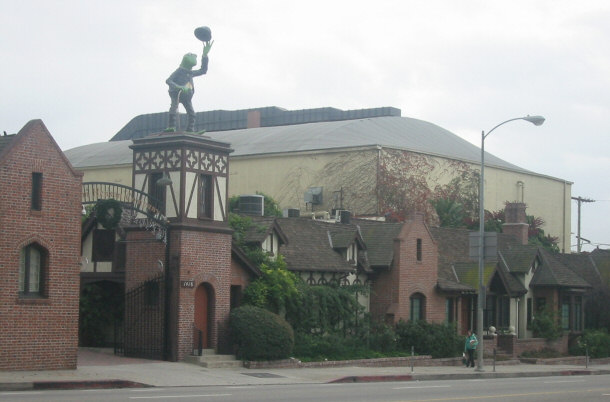 ---
3) Hollywood Museum
The Hollywood Museum is one of the best places to visit during your vacation. Imagine going through the museum and seeing Elvis' famous outfits that he performed in or an entire exhibit featuring the King of Pop, Michael Jackson. You can also view various props from science-fiction shows and the alien costumes that make the people from other worlds look so distinct.
Film Camera Used for Filming Spaghetti Westerns at the Hollywood Museum: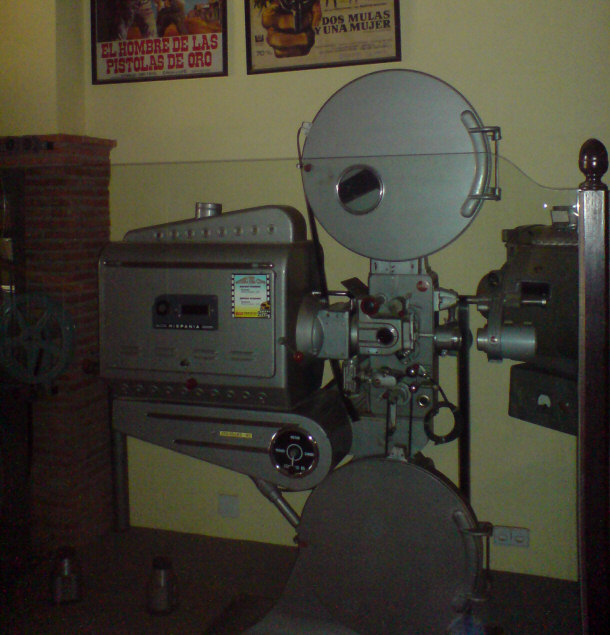 By Willem van der Horst via Wikimedia Commons
At the Hollywood Museum, you can do all this and more. There are more than 10,000 items from various movies and television shows that took place in different time periods. There is enough here to occupy you for hours! Both classic and informative, it is no wonder that so many people have fallen in love with this place and keep coming back to see more.
Entrance to the Hollywood Museum: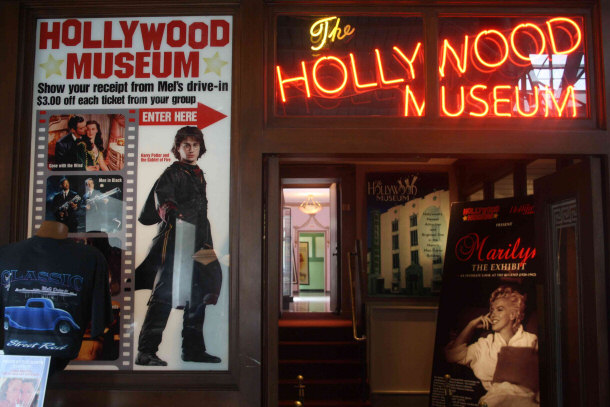 ---
2) Seminole Hard Rock Casino
If you need a swinging environment with good music, great drinks and hard rock, then clearly this is the place for you. Many Hard Rock locations are both hotels and places to hang out, eat and party. The Hard Rock on Hollywood Boulevard is no exception. This place has everything you could possibly want, with gambling, drinking, food, and a hotel room where you can crash when you are done. It's one of the best places to stay in Hollywood while you are out seeing the rest of the district.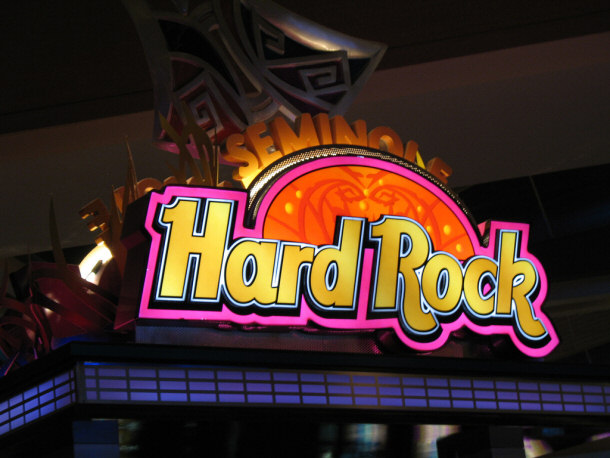 The prices here are also very reasonable. Unlike some hotels that will try to scam as much money from tourists as possible, the Hard Rock Casino has a good reputation for being fair with its prices. It does not gouge a customer for a fast buck, and you won't leave there feeling ripped off or like you wasted your money..
The Seminole Hard Rock Casino also has a lot of events rolled up over the months. Concerts for indie bands and well-known artists occur constantly to keep in pace with the establishment's name. For the wonderful music that is played here, it is worthy of it, as well.
---
1) Universal Studios Theme Park
Clearly one of the best places to visit in Hollywood is the Universal Studios Theme Park. This location has everything you could possibly want on a vacation. Roller coasters, live shows, band performances, daily street parties, and great restaurants are all here. In fact, these are only a few of the attractions you can enjoy. Shows like stunt-car driving or skateboarding take place about 10 to 15 times a day. Sometimes, movies or live shows are being filmed. It's not unheard of for someone to score a seat in an audience where a pilot episode or a game show is being filmed. You might even catch a glimpse or two of a movie shooting, or get a chance to be an extra in an upcoming release.
Fountain at the Entrance to Universal Studios Hollywood Theme Park: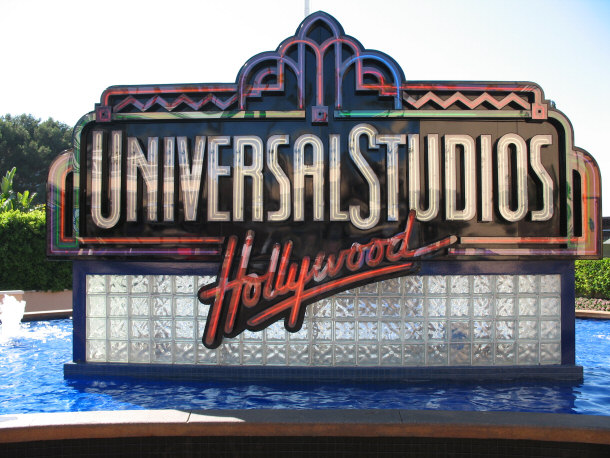 By Anthony Giorgio via Wikimedia Commons
The theme park has prices that vary throughout the year, with the cheapest deals during the winter. There are various discounts, like if you are a local of the state, or if you buy a weekend pass. There are even several hotels connected to Universal Studios that will offer you a park discount.
Lower Lot of Universal Studios Hollywood is Home to The Mummy's Revenge, Transformers 3D Ride, and Jurassic Park: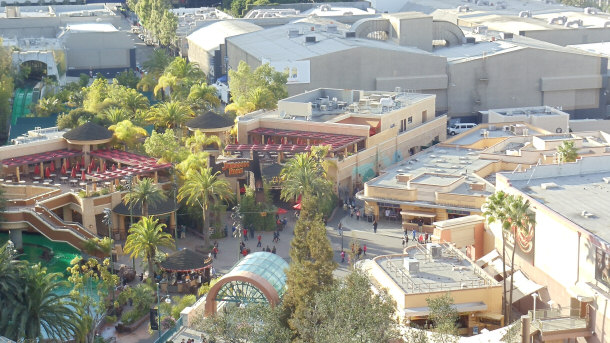 By METRO96 via Wikimedia Commons
Even if the actual theme park is not for you, there is always City Walk to experience, as well. This area is free to access, and has several attractions, bars and shops. Concerts and parties here are common and happen every weekend.
Statue of a Cinematographer at the Entrance of Universal Studios: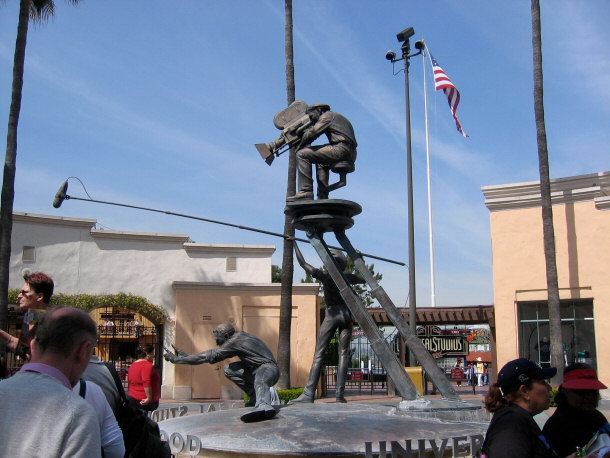 ---
Conclusion
Hollywood, California has a lot to offer its visitors. There is fun to be had everywhere! The city and its surrounding areas promise big things, even to short-term visitors. Your favorite actors and singers from the big screen live here, and you have a good chance of running into them by accident. It's a quality that you'll find in very few other places, and it is one that should certainly be taken advantage of. No matter what your budget, or what you wish to do here, there is an opportunity for anyone in this land of dreams. If you come here, make sure that you see some of these sights, and most importantly, have fun!
Vacation Destinations
Top Lists:
Top 15 Interesting Places to Visit in the Bahamas
Top 15 Fun Things to Do in Miami, Florida
Top 15 Fun Things to Do in Chicago
Top 15 Best Unknown Things to do in Las Vegas
Top 15 Fun Things to Do in Hollywood
Top 10 Best Places to Visit in Turkey
The Top 15 Best Things to Do and See in Sydney
Top 10 Things to Do in Edinburgh
Top 10 Things to do on Oʻahu
Top 15 Things to Do in Albuquerque
Top 15 Interesting Places to Visit in Spain
Top 15 Places to Visit in New York City
Top 15 Things to Do in Portland Oregon
Top 15 Things to do in Greece
Top 15 Places to Visit in Houston Texas
Top 15 Interesting & Safe Places to Visit in Mexico
Top 15 Interesting Places to Visit in the Netherlands
Top 15 Interesting Places to Visit in Thailand
Top 15 Interesting Places to Visit in Switzerland
Top 15 Interesting Places to Visit in Portugal
Top 15 Places to Visit in San Francisco
Top 15 Interesting Places to Visit in Shanghai
Top 15 Interesting Places to Visit in Puerto Rico
Top 15 Interesting Places to Visit in Norway
Top 15 Interesting Places to Visit in Las Vegas
Top 15 Interesting Places to Visit in Jamaica
Top 15 Interesting Places to Visit in Croatia
Top 15 Interesting Places to Visit in Belgium
Top 15 Interesting Places to Visit in Bangkok
Top 15 Things to Do in Rio de Janeiro
Top 15 Things to Do in Monaco
Top 15 Interesting Places to Visit in Dubai
Top 15 Interesting Places to Visit in Amsterdam
Top 15 Things to Do in New Zealand
Top 15 Interesting Places to Visit in Paris
Top 15 Interesting Places to Visit in Italy
Top 15 Interesting Places to Visit in Singapore
Top 15 Most Interesting Places to Visit in Berlin
Top 15 Best London Attractions
15 Little Known Facts About New York City
Disney World Articles
Top 15 Disney World Rides for Adults
Top 15 Disney World Rides for Kids
Top 15 Disney World Resorts for Adults
Top 15 Disney World Resorts for Kids
15 Fascinating Facts About Disney World
Top 15 Fun Things to Do at Disney World's Animal Kingdom
Top 15 Fun Things to Do at Disney's Hollywood Studios
Top 15 Fun Things to Do at Disney World's Epcot
Top 15 Fun Things to Do at Disney World's Magic Kingdom

Shorter Top Lists:
Top 10 Tourist Attractions in San Diego
Top 10 Tourist Attractions In India
Top 10 Things to Do In Kansas City
5 Places You Should not Miss in Brazil
Top 5 Things to do in New York City

Informational:
Best Tourist Attractions In Vietnam
Taking in the Sights in Shanghai
Top Tourist Attractions in Perth, Australia
Nice places to visit while in Great Britain
Sampling the Foods at the Night Markets in Taipei
What to do for a Kenya Vacation
Best Attractions in Victoria, B.C.
Photos of the Luxor Hotel in Las Vegas