Top 15 Places to Visit in Houston Texas
Representing the largest city in Texas and the fourth largest city in the United States, Houston, Texas offers visitors a copious amount of good fun and fond memory making opportunities. Houston, Texas is a larger than life city filled with diversely interesting people and non-stop entertainment. From folk art to space centers, Houston has something to offer to people with even the most uniquely refined taste. Houston is home to several parks, and many of them have free admission and are open to the public. Houston has its very own museum district, and many of the museums are located within walking distance from each other. Whether you're in the mood for delicious food, sightseeing, or heart racing thrills, Houston has an attraction to fit your desire. These fifteen places to visit are must-sees for anyone traveling to Houston.
---
15) Beer Can House
The Beer Can House is an extraordinary sight to behold by anyone lucky enough to see it. Created by John Milkovisch in 1968 in an effort to save money on cooling and heating costs, according to Ripley's Believe It or Not, over 50,000 cans were used to create the Beer Can House.
Beer Can House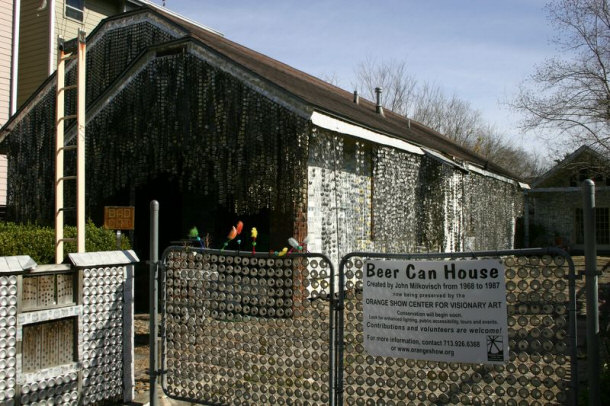 By Viriditas via Wikimedia Commons
The house features crushed beer cans as aluminum siding, and for non-functional, decorative purposes. Parts of the cans hang from the house like wind chimes and if there is a favorable amount of wind, you can hear a tinkling melody. Numerous glass bottles, cans, marbles, and other recyclable items adorn both the house and the front lawn.
Front of Beer Can House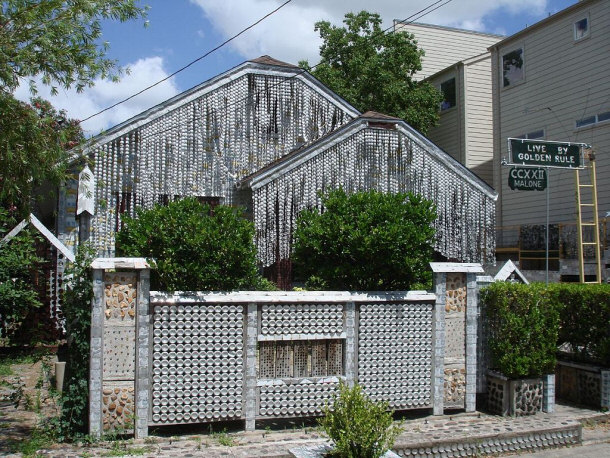 By Andrew Wiseman via Wikimedia Commons
Many of the beer cans and bottles on and around the house were actually drunk by Milkovisch and his wife, who both have since passed away. Though the house is sometimes described as strange and unsightly, visitors will appreciate the amount of dedication and time Milkovisch put into creating the Beer Can House.
The Shed at the Beer Can House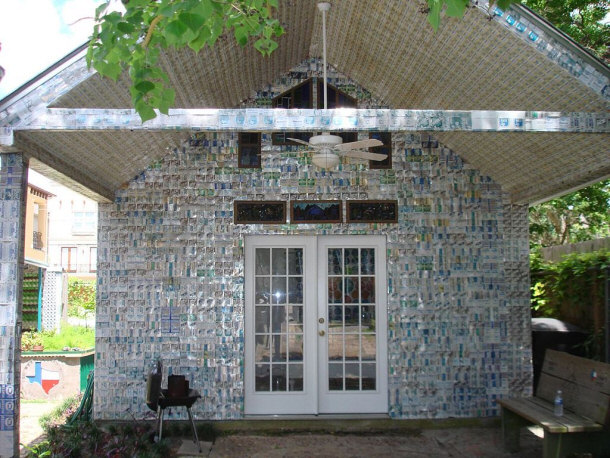 By Andrew Wiseman via Wikimedia Commons
Because time and nature have taken their toll on the Beer Can House, a restoration process has been put into place to restore the integrity of Milkovisch's truly original project. Restoration or not, a visit to the Beer Can House will result in shocked stares and several photographs.
---
14) Armand Bayou Nature Center
Armand Bayou Nature Center is a wilderness preserve made up of forests, prairies, marsh habitats, and natural wetlands covering a total area of 2,500 acres.
Front Gate of Armand Bayou Nature Center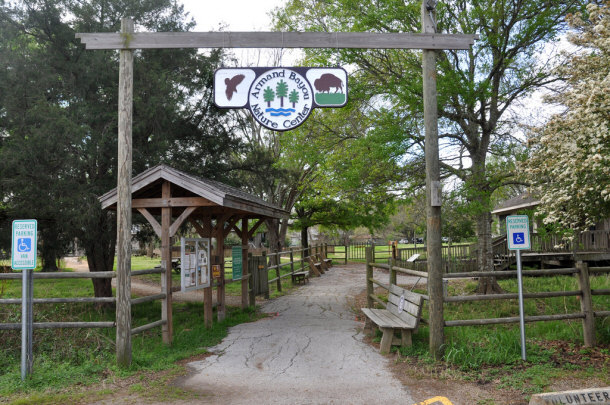 Nearly 400 species of animals including mammals, reptiles, birds, and amphibians call the Armand Bayou Nature Center home. It also contains numerous forms of plant life.
There is an observation deck where visitors can view bison. Some of the activities available at the Armand Bayou Nature Center include hiking, animal and bird exhibits, as well as canoe and boat tours. Depending on what day and time you visit the center, you can enjoy a scenic breakfast while drifting on a pontoon boat. If mornings aren't your thing, the center also offers sunset and moonlight cruises where guests may be able to see and hear owls, frogs, and other nocturnal creatures. If you're visiting Houston with someone special, the sunset and moonlight tours are both fun and incredibly romantic. Prairie tours and native animal sightings are just a few of the exciting attractions at the Armand Bayou Nature Center. For those visitors who are interested in farming, the Martyn farmhouse demonstrates farm life in the 1890s.
---
13) Cypress Trails Equestrian Center
Cypress Trails Equestrian Center is a horse sanctuary that welcomes riders of all skill levels. Scenic adventure trails are located just next door, and the center prides itself on helping to match you with the best horse based on your riding ability.
One of the Many Barns at Cypress Trails Equestrian Center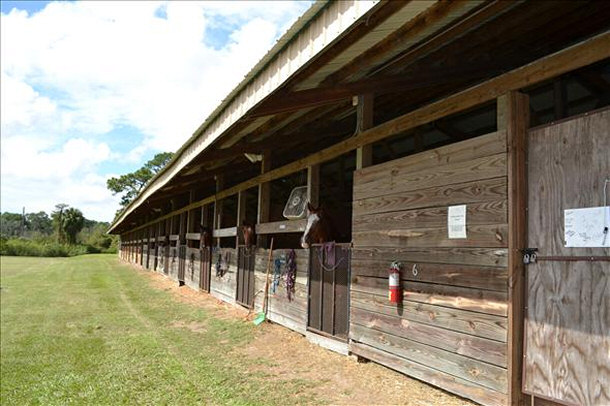 Visitors can ride from as little as an hour all the way up to full day rides. If you have children that are at least five years of age, they are allowed to ride the trail with their own horse. Cypress Trails Equestrian Center also offers dinner and picnic rides, though these rides typically need to be scheduled in advance. Visitors can enjoy the full experience of riding and getting in touch with nature during one of these special rides, but these specialty rides are typically more expensive than the adventure trail rides. If you're planning to spend a lengthy amount of time in Houston, you can sign up for riding lessons. Cypress Trails Equestrian Center offers lessons to beginners or endurance clinics for competitive riders.
Advanced Rider at Cypress Trails Equestrian Center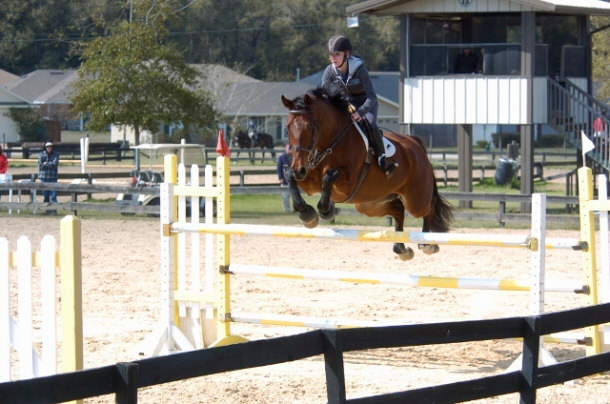 Courtesy of cypresstrailsfarm.com
The horses at the center are healthy and beautiful, and range from Spanish Mustangs to Appaloosas. The horses chosen for beginners are sweet and gentle, and you'll find yourself growing attached to one in no time. With the variety of things to do and particularly if it's your first time riding, you're in for a fantastic experience.
---
12) Mercer Arboretum and Botanic Gardens
Open from 8AM to dusk during the months of March through October, and 8AM to 5PM during the months of November through February, Mercer Arboretum and Botanic Gardens is a gorgeous place to relax while enjoying nature. This 250-acre attraction even offers free admission.
Entrance to Mercer Arboretum and Botanic Gardens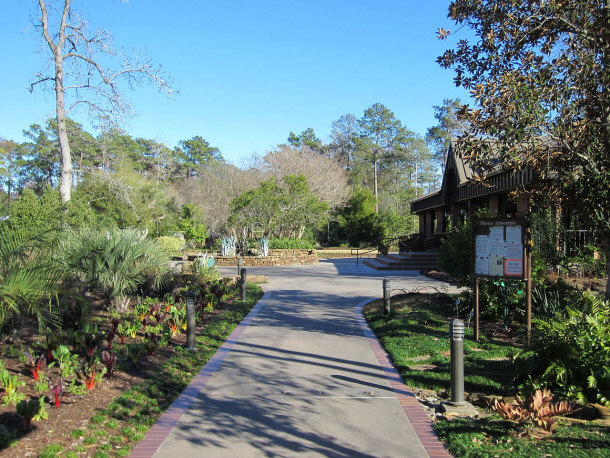 By Another Believer, via Wikimedia Commons
Fish Pond at the Mercer Arboretum and Botanic Gardens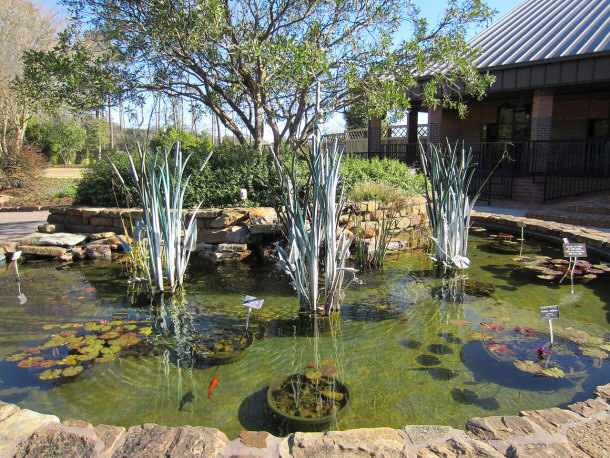 By Another Believer, via Wikimedia Commons
The Mercer Arboretum and Botanic Gardens is home to a collection of native, and cultivated plants and trees. Visitors can enjoy a picnic surrounded by some of the most gorgeous flowers and vegetation in the United States. Hiking trails, picnic areas, and even a house of butterflies are the highlights of this beautiful nature area.
Storey Lake at Mercer Arboretum and Botanic Gardens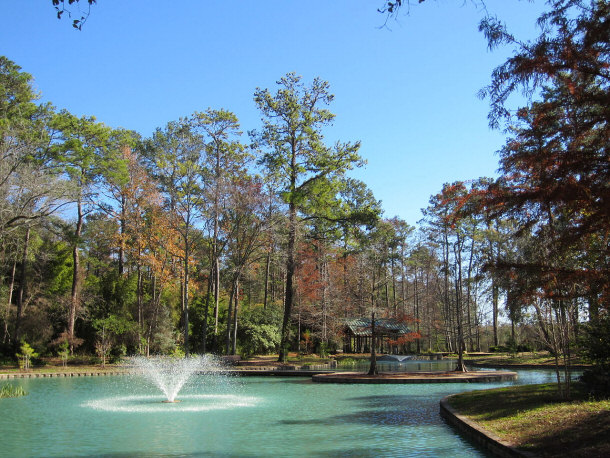 By Another Believer, via Wikimedia Commons
There is also a playground, a teahouse, and a visitor's center. Certain areas of the park are designated for exercise, whether it be jogging or skating. If you brought your pet with you on vacation, then you're in luck. The park allows you to walk your dog on the arboretum trail. While there is no dog walking allowed in the botanic gardens, the Mercer Arboretum has staff who can paint your pet's portrait if you call in advance. If you're in the mood for a casual stroll, you may spot chickadees, cardinals, and several other types of birds. While relaxing and taking in all this nature, you will enjoy breathing in the fresh air along with the comforting fragrance of pink camellias.
---
11) Old Town Spring
There's nothing quite like the quaintness of Old Town Spring. Located in Spring, TX and designed to resemble a town during the early 1900s, Old Town Spring gives a sense of nostalgia to some visitors and a sense of wonder to others. The area features Victorian-style markets, with some located inside buildings that were originally constructed for the nearby railroad town. Imported items from all over the globe are sold in the shops at Old Town Spring.
The Cafe - Old Town Spring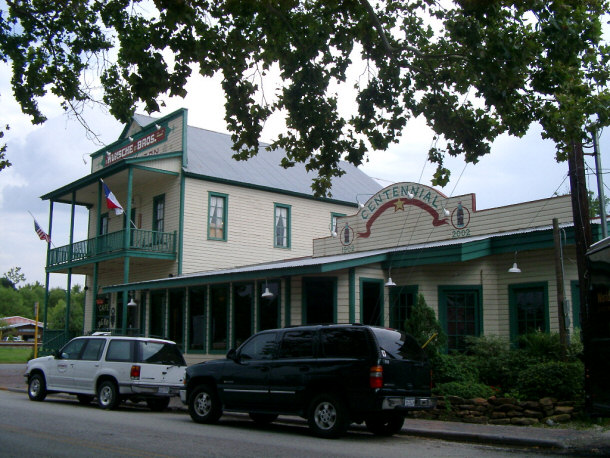 Some of the shops you can expect to find mostly sell art, collectibles, clothing, jewelry, furniture, and even dolls. Churches, florists, restaurants, and salons are just some of the service businesses that are available in Old Town Spring. The Spring Historical Museum and the Civil War Museum are also located in Old Town Spring. The town is also home to many festivals such as the SpringFest Wine & Art Festival and the Texas Crawfish and Music Festival.
If you're looking for a charming place that exhibits how life was like in the early 1900s, then Old Town Spring is definitely for you. Enjoy the intoxicating smells of home-style cooking and scenery that is downright magical.
---
10) Museum of Fine Arts
The Museum of Fine Arts in Houston has something for the entire family. Attractions include two galleries, a visitor's center, movie theatre, and a sculpture garden. From the Stone Age to modern art, the museum collection contains more than 63,000 pieces.
The Watkin Building of the Museum of Fine Arts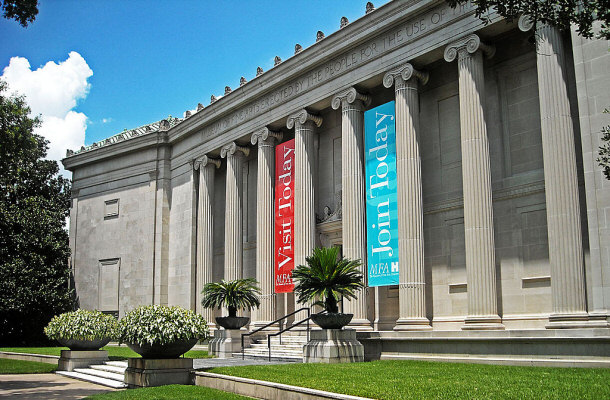 By Hequals2henry, via Wikimedia Commons
Numerous traveling exhibitions keep the collection dynamic and fresh, allowing for visitors to learn and explore something new every time they come to the musuem. The museum collection features art from Africa, Asia, Mexico, Central and South American, the Caribbean, Europe, North America, and the South Pacific. Featured collections such as the Bayou Bend Collection and the Rienzi Collection present many priceless masterpieces.
Rienzi House Museum - Museum of Fine Arts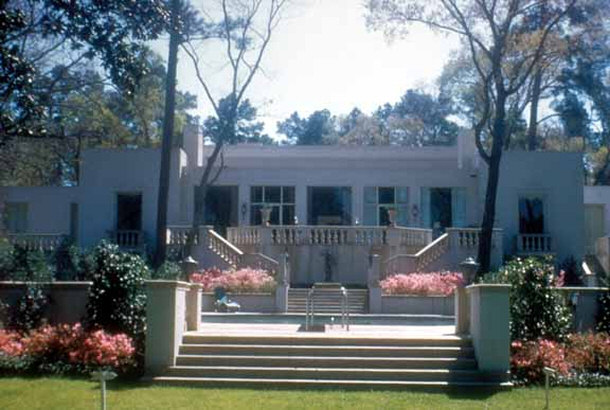 By MFAH archives, via Wikimedia Commons
If you can plan to schedule your visit to the Museum of Fine Arts in Houston on a Thursday, then admission is free. Children under the age of five do not have to pay admission, and children between the ages of 6-18 living in Texas can show their public library card for free admittance.
Gardens at Museum of Fine Arts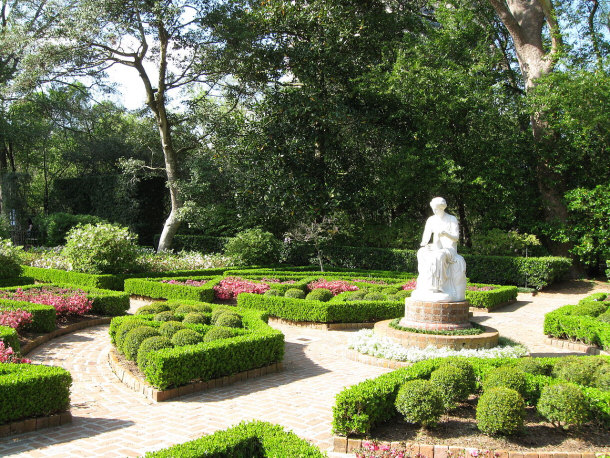 A visit to the museum will leave you feeling both educated and inspired. The museum also offers workshops, lectures, and performances for adults and families. Don't forget to visit the shop for keepsakes and the bookstore for fantastic reads.
---
---
9) The Galleria
What's a trip to Houston without doing some shopping? The Galleria has it all and is sure to please even the pickiest of retail warriors. Arguably one of the best shopping malls in the world with numerous stores and ample parking, you'll lose yourself in all that the Galleria has to offer. Popular stores like Macy's and Nordstrom are located in the Galleria, as well as high-end stores such as Louis Vuitton, Gucci, Fendi, Coach, Ralph Lauren, and Prada. Other stores include Best Buy, Apple, and the Disney Store.
Inside The Galleria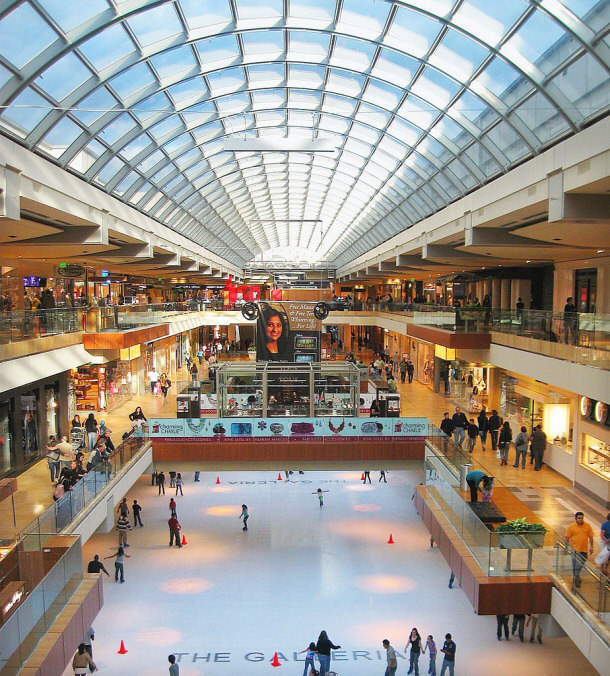 By Postoak, via Wikimedia Commons
Need to give that credit card hand a rest? Take a break and dine at one of the many restaurants offering exquisite food, or for just a quick bite on the go. If you find that you don't want to leave, the mall even offers two Westin hotels located inside of the Galleria complex. If you just want to enjoy the atmosphere without spending a bunch of money, bring your laptop with you and enjoy complimentary Wi-Fi.
Microsoft Store - The Galleria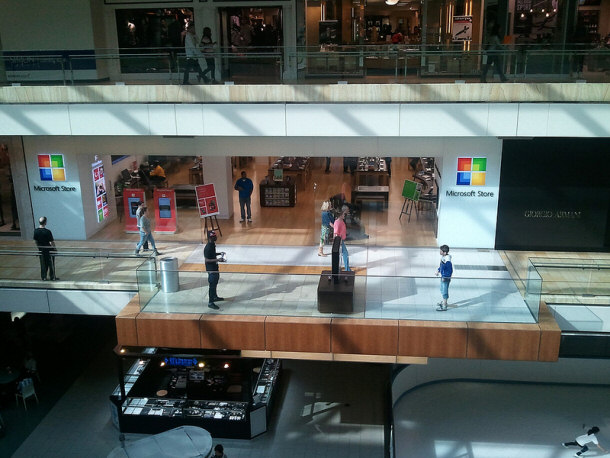 If you're looking to acquire some local art, stop by the Zen Art Gallery and pick up a couple of new pieces for your collection. If you've never been ice-skating and always wanted to try, the Galleria offers an ice-skating rink right inside the mall.
---
8) The Children's Museum of Houston
Though the museum is really intended for kids, whether you have children or not, the Children's Museum of Houston is still a cool place to check out. The museum contains 14 exhibits that allow for hands-on experience and learning. Your child (or you) can try his or her hand at inventing, programming a robot, running a business, or anchoring the news.
Entrance to the Children's Museum of Houston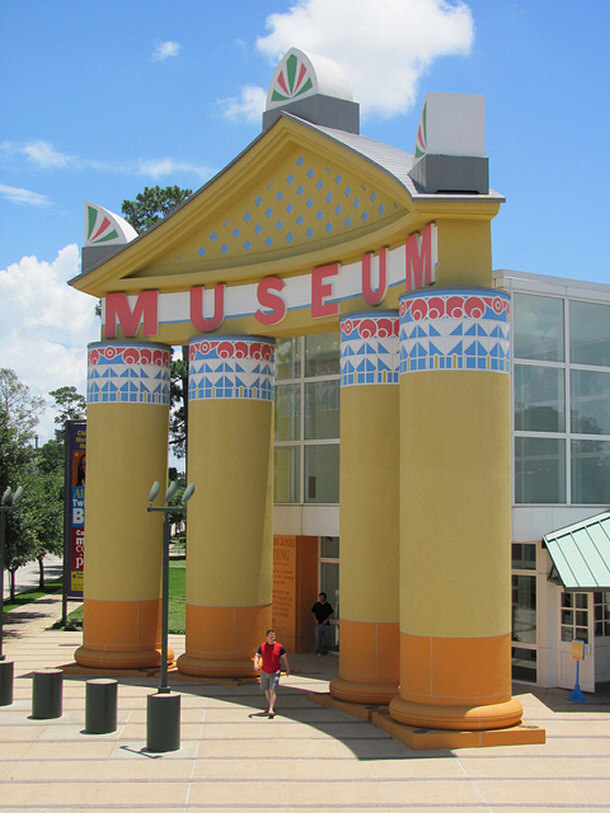 Bright lights and colorful walls will make any child excited to visit the Children's Museum of Houston. A rock wall, giant building blocks, and learning about different cultures are just a few of the main attractions at the museum. Puzzles, games, and other activities will keep you and your child entertained for hours. Discover how things work from plumbing systems to mechanical creations.
Fun for All Ages at the Children's Museum of Houston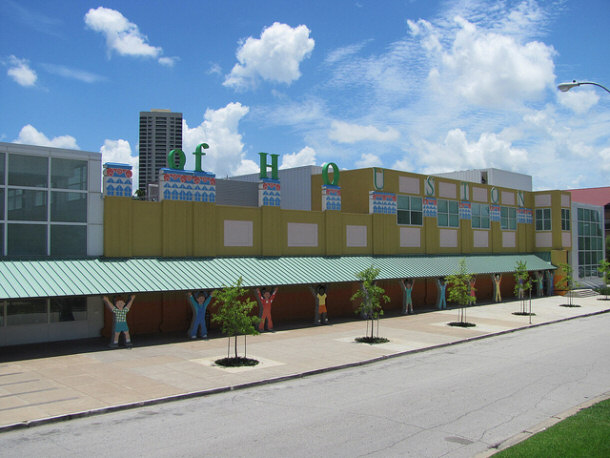 Visit the Kid's Hall and witness traveling art exhibits, and even watch as your child creates his or her very own puppets and puts on a play. There is even an area for children who may be too small to interact with older children, featuring a safe and cushiony ball and pillow pit.
Exhibit at Children's Museum of Houston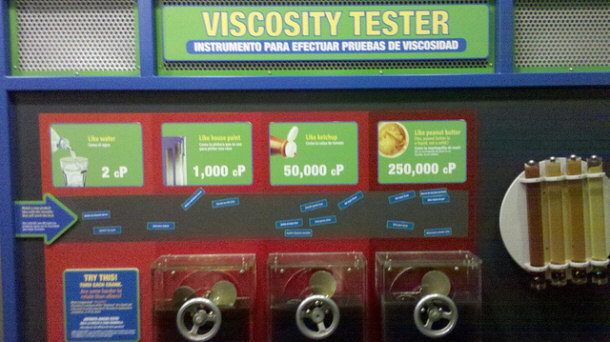 If you and your family are feeling low on energy, stop by the Fresh Café and get a bite to eat. The menu offers everything from chicken strips to healthy fruit bowls. The museum has rooms that are available to be rented for birthday parties and other special occasions.
---
7) Moody Gardens
When you visit Moody Gardens you may never want to leave! An aquarium, rainforest, and a Discovery pyramid headline the list of attractions at the Moody Gardens. The Discovery Pyramid is home to over 2,000 plants and animals.
Some of the animals you can expect to see are monkeys, sloth, bats, otters, alligators as well as rare and endangered birds. The Aquarium Pyramid allows visitors to explore the aquatic beauty of the world's oceans. At an astonishing 12 stories high, you can walk up and down the walkways, viewing the exhibits from both above and below the water.
Interact with sea creatures by visiting one of the large touch tanks or jeweled tanks. If you're lucky enough to be visiting Moody Gardens during the summer, stop by Palm Beach to relax in the lazy river. Drift in the wave pool or ride one of the 18-foot tower slides.
Experience the feel of white sandy beaches between your toes while taking in the gorgeous scenery of freshwater lagoons, and beautiful waterfalls surrounded by tropical landscape.
Moody Gardens Hotel Pool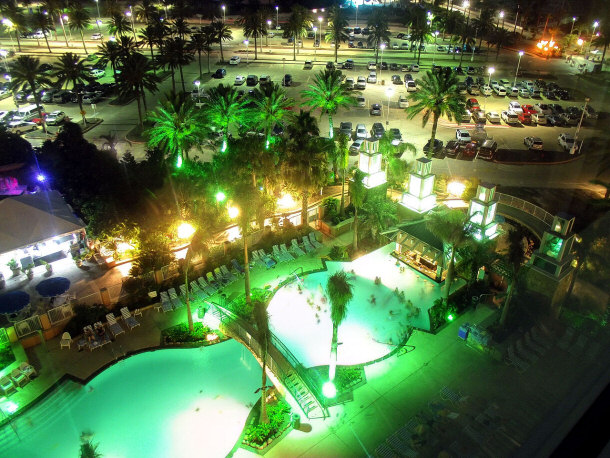 By Supportstorm, via Wikimedia Commons
Top your visit off with a movie in the IMAX 3D Theater, the 4D Special FX Theater, or the Ridefilm Stimulation Theater.
---
6) Houston Museum of Natural Science
The Houston Museum of Natural Science is sure to put a smile on your face. Travel four floors of the permanently housed exhibits within this jaw-dropping, natural history museum.
Houston Museum of Natural Science



By Wolfgang Manousek from Dormagen, Germany via Wikimedia Commons
Explore everything from minerals and fossils, to displays concentrated on wildlife and ancient history.
Houston Museum of Natural Science Floating Magic Exhibit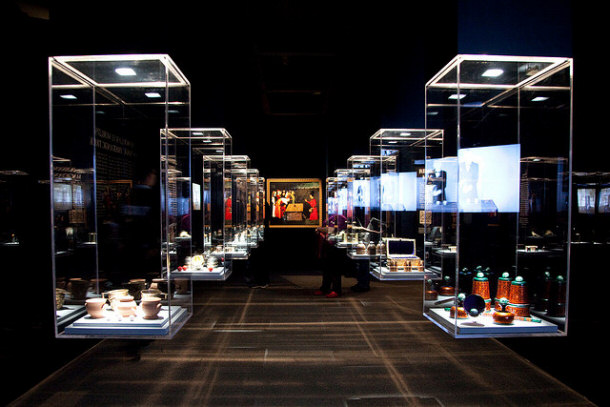 Get a glimpse of how the ancient Egyptians lived and see authentic artifacts that include mummies. New areas such as the Paleontology Hall house over 450 dinosaur bones and fossils, and the museum also contains some of the world's most extraordinary crystals.
Allosaurus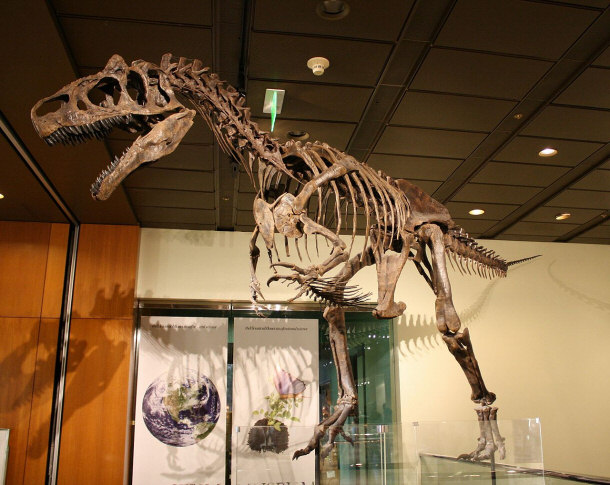 By The_Wookies, via Wikimedia Commons
Quartz Crystal on Display at the Houston Museum of Natural Science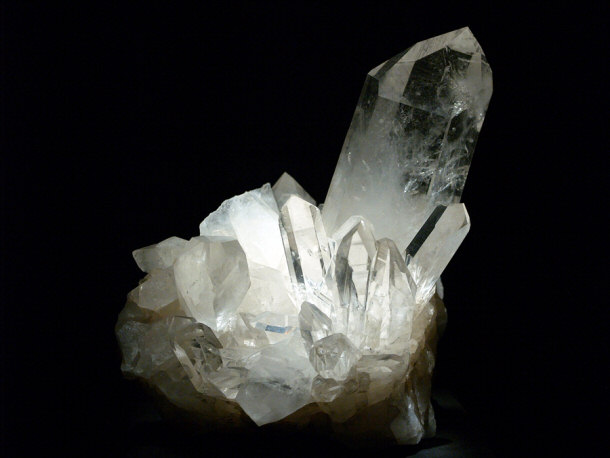 By Assignment_Houston_One, via Wikimedia Commons
The museum contains a 2000 carat blue topaz that is absolutely stunning. The Cockrell Butterfly Center and the Brown Hall of Entomology offer educational, as well as entertaining exhibits.
The Cockrell Butterfly Center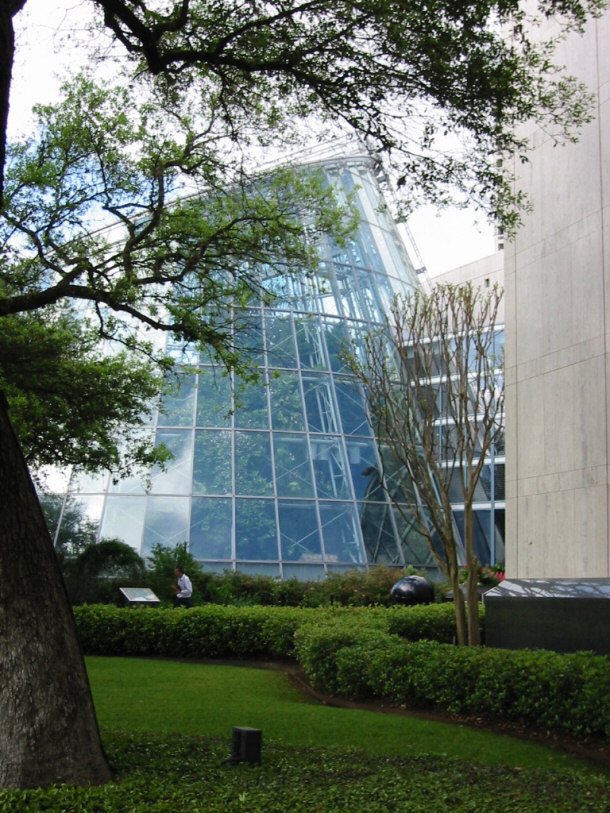 By Judson Dunn, via Wikimedia Commons
Walk along the rainforest, and raise your awareness about the world of insects and the effect they have on the environment. You can even view some of the African or Texas Wildlife exhibits, and move along to the Chemistry and Energy Halls. Finally, the Smith Gem Vault displays extravagant custom-made jewelry. When you're ready to take a break from wandering the museum, stop by the planetarium or visit the 3D theater and watch a movie about sharks, butterflies, or flying monsters.
---
5) Downtown Aquarium
Visitors will enjoy seeing a host of different species of marine life and aquatic animals in this six acre must-see. With 500,000 gallons of water and over 200 species from around the world, visitors will marvel at all of the beautiful aquatic life on display at Houston's Downtown Aquarium.
Marine life such as sharks, fish, and octopus can be found at the Downtown Aquarium. There are also special areas that allow visitors to touch sea creatures while they swim. Watch as trained divers swim in tanks with fish and other sea creatures. But the Downtown Aquarium has so much more to offer.
Downtown Aquarium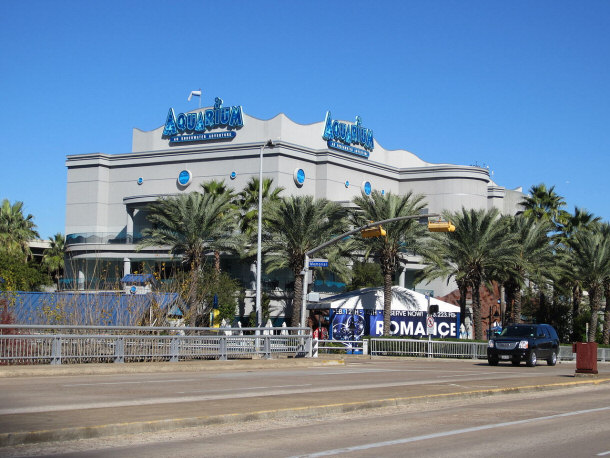 By Another Believer, via Wikimedia Commons
Visitors can gaze at the beautiful white tigers located in Maharaja's Temple. If you're hungry you can visit the restaurant. Experience stingrays and fish swimming past your table, or while you are having a drink at the state of the art bar. If you're in the mood for even more fun, climb aboard the Ferris wheel or the carousel located outside.
Amusement Area at the Downtown Aquarium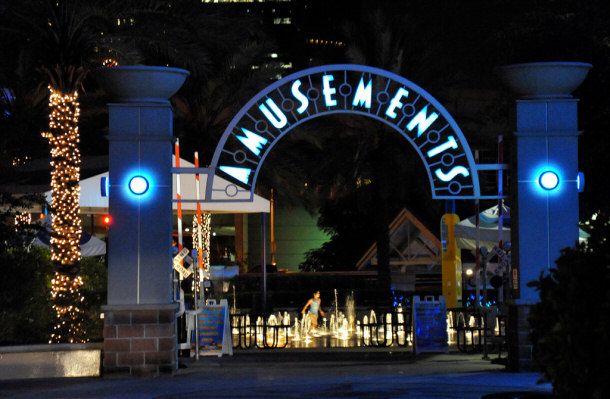 For an additional cost, visitors can even catch the train and experience Shark Voyage which is a fantastic way to feel the breeze in your hair while gazing up at sharks swimming above you.
---
4) Lyndon B. Johnson Space Center
Houston's Space Center is a place you'll never forget. Amuse your childlike sense of imagination and pretend to be a real astronaut, all while touching a real moon rock or witnessing actual astronauts training.
Aerial View of the Johnson Space Center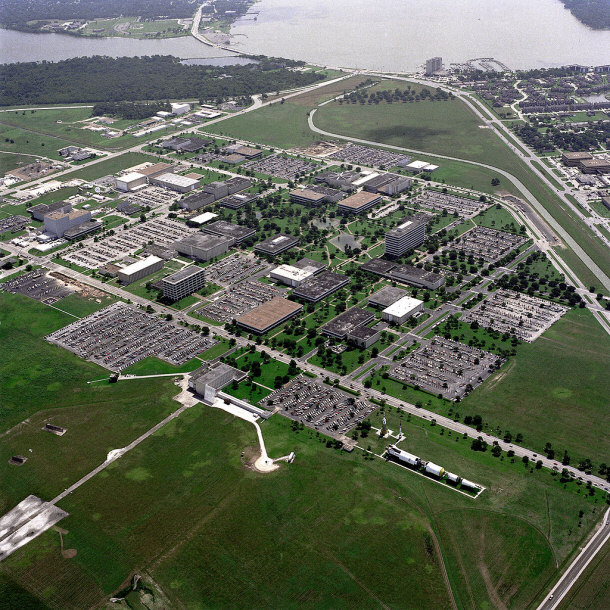 The Lyndon B. Johnson Space Center in Houston isn't an attraction you really want to rush through. Many visitors spend up to four or five hours taking in all the sights that the Space Center has to offer. Visitors can also sign up to take a tour that shows all the behind-the-scenes areas of the Johnson Space Center. These areas are completely operational, and used by today's astronauts to prepare for upcoming missions.
Astronaut Training in the Neutral Buoyancy Laboratory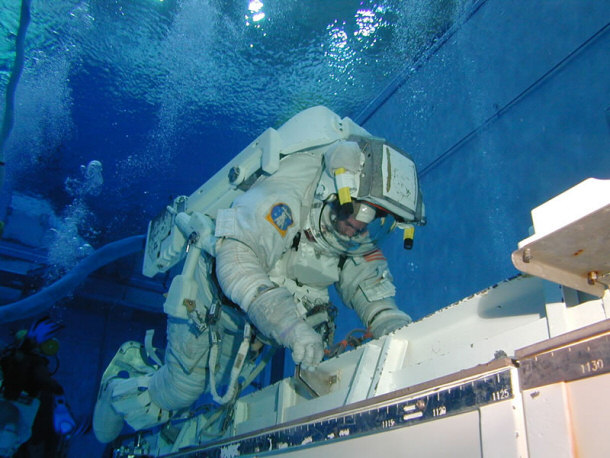 The Space Center offers the Destiny Theater and the Blast-Off Theater, which are two simulators that give riders the sensation of launching into space. There are numerous exhibits including the Astronaut Gallery, the Stellar Science Show, Test Ejection Seats, Gene Kranz's Vest, Angry Birds in Space Simulator, the Historic Mission Control, and the New Mission Control.
New (Current) Mission Control at Johnson Space Center - Houston, TX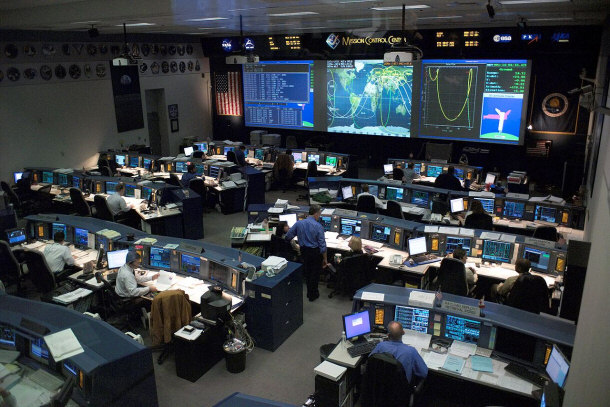 Saturn V Rocket at Johnson Space Center - Houston, TX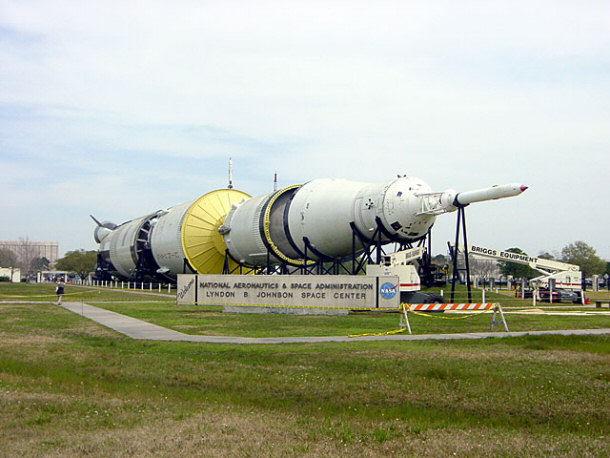 What do alligators and poisonous frogs have to do with space travel? Visit the Chomp exhibit to find out how astronauts are studying these animals. By studying alligators and poisonous frogs, researchers hope to discover how to live healthier and longer in space.
Gift Shop at Johnson Space Center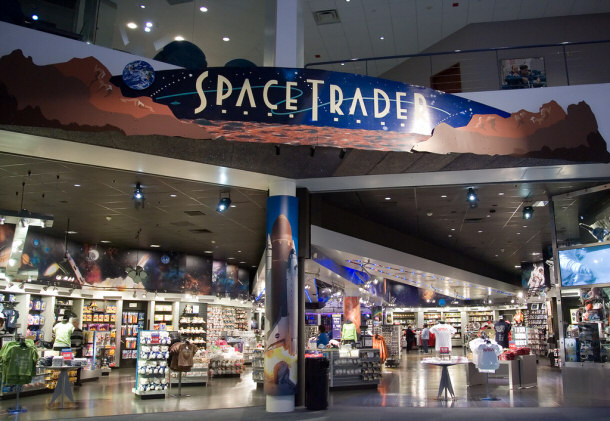 Like many of Houston's attractions, there's also dining at the Space Center. Visitors can fill up at the Zero-G Diner, stop by the Space Trader or at the Gift Station to pick up souvenirs that are truly unique to the Lyndon B. Johnson Space Center experience.
---
3) Splashtown
Splashtown is the biggest water park in Houston, and offers visitors 40 acres and over two million gallons providing for tons of water-soaked fun. Get your heart racing as you zip down five stories on the Texas Freefall.


Courtesy of splashtownpark.com
Twirl yourself into a stupor on the Thunder Run or the Big Spin. Witness the park at a bird's eye view on the thrilling 55 foot Stingray Racer.
Stingray Racer and Cluster of Slides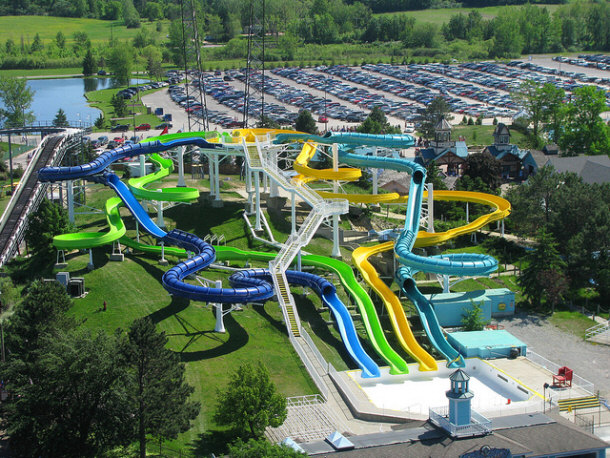 There are even wave pools and a relaxing river for those visitors who are a little less daring, not to mention children's attractions like Crocodile Isle and Leaky Pipes.
Smaller Slides at Splashtown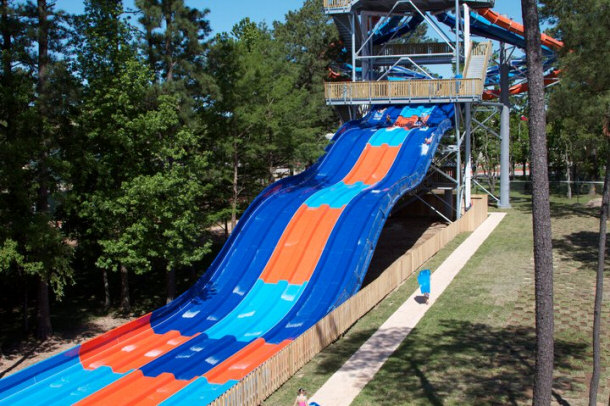 With all that swimming and playing, you're bound to work up an appetite, and Splashtown offers many options for your favorite summer dining. Fajitas, funnel cakes, fudge, burgers, and margaritas are just a few of the choices your taste buds have at Splash Town.
---
2) Kemah Boardwalk
From amusement rides to shopping and dining, the Kemah Boardwalk has it all. Hop onto the Boardwalk Beast for a 25 minute ride on a speedboat reaching up to 40 mph, taking you all the way out into Galveston Bay.
The Boardwalk Bullet at the Kemah Boardwalk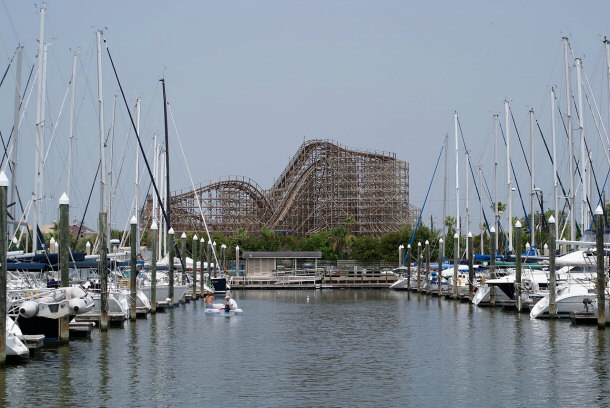 By jimthompson, via Wikimedia Commons
Once you're done with your boat ride, make your way over to the Boardwalk Bullet to experience the twists and turns of this one of a kind 96 foot tall wooden rollercoaster. While you're at it, make sure to ride the 65 foot tall Ferris wheel, the Double-Decker Carousel, the C.P. Huntington Train, and the Wipeout. These rides are so much fun you'll want to ride them over and over again.
Once you're back on solid ground, travel over to the Stingray Reef and Rainforest Exhibit where you can feed stingrays. By checking out the rainforest exhibit you will be able to catch glimpses of turtles, scorpions, tarantulas, snakes, and even piranhas. After a day of working up your appetite, indulge in one of Kemah Boardwalk's nine waterfront restaurants.
Finish the night off with shopping at one of the specialty shops or kiosks. If you're looking for nearby lodging with an exceptional staff service, consider booking a room at the Boardwalk Inn.
---
1) Houston Zoo
Coming in as the number one place to visit in Houston out of many different attractions to take into consideration, would have to be the Houston Zoo. The zoo is home to over 6,000 animals with an animal selection including rhinos, elephants, lions, monkeys, cheetahs, tigers, wolves, and grizzly bears.
Cheetahs at Houston Zoo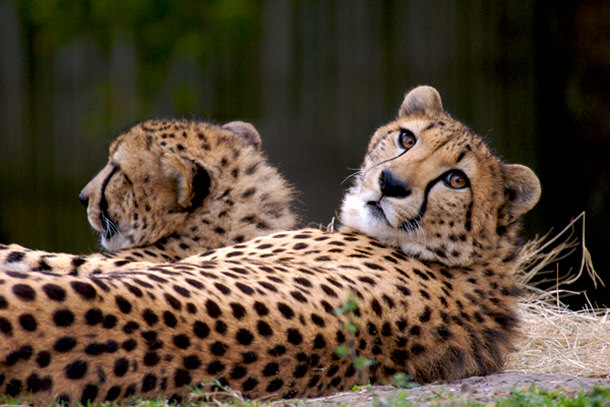 By Karamash, via Wikimedia Commons
Entrance to the Houston Zoo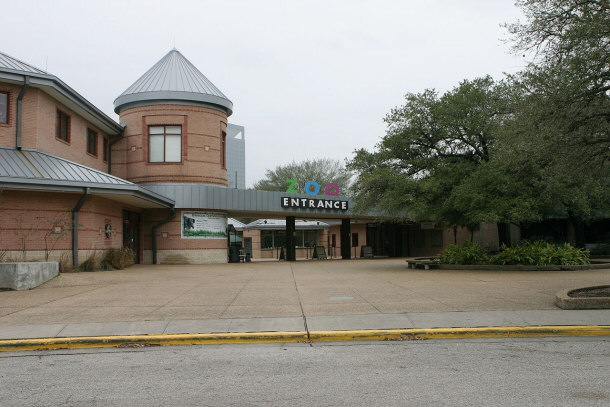 By Cburnett, via Wikimedia Commons
Children as well as visitors of all ages, will find themselves mesmerized by the animal attractions that span the entire globe. The Houston Zoo even has some aquatic creatures, including sea turtles, piranhas, jellyfish, and a giant Pacific octopus.
Sea Lion at the Houston Zoo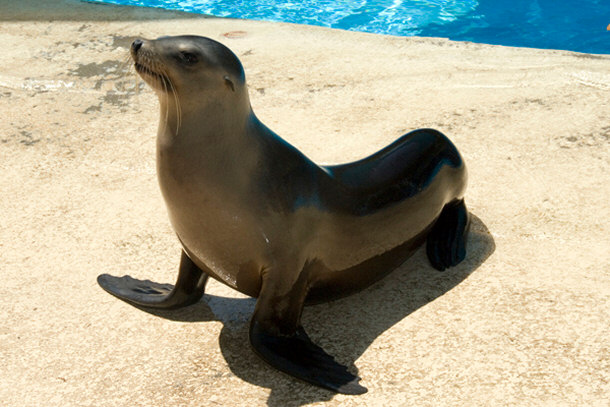 By Karamash, via Wikimedia Commons
With eleven exhibits to experience from the African Forest to Sea Lions, you will find yourself standing in amazement at all the creatures that share the world with us.
Reflection Pool at the Houston Zoo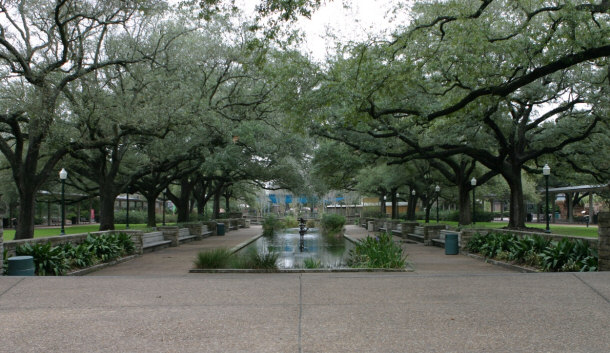 By Cburnett, via Wikimedia Commons
Participate in "Meet the Keeper Talks" which is an animal show that allows guests the opportunity to learn about zoo animals, and what it really takes to do the demanding job of a zoo keeper. You may even get the opportunity to witness an elephant getting a bath.
Spectacled Bear at the Houston Zoo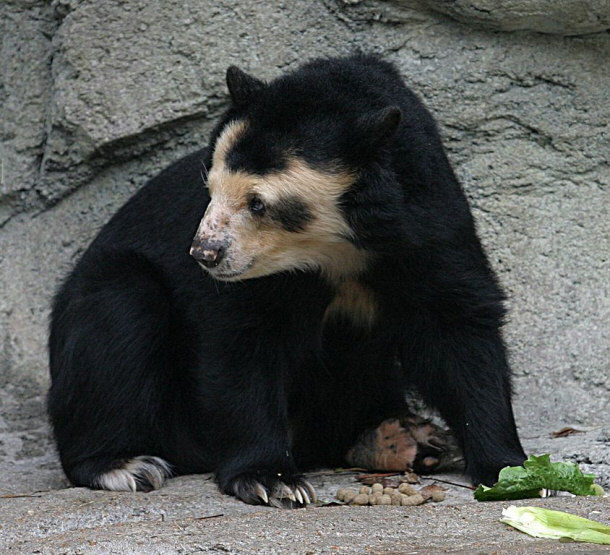 By Cburnett, via Wikimedia Commons
Stop by one of the cafes or kiosks for something to eat, and when you're done visit the giraffes. At the Houston Zoo, guest even have the chance to feed them! Don't forget to take a spin on the Wildlife Carousel or cool off at the Water Play Park. If you'd rather stay dry catch a 3D movie like Ice Age, but with a 4D experience including effects like bubbles, mist, and special lighting effects. The Houston Zoo will create memories for the years to come, and provide a magical experience for you and everyone traveling with you.
---
Final Thoughts
Houston has spared no expense to keep its visitors impressed and entertained for hours on end. There is literally something to do for everyone, regardless of your interests and tastes. Whether you feel like admiring art, viewing exhibits, riding horses, exploring nature, interacting with animals, or pretending to be an astronaut or someone from the early 1900's, you'll always have something to do or somewhere to go in Houston.
Whether you're just visiting Houston or you call it your home, the city has many attractions that you may not be aware of. Houston is a city of history, culture, and knowledge. More importantly, Houston is an awesome place to experience good food, great fun, and fantastic memories.
Vacation Destinations
Top Lists:
Top 15 Interesting Places to Visit in the Bahamas
Top 15 Fun Things to Do in Miami, Florida
Top 15 Fun Things to Do in Chicago
Top 15 Best Unknown Things to do in Las Vegas
Top 15 Fun Things to Do in Hollywood
Top 10 Best Places to Visit in Turkey
The Top 15 Best Things to Do and See in Sydney
Top 10 Things to Do in Edinburgh
Top 10 Things to do on Oʻahu
Top 15 Things to Do in Albuquerque
Top 15 Interesting Places to Visit in Spain
Top 15 Places to Visit in New York City
Top 15 Things to Do in Portland Oregon
Top 15 Things to do in Greece
Top 15 Places to Visit in Houston Texas
Top 15 Interesting & Safe Places to Visit in Mexico
Top 15 Interesting Places to Visit in the Netherlands
Top 15 Interesting Places to Visit in Thailand
Top 15 Interesting Places to Visit in Switzerland
Top 15 Interesting Places to Visit in Portugal
Top 15 Places to Visit in San Francisco
Top 15 Interesting Places to Visit in Shanghai
Top 15 Interesting Places to Visit in Puerto Rico
Top 15 Interesting Places to Visit in Norway
Top 15 Interesting Places to Visit in Las Vegas
Top 15 Interesting Places to Visit in Jamaica
Top 15 Interesting Places to Visit in Croatia
Top 15 Interesting Places to Visit in Belgium
Top 15 Interesting Places to Visit in Bangkok
Top 15 Things to Do in Rio de Janeiro
Top 15 Things to Do in Monaco
Top 15 Interesting Places to Visit in Dubai
Top 15 Interesting Places to Visit in Amsterdam
Top 15 Things to Do in New Zealand
Top 15 Interesting Places to Visit in Paris
Top 15 Interesting Places to Visit in Italy
Top 15 Interesting Places to Visit in Singapore
Top 15 Most Interesting Places to Visit in Berlin
Top 15 Best London Attractions
15 Little Known Facts About New York City
Disney World Articles
Top 15 Disney World Rides for Adults
Top 15 Disney World Rides for Kids
Top 15 Disney World Resorts for Adults
Top 15 Disney World Resorts for Kids
15 Fascinating Facts About Disney World
Top 15 Fun Things to Do at Disney World's Animal Kingdom
Top 15 Fun Things to Do at Disney's Hollywood Studios
Top 15 Fun Things to Do at Disney World's Epcot
Top 15 Fun Things to Do at Disney World's Magic Kingdom

Shorter Top Lists:
Top 10 Tourist Attractions in San Diego
Top 10 Tourist Attractions In India
Top 10 Things to Do In Kansas City
5 Places You Should not Miss in Brazil
Top 5 Things to do in New York City

Informational:
Best Tourist Attractions In Vietnam
Taking in the Sights in Shanghai
Top Tourist Attractions in Perth, Australia
Nice places to visit while in Great Britain
Sampling the Foods at the Night Markets in Taipei
What to do for a Kenya Vacation
Best Attractions in Victoria, B.C.
Photos of the Luxor Hotel in Las Vegas