Top 10 Tourist Attractions In India
Introduction
India, officially the Republic of India (Bharat Ganrajya), is a South East Country. India is the seventh largest country in the world with 3,287,263 km2 in area. It is the second most populated country in the world with over 1.2 billion people. The Capital of India is Delhi and the largest City is Mumbai. India gained its Independence on August 15th, 1947 from the United Kingdom. Since 1950, India celebrates the Republic Day on January 26th. The rich history and cultural diversity of India attracts many tourists and presents various historic monuments as well as incredible places to explore. The Ministry of Tourism of India run various policies for betterment and development of tourism and also maintains a very popular campaign, "Incredible India".
Ox Cart Transportation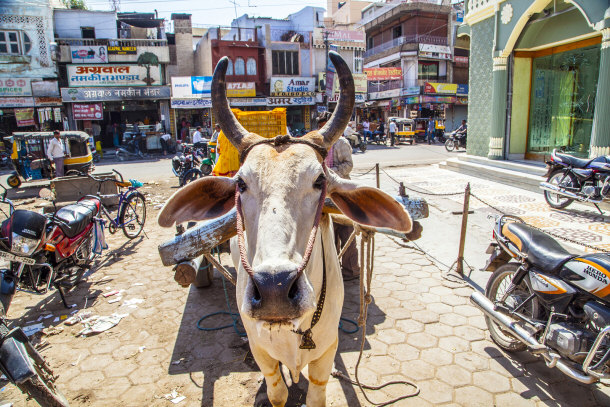 India is ranked 38th in the world in terms of foreign tourist arrivals and ranked fifth in the countries with fastest growing tourism industry. According to the current stage of development of India, there is air transportation and reasonable ground transportation. Also, India owns one of the great wonders of the "7 Wonders of the World". The list of "10 best Tourist Attractions in India" starts with that wonder.
---
10) Mysore
Mysore is a city of Karnatka located at the base of Chamunda hills and is the Cultural capital of Karnatka. Mysore becomes a major attraction to tourists during the 10 day festival of Dasara. The Amba Vilas Palace (or known as Mysore Palace) is one of the most visited monuments of India and is the center of the Dasara festivities.
Man Riding Cart In Front Of Mysore Palace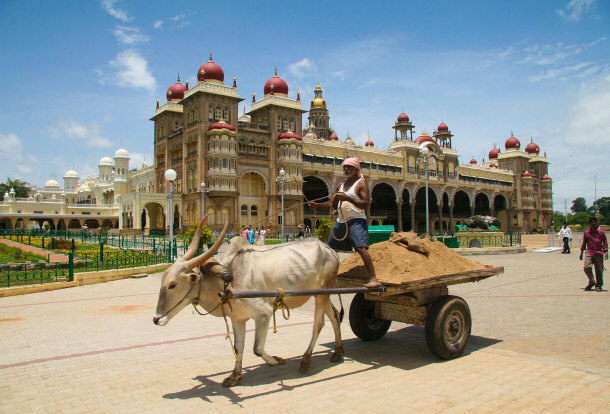 Other major attractions are Jayalakshmi Vilas, Jaganmohana Palace and Lalitha Mahal. The religious places of Mysore are St. Philomena's Church and Chamundeshwari Temple. There's also a musical fountain show which is held every evening in Brindavan Gardens, a short distance away from the Mysore.
Mysore Palace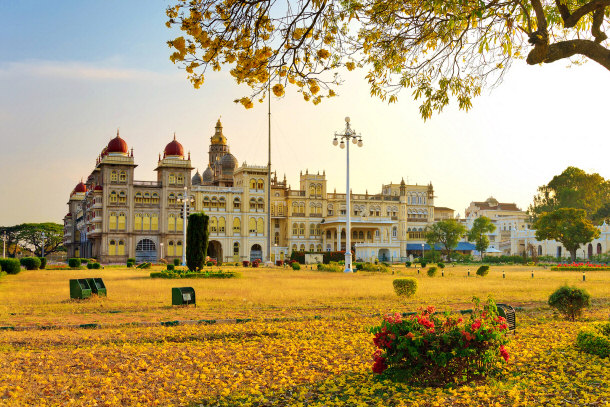 The beautiful waterfall at Shivanasamundra, Folk Lore Museum, Regional Museum of Natural History and Nagarhole National Park adds more to the beauty of Mysore.
---
9) Kerala
Kerala, also known as the "God's Own Country", is located at the Tropical Malabar Coast of Southwestern India and is famous for its ecotourism initiatives. Kerala is named as one of the ten paradises of the world by the National Geographic Traveler. The major attractions of Kerala are:
Beaches: Kovalam beach is one of the most visited beaches of the State and other popular beaches are Cherai beach, Nattika beach, Alappuzha beach, Fort Kochi, Kappad and Vadanappilly beach. Backwaters: These are a chain of brackish lagoons and lakes lying parallel to the Arabian Sea Coast. Houseboats rides (or well known as Kettuvalam rides) on the backwaters are something which no one should ever miss. Also the Boat races held during festival seasons are major tourist attractions. Hill Stations and Wildlife: Some popular hill stations are Munnar, Wayanad, Peermade, Ponmudi, Vegamon and Nelliyampathi. The popular Nilgiri Bioshphere reserves and Silent Valley National Parks are also worth visiting.
Tea Plantations in Kerala, India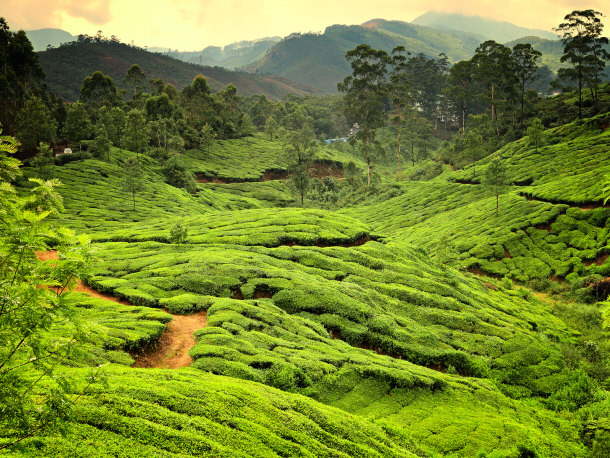 ---
8) Darjeeling
Darjeeling town is located in West Bengal and is well known for its tea industry. It ranks among the most popular black tea producers and the Darjeeling Himalayan Railway is a UNESCO World Heritage site.
Darjeeling Himalayan Railway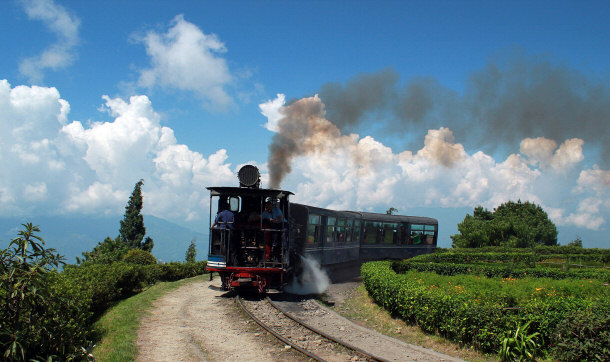 The Darjeeling Himalayan Railway, also known as the "Toy Train" runs between Darjeeling and the New Jalpaiguri. The other attractions are Neora Valley National Park which is one of the richest biological zones in the entire Northeast.
Some popular foods in Darjeeling worth checking out are momo, Wai-Wai and Churpee. Darjeeling's beautiful mountain sites including Mt. Everest are one of the reasons behind its world wide popularity. There are many other adventurous things to do in Darjeeling like trekking and rock climbing, and also other many scenic rock gardens, zoological parks, ropeway & cable car rides.
---
7) Ajanta and Ellora Caves
Ajanta and Caves are about 30 rock-cut Buddhist cave monuments located in Aurangabad district of Maharashtra. They include paintings and sculptures which are known as fine surviving examples of Indian art, particularly paintings.
Buddha Life Scenes on Cave Walls at Ellora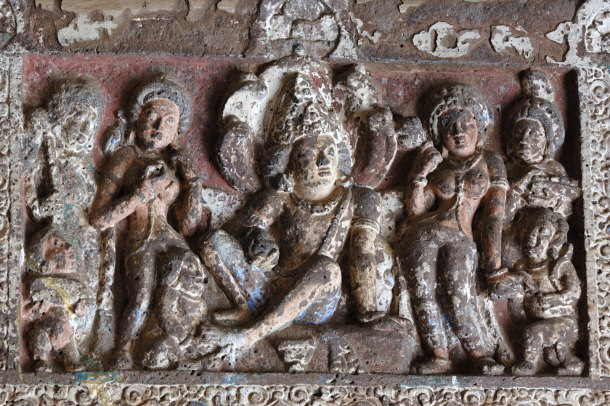 The caves were built in two groups with the first group of caves created around 2nd century BCE and other group of caves created around 400-650 CE. The whole area of caves was previously covered with forests until a British officer rediscovered them accidentally while hunting. Ellora is an archeological site and is well known its monumental caves.
The 34 caves are actually structures made out of the vertical face of the Charanandri hills. Hindu, Jain and Buddhist rock-cut temples and viharas & mathas were made between 5th to 10th centuries. Both Ajanta and Ellora caves are the UNESCO World Heritage sites.
---
6) Goa
This small state is situated on the western coast of India, between the borders of Maharashtra and Karnataka. Goa is known as a former Portuguese colony in India and is mainly famous for beaches, worship places and wildlife.
A Look at Goa's Beautiful Beaches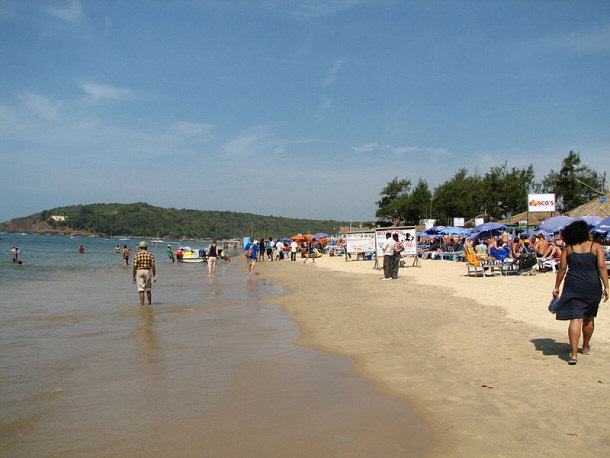 The most visited and famous beach of Goa is the beautiful Palolem Beach which is about a mile long crescent shape. This beach consists of rocks jutting out into the sea on both ends and the currents are not fast. The other famous beaches of are Colva, Baga, Anjuna and Calanguta and all of them provide fresh sea foods and drinks.
The Basilica of Bom Jesus, Mangueshi Temple, Shantadurga and Dudh sagar are other famous attraction in Goa. Recently there was the opening of a wax museum in Old Goa show casing the wax personalities of Indian history, culture and heritage. Also the Goa Carnival is a world famous event with drums and music, colorful masks, floats and amazing dance performances.
---
5) Harmandir Sahib
Harmandir Sahib, also known as Darbar Sahib and Golden Temple, is located in Amritsar, Punjab. It is the most sacred Gurdwara of worship for Sikhs and was built by the Fifth Sikh Guru, Gur Arjan Dev Ji in 1604. The Harmandir Sahib was rebuilt in 1764 by Jassa Singh Ahluwalia and in nineteenth century Maharaja Ranjit Singh covered the upper floors of the Gurdwara with gold.
Golden Temple - Harmandir Sahib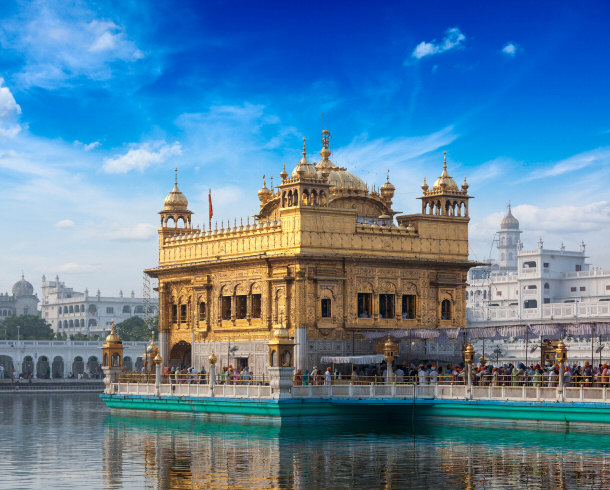 The Harmandir Sahib is surrounded by a large lake called "Sarovar" consisting holy water "Amrit". The Gurdwara has four doors to enter which signifies the importance to acceptance and openness to all types of people. The beautiful gold and marble art work is really admirable.
There are a lot of other attractions near Harmandir Sahib in Punjab. There is Jallianwala Bagh; a massacre where over 300 India Sikh Civilians were killed by senior British Military officer, Reginald Edward Harry Dyer on April 13th, 1919. There is also the International Wagha Border; a road border crossing between India and Pakistan where a flag raising ceremony occurs every evening.
---
---
4) Jammu & Kashmir
Jammu & Kashmir is the northernmost state of India. In Seventeenth century, the Mughal emperor Jahangir said that if there is ever Heaven on Earth, it is there in Jammu & Kashmir. The amazing mountains and landscapes have attracted tourists for centuries. The famous attractions include:
Gulmarg - known for its amazing natural beauty, surrounded by dense forests and famous hikes and beautiful highland golf courses

Sonamarg - located at an altitude of around 2730 meters from the sea level and has snow covered mountains

Raghunath Temple of Hindu Lord Shri Rama - which has all the inner walls covered with gold (on three sides) and galleries are covered with Saligrams

Dal Lake - a famous lake of Srinagar and has house boats called Shikharas and many more

The Amarnath Temple of Kashmir Valley - where about 4 million Hindu devotees come for worship every year

Vaishno Devi Temple - which also attracts thousands of devotees
Gulmarg Gondola Station in Himalayan Mountains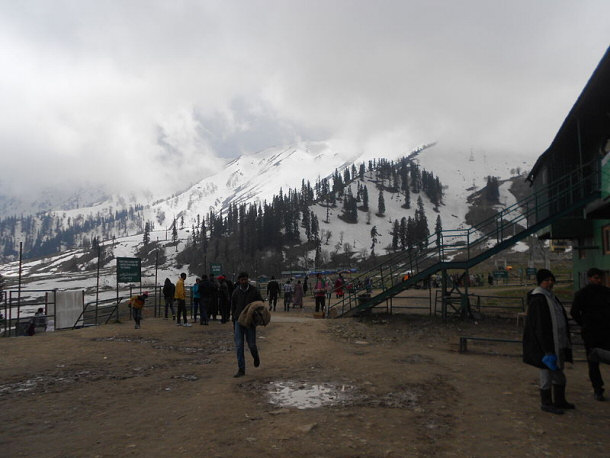 Mountains in Sonamarg near Kashmir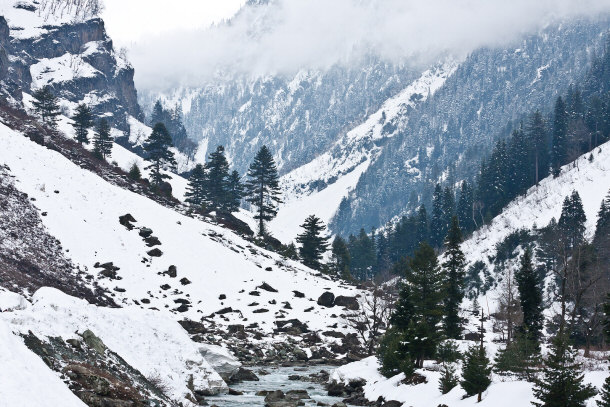 Raghunath Temple of Hindu Lord Shri Rama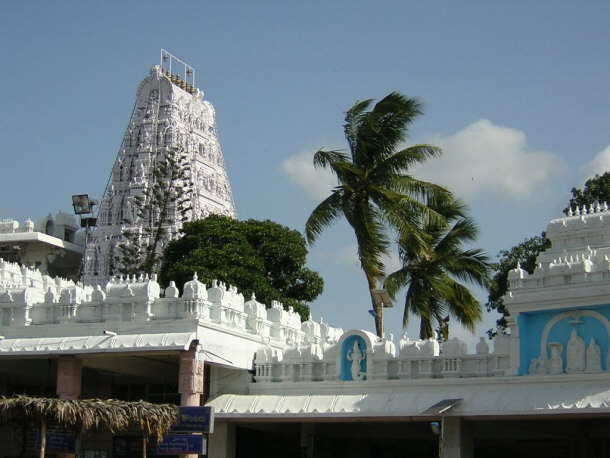 Dal Lake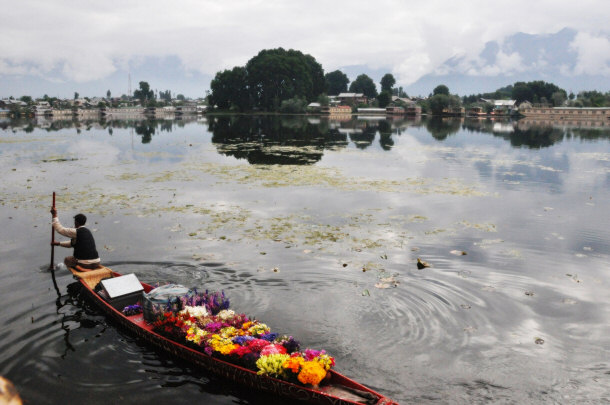 Temple In Ice Cave - The Amarnath Temple of Kashmir Valley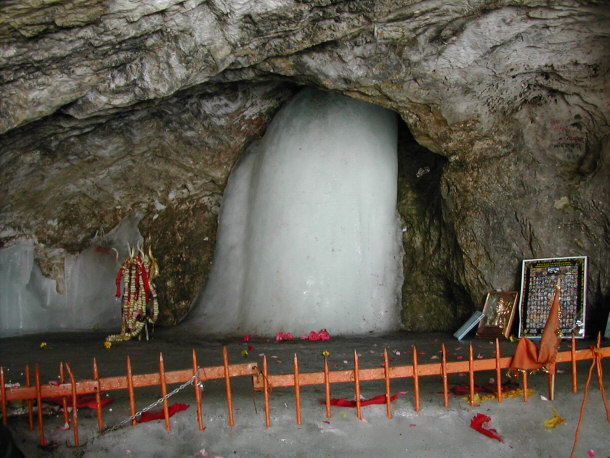 Vaishno Devi Temple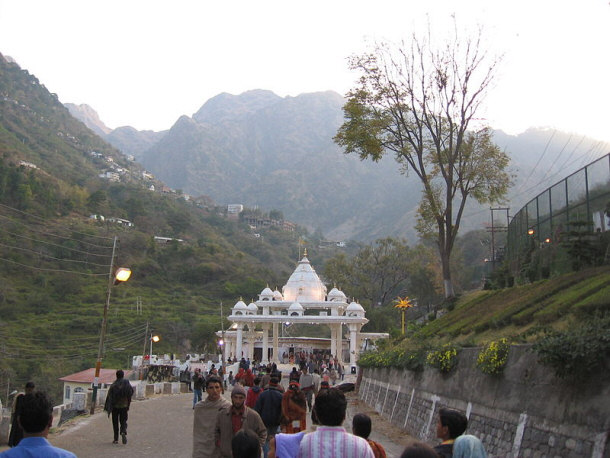 ---
3) Rajasthan
Rajasthan, well known as the "Land of the Kings" is a royal city located Northern India. In Rajasthan, there's not just one place for the tourists to visit, but a whole bunch of attractive places.
Columned Hall of Amber Fort, Jaipur India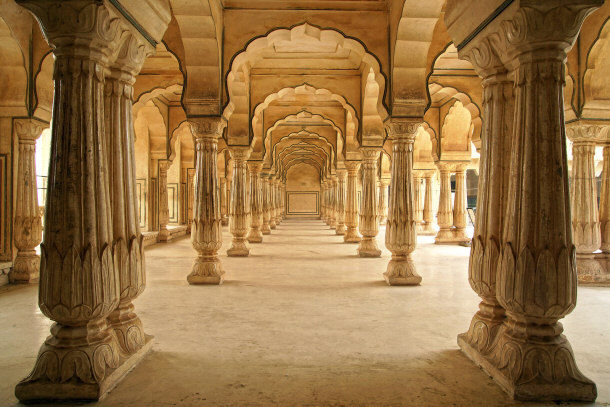 The famous Thar Desert is there with vast sand dunes.
Jaipur - Starting with the capital and largest city of Rajasthan, Jaipur which is also known as the Pink City of India and ranked the 7th best place to visit in Asia. Jaipur's beauty is its various Forts and Monuments like Hawa Mahal, Amber Fort, City Palace; and temples like Gobind Dev Ji Temple, Lakshmi Narayan Mandir.

Udaipur - Second city of attraction in Rajasthan is Udaipur, which is also known as the "City of Lakes". Udaipur is widely famous for holding royal marriages and parties of many celebrities and politicians.

Jaisalmer - The third one is a town Jaisalmer, which is also nicknamed "The Golden City". Jaisalmer has a royal history and includes various artistic structures, monuments, medieval mud fortress and walled township. There are also the Camel Safaris through the nearby Thar Desert dunes. The main attractions are Jaisalmer Fort and Jain Hertage of Jaisalmer. The Golden City is also known for shopping of Rajasthan's traditional clothes, art, and jewelry.
---
2) Varanasi
Varanasi (also known as Banaras and Kashia) is a city on the banks of river Ganges in Utter Pradesh and is the holiest sacred city for Hindus and Jains. Varanasi is one of the oldest continuously inhabited cities in the world and the oldest in India and also known as the producer of one of the finest textiles. It is the most popular and holiest place for the devotees of Lord Shiva. The people that belong to Hindu religion believe that the death at Varanasi brings salvation.
People Leaving A Service on the Banks of Varanasi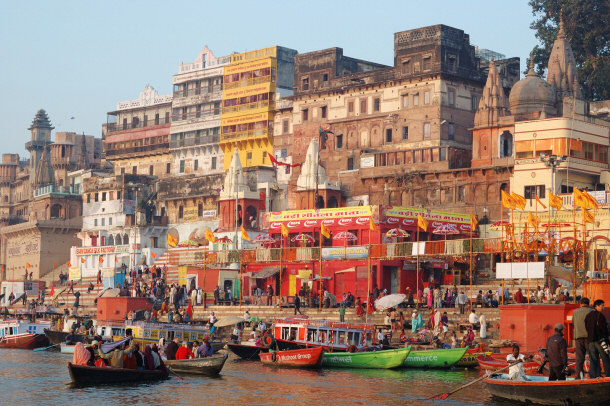 There are about 23,000 temples in Varanasi and the most worshiped of them are Kashi Vishwanath Temple of Shiva, the Sankat Mochan Hanuman Temple and the Durga Temple which is known for the monkeys that reside in the trees nearby. Varanasi is spiritual capital of India and often referred as "the city of temples", "the holy city of India", "the religious capital of India", "the city of lights, "the city of learning" and "the oldest living city on earth".
Indian Sadhu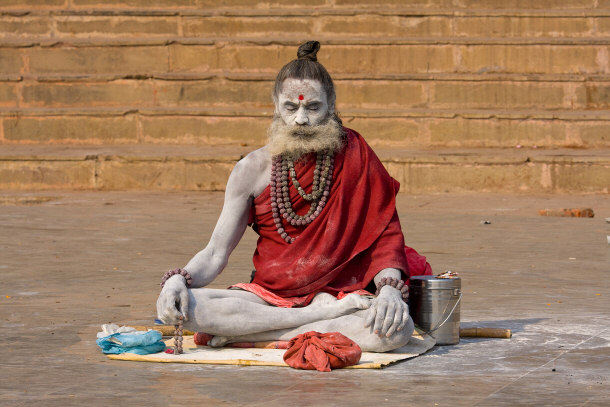 The beautiful sight of thousands of pilgrims and devotees worshiping their God in the Ganges River and performing rituals early in the morning during the time of sunrise brings excitement as well as peace to the soul.
---
1) Taj Mahal
The Taj Mahal (Crown of Places) is a white marble mausoleum which is located in Agra, Uttar Pradesh. Taj Mahal is one of the finest works by Mughal Architectures which is a combination of Persian, Ottoman Turkish and Indian architectural styles.
The inspiration behind this beautiful Taj Mahal is Shah Jahan's love for his wife. The Shah Jahan was an emperor during the Mughal Empire's period of greatest prosperity. In 1931, his wife Mumtaz Mahal died while giving the birth to their 14th child Gauhara Begum. In the memory of his beautiful wife, Shah Jahan decided to build the Taj Mahal.
Construction began in 1632 and the main mausoleum was completed in 1648. The other surrounding buildings and gardens were completed after five years. Taj Mahal's beautiful exterior and interior decorations and the incredible art work using cravings and paintings are what make it one of the 7 wonders of the world. Every year, more than 3 million tourists visit the Taj Mahal.
---
Conclusion
India has everything required to make your life's journey memorable. India is the combination of rich culture and historic places along with the natural breath-taking sights of mountains, lakes, beaches and sunsets. There is a great deal of adventure and just the wildlife alone is enough to leave you amazed. When you visit India, you'll be pleased with Indian traditional foods and drinks, and you'll be received with a warm, friendly welcome.
Vacation Destinations
Top Lists:
Top 15 Interesting Places to Visit in the Bahamas
Top 15 Fun Things to Do in Miami, Florida
Top 15 Fun Things to Do in Chicago
Top 15 Best Unknown Things to do in Las Vegas
Top 15 Fun Things to Do in Hollywood
Top 10 Best Places to Visit in Turkey
The Top 15 Best Things to Do and See in Sydney
Top 10 Things to Do in Edinburgh
Top 10 Things to do on Oʻahu
Top 15 Things to Do in Albuquerque
Top 15 Interesting Places to Visit in Spain
Top 15 Places to Visit in New York City
Top 15 Things to Do in Portland Oregon
Top 15 Things to do in Greece
Top 15 Places to Visit in Houston Texas
Top 15 Interesting & Safe Places to Visit in Mexico
Top 15 Interesting Places to Visit in the Netherlands
Top 15 Interesting Places to Visit in Thailand
Top 15 Interesting Places to Visit in Switzerland
Top 15 Interesting Places to Visit in Portugal
Top 15 Places to Visit in San Francisco
Top 15 Interesting Places to Visit in Shanghai
Top 15 Interesting Places to Visit in Puerto Rico
Top 15 Interesting Places to Visit in Norway
Top 15 Interesting Places to Visit in Las Vegas
Top 15 Interesting Places to Visit in Jamaica
Top 15 Interesting Places to Visit in Croatia
Top 15 Interesting Places to Visit in Belgium
Top 15 Interesting Places to Visit in Bangkok
Top 15 Things to Do in Rio de Janeiro
Top 15 Things to Do in Monaco
Top 15 Interesting Places to Visit in Dubai
Top 15 Interesting Places to Visit in Amsterdam
Top 15 Things to Do in New Zealand
Top 15 Interesting Places to Visit in Paris
Top 15 Interesting Places to Visit in Italy
Top 15 Interesting Places to Visit in Singapore
Top 15 Most Interesting Places to Visit in Berlin
Top 15 Best London Attractions
15 Little Known Facts About New York City
Disney World Articles
Top 15 Disney World Rides for Adults
Top 15 Disney World Rides for Kids
Top 15 Disney World Resorts for Adults
Top 15 Disney World Resorts for Kids
15 Fascinating Facts About Disney World
Top 15 Fun Things to Do at Disney World's Animal Kingdom
Top 15 Fun Things to Do at Disney's Hollywood Studios
Top 15 Fun Things to Do at Disney World's Epcot
Top 15 Fun Things to Do at Disney World's Magic Kingdom

Shorter Top Lists:
Top 10 Tourist Attractions in San Diego
Top 10 Tourist Attractions In India
Top 10 Things to Do In Kansas City
5 Places You Should not Miss in Brazil
Top 5 Things to do in New York City

Informational:
Best Tourist Attractions In Vietnam
Taking in the Sights in Shanghai
Top Tourist Attractions in Perth, Australia
Nice places to visit while in Great Britain
Sampling the Foods at the Night Markets in Taipei
What to do for a Kenya Vacation
Best Attractions in Victoria, B.C.
Photos of the Luxor Hotel in Las Vegas