Top 15 Interesting Places to Visit in Italy
A country whose history is as rich as its food and wine, Italy remains a popular travel destination. Tourists tend to flock to this nation for its breathtaking views, vibrant culture, and abundant historical monuments. As with most popular tourist destinations, there's simply too much in Italy to absorb in a single trip, and deciding which places to visit — and which to avoid — can be unnecessarily stressful. This article does away with that stress by discussing the most interesting things to do and places to visit in Italy, allowing you to stop stressing and start looking forward your vacation.
---
15) Genoa
This city is not the largest (or most well-known) city in Italy by any stretch of the imagination, but it does have its charms. This city is an important port, and it also has some of the best pan-Italian food to be had in the country. This is a direct result of the city's residents, who are exceptionally passionate about their food (even among Italians). You can expect to sample fresh anchovies and seafood, plump vegetables, pine nuts, baked goods such as herbed flatbreads; all of these brought in and baked fresh from the port. The quality of the food is only rivaled by its quantity. If you eat poorly in this city, you'd have to be trying awfully hard to do so.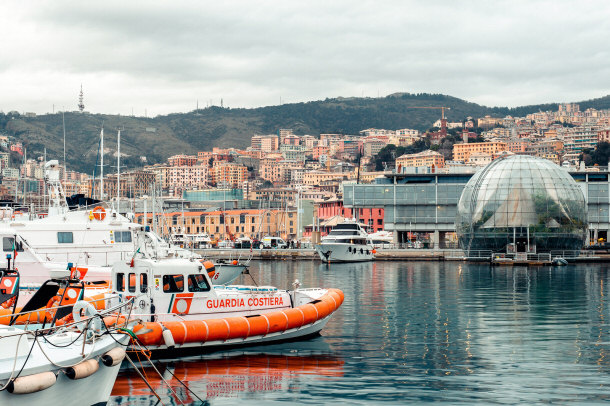 Another attraction is Genoa's "Old City." These buildings are functional and fully occupied medieval quarters, and they are among the largest and most well-preserved of their kind in Europe. Any history buff should not pass up the opportunity to visit these historical buildings. Such sights are easily iconic in appearance; tight alleyways, old churches, and a smattering of small palaces mark these landscapes.
---
14) Ravenna
Though it is now an important tourism city, Ravenna experienced a golden age in the past as an important center of Christian culture. The mosaics — glistening, intricate, and awe-inspiring — have been praised in literary works. In his Divine Comedy, Dante likens the city to a "symphony of color." The best place to see these historic mosaics is the Basilica de San Vitale. Don't let the building's plain appearance fool you. Inside its doors awaits the promised effulgence of colors and glass. Your next stop should be the Battistero degli Ariani, whose mosaics artfully depict the baptism of Christ. Ravenna also hosts several art workshops and schools in honor of its plentiful mosaics. If you feel particularly moved by the artwork of the basilicas, you, too, can learn the art of constructing mosaics and create a souvenir to take home with you.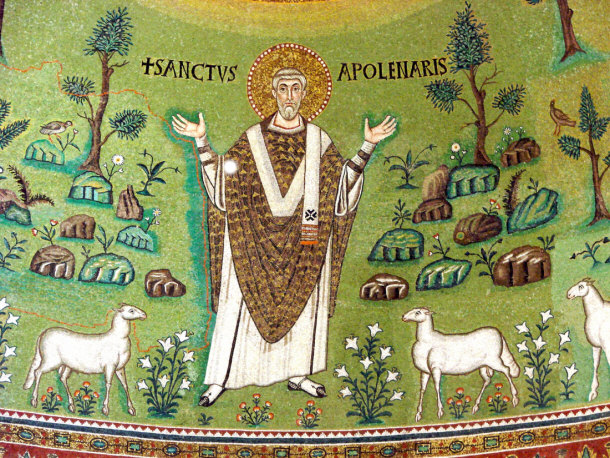 If you slept your way through most of your college Art History course, perhaps you'll find the literary history of the town far more appealing. Dante Alighieri spent the last years of his life in Ravenna, and it is in this beautiful city that he passed away from what was assumed to be malarial fever. Today, you may still pay your respects at his tomb in Ravenna. Take particular note of the torch that burns at his tomb. Its oil is supplied by Florence as an apologetic gesture for banishing him.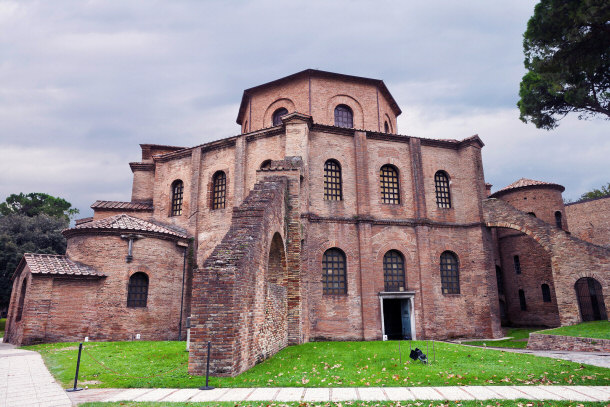 ---
13) Siena
As the capitol of its province, this city has recently been claimed as a historical World Heritage Site. Its historical buildings include the likes of the famous Siena Cathedral, the Piazza del Campo, and the Piazza Salimbeni. Many of these buildings feature Romanesque-Gothic architecture, and so would make ideal places to visit for any architecture or art history enthusiasts. Even for those unfamiliar with such fields of study, the intricacies and sheer scale of Siena's stunning cathedrals are sure to impress.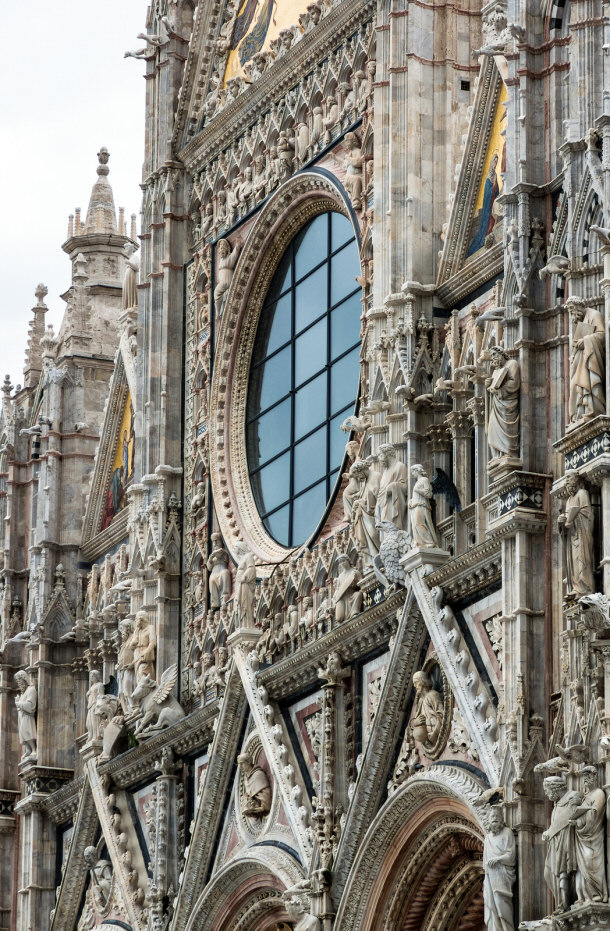 These locations also house some of Italy's famous frescoes. These historical pieces of art consist of images painted onto wet plaster. Their current faded colors and cracks only add character to their beauty. You may see frescoes by famous artists like Domenico Beccafumi and Ambrogio Lorenzetti.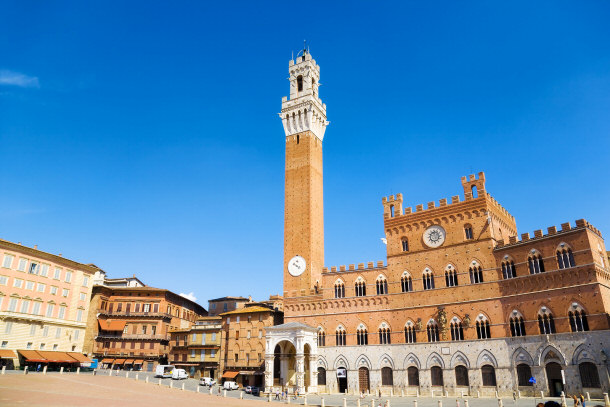 Another famous facet of Siena is its famous Palio run. If you time your visit well, you may be able to see one of these famous horse races. They are held in Siena twice each year, and both races occur in the summer. The horses race around the central piazza two times, and this is in respect of a tradition held since medieval times. As Siena's travel site points out, you may be familiar with this race if you've ever seen the James Bond film the Quantum of Solace. This is a hugely popular event, so if you're planning a visit to Siena during one of the Palio runs, be sure that you book your lodging well in advance.
---
12) Perugia
Capitol of the Umbria region, Perugia is known for its universities. These universities give Perugia much of its vibrancy. Much like college towns in the United States, the universities lend Perugia a rich night life and plenty of art sites to visit, giving tourists many things to do. The local universities include the famous University of Perugia, the aptly named University for Foreigners, and a small assortment of smaller academic institutions (many of which focus heavily on the arts).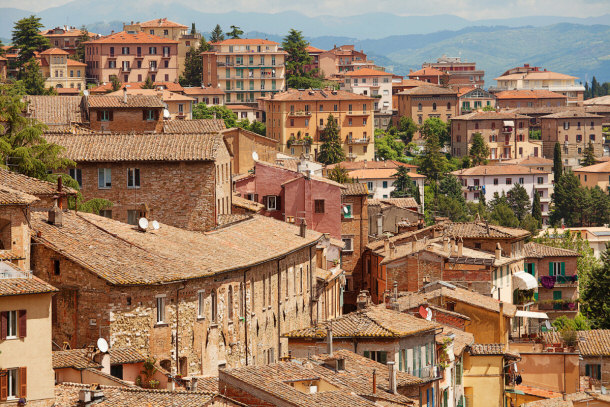 Its art-oriented culture comes as little surprise. The Columbia Electronic Encyclopedia states that Raphael, a famous Renaissance artist, was trained by the artist Perugino. As his name implies, Perugino was a Perugia native, and his frescoes may still be found in the Sala del Cambio. In addition to Perugino, the city also lays claim to the artist Pinturicchio and the architect Galeazzo Alessi. This rich historical background allows Perugia to justify its status as a city of the arts.
Though the city has its roots in its artistic history, it also offers some more modern sights and pleasures. Its famous Lunabar features a happy marriage between traditional Italian frescoes and modern onyx décor. This conglomeration of past and future makes it a popular venue for both tourists and locals alike. Other bars include the Bottega del Vino, which features live music and a rather impressive selection of Umbrian wines.
---
11) Capri
An island off the shores of Southern Italy, Capri is known for its almost mythological stature. Crumbling Roman ruins peek out from lush greenery, giving the island an ethereal appearance. Views like these (and the island's many rocky coasts) are a major attraction for tourists. This is not the ideal location for beach-bums, however. Most of Capri's coasts are cliffs or rocky flats that are ill-suited for sunbathing. Nevertheless, its sights are truly one of a kind, and though this island is not as well-known as other destinations, it has been a beloved retreat for Italians for centuries.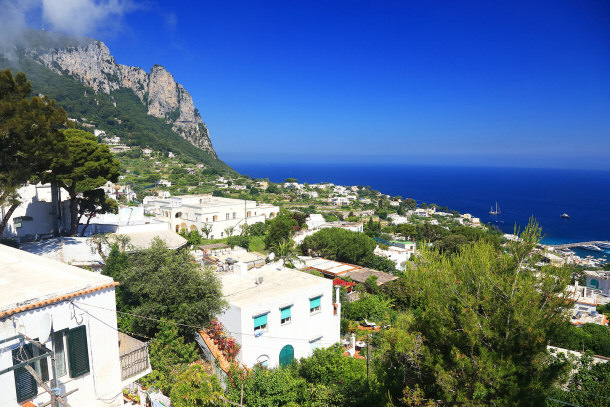 The towns themselves can be a little overcrowded. More and more tourists are catching onto this gem of a location, and so the towns smattered about the island have been adapting accordingly. These areas act as busy shopping centers, featuring streets filled with unique boutiques, souvenir shops, and clothing stores.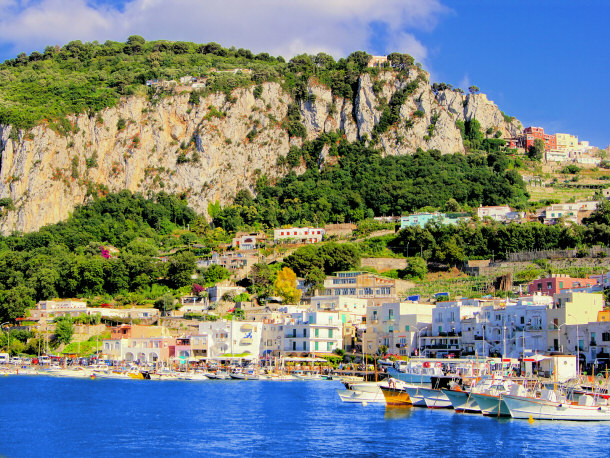 The Capri tourisms site has details about the tourism boats that circle around the coast of the island, allowing visitors the luxury of seeing the lush greenery and rolling, rocky cliffs from afar. If you're not overly fond of boats, the island itself is easily navigated on foot, but buses do offer transportation from town to town if you're not feeling up for a hike. Regardless of what option you choose, transportations will not impede your enjoyment of the island.
---
10) Cinque Terre
Another coastal location, Cinque Terre offers more entertainment by way of outdoor adventures. Its name literally translates into "The Five Lands," and rightfully so: Cinque Terre consists of five villages, all of which are perched on cliffs that overlook the sea. It notably lacks any commercial development, and, as a result, it serves as a nice counterpoint to the hustle and bustle of Capri's shopping centers.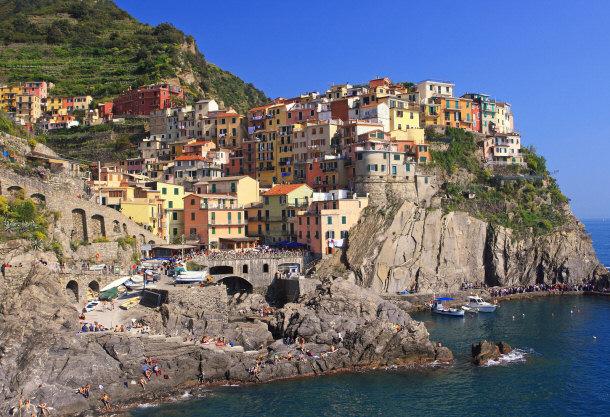 Despite its lack of development, there are still plenty of things to do. Cinque Terre is all part of the Cinque Terre National Park, so it has a wide variety of hiking trails to explore. A hiking map is available on 5 Terre Online, and this site also provides information about the ferry and bus systems if you'd rather not explore the five villages on foot.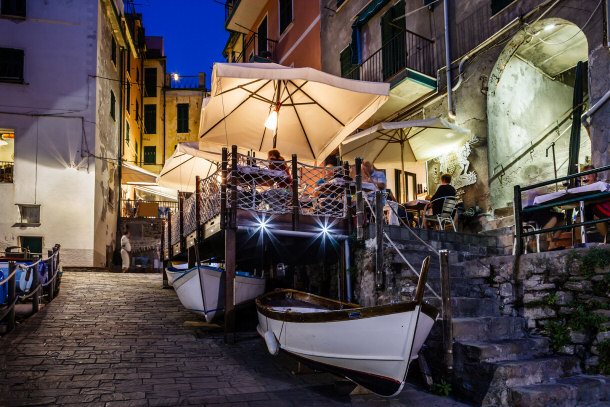 Though it's easy to get lost in the rich mountainside and coastal sights, you should not miss the opportunity to visit some of Cinque Terre's charming social centers. The Chiesa di Santa Margherita is a tiny harbor in the village of Vernazza, and it is a quaint, picturesque harbor replete with tiny, brightly colored boats, an old bell tower, and an equally old Cathedral. The Via dell'Amore — a paved coastal path between Riomaggiore and Manarola — is spotted with picnic tables and stone benches. This makes it the perfect location to sample some of Cinque Terre's food and steal away some quite moments with beloved company.
---
---
9) Pompeii
Pompeii is a very well-known city, and its tourist industry is booming. Even those who aren't very familiar with Italy are probably familiar with the tragedy of Pompeii. Around 79 AD, Mount Vesuvius — the volcano adjacent to the then-blossoming city — erupted, burying the city beneath ash and pumice. What wasn't destroyed was preserved by the heat and ash, and, today, the city remains a macabre interest of archaeologists and tourists alike.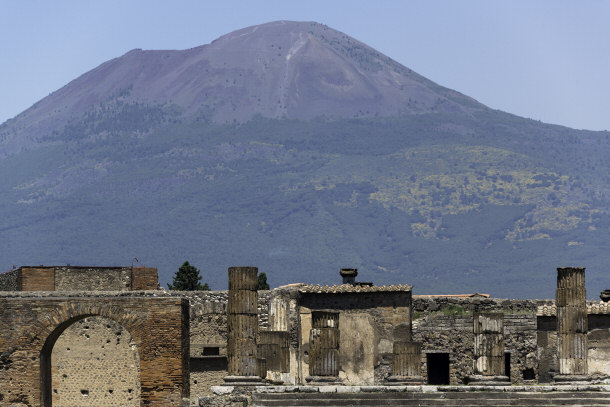 If you visit this city, it's best to purchase a tour in advance to get the most out of the experience. Researchers have unearthed surprising details about the lives of those preserved by the ash, and a tour guide would be the best ways of ensuring that you don't overlook any details as you wander the massive city. Walks of Italy hosts a wealth of tours to choose from, along with more information about this famous city. On those tours, you'll learn about some of the more famous occupants of Pompeii, visit a centuries old bar, and visit an actual archaeological dig.
You can also explore Vesuvius itself under the supervision of a tour guide. These hikes will allow you to scale the highest, accessible point of the crater, giving you an unforgettable glimpse into the crater's depths. The volcano is still active, so this tour may be best for those who are more adventurous and daring at heart.
---
8) Bologna
If you're looking for a center of Italian achievement and architecture without the crowds of tourists, Bologna may be the vacation spot for you. It is another medieval university town, but it hosts a memorable skyline and a wide variety of museums to explore. The official tourism site of Bologna recommends the Pinacoteca Nazionale di Bologna and Museo Civico Archieologico museums in particular. The first is the National Gallery of Bologna, which features masterpieces from the Renaissance and Baroque ages, and more. The second museum is an architectural city museum which hosts findings from all around the world. It specializes in prehistoric and Roman-era relics, but it has an expanding selection of Egyptian artifacts to see. The Archiginnasio of Bologna is also a worthwhile stop; its interiors are filled with memorable frescoes, and it once served as the former seat of the university.
The Bolognese cuisine is also a must during any visit to this area. Al Biassanot is a reputed restaurant specializing in local cuisine. Its menu items feature homemade pasta as a first course and meat and boar with polenta and lamb as a second course. Al Montegrappa da Nello is another popular restaurant that also specializes in freshly made pasta. If you plan on staying a while, a larger pair of pants may be a worthwhile investment due to the wide variety of food available.
---
7) Amalfi Coast
The Amalfi Coast is a popular tourist destination and a rich center of literary and cultural history. The former rulers of Amalfi were central characters in Webster's Renaissance Tragedy, the Duchess of Malfi, and the city have figured into several more recent pop culture references. Other places to visit include the Cathedral of Amalfi, the villas in Ravello, and a variety of smaller churches (and other coastline islands). These historical cathedrals are intricate and brightly hued, and they serve as triumphant representations of Italy's artistic and architectural history.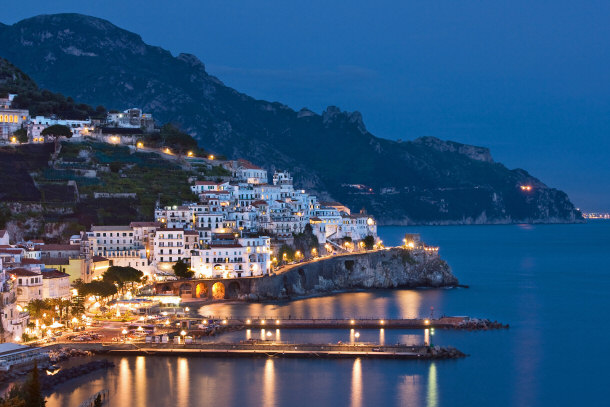 The Amalfi Coast also features a wide variety of historical events for you to enjoy. These events include the Festival of Saint Andrew, which occurs in June and November. This celebration memorializes the patron saint of Amalfi. Residents also celebrate the Byzantine New Year's Eve. Despite its title, this celebration takes place in late August, and it features a procession of music and performers in traditional clothing. If you're particularly lucky, you may visit the Amalfi Coast during a year that it hosts the Ancient Regata. This is a rowing competition held between the four Sea Republics, but the Republic hosting it rotates each year. You can also witness this competition in Pisa, Genoa, and Venice.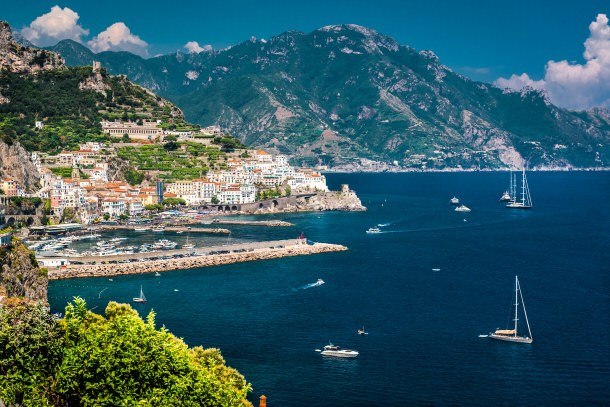 ---
6) Verona
Immortalized by the opening lines of Shakespeare's Romeo and Juliet, fair Verona remains a popular city for tourists. The first thing you should do upon arriving is purchase a Verona Card. This will allow you to save money on any admission costs to the city's many museums and attractions. From there, you can start to visit sights such as the Piazza delle Erbe (Verona's Roman Forum), the Piazza dei Signori, the Lamberti Tower, Castelvecchio, and the Duomo di Verona.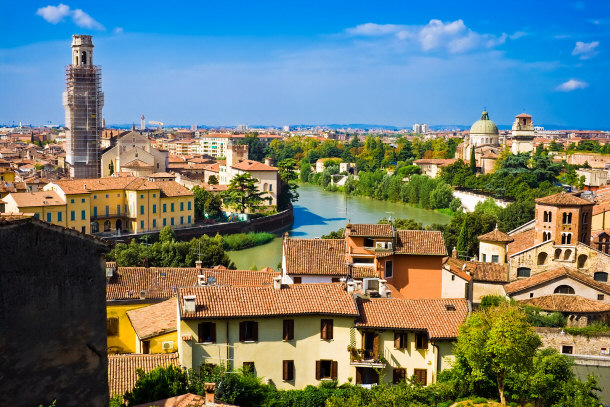 If you're particularly fond of Shakespeare, you may find it worth your while to visit the alleged balcony of Juliet near Via Capello. Here, you can participate in a few of the odd traditions surrounding Juliet's tragedy. The recent film Letters to Juliet relays how people have penned letters to the young lover. Still others touch the statue of Juliet for luck in love. Others also takes note of tourist traditions that involve writing a lover's name on a padlock and attaching it to a nearby gate. The location even features a gift store, where you can purchase memorabilia commemorating your visitation to the home of a fictional character.
---
5) Sicily
As the largest island off the coast of Italy, Sicily counts as its own region, and it offers much to do. It is an essential stop in any tour of Italy, for it has its own unique culture and food. The city of Palermo is a rather large, urban location that is bustling and perpetually busy. It's become something of a melting-pot of cultures, for it contains both the usual array of museums and, also, added notes of modernity in its various shopping locations. Even its architecture is diverse; it touts both baroque and Arabian influences, veering somewhat from the strictly roman and gothic influences of the architecture in the Italian mainland.
For those travelers who want the perfect, Italian resort town, they need look no further than Taormina. This location has a wide variety of resorts to choose from, and they are all scattered around the scenic coast. Nearby, Mt. Etna looms over the Ionian sea, making for a landscape that is as bold as it is beautiful. These sights inspired writers such as Truman Capote and D.H. Lawrence.
---
4) Pisa
Naturally, this is the place to visit if you want to get an iconic picture taken with a certain famous leaning tower, but there is so much more to this city than its famous tower. Don't forget to scale the tower's 300 steps before you explore the rest of Pisa's hidden treasures. The National Museum of San Matteo, Duomo Pisa, and the Camposanto Cemetery make worthwhile places to visit before you venture out into Pisa's countryside.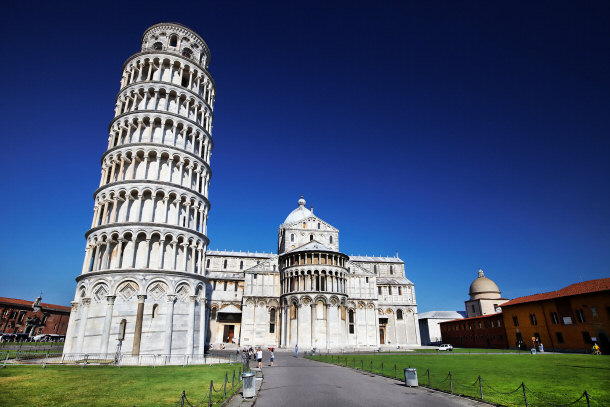 The Pisan territory at large is also famous for its food, as the official tourism site at pisaunicaterra.it is quick to point out. You can't forget to sample the city's local wines, cherries, truffles, and olives during your visit. There is also a small selection of nearby parks to explore if the city itself gets a little too crowded with tourists. These parks include the likes of San Rossore, the Colline Pisane (which is striking for its red clay landscapes), and the Volterra region which is adorned by both vineyards and olive groves alike.
Once you've worked up an appetite from all the exploration, step back in town to dine at glorious restaurants such as Gusto Giusto and L'Ostellino. These restaurants offer a variety of breakfast items and sandwiches on their menus. If you're in the mood for more traditional Italian cuisine, consider visiting Gusto al 129. At this restaurant, you can dine on delicious pizza…in Pisa.
---
3) Florence
You'll want to dedicate a few days to each of these last few cities. Known for its brilliant red roofs, Florence is one city in particular that rewards the tourist who has both patience and time. This city is home to Michelangelo's famous Statue of David, statues that pay homage to the great Leonardo da Vinci, and similar monuments to the Medici family of the Renaissance era. History is tucked into every corner of this city, so while it is important to develop an itinerary for your exploration, you should also allow for some time to simply wander and absorb the sights.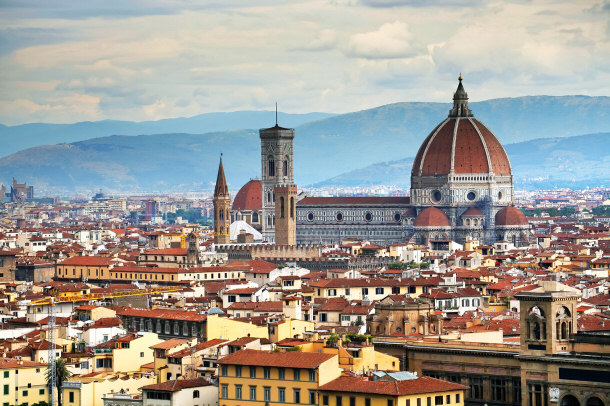 The city hosts a selection of famous buildings that rivals a grocery list in length. The Uffizi Gallery, Florence Cathedral, Ponte Vecchio (and its Palazzo), the Basilica of Santa Maria Novella, and the Basilicia of Santa Croce are some of the more famous locations in the city, and they're well worth braving the throngs of tourists to see. The Boboli Gardens are also a worthwhile investment of your time. Tucked behind the Pitti Palace (a former home of the Medici dukes), these gardens feature a variety of lush greenery and picturesque statues. They're exactly what you'd expect from an Italian palace; just make sure that you have enough memory on your digital camera to hold the pictures that you're bound to take.
---
2) Rome
Again, it takes several days to do a visitation to Rome justice, and, even then, you will still feel as though you haven't truly seen everything. Your first visitation, naturally, should involve Rome's most famous landmarks. National Geographic's travel site suggests that you visit the Pantheon, the Galleria Doria Pamphilj, the Galleria Borghese, the Vatican (and the Sistine Chapel), the Colosseum, and the Roman Forum. The Colosseum and Pantheon are relatively both self-explanatory, as both are feats of ancient Roman architecture; the Roman Forum has very much the same allure as these locations, but it's particularly noteworthy for the insight into normal Roman life that it provides. Both Gallerias feature works by famous painters such as Caravaggio, Bernini, Canova, Raphael, and other famous Renaissance artists.
Of course, it's of utmost importance that you sample Roman cuisine during your visit. The most popular restaurants tend to attract both tourists and locals alike. Da Lucia is a family-run business that serves suitably large, Italian-sized portions of Roman gnocchi. If you're looking for something a little more luxurious, Agata e Romeo would be an ideal restaurant to visit. Classy and expensive, this restaurant combines traditional Roman food with more modern touches. Sora Margherita is a far more casual restaurant, but it is arguably more authentic in both experience and taste than both Agata e Romeo and Da Lucia. Rome also hosts a variety of seafood restaurants that specialize in traditional cuttlefish, cod, and tuna. These are scattered throughout the city, and some, like the aptly named Crab, are not far from famous monuments like the Colosseum.
---
1) Venice
The canals of Venice are simply iconic, and they may very well be the first thing that comes to mind when you're asked to imagine Italy. It goes without saying that you should tour these canals in an equally iconic gondola. Timeout.com features a selection of gondola fares and itineraries, and all of these options allow you to see Venice for a relatively inexpensive fee. Of course, if you only want your group in the gondola, you'll pay extra for a private crooner.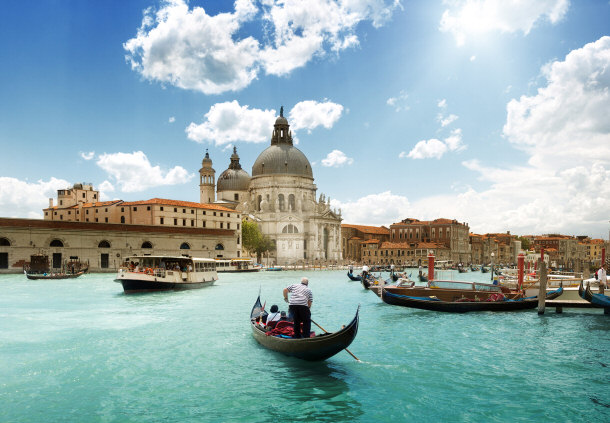 Your next stop should be the Piazza San Marco, which allows you to see three famous landmarks from one location. Here, you can see the famous Basilica di San Marco, Doge's Palace, and Torre dell'Orologio. You can go about your sight-seeing with similar efficiency by visiting the Gallerie dell'Accademia, which would allow you to see the majority of Venice's artistic achievements with the least amount of footwork. Once you've had your fill of landmarks and art, be sure to scale the Campanile to get a view of Venice from the top. The Campanile is the tallest building in the city, allowing you a memorable bird's-eye view.
---
Final Words
Detailed though this list may be, it's definitely not exhaustive. Italy is a wide and varied nation with cultural traditions far older (and far richer) than most nations. Whether you have a passion for good food, beautiful art, or majestic architecture, you will likely find a place in Italy that will steal your heart and leave you pining for a second visit.
Vacation Destinations
Top Lists:
Top 15 Interesting Places to Visit in the Bahamas
Top 15 Fun Things to Do in Miami, Florida
Top 15 Fun Things to Do in Chicago
Top 15 Best Unknown Things to do in Las Vegas
Top 15 Fun Things to Do in Hollywood
Top 10 Best Places to Visit in Turkey
The Top 15 Best Things to Do and See in Sydney
Top 10 Things to Do in Edinburgh
Top 10 Things to do on Oʻahu
Top 15 Things to Do in Albuquerque
Top 15 Interesting Places to Visit in Spain
Top 15 Places to Visit in New York City
Top 15 Things to Do in Portland Oregon
Top 15 Things to do in Greece
Top 15 Places to Visit in Houston Texas
Top 15 Interesting & Safe Places to Visit in Mexico
Top 15 Interesting Places to Visit in the Netherlands
Top 15 Interesting Places to Visit in Thailand
Top 15 Interesting Places to Visit in Switzerland
Top 15 Interesting Places to Visit in Portugal
Top 15 Places to Visit in San Francisco
Top 15 Interesting Places to Visit in Shanghai
Top 15 Interesting Places to Visit in Puerto Rico
Top 15 Interesting Places to Visit in Norway
Top 15 Interesting Places to Visit in Las Vegas
Top 15 Interesting Places to Visit in Jamaica
Top 15 Interesting Places to Visit in Croatia
Top 15 Interesting Places to Visit in Belgium
Top 15 Interesting Places to Visit in Bangkok
Top 15 Things to Do in Rio de Janeiro
Top 15 Things to Do in Monaco
Top 15 Interesting Places to Visit in Dubai
Top 15 Interesting Places to Visit in Amsterdam
Top 15 Things to Do in New Zealand
Top 15 Interesting Places to Visit in Paris
Top 15 Interesting Places to Visit in Italy
Top 15 Interesting Places to Visit in Singapore
Top 15 Most Interesting Places to Visit in Berlin
Top 15 Best London Attractions
15 Little Known Facts About New York City
Disney World Articles
Top 15 Disney World Rides for Adults
Top 15 Disney World Rides for Kids
Top 15 Disney World Resorts for Adults
Top 15 Disney World Resorts for Kids
15 Fascinating Facts About Disney World
Top 15 Fun Things to Do at Disney World's Animal Kingdom
Top 15 Fun Things to Do at Disney's Hollywood Studios
Top 15 Fun Things to Do at Disney World's Epcot
Top 15 Fun Things to Do at Disney World's Magic Kingdom

Shorter Top Lists:
Top 10 Tourist Attractions in San Diego
Top 10 Tourist Attractions In India
Top 10 Things to Do In Kansas City
5 Places You Should not Miss in Brazil
Top 5 Things to do in New York City

Informational:
Best Tourist Attractions In Vietnam
Taking in the Sights in Shanghai
Top Tourist Attractions in Perth, Australia
Nice places to visit while in Great Britain
Sampling the Foods at the Night Markets in Taipei
What to do for a Kenya Vacation
Best Attractions in Victoria, B.C.
Photos of the Luxor Hotel in Las Vegas