By: Sha - at August 26, 2013
Top 10 Things to Do In Kansas City
A Brief Introduction to Kansas City
There is always something to see in Kansas City which has a rich history and traditions. Whether you are a local resident, new to this city, or are just stopping in for a visit, there are a lot of things to explore in this emerging metropolis. Foreigners in particular visiting Kansas City will enjoy many attractions such as: the thriving art scene, shopping, entertainment, nightlife, and famed barbeque eateries.
Kansas City has many world class attractions and destinations that you will enjoy while travelling this rich historic and wonderful city. Here are some top things to do when you are in Kansas City:
---
10) Toy and Miniature Museum of Kansas City
This magnificent museum would ideally be a great place for a family outing. It houses and boasts thousands of vintage toys, including the world's largest collection of marbles.
Toy Bear Standing Guard Outside the Toy and Miniature Museum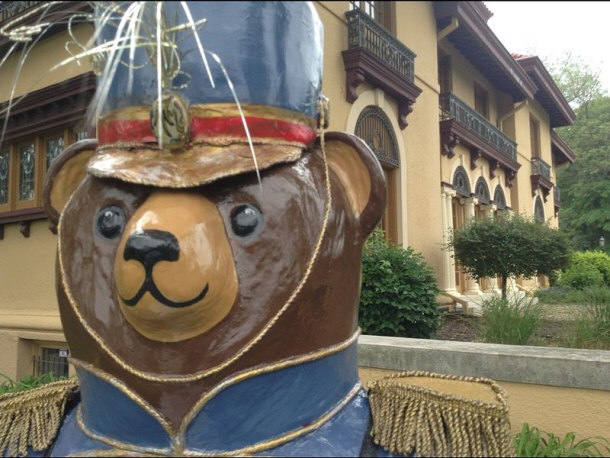 By Sandover (Own work), via Wikimedia Commons
It is full of beautiful doll houses and a great place for people of all ages. If you are into art and miniature then you should visit this place.
---
9) Power and Light District
The Power and Light District is a fantastic entertainment area of Kansas City, which serves out-of-towners, visitors from the suburbs and downtown in a variety of ways.
Power and Light District Kansas City, Missouri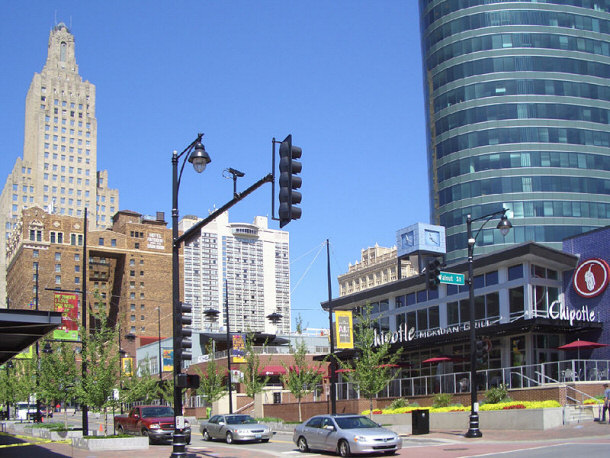 The area has plenty of bars, restaurants, theaters, a high-end supermarket, and free concerts to people looking for some fun.
---
8) Crossroads Arts District
As the name suggests, it is a concentrated area with 400 local artists and 100 independent studios. People can spend a few hours in the neighborhood atmosphere of this great place with plenty of dining options.
Crossroads Arts District, Kansas City, Missouri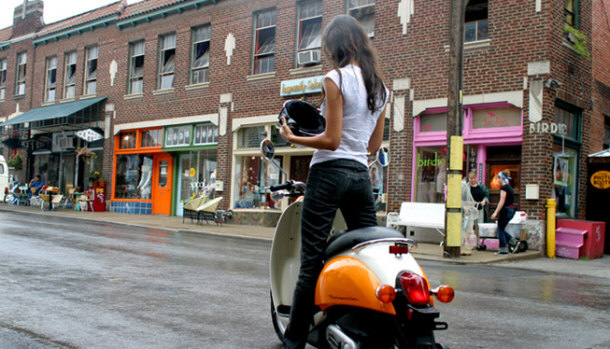 There are numerous galleries, studios and restaurants in the neighborhood as well as plenty of beautiful people by the look of this photograph.
---
---
7) Legoland Discovery Center
This is a fantastic highly interactive Lego playground designed for kids. Children will love watching animated Lego features in a 4-D theatre.
Entrance to the Legoland Discovery Center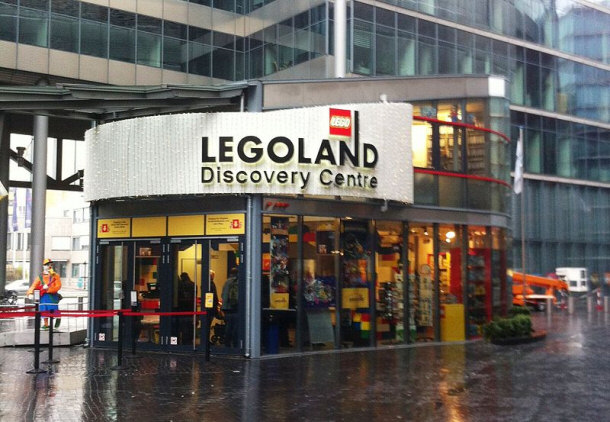 By cjdc profile (Flickr), via Wikimedia Commons
There are also lots of creatures on the laser-shooting rides, such as "Kingdom Quest," where you zap skeletons and more.
---
6) Powell Gardens
Located just east of Kansas City, Powel Gardens is a fantastic botanical garden spanning over more than 900 acres. This wonderful garden boasts an amazing display of plants and flowers that are in bloom year around.
Overhead View of a Portion of the Powell Gardens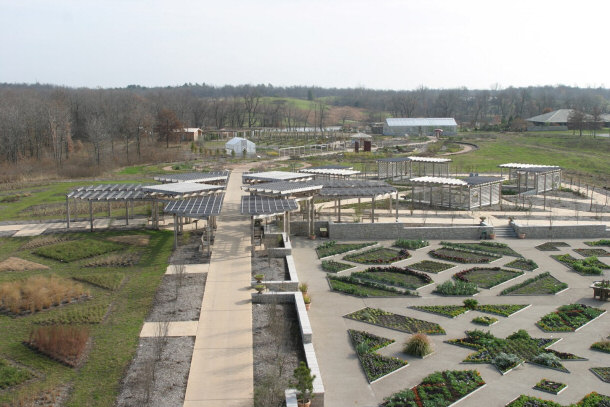 You will not see the same display of flowers and plants twice at Powel Gardens because they change with the seasons. This is also a favorite wedding destination for many couples.
---
5) Union Station
Union Station is one of the mot favorite attractions on Kansas City with plenty of great things to do and see there. Union Station was a railway station until 1914, which today is home to the notable Science City, which is an interactive city made of science.
Interior of Union Station - Kansas City, Missouri

It is also home to many quaint shops, restaurants, a planetarium, an exhibit on the history of the American railroad, and more. Science City also offers a range of exciting things to do like visit the famed Rail Exhibit.
Union Station Exterior Overhead View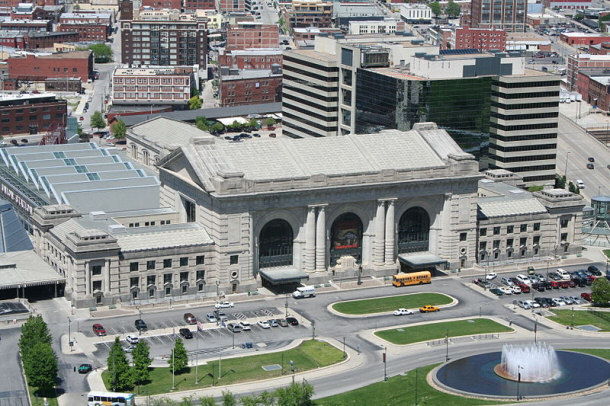 By Dual Freq (Own work.), via Wikimedia Commons
If looking around makes you hungry, there are some great restaurants and café's to visit with wonderful food. The beautiful Union Station building is huge with beautifully a restored ceiling of the Grand Hall.
---
4) Kansas City Zoo
The Kansas City zoo is a great attraction for people of all ages - children in particular. Spanning over 200 acres, this famous zoo has over 900 animals from all countries. The zoo is so huge that it has trams, shuttles and a train for the conveniences of the visitors.
Overhead Tram at The Kansas City Zoo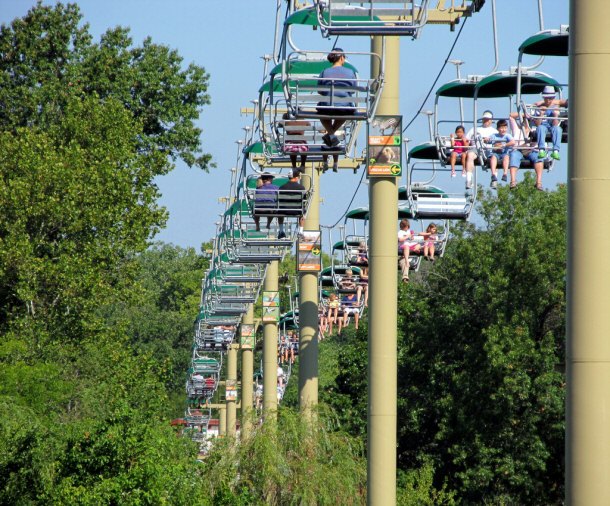 By KCZooFan from Olathe, KS, U.S.A (African Sky SafariUploaded by snowmanradio), via Wikimedia Commons
Kansas City Zoo is particularly a great place for kids to visit and have some cool fun. There are many species of animals and birds to see, such as: a lively gang of chimpanzees, large African elephants and reptiles.
Two Yellow-collared Lovebirds at Kansas City Zoo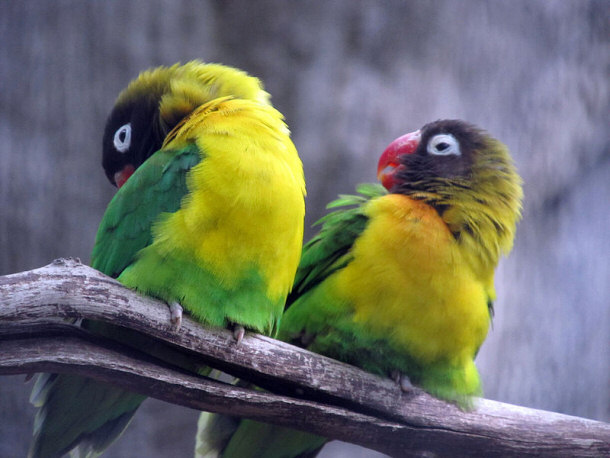 By KCZooFan (Flickr: Black-masked Lovebirds), via Wikimedia Commons
Animal feedings are also available and are more than enough to keep visitors entertained.
---
3) Country Club Plaza
Country Club Plaza is filled with high-end stores and friendly restaurants. Classic Cup Café and Jack Stack Barbeque are among the top café's you should not miss.
Country Club Plaza All Lit Up for Christmas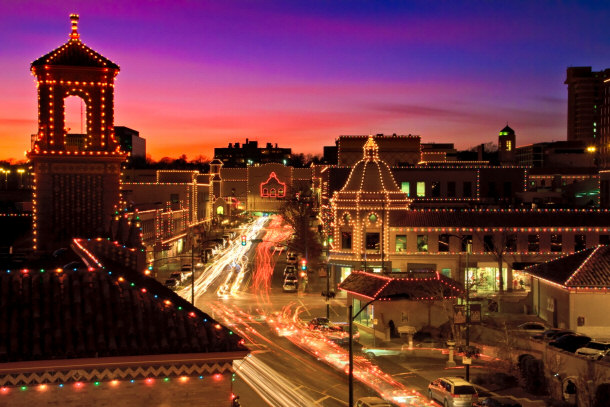 The world famous Country Club Plaza is one of the top picks and destinations of Kansas City.
Country Club Plaza - Kansas City, Missouri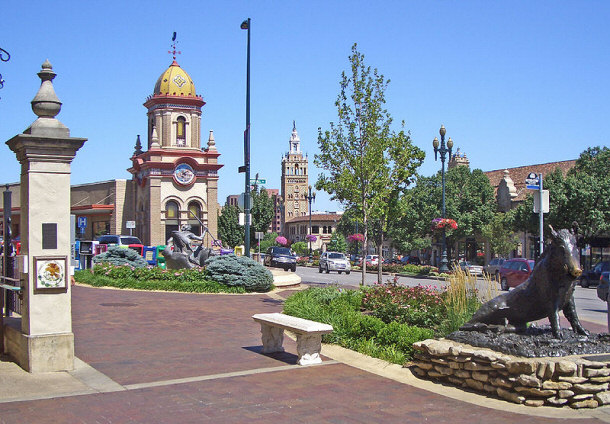 This spot was one of the first areas with outdoor shopping, entertainment, and a dinning district in the USA. Over 170 amazing shops and great restaurants have made it one of the top places to visit while in Kansas City. You can even enjoy a romantic carriage ride!
Fountain Among Shops at Country Club Plaza - Kansas City, Missouri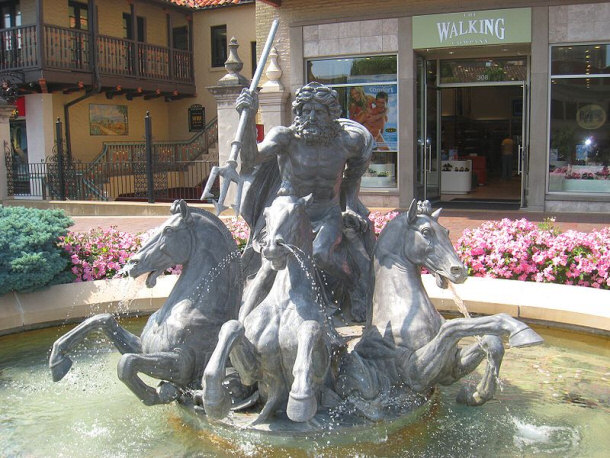 There are also nice places to have drinks or dinner on one of the many beautiful patios around the plaza. Many people also prefer to sit at a courtyard and enjoy jazz music in the evening.
---
2) Nelson-Atkins Museum of Art
This world famous museum is one of Kansas City's top attractions. The original Nelson-Atkins Building has one of the world's most impressive collections of Egyptian sculptures and Japanese art ranging from as old as the 10th century.
Nelson-Atkins Museum of Art Kansas City, Missouri

The Blotch Building of the museum houses contemporary art, African art and photography. Literally, you could spend days looking around at everything both inside and out of the Nelson-Atkins Museum of Art.
Exterior view of Nelson-Atkins Museum of Art


You will have to pay a small fee to see the special exhibits, but otherwise, admission is free. Free guided tours and audio tours are also available to visitors.
---
1) Kansas City BBQ
Barbecue is the one thing that Kansas City does better than anywhere else! Kansas City is called "The Home of Barbecue," with more than 100 barbeque joints in the area. Kansas City has a very rich tradition of doing barbeque with dry rubbed meats which are cooked to perfection.
Outside of the World Famous Kansas City BBQ


By XF Law (Own work), via Wikimedia Commons
Then it is covered with spicy sauces. The taste is so delicious that people travel there just for the barbeque. You should try a few of the barbeque restaurants to get the original taste of traditional barbeque in Kansas City.
Kansas City is Home to Some of the Best Ribs On The Planet!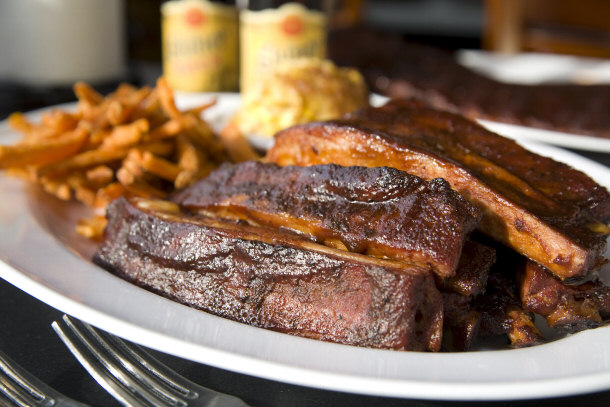 Some of the famed Kansas City barbeque restaurants are Jack Stack Barbeque, BB's Lawnside Barbeque, Oklahoma Joe's Barbecue, and Arthur Bryant's Barbeque, in addition to numerous others.
---
Final Thoughts
These are just some of the best attractions when it comes to things to do in Kansas City. It is a wonderful city filled to the brim with hidden gems. Visiting Kansas City will be a great experience for Americans or international tourists. The world class art museums, fountains, barbeques, and Kansas City Zoo are some of the most beautiful destinations in this culturally rich city of the United States.
Vacation Destinations
Top Lists:
Top 15 Interesting Places to Visit in the Bahamas
Top 15 Fun Things to Do in Miami, Florida
Top 15 Fun Things to Do in Chicago
Top 15 Best Unknown Things to do in Las Vegas
Top 15 Fun Things to Do in Hollywood
Top 10 Best Places to Visit in Turkey
The Top 15 Best Things to Do and See in Sydney
Top 10 Things to Do in Edinburgh
Top 10 Things to do on Oʻahu
Top 15 Things to Do in Albuquerque
Top 15 Interesting Places to Visit in Spain
Top 15 Places to Visit in New York City
Top 15 Things to Do in Portland Oregon
Top 15 Things to do in Greece
Top 15 Places to Visit in Houston Texas
Top 15 Interesting & Safe Places to Visit in Mexico
Top 15 Interesting Places to Visit in the Netherlands
Top 15 Interesting Places to Visit in Thailand
Top 15 Interesting Places to Visit in Switzerland
Top 15 Interesting Places to Visit in Portugal
Top 15 Places to Visit in San Francisco
Top 15 Interesting Places to Visit in Shanghai
Top 15 Interesting Places to Visit in Puerto Rico
Top 15 Interesting Places to Visit in Norway
Top 15 Interesting Places to Visit in Las Vegas
Top 15 Interesting Places to Visit in Jamaica
Top 15 Interesting Places to Visit in Croatia
Top 15 Interesting Places to Visit in Belgium
Top 15 Interesting Places to Visit in Bangkok
Top 15 Things to Do in Rio de Janeiro
Top 15 Things to Do in Monaco
Top 15 Interesting Places to Visit in Dubai
Top 15 Interesting Places to Visit in Amsterdam
Top 15 Things to Do in New Zealand
Top 15 Interesting Places to Visit in Paris
Top 15 Interesting Places to Visit in Italy
Top 15 Interesting Places to Visit in Singapore
Top 15 Most Interesting Places to Visit in Berlin
Top 15 Best London Attractions
15 Little Known Facts About New York City
Disney World Articles
Top 15 Disney World Rides for Adults
Top 15 Disney World Rides for Kids
Top 15 Disney World Resorts for Adults
Top 15 Disney World Resorts for Kids
15 Fascinating Facts About Disney World
Top 15 Fun Things to Do at Disney World's Animal Kingdom
Top 15 Fun Things to Do at Disney's Hollywood Studios
Top 15 Fun Things to Do at Disney World's Epcot
Top 15 Fun Things to Do at Disney World's Magic Kingdom

Shorter Top Lists:
Top 10 Tourist Attractions in San Diego
Top 10 Tourist Attractions In India
Top 10 Things to Do In Kansas City
5 Places You Should not Miss in Brazil
Top 5 Things to do in New York City

Informational:
Best Tourist Attractions In Vietnam
Taking in the Sights in Shanghai
Top Tourist Attractions in Perth, Australia
Nice places to visit while in Great Britain
Sampling the Foods at the Night Markets in Taipei
What to do for a Kenya Vacation
Best Attractions in Victoria, B.C.
Photos of the Luxor Hotel in Las Vegas