Top 15 Interesting Places to Visit in Las Vegas
This internationally known resort town bills itself as ďThe Entertainment Capital of the World,Ē and thatís a fairly accurate description of the most populated area in Nevada. Anything you want can be had here, for a price. If you donít enjoy yourself, itís certainly not the city of Las Vegas that is at fault. Though it didnít incorporate until 1911, Las Vegas has more than made up for its shorter history in comparison to other major metropolitan areas across the U.S. The cityís history is unique and varied, Starting with the Paiute Indians inhabiting the area, moving forward to Mormons using it as a fort along their path from Salt Lake City to San Bernardino. Going forward in time, the rise of the casinos and organized crime made Vegas a hotspot for using its location for money-laundering. It was a pioneer stop during Westward Expansion and was heavily involved with the staging of mining operations in Nevada along with neighboring states.
Other significant groups include scientists from the Manhattan Project that settled in Las Vegas for varying lengths of time.
---
15) The National Atomic Testing Museum
The Atomic Testing Museum has over 12,000 artifacts of the entrance to the Nuclear Age designed to teach you about the history of atomic testing, and its science applications in use even today.
The main themes include the discovery of radiation and its surrounding science, the story of how the atomic bomb was discovered, education on atomic testing historically and now, and a slightly tongue in cheek display featuring advice from the Cold War Era on how to survive a nuclear blast.
Radiation Reading Display Outside of National Atomic Testing Museum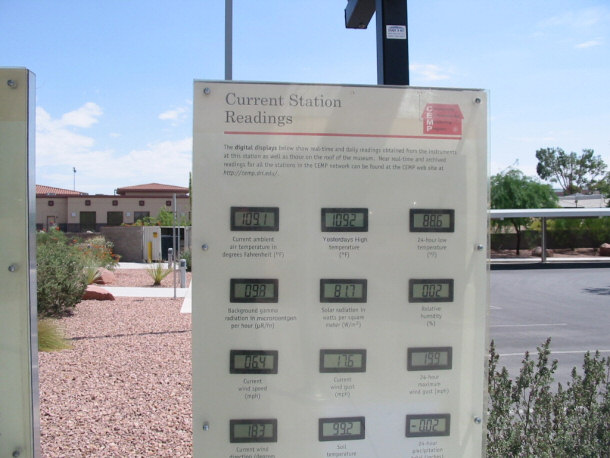 By Binksternet via Wikimedia Commons
There is also a theater on site where you can experience a simulated atomic blast for yourself. Past exhibits have featured the history of Las Vegas, a commemoration to the World Trade Center, A World War I themed trench art display, and a display on Area 51 invites visitors to explore its myths and reality for themselves. The museum hosts many educational events, and has interactive displays for children that include 12 computer touch screens and a Geiger counter. There is also a free downloadable mp3 guide you can listen to as you tour the museum. According to the museumís website, this guide also includes vintage PSAs from the Cold War era, related to atomic bombs.
---
14) Circus Circus
Of all the family oriented places to visit in Vegas, Circus Circus is one of the few that is equally thrilling for all ages. Themed to be a carnival midway as well as a big top, Circus Circus boasts a variety of actual circus acts and shows brought in from all over the world. The midway is filled with classic carnival and arcade games, prize counters, and traditional carnival and circus concessions.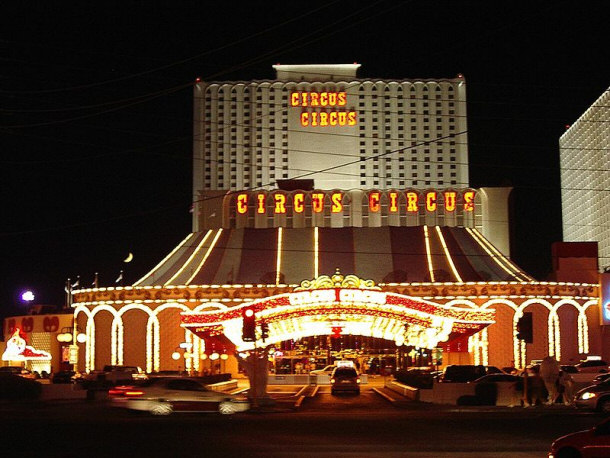 By Mikano via Wikimedia Commons
That isnít close to all, either. Circus Circus also houses the Adventuredome, a five acre indoor amusement park that claims 22 thrill rides and other attractions beneath an insulated pink glass dome. Thereís the Canyon Blaster roller coaster - a nod to the parkís origin as the Grand Slam Canyon - a rock climbing wall, full 18-hole miniature golf course, clown shows, games, a VR games area, the Xtreme Zone, and many more attractions for the entire family.
Disk'O Ride Inside Adventuredome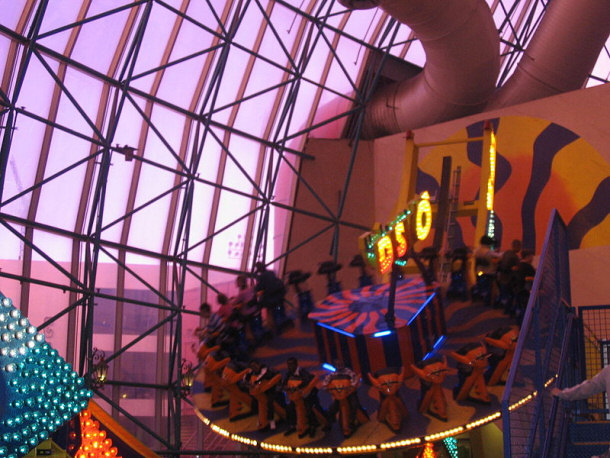 By Christophe Badoux (Own work), via Wikimedia Commons
If you just need time to sit back for a while, the Adventuredome offers 4D movie experiences, which are 3D films with added sensory components like mist, wind, and strobe lights. Circus Circus really gets into celebration mode in October, when it turns the Aventuredome into the Frightdome, giving it a temporary Halloween theme.
---
13) Treasure Island
If you love pirates, then hanging out at Treasure Island will sure to please you. One of the biggest draws of Treasure Island - not surprisingly - is the five separate on-site bars. Treasure Island takes its alcohol so seriously that they keep a Tequila goddess on staff, whose job it is to assist you in educating yourself about your beverages choices and making a satisfying selection. The casino is action packed, and often runs tournaments that heighten the excitement of playing - not to mention the Playerís Club that frequent visitors can join for discounts and perks. For eating, there is the typical buffet, and then a variety of other eateries including a full service Italian steak house.

By FASTILY (Own work), via Wikimedia Commons
Youíll be sure to find the perfect room to suit you amid Treasure Islandís variety of guest rooms and suites, which is perfect because you may be here for awhile. Their current signature show has changed from a mock pirate battle to the Sirens of Ti, which features beautiful, scantily clad women who dance choreographed sets on the swaying pirate ship in the courtyard.
Pirate Ship that Sinks and Simulates a Battle Daily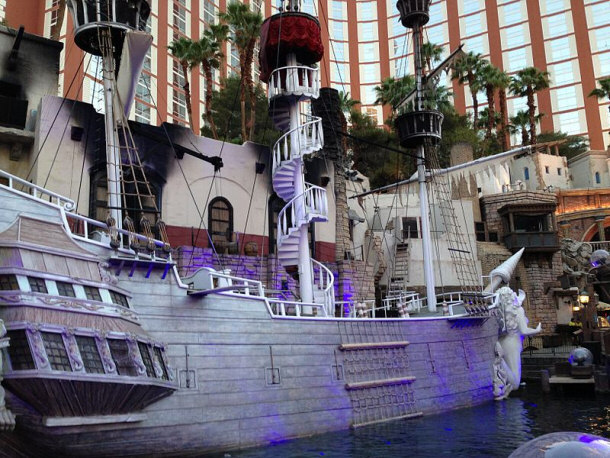 By FASTILY (Own work), via Wikimedia Commons
And if you happen to run out of other things to do, the resortís 1600 seat theater boasts Cirque de Soleil shows and a variety of famous musicians and comedians. Have a seat and relax for a night, or even for an entire week.
---
12) Imperial Palace Auto Collections
Car collectors and admirers call this heaven, and even those who really remain neutral about the vehicles will still find something to enjoy here. Located in the Quad resort and casino, this collection is made of 300 collectorís cars that are on a rotating display schedule, meaning you can visit here many times and still find something new. There are classic luxury cars, Volkswagens, Corvettes, Impalas, and more Rolls Royce vehicles than you will ever see again. There is a WWII era jeep, and the 1963 Chevy Nova Memorial Racecar, that commemorates the veteran Marines of the Iraqi War.
President Kennedy's Lincoln Continental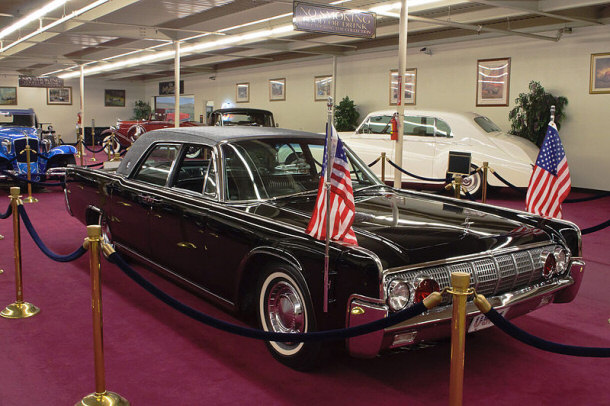 By InSapphoWeTrust from Los Angeles, California, USA, via Wikimedia Commons
Some of the special vehicles arenít up for sale, but if you have the cash, this is also the countryís finest car lot as well. Though as most of the price tags are six figures, youíll probably only bring home this collection on your camera. If youíre lucky, the extensive gift shop might be carrying a model of your coveted toy. But cheer up, because there is a guide video to the collection voiced by Johnny Carson, and Elvisís friend Jimmy Velvet still stops in to sign autographs, among other celebrities.
---
11) The Wynn
Yes, of course thereí another casino on this list, and this one isnít here just for the four Forbes Star dining experiences. The Wynn has the usual offerings of other casino resort - spa, shopping, elegant and entertaining shows - and it canít even claim to have a giant pirate ship out front, despite being built by the same developer as Treasure Island, Steve Wynn. But of all the places to see, this one gets points for creativity in its illusions off the stage and on the grounds. Though itís situated right on the strip, near the Lake of Dreams is what appears to be a small hill, but once youíre able to venture within from the hotel, you realize itís a clever disguise for two of the casinoís signature restaurants.
The Wynn Hotel and Casino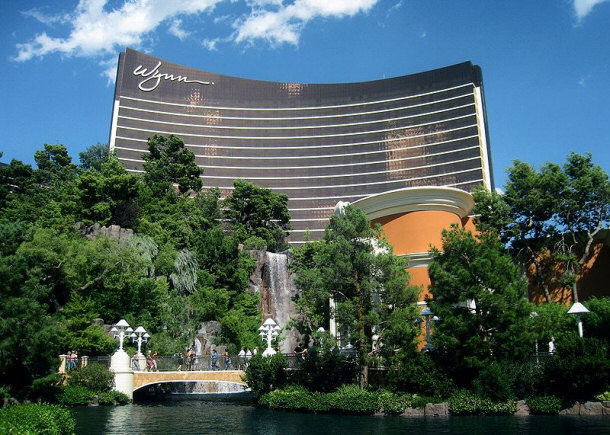 BY Almc1217 via Wikimedia Commons
The faux land feature is incorporated in an interactive multimedia light and water show that runs during dinner. Itís a very elegant and refined move from Wynn that youíll agree loses none of its pizzazz in comparison to his other casinos.
---
10) Stratosphere
All casino resorts can claim their share of the nightlife, but the Stratosphere makes an art out of partying until dawn. The iconic towers are filled with bars, lounges, live entertainment, and full shows geared towards adult audiences craving glitter, glamour, and excitement. At 1,149 feet, the Stratosphere towers boast the highest observation deck in the U.S. and the tallest controlled free fall experience with SkyJump Las Vegas. The tower has 113 stories, and a powerful elevator that can scale them in less than a minute. If you visit here don't forget to dine at the Top of the World restaurant high up in the Stratosphere. It is considered one of the best restaurants in Vegas, thanks to the fact that the restaurant spins slowly around giving you a spectacular view of the city as you dine.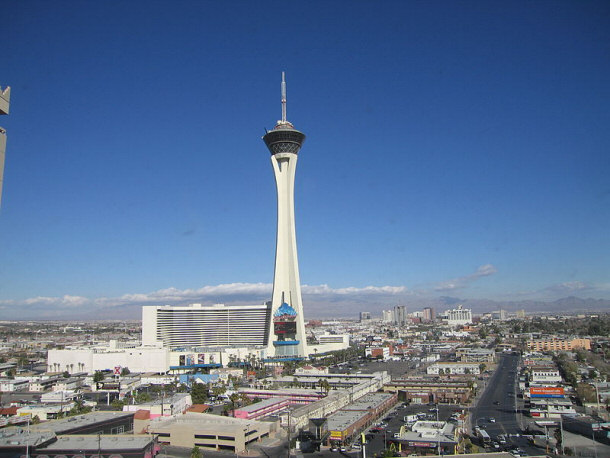 By Sahmeditor (Own work), via Wikimedia Commons
If that isnít enough to convince you this place is a thrill-seekers paradise, the entire top of the tower is covered in a mini amusement park, with a variety of record-setting, heart-stopping rides that will produces screams from you that can sometimes be heard on the ground. Of course, if thatís somehow not enough of an adrenaline rush, thereís always getting married on the observation deck, the private overlook on floor 112, or even on the coasters themselves. The Stratosphereís chapel guarantees you wonít forget this ceremony any time soon. Check out a video of these rides:
---
---
9) Coney Island Emporium
The New York, New York hotel and casino is enough on its own, with luxury East Coast style suites and the Manhattan Express Roller Coaster that wraps itself around a replica of the Statue of Liberty. But the site also boasts the Coney Island Emporium, and if games are your thing, this should on the top of your list of things to do in Vegas. The Coney Island Emporium is one of Las Vegaís largest arcades, with over 200 games of skill and chance that never cost more than a dollar or two to try. The coin operated machines range from the latest in video gaming splendor to favorite old classics like live action pinball and skeeball.

Courtesy of tripadvisor.com
Carnival-style games abound where you can win plush stuffed animals. There is also the Daytona Simulator that allows eight players to race each other on a full virtual track. Family rides for younger children are also available, like the classic bumper cars. For some real entire family fun, there is also a laser tag facility.
---
8) Bodies
So this may not appeal to the broadest audience, but it definitely fits the bill of interesting. Similar to the unrelated show Body Worlds, Bodies is an exhibition of preserved human remains prepared so that through the course of the exhibit, visitors can experience real examples of the many systems of the human body. The exhibit is located at the Luxor, Las Vegas.
The Bodies Exhibit is Currently Held at the Luxor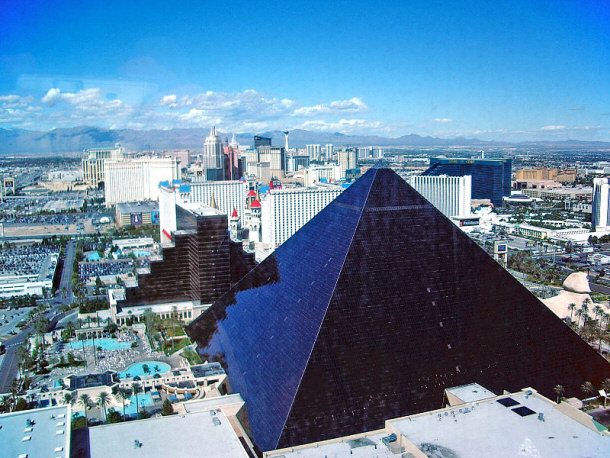 By LockeShocke via Wikimedia Commons
The bodies were all obtained cadavers for research that were donated because there was no family to claim the bodies. Dalian University in China did the dissections and polymer preservations for Premier Exhibitions, who premiered a similar show to Bodies in Seoul, Korea.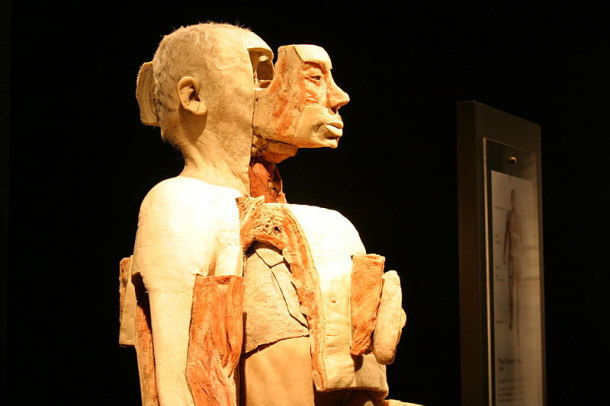 By Pattymooney via Wikimedia Commons
The exhibition begins with visitors examining the skeletal system, and then slowly moves outward through the muscles, overlaying of the nerves and circulatory system, the digestive tract, the respiratory system, the urinary system, and finally the reproductive system. Fetal development is also displayed in the exhibit, and some of the 20 bodies are also posed to mimic various activities of living people that help set a context for the educational background of the information given on the human body.
If the exhibit alone isnít enough by itself, the controversy surrounding the exhibition has been something to follow. Ethical concerns have been raised about the value of viewing dead bodies on display, and rumors about the Chinese black market cadaver trade have tainted many exhibits like this. There is some concern that some of the bodies may not have been acquired with any integrity, but belonged to executed prisoners who did not consent to the treatment of their cadavers.
---
7) Neon Museum
Weíre going to Fremont Street for this one, right at the end of the line. Classic Las Vegas comes into full swing here, with the open air collection of restored neon signs. Soon, you can visit their visitorsí center in the lobby of the refurbished La Concha Motel. For now, itís enough to enjoy the mean glitzy lights rescued from a slow death in storage by the Young Electric Sign Company. The signs are from a variety of old places around Vegas, including hotels, casinos, and other businesses that have illuminated the Strip for decades.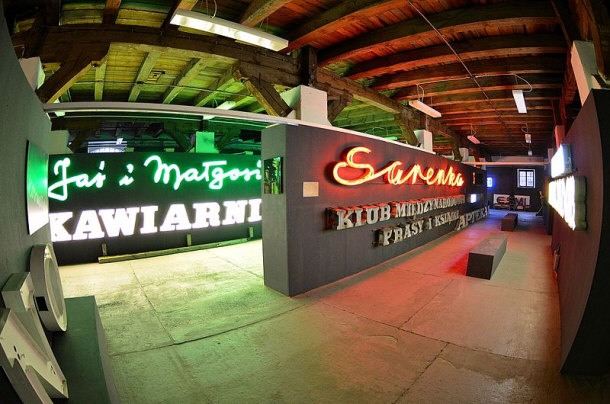 By Boston9 (Own work), via Wikimedia Commons
There are six acres of these dazzlers to view at the museum - the core of which is the Yesco Boneyard - and that isnít counting the specimens set up around Fremont Street itself for display. If youíre interested, private tours and photo shoots can be arranged for you within the Museumís main facilities.
---
6) Wee Kirk oíthe Heather
The best part about Sin City is how this place of debauchery and hedonism is equally known for its cute little chapels. Fine, maybe theyíre basically reserved for poorly judged lightning weddings, but whoís counting? Most people have the Little White Chapel on their list of places to visit, but Elvis is plenty busy these days, so you should give some other churches a try.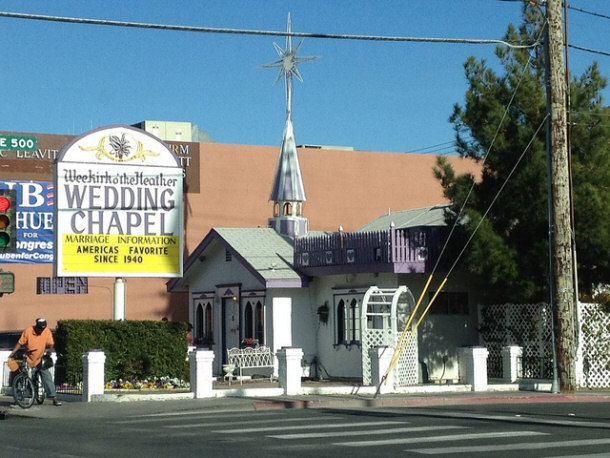 The Wee Kirk is less than two miles from Stratosphere, and has been around since 1940, and is sometimes credited with being Las Vegasís oldest wedding chapel. The boutique chapel is based on a scaled down replica of traditional Scottish churches, hence the name. Chapels abound in Las Vegas because of a quaint old law that all licensed officials must be associated with a church to perform weddings. The number of members doesnít matter, nor if there are actual services going on, just that there must be that connection. This comes from the beginning of the Vegas wedding boom, where ministers were abandoning their churches to go strike it rich marrying the reckless and starry-eyed couples on the Strip, prompting response from the government.
---
5) M&Mís World
The MGM Grand hotel and casino, M&Mís World features four stories dedicated to the iconic candy with souvenirs, art, and even a station to make your own customized M&Ms. There is the M&Mís racing Camry on the top floor, with NASCAR gear to purchase, and on the third floor, a short 3D animated film featuring M&M character favorites Red and Yellow. There are bulk candy dispensers that allow you to purchase any and every variety of M&Ms available by the pound. The escalators all feature timelines depicting the evolution of M&Ms candies. Everything from paper clips to beachwear is available under the M&Mís brand - including a special edition Rolex.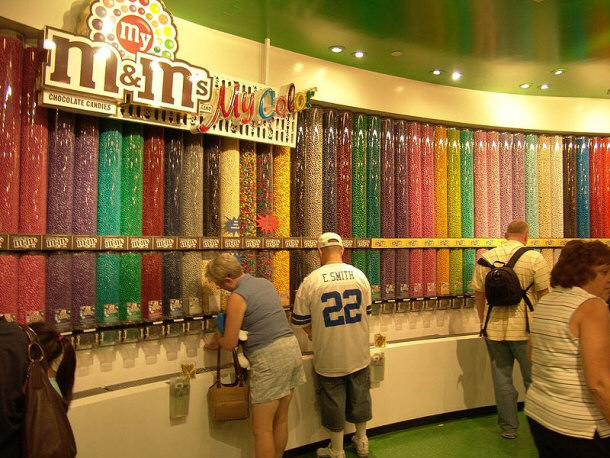 By markhardie ([1]), via Wikimedia Commons
Opened in 1997, the Las Vegas M&Mís World was the first store of its kind, and its success spawned stores in New York, Orlando, and a few other cities. This one will always be the favored child however, as it shares the same state as Mars Incorporatedís Ethel M chocolate plant in Henderson, Nevada. If youíre pondering a road trip while in the Vegas area and looking for things to do, that factory also has a heritage botanical garden on the grounds featuring a number of native cacti.
---
4) Titanic: The Exhibition
Asking which came first, the Titanic museum or the rabid Celine Dion fans, is about like inquiring about the chicken and the egg. Still, this semi-permanent installation at the Luxor Hotel and Casino has something to appeal to all ages, with over 3,000 artifacts retrieved from the RMS Titanic. The exhibition shares with two other locations in the country, so there are new, traveling relics to see all the time, with only a few hundred artifacts actually on display. The exhibition is mentioned by the Luxor to be one of the highest attended exhibits of all time, with 25 million people worldwide stopping in to take a look.
Original Plates Rescued During Titanic Expedition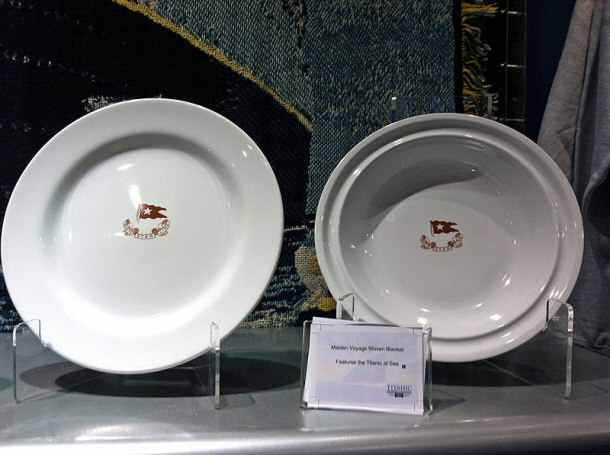 By InSapphoWeTrust from Los Angeles, California, USA, via Wikimedia Commons
Besides the artifacts, there are also several recreations of various rooms aboard the Titanic, allowing visitors to truly experience the splendor of this ill-fated ship. The awe of being able to experience the floating palace first hand - after a manner of speaking - is well balanced by the attention given to emotional impact of the displays. Many of the items shown are personal effects of passengers who did not survive, and will give you a very intimate connection with these people from another place and time. Las Vegas might not be the first place you think of as history coming to life, but it works its magic here, too, just as potently as in its more contemporary displays of human grandeur.
---
3) Shark Reef
This isnít the kind of swimming with the sharks youíll be looking for if youíve lost all your betting money, but it might be healthier for you in the end. Remember, fortunes always change, as do coral reefs. Make friends in strange places at the 1.3 million gallon Shipwreck Exhibit tank at Mandalay Bay.
Mandalay Bay Tram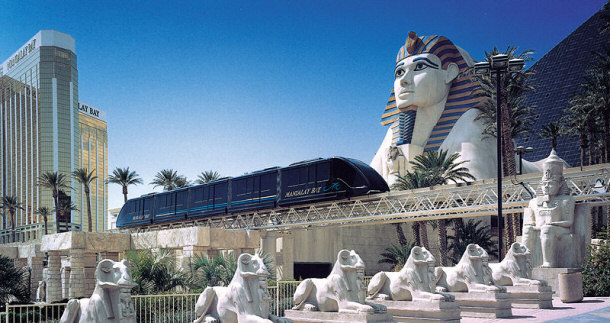 By doppelmayr cable car via Wikimedia Commons
Shark Reef Aquarium claims to hold over 2,000 animals divided among 14 displays, with over 15 species of sharks. The largest exhibit - the Shipwreck tank - has two acrylic tunnels where visitors can walk underneath to get a nearly 360 degree view of the aquatic animals.
Shark Reef Aquarium at Mandalay Bay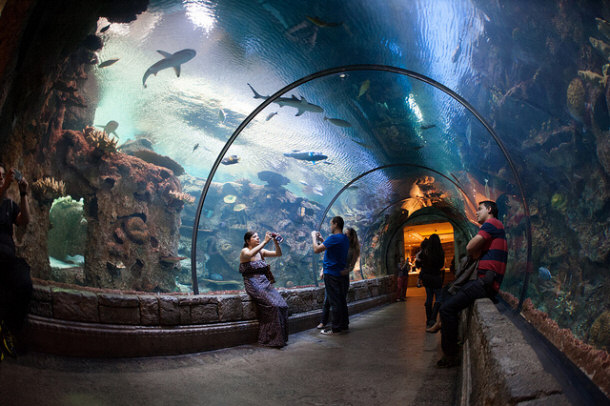 The aquarium takes itself very seriously, and makes a pledge to uphold the highest standards of animal care. Shark Reef hosts a variety of education programs, including an aquatic medicine seminar. They have "Ask a Biologist" sessions on site as well as online, and participate in greening programs and environmental projects.
One of the most popular things to do there is visit the Touch Pool, where visitors of all ages can pet real live sharks, getting a more intimate understanding of these animals. Of course, theyíre no Great Whites, but part of the purpose of Shark Reef is to show that sharks as giant, vicious man-eaters is a stereotype, and not a just reality for these varied, sometimes shy creatures who are intricately connected to the food web of any marine ecosystem - and some fresh water ones as well.
---
2) Caesarís Palace
If youíre looking for places to visit in Vegas, you absolutely have to stop here. Youíre in Vegas and you have to hit a casino sometime, why not make it one as dripping in glitz and fame as Caesarís Palace? Poker, slots, books, and table games, you name it, they have it. Combine that with the luxury hotel, the on-site shopping, the luxurious pool of the gods, the live shows, and the nightclubs full of celebrities. If you do stop here, you may never get to the rest of Vegas.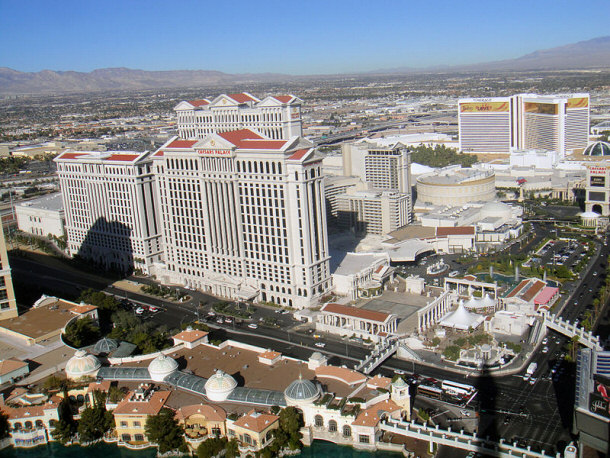 By Cygnusloop99 via Wikimedia Commons
Visitors and guests can enjoy headlining performances by names like Celine Dion and Shania Twain, and hear comedians like Jerry Seinfeld. Among the many dining choices is the featured restaurant of Caesarís, Restaurant Guy Savoy. This is the only place in America where you can eat the famed food of this award-winning and much loved French chef. Accommodations at the casino are provided by the Nobu hotel, which features a variety of luxury rooms and suites themed to Caesarís Palace with fresh, contemporary looks that still evoke a glitzy, romanticized version of Ancient Rome.
Inside the Lobby of Caesar's Palace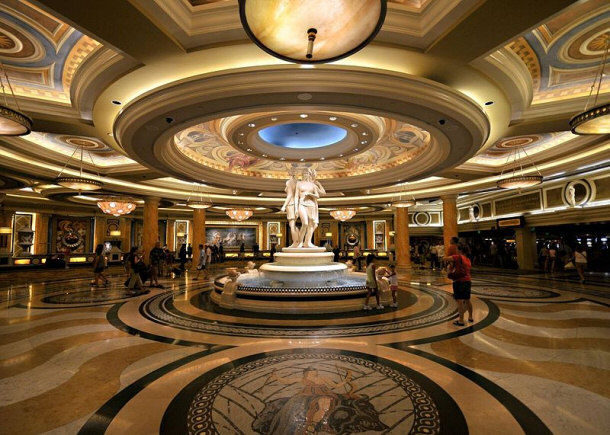 By Dirk via Wikimedia Commons
Other suites are modeled after the famous Nobu design aesthetic, while a few take the unusual route, like the Absolut flavor suites, designed around various Absolut vodkas. If your partying gets a little out of hand, there is even a premier spa on-site as well, with a variety of specialized treatments from all over the world designed to release stress and re-energize the body.
---
1) Fremont Street Experience
This one is just wild. A giant canopy-like screen lights up nightly with 12.5 million lights and 55,000 watts of sound. There are multiple nightly shows, surrounded by a vast number of establishments covering gambling, eating, and shopping needs for the visitors, who are encouraged to park in the plaza and walk around the downtown area. Bars and clubs abound over the four blocks covered by the LED screen.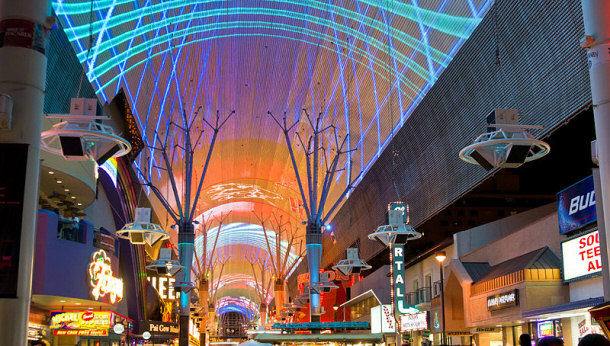 By Antoine Taveneaux (Own work), via Wikimedia Commons
The show is constantly changing, featuring the work of many classically popular bands such as Kiss, Queen, the Doors, and Don McLean. Concerts are often held in this area as well, and though itís only been around since 1995, continual improvements to the Viva Vision show over Fremont Street have already made this technical wonder as an established marvel of the cityís tourism industry.
Freemont Experience at Night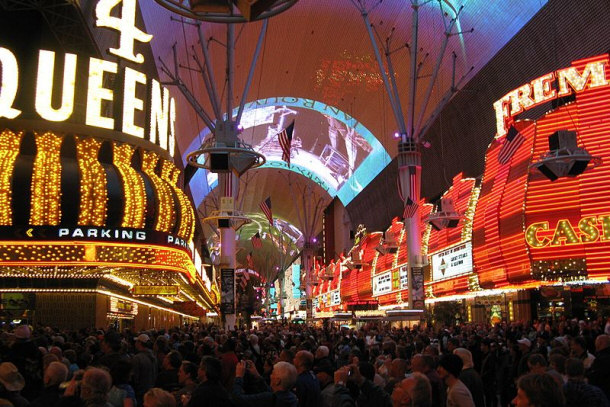 By John Phelan (Own work), via Wikimedia Commons
Many have touted it as the return of ďoldĒ Las Vegas, full of reckless excitement and dazzling spectacles.
---
Final Words
The lure of Las Vegas is pure, unapologetic decadence, and after all these years, it still flourishes in that role. Some have claimed the Las Vegas atmosphere is all show and no substance, but as its inhabitants and visitors donít seem to mind, does it really matter? Sometimes you just need an escape from reality, a single experience that just blows you away, and even in its very real and checkered history, Las Vegas delivers on that promise every time. The Entertainment Capital of the World has learned something everyone could stand to know, and that is that enthusiastic fun and moments of abandon are just as integral to the human experience as anything else.
Vacation Destinations
Top Lists:
Top 15 Interesting Places to Visit in the Bahamas
Top 15 Fun Things to Do in Miami, Florida
Top 15 Fun Things to Do in Chicago
Top 15 Best Unknown Things to do in Las Vegas
Top 15 Fun Things to Do in Hollywood
Top 10 Best Places to Visit in Turkey
The Top 15 Best Things to Do and See in Sydney
Top 10 Things to Do in Edinburgh
Top 10 Things to do on Oʻahu
Top 15 Things to Do in Albuquerque
Top 15 Interesting Places to Visit in Spain
Top 15 Places to Visit in New York City
Top 15 Things to Do in Portland Oregon
Top 15 Things to do in Greece
Top 15 Places to Visit in Houston Texas
Top 15 Interesting & Safe Places to Visit in Mexico
Top 15 Interesting Places to Visit in the Netherlands
Top 15 Interesting Places to Visit in Thailand
Top 15 Interesting Places to Visit in Switzerland
Top 15 Interesting Places to Visit in Portugal
Top 15 Places to Visit in San Francisco
Top 15 Interesting Places to Visit in Shanghai
Top 15 Interesting Places to Visit in Puerto Rico
Top 15 Interesting Places to Visit in Norway
Top 15 Interesting Places to Visit in Las Vegas
Top 15 Interesting Places to Visit in Jamaica
Top 15 Interesting Places to Visit in Croatia
Top 15 Interesting Places to Visit in Belgium
Top 15 Interesting Places to Visit in Bangkok
Top 15 Things to Do in Rio de Janeiro
Top 15 Things to Do in Monaco
Top 15 Interesting Places to Visit in Dubai
Top 15 Interesting Places to Visit in Amsterdam
Top 15 Things to Do in New Zealand
Top 15 Interesting Places to Visit in Paris
Top 15 Interesting Places to Visit in Italy
Top 15 Interesting Places to Visit in Singapore
Top 15 Most Interesting Places to Visit in Berlin
Top 15 Best London Attractions
15 Little Known Facts About New York City
Disney World Articles
Top 15 Disney World Rides for Adults
Top 15 Disney World Rides for Kids
Top 15 Disney World Resorts for Adults
Top 15 Disney World Resorts for Kids
15 Fascinating Facts About Disney World
Top 15 Fun Things to Do at Disney Worldís Animal Kingdom
Top 15 Fun Things to Do at Disney's Hollywood Studios
Top 15 Fun Things to Do at Disney World's Epcot
Top 15 Fun Things to Do at Disney Worldís Magic Kingdom

Shorter Top Lists:
Top 10 Tourist Attractions in San Diego
Top 10 Tourist Attractions In India
Top 10 Things to Do In Kansas City
5 Places You Should not Miss in Brazil
Top 5 Things to do in New York City

Informational:
Best Tourist Attractions In Vietnam
Taking in the Sights in Shanghai
Top Tourist Attractions in Perth, Australia
Nice places to visit while in Great Britain
Sampling the Foods at the Night Markets in Taipei
What to do for a Kenya Vacation
Best Attractions in Victoria, B.C.
Photos of the Luxor Hotel in Las Vegas