Top 15 Interesting & Safe Places to Visit in Mexico
Traveling to Mexico has received a bad reputation as of late. Elevated levels of violence caused by the drug trade as well as Mexico's notorious reputation for kidnapping, are starting to make the region unattractive to many would-be travelers. There are actually quite a few wonderful, and safe, places in Mexico worth traveling to. Here you will find information about 15 great destinations in Mexico, as well as what makes them safe and interesting.
---
15) Todos Santos
Todos Santos is rated as one of the safest cities in all of Mexico. Todos Santo translates to "all saints" in English. This mountainous, artististic community is known as a popular surf destination with unbelievable waterside vistas and an engaging culture. For those concerned about being able to speak the language, take into consideration that the area has an even ratio of Mexicans to 'gringos'. Vacationers who only speak English, should have no problem getting around in Todos Santos. Todos Santos is located in a region referred to as Baja California, which is the peninsula located directly south of San Diego.
Todos Santos - Baja California, Mexico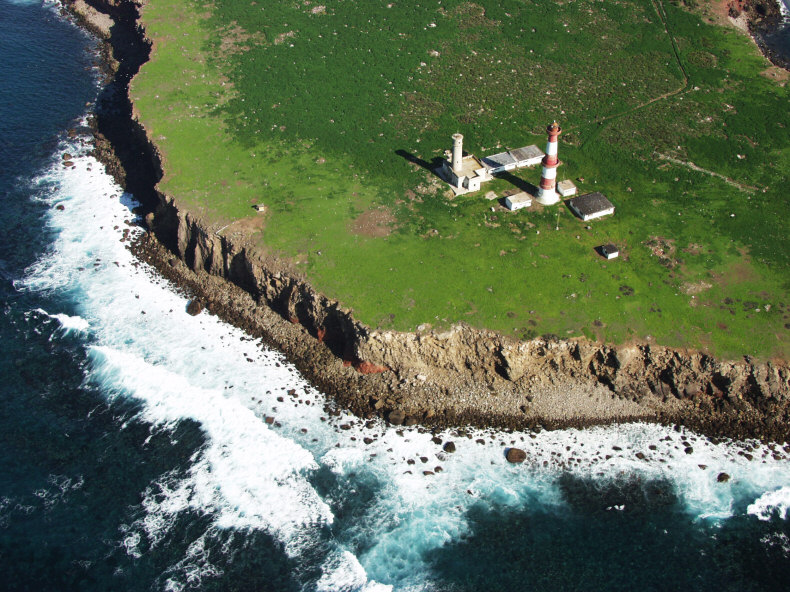 By Tomascastelazo, via Wikimedia Commons
One of the suggested activities while staying in Todos Santos is to take advantage of the excellent surf conditions, and jump into the ocean to catch some local surf. The Pescadero Surf Camp is a great way to learn how to do more than just stand up on a surfboard. Even if you do not want to take part in the surf conditions by actually getting out into the water, you can enjoy just relaxing by the ocean and watching others surf.
Surfers at The Pescadero Surf Camp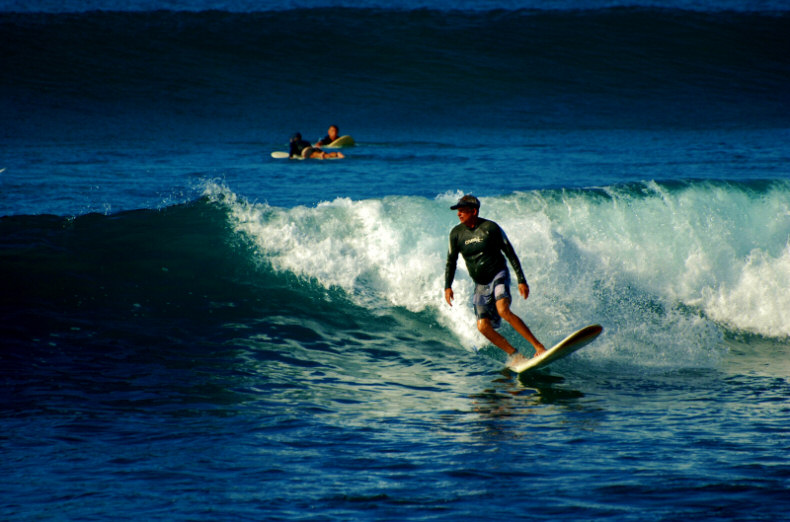 Courtesy of pescaderosurf.com
If you are looking for a little more excitement, Cabo San Lucas is just a short drive away. With Sammy Hagar's Cabo bars and available boat trips, it makes a perfect way to get away from the slower rhythm of the waves of Todos Santos and have some louder, adult beverage-centered fun.
Most people who visit Todos Santos will simply relax, taking in the beautiful sights and sounds the area has to offer.
---
14) Mexico City
Mexico City was once a very scary place to be due to the kidnapping industry, but has gone through some major reforms to become a very safe travel destination. Wealthy, Mexican nationals often purchased kidnapping insurance policies in response to what was becoming a very profitable business for many drug cartels and terrorists.
Much like how New York's Times Square and most of New York was very dangerous in the late 1970s but is now much safer, the Plaza Garibaldi is becoming a safer place to visit every year.
Plaza Garibaldi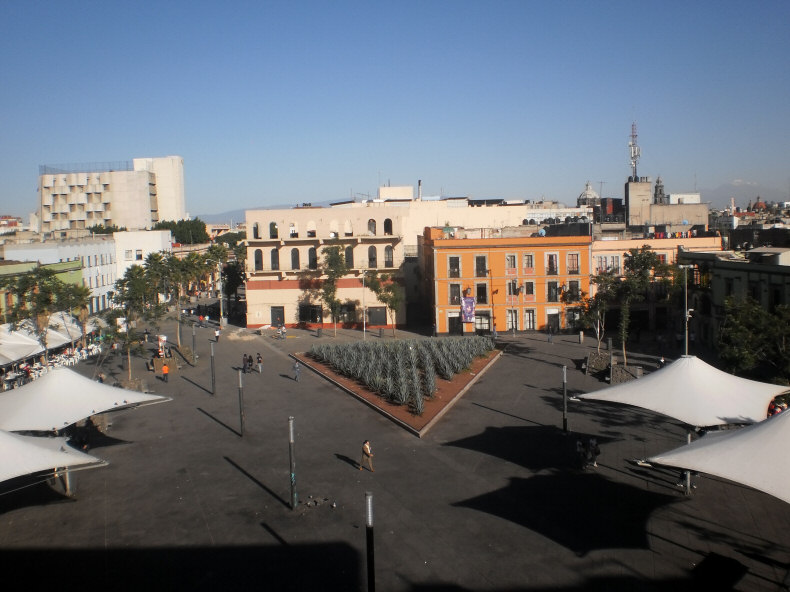 By EpMe, via Wikimedia Commons
Mexico City is built in a basin, surrounded by mountains on all sides. Pollution from automobiles is a serious concern because the surrounding mountains block the prevailing winds from blowing the smog out of the city, holding pollution right above the Mexico City skyline.
The Haze of Mexico City's Notorious Smog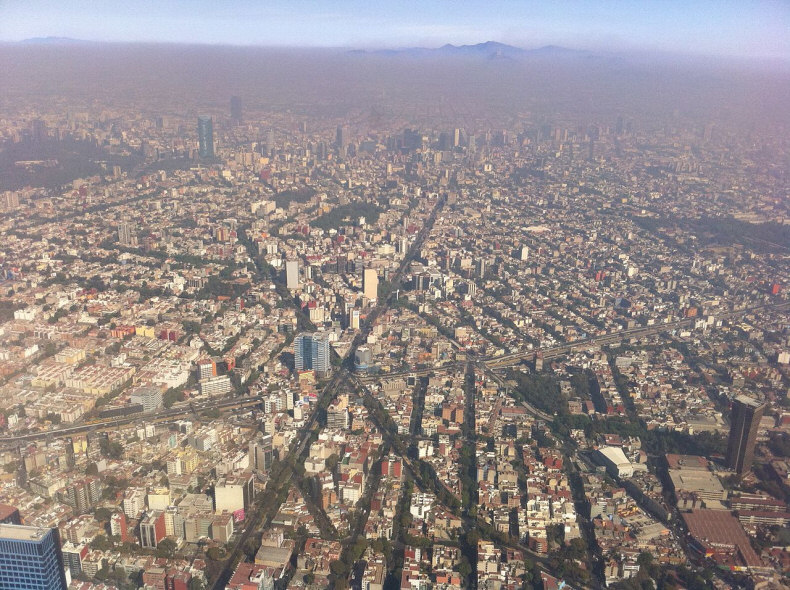 By Fidel Gonzalez, via Wikimedia Commons
Below the city you can find ancient ruins like Aztec canals because long ago, Aztec's used Mexico City for their civilization's cultural center. Other activities in Mexico City include attractions like Frida Kahlo's old studio and museum that was shared with Diego Rivera known as La Casa Azul, the pyramids at Teotihuacan, and some of the trendiest dining in all of Mexico.
Pyramid of the Sun - Teotihuacan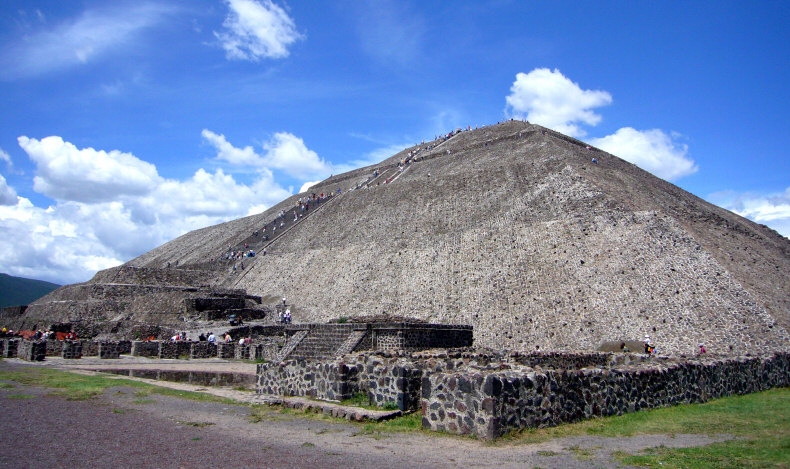 La Ciudadela, Teotihuacan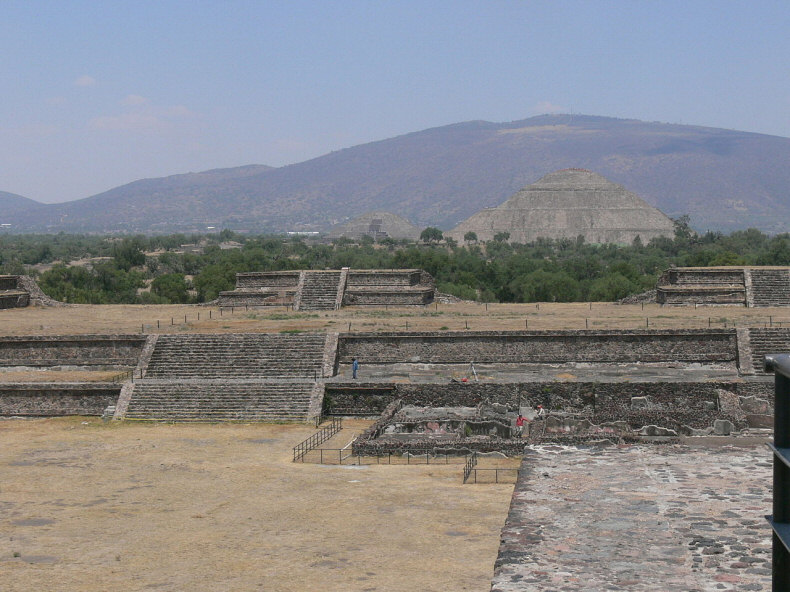 By Wolfgang Sauber, via Wikimedia Commons
One of the reasons for the shift in crime was thanks in part to the Bicentennial celebrations, and the attempts by local government to beef up their law enforcement presence. The government wanted to have a city that was welcoming not only to Mexicans, but to people from all over the world. Their efforts have paid off. The city now has a crime rate a third of Washington D.C.'s which, when looking back at Mexico City's extremely violent past in regard to kidnapping, was no small accomplishment.
View of Mexico City Skyline Contrasting Modern and Old Structures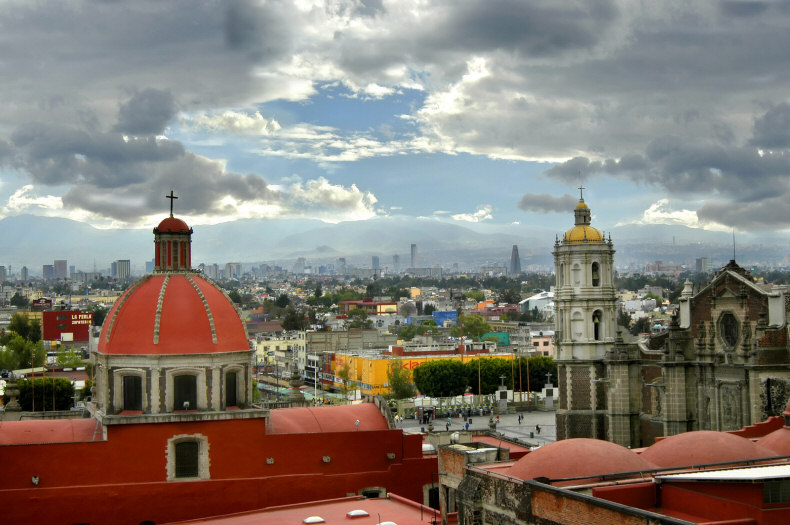 There are plenty of things to do while in Mexico City, and you will find it difficult to see everything in just one trip. Whether you prefer to enjoy some of the best of Mexico City's local cuisine, or you want to take advantage of the many shopping locations, there truly is something for everyone in Mexico City. As the city becomes even more of a tourist destination due to dropping crime rates, more modern hotels are starting to create luxury accommodations for weary travelers looking for a clean and comfortable place to rest their heads.
---
13) Puebla
If you like the safety and size of Mexico City, then you will love nearby Puebla. The city may cover a large geographical area, but only 1.5 million people reside there. It is lovingly referred to by locals and travelers alike as 'mini Mexico City'. There is something to do at every turn. Whether you are looking to take in the sights of the old cathedrals or you want to try some of the local cuisine, you will find something to suit you. Many who travel to Puebla prefer it to Mexico City, because it is possible to enjoy the size of a larger Mexican city, without all of the hustle and smog of Mexico's capital.
One of the best places to stay when you are in Puebla is in the city center. The buildings surrounding the city's center are adorned with painted tiles and can be very comfortable. It also puts you right in the heart of everything, which is great because you will be at the epicenter of every local attraction.
Just step outside your door and start sampling some of the different food Puebla has to offer. One dish in particular, known as the Arabic taco, is a Middle Eastern-style flat bread filled with marinated pork. Those really looking to try something extremely unique can try some escamole. This is a dish made from ant larvae sautéed in butter.
Those who enjoy it say it is just like eating rice, but you should defiantly give it a try and draw your own conclusions on the dish.
Puebla is easy to access whether you want to stay there overnight or just to go on a day trip from Mexico City. Jumping on a bus from the capitol takes about two hours to access Puebla and everything it has to offer.
View of Popocatepeti Volcano Near the Summit of Iztaccihuati - Puebla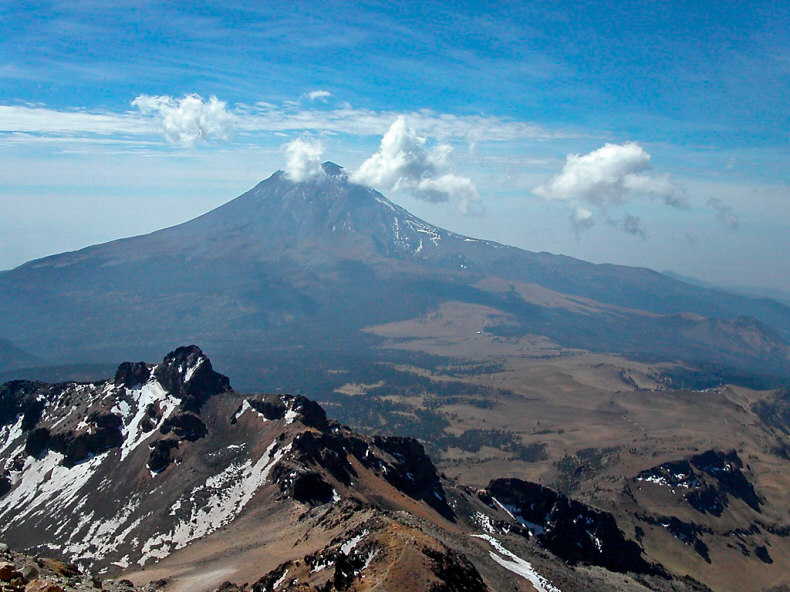 By Peko, via Wikimedia Commons
---
12) San Miguel Allende
For those who are not aware of San Miguel Allende, it is one of the first places that comes to mind when American expatriates are looking for a destination. The town is small with only 62,000 people, and most of these are people who have immigrated to Mexico to retire. Drug trafficking and crime is practically unheard of in this small, sleepy town. To give you an idea of just how tame the city is, it was the city featured in the movie 'Once Upon a Time in Mexico'.
Once a silver mining town, San Miguel Allende's geographical location is in the central highlands just north of Mexico City. Its elevation provides a unique view of Mexico City and makes much of central Mexico accessible. Whether you want to spend your entire stay in San Miguel Allende, or you want to visit on an overnight, it is one city many feel a trip to Mexico would not be complete without stopping here.
View From Atop the Central Highlands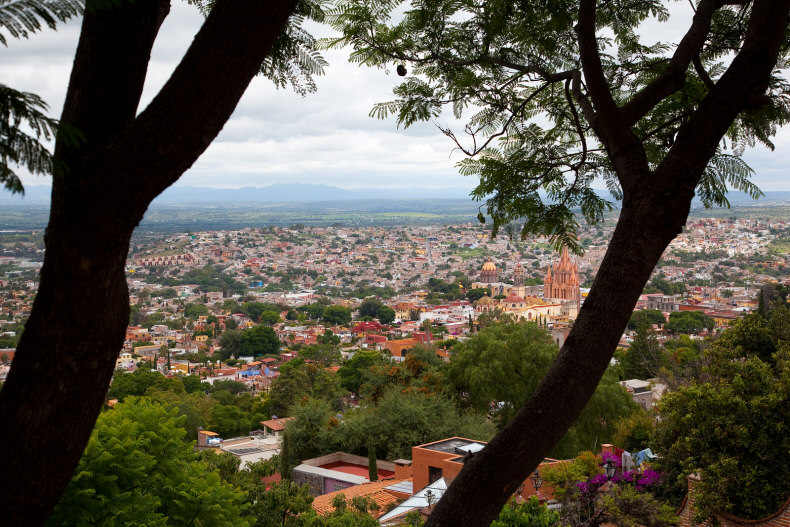 While staying in San Miguel Allende, take advantage of the many shops that sell an assortment of handcrafted items that have helped to establish the town as a UNESCO World Heritage Site in 2008.
Streets of San Miguel Allende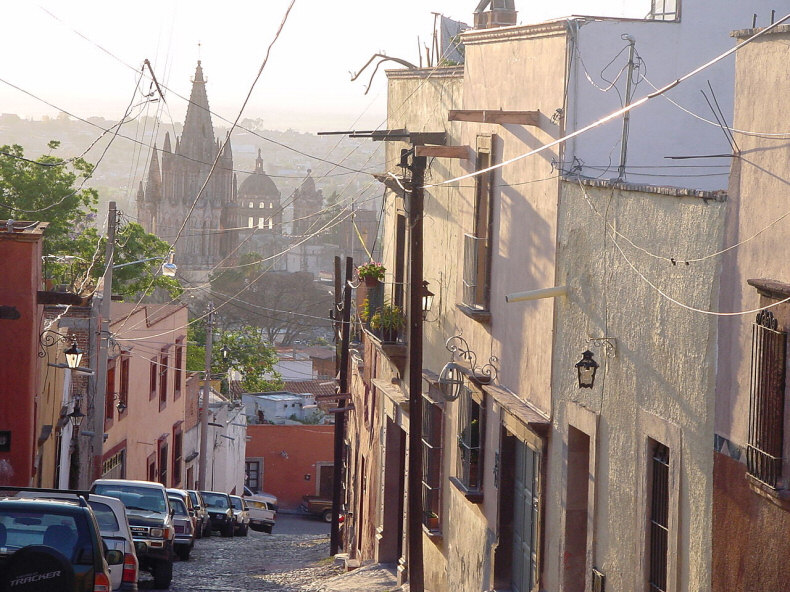 By Eric Chazaro Cavero, via Wikimedia Commons
In addition to purchasing some outstanding mementos, you can also take your time strolling through botanical gardens or enjoying the sights of the 17th century cathedrals.
Top your day off with dinner at an organic farmer's restaurant which will allow you to truly sample, as well as enjoy, authentic Mexican cuisine.
---
11) Merida
This old city is also known as the "real Mexico". It still has the feeling of 17th century, which can be seen in the cathedrals built with Mayan bricks.
Merida Cathedral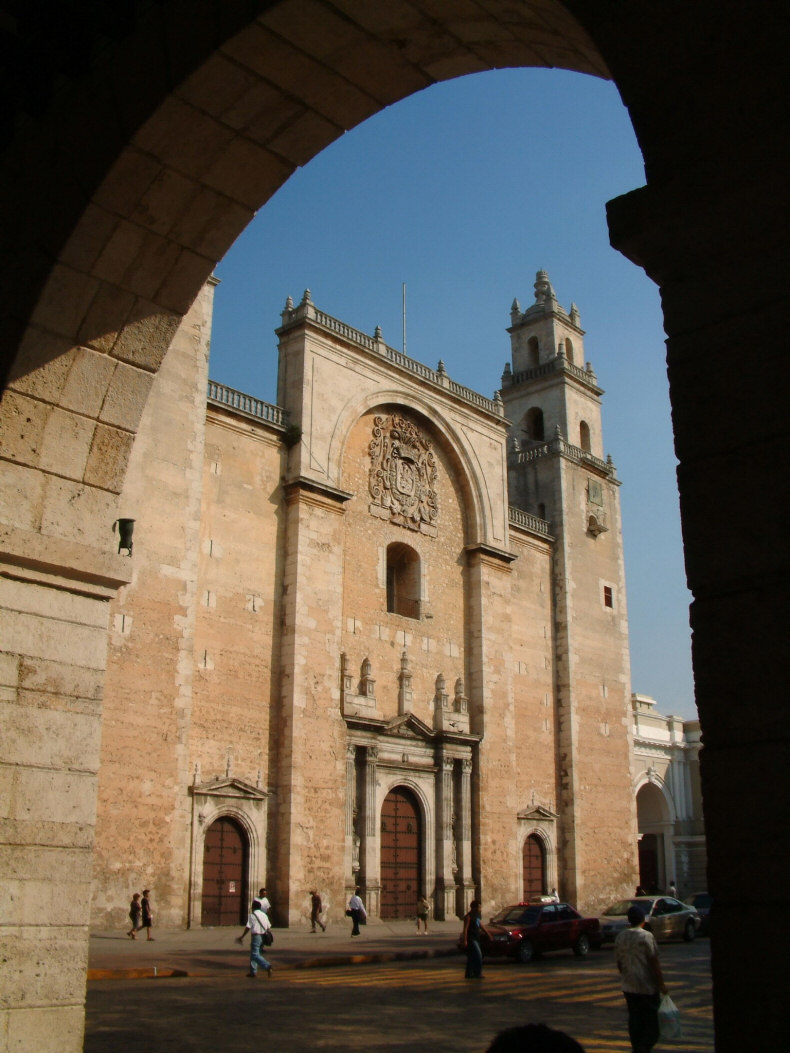 Yet what makes the city so safe for travelers is its distance from many of the major drug cartel controlled cities, and the violence they have become infamous for. Merida is located four hours inland from Cancun. While it does not have a view of the ocean, travelers can enjoy a feeling of being transported into what Mexico used to be like.
Historic Archway in Merida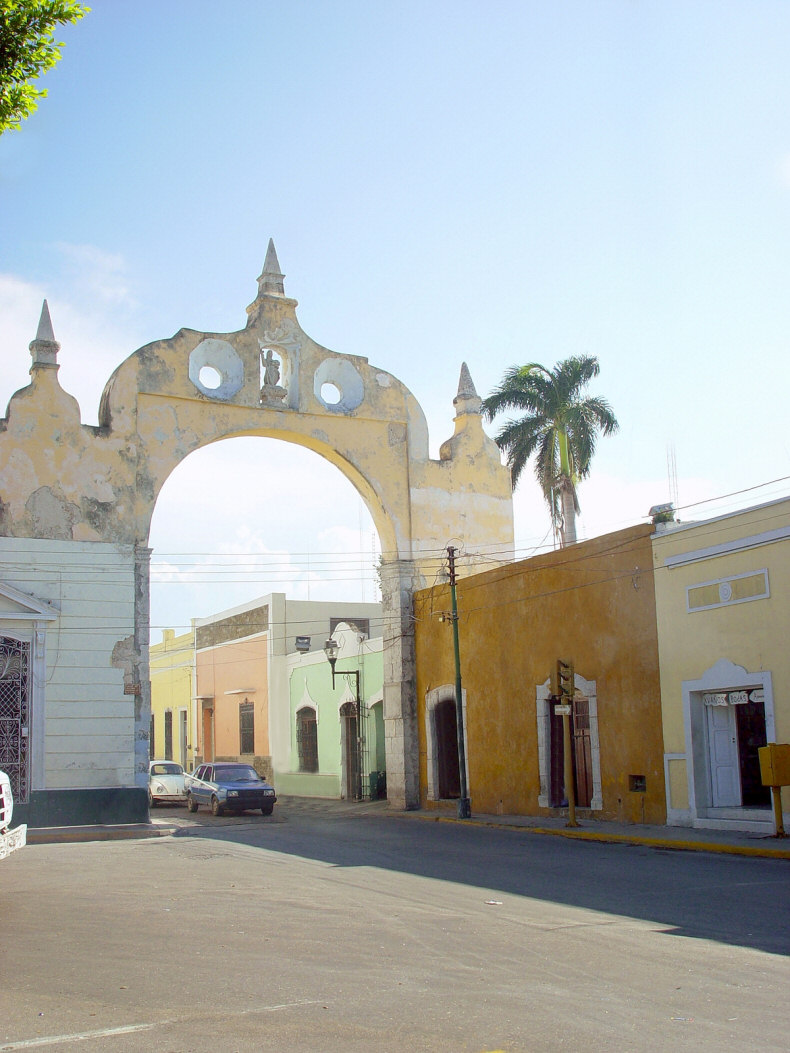 Locals love the town of Merida. If you are thinking about taking a day trip here, remember that on the weekends the center of the town is closed off to vehicles. It is converted into an open market for all to enjoy. You can enjoy the fresh tastes and smells from the taco vendors, or enjoy the music from local musicians playing on open-air stages. It makes every weekend feel like a festival.
Many who travel to Merida are only there for a day trip. Plan to show up on the weekend, and consider staying overnight in one of the inns the city is starting to become known for.
---
10) Guanajuato
While Guanajuato does not have as many expatriates as San Miguel de Allende (200 compared to 10,000), it is still a very safe place to visit.
The culturally rich environment is safe at all hours, thanks to the mere fact that the city does not have any significance to local drug cartels.
Colorful Houses Dotting Guanajuato's Hillside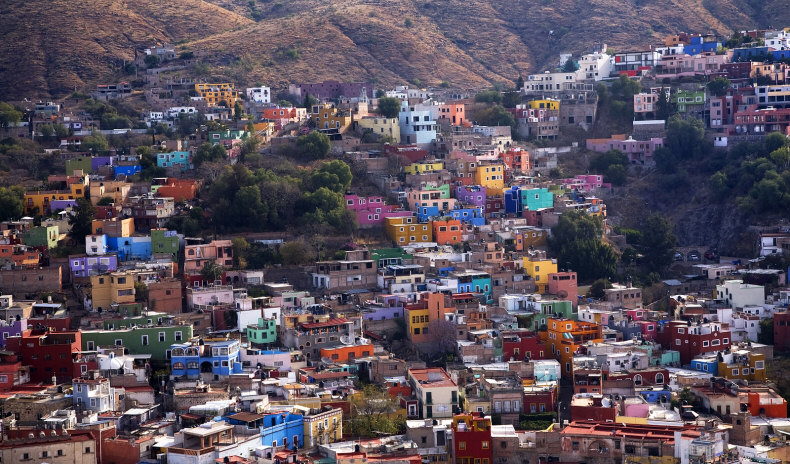 While there are a lot of local festivities going on at night, the attractions in Guanajuato are mostly centered on things the whole family can enjoy together. This kind of cultural unity means there is a lack of tension present, and all visitors have to worry about is having a good time.
Underground Traffic Tunnel - Guanajuato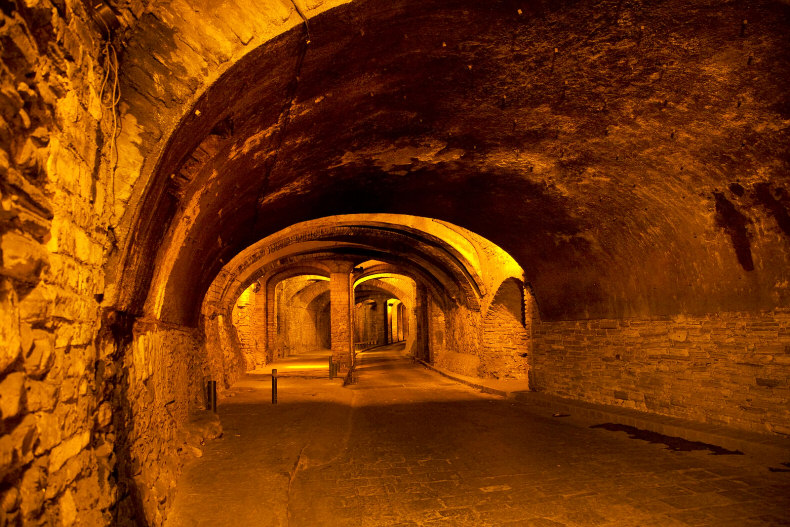 Located five hours away from Mexico City by bus, Guanajuato is a great destination for an October getaway. This is when the town celebrates their annual festival, The Festival Internacional Cervantino.
Performing Pi-Leau in the Festival Internacional Cervantino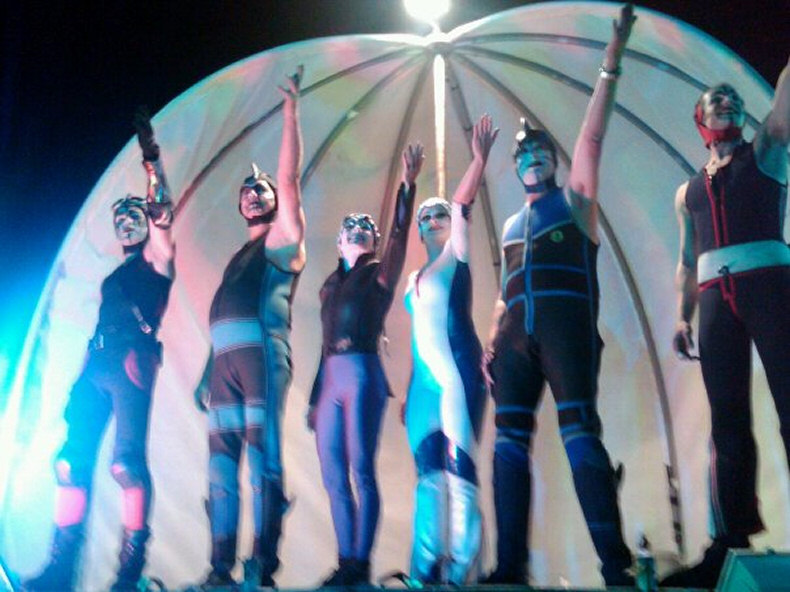 By Tlilmiztli, via Wikimedia Commons
The town really comes to life with free activities for people of all ages, races, and cultural backgrounds allowing everyone to come together regardless of their financial position. Musical acts in Guanajuato vary from Mexico City punk bands, traditional mariachis, and classical music playing orchestras. You can also enjoy looking at both Mexican folk art and modern art.
Mummy Museum - Guanajuato, Mexico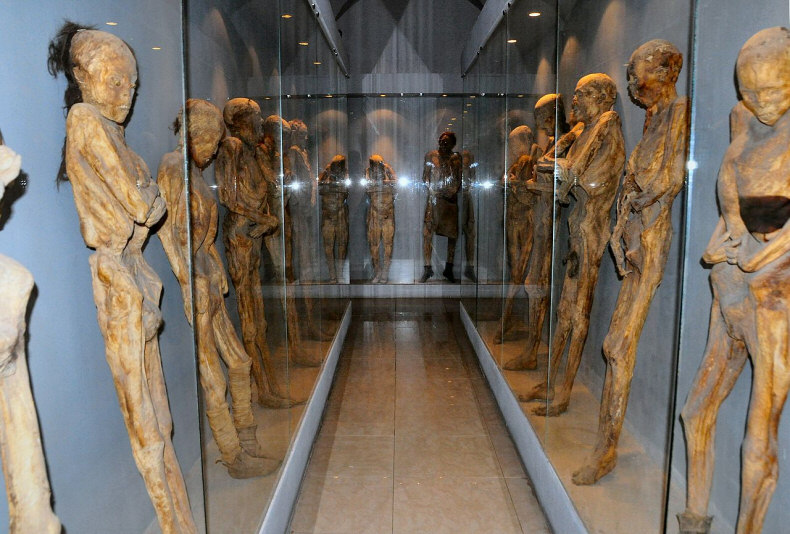 By Russ Bowling, via Wikimedia Commons
When the town is not alive with the festival, it is quite a colonial-styled city. Enjoy everything Guanajuato has to offer, including the mummy museum. You can also make a quick daytrip to see what is going on in nearby San Miguel de Allende. If traveling from Mexico City, it will be a five hour bus trip, or you can fly into a regional airport that is only 30 minutes away.
---
---
9) Playa del Carmen
The rumors of drug war violence and outbreaks of swine flu seemed to have missed Playa del Carmen completely. This area is considered by many to be extremely safe, which is why cruise ships make it a regular stop for Caribbean Sea cruises.
Due to the influx of cruise ships and their guests, the town lacks some of the charm that many of the older cities in Mexico demonstrate. Playa del Carmen is truly a resort town, and is one of the best places to enjoy some great shopping while vacationing in Mexico. If you have ever heard the saying, "Don't drink the water", the funny thing is that in Playa del Carmen it is actually safe, or at least safer, to drink the water. This is due to the construction of numerous water treatment facilities that were constructed because of the growing resort construction, occurring in the late 1990s. However, most guests from the U.S. still prefer to use bottled water for the entirety of their stay. Many visitors use it as a daytrip destination rather than a staying there for a number of days.
Beautiful Beach line of Playa del Carmen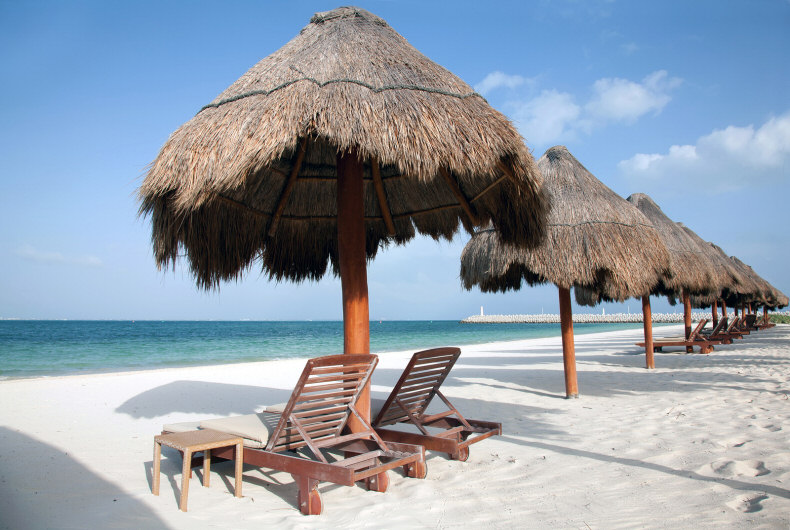 Others choose to make Playa del Carmen a destination because it provides direct bus access to Cancun airport and other destinations along the Yucatan Peninsula. Along with shopping for souvenirs, traveling along Fifth Avenue will allow visitors to see taco stands, nightclubs and bars. The feel of Playa del Carmen is that it is intended for a much younger crowd.
Playa del Carmen Oceanfront Properties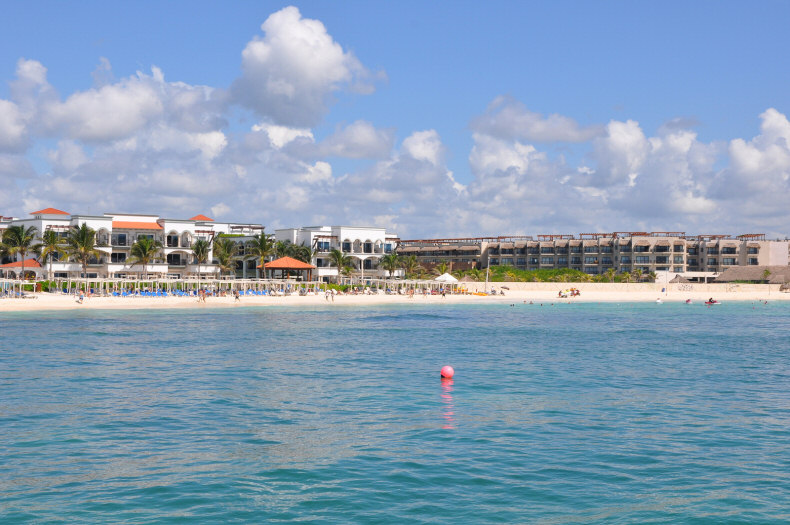 If you are looking to get away from the more touristy sections of Playa del Carmen, you can walk a little to the north and take advantage of the remote beaches that most tourists do not venture to. Snorkeling is perfect along these beaches, with waters that are practically clear all the way down to 80 feet. Jump into the depths of the Caribbean Sea, and enjoy a completely different, underwater world. The limestone sinkholes constructed by the Mayans are another sight to experience. Comprised of freshwater and steep walls, they provide the perfect opportunity to do some extreme, freshwater cliff diving. Trips out to some of these ancient Mayan sinkholes will require either renting a car, or booking a day trip by bus.
---
8) Huatulco
Huatulco is one of the safest places to travel to. Testimonials by visitors indicate that they have never seen or heard of any evidence of drug violence. Parades such as the 100th Anniversary of the Mexican Revolution showcases a children's parade, and is evidence of just how safe the city is. Some of the only concerns for visitors include what you would normally find in any U.S. city.
Huatulco Marina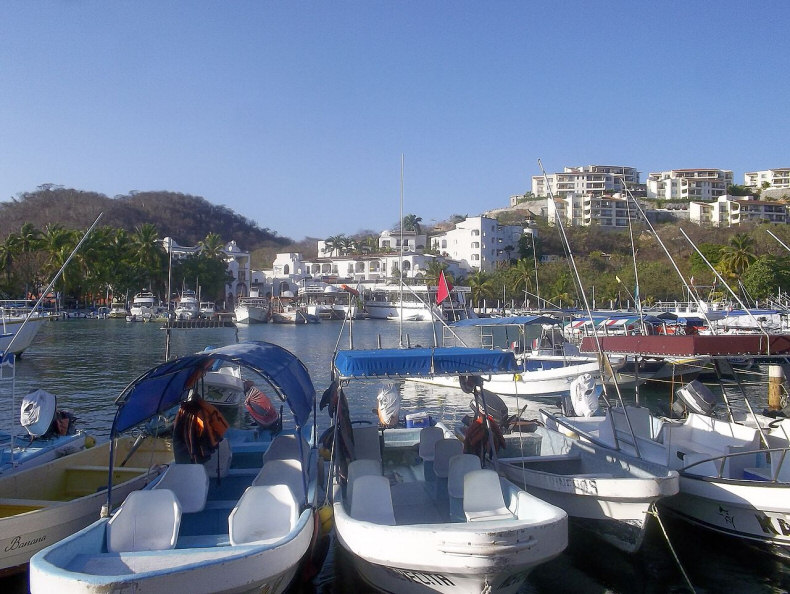 By Marrovi, via Wikimedia Commons
Getting to Huatulco is extremely easy. You can fly into Oaxaca City or Mexico City, and have direct access to the city. Once you arrive in the city, you will realize how it has become one of the preferred resorts for travelers in Mexico.
Huatulco International Airport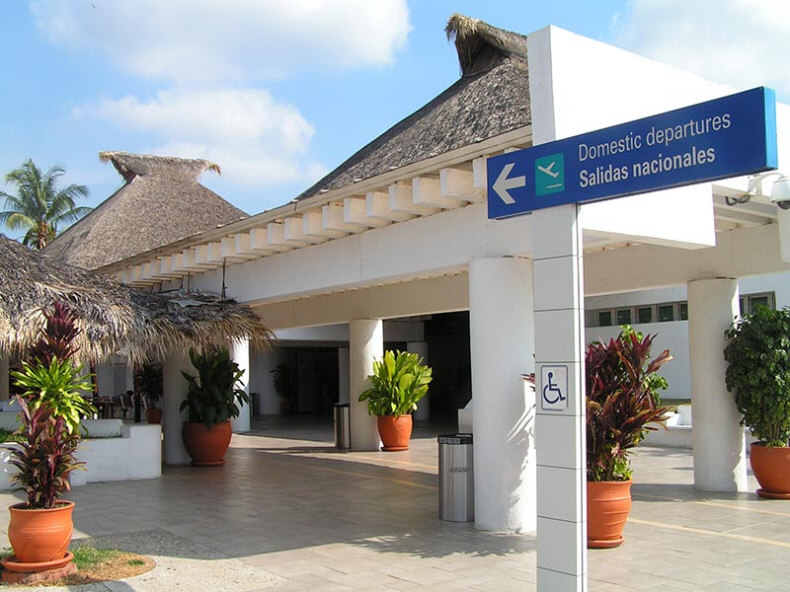 Huatulco was once a former fishing village and has developed into a resort town, clearly accomplishing the goals of transitioning the town into an attractive destination for vacationers.
Holland America Line's MS Maasdam Moored in Huatulco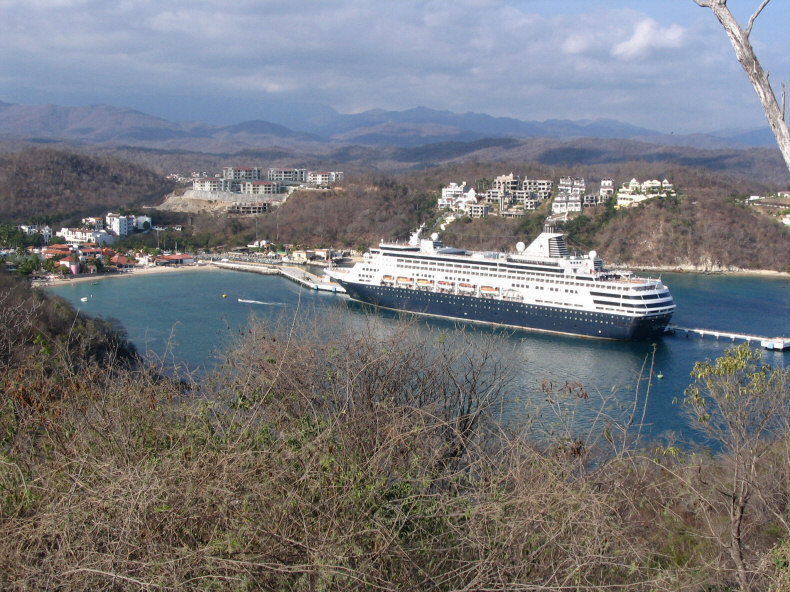 Jean-Philippe Boulet, via Wikimedia Commons
You will not only appreciate the relatively undisturbed coastline with no buildings over six stories high, but you can also enjoy the more than 12 miles of pristine beaches. There is always something to do in Huatulco. From touring coffee farms to exploring nearby waterfalls, this once quietly modest village has really come into itself as a vacation destination.
---
7) Oaxaca
The recent innovations in Oaxaca have made it one of the safest destinations to visit in Mexico. In addition to the historical architecture throughout the region, there are many new restaurants and shops that add a flair of the modern world to Oaxaca's old world charm.
It is not shocking that the restaurant scene would be one of the main attractions in a city known for it's mole sauces. The recent additions are as delicious as they are affordable, making it possible for travelers to get something delicious as well as interesting to try out on vacation. Test out something traditional alongside something that could only be borne from the mind of a modern chef.
Oaxaca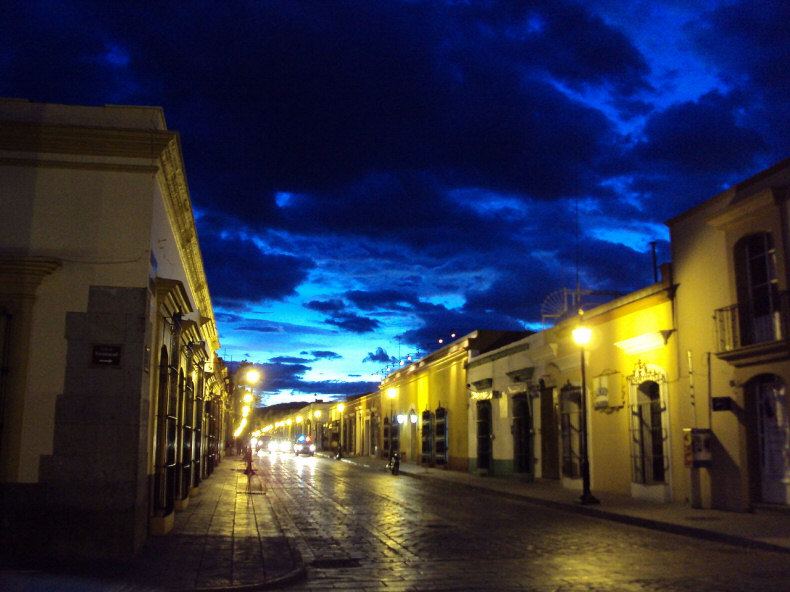 By Apsu09, via Wikimedia Commons
One of the things Oaxaca is starting to become known for is its burgeoning art scene. Studio art has been a big hit in Oaxaca, including the galleries that show and sell all of the local art. Modern art rubs shoulders with traditional art, giving art lovers something they can truly get excited about.
---
6) Valle de Bravo
Valle de Bravo is so safe that not only do American celebrities come to vacation, but so do some of the richest residents in Mexico City. This region is referred to as the lake country, and it seems that everyone wants to visit Valle de Bravo at one time or another.
Valle de Bravo has great Old World charm qualities coupled with a variety of luxurious modern-day amenities. Located just two hours from Mexico City, it is a perfect destination for your entire vacation or even as a daytrip destination.
Valle de Bravo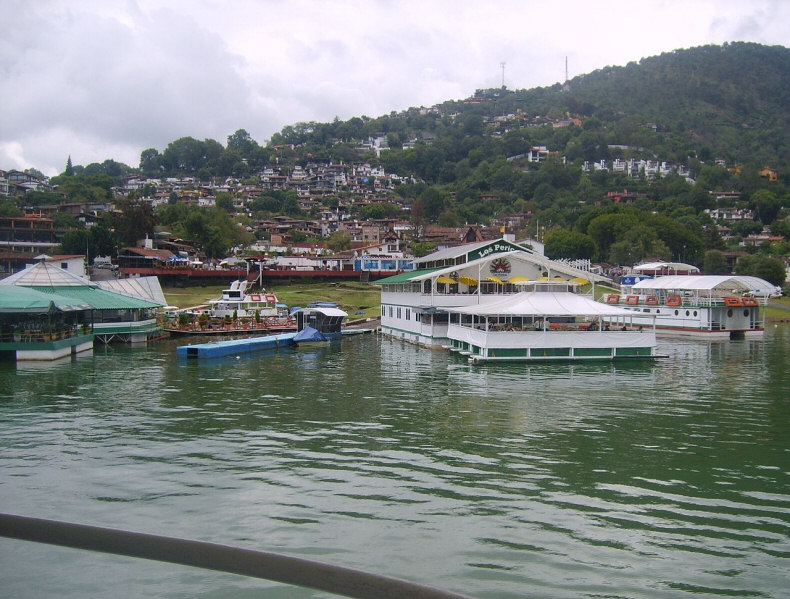 By Marrovi, via Wikimedia Commons
Among the biggest things that sets Valle de Bravo apart from typical American luxury destinations such as Palm Springs, is that everything costs much less in Valle de Bravo. You can expect to pay less than $150 a night to stay in any one of the fantastic, luxury accommodations. While you are there, you can check out some truly fine dining that is on par with Manhattan's Midtown fare. Valle de Bravo's main drag also sports hip bars, where you can enjoy a drink while taking in the sights and sounds of the city.
If you are looking for something a little more thrilling, you can get out on the water of Lake Avandaro and even try some paragliding.
Paraglider, Lake Avandaro, and Valle de Bravo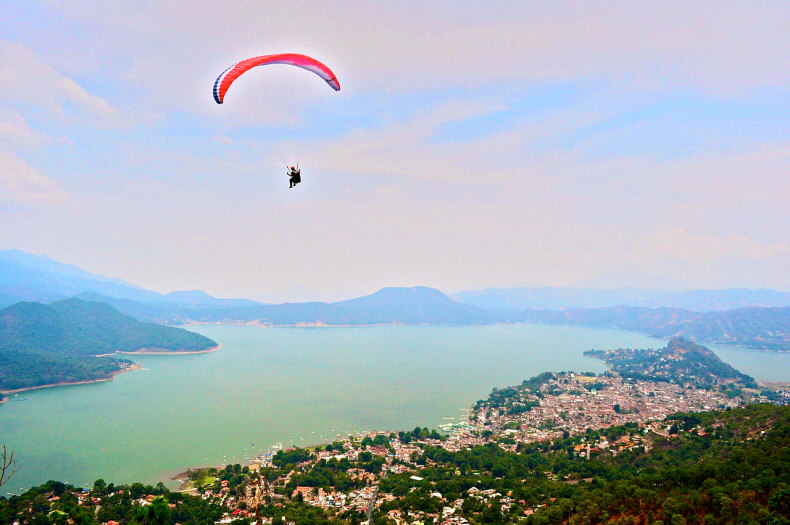 By Focelote, via Wikimedia Commons
The pine-forested hills surrounding Lake Avandaro create the perfect backdrop for some serious relaxing.
---
5) Tulum
Historically, there have been an increase in reports of crime and burglaries in Tulum. However, in recent history even these smaller problems seemed to have dissipated. The area has joined the ranks as one of the safest places to visit while in Mexico.
The night life in Tulum is not exactly as booming as it is in Playa del Carmen, but this may be exactly what you are looking for if you are searching for a great place to relax on your vacation.
Speaking of relaxing, Tulum has become a popular destination for those who are into yoga. Seaside yoga offers an extremely tranquil way to get in touch with your spiritual self. You can attend yoga classes and effectively relax your days away while staying in Tulum. For those looking for things to do that are slightly more adventurous in nature, scuba diving is available for those who want to explore the nearby coral reefs. You can also enjoy dipping into one of the nearby cenotes to try something different. A cenote is a natural pit, or sink hole resulting from the collapse of limestone bedrock that exposes underground freshwater.
Another way to unwind in Tulum is to check out the Mayan ruins that dot the countryside. Nothing like truly getting away by exploring the history of ruins that are more than 1500 years old.
---
4) San Cristobal de las Casas
From the reports of tourists familiar with San Cristobal de las Casas, the most dangerous aspect of San Cristobal de las Casas is the street itself. Cobblestones can become very slick when they are wet.
Cobblestone Street of San Cristobal de las Casas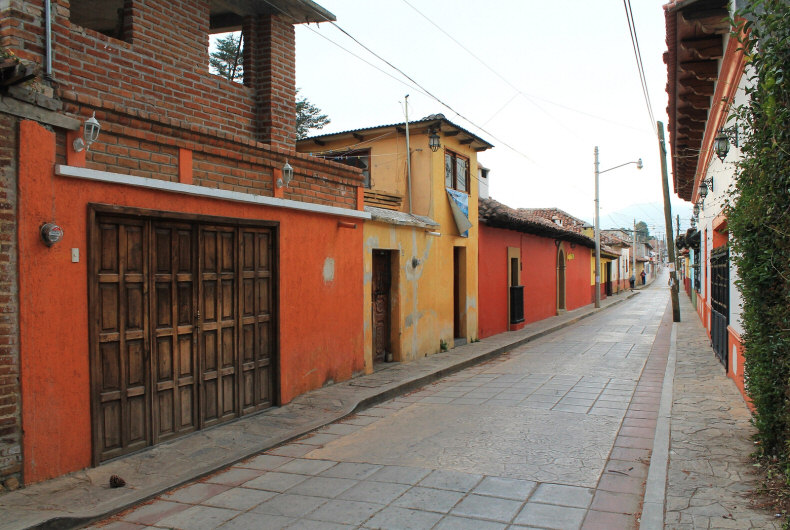 Those wearing flip-flops are advised to take cover and wait until the rain has passed. Luckily, there are many great ways to take cover from the rain thanks to copious terraces covered in red tile.
Templo de Santo Domingo Cathedral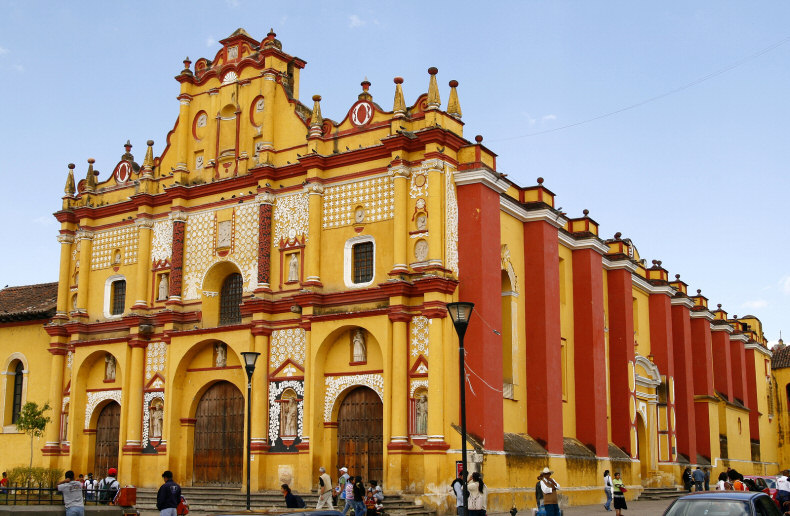 The shopping in San Cristobal de las Casas is also a bit unique. Most of the shops in the town are run by the indigenous people who live in the surrounding mountains. These residents wear bright handmade garments and sell their handmade wares to tourists and locals alike. When they close their shops at night, they return home to their villages.
A Local Making Handmade Toys, Blankets, and Garmets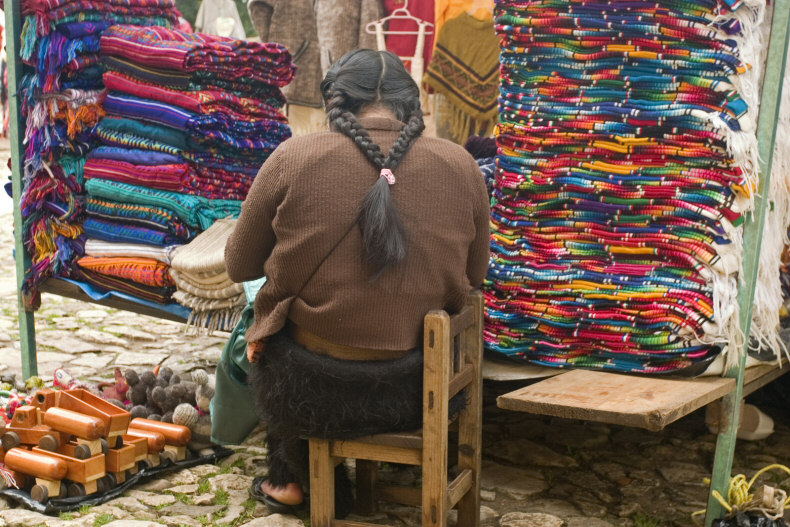 For a bit of history, travelers looking for things to do should take a daytrip to Palenque. This is a historic location that is now no more than ruins, overrun with howler monkeys.
Ruins at Palenque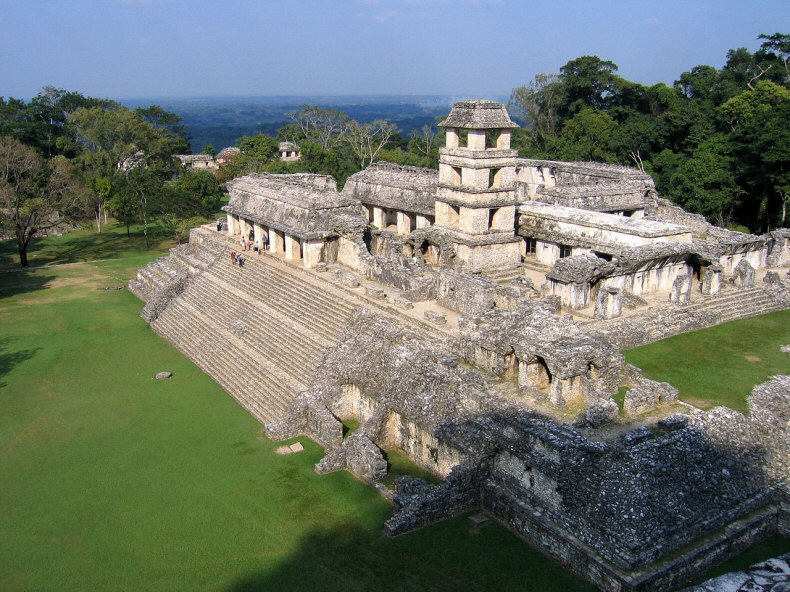 By Peter Anderson, via Wikimedia Commons
It is still an awe-inspiring sight to see it in the midst of the jungle, as if it were placed there rather than built by a society. Palenque is about three hours away, so be prepared for a full day trip.
---
3) Santiago de Querétaro
Santiago de Querétaro has been rated as one of the safest cities in Mexico because of it's low crime rate. It is easy to see why the city was chosen as a Unesco World Heritage Site in 1996. This historical city was at its peak in the 17th and 18th centuries, and has since preserved the cultural history that was popular at the time. Today, the city works hard to maintain the look and feel it has had over the course of its history.
Santiago de Querétaro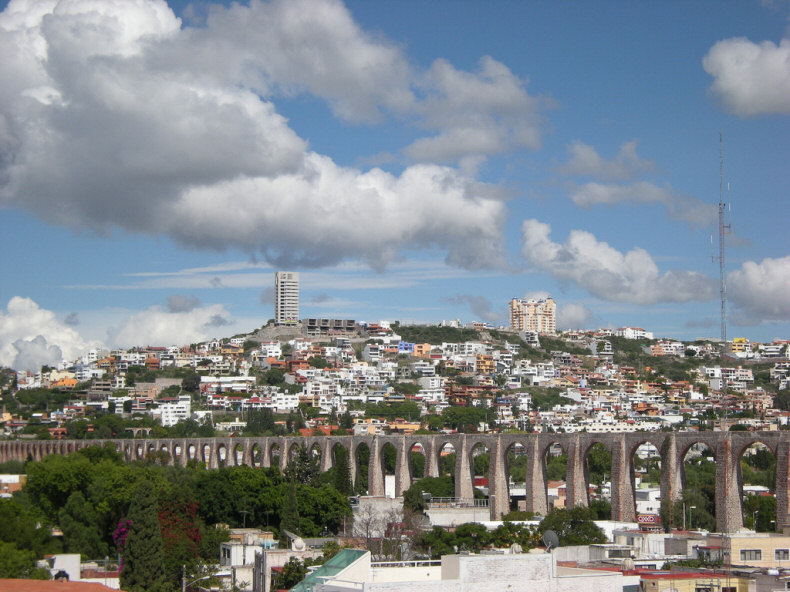 Travelers looking for things to do are welcomed to take it easy for a change and enjoy everything Santiago de Querétaro has to offer.
Interior of Saint Rose of Viterbo Church and Convent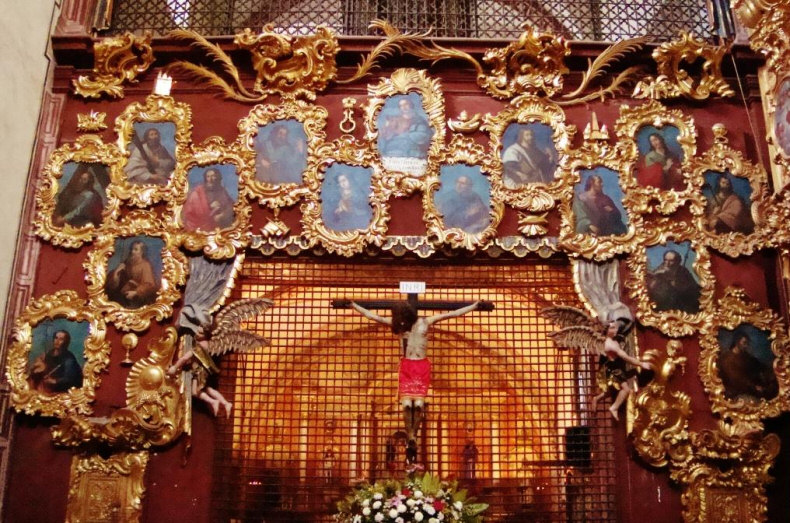 By Enrique López-Tamayo Biosca, via Wikimedia Commons
Exterior of Saint Rose of Viterbo Church and Convent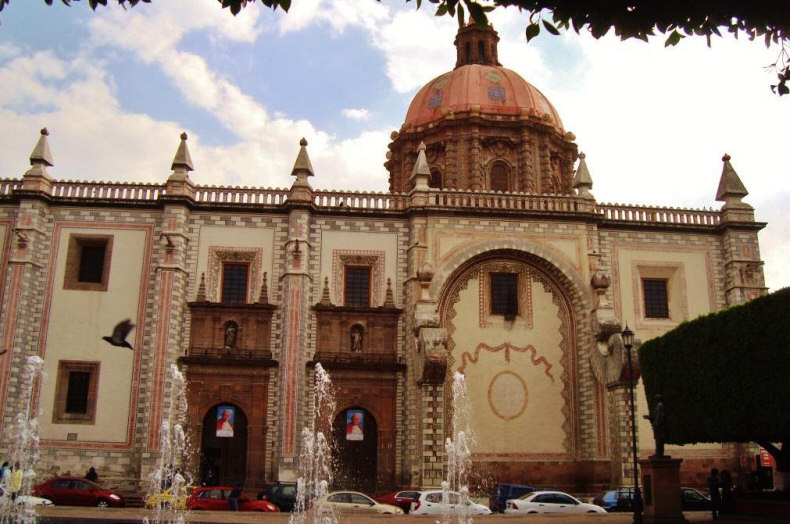 By Enrique López-Tamayo Biosca, via Wikimedia Commons
The narrow passageways force you to take your time when moving from one stunning shop to the next. If you have a sweet tooth, you will love the candy stands you will find throughout the city.
Many feel that the quality of life offered to the more than two million citizens is better than you might find in most North American cities. A foundation in history and natural beauty are combined to create a city you will remember for years to come.
---
2) Yucatán
Many who live and travel to Yucatán have a mindset that the city is a country apart from Mexico. This is because while it has been given a bad name due to Cancun and the Riviera Maya, Yucatán has remained free from crime. In fact, the shocking doubling of drug-related deaths in 2010 only meant an increase from one to two. The tourist structure in this city is highly developed and is supported by several things to do for vacationers.
View of Mérida, Yucatán from the 18th Floor of Hyatt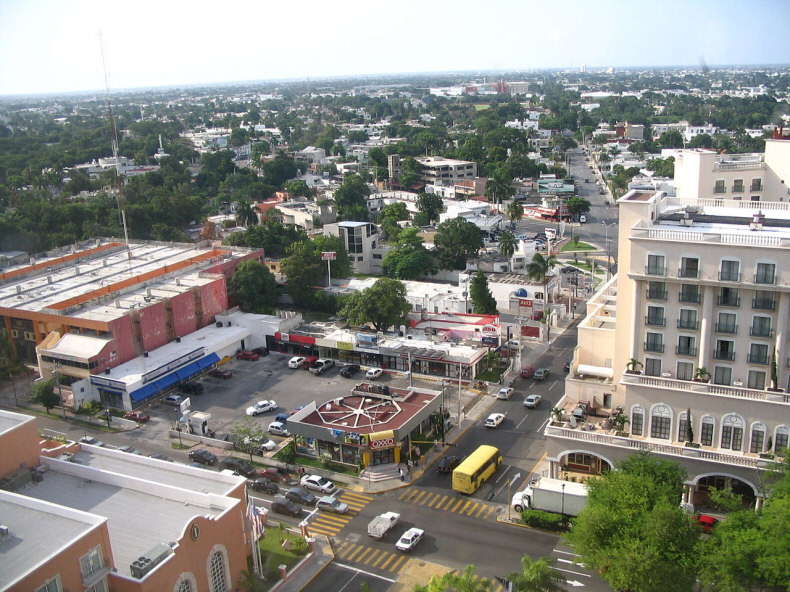 By Kprateek88, via Wikimedia Commons
Those who visit here will find that not only is the city itself a lot of fun, but the people make the city a lot of fun to be in as well. By the account of some, it is possible to keep going back to the Yucatán every year without ever running out of things to do.
Chichen Itza - Yucatán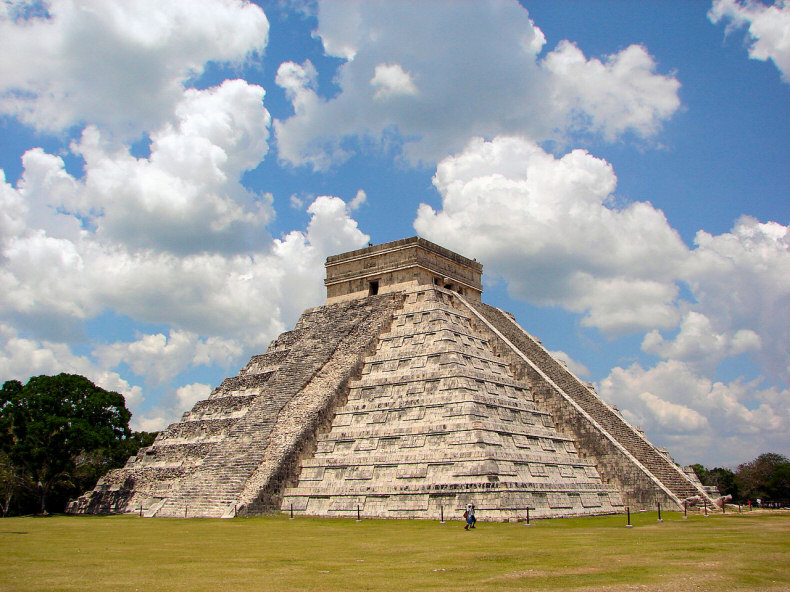 By Bjørn Christian Tørrissen, via Wikimedia Commons
The beaches here are not crowded, the ecotourism is something to behold and the cenotes offer a unique way to refresh. When you are not out exploring everything the city and surrounding areas have to offer, you can enjoy the breadth of possibilities from the grand haciendas. After a visit, you will start to think of Yucatán as a country unto itself as well.
---
1) Tlaxcala
Another state that is called one of the safest places to visit is Tlaxcala. This region has only seen 1.1 deaths for every 100,000 people. This small area is between Puebla and Sierra Madre Oriental. The primary visitors to this Mexican state are from Mexico. There are also a few German, French, and Swiss travelers with history on their minds.
The architecture for the capital city of Tlaxcala as well as the surrounding areas are of interest because they are pre-Columbian archeology sites. Keep in mind that only seven of the 1,000 archeological sites are open to the public.
In addition, if you are looking for things to do, this is an authentic cultural attraction perfect for those who want to get away from the typical vacation crowds.
City Street in Tlaxcala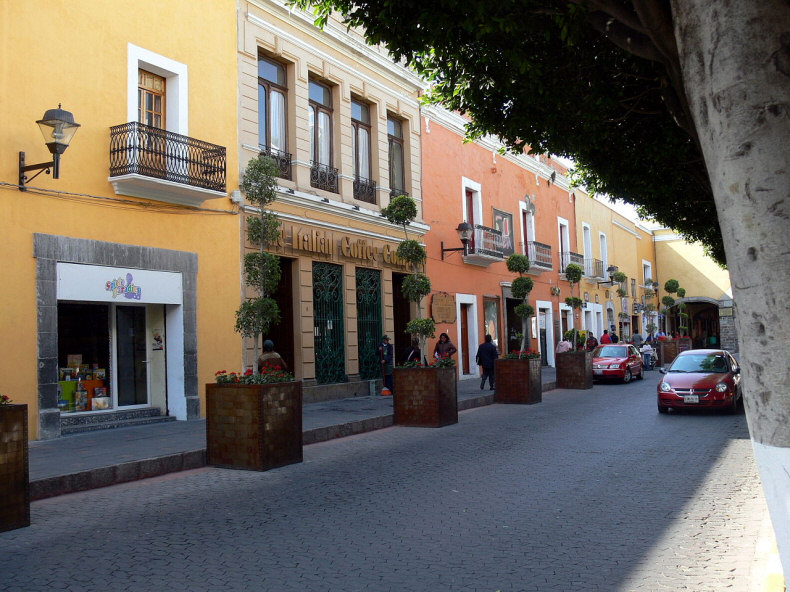 By Wolfgang Sauber, via Wikimedia Commons
---
Final Words
While these are the 15 safest places of interest in Mexico to visit, there are still plenty of other places to go in Mexico. You can even plan out an itinerary to go several of the different locations mentioned above. Mexico is safe, as long as you're not involved in the drug trade or trying to prevent the sale of drugs like working with the Federal Police in Mexico, but restricting your travel to the areas with the lowest amounts of crime will assure you of a much safer Mexican vacation.
Vacation Destinations
Top Lists:
Top 15 Interesting Places to Visit in the Bahamas
Top 15 Fun Things to Do in Miami, Florida
Top 15 Fun Things to Do in Chicago
Top 15 Best Unknown Things to do in Las Vegas
Top 15 Fun Things to Do in Hollywood
Top 10 Best Places to Visit in Turkey
The Top 15 Best Things to Do and See in Sydney
Top 10 Things to Do in Edinburgh
Top 10 Things to do on Oʻahu
Top 15 Things to Do in Albuquerque
Top 15 Interesting Places to Visit in Spain
Top 15 Places to Visit in New York City
Top 15 Things to Do in Portland Oregon
Top 15 Things to do in Greece
Top 15 Places to Visit in Houston Texas
Top 15 Interesting & Safe Places to Visit in Mexico
Top 15 Interesting Places to Visit in the Netherlands
Top 15 Interesting Places to Visit in Thailand
Top 15 Interesting Places to Visit in Switzerland
Top 15 Interesting Places to Visit in Portugal
Top 15 Places to Visit in San Francisco
Top 15 Interesting Places to Visit in Shanghai
Top 15 Interesting Places to Visit in Puerto Rico
Top 15 Interesting Places to Visit in Norway
Top 15 Interesting Places to Visit in Las Vegas
Top 15 Interesting Places to Visit in Jamaica
Top 15 Interesting Places to Visit in Croatia
Top 15 Interesting Places to Visit in Belgium
Top 15 Interesting Places to Visit in Bangkok
Top 15 Things to Do in Rio de Janeiro
Top 15 Things to Do in Monaco
Top 15 Interesting Places to Visit in Dubai
Top 15 Interesting Places to Visit in Amsterdam
Top 15 Things to Do in New Zealand
Top 15 Interesting Places to Visit in Paris
Top 15 Interesting Places to Visit in Italy
Top 15 Interesting Places to Visit in Singapore
Top 15 Most Interesting Places to Visit in Berlin
Top 15 Best London Attractions
15 Little Known Facts About New York City
Disney World Articles
Top 15 Disney World Rides for Adults
Top 15 Disney World Rides for Kids
Top 15 Disney World Resorts for Adults
Top 15 Disney World Resorts for Kids
15 Fascinating Facts About Disney World
Top 15 Fun Things to Do at Disney World's Animal Kingdom
Top 15 Fun Things to Do at Disney's Hollywood Studios
Top 15 Fun Things to Do at Disney World's Epcot
Top 15 Fun Things to Do at Disney World's Magic Kingdom

Shorter Top Lists:
Top 10 Tourist Attractions in San Diego
Top 10 Tourist Attractions In India
Top 10 Things to Do In Kansas City
5 Places You Should not Miss in Brazil
Top 5 Things to do in New York City

Informational:
Best Tourist Attractions In Vietnam
Taking in the Sights in Shanghai
Top Tourist Attractions in Perth, Australia
Nice places to visit while in Great Britain
Sampling the Foods at the Night Markets in Taipei
What to do for a Kenya Vacation
Best Attractions in Victoria, B.C.
Photos of the Luxor Hotel in Las Vegas