Top 15 Fun Things to Do in Miami, Florida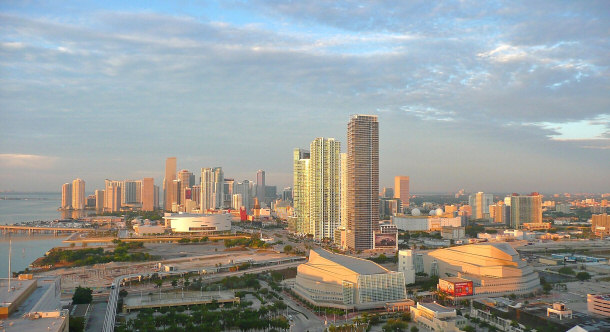 By Marc Averette via Wikimedia Commons
Just the name of the city evokes many images and sounds: the rumba playing in the background, the smell of sweet fried plantains or braised pork, or the strong kick of its coffee. Then again, it's hard to talk about Miami, Fla., without mentioning South Beach – and not just for the golden beaches or the turquoise waters. Miami is, after all, a place to see and to be seen.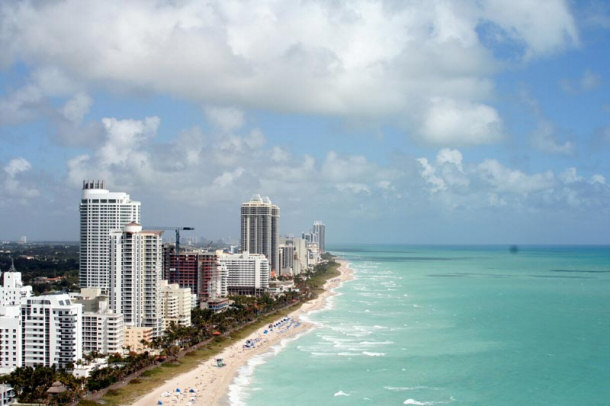 Florida may be known for its spectacular tourist destinations, but Miami in particular stands out. It's diverse culture, natural beauty, near-perfect weather and its entertainment and nightlife options make Miami a city to put on your bucket list – if you haven't visited there already. The best part? No matter how early you get up or how late you stay awake, there is always something to do. And that shows in the number of visitors who visited there in 2012. Miami-Dade County had close to 14 million overnight visitors that year, according to the Greater Miami Convention and Visitors Bureau. So, pour yourself a mojito, sit back, and check out this list of 15 fun things to do the next time you're in Miami.
---
15) Arcade Odyssey
Gamers are everywhere these days, and it is getting far easier to get out of the house and enjoy yourself if you are one. Sadly, there are fewer and fewer places to go in order to enjoy games, and that makes it hard to really see the appeal. Back before home consoles like the Nintendo and Atari were common household items, players had to go to arcades. You would spend five or ten dollars in tokens and off you'd go to play, trying to get a spot on your favorite machine to beat the high score.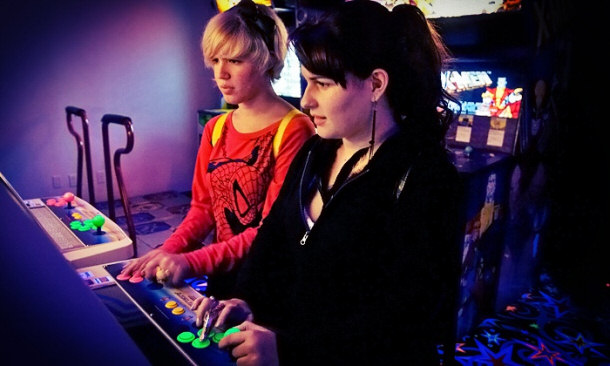 Luckily, while some arcades are in the decline, there is a wonderful place to visit in Miami that will fill all those gaming needs. Arcade Odyssey is located on 12045 SW 117 Avenue, in a friendly neighborhood. It offers plenty of party events, or if you're just there for a day or two, you can take a crack at the many pinball games, some of the classics like Ms. Pacman or air hockey, or even a few imported games that can usually only be found in Japan. Whether you desire casual gaming or wish to arrange a tournament, this is the place for you.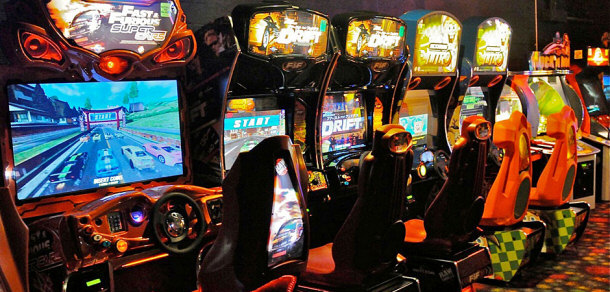 The owner, a Mr. R M is especially helpful and friendly. A man just as passionate about gaming as much as any of his players, he is happy to work with the customers for any of their needs and to organize exact the experience that will make them happy. Easily approachable and on first name basis with several regular customers, he will do his best to make sure everyone leaves with a good impression of this little gaming community.
---
14) Coral Castle
While not directly in Miami, the Coral Castle is located in Homestead, only about a 20 minute drive from the city. It is well worth a short detour too, as it is a marvel of beauty and ingenious engineering. The location is comprised of more than 1,100 tons of coral rock and it was all carved by just one man: Ed Leedskalnin. This amazing feat took three decades to complete. He refused to let anyone watch him work while he created the caste and did not allow any help, either. Some even seem to believe that because of this, the castle could have been constructed by the use of paranormal powers. This rumor only enhances the mood of the location, and based on the beauty of it, the tale is not that hard to believe.
Living Quarters at the Coral Castle, Homestead, FL: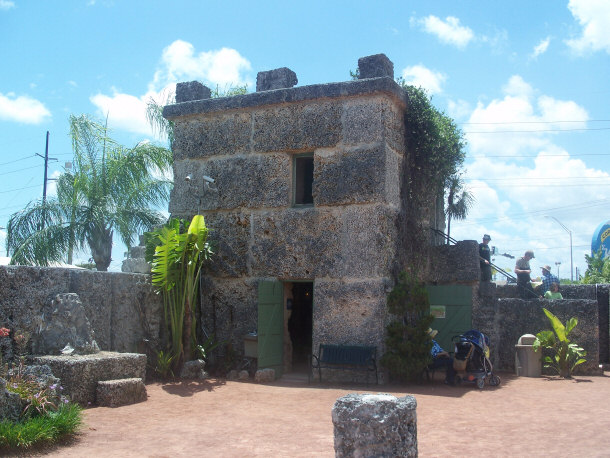 By Ebyabe via Wikimedia Commons
28655 South Dixie Highway in Homestead is where this magical sight can be found, and the prices are cheap. The entry is free for children six years old and younger, $5 for children between 7 and 12, and $9.95 for anyone 13 or older.
Coral Castle Dining Room Table Set: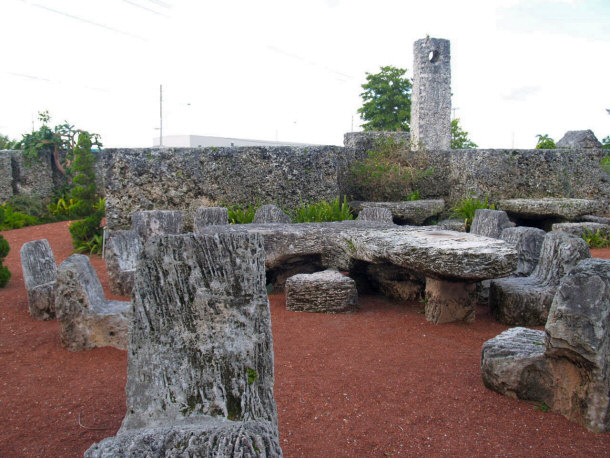 By Christina Rutz via Wikimedia Commons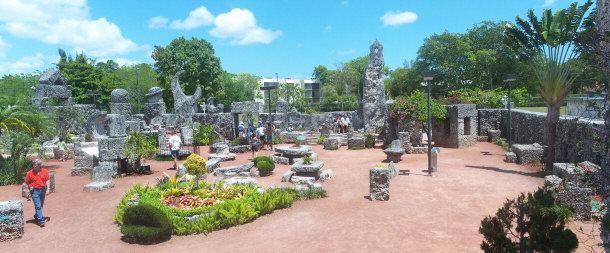 By Ebyabe via Wikimedia Commons
---
13) Zoo Miami
Family groups and animal lovers need places to visit that will be warm and inviting to them. Zoo Miami is a great location for such people. It can be found at 1 Zoo Boulevard 12400 SW 152 Street and has several discounts for seniors, military personnel, and groups.
Zoo Miami's Entrance:


By Alexf via Wikimedia Commons
The whole zoo feels like a safari in the wild since the animals are not kept in cages, but rather roam freely in environments where they have plenty of space. The climate and weather of Miami allows animals from Africa, Australia, and Asia to all reside in the same location. The animals are kept to environments that are as similar to their native lands as possible, including the plants and soil. Some animals that could even live together harmoniously are given the same space to interact in, grouped together by their geographical region.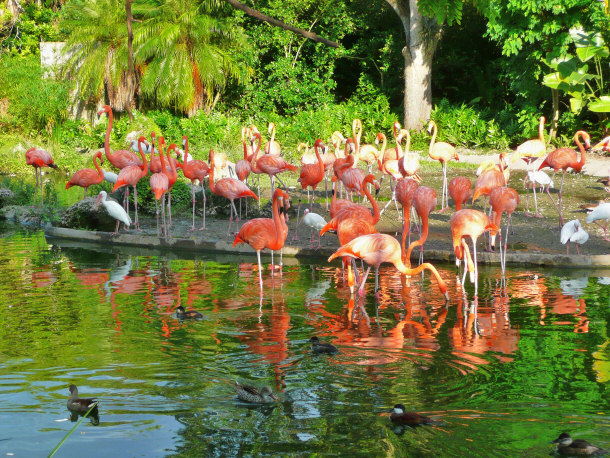 By Averette via Wikimedia Commons
In order to accommodate all the space the different animals need, the zoo is 720 acres. It requires a lot of walking so it's good for exercise. However, if you want to have a more convenient way of travel, there are carts and bicycles available to rent for an additional charge. They might be hard to get a hold of on busy days though, so be sure to wear comfortable shoes, just in case.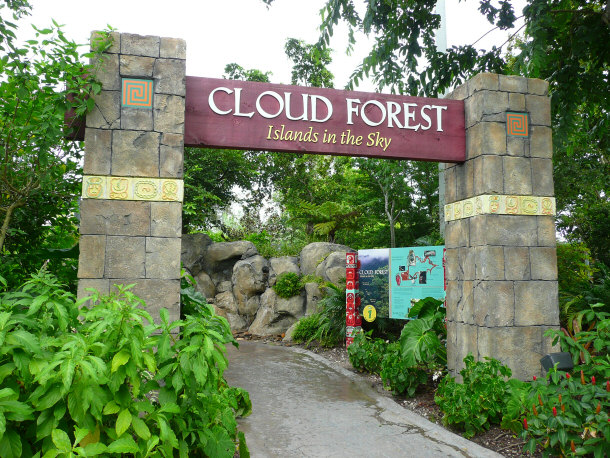 By Averette via Wikimedia Commons
---
12) Miami Museum of Science
A place of entertainment for offers children and adults alike, the Miami Museum of Science is full of both fun and an educational experience. It's a great place to visit for a vacation and easily makes this list as a must see. Science comprises of many different fields of study and this museum strives to have as many of exhibits for those fields as possible. It has a whole planetarium with several shows every day featuring surround sound and lasers as it explains the universe and everything it comprises of. As a special treat, the first Friday of every month has a show completely free of cost.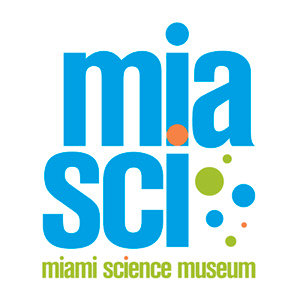 There are also exhibits for music, reclamation of the desert, Newton's theories, wildlife, and fossils. It is also open every day of the year, for the exception of Thanksgiving and Christmas. Tickets are only $15 for adults or $11 for students, children 4-12, and senior citizens. Children that are three or younger are admitted for free. Miami Museum of Science is at the easy to find location of 3280 South Miami Avenue.
Exhibit About Coral Reefs:

---
11) Jungle Island
Love animals and seeing shows about them? Well then Jungle Island at 1111 Parrot Jungle Trl is one of the places to visit that should be put on the list for you. Open every day of the year from 10AM to 5PM, you can go and visit any time that you could possibly wish to. There is a wide variety of animals at the zoo, including different types of birds, monkeys, reptiles and large cats. There are even ligers there, a cross between a tiger and lion. For that alone, it should be worth going.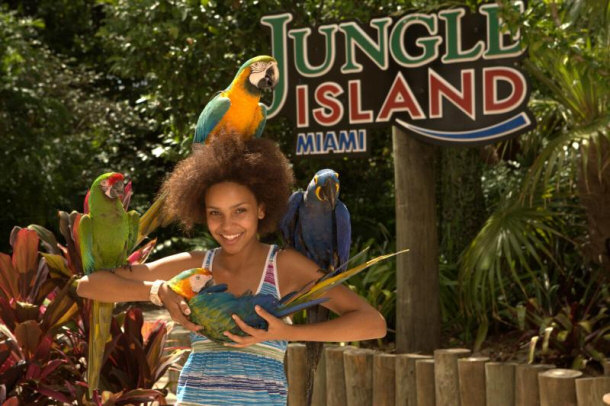 The prices are a little steep however, ranging from $40 to $30 for adults and children respectively. Active military duty members are admitted completely free though, and their family members also receive a 15 percent discount as well. This is important to note if you are vacationing with anyone in the military. Make sure he or she brings their ID, and you'll get in much cheaper. Tickets are also given discounts if bought online instead of at the door. The discounts are all at varying prices, though the average is about 10 percent off for most of them.
Southern Cassowary Named Mamma Cass:


By Maxitup16 via Wikimedia Commons
---
---
10) Seaquarium
Also on the list for animal lovers is the Seaquarium at 4400 Rickenbacker Cswy. The location offers visitors an educational experience that is far from boring. The exhibits that are featured there have several animals that include sea turtles, seals, star fish, seahorses as well as sea lions, and a manatee. They also have shows with dolphins and killer whales, though the schedules change from day to day so it can be a slight bit of a hassle if you do not go prepared.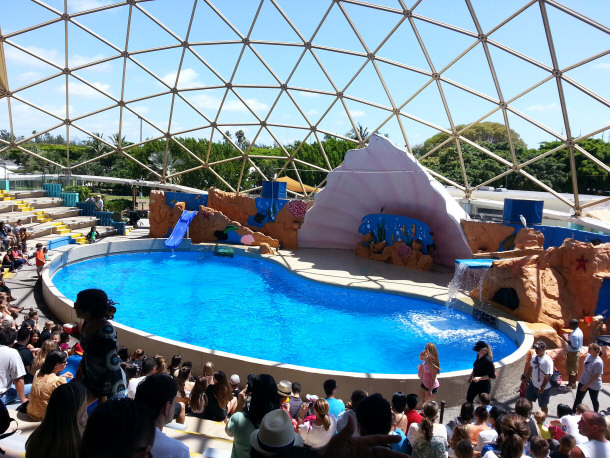 By Pietro via Wikimedia Commons
Price of admission is about in the middle ground, only $30 per adult and $23 for children 3-12. If you are visiting from another part of Florida though, you may wish to consider the annual pass that is only $10 more and will let you in all year long. No other discounts are available at the door though, but if you are a Florida resident, it's not a bad price for multiple visits. There are discounts online, but they seem to be date related. Some autumn months have a 30 percent discount, while some weekends have up to 50 percent off. Sadly, there is no calendar that lets you know when the discounts are. Instead they come in as advertisements over the website, so planning can be a bit tricky if you don't know what to look for.
Orca "Lolita" at Miami's Seaquarium: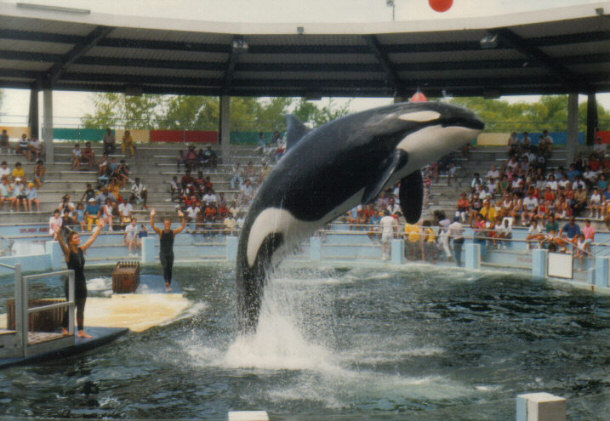 By Belissarius via Wikimedia Commons
---
9) Everglades
The everglades is one of the more peculiar National Parks in the United States, but it is definitely still a must see for places to visit. It has about 1.5 million acres of land that is mostly comprised of swamps, sub-tropical jungles, wet grasslands, rivers, and saw-grass prairies. Since the area is so large, many different animals can be found there. The common ones are crocodiles and alligators, as well as other predators like panthers or different kinds of snakes. It is also home to much more docile animals like different species of birds, reptiles, and some small mammals.
Great Egret in a Cypress Grove: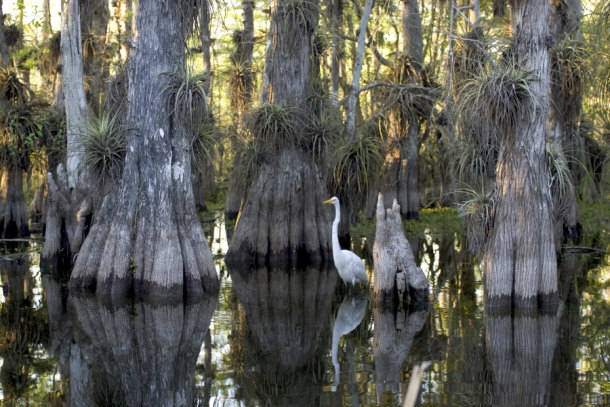 The park is wild and free, and there is practically no cost to explore the lands. Weekly permits to access the area are only $10 for an entire vehicle of people, and a yearly pass is only double that at $20. Visitors can canoe along the waters and explore via man-made pathways for walking or cycling. Click on the map below to enlarge: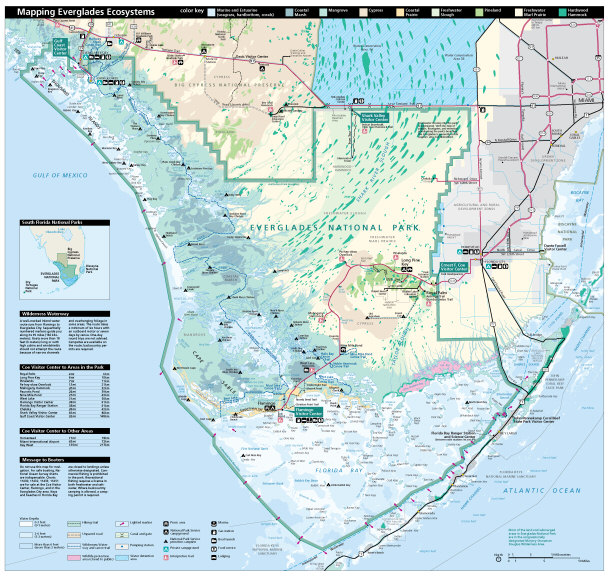 There are many entrances to get into the Everglades National Park, but the main one is in Homestead at 40001 State Rd. This is a very short distance from Miami. There are a few other entrances sprinkled about that are a little farther away or closer.
---
8) Carnaval Miami
If you going to be looking for places to visit in Florida around spring time in early March, than Carnaval Miami is something you might definitely want to hit up. The non-profit organization was originally founded in 1975 a group of teenagers that were all friends in high school, and it lasts even to today. Its goal is to help children in the surrounding area with several different needs, but especially in the educational department.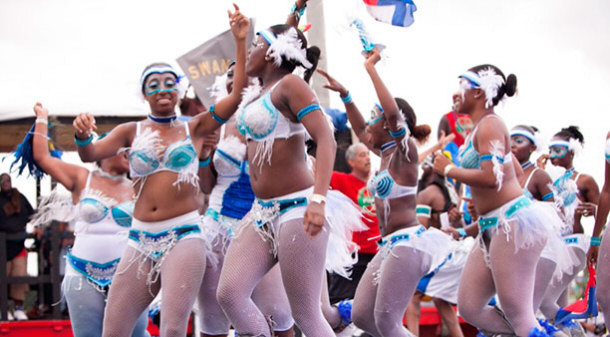 To do so, it sets up a hot street party for people to enjoy, along with concerts and festivals. If you aren't going in the spring for the main event however, there are other times of the year as well. Halloween also has its own block party, with events like costume contests and dances.
Carnival Miami 5K and 8K Run: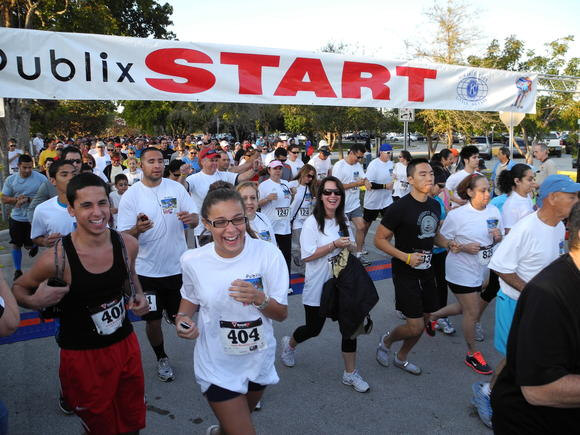 Carnaval Miami is a great place to go for fun where you know you can be safe while you are having fun, and more than that, know that you are helping children have better prospects in their lives. In fact, the more you party; theoretically the better things could go for them in the charities. So what are you waiting for? Go out and party for the kids and for yourself too.
2014 Poster for Carnival Miami: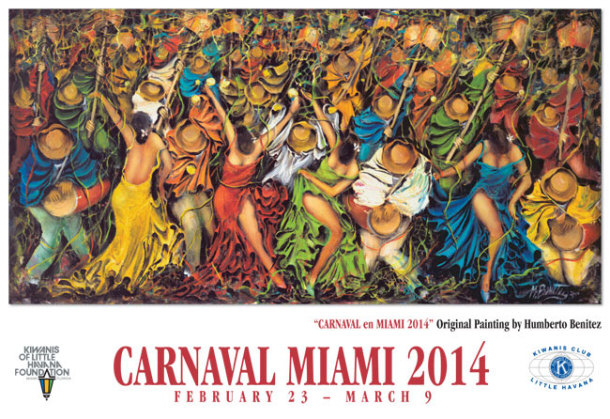 ---
7) Fruit & Spice Park
24801 SW 187th Avenue is where you can find the Fruit & Spice Park. Like its name implies, it is a small park that is 30 acres in size. Within the area are various gardens filled with different kinds of delicious fruits, veggies, nuts and other healthy but yummy treats. It is also a location with a bit of history to it, with different stores and buildings that were built in the 1950's and are still decorated the way they were in the beginning. An old school building stands in the park, along with different gifts shops and stores to buy treats for you or loved ones.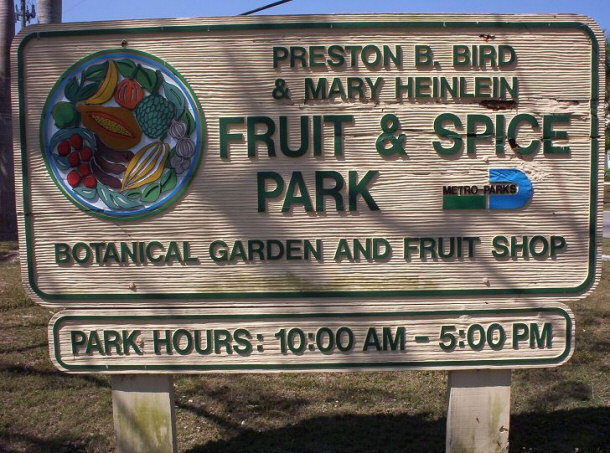 The prices for tickets are very cheap at only $5 per person, while anyone six years old or younger will get in for free. Along with the cheap admission, free tours are given to guests three times a day at 11AM, 1:30PM, and 3PM.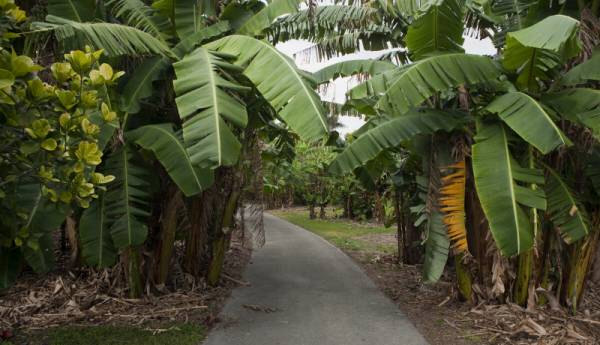 Along with tours and treats, there are also two festivals that occur at the location. These are the Redland Natural Arts Festival in January and the Asian Arts Festival in March.
Inside the Fruit and Spice Park's Boutique: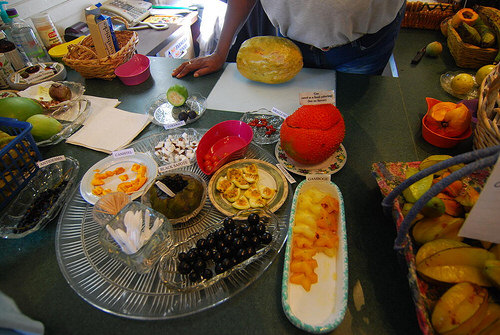 ---
6) The Forge
The Forge is a restaurant and wine cellar that is located at 432 Forty-First Street Miami Beach. It also serves as a night club with a colorful history behind it. Opened almost one hundred years ago in the 1920's, there is a long history of both socially elite celebrities and powerful members of organized crime patronizing this restaurant. An alleged shooting happened at the location in 1977. Richard Schwartz was accused of shooting the man he was drinking with, Craig Teriaca. The shooting was reported to have happened at the bar, over a simple $10 bill. Ironically enough, the shooter was killed only a few months later, though not at the Forge.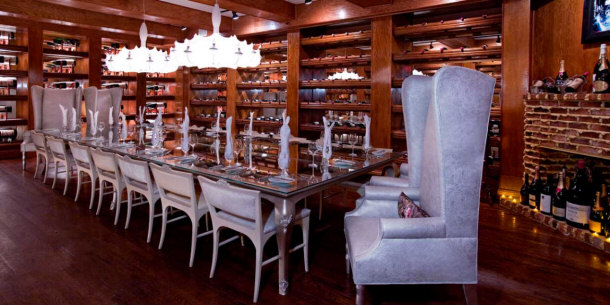 It's a bit of a pricey place to go however, which is to be expected, so only go if you're willing to spend a decent amount of money. It is no doubt best if everyone is paying for themselves, or if one single person is treating, make it small and private affair.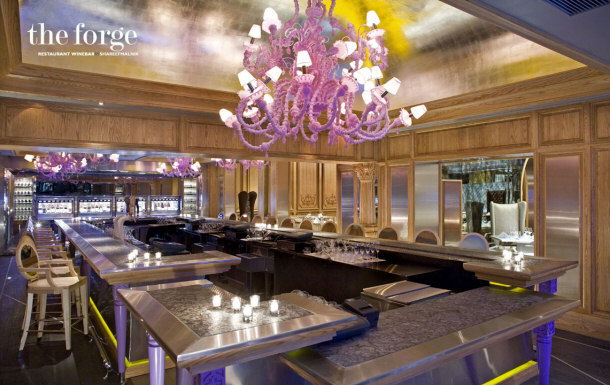 There is a legend that Al Capone is living in the wine cellar, but as there are tours down there, it's a doubtful rumor. Still, it's a fun one to talk about.
---
5) Vizcaya Museum and Gardens
If you want a place that feels like it is right out of a fairy tale novel, you can find the Vizcaya Museum at 3251 S Miami Avenue. It's an easy to find location, since the number one public transportation of Miami, the Metrorail, stops very close by to it. Construction started in 1914 and was finished two years later. The building has long stood the test of time with elegance and beauty, and is still mainly furnished the same was it was at the beginning of the last century, with only a few additions put in, like a telephone. Overall though, it still is home to many arts and antiques that date back as far as the 16th century.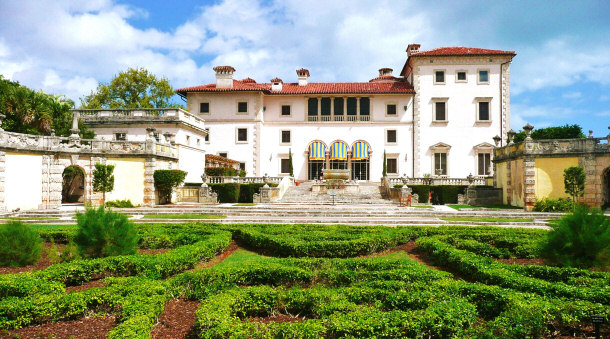 By Averette via Wikimedia Commons
It's a beautiful place that offers walk pathways out among the garden, and a place for weddings for any couple that is interested in tying the knot in this unique and beautiful building.
Entrance for Villa Vizcaya, Coconut Grove, FL: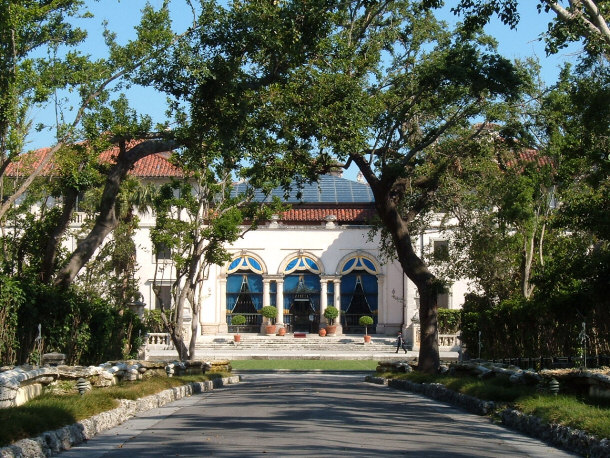 By Dr Zak via Wikimedia Commons
---
4) Marlins Park
If sports fans are looking for a place to visit, then Marlins Park at 501 Marlins Way NW 16th Avenue is certainly worth a stop by. This is the current home of the Major League Baseball team, the Miami Marlins. This open ceiling stadium with a retractable roof was first opened in 2012, and has a seating capacity of exactly 37,442 people. It's the third-smallest official stadium, though it is considered a large improvement over the last stadium, which started as an area for football and had to double up for baseball. The new stadium does double duty as well though, offering the occasional soccer games for the fans during the winter.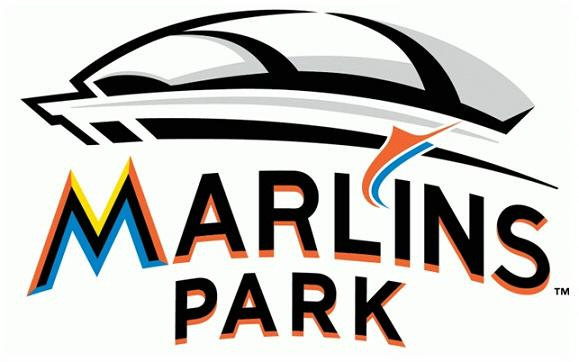 By Roberto221 via Wikimedia Commons
The stadium and its staff are very friendly to guests, offering parties for groups and letting special messages be displayed during games at certain times. The website they have is also quite full of information that includes game prices and seating arrangements. There are even special considerations for the vision and hearing impaired, with assisted listening devices and Braille signs that will help them enjoy the games too.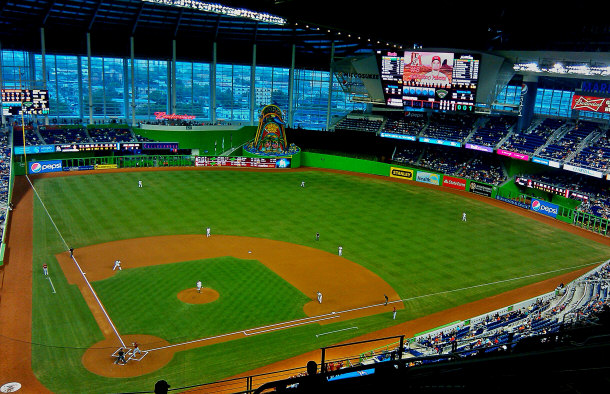 By Brave via Wikimedia Commons
---
3) Downtown Miami
For the partying type, downtown Miami is the place to go. With restaurants, stores, and clubs along the many roads and strips, it's impossible not to find something fun to do. There are various different prices at the many locations, so it's very easy to find something exactly within your price range with a little scoping out. Even walking up and down the streets can be fun, with many events spilling out onto the sidewalks at night and some even ending up as impromptu street parties.
View of Downtown Miami from Watson Island: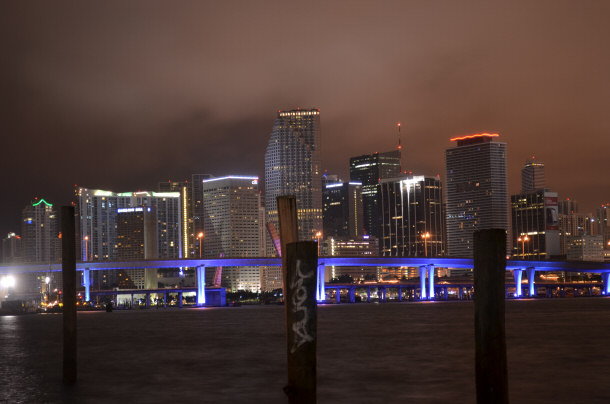 By Daniel Christensen via Wikimedia Commons
One of the best clubs in the Miami area is Club Space, which is open until 11AM for the truly hard core clubbers who want to enjoy as much of the night as they are able to. Other smaller clubs dot along the area, several of them with their own themes and events in order to try to stand out and grab your attention. It's a case where their competition works for you, because you have your pick of where you want to go and many offering unique experiences. For a wild night out with friends, this is easily a place that is a definite must for places to visit.
Biscayne Boulevard, Downtown Miami: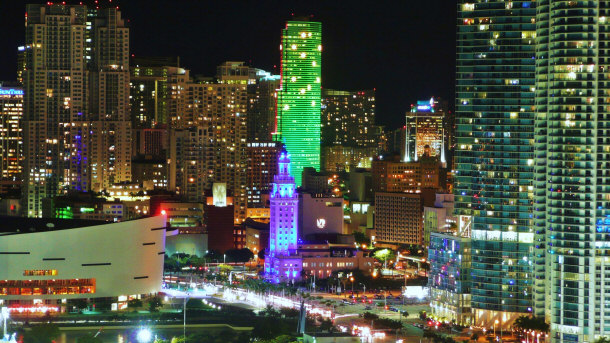 By Marc Averette via Wikimedia Commons
Concentration of International Banks, Brickell Avenue, Downtown Miami:


By Comayagua99 via Wikimedia Commons
---
2) Gusman Center for the Performing Arts
174 E Flagler St is where you can find the Gusman Center for the Performing Arts. Built near the middle of the 1920's, it started as a silent film theater but has since grown to be so much more. Featured events here include movies, live plays, and musical concerts. The lobby is also available to rent for ceremonies such as graduations, or even sometimes parties.
Olympia Theater at the Gusman Center: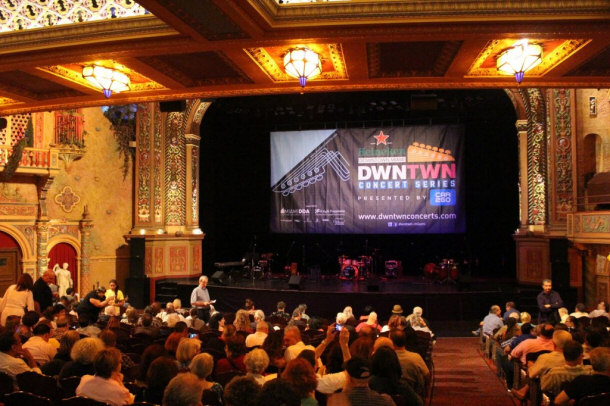 Described as a hidden gem in the city of Miami, it's well worth checking out for a great night of entertainment and fun.
---
1) South Beach
South Beach has probably the most to do in all of Miami, which is why it's at the number one spot for places to visit. Vibrant, colorful and crowded with all sorts of things to do, it is easily the capital of the city. Like any beach, surfing is very popular there along with beach shops, swimming and volleyball. Classes are offered for many water sports, and are taught right on the beach, so if you are planning a long time stay, it's certainly something to look into.
South Beach During Spring Break: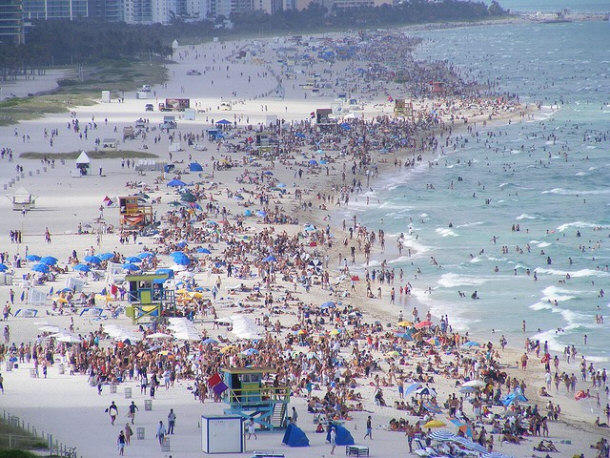 Like downtown Miami, there are several clubs and places to eat, along with parties to enjoy. A leisurely stroll on the beach with a significant other is perfect because the beach itself stretches on for miles. Several mall-like shopping districts are around the area and give you a perfect chance for shopping. You can pick up souvenirs or gifts for friends, letting you remember your trip to the beach for the years to come.
Ocean Avenue, South Beach, Miami: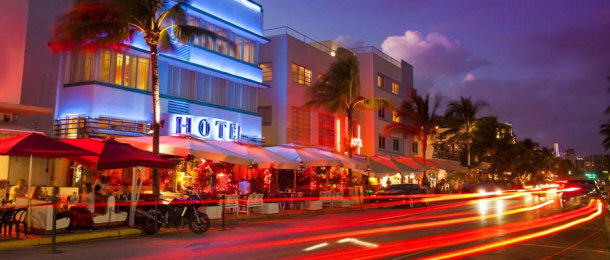 There is also an interesting museum for adults-only at South Beach, the World Erotic Art Museum, which has a good deal of artwork on, well, you can guess. It's supposed to be very tasteful.


By Matt H. Wade via Wikimedia Commons
---
Conclusion
Florida has a lot to offer anyone who wants to come and see the state, but Miami is certainly one of the cities that will give tourists the most bang for their buck. It has several different locations that offer various different attractions for several vacationers. No matter who goes and what they are after, they can easily have fun within their vacation time and budget. From sand to museums, clubs or family fun, history or more recently built attractions; it is certainly the place to be.
With outstanding weather all year long and the welcoming nature of the city, anyone can come and enjoy themselves and leave with fond memories of the trip and stay there. With so much to offer, it almost seems a shame not to go and stay for a while in order to experience all that you can. So pack your bags and make sure you're dressed for the warm weather. Prepare to work up a sweat from all the exciting fun you can have on your stay in Miami, and when you go, make sure that you keep this list in mind for a guide of the places that are just must hits for anyone and everyone.
Vacation Destinations
Top Lists:
Top 15 Interesting Places to Visit in the Bahamas
Top 15 Fun Things to Do in Miami, Florida
Top 15 Fun Things to Do in Chicago
Top 15 Best Unknown Things to do in Las Vegas
Top 15 Fun Things to Do in Hollywood
Top 10 Best Places to Visit in Turkey
The Top 15 Best Things to Do and See in Sydney
Top 10 Things to Do in Edinburgh
Top 10 Things to do on Oʻahu
Top 15 Things to Do in Albuquerque
Top 15 Interesting Places to Visit in Spain
Top 15 Places to Visit in New York City
Top 15 Things to Do in Portland Oregon
Top 15 Things to do in Greece
Top 15 Places to Visit in Houston Texas
Top 15 Interesting & Safe Places to Visit in Mexico
Top 15 Interesting Places to Visit in the Netherlands
Top 15 Interesting Places to Visit in Thailand
Top 15 Interesting Places to Visit in Switzerland
Top 15 Interesting Places to Visit in Portugal
Top 15 Places to Visit in San Francisco
Top 15 Interesting Places to Visit in Shanghai
Top 15 Interesting Places to Visit in Puerto Rico
Top 15 Interesting Places to Visit in Norway
Top 15 Interesting Places to Visit in Las Vegas
Top 15 Interesting Places to Visit in Jamaica
Top 15 Interesting Places to Visit in Croatia
Top 15 Interesting Places to Visit in Belgium
Top 15 Interesting Places to Visit in Bangkok
Top 15 Things to Do in Rio de Janeiro
Top 15 Things to Do in Monaco
Top 15 Interesting Places to Visit in Dubai
Top 15 Interesting Places to Visit in Amsterdam
Top 15 Things to Do in New Zealand
Top 15 Interesting Places to Visit in Paris
Top 15 Interesting Places to Visit in Italy
Top 15 Interesting Places to Visit in Singapore
Top 15 Most Interesting Places to Visit in Berlin
Top 15 Best London Attractions
15 Little Known Facts About New York City
Disney World Articles
Top 15 Disney World Rides for Adults
Top 15 Disney World Rides for Kids
Top 15 Disney World Resorts for Adults
Top 15 Disney World Resorts for Kids
15 Fascinating Facts About Disney World
Top 15 Fun Things to Do at Disney World's Animal Kingdom
Top 15 Fun Things to Do at Disney's Hollywood Studios
Top 15 Fun Things to Do at Disney World's Epcot
Top 15 Fun Things to Do at Disney World's Magic Kingdom

Shorter Top Lists:
Top 10 Tourist Attractions in San Diego
Top 10 Tourist Attractions In India
Top 10 Things to Do In Kansas City
5 Places You Should not Miss in Brazil
Top 5 Things to do in New York City

Informational:
Best Tourist Attractions In Vietnam
Taking in the Sights in Shanghai
Top Tourist Attractions in Perth, Australia
Nice places to visit while in Great Britain
Sampling the Foods at the Night Markets in Taipei
What to do for a Kenya Vacation
Best Attractions in Victoria, B.C.
Photos of the Luxor Hotel in Las Vegas