Top 15 Things to Do in Monaco
The tiny country of Monaco is a hot spot for the rich and famous as well as a fantastic tourist location. For those looking to get away on a nice, long vacation or even just a fun weekend abroad, Monaco's potential to keep visitors entertained for quite some time; provided you have the money to spend. From one of the best-known casinos in the world to a luxurious opera house and elite racing track, you'll find something for everyone in Monaco. Whether it's driving along the surrounding roadways in a convertible with a scarf tied around your neck and big sunglasses to protect your awestruck eyes, all the way to trying to get noticed by the rich and famous who call Monaco home.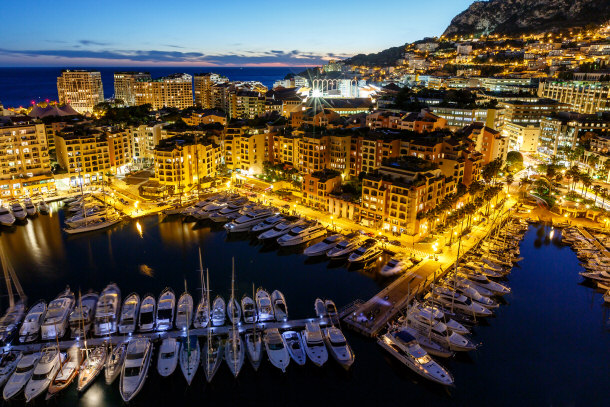 There's a little something for everyone in Monaco as long as you know where to look. When you go, plan your trip with this list of fifteen opportunities you just can't pass up.
---
15) Eat at the Brasserie du Café de Paris
The Café de Paris is the place to see and be seen in Monaco. This Art-Nouveau inspired café has the most-frequented terrace in all of Monaco. So if you're looking to rub elbows with the rich and famous, finding a table at this café to look out over the entirety of Monaco and the beautiful ocean is definitely for you. Decorated in a style reminiscent of Parisian bistros, enjoy authentic, delicious food while you stare out at the cityscape and delicious cocktails while you wait to be noticed by all the right people.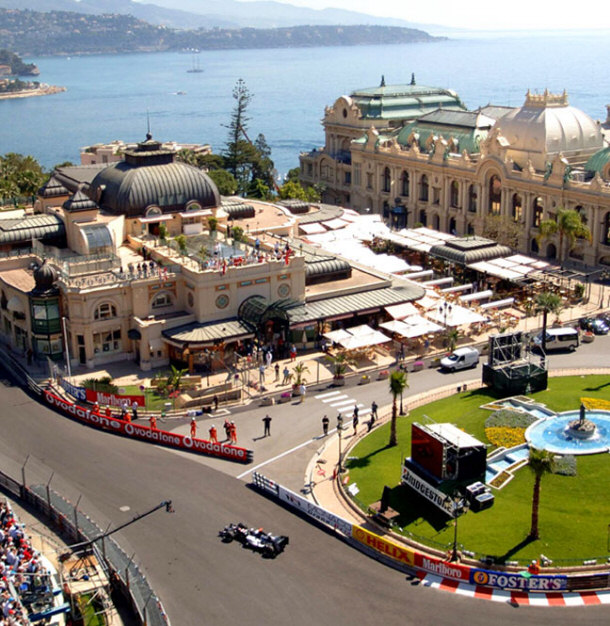 Courtesy of Tripadvisor.com
When you're done eating here head on over to the casino and see if luck is on your side.
---
14) Gamble at the Monte Carlo Casino
Featured in a recent Bond flick, Monte Carlo Casino has been known for over a century as a lavish, swanky place to have fun. Dress to the nines and test your favor with Lady Luck as you kick back with Monaco's most beautiful people. The casino is host to a great many gambling games such as multiple kinds of roulette, blackjack, baccarat, and of course a medley of the traditional slot machines.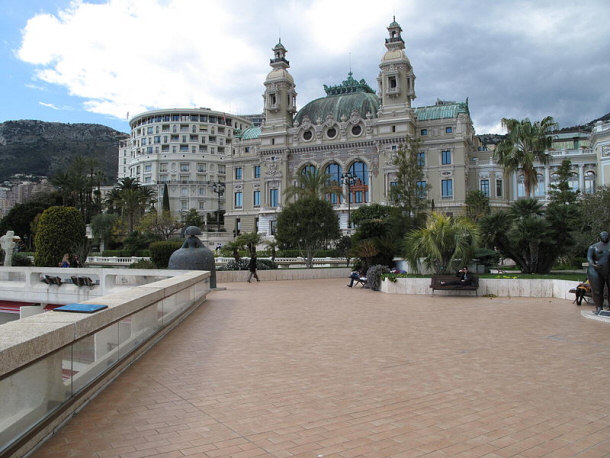 Relax and enjoy the seaside view from the casino as you sip on a glass of fine champagne, and take note of the beautiful architecture. The casino was built in 1863, and the beautiful structure lends itself to the perfect environment for a fun night of gambling with friends, or even by yourself – if you're feeling down on your luck and alone, your night might be improved by a night of winnings at the casino.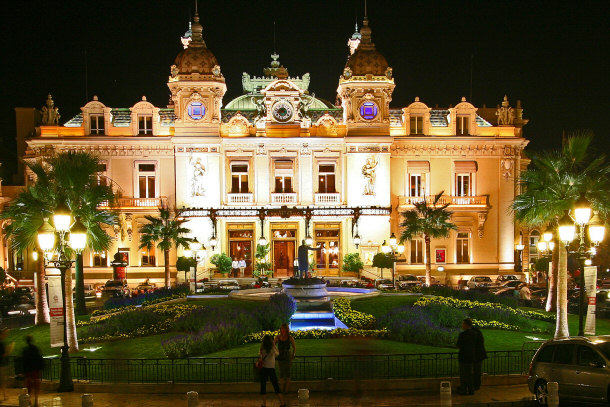 By sam garza from Los Angeles, USA (Monte-Carlo Casino) [CC-BY-2.0], via Wikimedia Commons
On top of a great many salons for gaming, the casino also includes a beautiful concert hall as well as an attached opera house.
Aerial View of Casino and Opera Grounds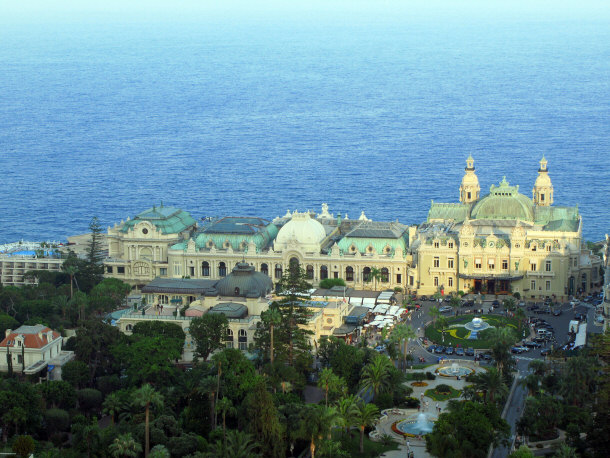 ---
13) See a Show at the Opéra de Monte Carlo (Monte Carlo Opera)
The Opéra de Monte Carlo is located inside the Monte Carlo Casino. It was built at the same time as the rest of the casino due to the lack of cultural divisions at the time of its construction, and its seaside façade will leave you breathless with its circular and vaulted windows and its sea-foam green roof. The Opéra was and is still run by the Grimaldi family, who control a lot of the attractions in Monaco. Enter the Salle Garnier and be completely floored by the decorate elegance that showers the entire room in brilliance. The ornamentation is Baroque inspired with a Romantic flair, with lavish scroll detail and flowery fixtures. This room is named for its architect, Charles Garnier, who also oversaw the construction of the famous Palais Garnier and opera house in Paris. There are always new and exciting events at the Opéra, and it has been host to countless famous opera singers. These days it sees more modern performers, not to mention its fair share of plays that are unique to the opera house.
Entrance to the Monte Carlo Opera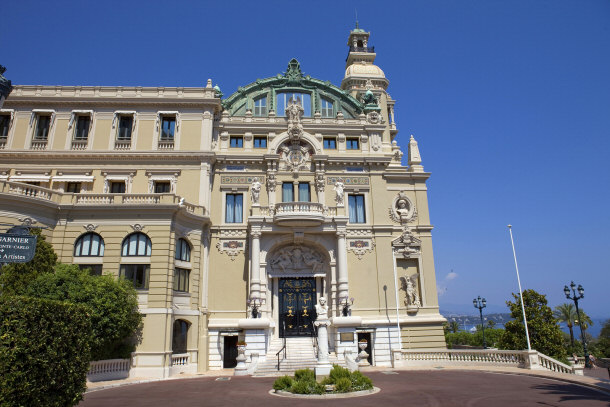 If you're looking for a bit of culture in your vacation, the Opéra de Monte Carlo is the place for you.
---
12) See an Exhibit or Performance at the Grimaldi Forum
A conference center located near the eastern beach quarter of Monaco, the Grimaldi Forum is a multi-purpose center that houses the performing arts as well as a variety of conferences. Both the Monte-Carlo Philharmonic Orchestra and Les Ballets de Monte Carlo regularly perform here and they both have very professional reputations. The orchestra was formed in 1856, and the ballet company was formed in 1985 at the wishes of Princess Caroline in memoriam of her mother, Grace Kelly.
Interior of the Grimaldi Forum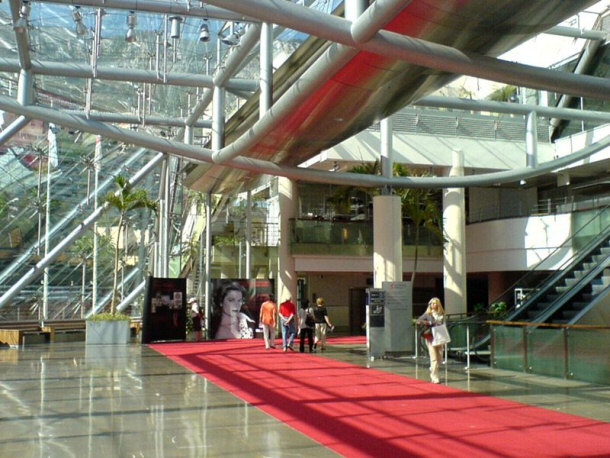 By GraceKelly (Own work) [GFDL or CC-BY-SA-3.0-2.5-2.0-1.0], via Wikimedia Commons
In addition to the performing arts, this conference center is the venue for the EVER Monaco exhibition, which is held each year in March. The EVER exhibition focuses on ecologic vehicles and renewable designs. The world's first-ever two-seat electric sports car, the Venturi Fétish, was built in Monaco and was the star player in the first EVER convention to be held. The building, in addition to the Oceanographic Museum, is great if you're a fan of architecture.
Exterior of the Grimaldi Forum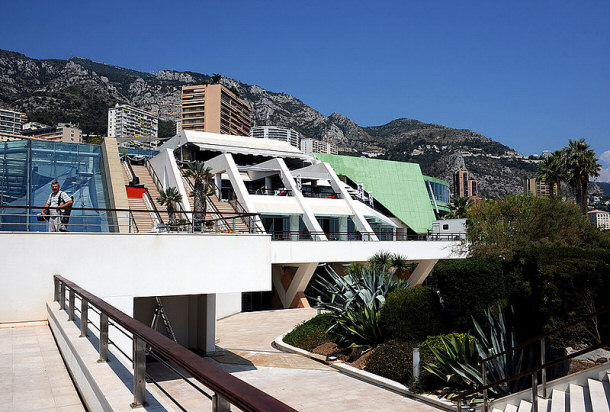 By V&A Dudush (Panoramio) [CC-BY-3.0], via Wikimedia Commons
It juts out into the bay and features tons of clear panels that make it look beautiful during the day or all lit up at night as well.
---
11) Stay in a Resort on the French Riviera
Although Monaco is located on what is collectively called the French Riviera, staying in a beachside resort will be a definite highlight of your trip. Alternatively called the Côte d'Azur, or the azure coast, this location is an absolute must-see for the person looking to get the most out of a trip to Monaco. This glistening coast is home to a wide variety of luxury resorts that overlook the Mediterranean coastline, and has been functioning as such since the 1800's. It was originally a getaway playground for rich British men involved with the railway, and used primarily as a winter resort.
View of Monaco City and Resorts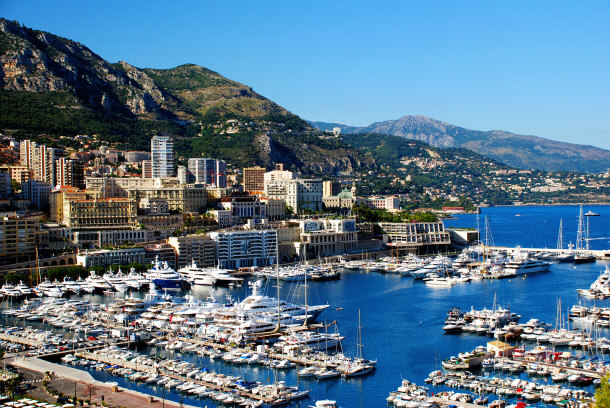 It's only continued to thrive over the past few centuries, adding a great many new structures to its repeteur. Whether you're strolling along the beach alone or with that special someone, this scenic stretch is sure to be the highlight of your vacation. If you have the funds for it, stay in a resort to get the rest and relaxation that you deserve after a hard day. Most resorts have spa services and well-equipped suites for their guests, not to mention the gorgeous view and private beaches. Enjoy a cold drink while you watch the waves roll in and soak up some sun, or stay cool in a nearby cabana. If you're interested in celebrity hunting, the French Riviera is a prime spot to site some stars, as many such as Elton John have made their homes among these beautiful, beachfront properties.
---
10) See the Monaco Grand Prix
For those interested in sports, betting, and high-adrenaline fun, the Monaco Grand-Prix is definitely among your places to visit. This elite race is held annually at the Circuit de Monaco, and features Formula One racers from all over the world. It's prestigious enough to be ranked alongside the Indy 500, not to mention the circuit is much more lavish than the track of the Indy 500. What makes this race a truly unforgettable event is the track itself. The Circuit de Monaco cuts along the streets of this luxurious, beautiful city. This allows for a much more interesting race track that incorporates natural elevation changes, a tunnel, and sharp, exciting turns. For these reasons, it is largely considered to be the most difficult racetrack to drive on. it isn't going around the same circular track over and over, but rather it requires drivers to be sharp and attentive at all times. Drivers need to be prepared for anything.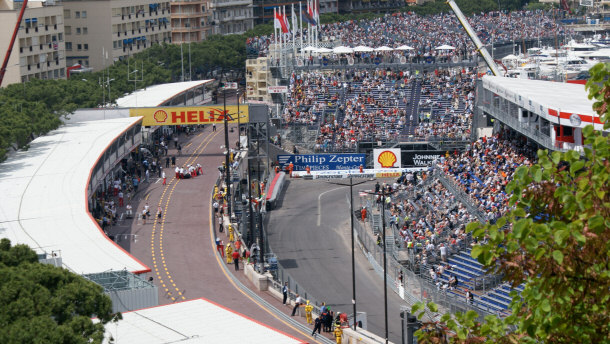 The track is also much more scenic than your normal run-of-the-mill racetrack. Rather than the usual oval-shaped track with bleachers surrounding it, the circuit cuts around a beautiful harbor and the glamorous main streets of Monaco. There is ever a dull moment if you are lucky enough to be a spectator one day. On a few rare occasions drivers have even ended up in the harbor, so you never know what you might see! The Grand-Prix is conveniently held over Memorial Day weekend, so those of you in the United States will have a vacation day to plan their trip to the Monaco Grand Prix around.
---
---
9) Visit the Prince's Palace of Monaco
For a great historical experience, look no further than the Prince's Palace of Monaco. The Palace itself is a mishmash of time periods and cultures, from ancient times to the late Baroque. The palace has an odd lack of symmetry for a structure in a high-class country like Monaco. It was originally constructed in the early 12th century as a fortress, and a need for security at that time overpowered the desire to make it more decorative like other palaces were at the time.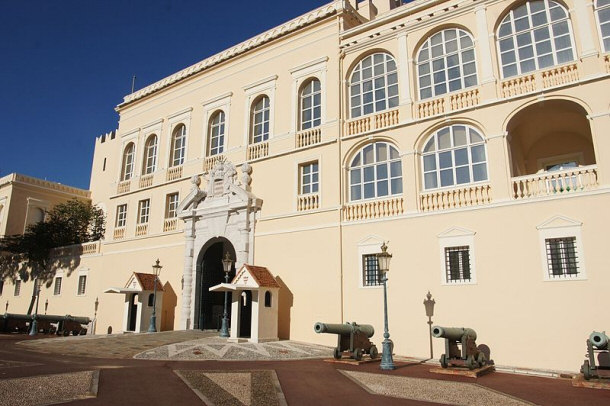 By Zbigniew Bosek (donated by author) [CC-BY-SA-3.0], via Wikimedia Commons
It has been added onto over the centuries to shape it into a palace without changing the main structure, making it a very interesting building to look at as you are easily able to distinguish between the time periods represented in the architecture. It is currently the home of Prince Albert II, but he's not stingy. Certain rooms are available to the public in the summer and open-air concerts are held often. The palace also functions as a museum for tourists, making it a great educational tool for visiting families as well as history and architecture enthusiasts. Tours are held in the palace, and an elaborate ball is thrown every Christmas for the children of Monaco.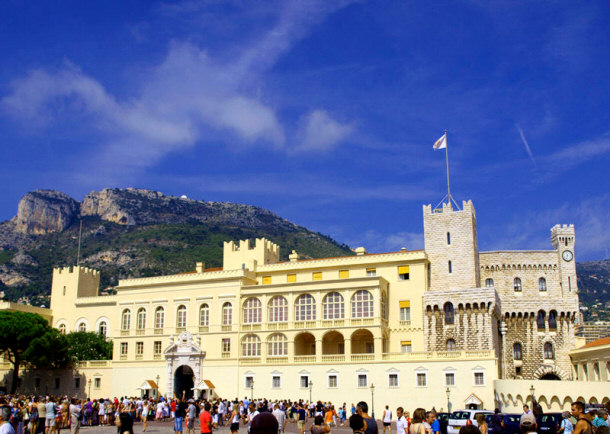 By Qypchak See: http://www.panoramio.com/photo/49680066 (Own work) [CC-BY-3.0], via Wikimedia Commons
Even after all these years, the Prince's Palace is still the political center of this small country.
---
8) View the Collection of Antique Cars
This collection of cars is on display are from the privation collection of His Serene Highness Prince Rainier III. The museum features 100 vehicles and these vehicles are categorized according to class or period. Among the collection are vintage Rolls Royce, Cadillac and Chrysler models from the 1950's, and a Ford Model T 1924 which has been named the world's most influential car of the 20th century.
A Look Inside the Museum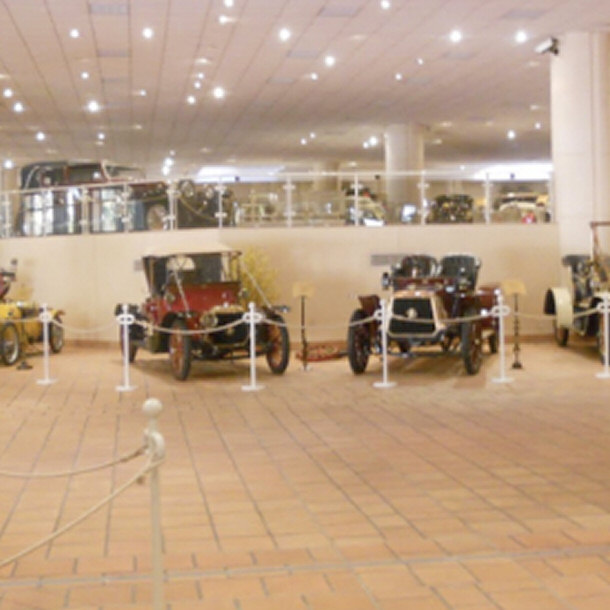 Courtesy of Utrip.com
It also has extremely rare classics like the 1093 De Dion Bouton, a 1928 Spanish Hispano Suiza and a 1929 Bugatti. Those fond of older cars will enjoy the 1935 Packard, the 1953 Cadillac and the 1956 Chrysler Imperial. Those interested in a little more speed and luxury will marvel at the Alpine Renault, Lamborghini Countach and a Grand Prix Ferrari. It's open 7 days a week from 10 a.m. to 6 p.m. So if cars are your interest, hobby, or dream put this impressive collection on your list of places to visit.
---
7) Look Around the Museum of Napoleon Souvenirs
More than a thousand objects relating to the First Empire are housed in this collection. Objects belonging to the emperor Napoleon I, garments worn by the King of Rome, who was Napoleon's son, and souvenirs from Napoleon's time he spent imprisoned at Saint Helena are all included in this vast collection. The Charter of Independence of Monaco, which was signed by King Louis XII of France, resides in this collection, as well as a letter written by Louis XIV to Prince Antoine I. Visitors can see past uniforms of the Prince's Guards, a collection of Monaco coins and a complete stamp collection.
Inside the Museum of Napoleon Souvenirs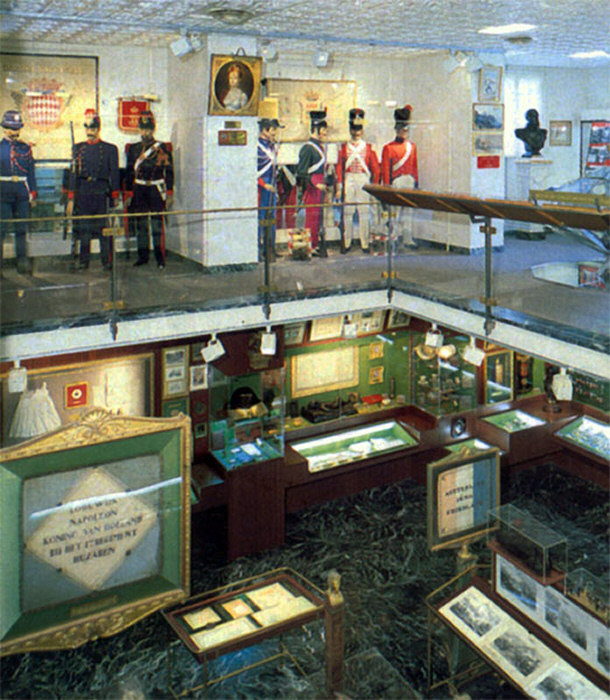 Courtesy of Visitmonaco.com
It's closed from November 12th to December 16th of each year, so if you're planning to visit Monaco and its history is of interest to you. Make sure to plan your visit for a time outside of these dates. Compared to the price of everything else in Monaco, this museum is fairly inexpensive. This is a definite must-see if history is something you like studying.
---
6) Take a Ferrari City Tour
If visiting the car collection has you wishing for one of your own, then a Ferrari-driven tour should be on your list of things to do. This will let you feel rich and famous without setting you back thousands of dollars. This popular tourist attraction lets you drive a cherry red Ferrari up and around the roads surrounding Monaco, allowing you an exceptional view of Monaco's neighborhoods and the beautiful clear blue of the water; all while turning heads. Both 30 minute and one hour tours are available, and it's up to you which one you choose. Just know that the one hour tour, of course, includes not only more driving time, but the ability to drive on a few different roads to get the best possible view of the exquisite shine of the water and the incredible buildings.
Tour Participants Getting Ready for Their Ride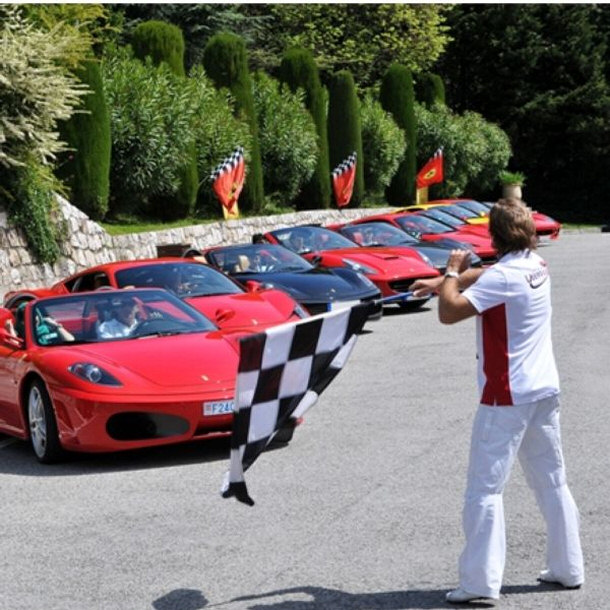 Courtesy of Frenchriveraprivilegecard.com
In addition to the time options, you can also choose if you want to experience the tour being chauffeured around in the passenger seat of this famous sports car, or if you want to drive it yourself with an instructor in the passenger seat. Driving is more expensive of course, but for the experience of driving a car you might never get behind the wheel of again outside of your dreams it may be worth it for car enthusiasts. When you're done with your tour, they even offer the option of purchasing a video of your ride or drive for a thrilling, unique souvenir.
---
5) Shop in the Golden Circle
Most likely, you're in Monaco to treat yourself. That means that if you're going to live like the rich and famous for the amount of time you're in Monaco, you should shop like the rich and famous. With Monaco so close to Paris which is known as a fashion hotspot, it's understandable that this craving for high-end, designer fashions would spill over into Monaco. Shops include Chanel, Christian Dior, Lous Vuitton and Yves St-Laurent all line the avenue des Beaux Arts, which is located on the southern side of the casino's gardens. Items from the fashion design of Italian fame, Prada, can even be found here, along with Gucci, Valentino, Dolce & Gabbana, and Hermès.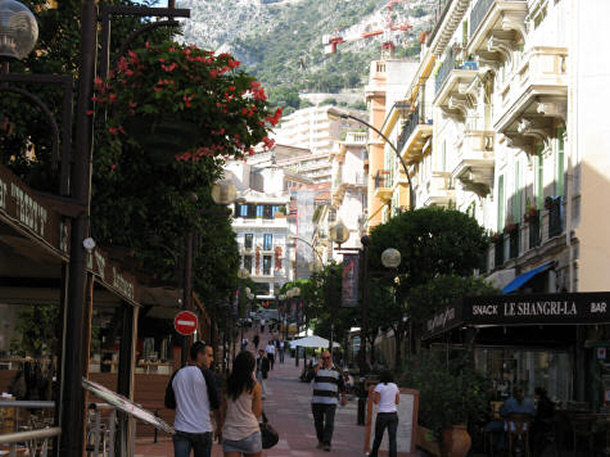 Courtesy of Tripadvisor.com
While you're here, treat yourself to some designer shopping that you don't have to order off a website and feel like royalty when you walk out of the store with it tucked safely in a shopping bag.
---
4) Visit the Oceanographic Museum of Monaco
Home to the Mediterranean Science Commission, an organization that has professed to undertake deep investigation into the life within the Mediterranean Sea, this museum is one of the great places to visit in Monaco. It boasts a large collection of all kinds of sea creatures both in stuffed exhibit form and skeletal form. Rays, sharks, seahorses, and turtles are there for your viewing pleasure as well as starfish, sea urchins, and sea cucumbers. In addition to the exhibits on creatures themselves, there are exhibits concerning model ships, tools, and weapons used at sea. The real joy is in the basement of this popular museum – an aquarium, with four thousand different species of fish and two hundred different families of invertebrates. One of the prized specialized aquariums is a shark aquarium with blacktip reef sharks, a nurse shark, moray eels, a hawksbill sea turtle, and a guitarfish all living side by side. If you want to do a little more than look, there are activities offered ranging from getting up close and personal to touching a shark.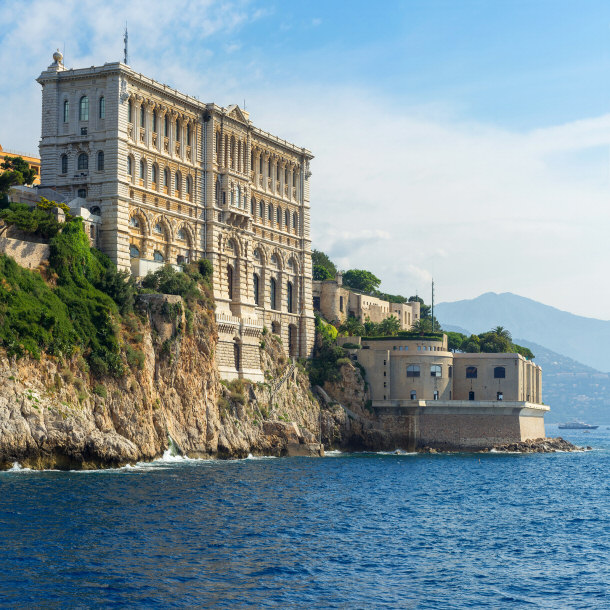 Here you will get the opportunity to touch creatures that you would find in a tide pool. In addition to being a great center for scientific education, the building itself is beautiful. It is built on a cliff overlooking the ocean, and the museum juts out of the rock as a pristine white contrasted to the lush green of nearby trees and clear blue of the water.
---
3) Play at Larvotto Beach and See the Fireworks
Larvotto is in the northeastern area of the country, and Larvotto Beach is Monaco's only public beach, making it among the top places to visit. If you're in Monaco on a vacation to treat yourself and you happened to go all alone, Larvotto Beach is a great way to show off that beach-ready body. See if you can pick up anyone to spend the rest of your vacation with. Whether it's at the casino or seeing any of the other sites, or maybe just back in a hotel room spending some alone time together. There is also a wide variety of parks in Larvotto, making it great for walking around on nice days and enjoying the sites. If you enjoy watching fireworks shows, Larvotto is home to the Monaco International Fireworks Competition, which is a great thing to watch if you enjoy bright colors and impressive pyrotechnic shows.
View of Larvotto Beach From Across the Water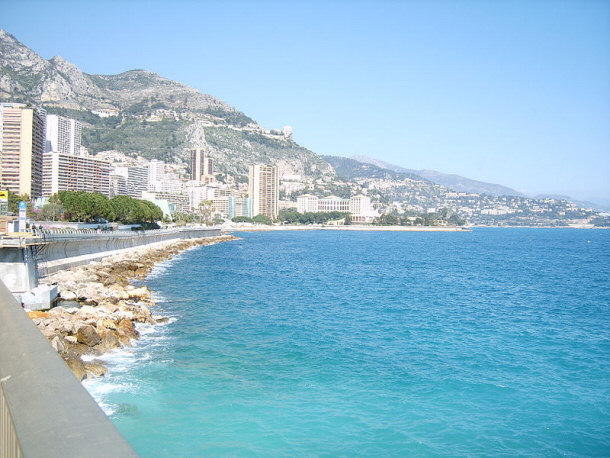 By Pilgab (Own work) [CC-BY-SA-3.0], via Wikimedia Commons
The competition has been held since 1966 and attracts firework and pyrotechnics enthusiasts from all around the world. It begins in July and continues through August, culminating in a return of the champion in November to crate the fireworks display that Monaco uses on the evening before their national holiday. The event is free to attend and begins around 9:30 p.m., but can be earlier and later depending on when darkness falls and the full beauty of the bright colors can be appreciated. The display has a variety of great places within the city to view the show. Sitting on a patio at one of many cafés around the port, from viewing platform from within the palace area, a viewing area in Fort Antoine, or on the terrace of the Monte Carlo casino are all stupendous places to view this remarkable display of pyrotechnic engineering.
---
2) Visit Saint Nicholas Cathedral
Also known as Cathédrale Notre-Dame-Immaculée, or Cathedral of Our Lady of the Immaculate Heart, Saint Nicholas Cathedral was built in 1252 and consecrated, or declared sacred, in 1875. The retable behind the altar filled with religious relics and ornamental pieces is especially incredible, and the inside of the cathedral is beautiful due to some of its features being made of Carrara marble, a unique, beautiful, blue-grey marble quarried only in Tuscany, Italy.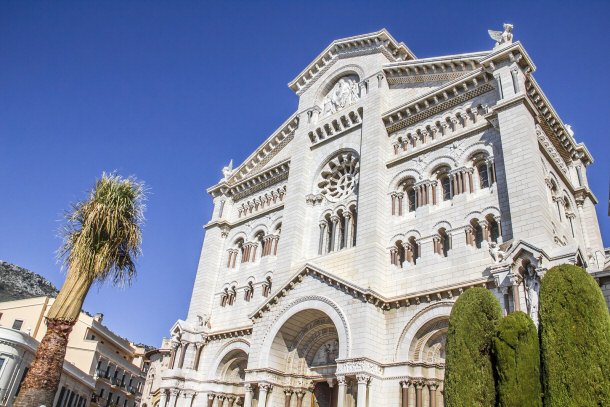 If you are a person who enjoys following the lives of rich and famous celebrities or royalty and are aware of famous "old Hollywood" actress Grace Kelly's marriage into the royal family of Monaco, it will interest you to view the Saint Nicholas Cathedral and know that the religious ceremony portion of her wedding to Prince Rainier occurred in this cathedral. If you are lucky enough to be visiting Monaco on January 27th (the Feast of Sainte Dévote) or November 19th (the National Holiday) or on feast days and during religious music concerts, you'll have the pleasure of hearing this cathedral's beautiful, four-keyboard organ.
From September through June, a group of children from the choir school called Les Petits Chanteurs de Monaco sing the mass every Sunday morning at 10 a.m., creating a truly heartwarming atmosphere.
---
1) Visit the Jardin Exotique de Monaco (The Exotic Garden of Monaco)
Opened in 1933, this botanical garden is a must-see if you enjoy nature, beauty, or calm walks through lushly-flowering areas. It's located on a cliffside of Monaco and has a rich collection of succulent plants, including a specialty in cacti.
Example of the Collection of Succulent Plants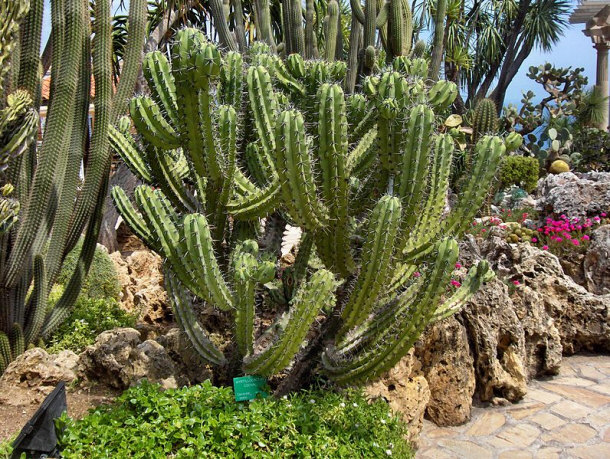 By Georges Jansoone (JoJan) [CC-BY-3.0], via Wikimedia Commons
At the foot of the cliff that houses the Exotic Garden, there is a very large, all-natural underground cave with caverns full of stalactites (formations made by drips of watery material onto the floor of a cave) and stalagmites (formations rising from the floor made when the drips of material land and build up over time).
View from Atop The Exotic Garden of Monaco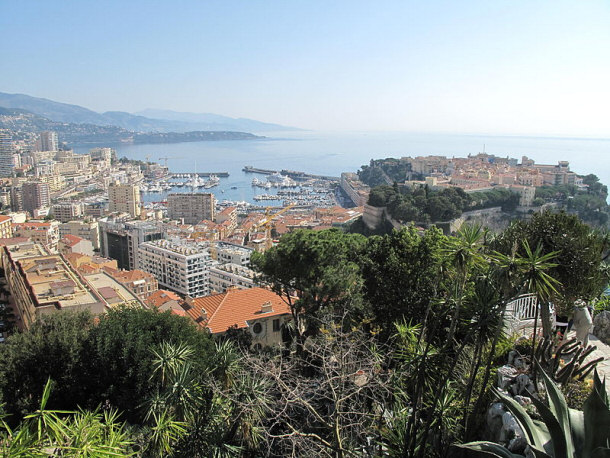 This cave has been open since 1950, but at this time can only be visited with specialized guides; it is a must-see for history enthusiasts as studies have indicated that there is evidence of prehistoric human inhabitants having used the cave in the past. In fact, within the Exotic Garden, there is a Prehistoric Anthropology section that was founded by Prince Albert I in 1902. So if the cave interested you, don't miss this part of the museum.
---
Final Thoughts
With a little something for every taste, Monaco is a fantastic place to visit whether you're treating yourself to a once in a lifetime vacation with that bonus work gave you for getting a promotion or if you're a regular visit to the kind of sumptuous ambiance that this country's living style provides. With 295,000 arrivals in this fabulous city in 2011, it's clear that many agree that this famed playground of the rich, royal, famous, and beautiful is a hotspot for tourism and fun. It doesn't matter if you're looking for somewhere warm to relax on the beach all day or looking to sleep the day away and stay up all night gambling, Monaco is undoubtedly a fantastic place to visit and when selecting your next vacation spot, consider Monaco as an option – you deserve the best, after all, and if you visit Monaco and experience its luxurious way of living, it's nearly a guarantee you won't walk away from the vacation unhappy.
Vacation Destinations
Top Lists:
Top 15 Interesting Places to Visit in the Bahamas
Top 15 Fun Things to Do in Miami, Florida
Top 15 Fun Things to Do in Chicago
Top 15 Best Unknown Things to do in Las Vegas
Top 15 Fun Things to Do in Hollywood
Top 10 Best Places to Visit in Turkey
The Top 15 Best Things to Do and See in Sydney
Top 10 Things to Do in Edinburgh
Top 10 Things to do on Oʻahu
Top 15 Things to Do in Albuquerque
Top 15 Interesting Places to Visit in Spain
Top 15 Places to Visit in New York City
Top 15 Things to Do in Portland Oregon
Top 15 Things to do in Greece
Top 15 Places to Visit in Houston Texas
Top 15 Interesting & Safe Places to Visit in Mexico
Top 15 Interesting Places to Visit in the Netherlands
Top 15 Interesting Places to Visit in Thailand
Top 15 Interesting Places to Visit in Switzerland
Top 15 Interesting Places to Visit in Portugal
Top 15 Places to Visit in San Francisco
Top 15 Interesting Places to Visit in Shanghai
Top 15 Interesting Places to Visit in Puerto Rico
Top 15 Interesting Places to Visit in Norway
Top 15 Interesting Places to Visit in Las Vegas
Top 15 Interesting Places to Visit in Jamaica
Top 15 Interesting Places to Visit in Croatia
Top 15 Interesting Places to Visit in Belgium
Top 15 Interesting Places to Visit in Bangkok
Top 15 Things to Do in Rio de Janeiro
Top 15 Things to Do in Monaco
Top 15 Interesting Places to Visit in Dubai
Top 15 Interesting Places to Visit in Amsterdam
Top 15 Things to Do in New Zealand
Top 15 Interesting Places to Visit in Paris
Top 15 Interesting Places to Visit in Italy
Top 15 Interesting Places to Visit in Singapore
Top 15 Most Interesting Places to Visit in Berlin
Top 15 Best London Attractions
15 Little Known Facts About New York City
Disney World Articles
Top 15 Disney World Rides for Adults
Top 15 Disney World Rides for Kids
Top 15 Disney World Resorts for Adults
Top 15 Disney World Resorts for Kids
15 Fascinating Facts About Disney World
Top 15 Fun Things to Do at Disney World's Animal Kingdom
Top 15 Fun Things to Do at Disney's Hollywood Studios
Top 15 Fun Things to Do at Disney World's Epcot
Top 15 Fun Things to Do at Disney World's Magic Kingdom

Shorter Top Lists:
Top 10 Tourist Attractions in San Diego
Top 10 Tourist Attractions In India
Top 10 Things to Do In Kansas City
5 Places You Should not Miss in Brazil
Top 5 Things to do in New York City

Informational:
Best Tourist Attractions In Vietnam
Taking in the Sights in Shanghai
Top Tourist Attractions in Perth, Australia
Nice places to visit while in Great Britain
Sampling the Foods at the Night Markets in Taipei
What to do for a Kenya Vacation
Best Attractions in Victoria, B.C.
Photos of the Luxor Hotel in Las Vegas