Top 15 Places to Visit in New York City

New York is a land unto itself and perhaps the most famous city in America; it's talked about frequently in movies, TV shows, novels, as well as poetry. Sprawling over five boroughs, this iconic city stands tall and its famous skyline dominates modern life for the millions of people living within it as well as the thousands of tourists that flock there daily.
In many places New York is simply known as "The City" and it is called "The Big Apple". Whether you're new, visiting or simply live there and wish to rediscover some of the best the Big Apple has to offer, there are dozens of locations that you can pick out to make each day you spend in New York a special one. Below are several favorites but this is by no means an exclusive list. Make sure to take advantage of everything New York has to offer when you are planning a visit; from the subway system to the top of the tallest towers.
---
15) Grand Central Terminal
Grand Central Terminal, also known as Grand Central Station, has been a fixture of New York City for over a hundred years. This massive structure so often mentioned in songs as well as stories initially served as a terminal for the railroad and it connected the country at a time when the only method of transportation was a horse or covered wagon. The railroad brought tourism to New York for the first time and Grand Central quickly became the beginning set for tons of stories about a small town youngster coming to the big city to make it big.
The terminal now serves as a central stop on many of the lines of the New York Metro system and this is very helpful for those attempting to get around through the subway as well as those arriving in New York by train because the bus station along with the Port Authority is located upstairs. Grand Central Terminal houses many shops and restaurants; it's centrally located to Times Square as well as the infamous 42nd Street. This also makes it a great place to start any New York adventure but beware the knick knack prices because they're very expensive at the first point of sale, learning how to barter might be of use.
Grand Central Station's exterior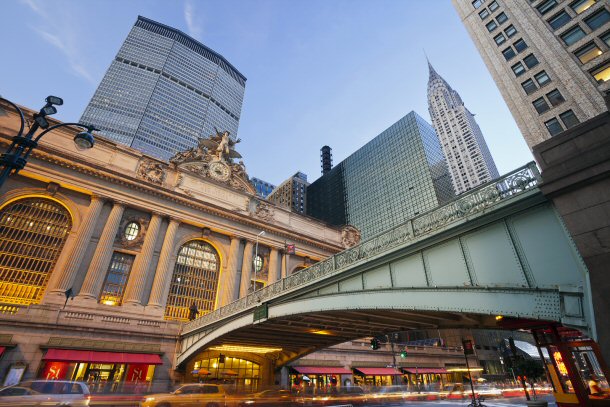 Inside Grand Central Station

---
14) New York Public Library
Libraries don't often make it onto the list of the most exciting places to visit in any city no matter how large, historical or important but New York Public Library is another case. It has seven locations that spread out through New York City's many boroughs and this makes it possible for patrons of the library to find what they're looking for at a variety of locations as well as ordering materials from any of the massive seven branches.
The library takes up two city blocks and it's constructed in a stunning Beaux Arts design by the architectural firm of Carrere and Hastings. When it was first constructed, the building was home to over a million books. The final cornerstone was laid in 1902, meaning the library has been in use for well over a century, and has been long considered one of the best public libraries in the country. It was bequeathed the fortunes of many men, including John Jacob Astor and Samuel J. Tilden, upon their death for its construction and it cost over nine million dollars to build.
Main Library Branch for the New York Public Library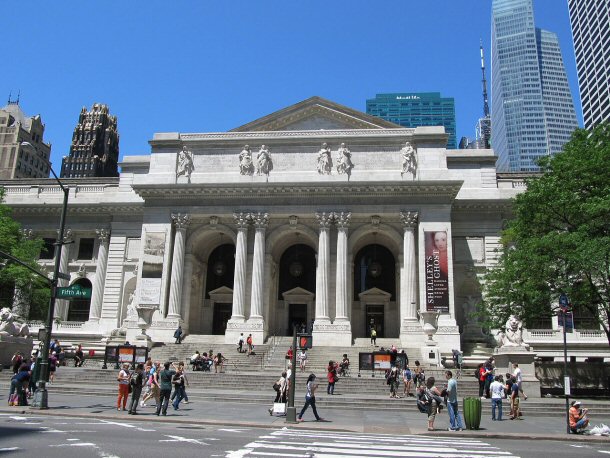 By Razimantv , via Wikimedia Commons
Inside the New York Public Library main building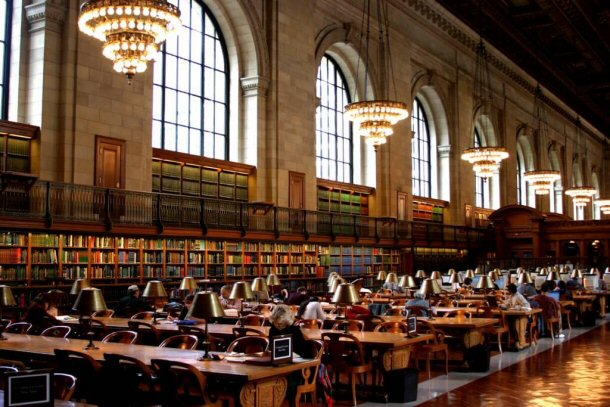 ---
13) The Metropolitan Opera
Any person who loves the Opera has heard of The Metropolitan Opera, also know affectionately as The Met. The Met has been around for longer than most entries on this list, such as: The Empire State Building, The Chrysler Building, Grand Central Station and The New York Public Library. This home of all things gloriously epic has been producing operas since 1884 and some people still dress for the opera, wearing ball gowns, opera glasses as well as bringing flutes to sip champagne. The Met also offers many operas to young people, specifically designed to appeal to the younger generation as well as it's older donors.
The Met has given a start to some of the most talented names in Opera for well over a century and to choreographers, conductors as well as authors. The Met is a phenomenal stop on your trip if you want to add an element of culture that can also make your friends and family insanely jealous of your experience when you get back home.
Exterior of the Metropolitan Opera House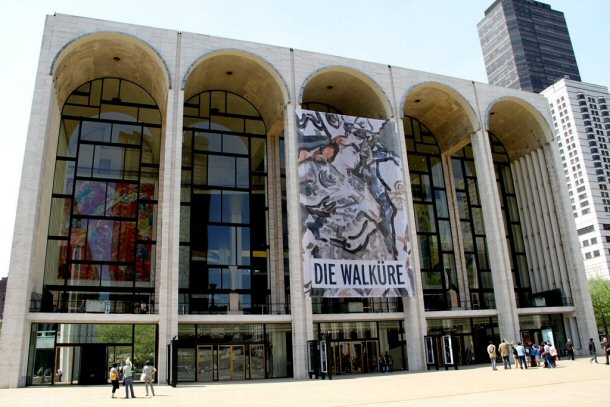 Metropolitan Opera House stage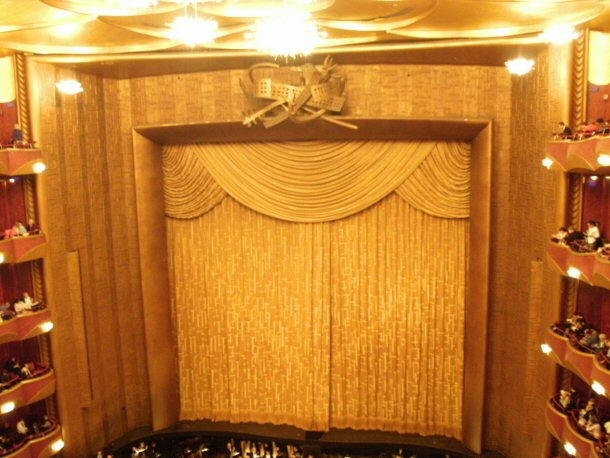 By Ser Amantio di Nicolao, via Wikimedia Commons
---
12) The Chrysler Building
The Chrysler Building is mentioned over and over in phrases as well as stories. "How exactly does something shine like the top of the Chrysler Building?" is a memorable line from the musical "Annie," which also debuted in New York. At the time of its construction, this building was one of the most famous in the world that was planned to be the tallest structure. Unfortunately, that distinction was taken from it by the Empire State Building the same year of its construction but the Chrysler Building still deserves a stop when you're considering places to visit in New York.
One of the most interesting things about the Chrysler Building is the look of the building itself; this skyscraper was constructed during the 1930s in a stunning Art Deco style by the architect William Van Alen. Although the Chrysler Building was only the tallest building in the world for 11 months, it still shines in the skyline as a testament to American ingenuity and architecture. These days the inside of the building is dedicated to tenants and business but you can still see it from the outside as well as visit the lobby.
Exterior of The Chrysler Building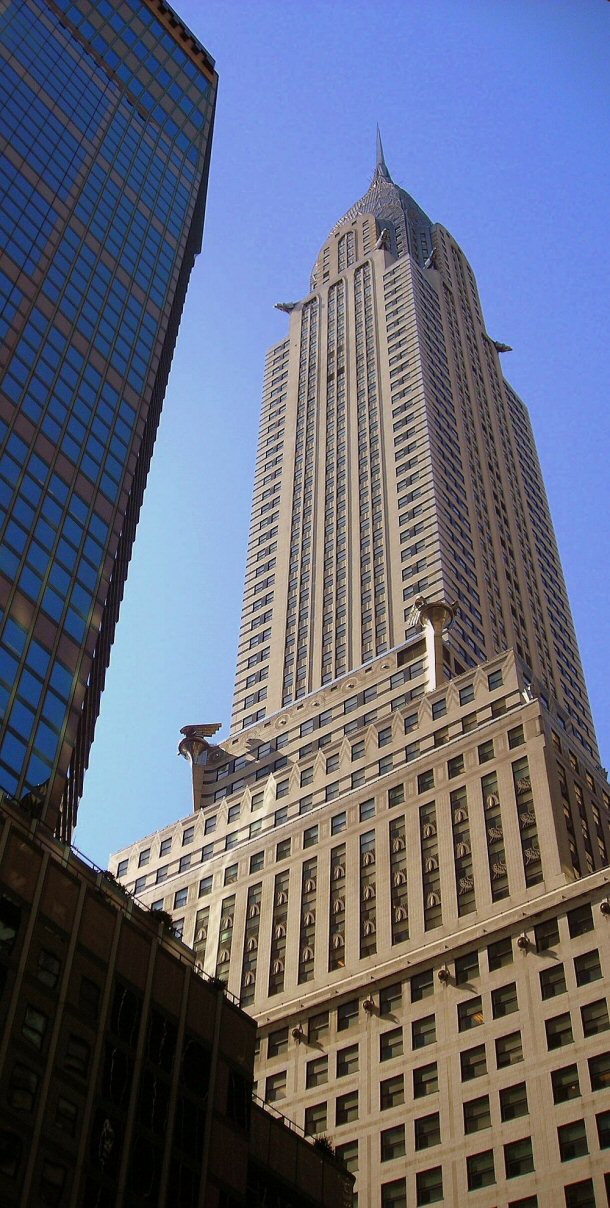 Interior of the Chrysler Building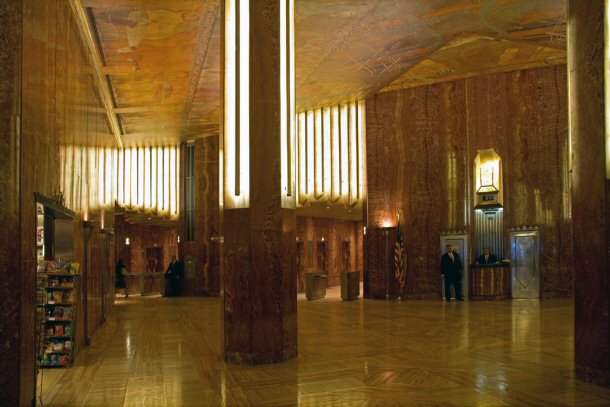 ---
11) Chinatown
Chinatown in New York City is one of the largest Chinatowns in North America, falling second only to the large Chinese population of San Francisco. While this is not the red bedecked rickshaw laden little city of the west coast, New York City's Chinatown still has much to offer to any tourist of any age if you know what you want as well as where to get it.
Chinatown has the best Asian food in New York City and is located in a place that is famous for food as well as one of the best places to eat a meal in America, Manhattan. Chinatown is famous for its dim sum and being the place that many "Chinese" dishes originated. Many immigrants created new versions of their old favorite home foods, since New York City is a cultural melting pot. The Chinese adapted to having few of their old ingredients by creating a new kind of American Chinese food, which is widely known as the kind of food Americans consider "Chinese" today.
Another thing you can find in Chinatown is excellent bargains on knockoff and cheap merchandise; this is a great place to get souvenirs.
The streets of Chinatown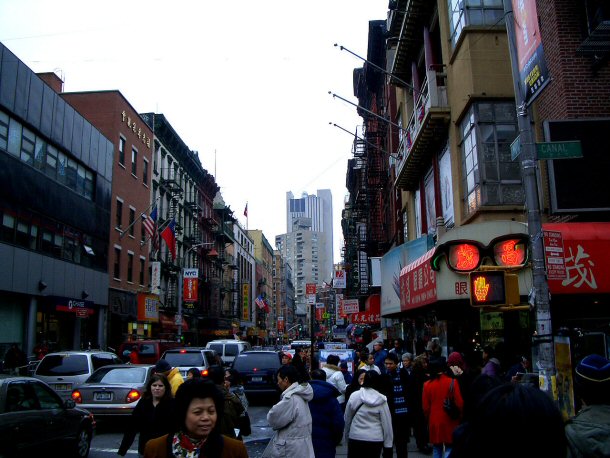 By Chensiyuan, via Wikimedia Commons
Chinatown store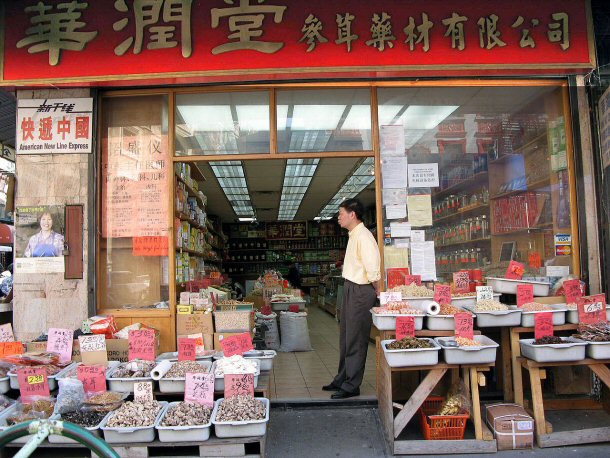 By Momos, via Wikimedia Commons
---
10) Radio City Music Hall
Radio City Music Hall is one of the best places to see a concert in the entire world and every aspiring star wants to perform in this venue, for the fame as well as the glory. One thing you shouldn't miss when you're thinking of things to do in New York City is attend a performance at Radio City Music Hall, this is one of the most iconic things you can do in New York City.
If you want to get a taste for the lovely ladies of many stories focused on becoming a big name in the Big Apple, why not check out a performance of the Rockettes? These high kicking dancers are synonymous with show business for many and frequently sell out every performance that they throw. If you're an aspiring dancer, try auditioning. They hold auditions frequently to compensate for the large size of their cast and are always looking for new talent.
There isn't a chance that you won't find something entertaining at Radio City Music Hall no matter if your interest is in jazz, country, pop, rock or some fusion mix of genres, so treat yourself to a great night out in the greatest city on earth.

Exterior of Radio City Music Hall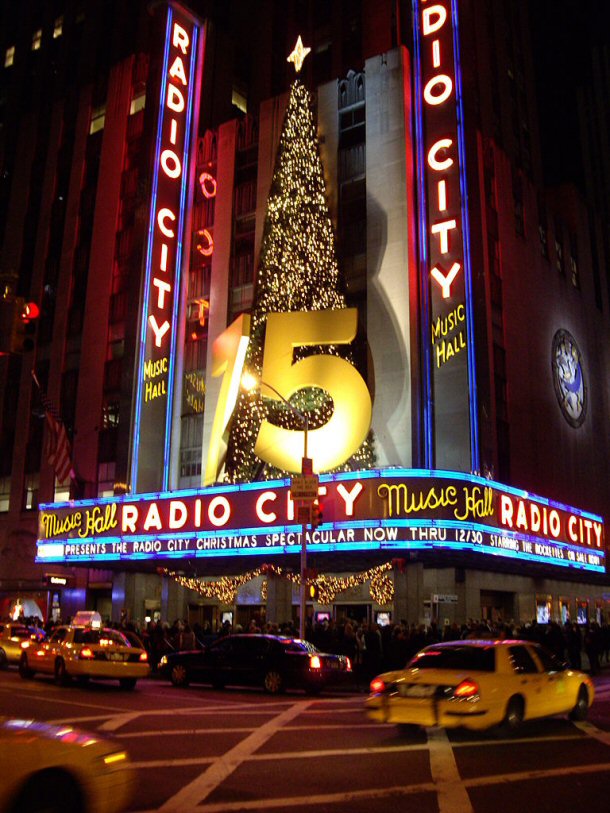 By Djmoo, via Wikimedia Commons
The Rockettes performing at Radio City Music Hall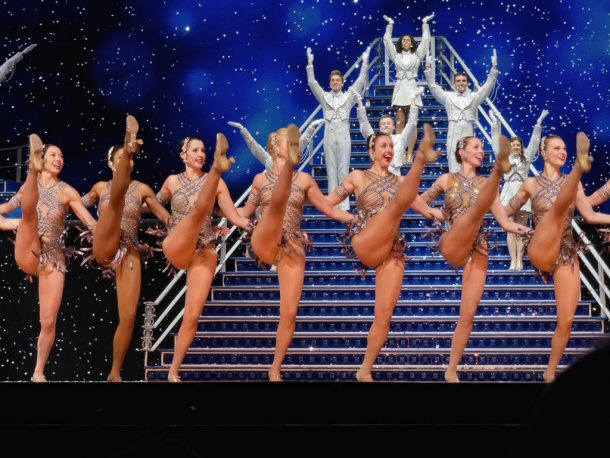 ---
---
9) MOMA
For those with a bit more cultural awareness, there's no better place to go than the New York Museum of Modern Art (MOMA); this immense building is home to some of the greatest collections of modern art in the world. Modern art may not be for everyone but MOMA has changed many minds over to the power of many different forms of modern art and the ways it can be emotionally affecting to anyone willing to leave themselves open to the experience.
If you think that Modern Art is all about paintings that are completely incomprehensible to the layman then you may want to rethink that position. The Museum of Modern Art has many offerings in a variety of media that include: video, photography and sculpture. Some of the exhibits are designed to challenge and enlighten the viewers, while others are only intended to look nice in a fascinating as well as conceptual way.
If you think you recognize any of the artists then reconsider because The Museum of Modern Art frequently has exhibits of major names, such as: Vincent Van Gough, among many other painters and textural artists.
Exterior of the New York Museum of Modern Art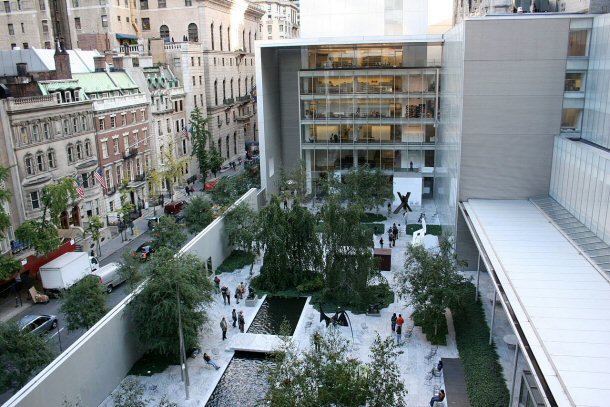 By Alsandro, via Wikimedia Commons
Inside The New York Museum of Modern Art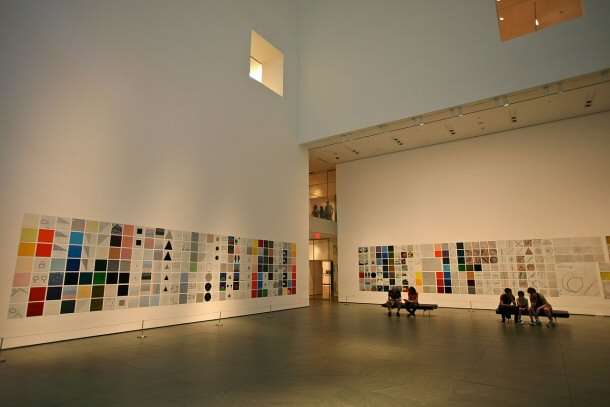 By Alex Proimos , via Wikimedia Commons
---
8) Rockefeller Center
Rockefeller Center takes a special place on the list by being one of the most romantic locations in the whole of New York City but no matter what you want to do with your day, Rockefeller Center will almost certainly have something for you. You may want to take a spin on Rockefeller Center's iconic ice skating rink and this is an excellent choice for many because it's a fun athletic activity that is heavy on charm, romance as well as excitement. Even if you don't know how to skate, learning can be a lot of fun if you're with the right person.
Rockefeller Center offers tours behind the scenes of NBC and some of the most popular TV shows on air. Depending on which day of the week you visit, you might have the opportunity to see one of your favorite shows being made.
Another thing Rockefeller Center offers is the Top of the Rock view, which is a massive viewing platform on the top of a skyscraper. This is an unprecedented way to look across the memorable skyline of New York from a height almost on par with some of the tallest buildings but without the wait.
Rockefeller Center and it's ice skating rink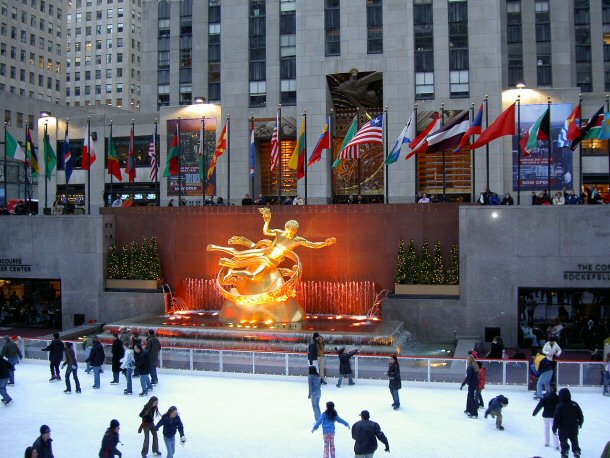 By Mr Bullitt, via Wikimedia Commons
---
7) Yankee Stadium
Arts and culture are a fantastic option when planning a visit to New York but what about those who aren't interested in Modern Art, Architecture or even ice skating?
For many people, there's no better place to stop on the trip than at a place like Yankee Stadium. This easily recognizable stadium is located in the South Bronx and the original stadium was around since 1923, it saw countless unforgettable games. George Steinbrenner, the owner of the New York Yankees, in the 1980s decided that he wanted to build a new stadium that could more accurately reflect the vision he saw for the future of the Yankees. It cost a massive sum of over a billion dollars to build and is owned as well as operated by the New York Yankees themselves.
For millions of sports fans across the globe, there is no better place to see a game than at this iconic stadium. If you are planning a visit to New York City then you'll want more than anything to at least stop by New York City's Yankee Stadium to see it. If you are lucky enough to come during baseball season, make sure you get any tickets well in advance. Tickets for seeing the Yankees on their home turf go fast and you don't want to be stuck in the nosebleed section.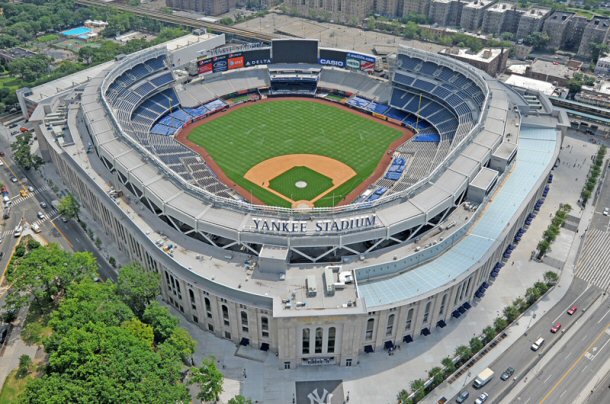 By Groupe Canam, via Wikimedia Commons
Inside Yankee Stadium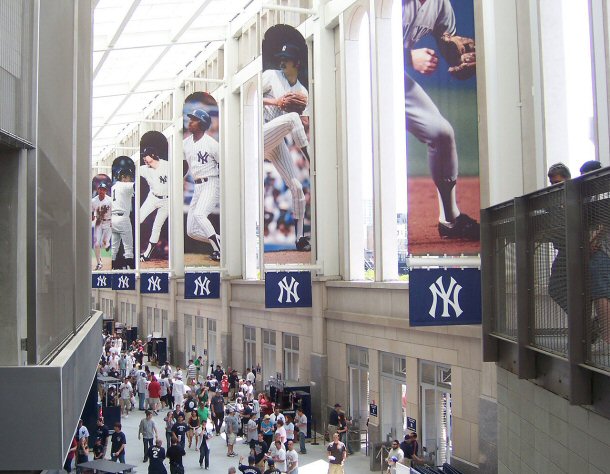 By Y2kcrazyjoker4, via Wikimedia Commons
---
6) The Brooklyn Bridge
Few landmarks say "New York City" the way the Brooklyn Bridge does; this famous landmark is over a mile long and plays host to thousands of people's traffic every day. If you are planning a leisurely walk across the bridge then make sure you keep an eye out for errant bikers because they're frequent on the bridge but don't always keep to the bicycle lane.
The Brooklyn Bridge is famous for a number of reasons that have nothing to do with the fact that it is a useful piece of architecture that allows thousands to cross every day; it's also important for historical reasons. For example, this was the first bridge to use steel cables in its suspension and revolutionized the future of bridges. It was also the first bridge to span the East River, a massive space over which they had previously thought bridges couldn't be safely constructed.
If you do decide to stroll across the bridge then enjoy the view because you'll have a view of the New York City skyline as well as sights, like the Statue of Liberty.
Brooklyn Bridge walkway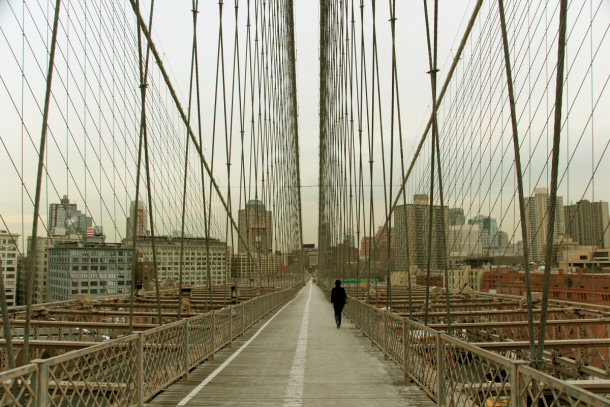 ---
5) Times Square
Even the busiest of cities sleeps sometimes but this is not so in New York; the old saying that the Big Apple is the City that Never Sleeps comes true at Times Square. This intersection of 42nd Street, Broadway and 7th Avenue is filled to the brim with theaters, restaurants, vendors as well as the gigantic advertisements that make it so recognizable when featured in any movie or TV show.
If you don't want to catch a Broadway show at Times Square, there is still a great deal to do. You could tour one of the area's many bookstores, grab a cup of coffee in a bustling café, have a bite to eat in a famous restaurant, like Scardi's, or perhaps you'll catch sight of a famous star enjoying an evening on the town.
Of course, if you come to New York during a holiday, you'll want to visit Times Square to see all the festivities. The ball drop on New Year's Eve is the most famous but celebrations occur here at almost every major holiday.
Times Square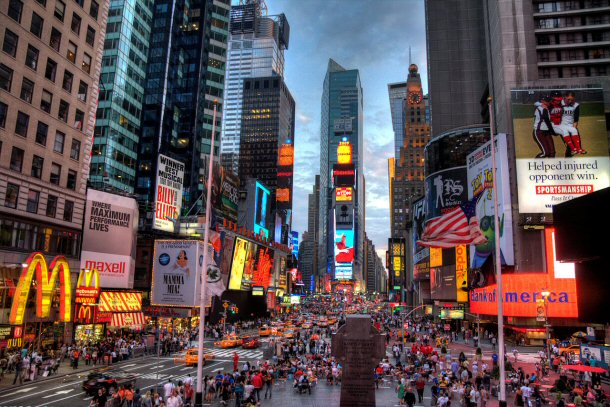 By Terabass, via Wikimedia Commons
Broadway Signs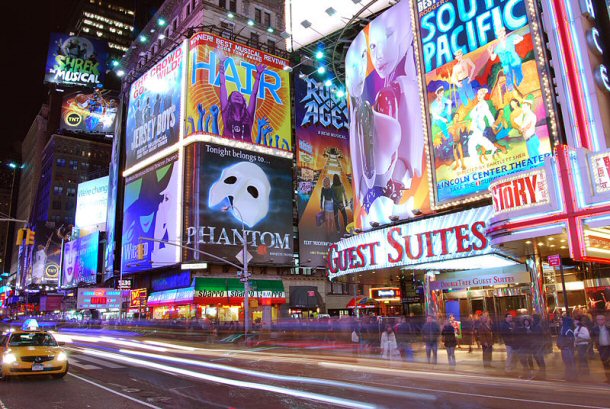 By Matt Wade, via Wikimedia Commons
---
4) The Statue of Liberty
The easiest way to set a movie, TV show or book in New York is to show a shot of the Statue of Liberty, which is a massive green copper statue that towers over the ocean just south of Manhattan. If you want to truly feel as if you're in New York, there's no better place to go than the Statue of Liberty itself. This site of the crowned woman holding aloft a book and torch has been welcoming people to the shores of America since the year 1886 when it was given to America by France, commissioned by the sculptor Frederic Auguste Bartholdi.
Unfortunately, it has frequently been closed to visits from the public due to the terrorist attacks on September 11, 2001. As of now, only 240 people per day are allowed to go up in the statue and you must purchase a ticket well in advance. If you want to see the statue but not go up into it, that is easier. The Staten Island Ferry runs frequently and is free, transporting people from South Manhattan at Canal Street to Staten Island. It provides an unparalleled views of the Statue of Liberty over the water, as it was originally meant to be viewed.
Inside the Statue of Libery's crown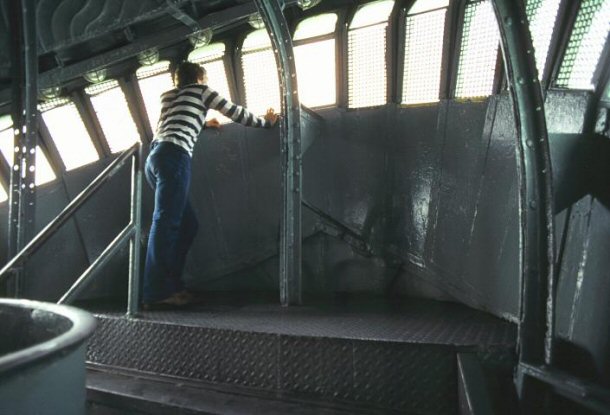 By Rdikeman , via Wikimedia Commons
---
3) Central Park
Central Park isn't just one place but an array of places, all grouped together in the center of Manhattan. Some parts of it are incredibly ritzy and designed for those who enjoy the finer things in life. The area of Central Park on Park Avenue between 60th Street and 80th Street is mainly populated by the extremely wealthy, even an apartment on these streets can cost well over a million dollars. This is also very close to Strawberry Fields, the area made famous by the Beatles in their unforgettable song and is, perhaps ironically, very close to the spot where John Lennon was killed.
The park was opened in 1857 and includes a whopping 840 acres, making it one of the largest public parks in a city in North America. Of all the urban parks in America, Central Park is the most visited every year with over 35 million visitors every year.
If you're feeling romantic, catch a carriage ride through central park or take a small boat with the one you love; there are many very romantic activities to enjoy in the park. You could also stroll through autumn foliage at that time of year or find some of the many gorgeously constructed fountains.
The Bow Bridge inside Central Park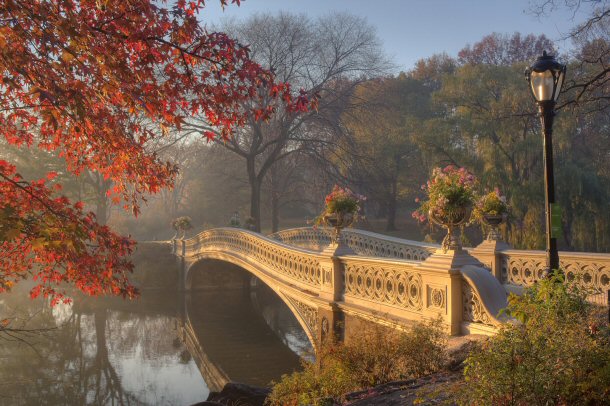 ---
2) The Empire State Building
The Empire State Building was constructed at the height of the Great Depression and stands as a testament to American determination, ingenuity as well as a little bit of spite. The building was completed ahead of schedule, which is rare for any project. It was completed just 11 months after construction ended on the Chrysler Building that is just blocks away and usurped its place as the tallest building in the world, a distinction the Empire State Building held for many years.
If you want to go up into the Empire State Building, you will need to wait in line. Fortunately, this building is walking distance from many other exciting landmarks and is just eight blocks from Times Square. This makes the Empire State Building a great choice for the last activity in a day where you need to unwind and don't mind waiting in line for a couple hours. It is also possible to reserve a ticket ahead of time and go through to a different faster line. This takes you up to the Observation Deck, 102 floors above the city. As a fun trivia fact, this building was initially supposed to be a blimp docking station but only fulfilled that job twice before the project was pulled and funding cut. Presumably, it still remains capable of docking blimps at any time.
Exterior of the Empire State Building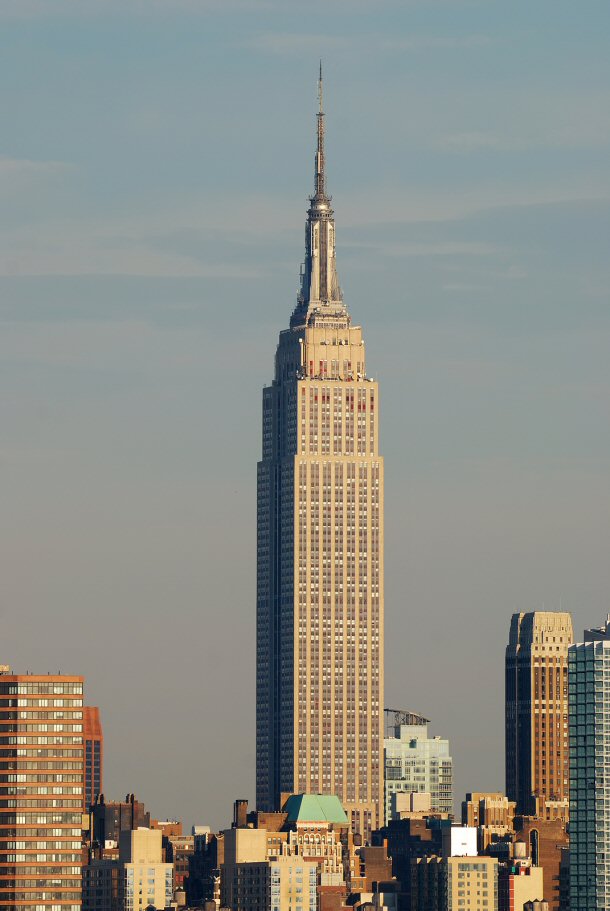 Observation deck on The Empire State Building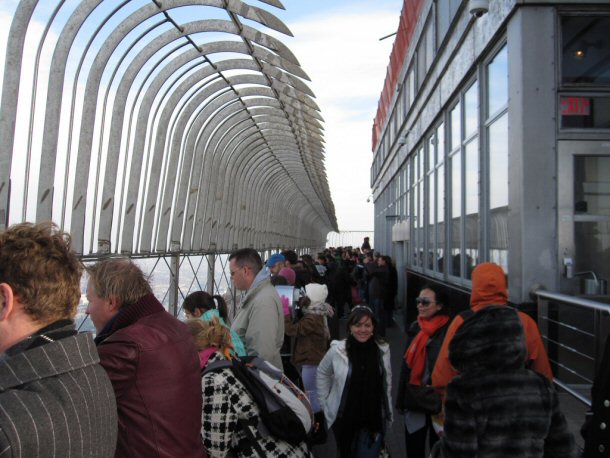 ---
1) See a Broadway Show
There is no New York City without the Great White Way and Broadway is the heart of the tourism industry in the Big Apple as well as the heart of the entertainment industry in America. When there is a group in town that needs to show a bit of proper culture to their members, it's always a trip to Broadway. With up to 20 shows running at any one time, you can always find something on Broadway to suit your personal tastes. There are mentally challenging stage plays, experimental show vehicles and the ever popular spectacular musicals. One of the best things about Broadway is that it's fantastic for repeat tourism and for the locals, even if you've seen every Broadway show that there is to see. If you miss your favorite show one year, you'll still be able to catch it again. Even if the show closes, there's the possibility it will be revived if there is enough interest.
If you don't find anything on the actual strip of Broadway that catches your eye, don't assume New York's theater scene has nothing to offer you. There are countless theatres considered "Off-Broadway" and they are frequently just as exciting and interesting as the ones on the strip itself.
Palace Theatre on Broadway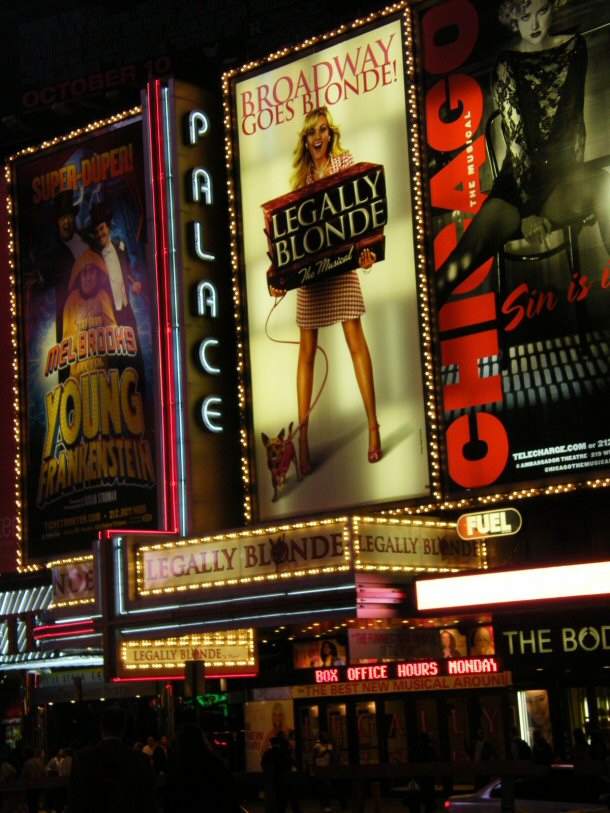 By Americasroof , via Wikimedia Commons
---
Final Thoughts
When planning a visit to New York City, it's important to look around at the most popular landmarks and there are many things to do in New York that have not made this list. If you're into Italian food, check out Little Italy. If you like shopping, there's nowhere better than Saks Fifth Avenue. If you're just certain that you want to see where all of America's money is made, you may want to stop by Wall Street itself. If you want to see all of these at once as well as explore one of the most intricate and fascinating pieces of architecture in the modern world then try taking the subway; you'll probably have to anyway.
If you want to make sure you never miss the absolute best of culture, city and people that New York City has to offer then make sure you check out the items on this list. You'll have a complete comprehension of New York City and what you see will likely keep you coming back to the Big Apple of the Empire State for years to come. After all, you never know what New York will be like tomorrow.
Vacation Destinations
Top Lists:
Top 15 Interesting Places to Visit in the Bahamas
Top 15 Fun Things to Do in Miami, Florida
Top 15 Fun Things to Do in Chicago
Top 15 Best Unknown Things to do in Las Vegas
Top 15 Fun Things to Do in Hollywood
Top 10 Best Places to Visit in Turkey
The Top 15 Best Things to Do and See in Sydney
Top 10 Things to Do in Edinburgh
Top 10 Things to do on Oʻahu
Top 15 Things to Do in Albuquerque
Top 15 Interesting Places to Visit in Spain
Top 15 Places to Visit in New York City
Top 15 Things to Do in Portland Oregon
Top 15 Things to do in Greece
Top 15 Places to Visit in Houston Texas
Top 15 Interesting & Safe Places to Visit in Mexico
Top 15 Interesting Places to Visit in the Netherlands
Top 15 Interesting Places to Visit in Thailand
Top 15 Interesting Places to Visit in Switzerland
Top 15 Interesting Places to Visit in Portugal
Top 15 Places to Visit in San Francisco
Top 15 Interesting Places to Visit in Shanghai
Top 15 Interesting Places to Visit in Puerto Rico
Top 15 Interesting Places to Visit in Norway
Top 15 Interesting Places to Visit in Las Vegas
Top 15 Interesting Places to Visit in Jamaica
Top 15 Interesting Places to Visit in Croatia
Top 15 Interesting Places to Visit in Belgium
Top 15 Interesting Places to Visit in Bangkok
Top 15 Things to Do in Rio de Janeiro
Top 15 Things to Do in Monaco
Top 15 Interesting Places to Visit in Dubai
Top 15 Interesting Places to Visit in Amsterdam
Top 15 Things to Do in New Zealand
Top 15 Interesting Places to Visit in Paris
Top 15 Interesting Places to Visit in Italy
Top 15 Interesting Places to Visit in Singapore
Top 15 Most Interesting Places to Visit in Berlin
Top 15 Best London Attractions
15 Little Known Facts About New York City
Disney World Articles
Top 15 Disney World Rides for Adults
Top 15 Disney World Rides for Kids
Top 15 Disney World Resorts for Adults
Top 15 Disney World Resorts for Kids
15 Fascinating Facts About Disney World
Top 15 Fun Things to Do at Disney World's Animal Kingdom
Top 15 Fun Things to Do at Disney's Hollywood Studios
Top 15 Fun Things to Do at Disney World's Epcot
Top 15 Fun Things to Do at Disney World's Magic Kingdom

Shorter Top Lists:
Top 10 Tourist Attractions in San Diego
Top 10 Tourist Attractions In India
Top 10 Things to Do In Kansas City
5 Places You Should not Miss in Brazil
Top 5 Things to do in New York City

Informational:
Best Tourist Attractions In Vietnam
Taking in the Sights in Shanghai
Top Tourist Attractions in Perth, Australia
Nice places to visit while in Great Britain
Sampling the Foods at the Night Markets in Taipei
What to do for a Kenya Vacation
Best Attractions in Victoria, B.C.
Photos of the Luxor Hotel in Las Vegas