Top 15 Interesting Places to Visit in Paris
If you were to ask 10 people what one of their most-desired vacation spots would be, the chances are that at least eight of them would say Paris.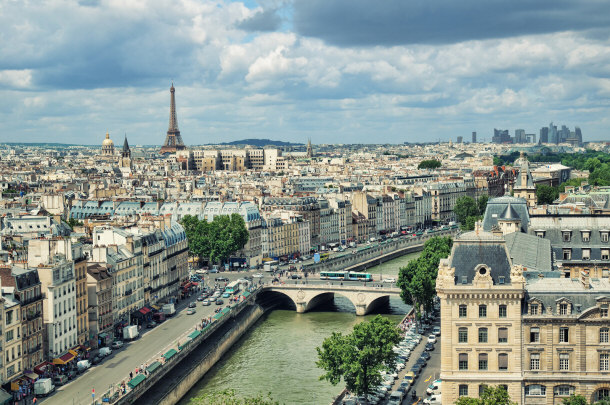 With 15.7 million arrivals in the hotels of France's capital city charted in 2012, the city is undeniably a popular tourist spot and many people from all walks of life with a wide variety of interests flock to "La Ville Lumière" – the City of Lights. Paris is arranged into 20 arrondissements, and with its extensive array of sights to see, visiting this great city should be planned out in advance whenever possible so you not only have time to see everything that you want to see before leaving for home, but also so that you don't get lost in between the places of interest. Though Paris has countless parks, shops, museums and other things to do, there are fifteen attractions that stand out above the rest, whether it's for historical or cultural reasons, and while in this great city you should make it a point to try and see them all.
---
15) Eiffel Tower
The Eiffel Tower is probably the one thing that you think about when you envision Paris, and undoubtedly it is one of the most famous landmarks in this beautiful city. Built in 1889 for the World Exhibition, this tower stands 984 feet and can be seen from almost anywhere in the city; even if you don't take time out of your schedule to visit the tower itself in the city's seventh arrondissement you're guaranteed to see it. It's inexpensive as far as tourist attractions are priced, so it won't put a dent in your touring budget if the whole family buys tickets to go all the way to the top. There are lifts as well as stairs to the second floor, and if you're adventurous or want some exercise, you can also climb the 704 steps to the very top of the tower to get one of the most beautiful views of the City of Lights you're likely to find. It's open year-round as well, even in cases of inclement weather, and with hours as late as midnight during the summer months, you'll easily be able to find time to make your way to the top of this cultural landmark no matter what your touring schedule is.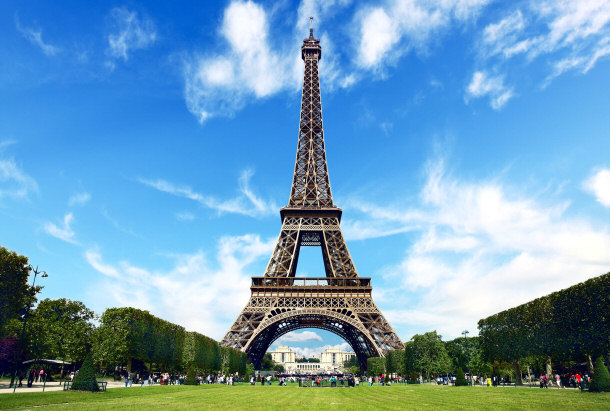 ---
14) Musée du Louvre
Located within the city's first arrondissement and at the geographic center of Paris, this expansive museum is one of the most famous in the world, and its entire art collection is housed within a repurposed palace – fitting, since you'll feel as rich as royalty when you walk through its three wings of vast, decorated halls. The Louvre's collection totals over one million, with about 35,000 on display, including some of the most famous works of art you've probably ever studied, such as Michelangelo's Dying Slave sculpture and the ever-famous Mona Lisa painted by Leonardo da Vinci. It's recommended that any art history student, general history enthusiast, and even casual tourist not let their trip to Paris be considered complete without a visit to the Louvre, and those who have visited recommend taking at least a day, if not more than that if your time and budget allow, to experience all it has to offer. There is an admission fee, however it is inexpensive and the museum offers free admission on the first Sunday of each month in addition to free tickets available for certain proofs of entitlement. Touring the rooms is made easy by an app available to download for self-guided audio tours in addition to an introductory tour for first-time visitors, offered in English. For those visitors to Paris fluent in French, guided lecture tours covering a specific theme, period, or artist are available as well. This should definitely be on your list of things to do.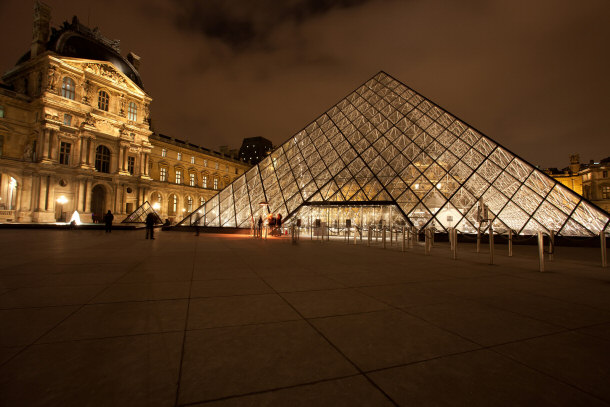 ---
13) Place de la Concorde
If you're headed to locations all over Paris, chances are you'll pass through this area without fully realizing it at least once or twice. Place de la Concorde is an octagonal town square-type area located in the eighth arrondissement that holds a reputation as the largest city square in Paris. It spans almost 22 acres and sits at the eastern end of the champs-Elysées. The square itself was built in 1772, and history enthusiasts will love standing on the same spot that played such an integral role in the French Revolution. Place de la Concorde was the historical center point of the revolution and has actually undergone a few name changes, most notably the Place de la Révolution when it was seized by the revolutionary government; it was at that same time that the feared guillotine was erected in the square and is the grisly execution site of the famed rulers Louis XIV and his wife, Marie Antoinette. Today, it has gone through many design and decorative changes and now offers a beautiful view of many statues and fountains for visitors to look at as they walk through it, in addition to the Luxor Obelisk decorated with hieroglyphics detailing the reign of pharaoh Ramses III that was given to the French by the Egyptian government in 1833.
---
12) Champs-Elysées
A famous avenue stretching from the Place de la Concorde to the Place Charles de Gaulle on the other side of the Arc de Triomphe the Champs-Elysées is arguably one of the most famous streets in Paris. On the west end of this street there are cinemas, theatres, cafés and luxury shops, including the Théâtre Marigny and the Grand Palais. The Théâtre Marigny was built to house a panorama in 1883, and has since been repurposed as a home for opera and other types of musical theatre – try and catch a show here while you're in Paris if you can. The Grand Palais is a historic exhibition hall, housing a police station in its basement as well as a science museum, the Palais de la Découverte. Chanel regularly hosts many of its fashion shows here, and the Palais was the home of the 2010 World Fencing championships. On the end of the street nearest to the Place de la Concorde, walking along the Champs-Elysées will allow you great opportunity to look at the Jardins des Champs-Elysées, which is one of the most beautifully arranged gardens and impressive fountains in the city. It's known as "la plus belle avenue du monde" – "the most beautiful avenue in the world" – and is one of the key places to visit as part of any trip to Paris. If you like high-end retail shops then you can pick up some new clothes while you're walking along this beautiful, bustling street.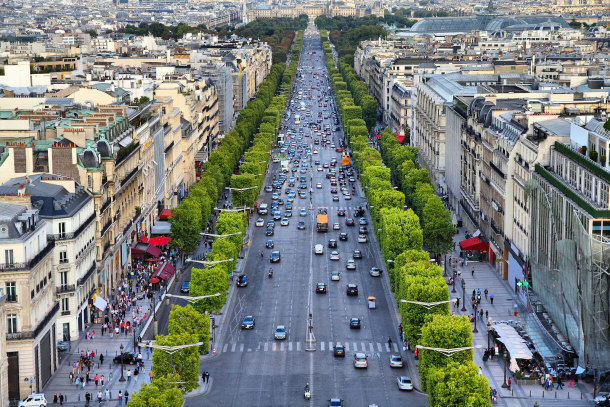 ---
11) Arc de Triomphe
Commissioned by Napoleon in 1806 and completed in 1836, this arch is another great piece of history in Paris that you should make it a point to go see before your trip is over. It's engraved with the names of generals who commanded French troops of Napoleon's armies and, when you get close enough to look at it, the sculptural style and detail in the carving on its surface is truly exquisite. If you don't want to climb, though, heading to the top for the view you get probably isn't for you; 40 steps and no option of a lift await you. If you're in Paris over the summer holidays, the best day to visit Arc de Triomphe is on July 14: Bastille Day, historically remembered as the beginning of the French revolution. A parade trails up the Champs-Elysées that leads to this arch, and it's something to make sure you don't miss – it's located on the borders of the eighth, sixteenth and seventeenth arrondissements of the city.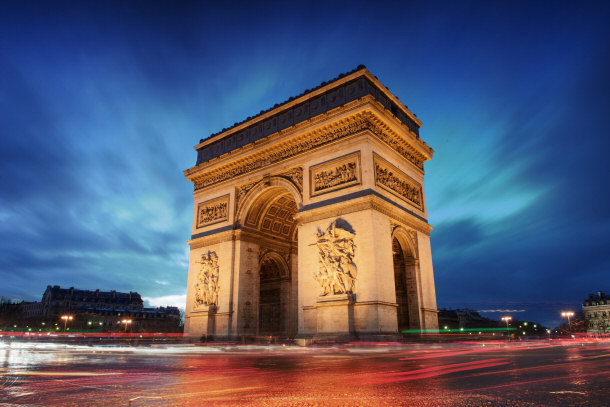 ---
10) La Conciergerie
Another of the must-see places to visit for the history enthusiast, this landmark is best seen on the same day as a walk through Place de la Concorde to get the full effect of studying landmarks related to the French Revolution. A repurposed palace just like the Louvre, it was a prison during the revolution, and, while it has been decommissioned and no longer serves that purpose, it is still viewable as a historical monument, including cells reconstructed to look like the ones that condemned prisoners spent their last days in. Marie Antoinette is one of the most famous prisoners ever housed here, and the cell she was kept in during the days leading up to her demise has been made into a chapel at the request of Louis XVIII. The Women's Courtyard and "Grooming Room" of the palace can be visited during tours as well as Marie's chapel, named Girondins' Chapel. While only a small portion of it is accessible to the public (the rest is used for Paris law courts) it's definitely worth visiting.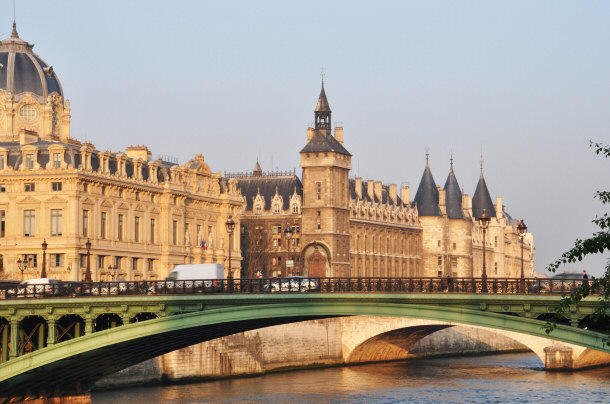 ---
---
9) Musée d'Orsay
Housed in a repurposed train station in the seventh arrondissement, located right across from the Musée du Louvre, this museum has an artistic collection spanning the 19th century up to 1914, including paintings, sculptures, photographs and other objects d'art given to the museum from several other museums' collections. If Impressionist and Post-Impressionist artists are some of your favorites, this is the museum for you to visit while you're in Paris; Monet, Manet, Van Gogh and Degas paintings populate the halls of this museum. It's a must-see for Paris visitors interested in the Impressionist movement, or for anyone wanting to see an example of old Parisian architecture.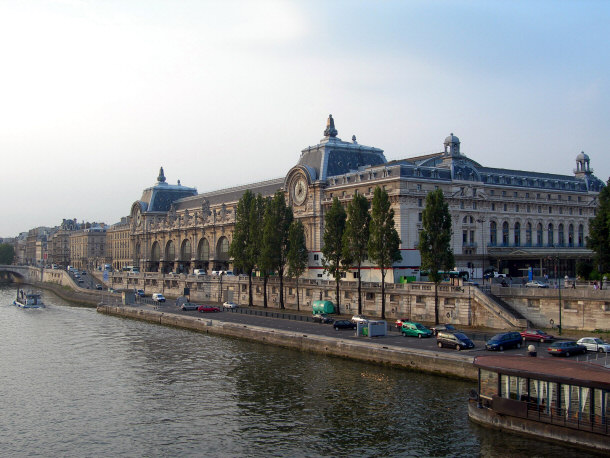 ---
8) Notre Dame de Paris
Located in Paris's fourth arrondissement, this cathedral has been called "the religious center" of Paris and sits in the heart of the city, so wherever it is that you're travelling should put you right on track for making your way to this important religious site. Even if you are not a practitioner of the Roman Catholic faith, it's still an enriching part of any Paris visit to pay Notre Dame a visit, whether it's sitting in for one of its services (almost all of them are in French, though, so if you care about understanding them it's best to make sure you're fluent) or having a guided tour that lasts about one hour.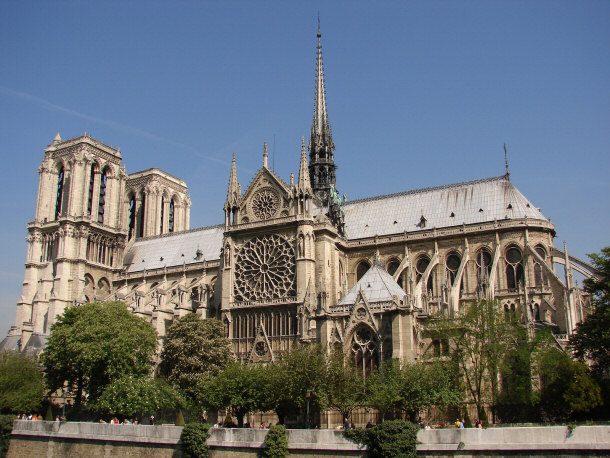 Architecture enthusiasts will love to even look at the outside of this grand building – the arched exterior supports, called flying buttresses, surround the outside of the theatre and are very unique. During the time that Notre Dame was constructed, it was one of the first buildings in the world to use these kinds of supports. It utilizes thin walls characteristic of the Gothic art style and the gargoyles all over Notre Dame's water spouts are almost universally famous. The climb to the top of the chapel is 387 steps spanning several spiral staircases, but the climb is worth it for the spectacular views of the cathedral's most famous bell and many of the gargoyles. No matter the reason you want to visit the Notre Dame de Paris cathedral or when you want to visit, you should be able to find a time that fits in with your schedule - the cathedral is free to visit and is open every day of the year from 8 a.m. to 6:45 p.m. and until 7:15 on Saturdays and Sundays.
---
7) Sacré-Coeur Basilica
The name translates to "Basilica of the Sacred Heart" and is both a cultural and historical monument built atop the highest point in Paris – in fact, at its highest point it towers above the Eiffel Tower. It overlooks Montmartre, providing an odd contrast at the time it was built to the rebellious, loose morals of the artistic community. Similar to Notre Dame, even if you do not practice Roman Catholicism, this is worth a visit both for its cultural important to the Parisians and the beautiful architecture that it is comprised of, a blend of Romano-Byzantine features as well as impressive equestrian sculptures. The inside is even more awe-inspiring, with a giant mosaic, exquisite stained-glass windows and a one-of-a-kind organ. The latest mass at this basilica is usually around 10 p.m. nightly.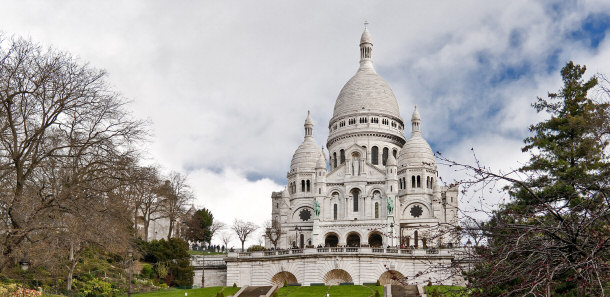 ---
6) Montmartre
Translated to "mountain of the martyr", the name references the site of the martyrdom of the first bishop of Paris, Saint Denis. Montmartre has been officially designated as an historic district, and is popular amongst tourists because it is one of the most colorful neighborhoods that Paris has to offer. Since Napoleon III's donation of all of the land to his friends pushed the original Paris inhabitants out to city's outskirts in the 19th century, Montmartre was developed and came to be known as a place where the city proper's rules and regulations did not apply. It became a breeding ground for brilliant minds, housing many artists like Picasso, Degas, Toulouse-Lautrec and Renoir.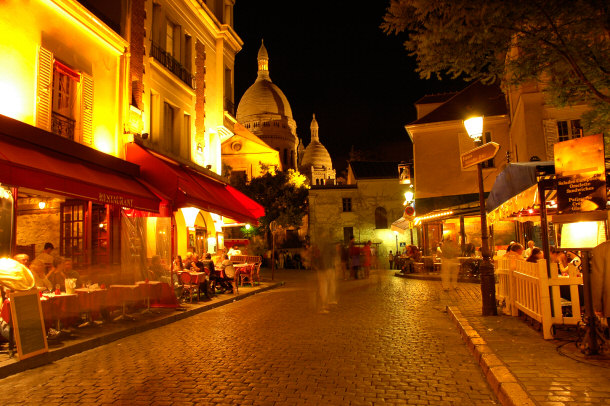 Today, it retains much of the charm it held in antiquity, and offers tourist spots like the Musée de Montmartre and the mansion directly behind it which was once called home by Renoir, as well as a cemetery where many famous artists are buried. The Place du Tertre is a square that you don't want to miss if you are interested in contemporary art, or even an artist yourself; many artists set up their easels here on a daily basis and ask if they can paint your portrait, creating a unique souvenir for you to keep from your trip. If your Paris trip includes a bit of clubbing, Montmartre boasts a wide variety of nightclubs as well.
---
5) Moulin Rouge
Undoubtedly you've heard the Moulin Rouge referenced in movies, songs or pop culture, and rightly so – since it opened its doors it has set the standard for nightclubs and cabarets. The "Red Mill" used to have a reputation as a getaway for men to spend time with girls with loose morals; the fact that it's located inside Montmartre didn't help that reputation at all. Henri Toulouse-Latrec spent many nights here, and many of his works pay direct homage to it. If you enjoy nightclubs, going to Montmartre and getting a table at the Moulin Rouge is definitely something you'll want to do; more than 100 performers call this club their place of work, and while the club has lost its reputation as a brothel, the shows are certainly bawdy and lewd enough to delight even the most experienced of club-goers. Tables can be booked for the night and dinner is served before each show, so it's an all-night event.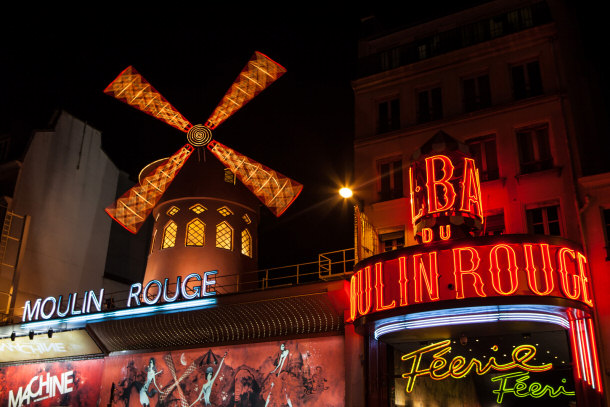 ---
4) Centre Pompidou
A feat of modern engineering as well as unique and modern art and architecture, the Centre Pompidou is another museum that Paris is home to, located in the city's fourth arrondissement. What makes this building unique is that all of its functional elements are on the outside of the building and color-coded: blue for air, green for water, yellow for electricity, red for elevators, and gray for corridors. One of the first buildings of its kind, the Centre Pompidou utilized this odd architecture to free up space inside the building for the more important things: the library and art collection. It contains a museum of modern art and a library as well as a bookstore and a movie theatre. The library contains 450,000 books and 2,600 magazines, making it a haven of enjoyment for any visitor to Paris who enjoys reading. The first three floors of the building are the library, but if you'd like to see the modern art collection of over 59,000 works, travel to floors four and five; the fourth floor containing works from 1905 to 1965 and spans the artistic movements of abstract art, surrealism and cubist art, and the fifth containing works created after 1945 including the pop-art and figurative arts movements. The square directly in front of the building (called "Place Beaubourg" or "Place Georges Pompidou" plays host to a myriad of mimes, street performers and other sorts of entertainers.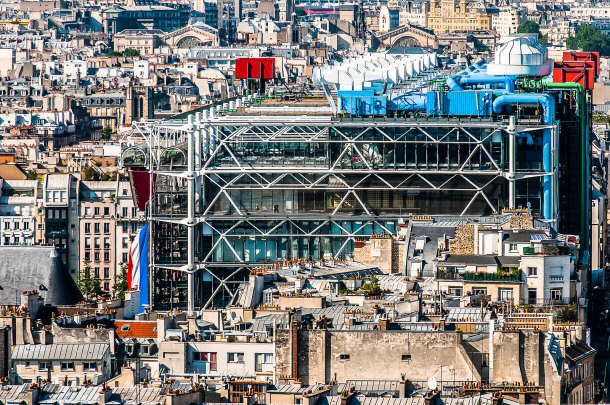 ---
3) Gare du Nord
This is another piece of history, opening in 1864 and continuing to operate today. With a slew of high-speed trains, the Gare du Nord railway station is the best way to go from Paris to other cities like London or Amsterdam, and with its reputation as the busiest train station in Europe, it's likely that you might end up here without even intending to. With around 190 million travelers per year, it's bound to be busy when you're there, so standing in line for a while may give you an opportunity to look up and around and admire the impressive architecture. If you go outside, the front façade of the building is decorated by more than twenty statues and the history and meaning behind those statues is very interesting – most of them represent destinations that trains go to currently, or that they went to in the past. Doubtless if you ask any of the workers within the station, they'll be able to explain which one is which.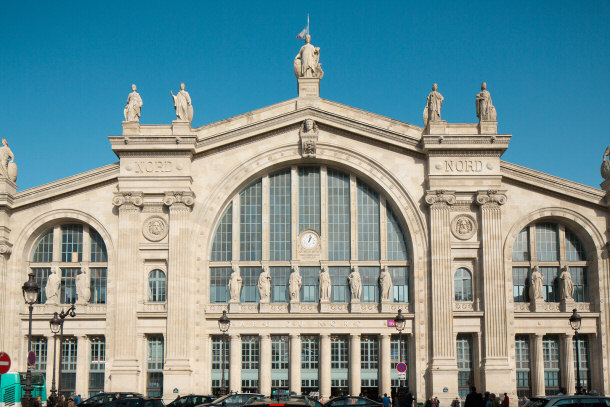 ---
2) Jardin du Luxembourg
This extremely popular Parisian park is located in the sixth arrondissement close to the Sorbonne and spans about 55 acres in total. The mother of Louis XIII, Marie de' Medici, purchased the gardens in 1612 and were laid out in the Italian style at her request; the gardens were remodeled in the 19th century when the once-private park was opened to the public, but as you walk through the gardens you can see that the original layout has been preserved. An octagonal pond lies in the middle of the park, a beautiful centerpiece called the "Grand Bassin".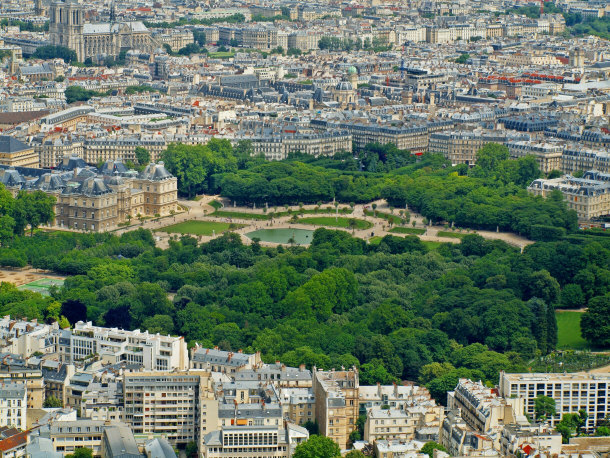 If you are visiting Paris with your children, other attractions like a puppet theater, pony rides, and a merry-go-round can be found within the park to delight them. A beautiful thing about this park is that while it contains many chairs, they are not stationary and can be picked up and moved by each visitor to a place they want to sit in, making it a wonderful place to relax and unwind, perhaps, in between visits to other Parisian landmarks; many stop here to take in the beauty of the gardens while deciding where to go next. While you're there, though, stop to take in the beauty of the two fountains located within the park as well – the beautiful Baroque masterpiece, Fontaine Médicis at the northeast end of the park depicting Greek mythological figures and the Fontaine de l'Observatoire depicting a globe supported by four women, each meant to represent a continent. The Palais du Luxembourg, a former palace turned prison, lies at the end of the park and houses the French Senate. Senate debates held Tuesday-Thursday in the months of September-June are open for free public view, so if that kind of thing interests you, make sure to stop by.
---
1) Les Catacombes de Paris
This attraction is not for the faint of heart, but is worth a bit of your time if you like history or things people might classify under the heading of "creepy". The catacombs are a renovated section of Paris's stone mines and house the remains of about six million people. They are fairly far under underground - the descent down to them is 62 feet and they are very dark, so make sure to watch your step. Many who have decided to visit agree that they are very beautiful; some of the bone arrangements are artistic, like a heart-shaped outline in one wall and pillars in other rooms made of different types of bones. It is extremely inexpensive as far as Parisian museums are concerned, and offers audio guides in French, English and Spanish for the convenience of visitors.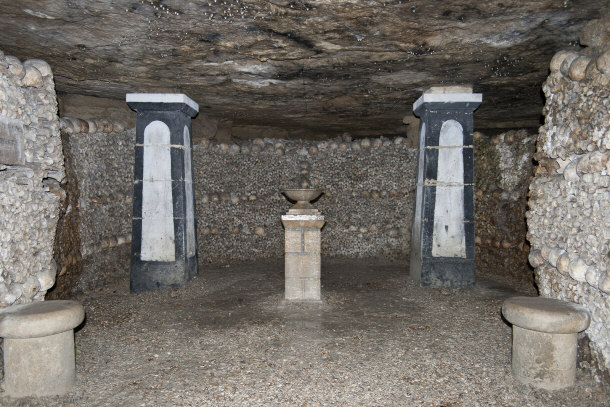 ---
Final Words
Paris is a perfect blend of history and art, a place where landmarks are valued and all around, a great city to visit at any time of the year. Paris is an especially wonderful city to visit for college students on trips due to the amount of reduced price or free lodging and the variety of free or inexpensive attractions and things to do within the city, so if you're planning a backpacking trip across Europe make sure to add Paris to your list. With a wide variety of cultural centers, museums and beautiful historical landmarks, it's almost a guarantee that any visitor to this French city will find memories to take home with them after their trip. It doesn't matter if you are a pair of lovebirds on your honeymoon and looking to see the sights, an enthusiastic art history or history student, or just a lover of immersing yourself in cultures other than your own, Paris should be a must-see on the list of anyone who enjoys traveling.
Vacation Destinations
Top Lists:
Top 15 Interesting Places to Visit in the Bahamas
Top 15 Fun Things to Do in Miami, Florida
Top 15 Fun Things to Do in Chicago
Top 15 Best Unknown Things to do in Las Vegas
Top 15 Fun Things to Do in Hollywood
Top 10 Best Places to Visit in Turkey
The Top 15 Best Things to Do and See in Sydney
Top 10 Things to Do in Edinburgh
Top 10 Things to do on Oʻahu
Top 15 Things to Do in Albuquerque
Top 15 Interesting Places to Visit in Spain
Top 15 Places to Visit in New York City
Top 15 Things to Do in Portland Oregon
Top 15 Things to do in Greece
Top 15 Places to Visit in Houston Texas
Top 15 Interesting & Safe Places to Visit in Mexico
Top 15 Interesting Places to Visit in the Netherlands
Top 15 Interesting Places to Visit in Thailand
Top 15 Interesting Places to Visit in Switzerland
Top 15 Interesting Places to Visit in Portugal
Top 15 Places to Visit in San Francisco
Top 15 Interesting Places to Visit in Shanghai
Top 15 Interesting Places to Visit in Puerto Rico
Top 15 Interesting Places to Visit in Norway
Top 15 Interesting Places to Visit in Las Vegas
Top 15 Interesting Places to Visit in Jamaica
Top 15 Interesting Places to Visit in Croatia
Top 15 Interesting Places to Visit in Belgium
Top 15 Interesting Places to Visit in Bangkok
Top 15 Things to Do in Rio de Janeiro
Top 15 Things to Do in Monaco
Top 15 Interesting Places to Visit in Dubai
Top 15 Interesting Places to Visit in Amsterdam
Top 15 Things to Do in New Zealand
Top 15 Interesting Places to Visit in Paris
Top 15 Interesting Places to Visit in Italy
Top 15 Interesting Places to Visit in Singapore
Top 15 Most Interesting Places to Visit in Berlin
Top 15 Best London Attractions
15 Little Known Facts About New York City
Disney World Articles
Top 15 Disney World Rides for Adults
Top 15 Disney World Rides for Kids
Top 15 Disney World Resorts for Adults
Top 15 Disney World Resorts for Kids
15 Fascinating Facts About Disney World
Top 15 Fun Things to Do at Disney World's Animal Kingdom
Top 15 Fun Things to Do at Disney's Hollywood Studios
Top 15 Fun Things to Do at Disney World's Epcot
Top 15 Fun Things to Do at Disney World's Magic Kingdom

Shorter Top Lists:
Top 10 Tourist Attractions in San Diego
Top 10 Tourist Attractions In India
Top 10 Things to Do In Kansas City
5 Places You Should not Miss in Brazil
Top 5 Things to do in New York City

Informational:
Best Tourist Attractions In Vietnam
Taking in the Sights in Shanghai
Top Tourist Attractions in Perth, Australia
Nice places to visit while in Great Britain
Sampling the Foods at the Night Markets in Taipei
What to do for a Kenya Vacation
Best Attractions in Victoria, B.C.
Photos of the Luxor Hotel in Las Vegas