Top 15 Things to Do in Portland Oregon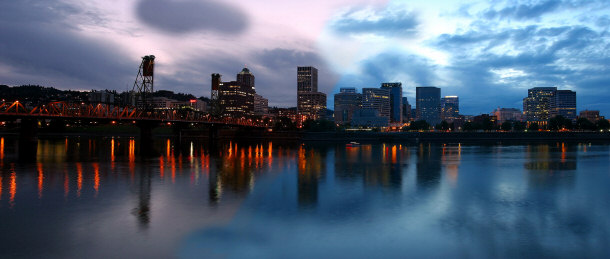 When you're planning your trip to Portland, Oregon, you'll want to start with a few basic attractions. Logically, especially when thinking of Portland's climate, it would be wise to carry an umbrella while on your Portland adventure. But to blend in with the laid-back vibe of Portland, forget the umbrella and just wear a jacket with a hood along with some casual clothes. If you're thinking of doing some outdoor activities like hiking, bike riding, or kayaking, make sure you pack appropriately. Once you're done packing for your trip, you'll want to know top 15 things to do in Portland. This list will keep you busy during your trip and help you experience the best the city has to offer. Whether you enjoy outdoor activities, food, or sports, this list has something for everyone. This list will most certainly help you make the most of your visit to this beautiful and interesting city.
---
15) Lan Su Chinese Garden
Lan Su Chinese Garden in Portland is a great place to visit because of its sheer beauty. Portland's sister city of Suzhou, in the Jiangsu province of China, collaborated with Portland to build what the garden's own website calls "the most authentic Chinese garden outside of China."
Koi Pond - Lan Su Chinese Garden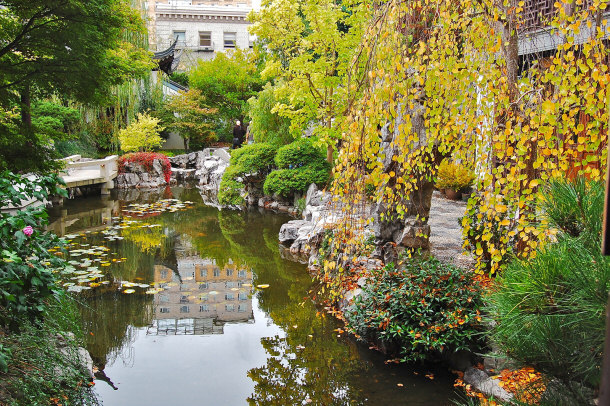 The activities that are available to visitors throughout the year vary seasonally, so check the Lan Su Chinese Garden's website to see what specific events will be taking place during your visit to Portland. The name Lan Su translates to "Garden of Awakening Orchids."
Courtyard of Tranquility - Lan Su Chinese Garden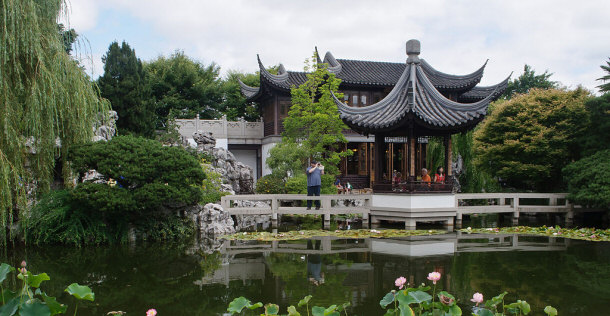 By InSapphoWeTrust from Los Angeles, California, USA, via Wikimedia Commons
Features include the Courtyard of Tranquility, a Chinese terrace, and a fish pavilion. The Lan Su Chinese Garden is a fantastic night destination in Portland featuring beautiful scenery at the Garden's Moon Locking Pavilion. While in the garden, bask in the tranquil and peaceful surroundings of this beautiful oasis while wandering around many native Chinese plants. Public tours of this garden are at scheduled times throughout the day, and the price of the tour is included in your admission.
---
14) Smith and Bybee Wetlands Natural Area
This area of Portland is a must-see for every nature lover. It spans approximately 205 acres and two large lakes dot the countryside. Renowned as the "largest protected wetland within an American city", there is definitely no shortage of wildlife to observe in this extremely unique park.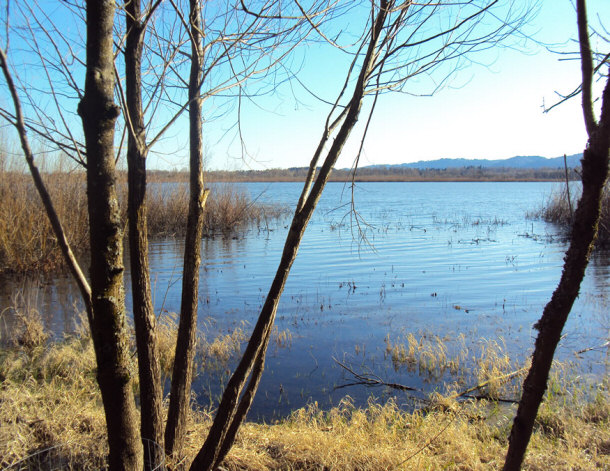 Courtesy of pdxfamilyadventures.com
Wildlife in the wetlands include beavers, river otters, deer, bald eagles, and osprey. Another highlight of this protected area is its population of western painted turtles, which the Smith and Bybee website explains is "one of the largest remaining populations" in the entire state of Oregon. The area is perfect for activities like canoeing and hiking. If you're looking for outdoor adventure during your trip to Portland, taking a canoe around the wetlands area might be the perfect way to experience the natural beauty of the city, while at the same time experiencing the natural world.
Local Residents of Smith and Bybee Wetlands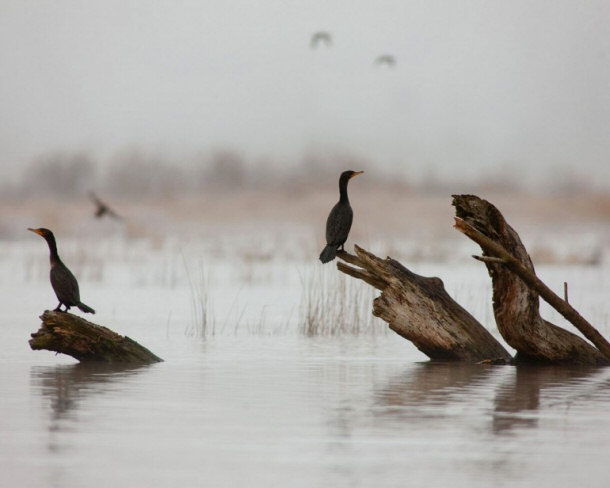 Courtesy of travelportland.com
To get to the Smith and Bybee Wetlands Area, you'll have to either take a non-motorized boat or hike the paved Interlakes Trail. There is a parking lot for the trail, so you'll be able to park at the trail's head. After leaving your car, you can hike out into this beautiful preserved area while taking in all that the wetlands in Portland have to offer.
---
13) Oregon Museum of Science and Industry
This museum is one of the biggest of its kind and is definitely a must-see in Portland for anyone interested in science. Originally open since 1958 and since 1992 at its current location, the Oregon Museum of Science and Industry allows visitors to enjoy experiences such as the Science Playground, Earth Hall, Turbine Hall, Life Hall, and the Science Labs.
Oregon Museum of Science and Industry (OMSI)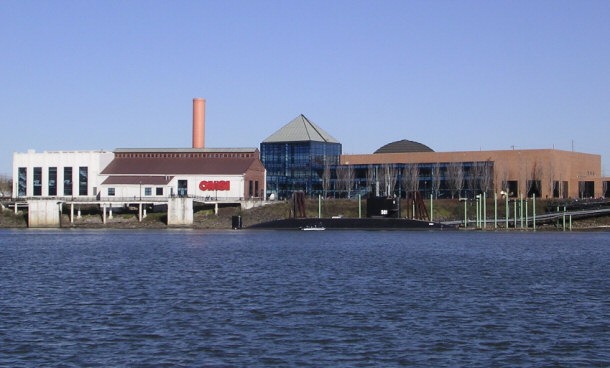 By Cacophony via Wikimedia Commons
As its website states, the museum has "over 200 interactive exhibits and labs." This is a museum where you're expected to interact with and not just view the exhibits, making it great for both kids and adults.
USS Blueback in front of OMSI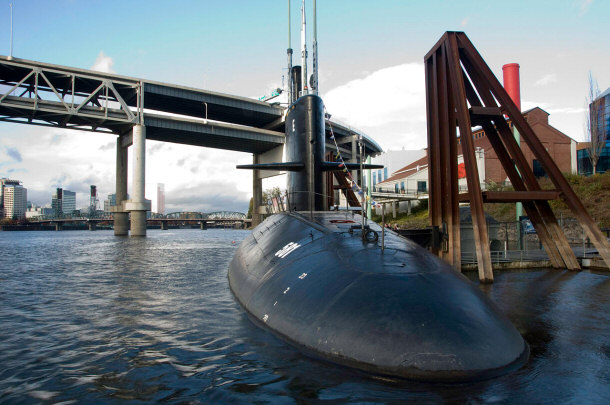 By Robert Gaskin via Wikimedia Commons
If you have an inquisitive mind and a desire to spend a few hours in Portland doing something that is both fun and educational, then OMSI is the place for you.
OMSI Science Playground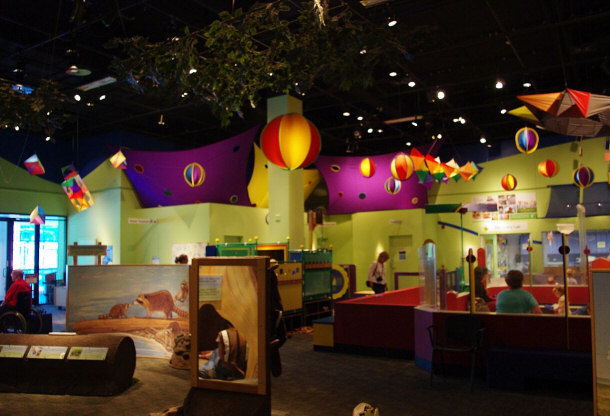 By M.O. Stevens via Wikimedia Commons
The museum also has visiting exhibitions like the Mummies of the World Exhibit, so check the OMSI website to see a complete list of the attractions available during your visit to Portland.
OMSI Turbine Hall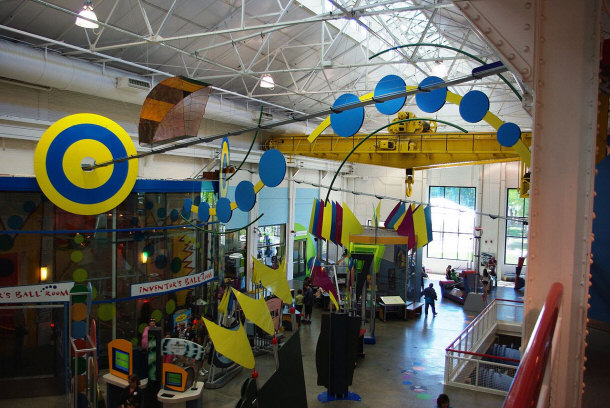 By M.O. Stevens via Wikimedia Commons
---
12) Portland Saturday Market
The Portland Saturday Market is located in Old Town within Chinatown, and takes place every Saturday and Sunday from March until December.
Original Market Location Under Burnside Bridge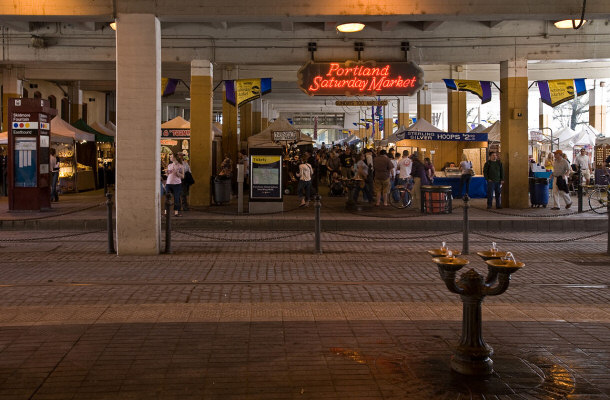 By Cacophony via Wikimedia Commons
The goal of the market is to give local artists a chance to sell their products in Portland, and the market has since become a well-known place to find many types of interesting and beautiful, hand-made products.
Original Location of Portland Saturday Market - Has Since Expanded Behind Photographer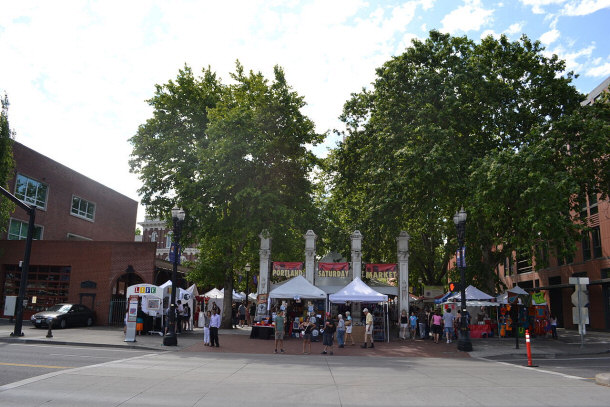 By Visitor7 via Wikimedia Commons
The website includes a vendor directory so if you're on the hunt for something specific, check out the list and you can see ahead of your visit the name of the vendor, the type of craft, and the location of the vendor's booth. If you aren't in a hurry, then take some time wandering among the booths, looking at all the beautiful wares.
Visitors Browsing Stalls at Portland Saturday Market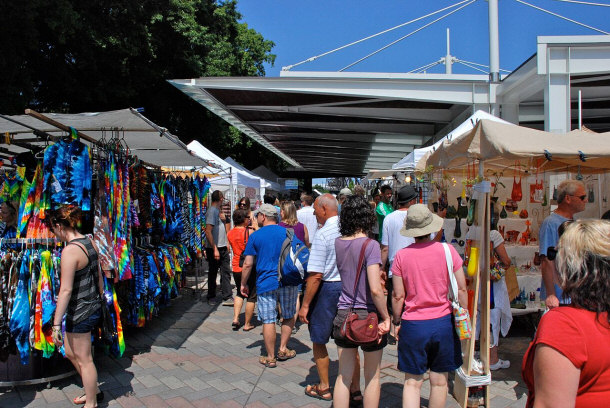 By Steve Morgan via Wikimedia Commons
Vendors come with pottery, ceramics, jewelry, clothing, woodwork, glass, and other types of handcrafted artisan products. There's no need to eat before you arrive at the Portland Saturday Market, as there are food stalls available with tasty selections. Food choices include Greek food, pizza, Mexican food as well as lighter fare like coffee and kettle corn. Take a leisurely stroll through the market and pick up some special treasures, further commemorating your trip to Portland.
---
11) Eat from One (or More) of Portland's Food Carts
Take part in what is becoming a Portland tradition: eating from one of Portland's 500 food carts. You will be sure to see some around town during your visit, especially if you're making the most of your Portland vacation by walking around or using a bicycle for transportation.
Mediterranean Food Cart in Portland, Oregon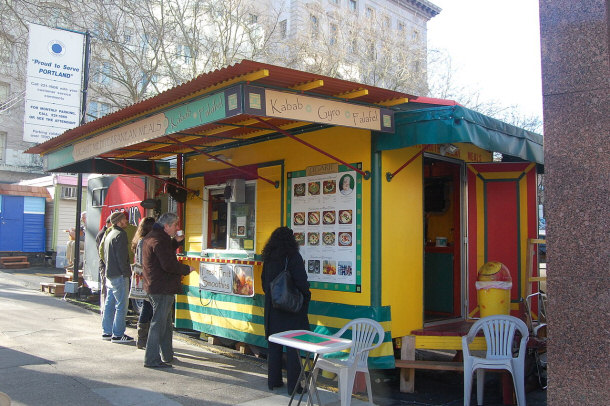 By stu_spivack (food truck), via Wikimedia Commons
Definitely stop in, and try some truly one-of-a-kind food from any one of these interesting and delicious food trucks. If you're more serious than just sampling some of the food at a few of Portland's food carts, you can book a tour of the best food carts in all of Portland.
The tour will take you on a 90 minute exploration of Portland food culture while accompanied by a food cart aficionado, allowing you to experience some of the best food carts in the city. If a tour isn't in your plans, you can find pods of food carts throughout town by finding a map online or even downloading an app to your phone. This will help you find all the delicious spots in town very easily, even without a tour guide.
---
10) Distillery Row
While Portland is getting famous for its microbreweries, the city is also home to a neighborhood in which many small distilleries are producing quality small-batch spirits, named Distillery Row. The neighborhood is located in Southeast Portland, and there are currently over twenty liquors being produced on Distillery Row.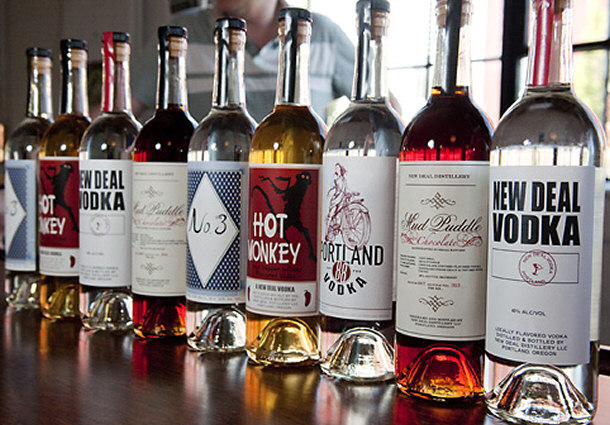 Courtesy of neighborhoodnotes.com
A Distillery Row passport is available at the distilleries themselves or online through the website. The passport allows you to tour the distilleries and sample their drinks. The website also suggests visiting local restaurants and nearby shopping venues while you're in the neighborhood.
This is a great way to spend an afternoon or evening in Portland, especially if you're interested in experiencing a unique and local attraction. The distilleries are open weekends and some additional hours during the week. So if your visiting during the weekend, make sure to coordinate your schedule with the hours of the distilleries that interest you the most.
---
---
9) Hiking
It's difficult to think of Oregon without thinking of its beautiful natural surroundings and outdoor activities. If venturing into the great outdoors is on your list for Portland, then taking a hike should be at the top of that activity list.
Hiking Beacon Rock in Portland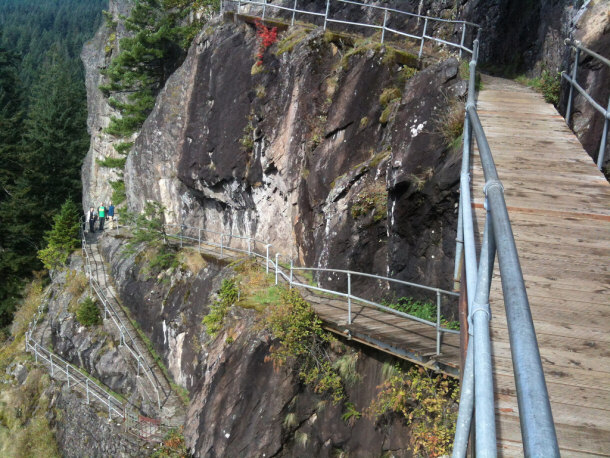 If you're traveling to Portland by air, then camping can be a great option for you. Hiking will allow you to keep your packing needs to a minimum and prevent you from needing to rent any additional equipment while on vacation, whether it be a kayak or a bicycle. There are many places to hike in Portland, and the trails vary in difficulty (easy, moderate, or difficult). You can find hikes that perfectly juxtapose beautiful wildflowers against stunning waterfalls.
The Multnomah Falls Lodge - Multnomah Country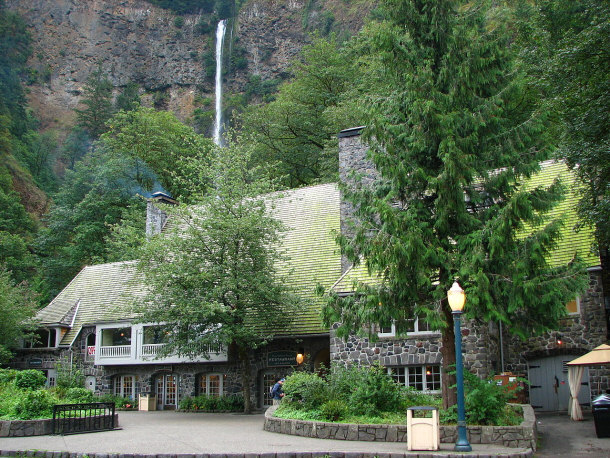 By Werewombat via Wikimedia Commons
If photography is one of your hobbies, look for a trail that will give you plenty of overlooks and particularly beautiful scenery. There are hiking clubs in Portland, as well as guided tours you can pay for. Getting a guide can help you get to and from your hike site and take some of the stress out of choosing one on your own.
Horse Rock Ridge near Crawfordsville, Oregon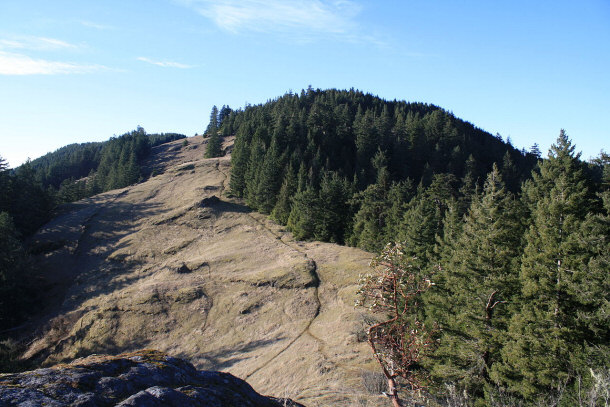 By Sword Fern via Wikimedia Commons
No matter how you choose to do it, seeing some of the natural beauty of Portland is an absolute necessity. Whether you choose a short, easy trail for nature gazing or a more difficult trail that will be sure to be much more physically demanding, Portland has a hiking experience for everyone.
---
8) Microbreweries
Like Distillery Row and its hard liquor offerings, Portland seems to be getting more and more famous for its microbreweries every single year. There are over 30 microbreweries listed on the Portland Beer website, making it very easy to plan out a mini-vacation around the different microbrew locations that are scattered around the city. Oregon ranks third in the nation for breweries per capita.
Widmer Brewing World Headquarters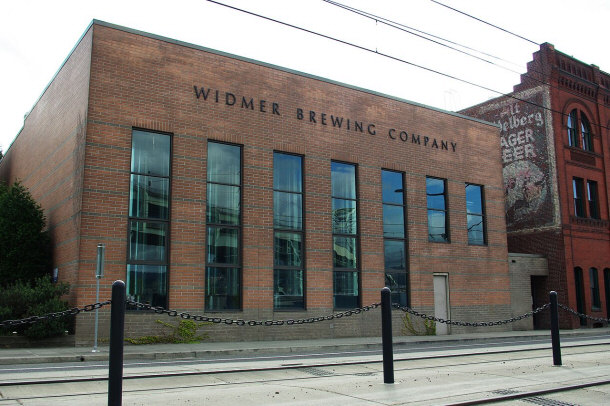 By M.O. Stevens via Wikimedia Commons
Many of them will offer tours and social tastings that pair specialty food with specific beers, so make sure to look ahead and see if there are certain brewery tastings you may be interested in. If you happen to be in Portland in June, you should definitely try to check out Portland Beer Week. This local beer festival features over 40 events at numerous locations throughout the city. Portland has received the loving nickname as "Beervana," simply because it has so many microbreweries in such a concentrated area.
Rogue and Morimoto Brands on Sale at the Saturday Market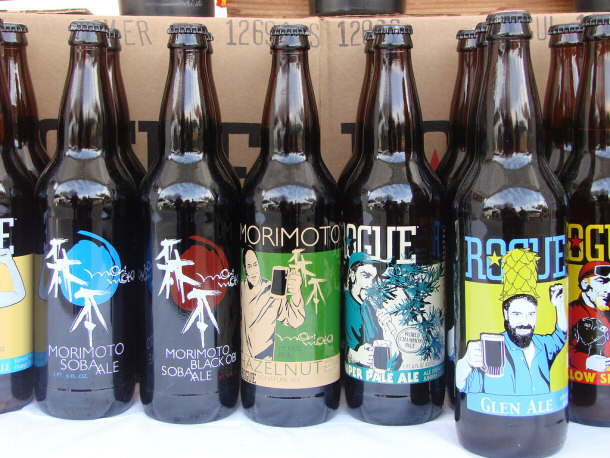 So if you're looking for the quintessential Portland experience, having some local brew as you explore Portland should definitely be on your list. If you don't want to take the time and tour the entire brewery, you can find many of the local beers in local bars. Some great bars to drink in some of the local flavor are BridgePort Brew Pub, MacTarnahan's Tap Room, or any one of the 57 McMenamins franchised craft beer ale houses.
McMenamins in Corvallis, Oregon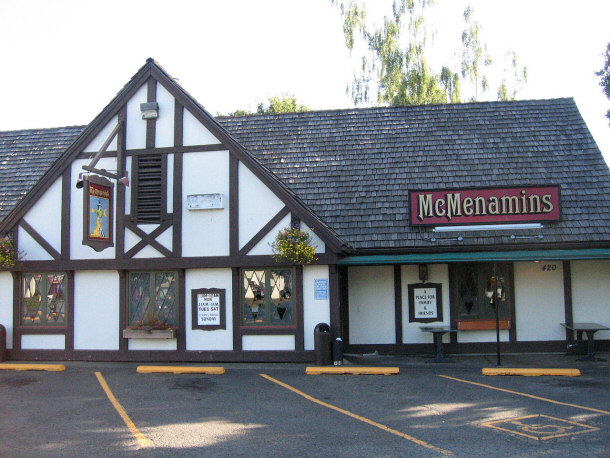 By Don Nunn via Wikimedia Commons
No matter what bar, pub, or restaurant you find yourself in, a good rule is to ask in any bar around Portland is what local beers are available. If you're unsure about what to order or are looking for some variety, ask your server or bartender for a recommendation. Then at the very least, you will have tried a Portland beer recommended by a Portland local which should really authenticate your Portland experience.
---
7) See Portland's Bridges
The Willamette River runs through the city of Portland, making it not only a beautiful city for natural wonder, but also for its architecture along the river. This includes the eight bridges that cross the river within the Portland city limits. The eight bridges are mostly around downtown and link the city together.
There is the Steel Bridge, a double-decked vertical lift bridge that is unlike any other bridge of its kind in the entire world. There is the Hawthorne Bridge, famous because it is the oldest truss bridge with a vertical lift in the country.
If photography is one of your hobbies, the bridges that make up Portland's cityscape offer a great opportunity to get some amazing shots. Visit them during the day to capture Portland's beautiful skyline, then again at night for a chance to see them all lit up against the illuminated structures that surround them. Other bridges include the Ross Island Bridge, the Marquam Bridge, the Morrison Bridge, the Burnside Bridge, the Broadway Bridge, and the Fremont Bridge.
Marquam Bridge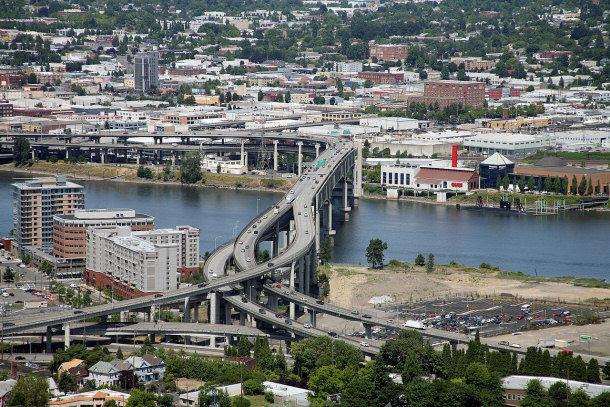 By Cacophony via Wikimedia Commons
Morrison Bridge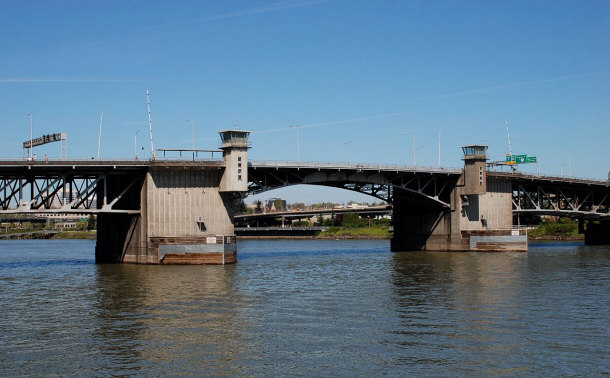 By Steve Morgan via Wikimedia Commons
Broadway Bridge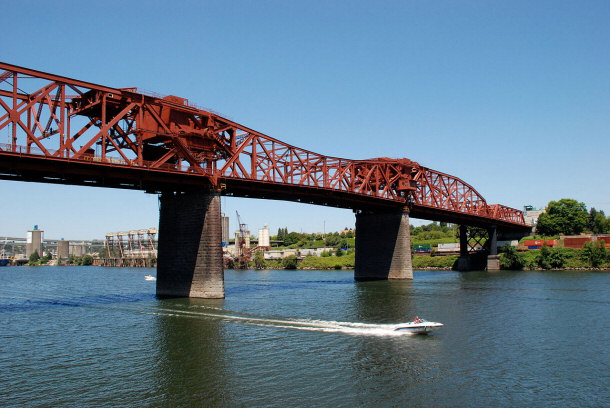 By Steve Morgan (Own work), via Wikimedia Commons
Fremont Bridge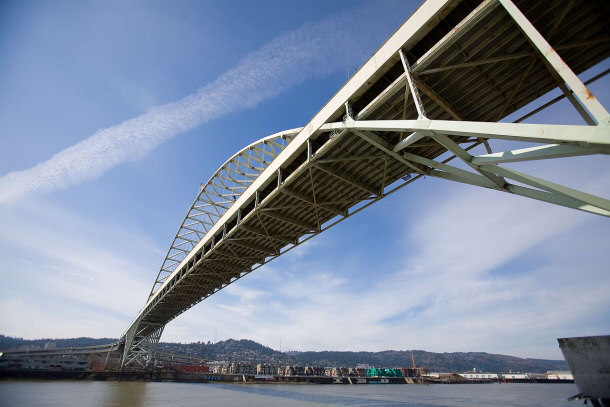 By Cacophony (Own work), via Wikimedia Commons
Even if a full bridge tour isn't on your list, you have to include seeing at least one of Portland's famous bridges while visiting.
---
6) International Rose Test Garden
Portland has been nicknamed the City of Roses, so what better way to celebrate your stay in such a place then to visit the International Rose Test Garden? As its name indicates, this is a place used to test new strands of roses.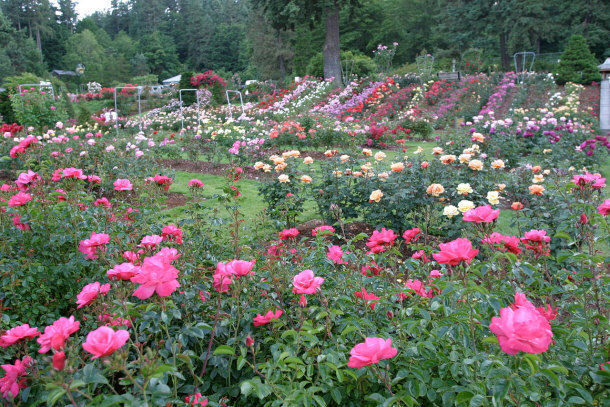 By Cacophony via Wikimedia Commons
If the concept alone wasn't interesting enough, the International Rose Test Garden is also a magnificently beautiful (and fragrant!) place to visit. The roses do not have names if they are still being tested, but rather they are assigned and identified by number. The scientific environment here will give you a piece of discovery along with the scenic sights.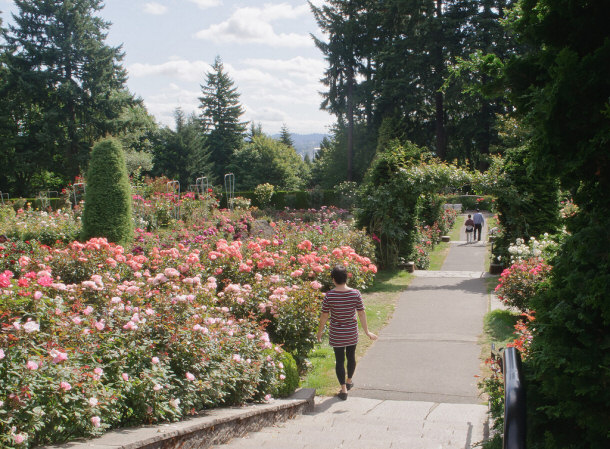 This garden, Time explains, was born of a desire to protect rose species from the bombings of World War I. The garden has been open in Portland since 1917 and now has over 7,000 rose bushes. The best time to visit is in June, though the garden is open from April through October. Admission and parking are both free.
---
5) Powell's Books
This bookstore is so huge that it's also called Powell's City of Books, because it takes up a whole city block. The store even provides maps for customers, that's how big it is. It's also the biggest independent bookstore in the world and according to Time, represents the biggest chain of independent bookstores.
Powell's City of Books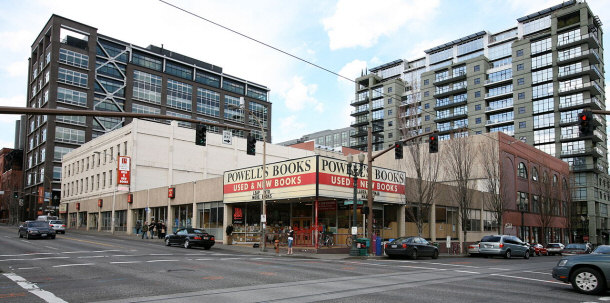 By Cacophony (Own work), via Wikimedia Commons
It all stared in Portland and this bookstore has become an institution, making it clearly one of the places you have to visit while in Portland. The store is located on Burnside Street and is open daily until from 9:00 a.m. to 11:00 p.m. There is a rare book room and you can even sell used books. While you're there, you can also see an art exhibit upstairs or, if you're lucky, catch an appearance by a noted author. Past authors who have appeared at Powell's include President Jimmy Carter, Joyce Carol Oates, and photographer Annie Leibovitz.
Author Craig Thompson at Powell's Books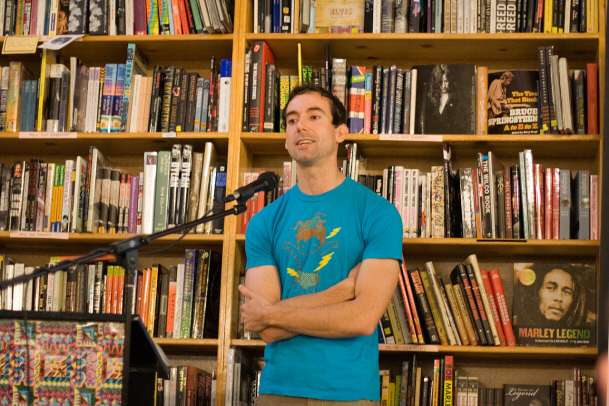 By Joshin Yamada, via Wikimedia Commons
If you're more interested in informational books, check out Powell's Technical Books which is a second building across the street from the original store. Powell's website boasts that the store has over 1,000,000 books on its shelves and that, every day, over 3,000 people come in for a cup of coffee. Be sure to stop by this iconic location that is enjoyed equally by tourists and locals. Even if you don't plan to shop for books, stop in for some coffee just to know you've been to this famous location in Portland.
---
4) See a Portland Timbers Game
If you're a sports fan and you happen to be in Portland during Major League Soccer season, you absolutely have to visit JELD-WEN Field for a Timbers game. Major League Soccer is enjoying an influx of new fans and, with an already large fanbase in Portland, the atmosphere at the stadium on game day will contribute a very exciting element to your Portland vacation.
There's also another huge reason to go to a Timbers game: Timber Joey. While most major sports teams have a mascot, the Portland Timbers have taken things to a new level. Portland recognizes its logging heritage by naming their team the Timbers and by having a mascot who is a lumberjack. This tradition started in the 1970s when the Timbers were part of the North American Soccer League and has continued with their entry into Major League Soccer. Try to root for the home team to enhance your vacation in Portland. It will soon feel that you are a local and not just another tourist while you are at the game. Timber Joey is on the sidelines of every home match with a giant tree log.
Timber Joey's Log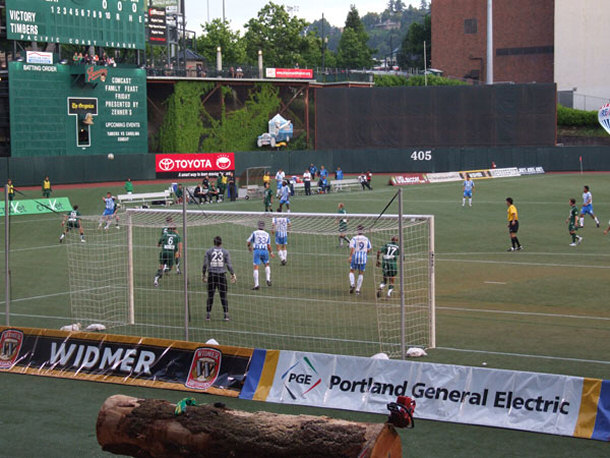 By Living in London via Wikimedia Commons
When the Timbers score a goal, Timber Joey cranks up his chainsaw and cuts off a piece of the log. After the match, he presents the piece of the log to the player who scored the goal. It's quite a sight to behold, so make sure you stop in for the fun and excitement of a Timbers match and hope that you get to see Timber Joey's iconic goal celebration in person!
---
3) Voodoo Donut
If you plan to visit only one restaurant while you're in Portland, make sure to visit Voodoo Donut. This famous Portland establishment offers not only donuts but also hosts weddings. So if you have a non-traditional ceremony in mind, then Voodoo Donut may be the place to have your wedding.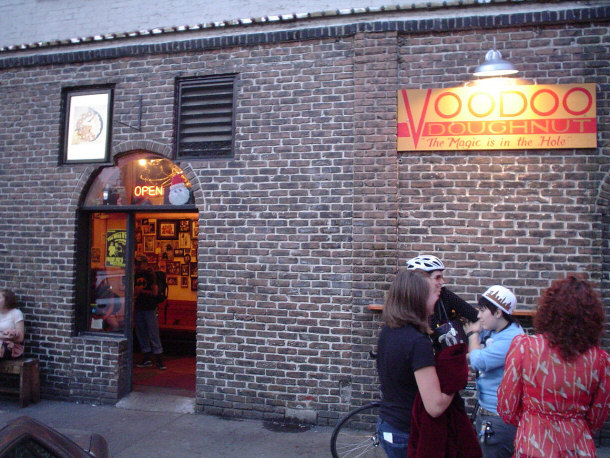 A non-legal wedding without coffee or donuts is $25.00, but you can get married legally and have donuts and coffee thrown in if you're willing to pay a bit more ($325.00 for a six person group). Even if you have no plans for donut-themed nuptials, you have to make this one of your stops. Sample one of their legendary pastries like the Bacon Maple bar, which features maple frosting and bacon.
Bacon Maple Bar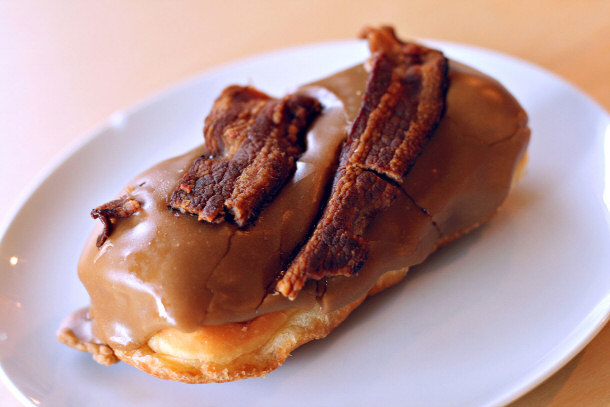 By Mike McCune via Wikimedia Commons
The Voodoo Doll donut is another interesting offering, and is shaped like a voodoo doll that is filled with raspberry jelly, complete with a pretzel stick right through its heart. There are also more traditional donuts available, such as the Portland Cream donut.
"Captain my Captain" Doughnut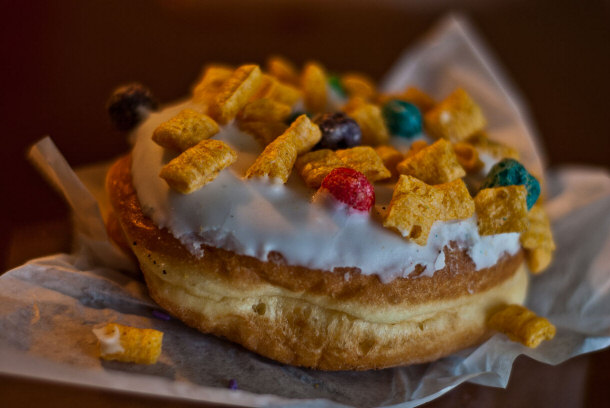 By Kevin Galens via Wikimedia Commons
All locations are open 24 hours so there's no excuse to miss out on this sugary, Portland staple.
---
2) Forest Park
Even if getting out in the outdoors either to do some hiking or kayaking isn't on your agenda, one of the top places to visit while you are in the city is Forest Park. Located in the west part of Portland, the park is a haven for locals and is easily accessible no matter what your means of transportation may be while you're visiting Portland. It overlooks the Willamette River and, according to Time, has more than 70 miles of trails making it the biggest wooded park in the country.
Wildwood Trail - Forest Park, Portland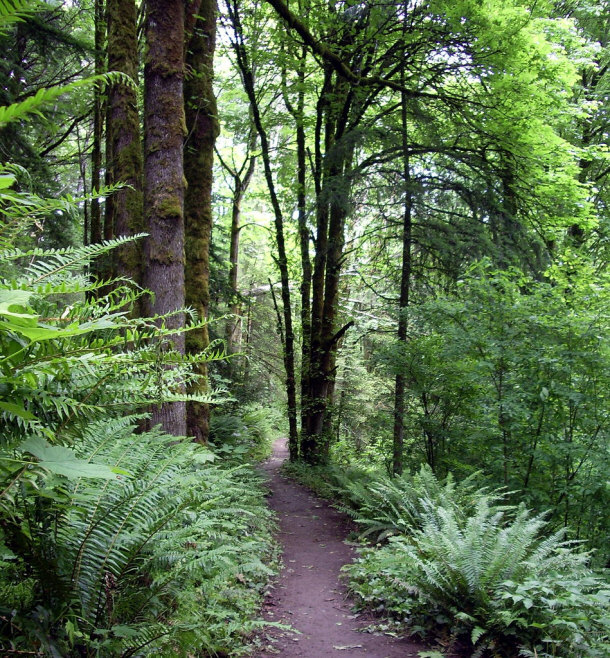 By EncMstr via Wikimedia Commons
You can visit Forest Park for a casual stroll or, for a more in-depth experience, check out one of the many hiking or walking trails. The park's website explains that it is in the Western Hemlock zone, meaning that it has three different types of coniferous trees and works hard to maintain the plants that are natural to a Western Hemlock zone. Things to do in the park apart from taking in the amazing natural scenery, are hiking, running, walking, or mountain biking.
View from Leif Erikson Drive - Forest Park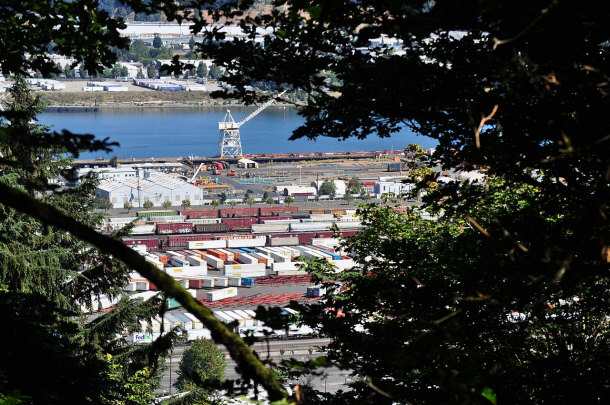 Joe Mabel, via Wikimedia Commons
To experience the amazing greenery that Portland has to offer, this is a great way to see the beautiful trees of Oregon without having to leave the comfort of the city. There is even a hiking trail that ends at Pittock Mansion, a beautiful and majestic home that, according to its website, was built by Portlandian Henry Pittock and his wife Georgiana in 1914.
Pittock Mansion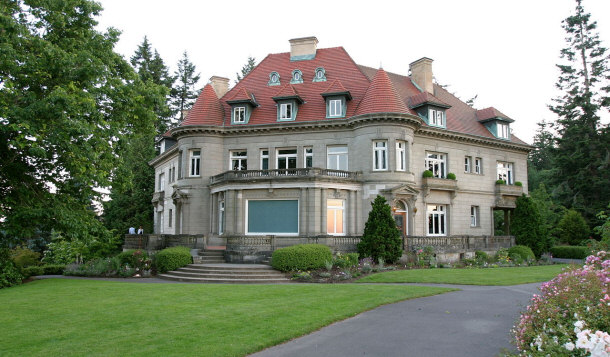 By Cacophony via Wikimedia Commons
This is an excellent way to combine a view of Portland's amazing natural scenery with one of its most famous architectural highlights.
---
1) See the City on a Bicycle Tour
The best thing to do in Portland is to see Portland. While you're there, you'll want to be sure you fully take in the Willamette River, the beautiful eight downtown bridges, and the sights and sounds of the city itself. Since more and six percent of Portland locals use bikes to commute every day, a bike tour is the best way to see all of Portland like a true resident.
If you have flown into the city, renting a bike can be a great way to get around for the day and ensure you see many of the famous attractions in Portland. There are plenty of companies that rent bicycles and offer bike tours of the city. Depending on your agenda, you can book a bike tour of downtown Portland and extend it all the way to the Columbia Gorge Highway.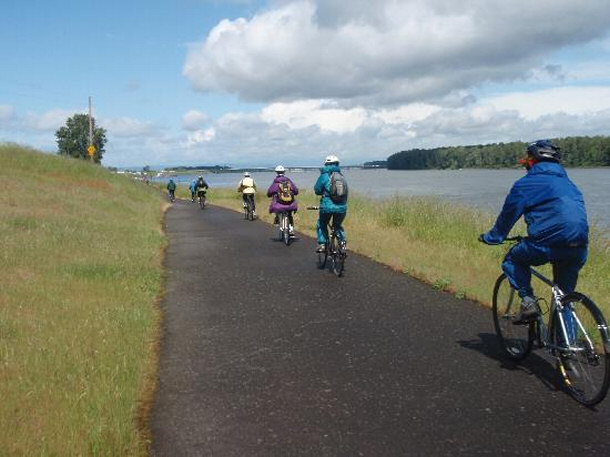 Courtesy of viator.com
There are even brewery bike tours available. Even if you don't want to take a tour, you can rent a bike and then go your own way, using maps or apps or just your sense of direction. Sometimes the best way to see a city is to get lost in it and with all that Portland has to offer.
Brewcycle Portland Brewery Tour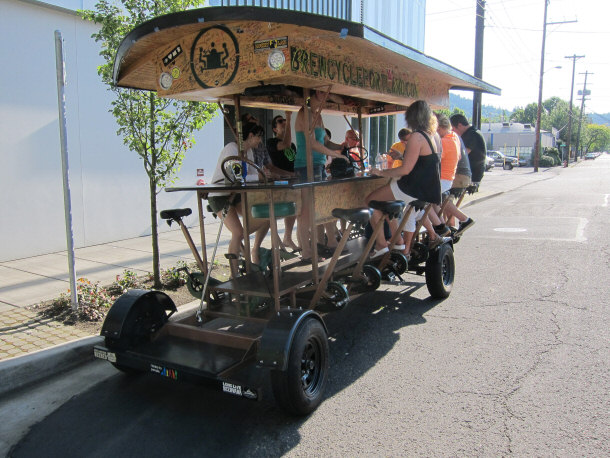 Courtesy of thefitworldtraveler.com
By taking a ride around town on a bike to see where the day takes you, could just be your best day in this gorgeous city yet!
---
Conclusion
No matter what you decide to do, Portland certainly has something to offer for everyone. From the beautiful gardens to the excellent opportunities for outdoor activities, Portland has plenty of things to do if you want to enjoy nature. If you're more interested in food, drink, and culture, be sure to check out the microbreweries or distilleries and other great food options. Most of all get ready to experience beautiful surroundings in city that is both fun and vibrant. If you want to do some research before your trip, you'll be able to make sure all the exhibits and tours you want to experience are available and probably even get lower prices. If you'd prefer a laid-back approach, there will still be plenty to do if you choose to wander the city at your own pace without a pre-determined plan. In fact, roaming around without a plan will put you in the correct mindset for experiencing Portland like a native Portlandian.
Vacation Destinations
Top Lists:
Top 15 Interesting Places to Visit in the Bahamas
Top 15 Fun Things to Do in Miami, Florida
Top 15 Fun Things to Do in Chicago
Top 15 Best Unknown Things to do in Las Vegas
Top 15 Fun Things to Do in Hollywood
Top 10 Best Places to Visit in Turkey
The Top 15 Best Things to Do and See in Sydney
Top 10 Things to Do in Edinburgh
Top 10 Things to do on Oʻahu
Top 15 Things to Do in Albuquerque
Top 15 Interesting Places to Visit in Spain
Top 15 Places to Visit in New York City
Top 15 Things to Do in Portland Oregon
Top 15 Things to do in Greece
Top 15 Places to Visit in Houston Texas
Top 15 Interesting & Safe Places to Visit in Mexico
Top 15 Interesting Places to Visit in the Netherlands
Top 15 Interesting Places to Visit in Thailand
Top 15 Interesting Places to Visit in Switzerland
Top 15 Interesting Places to Visit in Portugal
Top 15 Places to Visit in San Francisco
Top 15 Interesting Places to Visit in Shanghai
Top 15 Interesting Places to Visit in Puerto Rico
Top 15 Interesting Places to Visit in Norway
Top 15 Interesting Places to Visit in Las Vegas
Top 15 Interesting Places to Visit in Jamaica
Top 15 Interesting Places to Visit in Croatia
Top 15 Interesting Places to Visit in Belgium
Top 15 Interesting Places to Visit in Bangkok
Top 15 Things to Do in Rio de Janeiro
Top 15 Things to Do in Monaco
Top 15 Interesting Places to Visit in Dubai
Top 15 Interesting Places to Visit in Amsterdam
Top 15 Things to Do in New Zealand
Top 15 Interesting Places to Visit in Paris
Top 15 Interesting Places to Visit in Italy
Top 15 Interesting Places to Visit in Singapore
Top 15 Most Interesting Places to Visit in Berlin
Top 15 Best London Attractions
15 Little Known Facts About New York City
Disney World Articles
Top 15 Disney World Rides for Adults
Top 15 Disney World Rides for Kids
Top 15 Disney World Resorts for Adults
Top 15 Disney World Resorts for Kids
15 Fascinating Facts About Disney World
Top 15 Fun Things to Do at Disney World's Animal Kingdom
Top 15 Fun Things to Do at Disney's Hollywood Studios
Top 15 Fun Things to Do at Disney World's Epcot
Top 15 Fun Things to Do at Disney World's Magic Kingdom

Shorter Top Lists:
Top 10 Tourist Attractions in San Diego
Top 10 Tourist Attractions In India
Top 10 Things to Do In Kansas City
5 Places You Should not Miss in Brazil
Top 5 Things to do in New York City

Informational:
Best Tourist Attractions In Vietnam
Taking in the Sights in Shanghai
Top Tourist Attractions in Perth, Australia
Nice places to visit while in Great Britain
Sampling the Foods at the Night Markets in Taipei
What to do for a Kenya Vacation
Best Attractions in Victoria, B.C.
Photos of the Luxor Hotel in Las Vegas