Top 15 Interesting Places to Visit in Portugal
Rossio Square in old downtown Lisbon, Portugal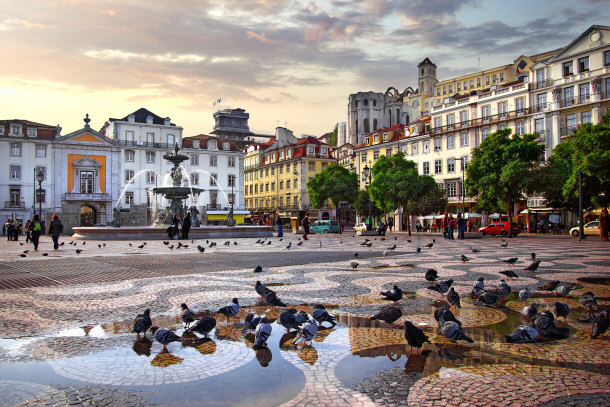 Portugal is a country filled with historical significance, but it's also a great vacation spot. Who knew? You can explore extremely old churches, monuments, and castles that have many stories and interesting facts about history to offer. Climb to the top of buildings to get amazing views of Portugal's modern and traditional cities. What if all you want to do is relax on the beach and take in the sun? Portugal has you covered with islands in the Algarve. That might be where you want to go if "interesting" means getting a tan and shopping for local goods made only in Lagos. Places to stay are really unique, too - you could even stay the night in a castle or former monastery! Portugal is also home to the largest aquarium in Europe, great shopping, and beautiful views of nature.
Dona Ana Beach - Algarve Coast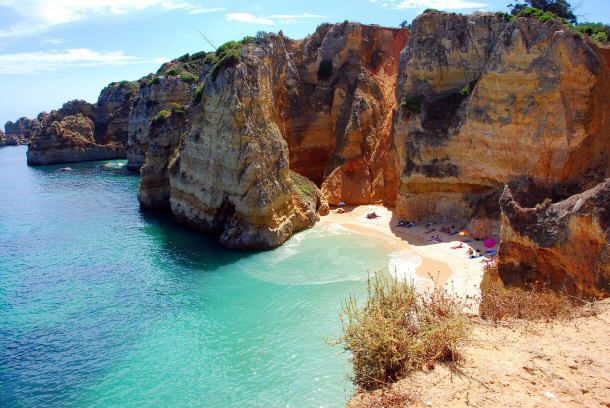 Take the time to consider these fifteen places to visit while you plan your vacation to Portugal.
---
15) Fatima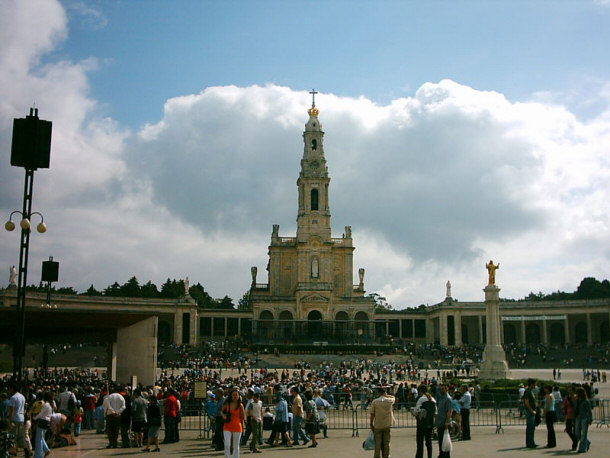 By Juntas, via Wikimedia Commons
Fatima is a spot where many Roman Catholics pilgrimage to, a shrine to a holy event in history. Many venture out to Fatima because it is said to be the place where three very young shepherd children, Lucia Santos and her two cousins, Jacinta and Francisco Marto, are said to have seen the Virgin Mary on May 13, 1917.
Lucia Santos (left) and Her Two Cousins, Jacinta and Francisco Marto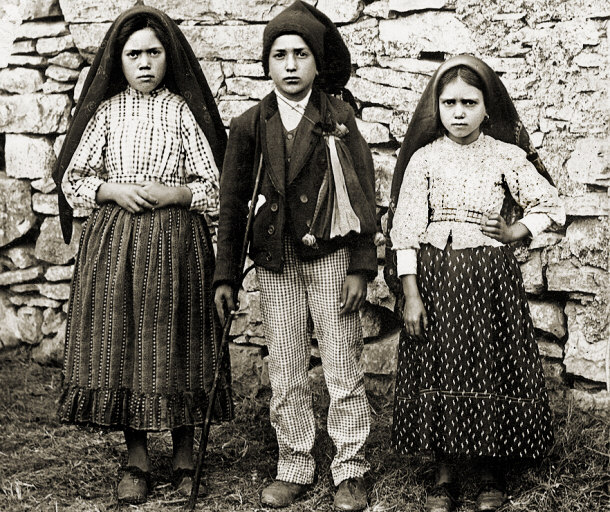 Our Lady Fatima, or Our Lady of the Rosary Fatima, is a title of the Virgin Mary because of the sighting in Fatima, Portugal. The apparitions in Fatima were said to be "worthy of belief" in an official fashion at the time by the Catholic Church. The event was known as the "Miracle of the Sun", because the sight of the Virgin Mary is said to be like "a lady brighter than the sun". Annual pilgrimages occur around mid-May and mid-October every year, where crowds of several hundred thousand gather. Many walk on foot from around all of Portugal to be part of this major faith-based ritual. Due to the popularity of this small village, some parts of the place can be touristy, but if your faith in the story of Our Lady of the Rosary Fatima compels you to make a pilgrimage, it's an obvious must-see in Portugal.
The small village of Fatima is about 76 miles north of Lisbon, and is part of the Ourém Municipality in Portugal.
---
14) Braga
Braga is a city in Portugal that is home to major baroque monuments. The center of town is old and traditional, while the outlying part of Braga is new and more industrial. Praça da Republica, the main square, connects both parts of this city. Braga is easy to walk around, so you can tour the cathedrals on a leisurely day trip from the major city of Porto. For example. Bom Jesus Sanctuary or Bom Jesus do Monte (meaning Good Jesus of the Mount) is a must see in Braga, featuring a baroque stairway. Each segment of the stairway is dedicated to the five senses.
The intricate stairway forms a zigzag pattern. There are also four baroque fountains dating back to around the 1760s. Spend a relaxing day exploring this city, and enjoying the many things that will most likely catch your attention like the architecture of the Raio Palace.
Braga is an excellent destination for any tourist who enjoys a good ramble through historic architecture, and see the contrast of the old and modern world.
---
13) Aveiro
Aveiro is a romantic, laid-back town in Beiras, perfect for visiting a beach and strolling by a canal. Think Venice! Explore Art Nouveau mansions and take a two hour boat trip on the Aveiro Lagoon. Relax on the Peninsula de São Jacinto beaches and spot the candy striped houses in Cosa Nova.
Aveiro is famous for its colorful boats that harvest seaweed; make sure to bring your camera for some unforgettable shots! Also, thousands of students come to Aveiro to attend the University of Aveiro, so there are many activities designed to appeal to the young and active crowd. Aveiro is also known for its sweets, such as trouxas de ovos, made from eggs.
Aveiro Train Station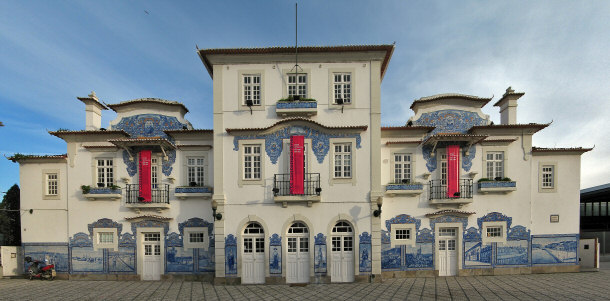 By Merops via Wikimedia Commons
All in all, Aveiro is a cute, easy place to visit and explore with many fun and interesting attractions.
---
12) Estremoz
Estremoz is a small town in Alentejo where you can stay in a castle, and not just in any castle. Estremoz is known as one of the "marble towns" of Portugal. In Portugal, many old buildings with no current use (such as abandoned castles or convents) have been converted into pousadas, or hotels. Some of the pousadas focus on totally luxury experiences juxtaposed against the ancient architecture. Pretty neat, right? Hotel Pousada De Estremoz is one of Portugal's best pousadas. The castle was originally built in 1258 and was the home of King Dinis and his wife Queen Saint Isabel around the early 1300s.
View of Estremoz and its castle uphill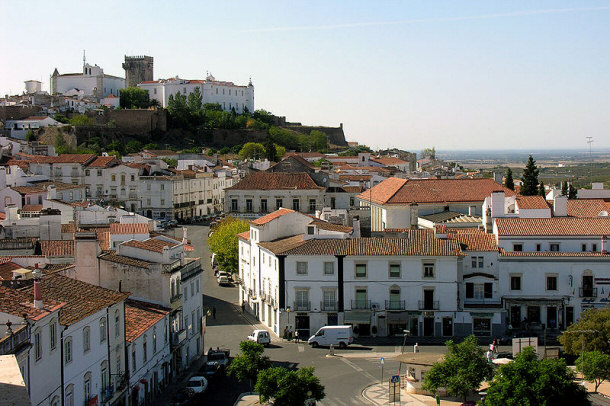 By PhillipC , via Wikimedia Commons
Estremoz Castle and Keep Tower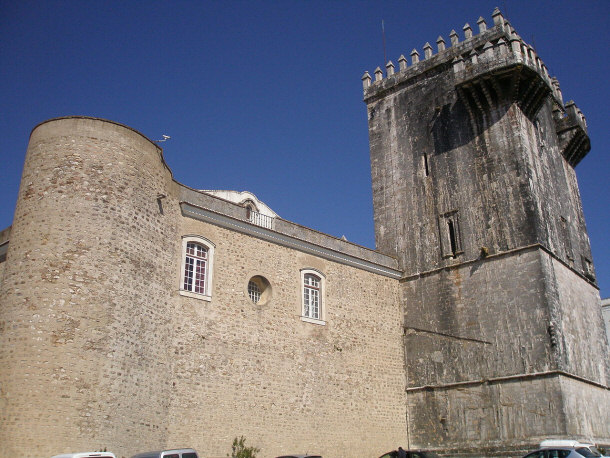 By Javier Habladorcito from Gijón, Spain (Estremoz) [CC-BY-2.0], via Wikimedia Commons
While you are here, check out the chapel dedicated to Queen Saint Isabel and read the story of Miracle of the Roses. Saint Isabel's story is short and mostly sweet. She wasn't allowed to provide food for the poor, so she would hide the food in her clothes. One day she was searched, but instead of food, all they found were roses. You can see a statue made of marble depicting the queen on the castle terrace. Shopping can be found in the lower part of town, with a bustling marketplace.
Statue of Queen Isabel - Queen of Portugal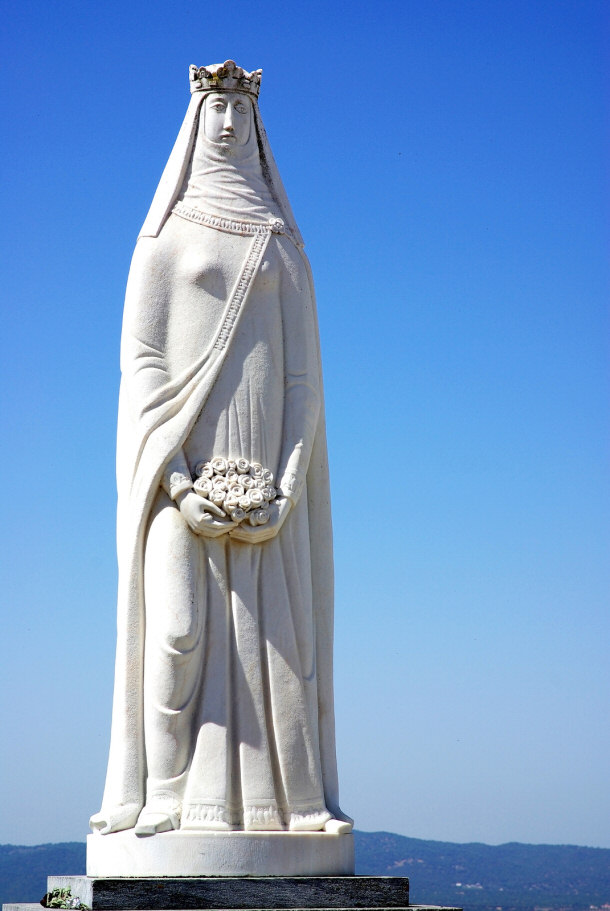 Go on a Saturday for a chance to shop at the local markets and pick up a piece of locally made pottery. If you'd rather look than buy, step into the Rural Museum for a look at local artifacts. There are plenty of things to do during a visit to Estremoz.
---
11) Evora
Evora is very old in the best possible way. Romans created the Temple of Diana, which dates back to the second century. The temple is a very well preserved monument, with 14 Corinthian granite columns.
Walking through the town you can tell there is Moorish influence. Between the whitewashed houses and winding alleyways, Evora can be a fun place to wander around and discover some history and monuments along the way.
Colorful Houses of Evora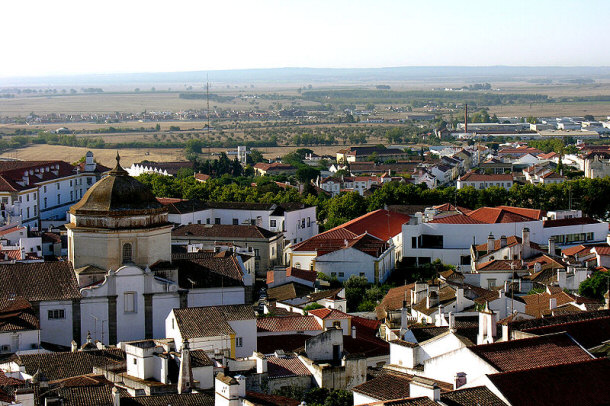 By FlickreviewR, via Wikimedia Commons
You can also see the towers of the Lisbon Cathedral from Evora. Take a chance to see the Cromlech of Almendres, known as the Portuguese Stonehenge. It dates back to somewhere between 4000 and 2000 BCE, and consists of nearly a hundred huge stones of granite. If you look closely you might find some stones engraved with mysterious markings, possibly relating to ancient cults.
If that piques your interest you can also get free tours of the nearby Cave of Escoural, a cave with very, very old charcoal sketches of animals, including horses. Evora features include olive groves, vineyards, and the Capela dos Ossos, or the Chapel of Bones, a creepy chapel made of the bones of thousands of the deceased.
Detail of the Wall in the Chapel of Bones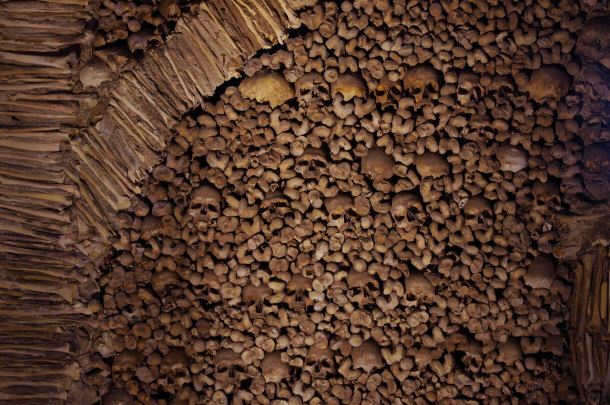 By Ken & Nyetta [CC-BY-2.0], via Wikimedia Commons
According to Portugal Holidays, the interior of the chapel is covered in skulls and bones, and the entrance warns "Nós ossos que aqui estamos pelos vossos esperamos", which translates to "We, the bones that are here, await yours." "Melior est die mortis die nativitatis" or "Better is the day of death than the day of birth" is written at the roof of the chapel. A visit there clearly may not be for everyone, but some may find a stop to the Chapel of Bones intriguing. Evora is about a two hour bus ride away from Lisbon.
---
10) Beja
Beja is a lovely little town with whitewashed houses and a tragically romantic history. Hotel Pousada de Beja is a former monastery that has been converted into a pousada you can use for an overnight stay if you're not just passing through on your way to the islands of Algarve. However, the main attraction (so to speak) of Beja is the romantic and passionate real-life love story set there.
Beja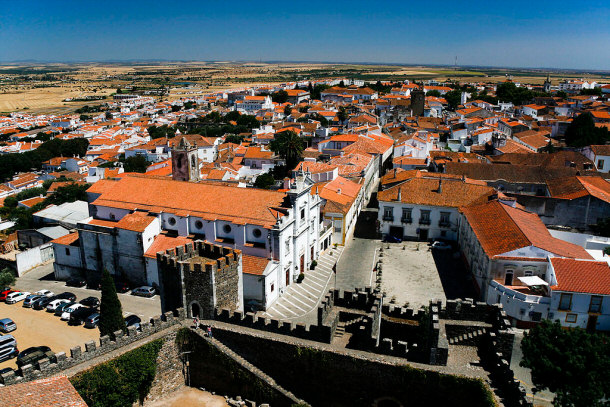 By Digitalsignal via Wikimedia Commons
The story goes that a French count seduced a nun living in the Nossa Senhora da Conceição Convent, and then left town never to return. The nun in question wrote five letters to the count, which were eventually published in Paris and then translated into English. The story of Five Love Letters of a Portuguese Nun is a beautiful work that has made Beja famous and draws many people to the region. The 15th century convent the nun lived at is now the Regional Museum, where you can take a look at the magnificent painted ceiling and 16th century tile art. Make sure to also check out the Visigothic Basilica of Santo Amaro, with structures that date back to the 6th century.
---
---
9) Sintra
Want to explore a fairytale palace? Look no further than Sintra. The Romans named the place after Cynthia, the goddess of the moon. In the 18th century, the poet Lord Byron visited and wrote that it was "perhaps in every respect the most delightful town in Europe". He wasn't wrong. Wealthy royals also loved Sintra, choosing it as a preferred place to build mansions and villas. The National Palace dates to the 14th Century, and features azulejos (colored tiles), major banquet halls decorated in swans, a kitchen to cater to a thousand, and interior courtyards.
The other palace you must add to your list of places to visit is Pena Palace. Created around the 1840s, Pena Palace is just how you would imagine a castle to be, with a drawbridge, ramparts, and an amazing ballroom.
Explore magical Pena Park, with its black swans, exotic plants, and old villas. Pena Palace and National Palace are only a couple of the many palaces and castles in Sintra. Architecture aficionados and romantics alike can easily spend hours, if not days, exploring all the places to visit in Sintra. The train ride to Sintra is about 40 minutes from Lisbon.
---
8) Porto
Porto, or Oporto in English, is the second-largest city in Portugal. One of the particular things to check out in Porto is the port wine, since the entire city is named after it! Port wine is one of Portugal's most famous exports.
You can get a guided tour of the wine cellars of Sandeman and buy very expensive (and old) port if that's what you like. Or you could stay at a "luxury wine hotel" called The Yeatman, which has an impressive collection of Portuguese wines to tempt as well as treat your palate.
If port isn't your thing, take a tram car along the Douro River, starting near Praça do Infante square, and tour the city very inexpensively. Another great money saving but still fancy option, is to stay at the Gallery Hostel, a so-called luxury hostel that features a cinema, lounge, a library, a garden, karaoke, and wine tastings.
---
7) Castelo de Vide
Castelo de Vide is a beautiful town near Lisbon, a mountain village in Alentejo. The sunsets are gorgeous, and the Castelo de Vide is in one of the warmest parts of Portugal. The Castelo de Vide is a castle on a mound, and you can walk around all you like for free.
Castelo de Vide - Alentejo, Portugal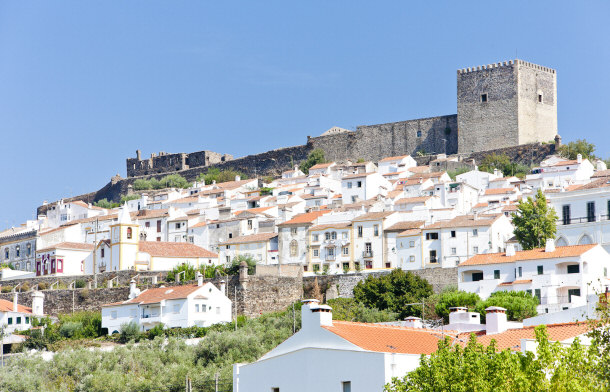 The area seems like it's from another time, with Gothic doorways and buildings preserved so that they remain the way they were ages ago. Castelo de Vida is home to the oldest synagogue in Portugal. Those of Jewish heritage might be interested in visiting it. The synagogue is in the Jewish Quarter, and there's a Renaissance fountain nearby.
Marble Fountain at Castelo de Vida Village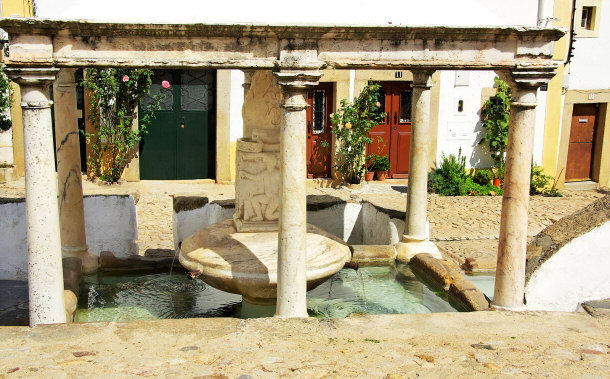 In the main square you can see Baroque buildings and churches. Put on your good walking shoes and prepare to spend a fascinating day meandering around this picturesque mountain village.
---
6) Lagos and the Algarve
Lagos is a city in the southern part of Portugal in the Algarve, near the coast of the Atlantic Ocean. It's a perfect place to go on vacation because it's cheap, pretty, and most people at the hotels in Lagos speak English. Lagos is known for its beaches, coves, and grottos. You can visit big, sandy public beaches or travel to private ones. With over 100 beaches altogether in the entire Algarve, you won't easily run out of sand and shore to explore.
There are major resorts, but also smaller, more zen places to stay. Nature is abundant including mountains like Monchique Mountain, and there are more than 30 hiking trails in the Algarve. Companies like The Mountain Bike Adventure provide guided mountain bike rides with breathtaking views of the local, natural scenery. Kayaks can be rented in the summer and boat tours of the grottos are also available.
Lagos in particular as well as most of the region of southern Portugal, is known for its ceramics, so make sure to stop in a shop and see what the artisans have to offer. A beautiful handmade dish would make a great souvenir or gift. Lagos is actually famous for its cork; believe it or not, Portugal produces the most cork in the world! In Lagos, check out shoes, handbags, and even hats made out of cork. Bars in Lagos tend to cater to young backpackers, and this can be a fun scene. Make sure to try a classic and traditional Algarve drink, Medronho, or fire water. There is also a large youth hostel, so staying in Lagos doesn't have to be expensive.
---
5) Azores
Azores are a series of islands that are part of Portugal. At Pico Island, you can climb the highest mountain in all of Portugal, 2351 meters above sea level. Most marinas have whale and dolphin watching, and you can go out on a boat and get about 10 feet from a whale! You can fish and dive, watch birds, and buy tea. Azores happens to produce tea, and is the only part of Europe that does so.
Make sure to take the time to enjoy a leisurely cup of the local brew while you are there. Pico Island is also home to the largest man-made salt-water pool. Visit the vineyards on Corvo, and watch out for the running of the bulls.
---
4) Oceanario de Lisboa
The Lisbon Oceanarium is the biggest indoor aquarium in all of Europe. The Oceanario de Lisboa has a massive collection of species, with approximately 8,000 fish and sea mammals. The main tank is as big as four Olympic swimming pools. There's an arctic tank with penguins, a pacific tank with otters, and there are smaller tanks with tropical fish. Sharks, barracudas, and moray eels are some of the other creatures you could find in The Lisbon Oceanarium.
Oceanario de Lisboa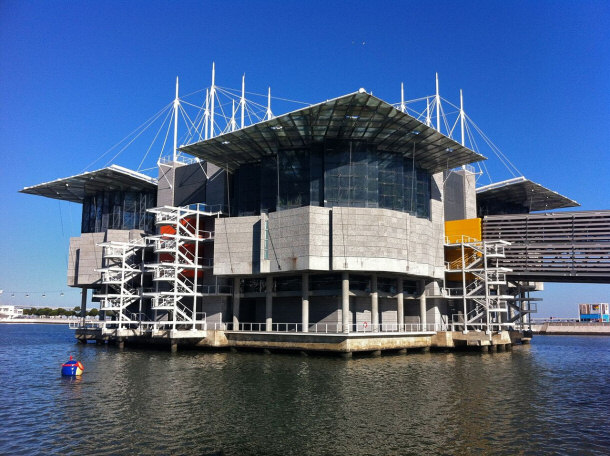 By Ravi Sarma (Oceanário de Lisboa - 45Uploaded by tm) [CC-BY-2.0], via Wikimedia Commons
Spider crabs, yellow puffer fish and large sunfish attract crowds here, too. The building of the aquarium was designed by Peter Chermayeff and resembles a large aircraft carrier. This is a great location to bring the whole family, and kids are sure to enjoy all the fun things to do. If you need a break from outings in historic towns, this may just be the attraction you're looking for.
---
3) Castle of St. George
Saint George's castle is very old, with some portions dating back to the sixth century. It's dedicated to the patron saint of England. Parts of the castle have been destroyed due to the Great Earthquake, but it still has extensive walls and 18 towers. There are amazing views of the city of Lisbon from the Castle of St. George, and you can also visit the gardens to relax and observe local peacocks and geese. One of the towers in the castle, the tower of Ulysses, has Câmara Escura - the perfect place to get a really good look at all the cityscape has to offer. Be sure to bring your camera so you can take some truly breathtaking pictures.
Castle of St. George, Lisbon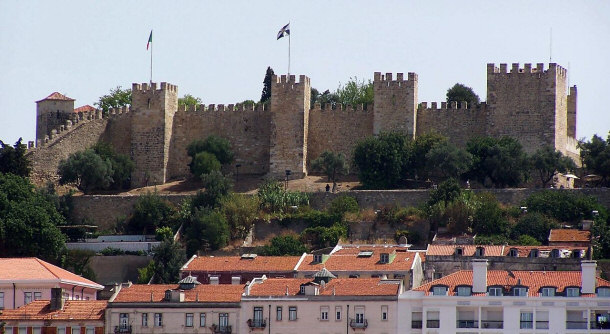 By Fulviusbsas via Wikimedia Commons
The castle is in Alfama, home of winding medieval alleys with a solid foundation of bedrock that survived the earthquake. Visit the amazing views from the castle and then get lost on the nearby streets of Alfama. Alfama is also home to some very unique hotels and even more modern developments. Make sure you have plenty of time to linger and explore, as you are sure to find many things to pique your interest.
---
2) Baixa
In Lisbon, Portugal, Baixa is the perfect place to do some shopping and go to a cafe in the very heart of the city. It was rebuilt entirely after its destruction from an earthquake in 1755, and the rebuilding effort was driven forward by the dictatorial minister, the Marquês de Pombal. It is technically Europe's first example of urban planning with pedestrian streets, and it serves as Lisbon's main shopping and banking district.
Sao Jorge Castle and Overlook of Baixa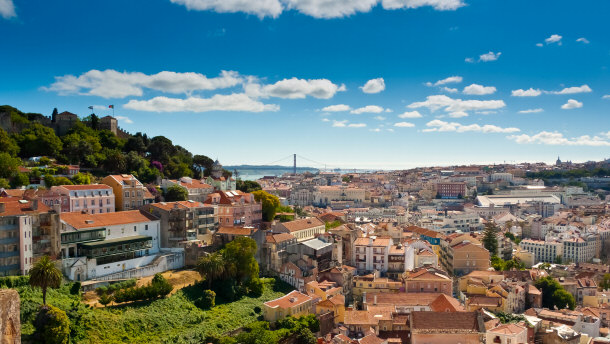 Baixa a good place to meet, or even stay, in Lisbon because it's central to everything and there are hotels, restaurants and easy transportation to wherever you want to go in the city. Make sure to check out the mosaic pavements and City Hall palace. New Year's Eve festivities are held in the square in Baixa. History was less kind to royals in the square, King Carlos I and his eldest son meeting their end by gunshot in 1908 on that very spot to make way for the Republic two years after that.
Streets on the grid in Baixa are named after trades and skills, like Rua dos Sapateiros or Cobblers' Street, and Rua da Prata or Silversmiths' Street. Trade shops like these aren't around anymore, but you can check out the Art Deco shop fronts where they used to sell their wares. See if you can spot any modern shopkeepers taking advantage of the history of their locations. You may be surprised by the unique treasures you can find.
Baixa is also where the Santa Justa Elevator is, which is a major Lisbon landmark. The elevator is 147 feet high and is Neo-Gothic in design. You can also climb a spiral staircase to get to the top and overlook Rossio Square and the Castle of St. George. The Nicola Café in Rossio Square is a great location to people-watch or meet up with friends or family.
The city's biggest park is in Baxia, Edward VII Park. The park is obviously named after Britain's Edward VII. There's a hot house with exotic plants and a greenhouse with tropical plants, palms, and cacti. On the east side of the park, a monument stands for Carlos Lopes who was a Portuguese Olympic medal winning athlete.
---
1) Lisbon
Lisbon is where it all happens in Portugal. Lisbon is the capital of Portugal and is located by the sea. It's relatively small, but compact and very interesting. It's also affordable; officially, it is Western Europe's cheapest capital. The climate is mild and it's the closest European capital to the United States, making it an easy travel destination for Americans.
The city features remnants from other civilizations, including the Phoenicians, Celts, Romans, Visigoths, and Moors. The history in Lisbon is rich and varied. If you're looking for more recent history, check out the vintage trams. Stand on virtually any tall building to get a good view of the medieval villages and castles that surround Lisbon.
Lisbon has nightlife, the fanciest club of which is called "Lux" and is owned in part by John Malkovich. There are even 1920's style jazz bars. Nightlife also includes classical music, plays, and a local opera house. There's shopping, museums, and beaches, not to mention numerous churches and cathedrals.
---
Conclusion
There are a variety of cities and towns in Portugal that might surprise you. Porto is a scenic and cosmopolitan area to explore, and it's not just about port as the name might suggest! The activities available in Lisbon vary from shopping in Baixa, clubbing, or visiting a huge oceanarium. History is a major focus, and sites of churches, synagogues, castles, chapels, and marinas could be romantic, educational, spiritual, or even creepy. And there are many more in the rest of Portugal, too. Pretty views, interesting history, fun activities for everyone, Portugal has everything you need for a great vacation.
Vacation Destinations
Top Lists:
Top 15 Interesting Places to Visit in the Bahamas
Top 15 Fun Things to Do in Miami, Florida
Top 15 Fun Things to Do in Chicago
Top 15 Best Unknown Things to do in Las Vegas
Top 15 Fun Things to Do in Hollywood
Top 10 Best Places to Visit in Turkey
The Top 15 Best Things to Do and See in Sydney
Top 10 Things to Do in Edinburgh
Top 10 Things to do on Oʻahu
Top 15 Things to Do in Albuquerque
Top 15 Interesting Places to Visit in Spain
Top 15 Places to Visit in New York City
Top 15 Things to Do in Portland Oregon
Top 15 Things to do in Greece
Top 15 Places to Visit in Houston Texas
Top 15 Interesting & Safe Places to Visit in Mexico
Top 15 Interesting Places to Visit in the Netherlands
Top 15 Interesting Places to Visit in Thailand
Top 15 Interesting Places to Visit in Switzerland
Top 15 Interesting Places to Visit in Portugal
Top 15 Places to Visit in San Francisco
Top 15 Interesting Places to Visit in Shanghai
Top 15 Interesting Places to Visit in Puerto Rico
Top 15 Interesting Places to Visit in Norway
Top 15 Interesting Places to Visit in Las Vegas
Top 15 Interesting Places to Visit in Jamaica
Top 15 Interesting Places to Visit in Croatia
Top 15 Interesting Places to Visit in Belgium
Top 15 Interesting Places to Visit in Bangkok
Top 15 Things to Do in Rio de Janeiro
Top 15 Things to Do in Monaco
Top 15 Interesting Places to Visit in Dubai
Top 15 Interesting Places to Visit in Amsterdam
Top 15 Things to Do in New Zealand
Top 15 Interesting Places to Visit in Paris
Top 15 Interesting Places to Visit in Italy
Top 15 Interesting Places to Visit in Singapore
Top 15 Most Interesting Places to Visit in Berlin
Top 15 Best London Attractions
15 Little Known Facts About New York City
Disney World Articles
Top 15 Disney World Rides for Adults
Top 15 Disney World Rides for Kids
Top 15 Disney World Resorts for Adults
Top 15 Disney World Resorts for Kids
15 Fascinating Facts About Disney World
Top 15 Fun Things to Do at Disney World's Animal Kingdom
Top 15 Fun Things to Do at Disney's Hollywood Studios
Top 15 Fun Things to Do at Disney World's Epcot
Top 15 Fun Things to Do at Disney World's Magic Kingdom

Shorter Top Lists:
Top 10 Tourist Attractions in San Diego
Top 10 Tourist Attractions In India
Top 10 Things to Do In Kansas City
5 Places You Should not Miss in Brazil
Top 5 Things to do in New York City

Informational:
Best Tourist Attractions In Vietnam
Taking in the Sights in Shanghai
Top Tourist Attractions in Perth, Australia
Nice places to visit while in Great Britain
Sampling the Foods at the Night Markets in Taipei
What to do for a Kenya Vacation
Best Attractions in Victoria, B.C.
Photos of the Luxor Hotel in Las Vegas