Top 15 Things to Do in Rio de Janeiro
Planning a trip to a new country can be exciting, but it can also be daunting. Before you pack your bags for a trip to Rio de Janeiro, donít get overwhelmed by all the things there are to do. If you manage to include these fifteen ideas, you will have hit the highlights of this exciting city and you will be sure to have an amazing time in Brazil. Rio de Janeiro is a city full of vibrant life, beautiful buildings, spectacular nature, food, drink, beaches, and mountains. Thereís something for everyone in Rio, whether you want to have an outdoor adventure, experience Brazilian culture, or relax in the sand by the waves on one of Rioís famous beaches. Brazil is also a country famous for its soccer fans and players. If you love soccer, youíll be right at home among the enthusiastic football fans of Rio de Janeiro. If you time your visit right, you can also be in the city for one of the major events on this list: Carnival, the World Cup, or the Olympics. The temperature in Rio is always warm, so the beaches are a major attraction year-round. There are also many famous sights to see, including beautiful buildings and one of the most iconic statues in the world.
So no matter what your plan is for how to have fun in Rio, youíre sure to find some musts on this list of the top 15 things to do while in one of the most famous cities in Brazil.
---
15) Sao Bento Monastery
If you like to tour elaborate, beautiful buildings be sure to stop by this church in Rio that Viator explains was founded in 1590 by Benedictine monks. The outside is much less impressive than the inside, so if you make the trip to find it, donít be satisfied with a superficial view. Take a tour of the building so you can see the ornate ceilings and stained glass windows. There is an impressive alter inside, and several works of art that were done by monks in earlier centuries.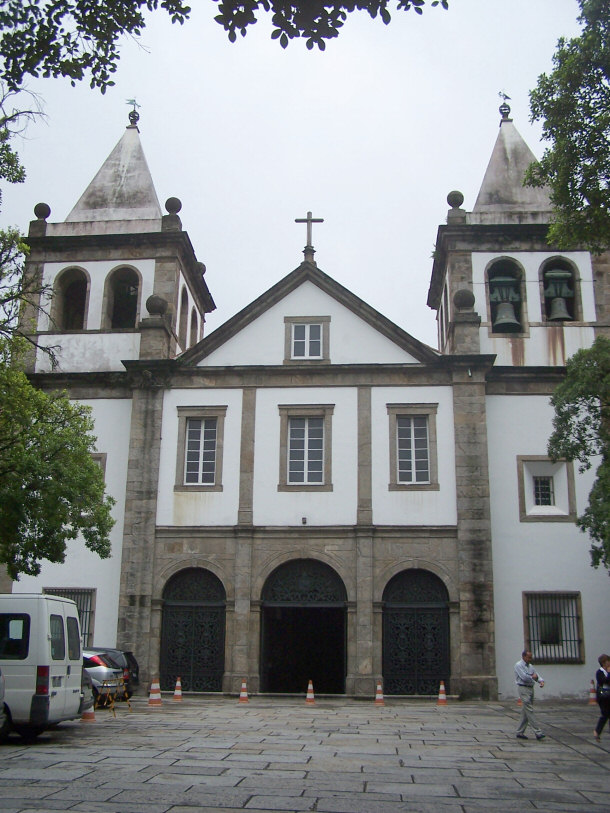 Guided tours are available, but if you want to see the monastery itself, thereís a catch; only men are allowed in the monastery. And though Rio is known for its beaches, parties, and warm weather, if you plan to visit this attraction, be sure to pack some sort of conservative outfit.
A Look at the Ornate Ceiling Inside Sao Bento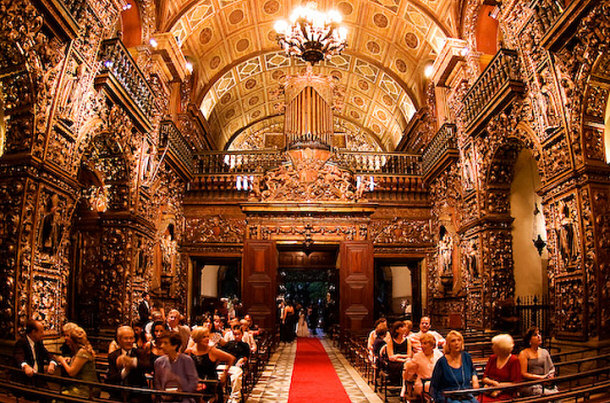 By original: Patricia Figueira. Modified by Tetraktys [CC-BY-SA-2.0 or CC-BY-SA-3.0], via Wikimedia Commons
Ladies, bring a cardigan or scarf for your shoulders, and everyone should plan to skip the shorts or short skirts that day, at least until your visit to this church is over.
---
14) Jardim Botanico (Botanical Garden)
Since Rio de Janeiro is known for being a city of partying, you might like to spend some time in a more peaceful environment. If so, soak up the beauty of nature at the Botanical Garden, Jardim Botanico. Viator states that the garden has more than 5,500 species of plant life and many beautiful flowers.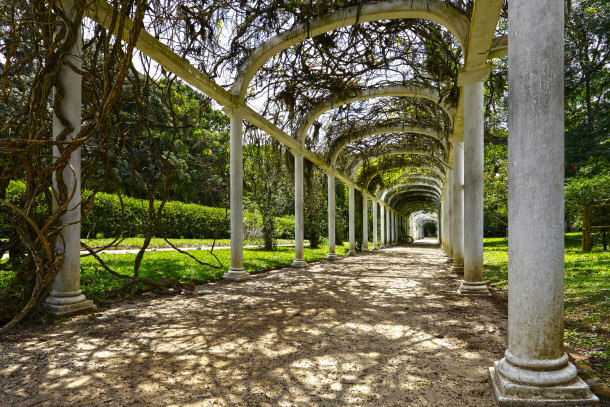 The gardens were founded by the Prince Regent Dom Jo"o in 1808, and the gardens are also used as a research center. One of the major features is the walkway of the entrance, which is called the Avenue of Royal Palms.
The gardens also feature various species of birds. At the foot of Corcovado, itís easy to find a bus to the gardens if you want to try the public transportation. You will be awed by the gorgeous, lush foliage and flowers while listening to the soothing sounds of nature from the gardens birds.
---
13) Ilha Fiscal
On an island off the coast of Rio de Janeiro, you can visit the Ilha Fiscal, a neo-Gothic castle built in 1889. The castle is open for tours, and the boat ride there is sure to be a highlight of your day. The palace itself is surrounded by the water of Guanabara Bay and features a beautiful backdrop of ocean and mountain. The castle is only open Thursday through Sunday, but if youíre there on a day when a tour is available, be sure to check out this majestic piece of Rio de Janeiroís architecture.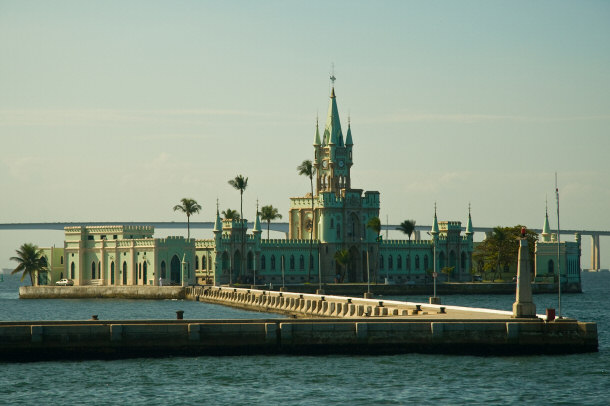 The castle is known as beautiful example of neo-Gothic architecture, and you are sure to love your visit as you wander through the site of the last places held by the monarchy.
---
12) Eat Feijoada, Traditional Brazilian Food
If fine dining isnít in your plans, but youíd like to experience some real Brazilian food, make sure you pick up at least one dish of feijoada, a stew made of smoked meat and beans. This is a great introduction to some local cuisine. As Rio de Janeiroís own website states, the city of Rio has its own specific way of making the dish by using black turtle beans. The site also states that itís a traditional lunchtime dish. It should be easy to find in the city, so make sure you experience it at least once. In addition to feijoada, be sure to try some local polenta, a type of porridge that can be cooked various ways.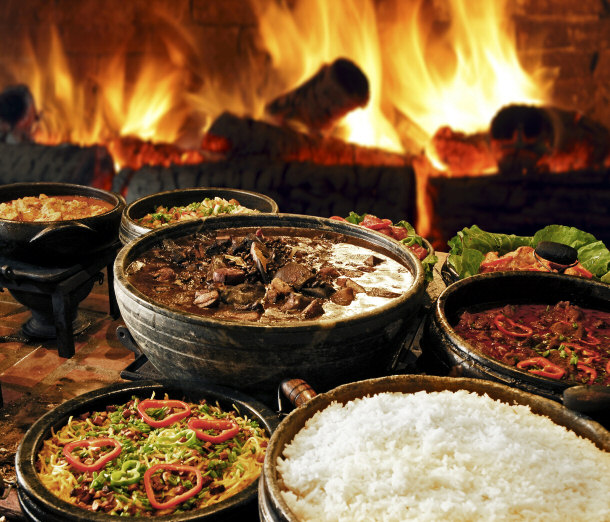 Rio de Janeiro is also famous for the various vendors near its beaches, so there will be numerous dishes to try while enjoying your time on Copacabana or Ipanema. Rio is full of restaurants and cafes that will allow you to sample many types of not only Brazilian cuisine, but also traditional Portuguese cuisine. From fine dining to sidewalk cafes to beachfront huts, there will be many places to find delicious new foods to you experience Brazilian culture during your stay in Rio.
---
11) Teatro Municipal
This is a theater in Rio de Janeiro that Frommers explains is the biggest venue for performing arts in Brazil. Itís located in the city center, and thereís sure to be at least one performance that captures your interest while youíre in town. The theater, which resembles a palace, is also open for tours. It was built in 1909, and is another beautiful building in Rio de Janeiro that is a must-see if you want to view the cityís architecture.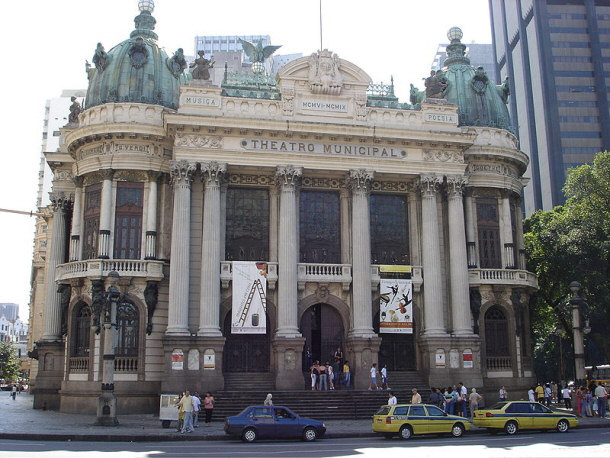 By Rtietz, via Wikimedia Commons
Even if a concert isnít in your plans, be sure to stop by to admire the building from the outside. Various performances take place here, including ballet, opera, and concerts. You can check before you leave for your trip to see what the schedule will be while you are in Rio, or you can stop by during your trip if the desire to see a show strikes you once you see the buildingís beautiful exterior.
Interior of Teatro Municipal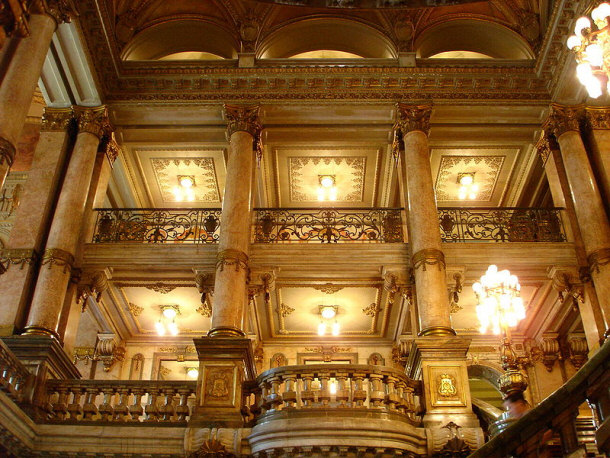 By Roberto Tietzmann, via Wikimedia Commons
Teatro Municipal gives you the perfect way to experience Rio de Janeiroís vibrant performing arts scene.
---
10) Cervantes
This sandwich shop is lauded by NPR as one of the best places to eat in Rio de Janeiro. Itís located near Copacabana beach and is also inexpensive. Rio de Janeiro is not a cheap city, so be sure to stop in and let your wallet take a break while your taste buds donít. The restaurant is open all night long, so you can experience it in different ways. Stop in for lunch or wait until after a night of dancing and grab a late night sandwich. Named for the author of Don Quixote, the restaurant serves all its sandwiches with abacaxi, which is pineapple.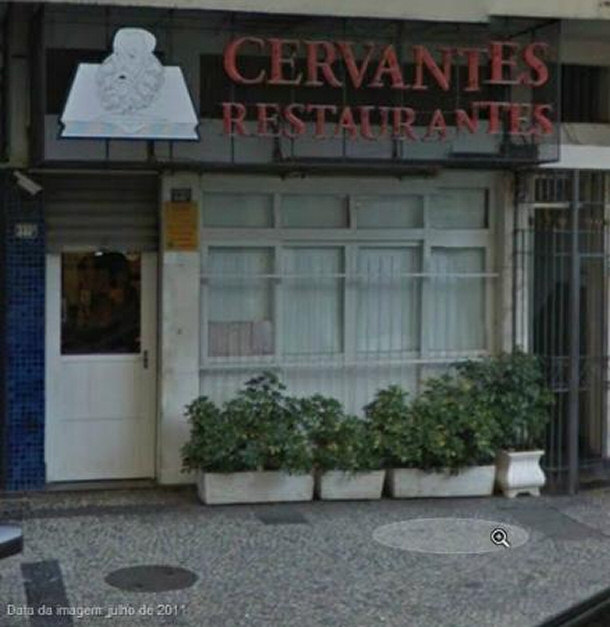 Courtesy of Tripadvisor.com
As NPR notes, you can order your sandwich without pineapple, but that doesnít lower the price. Since Cervantes is known for its affordability, go ahead and keep your pineapple. Itís an attraction for all types of patrons, and an NPA writer noted seeing Carnival masks and costumes on a stop to this eatery, so no matter what your plans are in Rio, this should be on your list of places to stop and grab a bite while experiencing the local culture.
---
---
9) Lapa
Lapa is a neighborhood in Rio known for its nightlife and dancing. CNN suggests stopping by Rio Scenarium, a three-story bar in Lapa. Rioís own website calls this ďthe most popular bar in Lapa and even in Rio,Ē and boasts excellent Brazilian music. If youíre interested in experiencing a bar that is famous both in Rio and outside Brazil, make plans to have a drink here. The neighborhood of Lapa is sure to help you find a place to samba and experience the famous Brazilian nightlife. Itís also an excellent place to grab a caipirinha.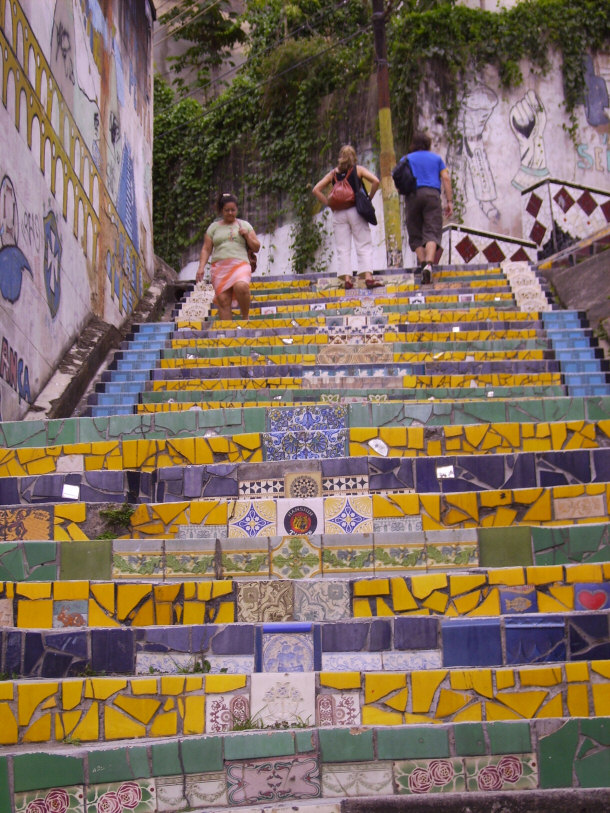 This bohemian area of town offers the perfect place to experience the culture of Rio de Janeiro after dark. Rioís tourism website points out Lapaís famous architecture, including the Arcos da Lapa, a famous monument, and the Passeio Publico, the cityís first public park. Full of restaurants and bars, Lapa is a great place to stroll around at night if want to go out without planning exactly where to eat, drink, and dance. Youíll be sure to find somewhere that interests you by just walking around.
The neighborhood is safe for pedestrians, though you should always use caution when traveling in a foreign city. Lapa is also an excellent neighborhood to experience Brazilian music, notably the chamber music at the Sala Cecilia Meireles. Other recommended bars include Asa Branca, Carioca da Gema, and Flying Circus. Lapa also features a variety of restaurants, so itís a good place to get some Portuguese food. Eat, drink, dance, and party while in Lapa. Lapa is the perfect neighborhood for a night out on the town in Rio de Janeiro.
---
8) Tijuca National Park
While youíre in Brazil, experience some of the rainforest. This park covers 8,300 acres, and is an excellent opportunity to see some of Rio de Janeiroís beautiful scenery. For those who crave outdoor adventure, this park is a must-see while in Rio. You can hike to the top of Corcovado, the mountain boasting the highest point in Brazil, as it is located inside Tijuca. Corcovado features Cristo Redentor, which comes up later on this list. The park, was created by Emporar Dom Pedro II after, in 1861, he was disturbed by the deforestation of the area surrounding Rio de Janeiro.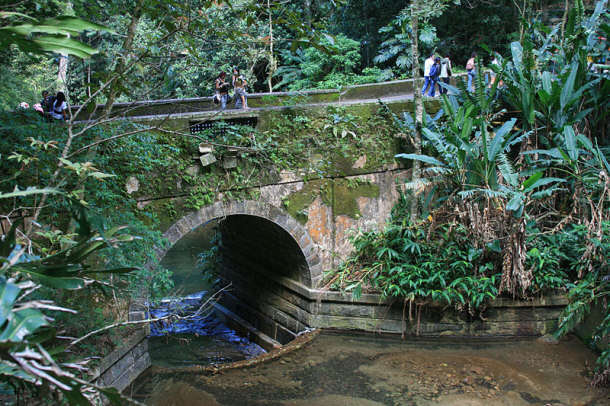 By Halley Pacheco de Oliveira (Own work) [CC-BY-SA-3.0], via Wikimedia Commons
The park also features waterfalls, and various types of wildlife, such as howler monkeys and ocelots. Unfortunately, there isnít any public transportation to Tijuca, so youíll have to find an alternate way to get there. One idea is to book a private guided tour. This will not only help you get to the park, but will also enable you to see more of the rainforest, or help you with equipment if you want to have a more active day in the park. When youíve had enough of the urban experience of Rio, head to Tijuca for a real rainforest adventure and some spectacular scenery.
---
7) Drink a Caipirinha
This Brazilian cocktail is made from cachaca, a type of sugarcane liquor, with muddled lime, sugar, and ice. The New York Times suggests trying one at Academia da Cachaca, a bar in Leblon, a neighborhood of Rio. If you want to have a drink that is a favorite of Brazilians, make sure you try one of these. Sometimes called the national drink of Brazil, this is a must-have if cocktail hour is in your plans. Another great place to try a caipirinha, is Quiosque do Portugues. This place, like Academic da Cachaca, offers the basic, standard drink but also offers patrons a chance to try some twists on the Brazilian classic.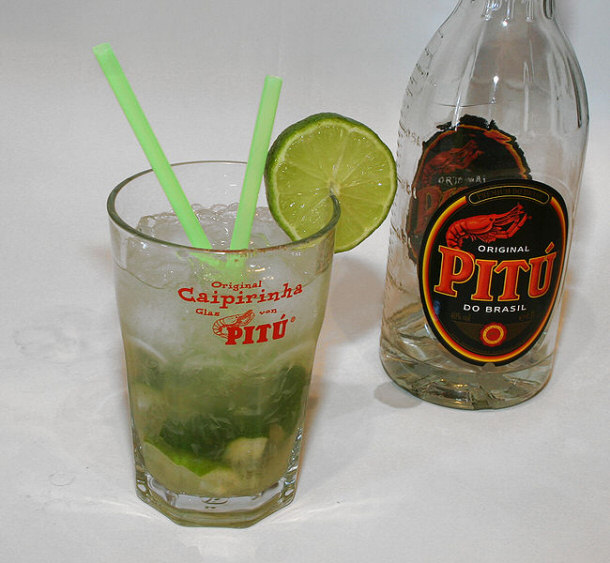 They use different fruits and ingredients, so if for some reason you donít like the first one you try, thereís likely to be something that you do like. Youíre in Brazil; be adventurous. It has also become popular in the United States recently, so the next time you hear people back home mention cachaca, youíll be able to tell them that youíve had the real thing in its home country. Caipirinhas are the best way to try cachaca, so enjoy one on the beach or in one of Rioís famous bars.
---
6) Pao de Acucar (Sugar Loaf Mountain)
If youíre going to visit Rio, make sure you dedicate some time to viewing the mountains of the city. Pao de Acucar, which means Sugar Loaf Mountain, has two cable cars that travel to its summit, so donít worry if hiking wasnít on your list of vacation things to do for this trip.
Air Tram to the Top of Sugar Loaf Mountain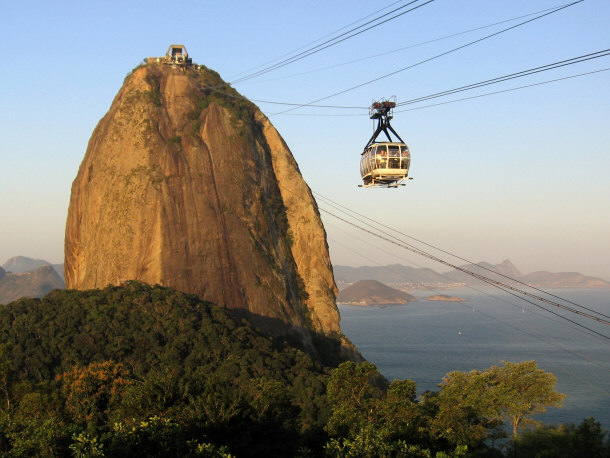 The top of the mountain, as well as the trip up its slopes, offers amazing views of the Rio sunset. If youíre interested in getting a great view of the city, plan some time to travel to its top and take in the scenery.
View from Atop Sugar Loaf Mountain Inside Air Tram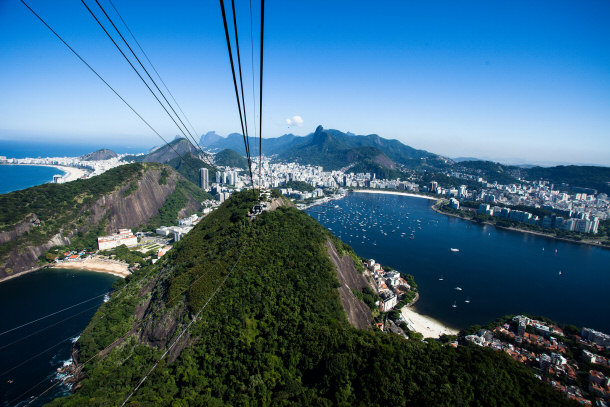 You can travel up in the late afternoon to see the sunset, then stick around to see views of the night lights of Rio. If you plan to be in Rio in the summer, check out the schedule of concerts that take place on Pao de Acucar.
---
5) Olympic Games and Paralympic Games, 2016
Rio de Janeiro will host the summer Olympic Games and the Paralympic Games in 2016. The Rio 2016 website dedicated to the Olympics in the city boasts that over 10,500 athletes from all over the globe will be in the city for the summer games. The games dates are August 5-21 for the Olympic Games, and September 7-18 for the Paralympic Games.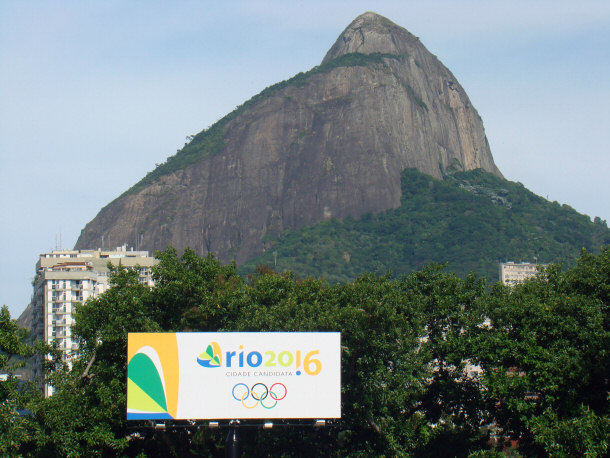 If your visit coincides with any of these dates, prepare to be surrounded by the sights and sounds of national pride as many countries arrive to compete. From archery to swimming, whatever your favorite summer Olympic sport is, you can see it in Rio in 2016. Book your tickets early to make sure you get a seat.
---
4) World Cup 2014
If youíre traveling to Brazil during the summer of 2014, be prepared to encounter the biggest sporting event on the globe: the World Cup. Occurring every four years, this is the pinnacle of global competition and the worldís best teams will be gathering in various cities around Brazil to compete for the biggest prize in soccer (or football, depending on what country you call home). Rio de Janeiro will be a host city to some of the games, so from June 12 to July 13 of 2014, be prepared for big crowds and enthusiastic fans.
Selection for the 2014 World Cup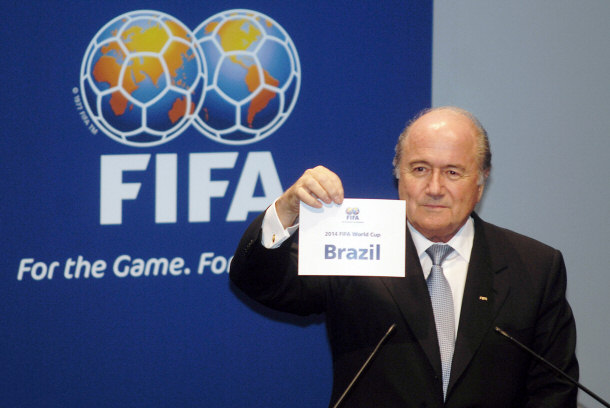 By Ricardo Stuckert, via Wikimedia Commons
Rio de Janeiro is the birthplace of famous Brazilian soccer star Ronaldo, and Brazilian culture is known for its love of the game. If youíre a fan of soccer, make sure to buy any tickets ahead of him to ensure you get into the game. If you prefer to skip the games, the World Cup will still certainly ensure that you experience the lively atmosphere of Rio de Janeiro during your stay.
---
3) Ipanema
It is, of course, imperative that you visit the beach at least once while in Rio de Janeiro. You may have planned your entire trip around beach visits and, if so, there are plenty to choose from. Each has its own attractions and reasons for drawing tourists to their locations. But if you only plan to visit one beach while in Rio, spend some time in Ipanema. This beach, the subject of the famous jazz number sung by Astrid Gilberto (a Brazilian herself), is good not only for strolling but also for lots of activity such as surfing, wakeboarding, volleyball, and soccer.
View of Ipanema and Leblon Beaches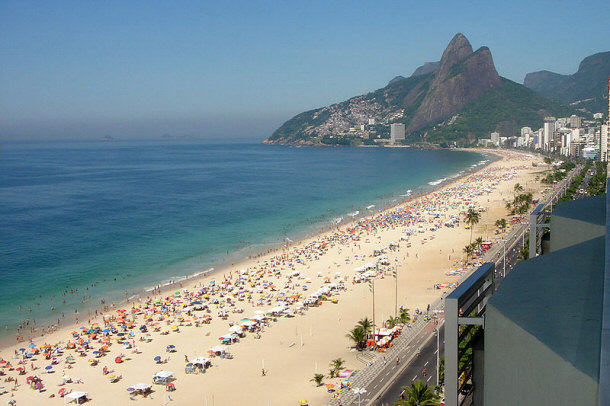 By Mariordo, via Wikimedia Commons
Whether you want to relax and take in the sights or have a more active day, Ipanema is a beach definitely worth a few hours of your time in Rio. The New York Times also suggests itís a great place to see futevolei, a sport that is a cross between soccer and volleyball. Another feature of Ipanema is the area that surrounds the beach. The Travel Channel lists, among the areaís many attractions, shopping, restaurants, and bars. Included among those is Garota de Ipanema Bar, which the site explains was the place where the lyrics to ďThe Girl from IpanemaĒ were written.
---
2) Carnival
You have to time your trip well to make it to Rio de Janeiro for Carnival, but if you want to go to a huge party and experience one of the most iconic things about this Brazilian city, visit during the week before Lent. Like Mardi Gras in New Orleans, this yearly festival takes place on different days each year, depending on when Lent falls. Photographs of Carnival-goers in elaborate masks are some of the most recognizable images of Rio de Janeiro. USA Today claims that the festival is a huge attraction for tourists, with half a million arriving each year. So if you plan to party with the citizens of Rio, make sure you book your trip in advance! This is one of the most famous festivals in the world, so if you donít plan to center your trip on partying, donít visit Rio during Carnival! But if you do want to be a part of Carnival, get ready for the famous masks, floats, music, dancing, food, and drink that fill the streets of Rio each year.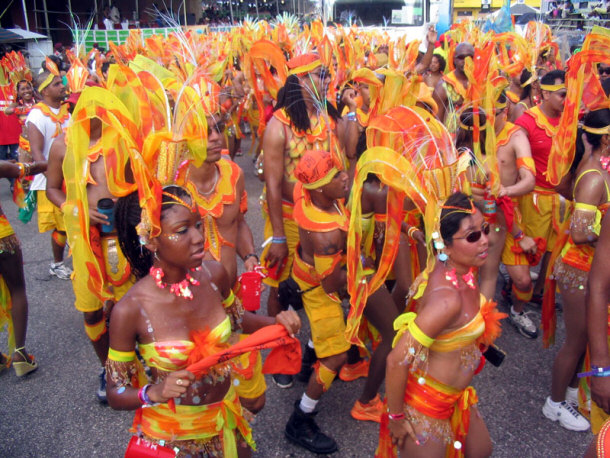 By Jean-Marc /Jo BeLo/Jhon-John
If you do decide to go to Carnival, one of the things to do that you absolutely canít miss the parade at the Sambadrome, an area in downtown Rio de Janeiro built specifically for Carnival and described by Rioís own website as ďundoubtedly the biggest stage on earth.Ē This is where the samba schools compete each year in the Carnival parades. The parades feature dancing, of course, but also huge, elaborate floats. The parades begin in the evening and go until morning. As Rioís site explains, the different samba schools each select a theme and then parade through the Sambadrome with their floats and dancers.
Inside the Sambadrome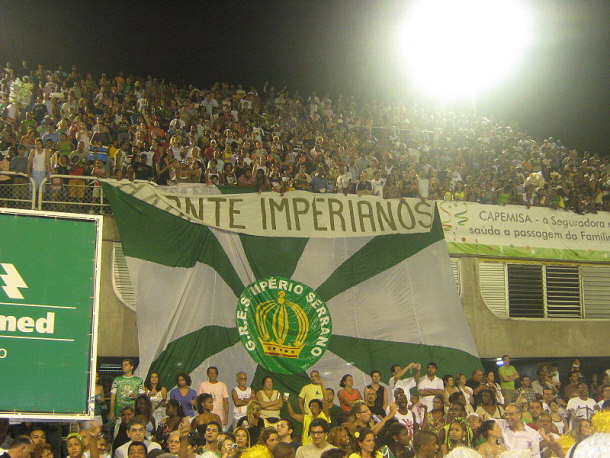 By Jorge Andrade [CC-BY-2.0], via Wikimedia Commons
The parades are a competition, so each school is judged. You do need tickets to the parades, so grab them in advance and get ready to see some amazing sights. Even if you donít get tickets to the Sambadrome during Carnival, there will be plenty of dancing in the streets of Rio throughout this huge festival.
---
1) Cristo Redentor (Christ the Redeemer)
If you look for photographs of Rio de Janeiro, youíre likely to see a photo of the amazing and iconic Cristo Redentor, or Christ the Redeemer. This statue is probably the most famous of the sights of Rio de Janeiro and youíre sure to come away with not only a breathtaking experience, but also some great photos to show off after you get home from your trip. Itís a white statue of Christ with outstretched arms that stands on top of Mount Corcovado.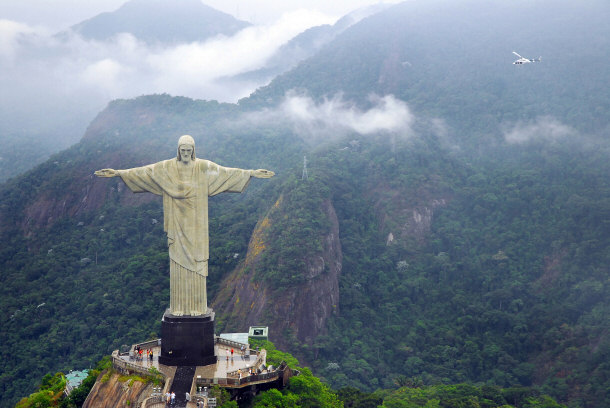 The statue, built in 1931, is 98 feet tall and stands on top of Mount Corcovado. The spot was chosen so that the statue could be seen from anywhere in Rio de Janeiro. It is made of concrete in the Art Deco style and the first stone of the statue was laid on April 4, 1922, the one hundredth anniversary of Brazilís independence from Portugal. The designer of the statue, Heitor da Silva Costa, an engineer from Brazil, was chosen through a competition, and his original design was altered with the help of Brazilian artist Carlos Oswald. Visitors to Cristo Redentor previously had to climb more than two hundred stairs.
Aerial View of Christ the Redeemer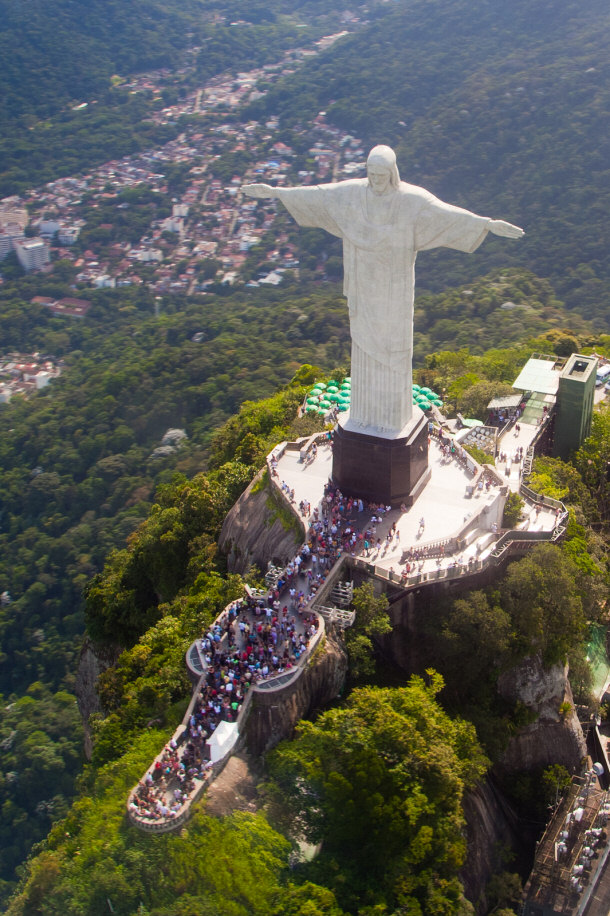 Never fear, though; the statue now features an elevator, so thereís no need to plan for a long hike. You can take a trip by train to the top of the mountain and enjoy the beautiful views that culminate in the spectacle of Cristo Redentor at the top. Donít forget your camera when you are at one of the most famous places to visit in Rio.
---
Conclusion
Now that you have a great list of things to do, you can start planning your trip to Rio de Janeiro. The city is not only one of the most famous places in the world to party and go to the beach, but itís an excellent place to introduce yourself to Brazilian culture and see some of the most spectacular sights in the world. You donít have to choose between the beach and the mountains, since Rio has them both, and its warm climate will make for a great visit no matter the time of year. If youíre interested in outdoor adventures, Rio de Janeiro gives you the opportunity to participate in lots of activities. From volleyball on the beach to a hike through the rainforest, Rio de Janeiro has tons of things for visitors to keep themselves busy for their entire stay. If youíre most interested in food and culture, there are plenty of places to try authentic Brazilian and Portuguese cuisine or take in some of the local nightlife. If you want to plan your trip around a particular event, the upcoming World Cup and summer Olympics will add a great amount of excitement to your trip while also allowing you to cheer on your country in the biggest competitions in the world. Then thereís always Carnival, the yearly celebration that is unique in its elaborate methods of celebration. Whatever you decide to do, Rio de Janeiro will be the perfect spot for a vacation that can be relaxing and exciting at the same time.
Vacation Destinations
Top Lists:
Top 15 Interesting Places to Visit in the Bahamas
Top 15 Fun Things to Do in Miami, Florida
Top 15 Fun Things to Do in Chicago
Top 15 Best Unknown Things to do in Las Vegas
Top 15 Fun Things to Do in Hollywood
Top 10 Best Places to Visit in Turkey
The Top 15 Best Things to Do and See in Sydney
Top 10 Things to Do in Edinburgh
Top 10 Things to do on Oʻahu
Top 15 Things to Do in Albuquerque
Top 15 Interesting Places to Visit in Spain
Top 15 Places to Visit in New York City
Top 15 Things to Do in Portland Oregon
Top 15 Things to do in Greece
Top 15 Places to Visit in Houston Texas
Top 15 Interesting & Safe Places to Visit in Mexico
Top 15 Interesting Places to Visit in the Netherlands
Top 15 Interesting Places to Visit in Thailand
Top 15 Interesting Places to Visit in Switzerland
Top 15 Interesting Places to Visit in Portugal
Top 15 Places to Visit in San Francisco
Top 15 Interesting Places to Visit in Shanghai
Top 15 Interesting Places to Visit in Puerto Rico
Top 15 Interesting Places to Visit in Norway
Top 15 Interesting Places to Visit in Las Vegas
Top 15 Interesting Places to Visit in Jamaica
Top 15 Interesting Places to Visit in Croatia
Top 15 Interesting Places to Visit in Belgium
Top 15 Interesting Places to Visit in Bangkok
Top 15 Things to Do in Rio de Janeiro
Top 15 Things to Do in Monaco
Top 15 Interesting Places to Visit in Dubai
Top 15 Interesting Places to Visit in Amsterdam
Top 15 Things to Do in New Zealand
Top 15 Interesting Places to Visit in Paris
Top 15 Interesting Places to Visit in Italy
Top 15 Interesting Places to Visit in Singapore
Top 15 Most Interesting Places to Visit in Berlin
Top 15 Best London Attractions
15 Little Known Facts About New York City
Disney World Articles
Top 15 Disney World Rides for Adults
Top 15 Disney World Rides for Kids
Top 15 Disney World Resorts for Adults
Top 15 Disney World Resorts for Kids
15 Fascinating Facts About Disney World
Top 15 Fun Things to Do at Disney Worldís Animal Kingdom
Top 15 Fun Things to Do at Disney's Hollywood Studios
Top 15 Fun Things to Do at Disney World's Epcot
Top 15 Fun Things to Do at Disney Worldís Magic Kingdom

Shorter Top Lists:
Top 10 Tourist Attractions in San Diego
Top 10 Tourist Attractions In India
Top 10 Things to Do In Kansas City
5 Places You Should not Miss in Brazil
Top 5 Things to do in New York City

Informational:
Best Tourist Attractions In Vietnam
Taking in the Sights in Shanghai
Top Tourist Attractions in Perth, Australia
Nice places to visit while in Great Britain
Sampling the Foods at the Night Markets in Taipei
What to do for a Kenya Vacation
Best Attractions in Victoria, B.C.
Photos of the Luxor Hotel in Las Vegas