Top 15 Places to Visit in San Francisco
Ariel View of Downtown San Francisco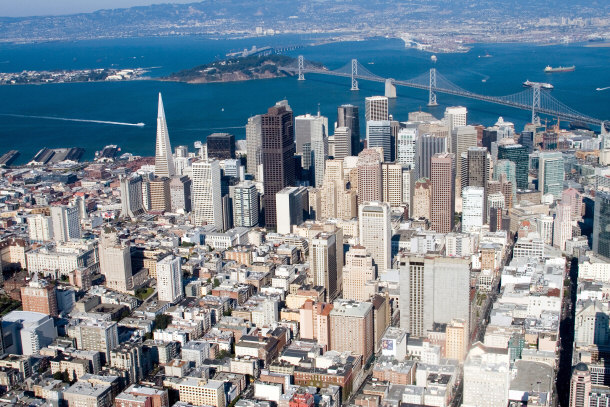 San Francisco, known as the Golden Gate of California, is one of the most vibrant, bustling, intriguing cities in a state known for individuality and glamour. You'll see old architecture inspired by the Spanish colonists, followed by brand new buildings.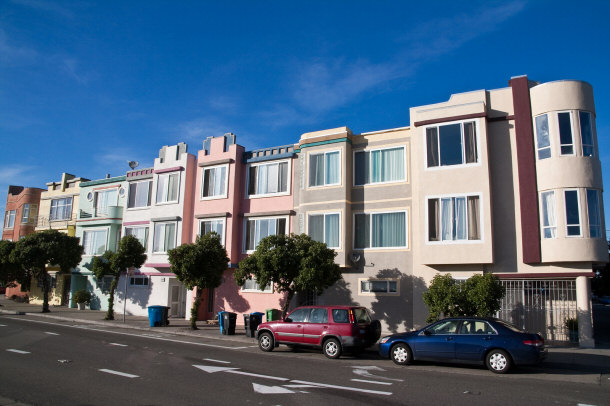 In a city that regularly shakes the unworthy buildings to the ground, something else is always being built. San Francisco is also located on a peninsula, meaning that almost any new architecture has only one direction to go: straight up. This is the origin of the famous tall, narrow houses pressed up against each other.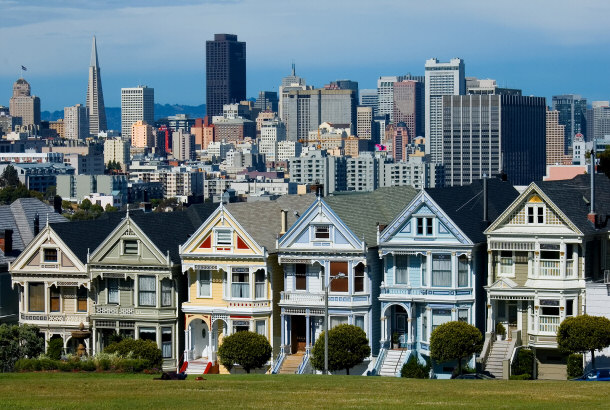 In your travels through San Francisco, there are many important landmarks that you simply cannot miss during your stay. However, you can almost certainly find just as intriguing a time if you simply wander around. San Francisco is surrounded by water on three sides, and is only seven miles in length in its entirety. Yet in this small peninsula, the city is packed full with a population of 812,000 according to the last U.S. Census.
That population density, as well as the vibrant culture that comes from mixing several cultures together in a melting pot so small it might as well be a pressure cooker, is part of what makes San Francisco such a lively, exciting city. So lets check out the top most popular places to visit in San Francisco.
---
15) Lombard Street
Lombard Street has been called "The Windiest Street in the World." Chances are, if you've ever had a postcard sent to you from San Francisco, it contained either the Golden Gate Bridge or this famous street. What is known as "Lombard Street" is actually just a tiny section of the road—in fact, Lombard Street is one of the first roads that was built into San Francisco from the north. Many tourists have been startled to enter San Francisco looking for the tiny, twisty Lombard Street, only to find themselves driving on it already, never noticing because of the wide lanes and multiple traffic lights!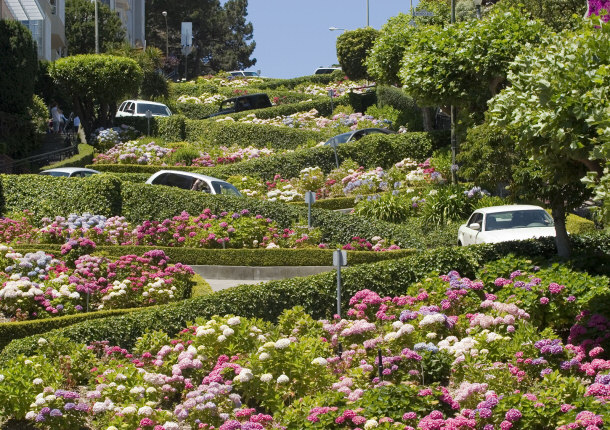 This street runs from east to west, and is one of the main avenues by which you can travel through San Francisco. The part of the street that is famous for the twists and turns is actually only one block long. In that one block, the street twists eight different times, switch-backing down the hill. This is due to the steepness of the hill, an interesting feature of San Francisco geography.
Overlook of Downtown San Francisco from Atop Lombard Street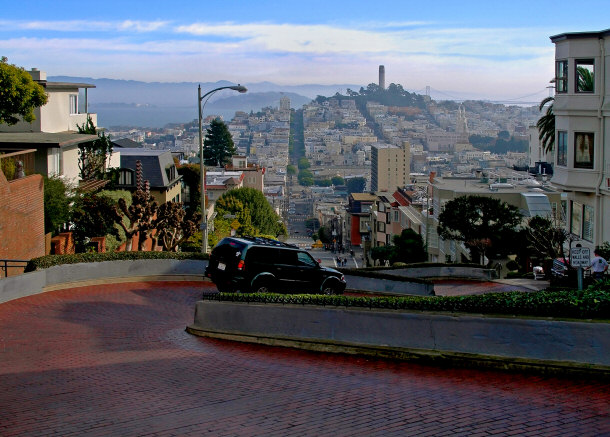 Many of the streets are at incredibly steep angles. The Lombard Street grade is over 25 percent. This makes San Francisco a great place for hiking, but not so good for biking unless you're confident about riding down hills.
---
14) Golden Gate Park
Golden Gate Park is to California what Central Park is to New York. It's a vibrant, tended oasis in a concrete jungle. There isn't much room for gardening and greenery in San Francisco in the tiny peninsula, where any land is immediately snapped up by developers. Because of that, it's a refreshing vacation for most of the locals to head down to the park. Because of the small size of the city, the long stretch of the park is never too far away. This not-so-hidden gem boasts redwood trees indigenous to the area, it also plays host to a number of fantastic events, such as the yearly Opera in the Park, which regularly draws a crowd of 25,000 people.
Lake In Golden Gate Park With Pedal Boats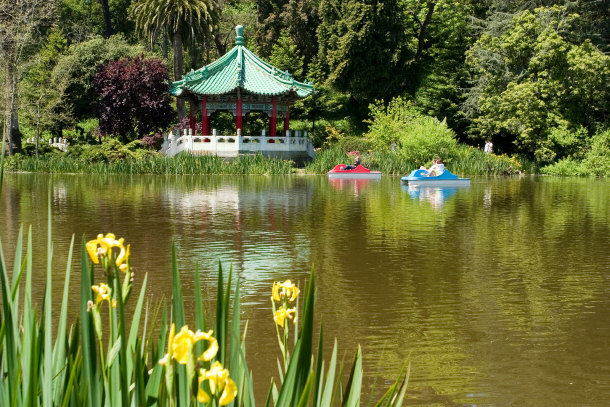 Spreckels Temple of Music - Golden Gate Park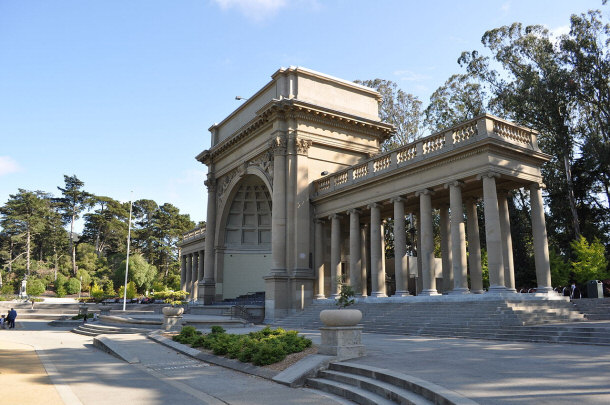 By Joe Mabel via Wikimedia Commons
If you're just in town for a quick trip, you don't even need to head out of the city in order to have a fun and athletic time. Various businesses offer rentals of equipment all around the sides of the park.
Roller skates, inline skates, scooters, and bicycles are all available for rental, for anyone who wants to take some time during their San Francisco journey and experience the fresher, more peaceful side of the bustling city.
View of the Golden Gate Bridge from the Park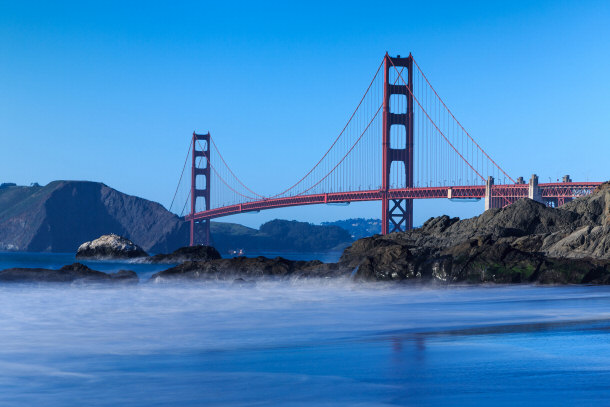 ---
13) M. H. de Young Museum of Art
If you know much about the history of California, you'll be familiar with the fact that there isn't much recorded history during the era of settled America. One of the oldest standing buildings is one of the most intriguing—the M.H. de Young Museum of Art. The de Young was originally constructed in 1894, making it one of the oldest surviving structures in San Francisco; while it was reconstructed in the aftermath of the earthquake of 1906, much of the original structure still remains.
M.H. de Young Museum of Art



By WolfmanSF via Wikimedia Commons
The de Young hosts an extensive collection of art from many eras of human history, including a strong sculpture gallery, a series of long hallways decorated with impressionist art, and a sublevel containing truly ancient artifacts. This museum hosts cultural exhibitions all year long, bringing back many cyclical favorites. The Impressionists and Water series is a perennial favorite in particular, and usually visits the de Young once a year.
The architecture and grounds are almost as impressive as the works contained inside the de Young. One emphasis during construction of this historic building was the fact that the de Young was constructed of natural materials, namely copper, glass, stone, and wood. The light around the building is filtered by many trees, creating a dappled effect that brings more natural light to the works of art without being damaging.
---
12) Japantown
Most people have heard of San Francisco's famous Chinatown. Less well-known, but just as intriguing to many tourists is the slightly hidden Japantown. This area deserves more recognition, and is a thriving subculture in the San Francisco area. One nice thing about Japantown is that while Chinatown has become relatively well known for being a tourist location, very few people are as familiar with the Japanese side of San Francisco. This means that your entrance to this fascinating cultural lodestone won't be hampered by hundreds of people with every step you take.
Japantown hosts a myriad of events all year, including cultural festivals, dances, sumo exhibitions, kimono days, concerts, and gatherings of people from all walks of life. These gatherings are very popular, and are usually open not only to people of Japenese origin, but to the general public as well. Also in Japantown you can find authentic sushi at a variety of different restaurants, all within decent walking distance of each other. No matter what kind of Japanese food you like—tempura, sushi, sashimi, udon, ramen, or soba, you can find it in Japantown.
Another thing that many people enjoy about Japantown is the fact that it boasts many Asian supermarkets. These places, such as Daiso, are great for stocking up on essentials that many Japanese people feel are necessary, but difficult to find in the U.S.
---
11) Chinatown
Chinatown in San Francisco has a long and intricate history. It first developed during the Gold Rush of the 1840s and 1850s, and the building of the railroads that soon followed that required many thousands of Chinese laborers. The lure of gold brought thousands out on the long and dangerous trek to California. Once there, the settlers needed cheap labor, and turned to the large immigrant population of Chinese people. The huge population of Chinese people around the Golden Gate lead to a high concentration in San Francisco itself. Over time, this settlement evolved into the Chinatown borough of the great city, with a fascinating local history. It is the largest Chinatown in North America, and in fact, the largest Chinatown (or, concentration of Chinese people in the same place) outside of Asia.
Garlands of Red Chinese Lanterns in Chinatown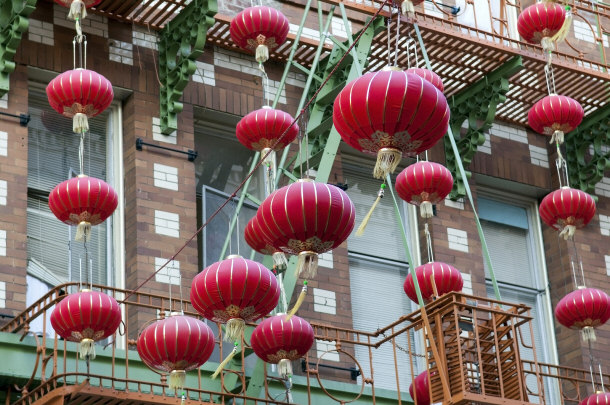 Taking a tour of Chinatown is just the beginning, and an opportunity not to be missed. There are walking tours, biking tours, bus tours, and the ever-popular rickshaw tours, specifically catering to tourists who want to experience a bit more of authentic Chinese life rather than a typical American city cultural experience. However, what you may not know is that the rickshaw was not invented in China. In fact, it was invented by a white man in California around the turn of the century!
Gates to Chinatown in San Francisco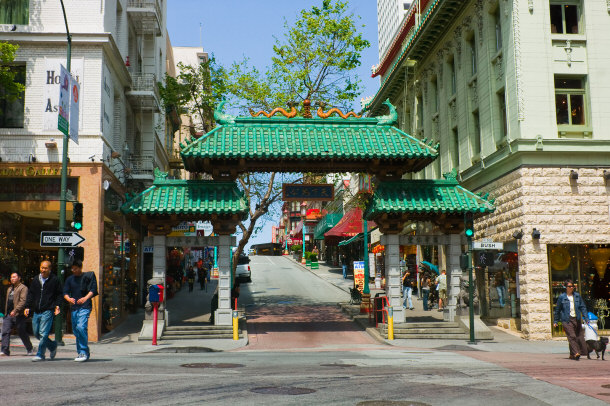 After your tour, there are many hotels located throughout Chinatown that cater to both tourists and locals, at a variety of prices depending on how fancy you want to get. Of course, one thing Chinatown is known for is the food. Peking duck, orange peel chicken, and mu shu pork are all perennial favorites, and some claim that the fortune cookie was actually invented in San Francisco's Chinatown.
---
10) San Francisco Zoo
The San Francisco Zoo is one of the best and most popular zoos in America. It is open a full 365 days a year, from 10 in the morning to five in the evening, and has been inspiring children and adults for decades. Even though the zoo does cost money to get in, the price is minimal, approximately equivalent to the price of a day at the movies. Children under the age of three are also admitted for free. One nice boon is the fact that the zoo frequently hosts "free days" for San Francisco residents. If you can manage to go on these days and have a valid ID that shows a San Francisco residence, you'll be able to attend for free! Group rates are also available.
Updated Tiger Enclosures at the San Francisco Zoo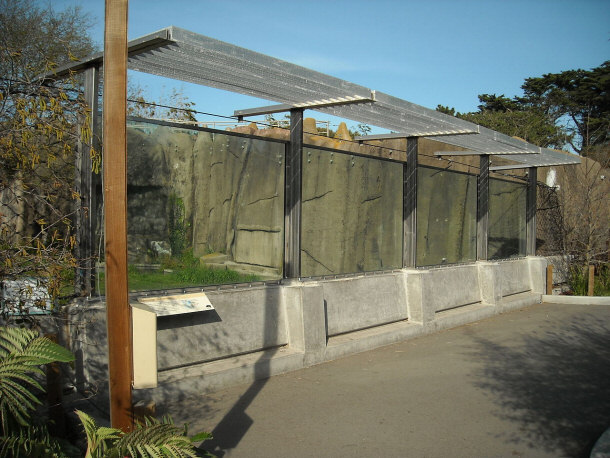 By Daniel Ramirez from Honolulu, USA [CC-BY-2.0], via Wikimedia Commons
The Zoo also boasts many exhibits that are not found in any other zoo, including Penguin Island.
Penguin Island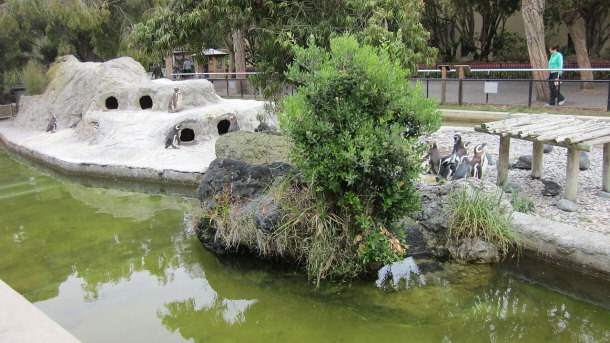 By BrokenSphere (Own work) [GFDL or CC-BY-3.0], via Wikimedia Commons
Other attractions include an Australian Walkabout, a Grizzly Gulch where actual Grizzly Bears, which are the state animal of California, can be observed. Additional attractions include a Lion House, a Wetland exhibit, Bear County, Koala Crossing; and even a Lemur Forest.
---
---
9) Cable Cars
Perhaps one of the most iconic sights to see in San Francisco is something that is always on the move. The famous cable cars, once the preferred method of transportation all around San Francisco, still operate on a daily schedule. In fact, many residents prefer them to other forms of transportation such as automobiles. They are part of the local metro system, and many residents appreciate not having to drive their cars up and down the incredibly steep hills of certain portions of town. Some parts of the roads have grades reaching over 25 percent, and many older cars cannot handle the strain. Cable cars, on the other hand, travel up and down these roads with ease, because of the systems that make them they work.
Cable Car Taking Passengers Up Extremely Steep Road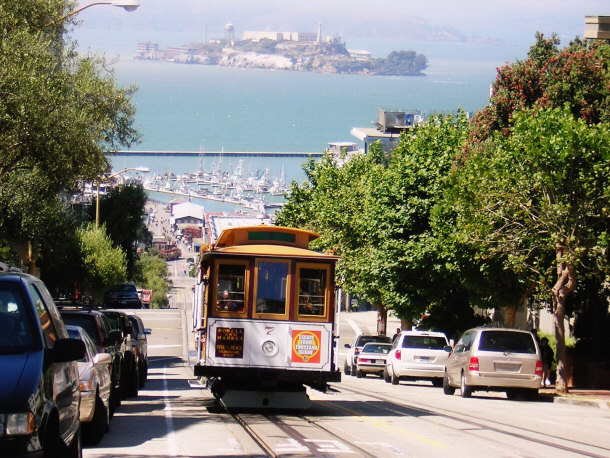 Cable cars are a viable system of transportation along many San Francisco streets, but they are also a great way to experience much of the city at a local level. Another great thing about taking cable cars is that they provide excellent photo-taking opportunities because the cars do not move as fast as many cars, making it very easy to see something that looks interesting and stop immediately to check it out. San Francisco is notorious for having very little parking, which makes cable cars a great way to avoid the expensive nightmares of trying to find and pay for a parking space.
---
8) Castro & Market
This is a destination for those with a little more taste for something unconventional. For some, this may be the first and only stop on a fascinating trip through an often-ignored part of history and culture. For others, it may be a big red- rainbow-flag warning to stay away at the risk of inhaling too much glitter.
Intersection of Castro and Market Street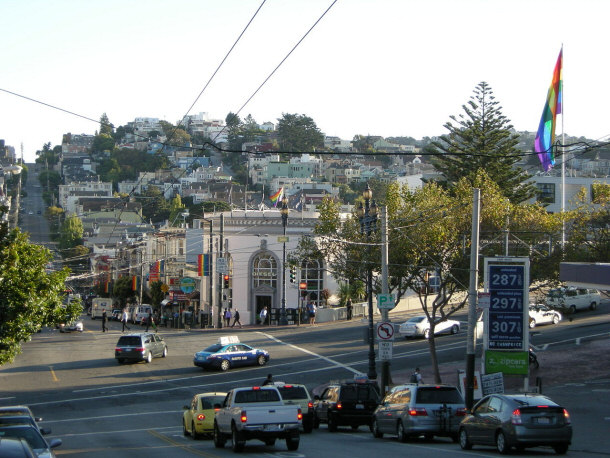 I, Sailko [GFDL or CC-BY-SA-3.0], via Wikimedia Commons
The Castro, as the intersection of Castro & Market streets is known, is home to a very thriving, very popular gay and lesbian social scene. This area has been proud of the distinction for decades, and every street corner boasts massive rainbow flags. In addition to bookstores and historical markers dealing with the subject of the gay & lesbian struggle for rights against oppression. The Castro also has a thrilling social scene with restaurants, bars, clubs, and coffee shops open at all different hours of the day.
Another View of Castro Street Corner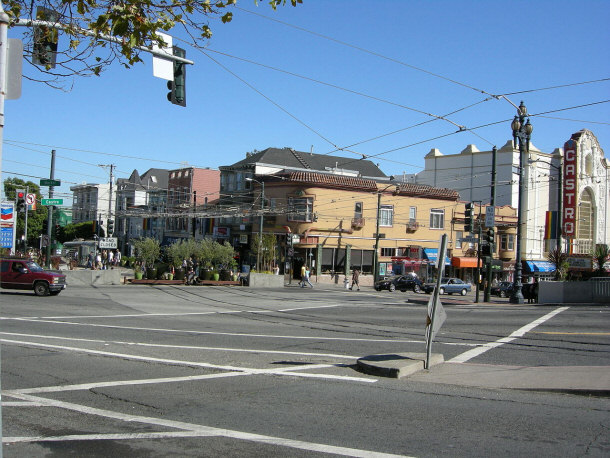 I, Sailko [GFDL or CC-BY-SA-3.0], via Wikimedia Commons
This area is also home to Dolores Park, one of the nicer parks and concert venues in San Francisco. Yearly, it hosts the Dyke March, part of the Gay Pride Parade that runs all down Market Street and is one of the largest GLBT*A events in the world.
Delores Park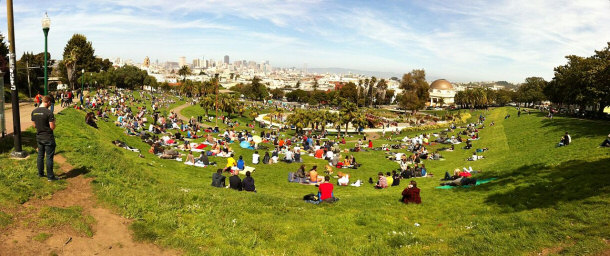 By User:Victorgrigas via Wikimedia Commons
This area is also home to knitting stores, bakeries, and one of the best ice creameries in the state, the Bi-Rite Creamery.
---
7) California Academy of Sciences
Don't let the name of this attraction fool you. While this sounds like an avocation for touring a dry, boring science building of a school, the truth is far from it.
Exterior of California Academy of Sciences



By WolfmanSF via Wikimedia Commons
The California Academy of Sciences (CAS) is a fascinating building located in Golden Gate Park. While many eco-friendly buildings are now boasting solar panels on the roofs, San Francisco's California Academy of Sciences goes a step beyond this. The rooftop is a full-fledged garden, all solar-powered, and integrates the building itself with the surrounding areas of the Golden Gate Park. The rooftop has seven hills, united with the rest of the hills, and hosts 1.7 million native plants as part of its fantastic Living Roof. There are wildflowers, strawberries, and many other familiar plants located along this unique exhibit. The exhibit is dual edged, in that having a living roof helps to insulate the building and keep climate control energy costs significantly lower than a traditional steel or concrete roof.
Rainforest Recreation Inside The California Academy of Sciences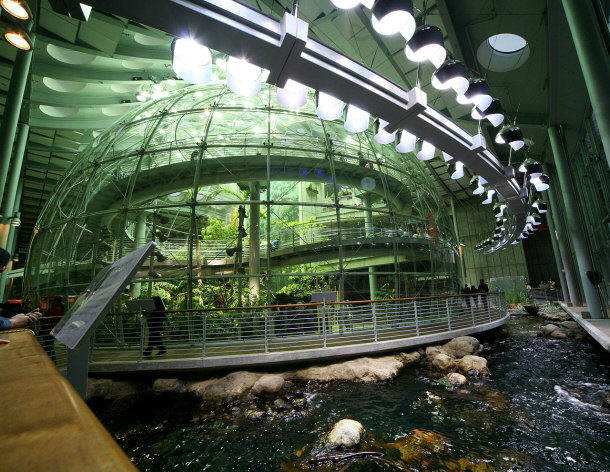 By TheDailyNathan via Wikimedia Commons
Inside, The CAS has a re-creation of a rainforest in its own macroclimate, leading viewers up many levels to the top layers of the forest itself, letting them observe many natural species in an ecosystem just as if they were in there native habitat. It also has life-size re-creations of dinosaurs, as well as exhibits of marine life, coral reefs, and a shark lagoon. For adults who don't want to compete with throngs of children, there are excellent exhibits that happen in the "night life" section, integrating science with drinks and socializing after hours.
---
6) Alcatraz
Not many cities advertise a prison as part of their most sought-after exhibits, but San Francisco does. Then again, very few cities have played host to one of the most famous prisons, perhaps THE most famous prison, in the world. Alcatraz has been made into a movie several times, and has captured the public's imagination over the years. This island prison, located a mile off of San Francisco's shore through choppy, frigid waters, has long been the subject of song and legendary stories of escape.
View of Alcatraz Island from Downtown San Francisco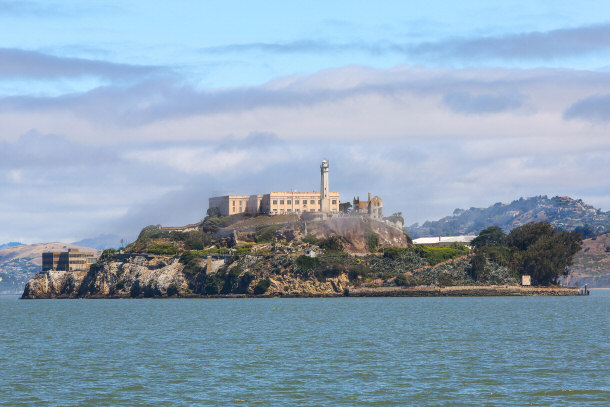 The island is very plainly visible from San Francisco's shores on even the foggiest of days, close enough to serve as a thrilling reminder to residents and tourists alike that the old prison that is a tourist attraction now, used to house some of the most ruthless and dangerous criminals in the entire United States.
Close-up of Alcatraz Island on a Foggy Day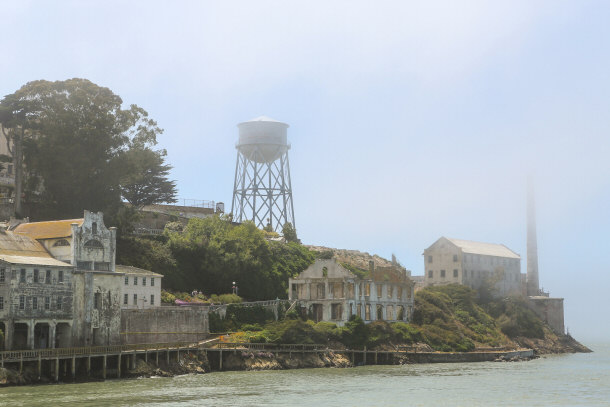 There have been no prisoners in Alcatraz for many years, but the element of interest in this stoic prison still remains. It is inexpensive to take a ferry from one of San Francisco's piers to the island during the day, securing a trip for just a single person or for a group where group rates are available. Indeed, many high schools in the area and in the surrounding area of California take yearly trips to Alcatraz. On these field trips students are shown just how small the cells were, the impenetrability of the walls, and the rank conditions in which many prisoners had to live in.
Cell Block Inside Alcatraz Prison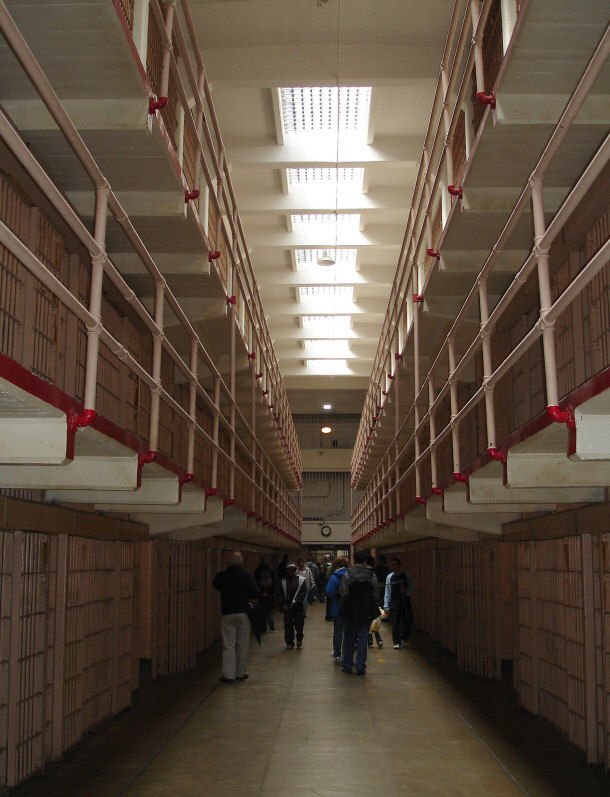 Just off of Alcatraz is the much lovelier Angel Island which is a popular destination for hikers. In the classic film, 'Escape From Alcatraz', this is the island that the men escaped to after floating away from Alcatraz island on a raft made out of glued together rain jackets.
---
5) Pier 39 & Fisherman's Wharf
When you're looking for places to visit in San Francisco, Pier 39 and Fisherman's Wharf should be at the top of your list. These two are very close to each other, though not actually associated or connected in any way. Fisherman's Wharf is an area where historically, fishmongers brought their daily catch in from the sea to sell it to the people who would come from miles around just to see what they'd brought in from the ocean.
Today, it serves very much the same purpose is it did years before. The fish markets are the best places to buy fresh fish in the entire city, and the surrounding restaurants are almost all focused on seafood and on eating it as freshly as possible. Many fish sandwiches are accompanied with locally made San Francisco sourdough bread.
Pier 39 is one of the many piers that jut into the ocean from the Embarcadero which is the street that circles part of the coast of San Francisco, where it meets the ocean. This pier, unlike many others in the immediate vicinity, does not actually host ships coming in for most of the year. Instead, it is a home for many dozens of shops and restaurants, a street- performing community, and a community of sea lions that frequently sun themselves alongside the dock.
---
4) Muir Woods
If you're looking for things to do of a more athletic, challenging nature, you may want to head just outside of San Francisco's city limits during your visit. In just a few minutes, you can enjoy the gorgeous and scenic Muir Woods, a state park located just north of San Francisco in Marin County. This stunning park is home to Mount Tamalpais as well as several surrounding, smaller mountains. Home to many old-growth redwood trees, Muir Woods is a fantastic place to walk, hike, picnic, scoot around on bicycles, or ride horses.
Muir Woods was named for John Muir, a noted conservationist who traveled all over the country in an effort to get California and other states to adopt more of a National Parks system. He was also responsible for Yosemite National Park. Muir Woods hosts many activities for children, adults, and seniors, and costs just $7 for entrance.
Giant Redwood Trees - Muir Woods National Park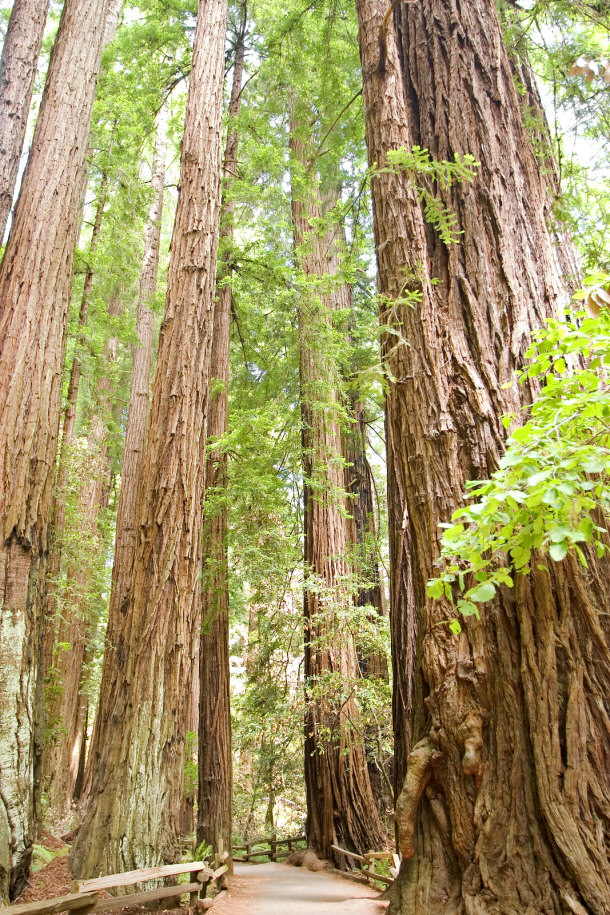 The $7 entrance fee includes the entire enormous state park of hundreds of acres. Before visiting Muir Woods, make certain to check the weather so that you don't experience problems that could have been easily prevented that could possible lead to injury, or being stranded far from anyone who could help you.
---
3) Haight & Ashbury
When you think of San Francisco culture, the chances are that you will think of one of two things. One of those is the Gay & Lesbian scene such as the Castro district, which has been made famous recently in many movies and TV programs. The other cultural phenomenon people associate strongly with San Francisco is the hippie culture.
Since the middle of the century and especially during the Vietnam War, San Francisco has had a massive population of hippie life. This includes the homeless, though in recent years the homeless population of the city has been drastically reduced. One area inspired by the culture of the protests of the 60s and 70s that is still thriving today exists on Haight Street, primarily around the cross-section with Ashbury.
Haight and Ashbury Street Shops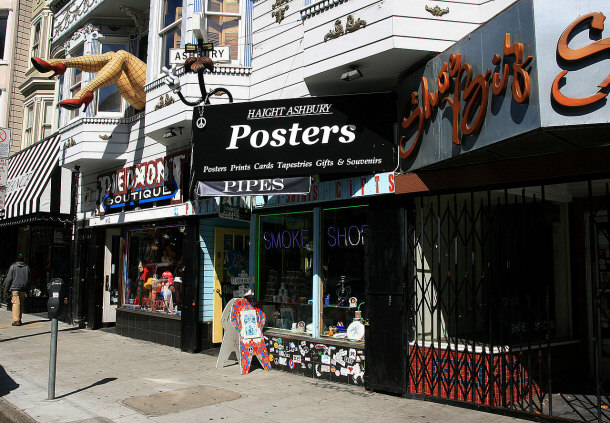 By Brocken Inaglory via Wikimedia Commons
This stretch is home to quirky, alternative stores, incense shops, head shops, odd bookstores, and clothing shops that deviate from the typical retail shops that can be seen in other cities. Goodwill shops dot the area, and San Francisco has one of the largest record stores in the world, Amoeba Records. The area has been cleaned up immensely since the days of the old protests, which means that it is now quite safe to walk around. However, if you are planning to bring young children, it is recommended that you keep a tight eye on them and perhaps a hand in theirs at all times. This is, of course, recommended no matter where you are taking your children on vacation.
The other aspect of "The Haight," as it is known among the locals, is that it is quite easy to buy things at that location that are not easy to find. For example, the bookstores are often jam-packed with rare poetry, old rare books, and things that are impossible to locate anywhere else. Limited editions of records and novels and collectibles are all found easily at Haight Street.
---
2) The Exploratorium
If you're planning to bring children to San Francisco when planning your vacation, you should absolutely take time out of your schedule to plan a visit to the Exploratorium. If you're not bringing children but have an excited and curious mind, you must make time to visit the Exploratorium.
Interior of the Exploratorium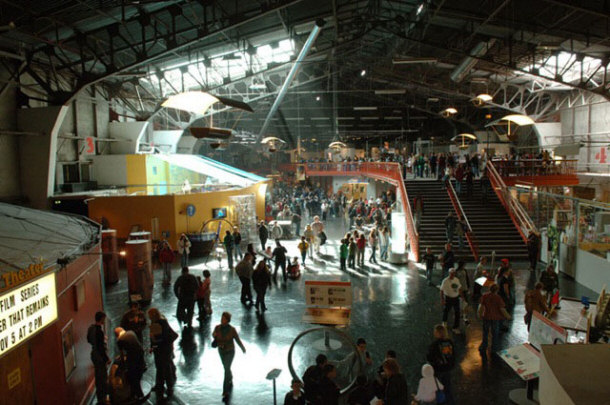 By Amy Snyder via Wikimedia Commons
This San Francisco landmark is a place where children and adults can learn about science. While this may sound dry and dusty, there is a reason this remains one of the most popular locations in a fascinating, intriguing city. It's worth noting that the scientific learning that takes place at the Exploratorium is not based on lectures, classes, or note-taking. Instead, it is all based, as the name suggests, on exploration. Visitors are encouraged to put their hands into strange substances to learn about the molecular makeup, to scream into sound chambers, to hit hydraulic balls at the wall as fast as they can, to take lie-detector tests to learn about human stress responses, and to enjoy many more exhibits. This is a great way to spend a day if you're thinking of things to do in San Francisco, and can keep your children (and yourselves) entertained for hours.
---
1) Golden Gate Bridge
The Golden Gate Bridge adorns every postcard and dominates many stories about the city of San Francisco. Here's a bit of trivia you can share when someone asks you, "Why is the Golden Gate Bridge red? Shouldn't it be golden?" It is not a misnomer. The bridge was never intended to be golden. That word in the title refers to San Francisco itself. When Spanish explorers first discovered the peninsula, they named the area the Golden Gate to America. Therefore, it was never the Gate Bridge of Gold, but the Bridge to the Golden Gate.
The bridge is approximately a mile and a half long, and any trip to San Francisco should include a trip across. If you don't want to pay the Southbound toll of $6, consider an expedition walking or biking across. One side of the bridge is specifically for walkers, the other for bikers.
View of the Golden Gate Bridge from Marin County Side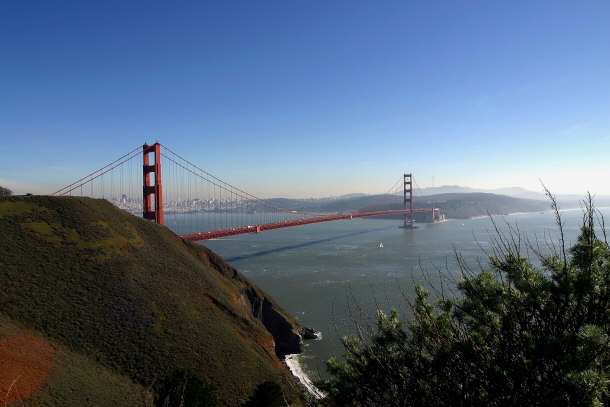 Beware high winds, as San Francisco is known for a breezy climate at best, and fog on most days.
Golden Gate Bridge at Night Time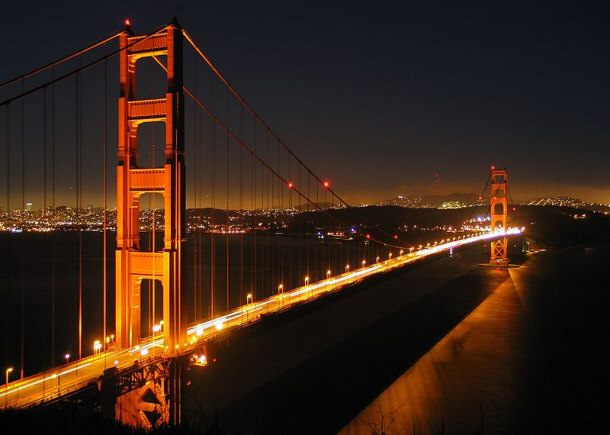 By Daniel Schwen, via Wikimedia Commons
---
Final Thoughts
When you're planning your visit and looking for things to do in San Francisco, there are many options. Many of these, such as Chinatown, the Castro district, the Haight, and Alcatraz, reflect the complicated, fascinating cultural history of this storied city. These places show scars of old battles, but have spent many decades being healed and making that old pain into something extraordinary. Other places, like the DeYoung Museum, Muir Woods, the California Academy of Sciences, and the Exploratorium, make use of the intellectual and forward-thinking nature of native San Franciscans. Whether your vacation to the Golden Gate includes all 15 or just one of the items on this list, you will discover a culture in San Francisco that you've never seen before.
Vacation Destinations
Top Lists:
Top 15 Interesting Places to Visit in the Bahamas
Top 15 Fun Things to Do in Miami, Florida
Top 15 Fun Things to Do in Chicago
Top 15 Best Unknown Things to do in Las Vegas
Top 15 Fun Things to Do in Hollywood
Top 10 Best Places to Visit in Turkey
The Top 15 Best Things to Do and See in Sydney
Top 10 Things to Do in Edinburgh
Top 10 Things to do on Oʻahu
Top 15 Things to Do in Albuquerque
Top 15 Interesting Places to Visit in Spain
Top 15 Places to Visit in New York City
Top 15 Things to Do in Portland Oregon
Top 15 Things to do in Greece
Top 15 Places to Visit in Houston Texas
Top 15 Interesting & Safe Places to Visit in Mexico
Top 15 Interesting Places to Visit in the Netherlands
Top 15 Interesting Places to Visit in Thailand
Top 15 Interesting Places to Visit in Switzerland
Top 15 Interesting Places to Visit in Portugal
Top 15 Places to Visit in San Francisco
Top 15 Interesting Places to Visit in Shanghai
Top 15 Interesting Places to Visit in Puerto Rico
Top 15 Interesting Places to Visit in Norway
Top 15 Interesting Places to Visit in Las Vegas
Top 15 Interesting Places to Visit in Jamaica
Top 15 Interesting Places to Visit in Croatia
Top 15 Interesting Places to Visit in Belgium
Top 15 Interesting Places to Visit in Bangkok
Top 15 Things to Do in Rio de Janeiro
Top 15 Things to Do in Monaco
Top 15 Interesting Places to Visit in Dubai
Top 15 Interesting Places to Visit in Amsterdam
Top 15 Things to Do in New Zealand
Top 15 Interesting Places to Visit in Paris
Top 15 Interesting Places to Visit in Italy
Top 15 Interesting Places to Visit in Singapore
Top 15 Most Interesting Places to Visit in Berlin
Top 15 Best London Attractions
15 Little Known Facts About New York City
Disney World Articles
Top 15 Disney World Rides for Adults
Top 15 Disney World Rides for Kids
Top 15 Disney World Resorts for Adults
Top 15 Disney World Resorts for Kids
15 Fascinating Facts About Disney World
Top 15 Fun Things to Do at Disney World's Animal Kingdom
Top 15 Fun Things to Do at Disney's Hollywood Studios
Top 15 Fun Things to Do at Disney World's Epcot
Top 15 Fun Things to Do at Disney World's Magic Kingdom

Shorter Top Lists:
Top 10 Tourist Attractions in San Diego
Top 10 Tourist Attractions In India
Top 10 Things to Do In Kansas City
5 Places You Should not Miss in Brazil
Top 5 Things to do in New York City

Informational:
Best Tourist Attractions In Vietnam
Taking in the Sights in Shanghai
Top Tourist Attractions in Perth, Australia
Nice places to visit while in Great Britain
Sampling the Foods at the Night Markets in Taipei
What to do for a Kenya Vacation
Best Attractions in Victoria, B.C.
Photos of the Luxor Hotel in Las Vegas