Top 15 Interesting Places to Visit in Singapore
Singapore is a very fascinating country, with its position as a global hub of trade in Asia as well as its diverse past. Being a unique piece of prized geography since the 11th century, Singapore has been occupied and reoccupied, and settled by many people from all different walks of life. But in the end, this city owns itself. Over the years, Singapore has overcome issues of sanitation, housing, poverty, and crime to grow into a clean, thriving commercial area with a tourist trade built around sublime experiences and jaw-dropping adventures.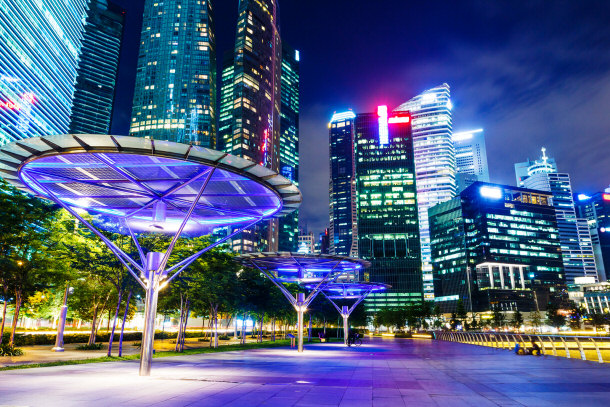 If you value independence and diversity in local culture, this is definitely a place that should be on your bucket list. Billing itself as the Garden City, Singapore seeks to fuse the industrial with the natural. It carries a social awareness for what it owes to the very environment that has helped it become a thriving port and commercial center, as well as a modern republic.
---
15) Science Centre
For over 35 years, the Science Centre in Singapore has dedicated themselves to helping families develop an interest in science and technology—something that has helped build the entire island into the country it is today. You have the choice of over 1,000 exhibitions to explore, all of which touch on the many cornerstones of scientific progress that are inherent to the Singapore experience. The center also loans out many more exhibitions to other venues—some even internationally. You can find a kinetic sculpture garden, a waterworks, and exhibits that cover many hot topics in science including genetics and climate change.
Entrance to the Singapore Science Centre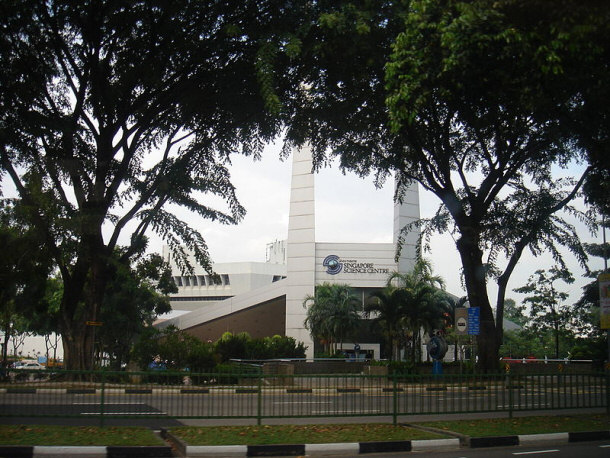 By mailer_diablo (Self-taken (Unmodified)), via Wikimedia Commons
One of the permanent exhibits at the center is called Defending Science. This experience takes visitors through an exploration of what science and technology goes into military defense, and how it can be used in other applications as well. You can explore the workings of radar, try out infra-red and hyperspectral cameras, and learn more about what goes into aircraft and armored tanks. There is a focus in other exhibits on civilian engineering as well, and activities and shows that encourage young and old both to tinker and create. At the Science Centre, science is not a static or esoteric phenomenon.
---
14) Orchard Road
This attraction is a 2.2 kilometer boulevard that is home to 22 shopping malls and 6 department stores—over 800,000 square meters of retail paradise. The street is lined with angsana trees, a historically important ornamental tree whose heartwood smells like roses. More greenery and flowers abound, as well as art exhibits and street performances. Orchard Road began as a simple country lane, home to nutmeg plantations, pepper growers, and—of course—the fruit orchards for which it is named. It wasn't until 1903 that business really took off here, starting with a single supermarket. Over time, Orchard Road replaced Singapore's High Street as a main center of commerce.
The Heart Of Orchard Road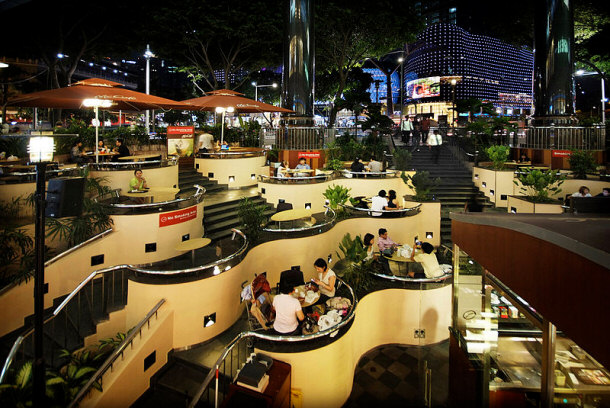 By William Cho, via Wikimedia Commons
Samsung hosts an annual event on Orchard Road called Fashion Steps Out. The main attraction during this time is fashion shows held right on the street, with the models using the road as a catwalk. During this time, there are also fashion trunk shows with myriad bargains for the savvy shopper. If you come in around December, you can also enjoy the Christmas lights that nearly smother the street in a festive glow.
Orchard Road During Christmas Season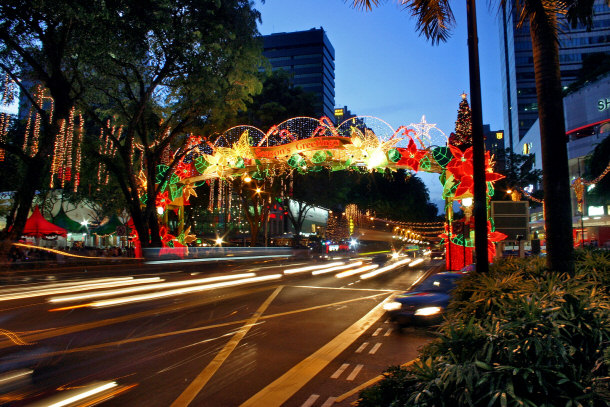 When you grow hungry during your shopping bonanza, there are also many full service restaurants that help round out the Road's 5,000 businesses, offering nearly every cuisine you could think of.
---
13) The Southern Ridges
These richly biodiverse natural trails are part of Singapore's National Parks promotion of the city's green spaces. The Southern Ridges connect Mount Faber Park, Telok Blangah Hill Park, HortPark, Kent Ridge Park, and Labrador Nature Reserve. Henderson Waves is part of the most visually stunning trail, with the world's highest pedestrian bridge built 36 meters above Henderson Road and connecting Mount Faber Park with Telok Blangah.
Henderson Waves Pedestrian Bridge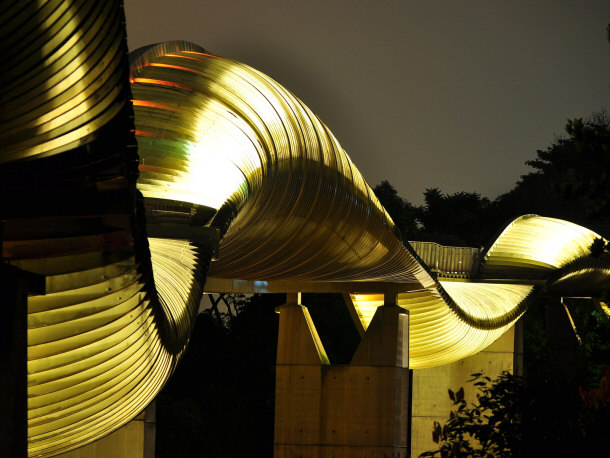 The bridge is designed to look like the curve of undulating waves that has just as much effect on you when you look up at it as when you're walking across looking down.
Two more paths, the Forest Walk and Canopy Walk, are excellent if you are a bird watcher or other nature enthusiast hoping to take a break from the city.
The Southern Ridges do well in linking the city to nature, allowing Singapore's vision of being the Garden City to come alive for those willing to hit the trails.
---
12) Buddha Tooth Relic Temple
Located in the Chinatown District of Singapore, the Buddha Tooth Relic Temple is a many-storied high rise complex. It features a Buddhist temple and a full museum that helps preserve both the religious heritage as well as the cultural history of the area. Originally a small 2-story structure, this site has gone through many negotiations and redevelopments marking the struggle between the spiritual convictions of the monks on-site, and the city's tourism board and their push for modern influence.
Buddha Tooth Relic Temple - Chinatown, Singapore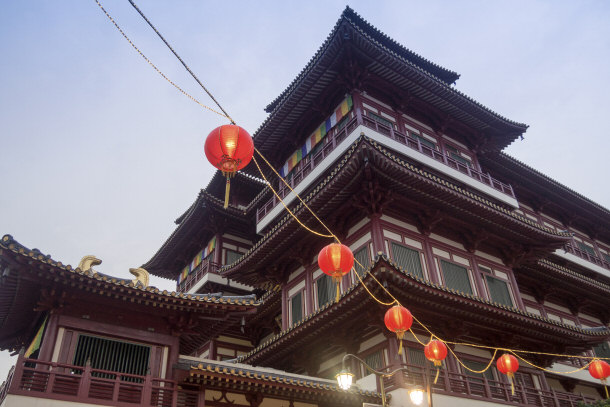 What was once discord, though, has become harmony, resulting in a beautiful example of traditional Tang dynasty architecture with a Singapore twist. The temple's mission is to further the teachings of Buddha, as well as help the less fortunate, true to the compassionate nature of Maitreya Buddha, to whom the temple is devoted to.
Prayer Service Inside Buddha Tooth Relic Temple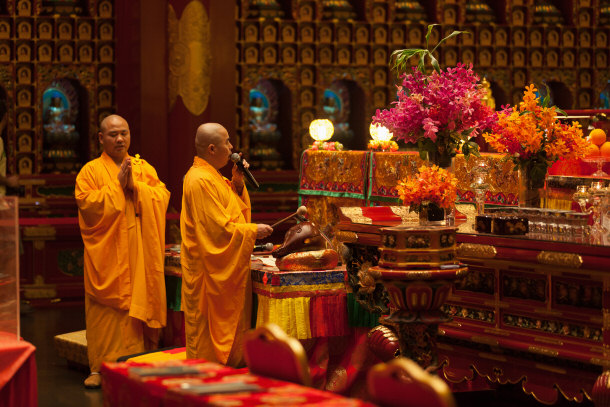 The museum within the temple has a historical gallery, relic chambers, an exhibit dedicated to Eminent Sangha, and another dedicated to Buddhist culture. Among the main relics present is a left canine said to belong to the Buddha, and brought from Myanmar in 1980. Besides the available Buddhist services, there is a theatre on-site, as well as a tea shop, a reference library, and retail for purchasing BTRTM publications and cultural items. Once you leave, the temple refers you to an online shop and offering link for any who wish to contribute to the work of the temple.
---
11) Asian Civilizations Museum
Singapore is very aware of its multi-ethnic heritage that influences its own modern culture. This museum is an extension of that awareness, operating as the region's first Pan-Asian center which focuses on educating you about the origins of the many groups that settled here, and how they have developed since that time.
Asian Civilizations Museum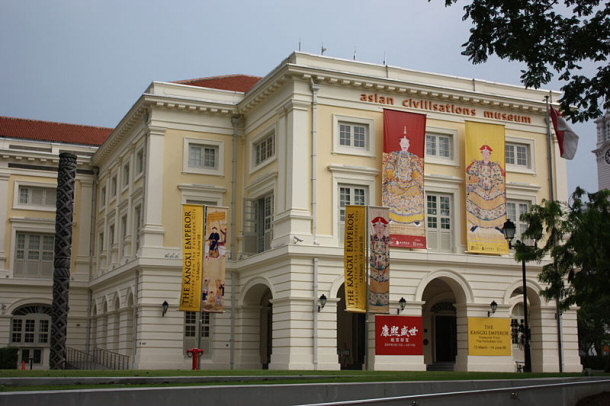 By WolfgangSladkowski, via Wikimedia Commons
There are exhibitions dedicated to South and Southeast Asia, West Asia, China, and then—of course—the Singapore River. The museum prides itself on rigorous research and careful curation to properly convey the colorful diversity of not just Singapore, but the entire continent of Asia. Often outsiders look towards Asian people and only see one unanimous culture when in fact, there is much diversity linguistically, culturally, historically, and even in each unique Asian culture's story of origin.
Within the Empress Palace—a fully restored historical building—the museum offers 11 galleries with over 1300 artifacts for you to explore. Take your time, because these span across 14,000 square meters of space. Don't worry about needing to make a full day of it, though, because the museum also houses a café and a full service restaurant, a souvenir shop, a full auditorium with revolving special presentations, as well as a reservable private events room that overlooks the Singapore River.
---
10) Changi Chapel
Changi Chapel and Museum chronicles a painful history to Singapore. The chapel was originally built next to Changi prison, which was established by the British in 1936. The website for the museum discusses that the Japanese used it to detain 50,000 prisoners of war during World War II in the nearby barracks, and over 6,000 civilians in the prison itself, when the building was only made to accommodate 300 prisoners. Conditions were terrible, with prisoners often tortured by the Kempeitai, or Japanese secret police.
After the war, the Australians and other Allied personnel built the original chapel to commemorate those who had suffered and died at Changi prison. Later, the chapel built by the POWs was reconstructed, and a museum was added, dedicated to WWII history. When the prison was expanded during a remodel a few years ago, the chapel and museum were moved roughly a kilometer away, which chronicles the history of the prison and its involvements in historic events. The museum also promotes works that have been written about the prison, including memoirs of civilians detained there.
---
9) Kranji War Memorial
The Kranji War Cemetery is located 22 miles north of the city of Singapore, near the Straits of Johore. Originally, the site was a military camp and munitions center, taken by the Japanese in 1942. The Japanese army then turned the area into a prisoner camp, with a hospital established nearby. Many wounded—both civilians and servicemen—ended up at Kranji, and those that died were so many they were buried in a mass grave.
Kranji War Memorial During a Military Service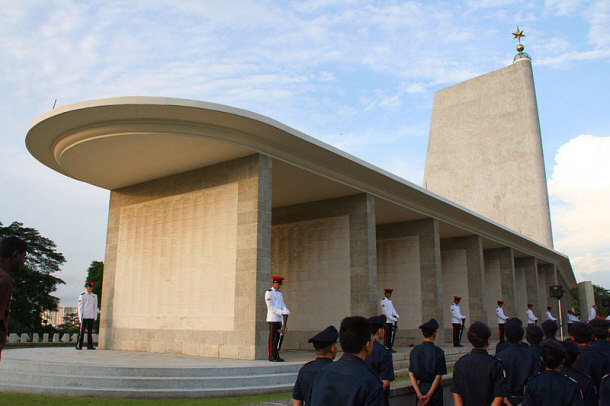 After the war, exhumation and identification of the bodies was not possible, so the government opted to consecrate it as a war cemetery. As other such cemeteries in Singapore were in need of relocation, the bodies came to rest at Kranji, which caused the need for designating the area as a permanent war cemetery.
Sign for The Kranji War Cemetery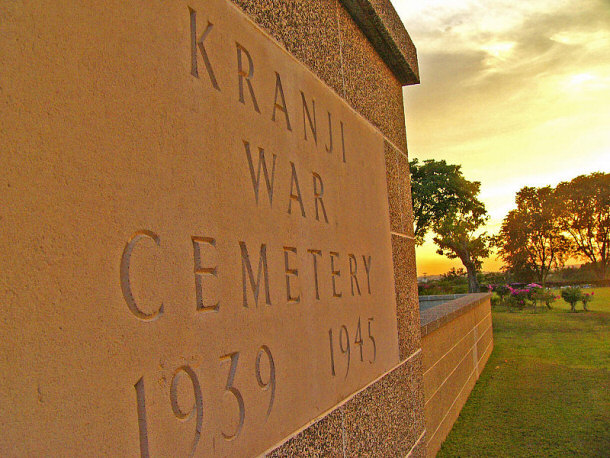 By yann (Flickr), via Wikimedia Commons
The main war memorial at the site is the Singapore Memorial, which commemorates 24,000 casualties with no known grave. Many are simply MIAs who never returned after being captured or disappearing, and were ultimately presumed dead. The various units were land forces involved in Malaya and Indonesia, and in the Burma-Thailand railway construction, as well as airmen who died during operations. There is also a separate memorial for the relocated, unmaintainable graves which—on religious grounds—could not rest in a war cemetery. A third memorial commemorates the Indian forces who died there, and were cremated according to their beliefs, and a final memorial represents those wounded who died in the care of the nearby hospital. Taxis and locals normally know the area as the Kranji Memorial, despite the fact that the cemetery was the first commemorative establishment there.
---
---
8) Singapore Zoo
Now 40 years old, this world class zoo is maintained by Wildlife Reserves Singapore, and is dedicated to education and conservation as much as entertainment and excitement.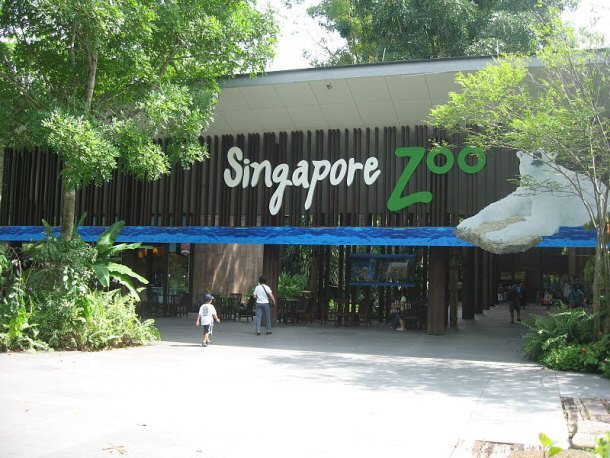 The zoo contains the Jurong Bird Park, and gives both river and night safaris to guests. The night safari is of particular interest, because it allows you to view nocturnal animals in action over a 40 minute ride that covers the zoo's seven main geographical zones.
Colorful Parrots at the Jurong Bird Park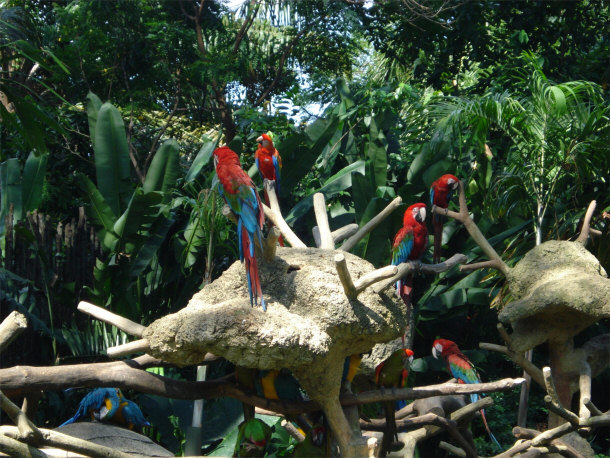 The landscape is meant to evoke everything from the Indian subcontinent to the Himalayan foothills to equatorial Africa, and shows the animals in as natural an environment as you can see without traveling out of the city to these places.
There are, of course, the usual shows and events meant to allow you a closer look at some of these amazing animals.
Animal Encounter Show at the Singapore Zoo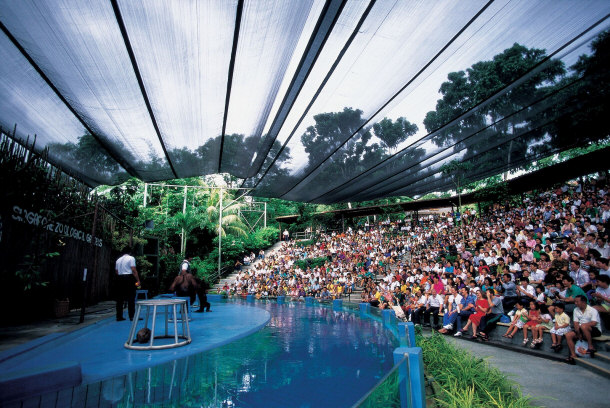 The zoo also touts its scenic walking trails that include a new Wallaby Trail which focuses on the Australian Outback.
---
7) Ultimate Drive
Ultimate Drive is about taking the exotic car rental business to the next level. Clients can rent one of two "supercars"—a red Ferrari F430 F1 Spider or a yellow Lamborghini Gallardo Spyder—and take them out for an adrenaline-filled cruise on the official F1 circuit through the city for up to a full hour. You can either drive the car—if eligible—or simply sit back and cruise, letting one of Ultimate Drives professionals do all the work. Various packages exist for customizing this tour to fulfill your wildest dreams, and you can even have a friend book with you and take both cars if you choose, being given the chance to "race" one another for fun at certain points on the circuit.
Drive Your Fantasy Car at Singapore's Ultimate Drive Experience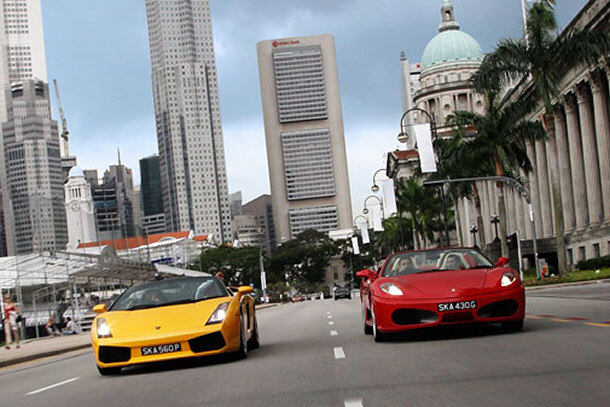 After the tour, you receive an Ultimate Drive certificate and a recording of your ride captured by onboard HD cameras, to let you keep this experience with you when you leave.
---
6) Flight Experience Singapore
This is one of the top-rated flight simulators in the world, allowing you the chance to "fly" a Boeing 737-800. The themed experience begins at check-in and lasts through meeting your first officer for the flight, attending an actual pre-flight briefing, arranging a flight plan to over 24,000 airports, conducting a boarding call, and post-flight. When you're done, you can browse the Boeing store that doubles as a gift shop for the establishment.
Inside the Cockpit of a Simulator at Flight Experience

The flight simulators are the same kind actually used to train pilots, and are as close to the real thing as you can get without pursuing a pilot's license. In fact, this facility offers programs for actual pilot training and prep for airline interviews. The center excels at providing family and corporate entertainment, but is also dedicated to aviation education, and has programs even for young children. They have a flying club if you would like to become a frequent flyer in the simulators. They even have courses geared to help you overcome your fear of flying through Cognitive Behavioral Therapy strategies that culminate in you taking the wheel in the simulator and successfully piloting to prove to yourself you've conquered your nightmares.
---
5) Food Playground
On a sight-seeing trip, taking a cooking class may be the last thing on your mind. But it's something you should consider when going to Singapore, because the Food Playground is an unforgettable experience. This school features courses in both cultural and nutritional food preparation that are taught not by professional chefs, but home-grown cooks who do what they do for the sheer love of food. Here, you'll find not drill-sergeant instruction in high pressure kitchens, but relaxed yet exciting interactive activities.
Learn Some Cooking Secrets and Have a Great Time at Singapore's Food Playground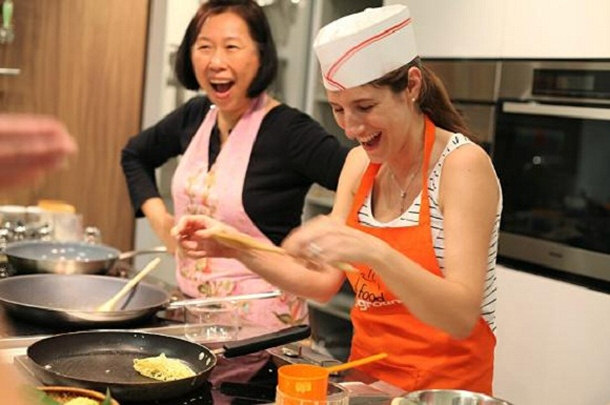 Food Playground is located in the Tanjong Pagar historical district within Chinatown, and can be a nice change of pace in a busy vacation schedule, as well as a memorable cultural lesson on Singapore's local cuisine. The company works to be socially aware, and likes to hire former stay-at-home moms and seniors that have difficulty finding employment elsewhere, but have the passion for cooking necessary to pass on to their students.
---
4) Botanic Gardens
The National Parks board maintains this 150 year old leisure garden cultivated on the same spot where the naturalist Sir Stamford Raffles created the first official garden in Singapore in 1822. The gardens have played a leading role in the "greening" of Singapore, being a source of botanical specimens as well as a place to research hybridization and cultivation for the purpose of city landscaping and encouragement of personal gardening through education.
The gardens' popularity has waned some, and its core facilities and heritage trees no longer draw the visitors they once did, but the Director has plans which will add key attractions to the gardens. A children's activity area is in the works, as well as a coolhouse, a marshland, and a "learning forest" with tropical trees that re-establish the gardens as a prestigious research institute and conservatory for rare species. The on-site function hall also hosts lecturers and other speakers that speak on topics of botany, conservation, and even their naturalist experiences in other countries.
Overhead View of Botanic Gardens, Singapore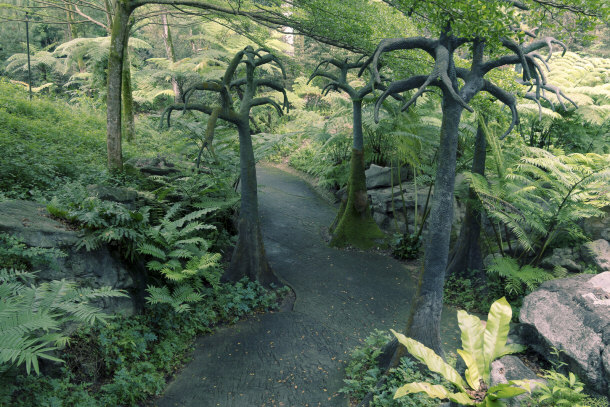 There is a party place and two halls with rental facilities to for your own personal functions, and the gardens offer periodic orchid sales as well to promote their hybrids and raise money for the gardens. If you're impressed with the work of the gardens and wish to help, they welcome donation and sponsorship that can keep you in touch with your experiences here well after your trip is over.
---
3) National Orchid Garden
Located in the central 3 hectare core of the Botanic Gardens' sprawling acreage, the National Orchid Garden is a focused space dedicated to Singapore's orchid hybridization work that is well worth the separate entrance fee to get in. The 400 species and 2,000 hybrids here—noted on the garden's website--are highly prized the world over for their temperance and hardiness, as well as the delicacy of their blooms that come in a variety of wild colors and patterns.
Singapore Orchids at the National Orchid Garden, Singapore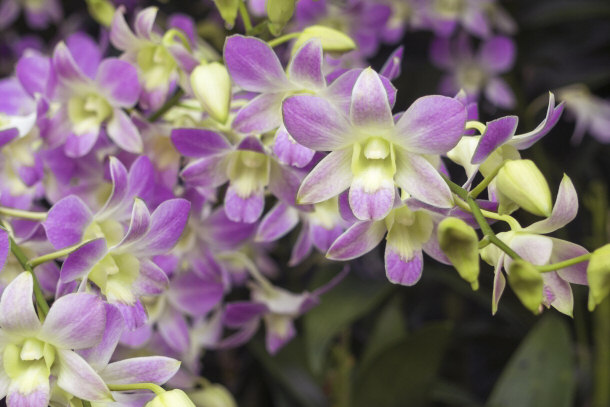 If you only intend to tour one park or garden in the entirety of the Garden City, this would be the one to stop at. There are 60,000 individual orchid plants cultivated here at any given time, with many more seedlings being offered for sale to visitors. The zones are themed to represent the seasons in design, with different hues predominating each part of the garden to the best effect of the flowers.
Walkway Attaching Different Zones of Botanic Gardens, Singapore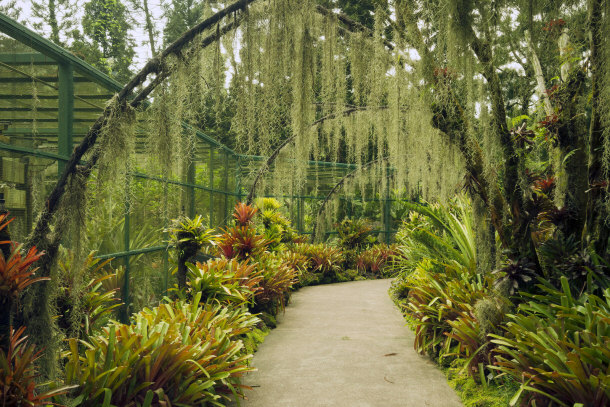 Even the background greenery is chosen for its coordinating foliage to showcase the blooms. Don't miss this amazing display of Singapore's national flower.
---
2) Wonder Full Light and Water Show
This multimedia night time display at Marina Bay Sands was designed by the Australian company Laservision, and uses water screen displays and pyrotechnics to achieve its awesome effects. The entire show is based around the song "What a Wonderful World" by Louis Armstrong, and utilizes that song in the end title. Marina Bay Sands reports that the three water screens span nearly 2,000 square meters in surface, and the show takes a half million watts of power to light up 250,000 LEDs, 30 high-power search lights, and 15 lasers. Iskandar Ismali—a famous Singapore composer—is one of the minds behind the music composition of the show that is played by a 140 piece orchestra over a 7.1 surround sound system.
Wonder Full Light and Water Show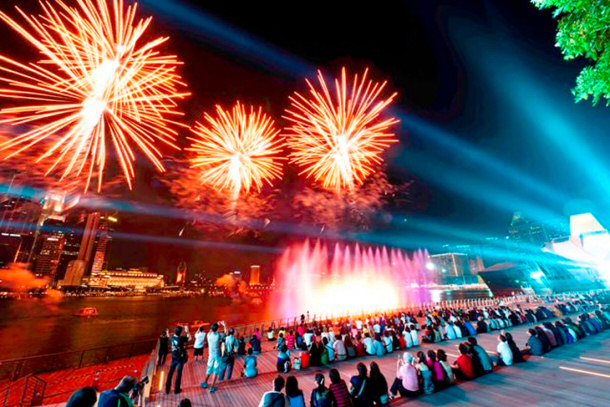 If you are unable to make the show, you can tune into the dedicated radio station for the spectacular on 103.9 FM in the local area and listen to the soundtrack. The show begins with just a single drop of water and grows from there, with each movement meant to represent a stage of human life, ultimately spanning birth to death.
Visually Dynamic Digital Imaging and Lighting Effects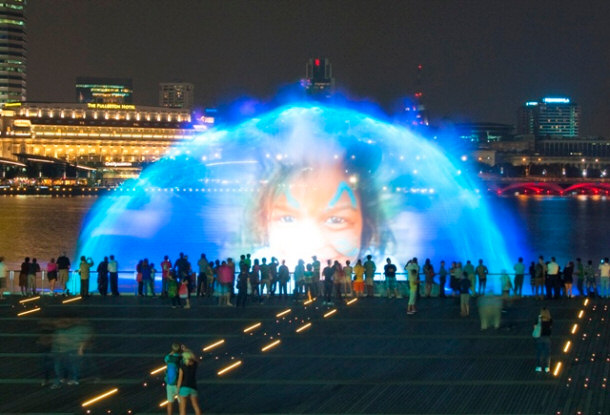 If you can't get enough of this experience, the show is sold on recorded DVD format in the gift shops around Marina Bay, so you can treasure it back at home as well—though this really isn't something to skip seeing in person, considering Southeast Asia's largest light and water show is the collaborative brainchild of over 100 engineers, technicians, artists, musicians, and other specialists.
---
1) Marina Bay
Marina Bay is the vivacious, central hub of modern Singapore, built to be a symbol of progress and technological advancement, and boasting a wide array of activities and attractions that are not only geared towards visits, but can be built as lifestyles as well. Marina Bay gives Singapore its signature skyline, and focuses commerce and trade seamlessly into the entertainment and tourism industry. It is important to giving Singapore the livable, comfortable atmosphere it desires and the reputation for luxury it is trying to build. It ties in the elements of modern urban life to the nature the area prizes so much, incorporating parks and green spaces in with business infrastructure.
The Marina Bay Sands, Singpore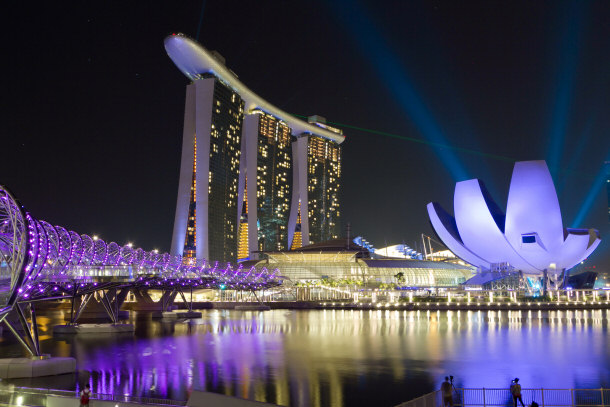 Among other things, Marina Bay is home to a large Waterfront Promenade which features the Mist Walk, an interactive water and light display that uses fine misters to bring down the ambient temperature of the urban trail to provide a more comfortable walking experience. Eventually, the Promenade comes out at the Youth Olympic Park—Singapore's first art park. There is also the Sands Skypark with the Infinity Pool, a hotel rooftop pool designed to let you swim on top of the world at 57 stories above ground.
There are also retail outlets, casinos, museums, and a variety of restaurants, including a chocolate bar. If this isn't enough, Marina Bay is also home to the Singapore Flyer, the world's largest observation wheel standing at 165 meters tall.
---
Final Words
Singapore is a city full of rich contrasts, one that embraces the new and cutting-edge modern world while still looking back at its varied past. Many cultures have settled here for many reasons, and these ethnicities—as much as labor and trade—have defined the unique atmosphere here. Singapore possesses a stand-out personality among Asian metropolitan areas. What you experience here will touch deeply and last a lifetime, whether you are getting in touch with your spiritual self at one of the famous temples, educating yourself on the history of the place through its many fine museums and memorials, or simply moving from one good time to the next with speeding cards and high flying flight simulators. Not mentioned here, of course, are thousands more attractions waiting to be found by you, from 6D motion rides to state of the art gaming arcades, full service high rise hotels brimming with the latest in technological luxury, and humble historical districts where you can escape from modernity and wander through traditional architecture. Despite its turbulent and often sad history, Singapore has become a city not just of gardens, but of eternal optimism, that remembers its past pain to inform its zest for life now. This alone is reason enough to stop in and say hello, and let Singapore's enthusiasm affect you, giving you not just a memorable trip but a new way of life.
Vacation Destinations
Top Lists:
Top 15 Interesting Places to Visit in the Bahamas
Top 15 Fun Things to Do in Miami, Florida
Top 15 Fun Things to Do in Chicago
Top 15 Best Unknown Things to do in Las Vegas
Top 15 Fun Things to Do in Hollywood
Top 10 Best Places to Visit in Turkey
The Top 15 Best Things to Do and See in Sydney
Top 10 Things to Do in Edinburgh
Top 10 Things to do on Oʻahu
Top 15 Things to Do in Albuquerque
Top 15 Interesting Places to Visit in Spain
Top 15 Places to Visit in New York City
Top 15 Things to Do in Portland Oregon
Top 15 Things to do in Greece
Top 15 Places to Visit in Houston Texas
Top 15 Interesting & Safe Places to Visit in Mexico
Top 15 Interesting Places to Visit in the Netherlands
Top 15 Interesting Places to Visit in Thailand
Top 15 Interesting Places to Visit in Switzerland
Top 15 Interesting Places to Visit in Portugal
Top 15 Places to Visit in San Francisco
Top 15 Interesting Places to Visit in Shanghai
Top 15 Interesting Places to Visit in Puerto Rico
Top 15 Interesting Places to Visit in Norway
Top 15 Interesting Places to Visit in Las Vegas
Top 15 Interesting Places to Visit in Jamaica
Top 15 Interesting Places to Visit in Croatia
Top 15 Interesting Places to Visit in Belgium
Top 15 Interesting Places to Visit in Bangkok
Top 15 Things to Do in Rio de Janeiro
Top 15 Things to Do in Monaco
Top 15 Interesting Places to Visit in Dubai
Top 15 Interesting Places to Visit in Amsterdam
Top 15 Things to Do in New Zealand
Top 15 Interesting Places to Visit in Paris
Top 15 Interesting Places to Visit in Italy
Top 15 Interesting Places to Visit in Singapore
Top 15 Most Interesting Places to Visit in Berlin
Top 15 Best London Attractions
15 Little Known Facts About New York City
Disney World Articles
Top 15 Disney World Rides for Adults
Top 15 Disney World Rides for Kids
Top 15 Disney World Resorts for Adults
Top 15 Disney World Resorts for Kids
15 Fascinating Facts About Disney World
Top 15 Fun Things to Do at Disney World's Animal Kingdom
Top 15 Fun Things to Do at Disney's Hollywood Studios
Top 15 Fun Things to Do at Disney World's Epcot
Top 15 Fun Things to Do at Disney World's Magic Kingdom

Shorter Top Lists:
Top 10 Tourist Attractions in San Diego
Top 10 Tourist Attractions In India
Top 10 Things to Do In Kansas City
5 Places You Should not Miss in Brazil
Top 5 Things to do in New York City

Informational:
Best Tourist Attractions In Vietnam
Taking in the Sights in Shanghai
Top Tourist Attractions in Perth, Australia
Nice places to visit while in Great Britain
Sampling the Foods at the Night Markets in Taipei
What to do for a Kenya Vacation
Best Attractions in Victoria, B.C.
Photos of the Luxor Hotel in Las Vegas