Top 15 Interesting Places to Visit in Spain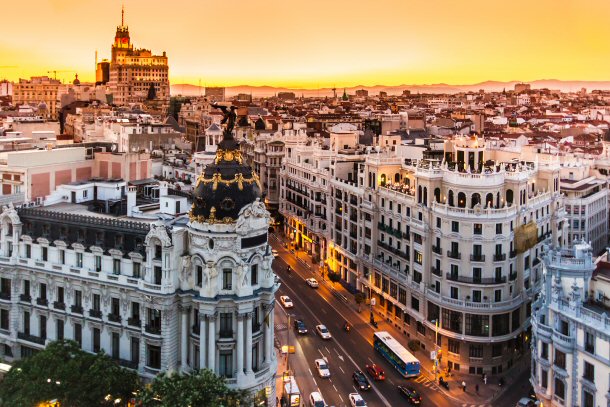 So you want to visit sunny Spain, huh? Let's imagine you have your plane ticket booked and your sun hat picked out but where would you visit? Spain is full of surprises as well as intriguing locations, such as: Andalucia, Ibiza, the Pyrenees, multiple churches, various museums and many exotic islands. It's steeped in culture, rich with nightlife and occupies beautiful scenery. Whether your trip is for business or pleasure, you'll be able to find something to your liking on the Iberian Peninsula. Buildings of all shapes and sizes that were designed by famous architects as well as artists are abundant in Spain. Are there places for music and dancing? Of course! Do you want to see something bizarre, something beautiful or something passionate? You're headed to the right place then. Spain has the excellent distinction of being close to many other European countries, like France and England, but it's no slouch when it comes to tourism. Let's explore Spain a little more specifically with these top 15 interesting places to visit while there.
---
15) The Royal Palace in Madrid
The Palacio Real de Madrid or the Royal Palace of Madrid is 1,450,000 square feet and has 3,418 rooms. No one actually lives there; it's just used for state ceremonies. It was built in the 18th century by the command of Phillip V and was constructed from 1738 to 1764. The style of the palace can be considered either Neo-Classical or Baroque. The Royal Palace of Madrid features a library, a pharmacy, an armory and the Sabatini Gardens. The gardens were designed by Zaragozan architect Fernando García Mercadal but they were named after Francesco Sabatini, who designed the stables where the garden used to be; they were opened to the public by King Juan Carlos I in 1978.
The interior is filled with art and many of the rooms are decorated extravagantly. The exterior is adorned with numerous sculptures of famous Spanish people, such as: Philip V, Maria Luisa of Savoy, Elisabeth Farnese, Ferdinand VI and Barbara of Portugal. Tours can be reserved by the public and are sometimes free on certain days of the week.
Sabatini Gardens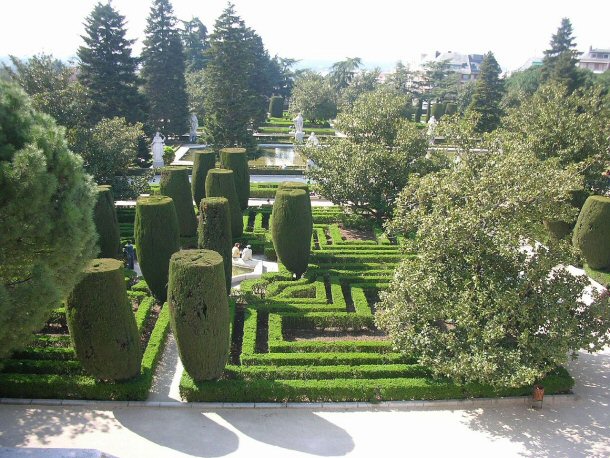 By Richie Diesterheft, via Wikimedia Commons
Staircase in the Royal Palace in Madrid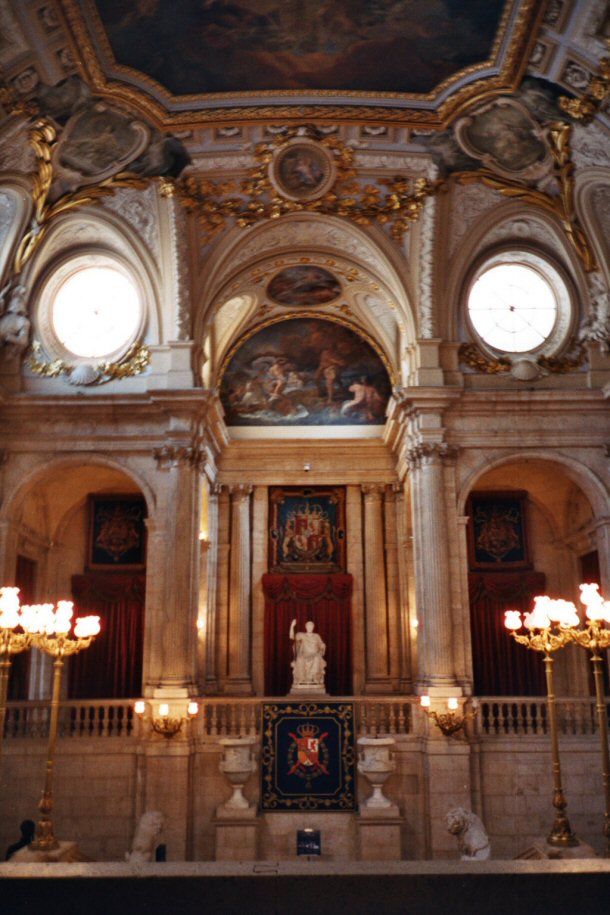 ---
14) Real Jardín Botánico de Madrid
The Real Jardín Botánico de Madrid, known as the Royal Botanical Garden of Madrid in English, is located right next to the Prado Museum in Madrid, Spain. The Botanical Garden in Madrid is a 20 acre botanical garden founded by Kind Ferdinand VI and it is near the Manzanares River. It's separated into seven sections and has five green houses. Many of the plants were collected by José Quer y Martínez, a surgeon and botanist. Ten thousand more plants were brought to The Royal Botanical Garden of Madrid by Alessandro Malaspina in 1794.
The Botanical garden has ornamental, medicinal, herbal and aromatic plants and much more. There is a Classical Romantic themed part of the Garden that is frequented by picnickers, there they can have a relaxing lunch by a pleasant duck pond.
There are Chinese peonies, irises from South Afric, and rhododendrons that originated in Korea as well as Japan. The garden has veggie patches, herbs, exotic flowers, wild roses and fruit trees. Tons of color, texture and variety are on display at the Royal Botanical Gardens in Madrid. These gardens should definitely be on your list of places to visit if you are a flower aficionado.
Royal Botanical Garden entrance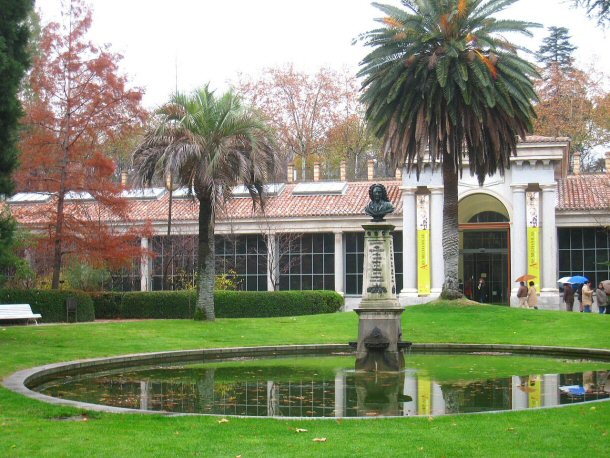 Inside the Royal Botanical Garden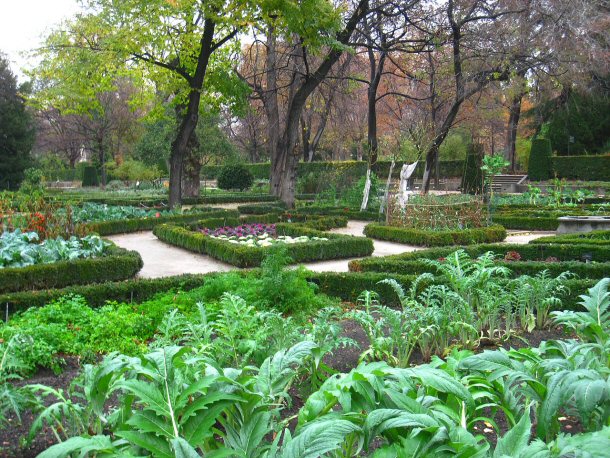 ---
13) Museo del Prado
Each year over two million people visit the Museo del Prado, Prado Museaum, and its amazing art collection. The art museum features the work of Hieronymus Bosch, Diego Velazquez, Francisco de Goya, Titian, Peter Paul Rubens and El Greco. The building is massive and currently houses 7,600 paintings, 1,000 sculptures, 4,800 prints and 8,200 drawings on three levels. There is a collection of art from Flemish artists in addition to Spanish ones, like Aton van Dyck. The Museo del Prado features historical documents too and is a wonderful place to get a firm grasp on Spanish art, since it is known to have the best collection of Spanish art in the world. Some of the paintings in it's collections include: Bosch's The Garden of Earthly Delights; Goya's La Maja Vestida; La Maja Desnuda, the Young Lady Dressed and the Young Lady Undressed,Velazquez's Las Meninas.
Entrance to the Museo del Prado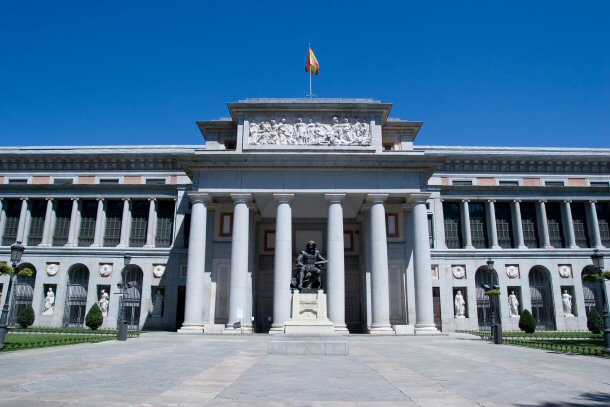 Inside the Museo del Prado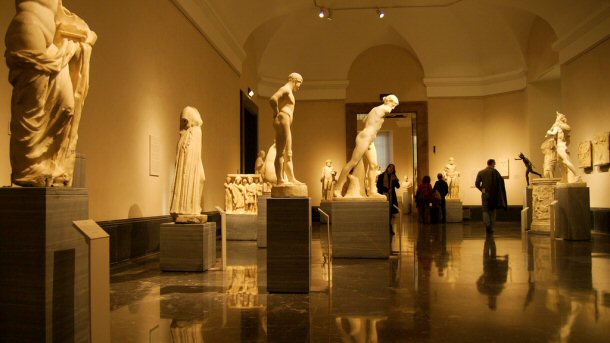 By van Ort, via Wikimedia Commons
Titian Room inside the Museo del Prado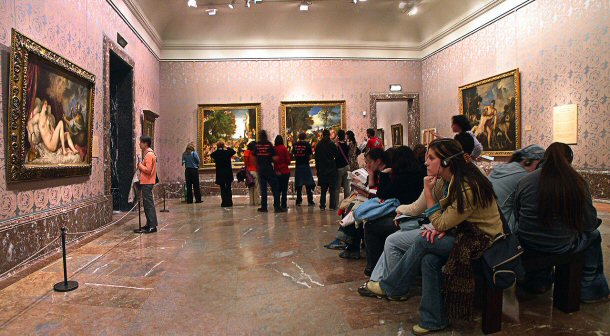 By José-Manuel Benito, via Wikimedia Commons
---
12) Segovia
Segovia is a bus ride away from the capital city of Madrid and you must visit it's amazing 2,000 year old Roman aqueduct, or acueducto romano. It's constructed completely without mortar from 20,000 granite blocks and covers 2,500 feet. It's an engineering feat that was still in use until the middle of the 19th century. The aqueduct is sometimes referred to as the Puente de Diablo, or Devil's Bridge, and the story claims it was build by the devil to win a woman's soul. He didn't succeed because he lacked the last stone by morning and apparently the holes in the stones at the Segovia Aqueduct are from the Devil's fingers. You be judge but he aqueduct is well preserved otherwise.
Segovia is home to a Renaissance cathedral and the Segovian castle Alcazar. Alcazar of Segovia actually inspired Walt Disney's Cinderella Castle. The interior of the castle includes a throne room, an armory room and numerous works of art. It's suffered damage and has been partially restored.
Arial view of Segovia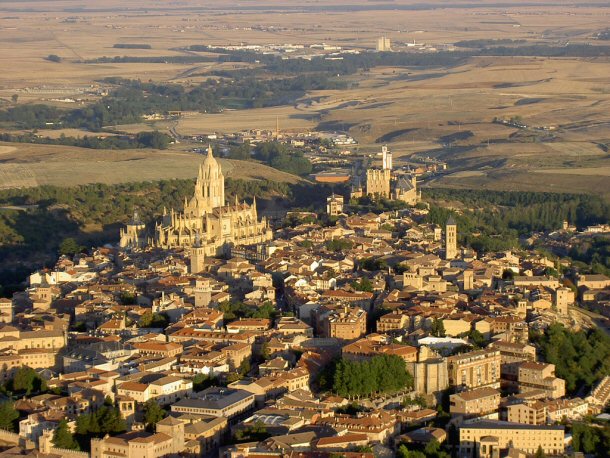 By McPolu, via Wikimedia Commons
---
11) Plaza Mayor in the Capital
Sit down at an outdoor table at one of the restaurants, relax, shop, take a stroll on the cobblestoned street, have a traditional churro and hot chocolate or people watch. These are just some of the things to do in the Plaza Mayor located in the Spain's capital, Madrid. A bronzed statue of King Phillips III stands at the center of the square; it was created by two Italian sculptors, Giovanni de Bologna and his apprentice named Pietro Tacca.
In the past, bullfights, royal weddings, births, burnings at the stake, executions and hangings during the Spanish Inquisition were held in the Plaza Mayor. In 1673, this plaza was the central place for food vendors and throughout the years, fires have destroyed the buildings surrounding the square of the plaza three times. The Plaza Mayor buildings caught fire once in 1631, once again in 1672 and lastly in 1790. Juan de Villanueva oversaw the construction of the buildings you see there today and The Plaza Mayor is less hectic these days, often serving as a place to meet friends or spend a lazy summer afternoon at a cafe.
The Plaza Mayor in Madrid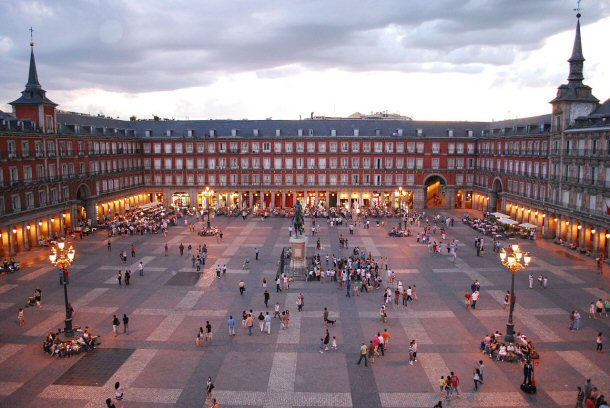 By Sebastian Dubiel, via Wikimedia Commons
Cafe Novelty in The Plaza Mayor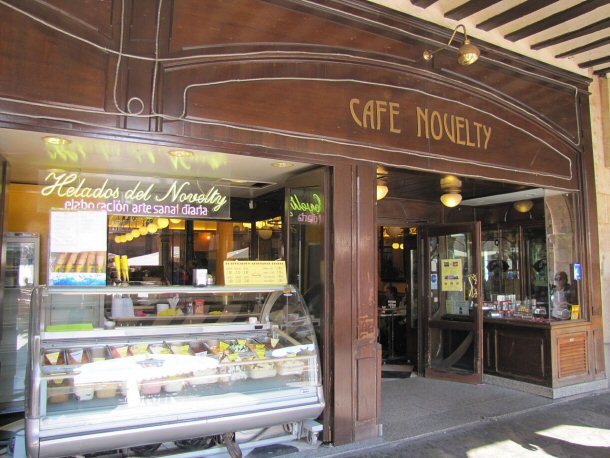 By Pravdaverita, via Wikimedia Commons
---
10) Bullfights in Andalucia: Major Culture, Major Costumes
Bullfights are dangerous and exciting events that you can see in person in Andalucia, a part of southern Spain that has about 70 different bullrings. Bullfights are a ritual and form of art both in Spanish culture and the region of Andalucia but they are also a major spectator sport. It's debatable whether bullfighting is a blood sport or fine art but sport might be a misnomer because bullfighting does not involve competition exactly. The ritual is about immortality where man, the matador, versus death, represented as the bull. The small red cape we're all familiar with is called a muleta and the red color is just for show because bulls are colorblind. Little known fact or the sport is that some of the outrageous costumes can cost more than 3,000 euros, that is around 4,130.00 US Dollars.
There's an official calendar of when bullfights are happening in certain bullrings in Andalucia and tickets are always available. An event like this is definitely something you won't forget and is a major spectacle that is integral to Spanish culture. If a real bullfight seems too extreme then you can always visit one of the museums to view costumes, memorabilia and photographs plus learn more about the history of bullfighting. One of the major bullfighting museums is in the Plaza de la Maestranza in Seville.
Plaza de Toros bullfighting arena in Andalucia, Spain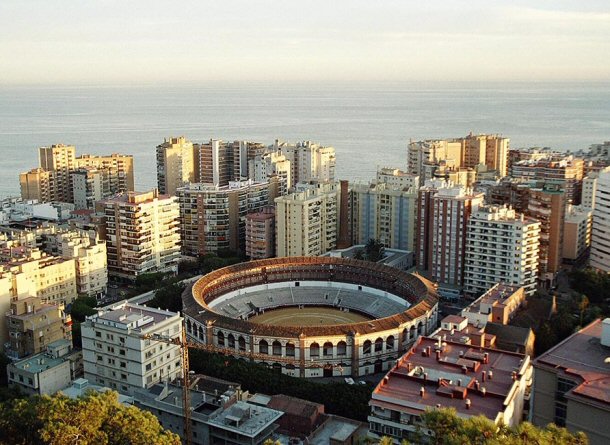 By Manfred Werner, via Wikimedia Commons
Plaza de la Maestranza in Seville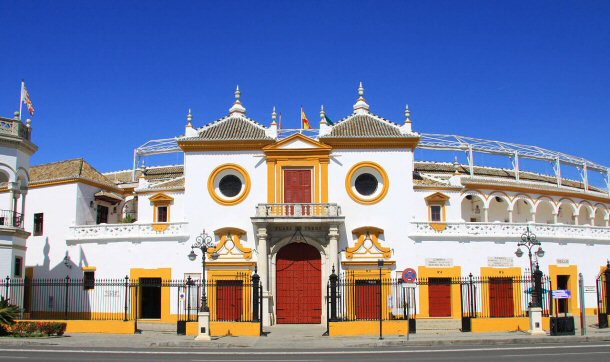 By Vincenzo venditti, via Wikimedia Commons
Matador fighting a bull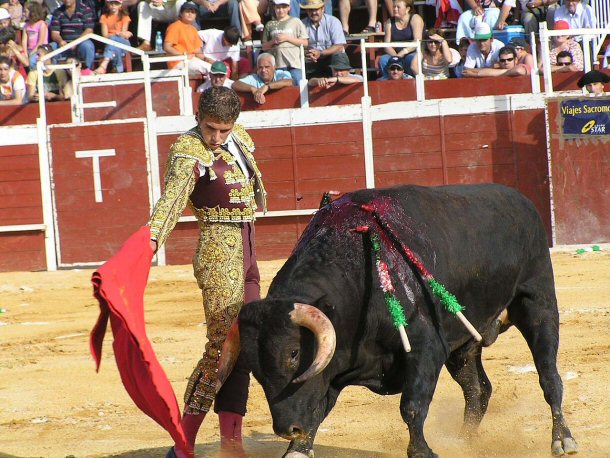 By Michelangelo-36, via Wikimedia Commons
---
---
9) Ibiza: the Party Island
There's a reason why pop and dance songs talk about going to Ibiza; it's all about the nightlife. Ibiza is a Mediterranean island about 49 miles off the coast of eastern Spain with many different clubs to choose from, some of the famous ones are: Ammesia, Pacha, Underground, Space and Privilege. Much of the music featured in the clubs are house, trance, techno and electronic dance. The schedule and waking hours for most visitors is different from anywhere else. Waking at noon then napping in the evening are necessary to be alert for partying until sunrise and "Sunrise discos" are part of the routine in Ibiza.
Even though Ibiza is considered the clubbing capital of the world, that's not all there is to this island. There's parasailing, beach festivals and local "Hippy" markets that sell local produce as well as specialty goods like handmade soaps. There's a secret cove that is mysteriously called Atlantis and the location can only be found by asking a local. Ibiza can be reached by boat but there is also a local airport. The vibe could be crazy or could be relaxed depending on the time of day and the season but Ibiza is sure to be a fun time with many things to do.
Beach at Portinatx, Ibiza

---
8) Bodegas Ysios
Bodegas Ysios is architecturally stunning and it's located in Laguardia near the Sierra de Cantabria mountain range in the Rioja region of Spain. It's not only a beautiful building to look at but it's also a winery. A masterpiece surrounded by vineyards, it consists of an aluminum roof and a copper treated cedar facade. You've never seen anything quite like it, especially right in the middle of nature. The structure was designed by Calatrava and opened in 2001. The idea was to make a "temple" for wine and the design of the building was meant to exist in harmony with the nature surrounding it. The shiny metal roof rolls along the top of the building in a very natural and nature inspired way. The region is supposed to be ideal for growing grapes and Bodegas Ysios takes advantage of that. Bodegas Ysios produces wines on site, offers wine tastings, tours and classes that can give you a chance to view amazing architecture as well as drink fine wine at the same time.
Bodegas Ysios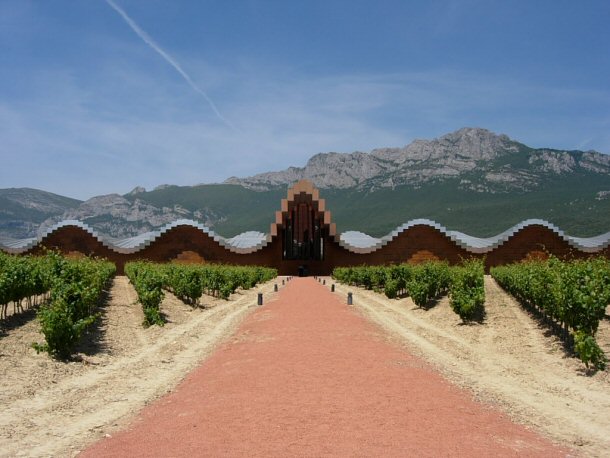 By Roberto Lumbreras, via Wikimedia Commons
Winery Facilities in Bodegas Ysios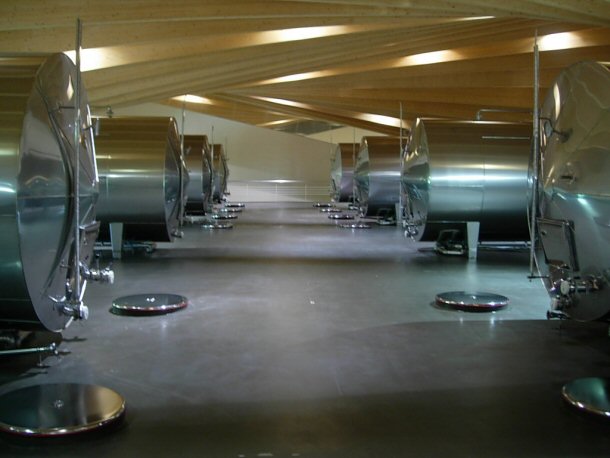 By Roberto Lumbreras from Madrid, España, via Wikimedia Commons
---
7) The Pyrenees: the Great Outdoors in Spain
The Pyrenees is the place to be in Spain if you're outdoorsy and the name comes from Greek mythology, the story of the princess Pyrene. The Pyrenees is a huge mountain range in northern Spain and it happens to be the natural border between Spain as well as France plus there is a teeny country named Andorra squeezed into the middle. This mountain range is chock full with breathtaking views of pure nature and hiking is the major focus with tons of short as well as long trails to be found. The most famous one is referred to as the Pyrenean Trail that covers the whole mountain from one end to the other. If hiking's not your thing, daredevils can try hang gliding or paragliding around the Pyrenees. Maybe white water rafting in Noguera Pallaresa or canoeing in the Bidasoa River is more your style. The mountain range can be explored by bike and horseback riding is also available; the Pyrenees is a major part of the Tour de France in July. In the winter, the mountains are dusted with snow and alpine skiing as well as mountaineering are the sports featured; there's even a dog mushing competition. Beautiful landscapes and tons of sporting activities make the Pyrenees a must for adventurers.
Noguera Pallaresa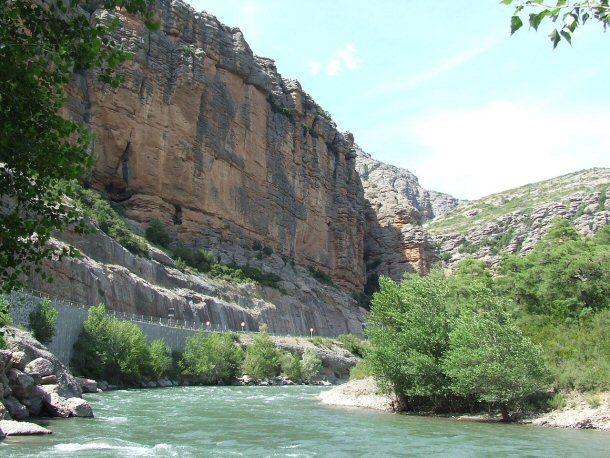 By Gustau Erill i Pinyot, via Wikimedia Commons
Bidasoa River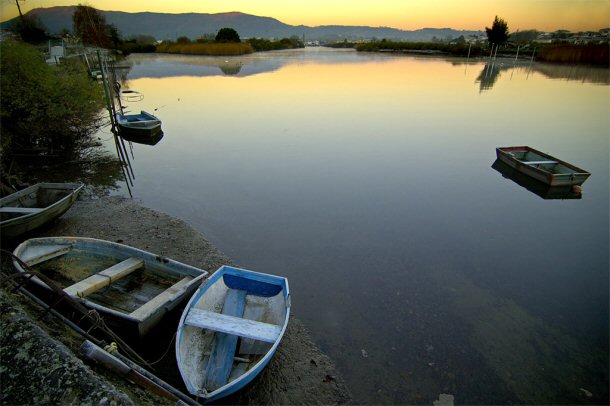 By Pablo Moratinos, via Wikimedia Commons
---
6) Santiago de Compostela
Santiago de Compostela is the capital of Galicia in Spain and is home to the City of Culture of Galicia, a series of cultural buildings designed by architects led by Peter Eisenman. The buildings are specifically located in the Coruna and resemble low rolling hills. The community of Santiago de Compostela is home to the Monasterio de San Martín Pinario, a 16th century former Benedictine monastery.
Another attraction is the Cathedral of Santiago de Compostela, a striking Gothic and Baroque Roman church in Galicia, Spain. The Cathedral of Santiago de Compostela is supposedly where Saint James the Greater, an apostle of Jesus Christ, is buried. The church has been added onto in the 16th, 17th and 18th centuries. The front facade, the Facade of the Obradoiro, was designed by Fernando de Casas Novoa; it's Romanesque, featuring glazed windows. The structure also includes multiple bell and clock towers.
Santiago de Compostela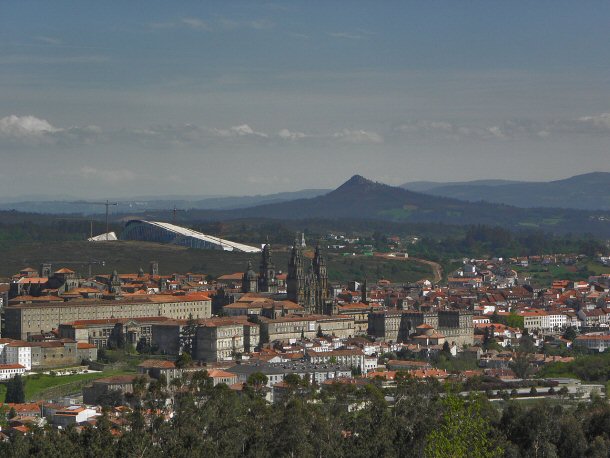 By amaianos, via Wikimedia Commons
The Cathedral of Santiago de Compostela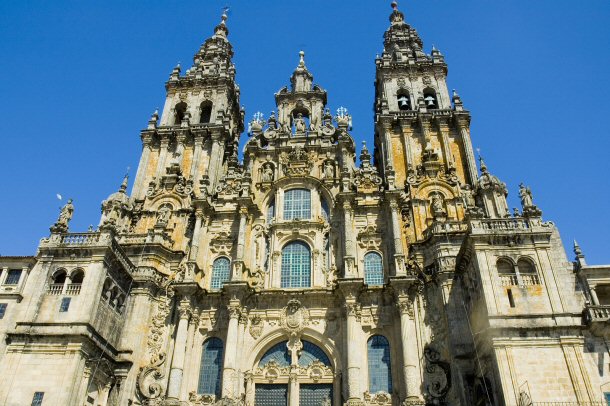 Inside the Cathedral of Santiago de Compostela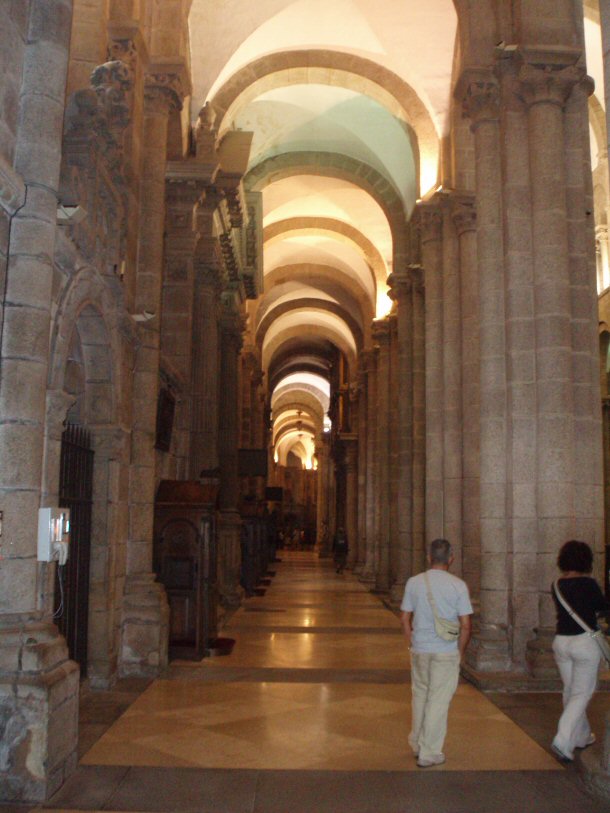 By Lancastermerrin88, via Wikimedia Commons
---
5) Tapas in Madrid
Madrid and Spain in general are known around the world for their tapas, which are small meals or appetizers that you can make a dinner out of. Tapas can be served cold or hot, depending on the dish. Some tapas involve cheese and olives, while others will feature meat or seafood. Sometimes classic Spanish dishes will be featured like chorizo, empanadillas or patatas bravas.
The origin of the tapas, meaning "to cover" in Spanish, is that bread would be used to put on top of a sweet drink, such as the customary sherry, to prevent fruit flies from taking an unwanted dive; the snack accompanying the drink became known as tapas in time. Tapas in northern Spain are sometimes referred to as pinchos, or toothpicks, because they commonly involve a few foods held together with a toothpick. The toothpick also helps keep track of the number of foods a customer has eaten.
Going to different tapas bars can be like a pub crawl, bars and nightlife being another thing Madrid is known for. Tapas bars can easily be found around Plaza Mayor and throughout the rest of the city. A couple major tapas restaurants in Madrid include: Mercado de San Miguel, Casa Revuelta and Juanalaloca.
Tapas bar in Madrid, Spain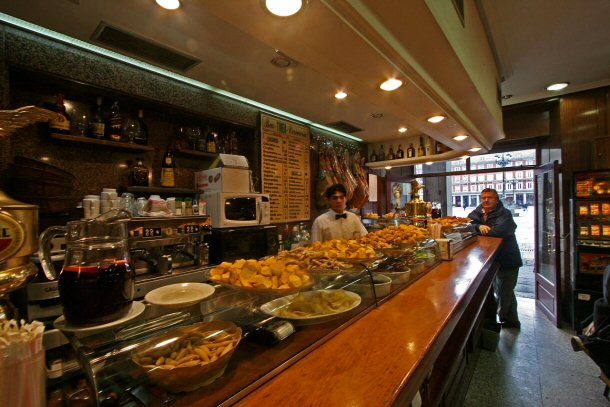 By Brian Snelson, via Wikimedia Commons
Empanadillas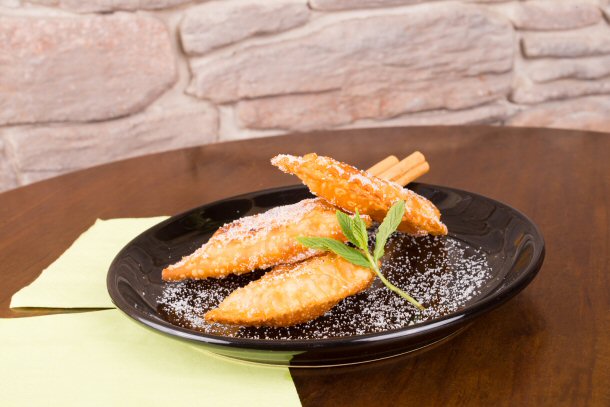 ---
4) The Dali Theatre and Museum
If you want to know more about the surrealist artist Salvador Dali then look no further; the Dali Theatre and Museum is located in Figueres, Catalonia, Spain. The museum is in Salvador Dali's home town and was opened to the public in September 28, 1974. It holds the biggest collection of artwork by Salvador Dali in the world but includes works by additional artists too; Dali himself is interred in a mausoleum in the basement.
Various bizarre as well as imaginative things can be seen in the Dali Theatre and Museum; this includes: mechanical devices, collages and custom furniture. The entire place is considered "the world's largest Surrealist object" and you can easily see why by looking at the building itself, which is a combination of different styles, objects and sculptures. Some interesting works include Autoretrat tou amb bacon fregit (1941); L'espectre del sex-appeal (1932); Poesia d'Amèrica-Els atletes còsmics (1943); the room called Mae West, which features furniture that creates an image of Mae West from only a certain angle. This mind bending place can be experienced by anyone, all you need to do is buy a ticket.
The Dali Theatre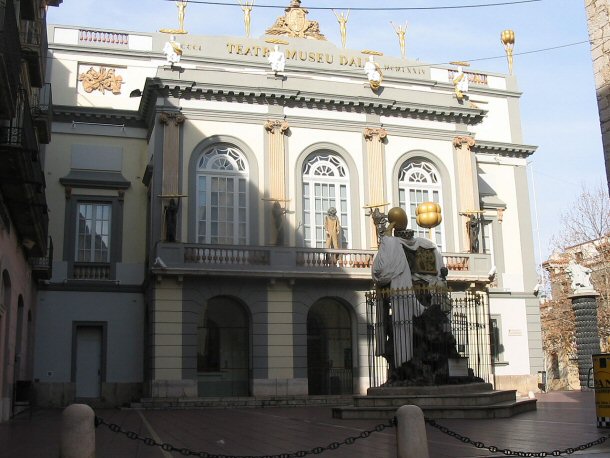 By Olivier2000, from Wikimedia Commons
The Dali Museum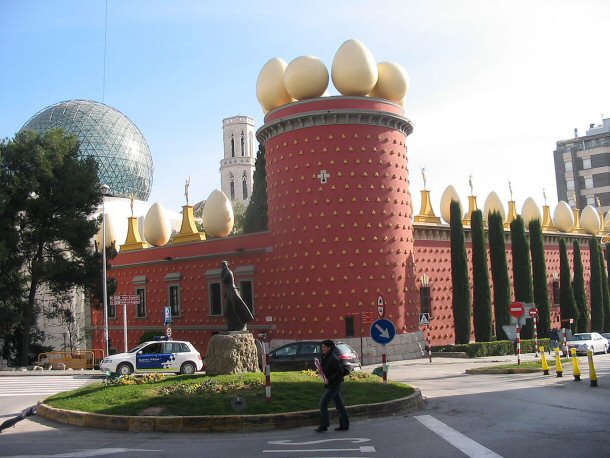 By CC-BY-SA-2.5., via Wikimedia Commons
---
3) Flamenco in Seville
Seville is famous for the energetic and dramatic flamenco. Seville is home to several tablaos, which are major venues for choreographed flamenco dancing. Flamenco performances can range in price from expensive shows at exclusive venues to impromptu performances for just the price of a drink if you happen to catch a nightly performance in a local bar. The types of performances can range from traditional and highly authentic, to modern or more tourist oriented. If you want a reliable artistic and true form of flamenco then try to catch a show at one of the peñas in Seville. Peñas are small clubs specifically for flamenco and are known for maintaining the highest standards. Performances aren't regularly scheduled, so looking for posters locally or just listening for flamenco music on the streets of Seville are some of the methods you might have to use to find these types of events. It could be worth it if you're fiercely dedicated to seeing a night of the "real" flamenco; this site of Spain is one that a casual tourist can easily miss.
Flamenco Club in Seville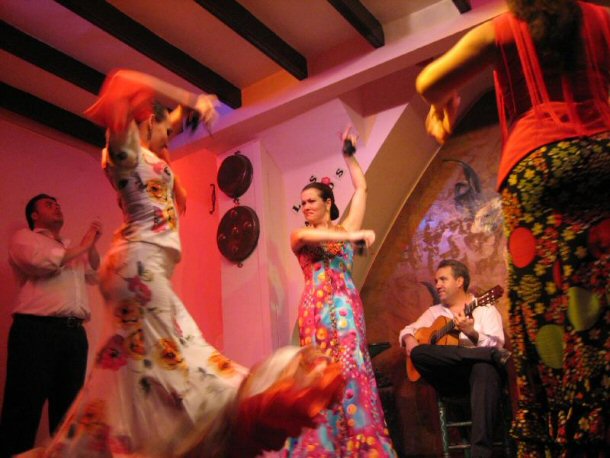 By Mongol, via Wikimedia Commons
Choreographed flamenco show in Seville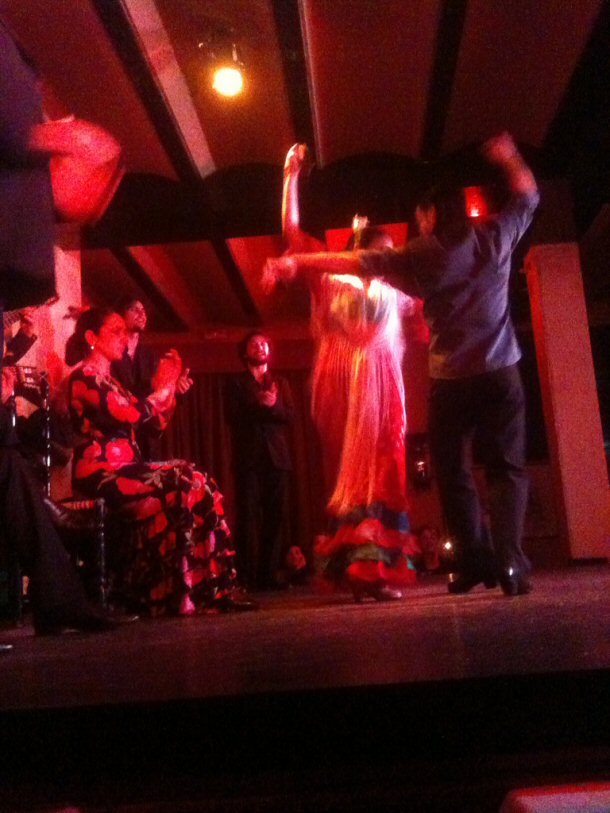 ---
2) Museo Guggenheim Bilbao: the Matter of Time in Bilbao
In Bilbao, Basque Country in Spain, stands the Museo Guggenheim or the Guggenheim Museum and it's one of several museums that belong to the Solomon R. Guggenheim foundation. The architecture of the building was designed by Frank Gehry and it is striking. It is an enormous work of glass, titanium and limestone on a 32,500 square meter site that has been described by architect Phillip Johnson as "the greatest building of our time". It's a sight to see, especially when viewed from the nearby Nervión River and that's just the outside! The Guggenheim Bilbao is home to nineteen exhibitions and some of the installations in the building, as well as outside, are huge. One of the huge exhibitions is The Matter of Time by Richard Serra and it's a long curved structure constructed out of steel. This 14 feet high artistic piece weighs 1,034 tons and is housed in the 430 foot Arcelor Gallery. The Matter of Time is also the only permanent exhibition in the museum, which is not surprising when you imagine having to transport a 1,034 ton steel structure. The Guggenheim Bilbao is impressive in almost every way and has to be seen to be believed.
The Museo Guggenheim Bilbao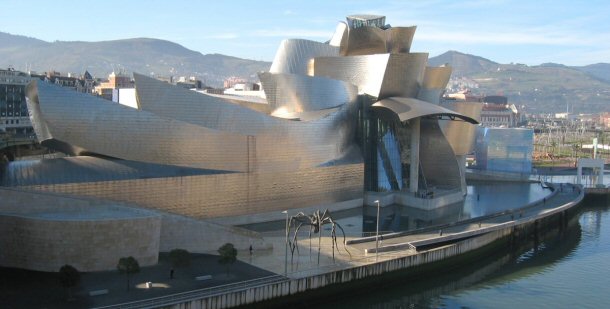 By MykReeve, via Wikimedia Commons
The Matter of Time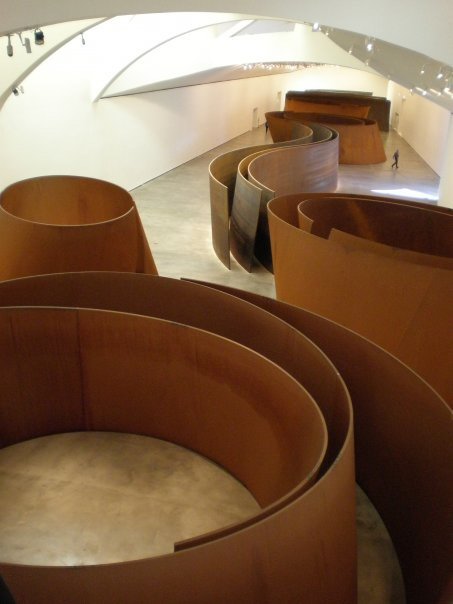 ---
1) Gaudi in Barcelona: Sagrada Familia, or Sacred Family
The Basílica i Temple Expiatori de la Sagrada Família, also known as Sagrada Familia or Sacred Family, is a Roman Catholic church designed by Antoni Gaudí. If you only check out one place in Spain then make it this. 2.8 million people a year come to visit this gorgeous church that is incredibly unique, unfinished and the most popular monument in Spain. Gaudí died in 1926 before the church could be completed and architects have been working on finishing the church ever since. Construction on the church is estimated to be completed in 2026, the centennial of Gaudí's death. The church is also home to the Museu Gaudí, where you can learn more about his interesting life and work. Guided tours and audio tours are available, which will help you understand more about the complex nature of the building as well as its history. Make sure to take your time to view the stained glass and mosaics that set this church apart with Gaudí's signature style.
There are three facades on the exterior of the Sagrada Familia: the Nativity Facade, the Passion Facade and the Glory Facade. The facades feature intricate sculptures that depict scenes of Catholicism, religious figures, nature and animals. The Nativity Facade in particular was the first facade to be finished and is dedicated to the birth of Jesus. The Nativity Facade also includes tall and narrow spiral staircases that can be climbed.
Sacred Family Passion Facade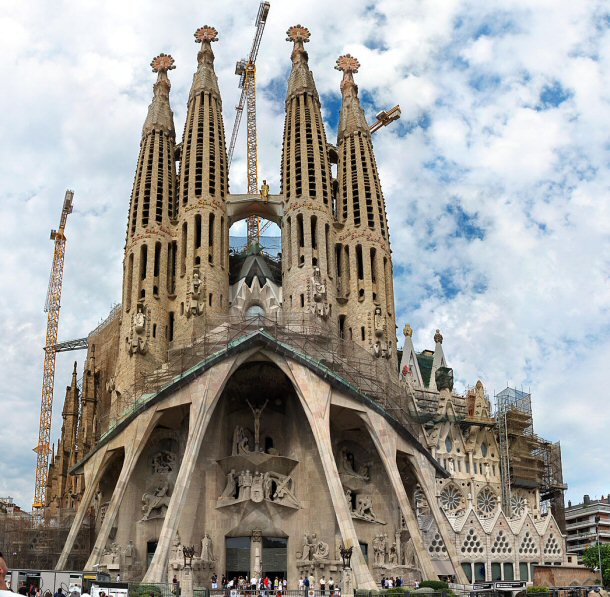 By Wjh31, via Wikimedia Commons
Sacred Family Nativity Facade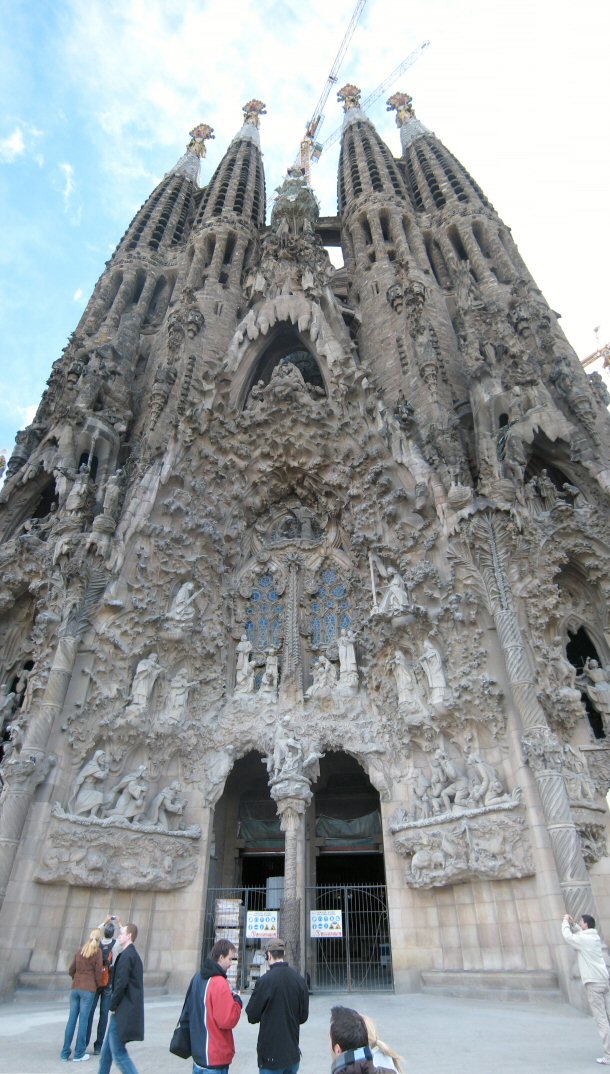 Smackfu, from Wikimedia Commons
Sacred Family Glory Facade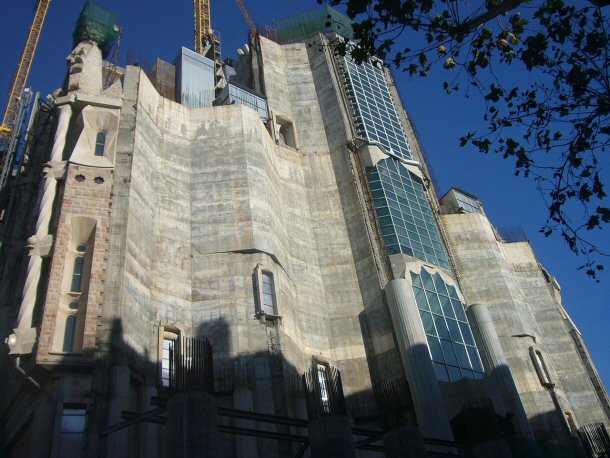 By Jordiferrer, via Wikimedia Commons
---
Finals Thoughts
The country of Spain is full of artistic and natural wonders. Major places to visit are: the Guggenheim, Gaudi's beautiful and interesting architecture; the historic Plaza Mayor of Madrid and even the party towns. The types of places that you could visit in Spain are incredibly diverse with more things to do than you could imagine. You could hang glide, dance to electronic music, see flamenco dancers and attend bullfights when traveling though the mountains of the Pyrenees and across major cities. You can see strange paintings and buildings that are extremely modern or view more classic art as well as architecture that is Roman, Gothic, Baroque or Renaissance in style. See gardens, islands, coves and snow covered mountains. Bike, hike, swim and hunt; it's all possible in Spain. The hardest part will be figuring out just what you can manage to fit into your vacation schedule with the time you have there.
Vacation Destinations
Top Lists:
Top 15 Interesting Places to Visit in the Bahamas
Top 15 Fun Things to Do in Miami, Florida
Top 15 Fun Things to Do in Chicago
Top 15 Best Unknown Things to do in Las Vegas
Top 15 Fun Things to Do in Hollywood
Top 10 Best Places to Visit in Turkey
The Top 15 Best Things to Do and See in Sydney
Top 10 Things to Do in Edinburgh
Top 10 Things to do on Oʻahu
Top 15 Things to Do in Albuquerque
Top 15 Interesting Places to Visit in Spain
Top 15 Places to Visit in New York City
Top 15 Things to Do in Portland Oregon
Top 15 Things to do in Greece
Top 15 Places to Visit in Houston Texas
Top 15 Interesting & Safe Places to Visit in Mexico
Top 15 Interesting Places to Visit in the Netherlands
Top 15 Interesting Places to Visit in Thailand
Top 15 Interesting Places to Visit in Switzerland
Top 15 Interesting Places to Visit in Portugal
Top 15 Places to Visit in San Francisco
Top 15 Interesting Places to Visit in Shanghai
Top 15 Interesting Places to Visit in Puerto Rico
Top 15 Interesting Places to Visit in Norway
Top 15 Interesting Places to Visit in Las Vegas
Top 15 Interesting Places to Visit in Jamaica
Top 15 Interesting Places to Visit in Croatia
Top 15 Interesting Places to Visit in Belgium
Top 15 Interesting Places to Visit in Bangkok
Top 15 Things to Do in Rio de Janeiro
Top 15 Things to Do in Monaco
Top 15 Interesting Places to Visit in Dubai
Top 15 Interesting Places to Visit in Amsterdam
Top 15 Things to Do in New Zealand
Top 15 Interesting Places to Visit in Paris
Top 15 Interesting Places to Visit in Italy
Top 15 Interesting Places to Visit in Singapore
Top 15 Most Interesting Places to Visit in Berlin
Top 15 Best London Attractions
15 Little Known Facts About New York City
Disney World Articles
Top 15 Disney World Rides for Adults
Top 15 Disney World Rides for Kids
Top 15 Disney World Resorts for Adults
Top 15 Disney World Resorts for Kids
15 Fascinating Facts About Disney World
Top 15 Fun Things to Do at Disney World's Animal Kingdom
Top 15 Fun Things to Do at Disney's Hollywood Studios
Top 15 Fun Things to Do at Disney World's Epcot
Top 15 Fun Things to Do at Disney World's Magic Kingdom

Shorter Top Lists:
Top 10 Tourist Attractions in San Diego
Top 10 Tourist Attractions In India
Top 10 Things to Do In Kansas City
5 Places You Should not Miss in Brazil
Top 5 Things to do in New York City

Informational:
Best Tourist Attractions In Vietnam
Taking in the Sights in Shanghai
Top Tourist Attractions in Perth, Australia
Nice places to visit while in Great Britain
Sampling the Foods at the Night Markets in Taipei
What to do for a Kenya Vacation
Best Attractions in Victoria, B.C.
Photos of the Luxor Hotel in Las Vegas