Top 15 Interesting Places to Visit in Switzerland
Mannlichen - Jungfrau Region, Bern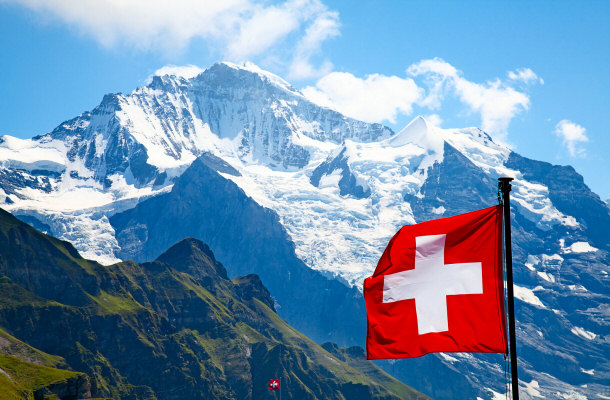 What do you imagine when you think of Switzerland? Do you think of cold winds and short days? Well, you shouldn't. Do you ponder over their wonderful cheese and ask just how do they get those little holes in them? A step in the right direction, but go much further. You see, Switzerland is a wonderful land for any type, whether you are the academic searching for knowledge, the wanderer in need of enlightenment, or even the adventurer looking for long treks that end with amazing sights. Resting in the middle of Europe, Switzerland is a deceptively small country that has many surprises in store for any traveler lucky enough to see it. It is like a good friend, only too eager to show you just how much fun you can have while visiting. It is without a doubt an easy task to find those who can help you start upon your amazing journey in exploring the sweet little country that is only waiting to please those who want to see it. So why not take in what it has to offer, to embrace the experience of several delights known simply as Switzerland? Gathered here are only the fifteen most interesting places to visit. No doubt, though, there are many more for you beyond just this list.
---
15) The CIMA Museum (or Centre International de la Mécanique d'Art)
The town of Sainte-Croix, which proudly displays to visitors with a sign, "Welcome to the land of mechanical dreams," is home to the great museum called the Centre International de la Mécanique d'Art, or International Center of Art Mechanics. This charming little place is home to the history and displays of the music box and other mechanical music.
Village of Sainte-Croix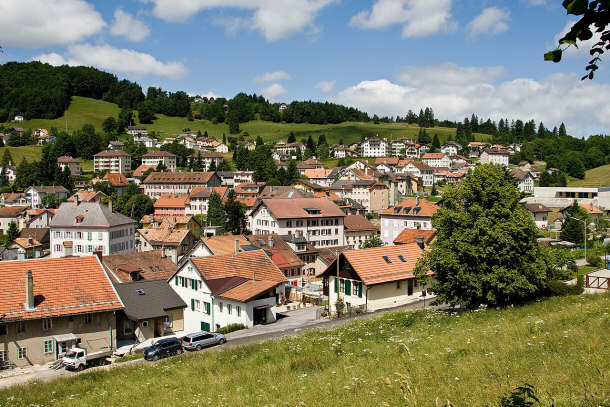 By Roland Zumbuehl via Wikimedia Commons
It was started by a clockmaker by the name of Antoine Favre-Salomon, who invented the very first musical pocket watch. It is kept alive today by the town with many companies and workers over the years, who kept the capital of mechanized music thriving with their hard work.
Mechanical Musical Playing Piano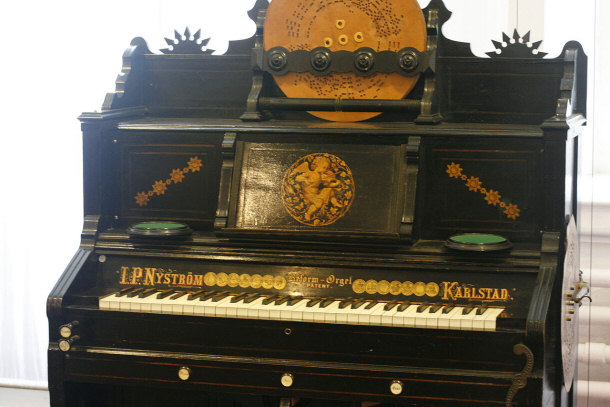 By Rama, via Wikimedia Commons
The museum proudly displays much of the historic work to this day, keeping entertainment hand in hand with education provided on its tours. They are held in different times throughout the year, so be sure to check their website or call ahead for the latest schedule.
Crank Powered Mini Pipe Organ Music Box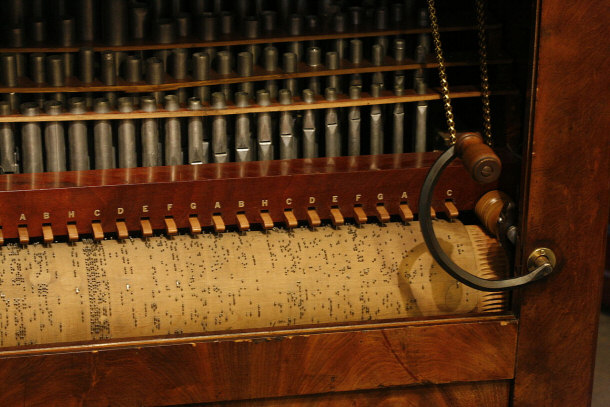 By Rama, via Wikimedia Commons
Regardless of what time you go, traveling there is always easy. It is only a matter of catching the Yverdon–Sainte-Croix train from Yverdon-les-Bains railway station, and you'll be at CIMA in no time.
---
14) Maison Cailler
Of course with certain museums, there must be more than just music. While the beautiful sounds feed the soul, something should also be there to feed the stomach. Though a chocolate factory in name, a delicious visit to Maison Cailler in Broc, Gruyere will educate you as well as satisfy your sweet tooth.
Village of Gruyere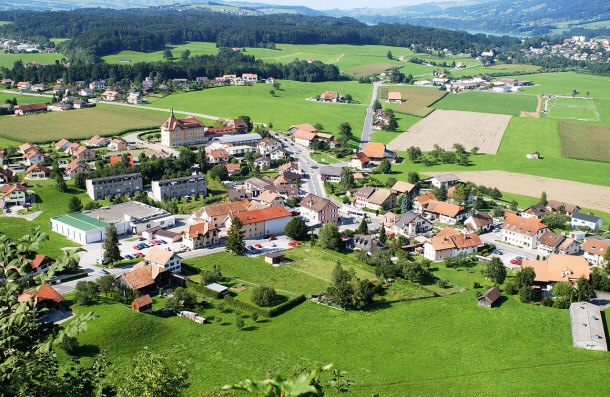 By Jeanhousen via Wikimedia Commons
It has guided tours on the humble beginnings of the workshop in 1898, continued all the way to the 1960's, though it still remains and produces sugary candies today. The tickets are cheap to get inside for adults, and it also offers senior discounts to the elderly and even allows children 16 and under in for free.
Maison Cailler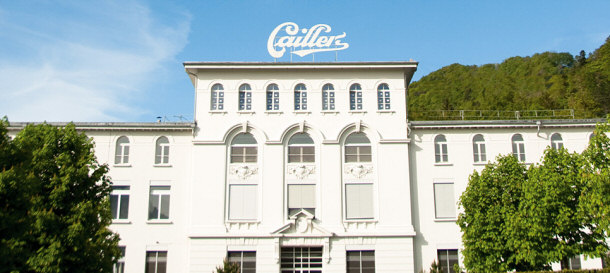 Courtesy of cailler.ch
Sweet! Offering a chance to actually watch the chocolate be made through video cameras spread throughout the tour, a very in depth look is given to the whole process, from the beans selected to the very end for wrapping and shipping. As a bonus, the tour ends with taste testing of the chocolate and the offer to buy their fine product. True, you may end up eating the souvenir of your visit, but it certainly will bring up tasty memories when you do.
---
13) Convent of St. Gall
For the seekers of truth and spirituality, one of the places to see you must pick is St. Galley Abbey District, located in Saint Gallen. One spot in particular is of great importance, the Convent of St. Gall and the Baroque cathedral residing with it. Established in the late seventh century by Saint Othmar, it was the beginnings of a place to build the arts and science. It was continued on under Abbot Waldo of Reichenau. This man would ensure the start of the library in its early form, and drew many monks and learned men to plant the seed of wisdom and truth who all had the wish to see it grow, as well as prosper. It is a convent holding libraries and archives with over 160,000 books and a little 2,000 manuscripts. It's no wonder that it was added to the list in 1983 with such a rich collection. The Abbey Library, also dubbed the healing place of the soul, or Seleenapotheke, is world-famous and open to visitors all year round. The only exception to this is the three week period at the end of November and beginning of December.
Interior of St. Gall Abbey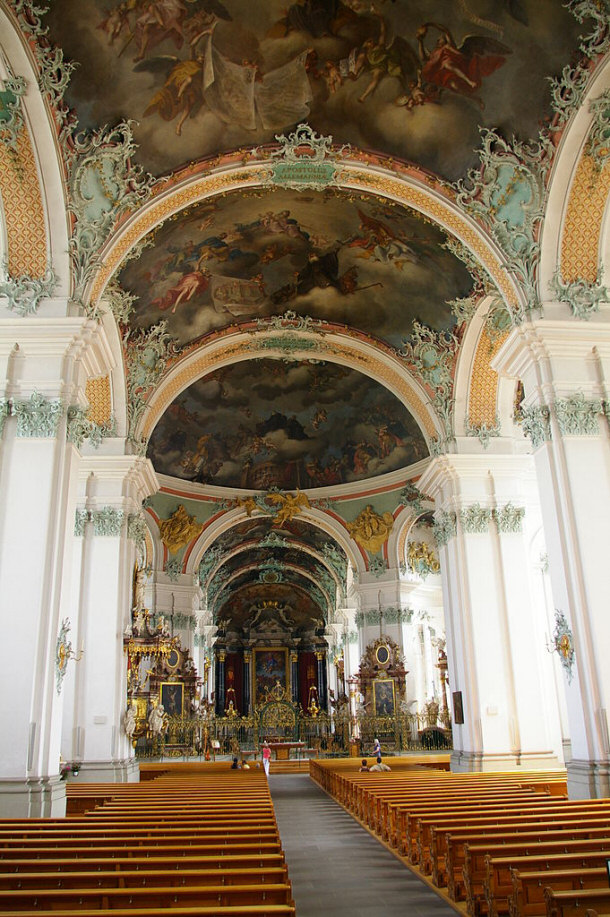 By 3s via Wikimedia Commons
All other times it a treasure trove for the inquisitive minds that love knowledge for knowledge's sake.
---
12) Benedictine Monastery with Black Madonna
The Benedictine Monastery located in Einsiedeln, Swizterland is quite a sight. It has many visitors for a long time, and the number is growing. For over one thousand years, many pilgrims have come to this place on a journey not only of physical location, but of spirit as well. The Mercy Chapel and the Black Madonna inside date from as early as the fifteenth century, and are wondrous sights to behold. They make this a must-see on your list of places to visit.
Benedictine Monastery - Einsiedeln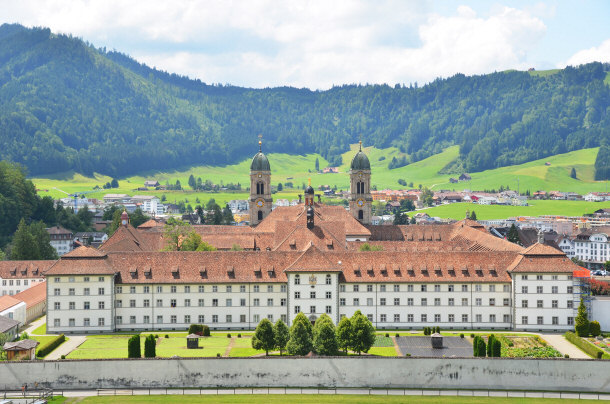 Black Madonna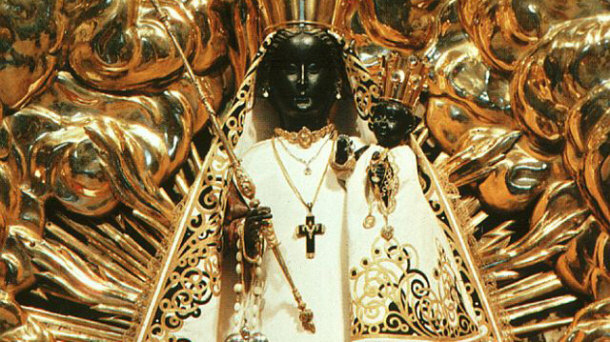 Courtesy of myswitzerland.com
Of course there is also the beauty outside of the monastery as well as in; the surrounding countryside is a beautiful place to take in. Between a stunning lake with deep blue waters and the many mountain tops, the area is clearly good for the body and soul. It shuns no one and welcomes all pilgrims and visitors, no matter how long or short their stay.
The monks that still live there today are hardworking and self-sufficient, and have a school, rooms to stay, horses, and a cellar for the storage of wine. Open invitation stands for anyone who wishes to join them, if it were just a simple tour or to stay there and work as well. It's a beautiful place to visit, and maybe even to eventually live as well.
---
11) Swiss Sewing Machine Museum
The next of these places to visit is in Fribourg and the Swiss Sewing Machine Museum.
Fribourg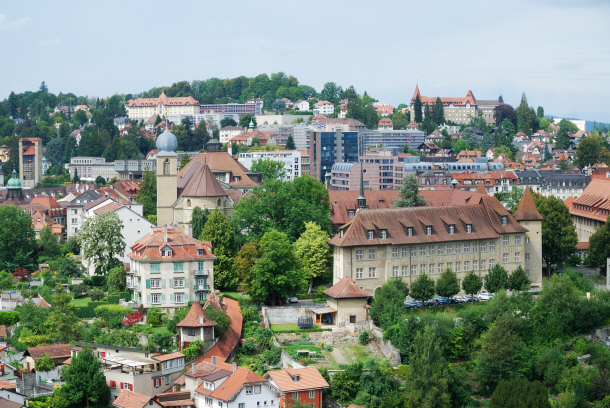 While knowledge is important, and of course, it was the belief of those holy men that it was sacred, there is yet another thing that was, and still is, crucial. After all, cleanliness is close to godliness, is it not?
Inside of the Swiss Sewing Machine Museum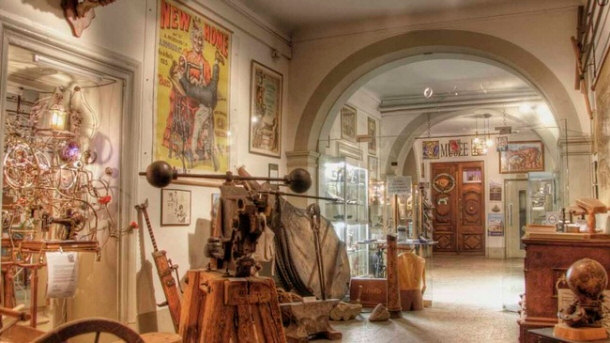 Courtesy of myswitzerland.com
While this museum has a very straightforward name, it isn't all about sewing (though there is a grand collection of over 250 sewing machines). Misleading though it might appear, the museum is in fact dedicated to the so-called "art" of cleaning. With machines ranging from the eighteenth and nineteenth centuries, there are all sorts to see and take in. Vacuum cleaners that would be the end of beating out carpets, different irons from different times and countries for smoothing out the wrinkles in clothing, and even several scrub boards to the great washing machine that made life easier for many housewives. It's almost nostalgic to look at, seeing how much more of a hassle housework was, and this museum worth a good laugh, especially for the ladies.
---
10) Lake Geneva
In tenth place is Lake Geneva. It would hardly be a complete list on the various attractions of Switzerland if only museums, libraries, and religious grounds were covered in this list. The outdoors is every bit as interesting, fun, and fulfilling to those that choose to pursue it. Lake Geneva is a prime example. It rests between Switzerland and France, and is crossed by boat several times a day by many people, both for business and pleasure.
View of Lake Geneva - Montreux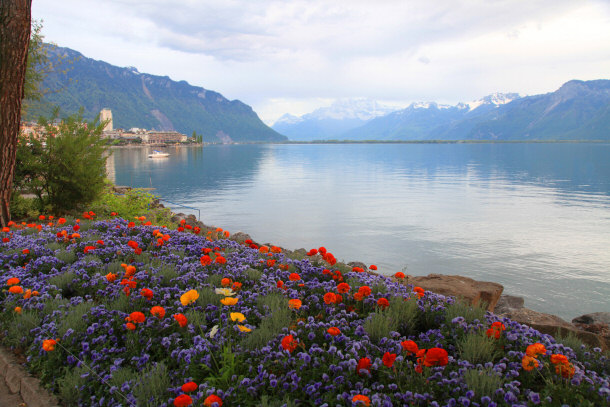 The shores offer an exciting night life in the surrounding city, pastures and farms for calming atmospheres, and beautiful picnic areas to enjoy the simplicity of nature's true beauty. It's also nice to know that you can skip, or row really, right over to France. Prices are typically cheaper in France, which makes crossing Lake Geneva for a day a great opportunity if you wish to get more bang for your buck, and check out another country during your European vacation.
Vineyards of the Lavaux Region and Lake Geneva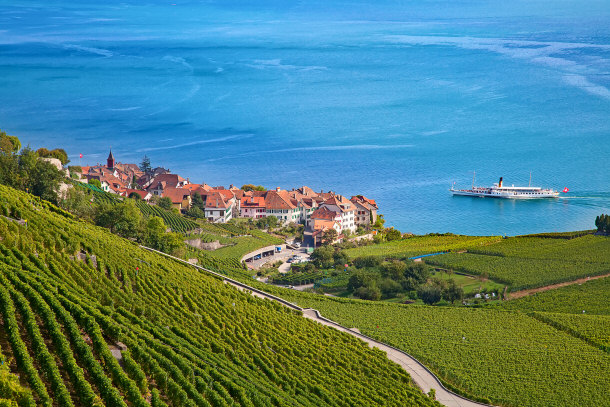 While there are many things on shore to see, it's definitely the lake itself that earns a spot on this list, its pureness and simplicity are too calming and relaxing to risk missing. Vacations of course are for relaxing, and few places to visit are better for that than the spanning waters of Geneva.
---
---
9) Swiss National Park
Certainly if you are a nature fan, you have to go big eventually. As beautiful as simplicity is, there is a whole landscape waiting to be explored, and the Swiss National Park is the place to do it. Located in the Alps, it is the only national park in Switzerland and is more than 170 square kilometers in size. Founded in 1914, it just happens to be the oldest park protected in central Europe and the Alps.
Some of the Breathtaking Views That the Swiss National Park Has to Offer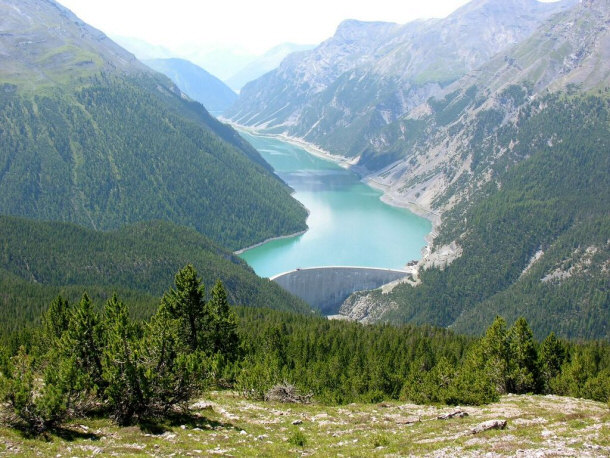 By Hansueli Krapf via Wikimedia Commons
The staff is dedicated completely to the protection of the area and the wildlife inside, from beasts to flowers. Research ensures that the job is done correctly, with ongoing study about the land providing those who work here with information and guidance they are happy to relate to visitors. With walking trails and booklets on the species of animals, much can be learned about the area. And of course, the best upcoming event is the anniversary of the park's founding a century ago. On August 1st, 2014 an opening ceremony and celebration will be held to honor the hundred years of success, followed by open theater and tours. For any nature lover, it's an event that should not be missed.
---
8) Reichenbach Falls and Rosenlaui
Reichenbach Falls is truly a place for the visitors seeking the cozy feel. Romantic and close, it's a wonderful place to bring a date or significant other for some time alone, cuddling in the cool air and admiring the wonders and beauty around you. Small but natural walkways cut right through the limestone that make up the waterfall.
Reichenbach Falls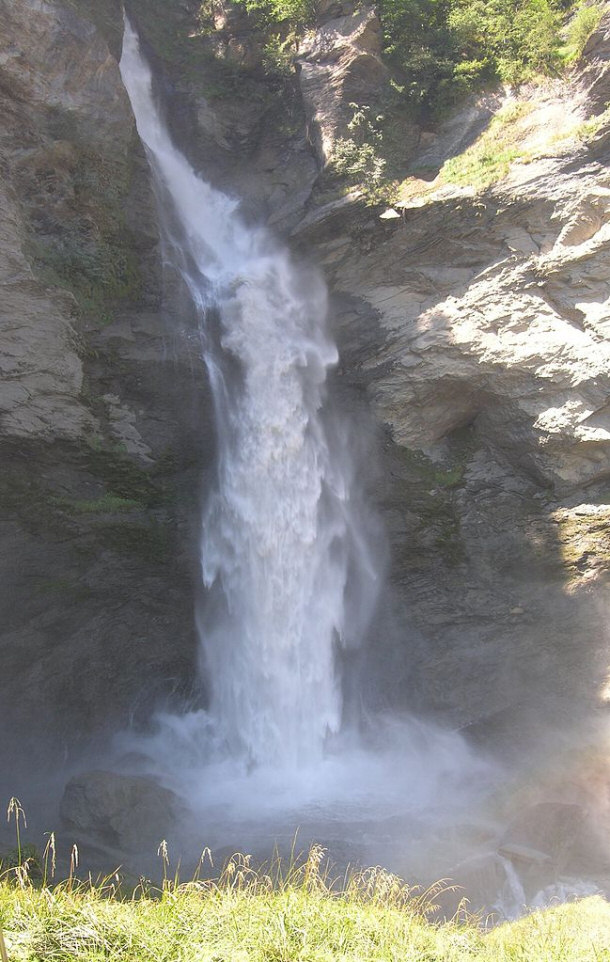 By Audriusa via Wikimedia Commons
Glaciation has cut through the rock, making only a sliver of the sky visible to the eyes. This area has other significance to it, and in this case it is a literary symbolic location that has to be seen by any fan of Sherlock Holmes. In the reported last tale of the character in the self-named detective stories, it is here that Sir Arthur Conan Doyle would end his series. In Rosenlaui is the now famous Reichenbach Falls, made so by the supposed death scene of Detective Holmes, despite his coming back years later to have even more books and more adventurers.
Rosenlaui from a distance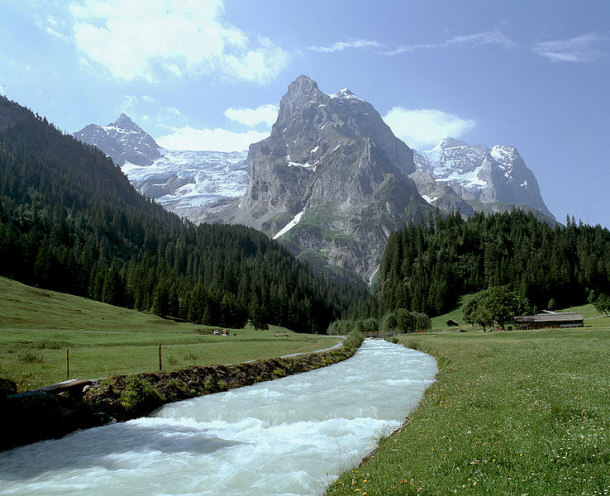 By Otto Schemmel, via Wikimedia Commons
Rosenlaui Region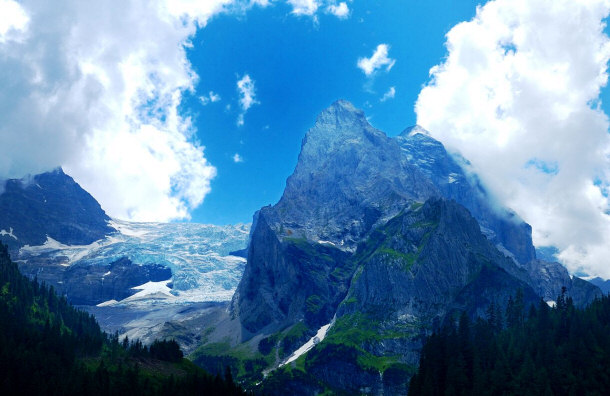 By Earth explorer (Own work) [CC-BY-SA-3.0], via Wikimedia Commons
This area can be reached by foot from the nearby Hotel Zwirgi, or by a cable car that will take you straight to the location. A hot spot despite such a cool place, a trip the Reichenbach Falls is something that should be included in any literary fans list of things to do.
---
7) Giessbach Falls and Hotel Giessbach
The Giessbach Falls is without a doubt another great place to see. There is a walking path for the waterfall that was created in the 19th century, letting you walk right underneath the falls.
Giessbach Falls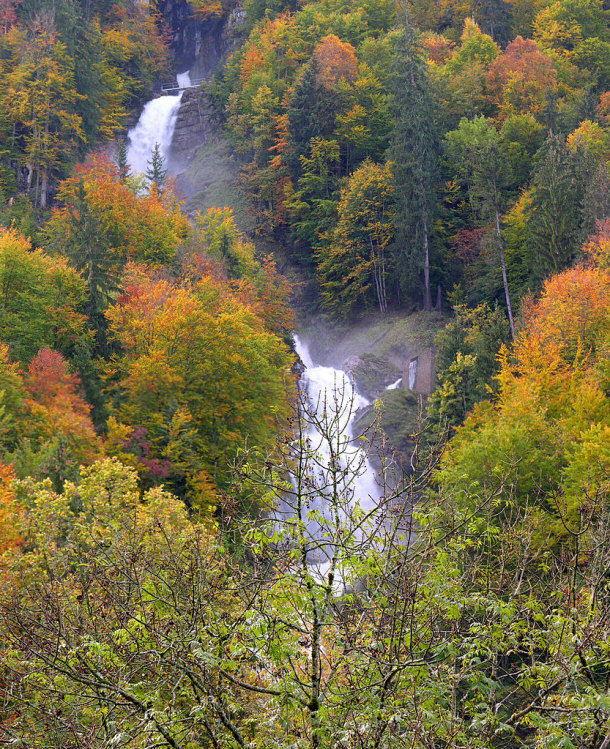 By Hansueli Krapf, via Wikimedia Commons
It's bound to be cold, but fun experience to just be able to splash around. For a rest, and maybe a nice little dry off, there is the Hotel Giessbach. Built in 1873 and finished in 1874, it sits on the lake Brienz, next to the waterfalls of Giessbach. Home away from home for some, it's a secluded place perfect for privacy and escape from the everyday world.
Hotel Giessbach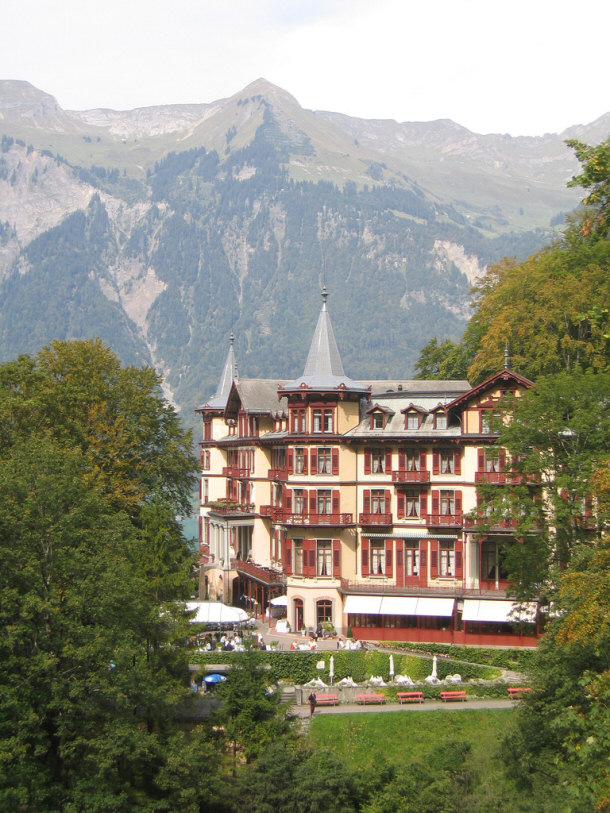 By Bernhard Suter from New York City, via Wikimedia Commons
With restaurants and bars, ballrooms and events, it's the perfect spot for someone who wants a pinpoint, event by event for vacation plan, along with someone who just wishes to walk around and destress from the normal affairs of life. Groups both small and large are welcome, especially in the winter when party plans are in full swing for Christmas.
---
6) Sachseln - Älggi Alp
Ever wonder about the exact middle of a country? If you do, then Sachseln is right up your alley. In the year of 1988, the Federal Office for National Topography decided to find the center of gravity of the country.
Sachseln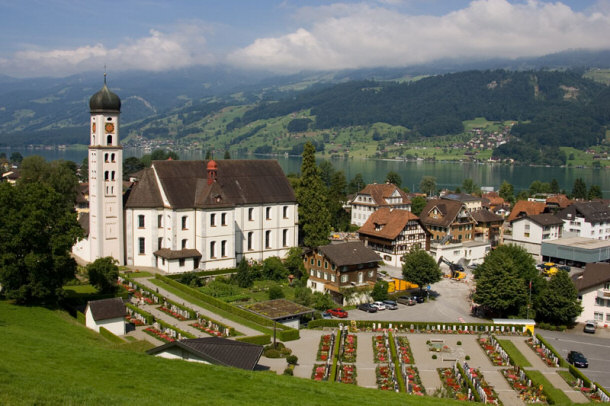 By Roland Zumbühl via Wikimedia Commons
Though the exact location is 46° 48' 4" N, 8° 13' 36" E, the place was moved 500 meters away, mostly because the exact point was on a cliff that was almost impossible to get to. A more scenic area was selected, and is now enjoyed greatly by tourists and locals alike. Perfect for picnics, holidays, trips, and gatherings of school children, it's well marked and easy to find.
Not just a spot on the map however, since it has several paths to walk or stroll along, a restaurant if you have no interest in cooking yourself, and plenty of outdoor sights, like small waterfalls and a petite lake. Best of all, it's an easy to get to this spot. You can get there by bike, foot, or car at almost any time of the year.
---
5) The Swiss Museum of Transportation
Another must-see is the Swiss Museum of Transportation in the city of Lucrene. Very few things were more important to the creation of modern society than the automobile, or even transportation in general.
City of Lucrene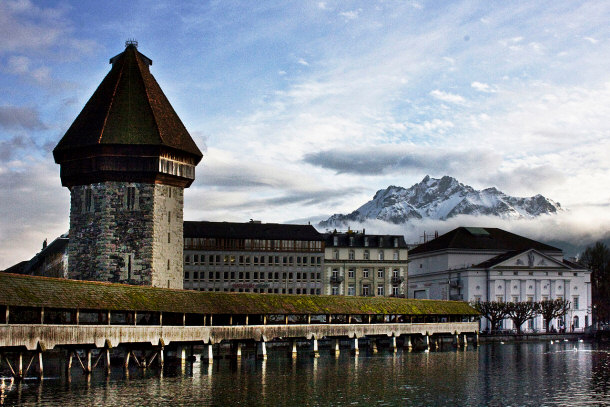 By Horst Michael Lechner via Wikimedia Commons
Though cars seem like they have been around forever, they are a brief blip on the history of transportation. At the museum, you can view exhibits that cover transporting by road, water, rails, and even space, as well as the development and history of different methods.
Old Coach at the Swiss Museum of Transportation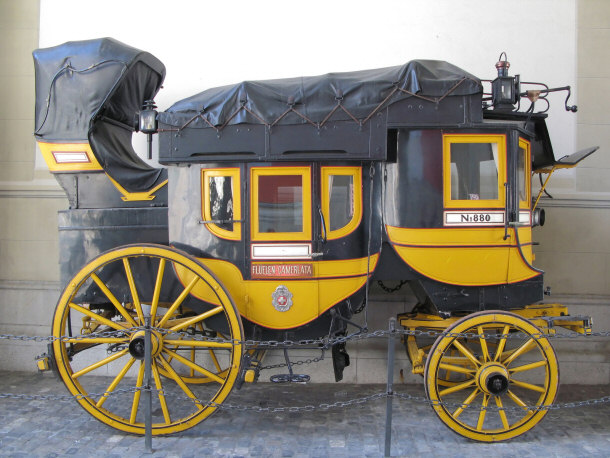 Located in Luzern, or Lucerne in English, and opened in 1959, it is 20,000 square meters. Numerous tours are available for the different parts of the museum, and the lengths of these tours vary from the shortest, forty-five minutes, to the longest, an hour and a half. Interactive areas like the locomotive simulator let you feel like you're conducting a real train, and train conductors will share their real life experiences.
Interior of a Convair 990 Used by Swiss Air on Display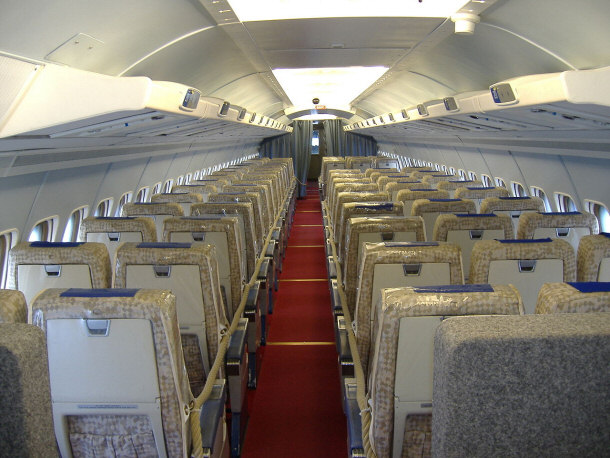 By Prijs, via Wikimedia Commons
Tickets are available at the door, but also can be purchased online for group discounts. To sweeten the deal, anyone using public transportation to get to the museum is granted a ten percent discount.
---
4) Cave Mills of Col-des-Roches
Established over four hundred years ago, the Cave Mills of Col-des-Roches is located near Le Locle, and is the oldest factory on this list by a long shot. Subterranean in nature, these water-powered mills where built by the residents of the region, and offer a unique view on the history of mills and sawmills. As this is the only cave factory in Europe, it was important to maintain.
Entrance to the Cave Mills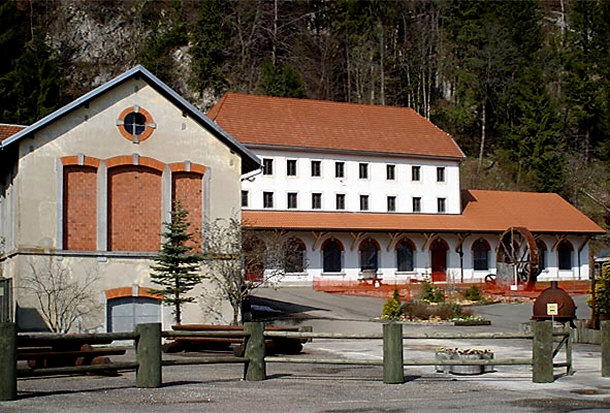 By Roland Zumbühl (Picswiss), Arlesheim, via Wikimedia Commons
Now open to the public thanks to the hard work of volunteers, it is a testament to the determination of man and how many times perseverance, and maybe even pure stubbornness, can pull something through to the very end at success. Not only are the mills themselves viewable to the everyday public, but a museum has been set up to teach all visitors about the historical significance of the mills, how they came to be, and even how they looked thanks to the restoration of much of the original equipment.
Col-des-Roches Canyon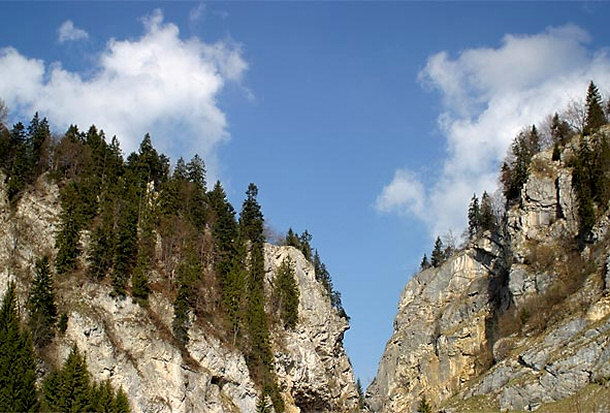 By Tschubby via Wikimedia Commons
Be warned though, the mills have always been, and will always be very chilly. With a temperature of only seven degrees Celsius, or almost 45 degrees Fahrenheit, you'll want to bring a sweater.
---
3) Salt Mines of Bex
Another fascinating place to see is the Salt Mines of Bex. Salt was known as white gold, and for very good reason. It was a much more desirable commodity a few hundred years ago than it is today. One of the only ways to preserve food and keep it from going bad, those that had salt to sell had money, and so, in many ways, salt was money. Naturally, the salt that was left in the Canton of Vaud was highly valued.
Bex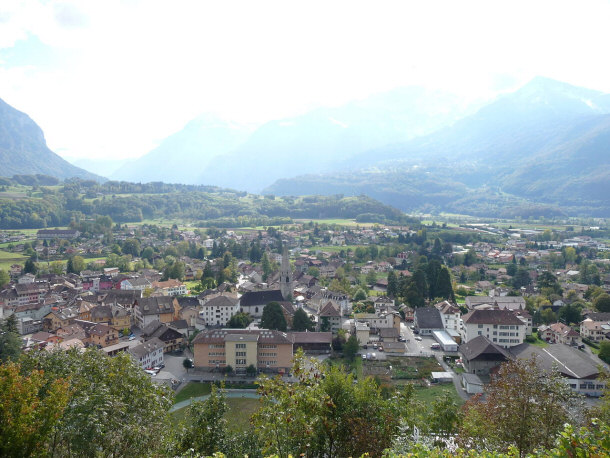 By Sandro Senn via Wikimedia Commons
Millions of years ago, the tunnels were underwater. Salt deposits were left behind when the sea receded, and in 1684, mining started in order to take advantage of the wealth left behind by those ancient waters.
Bex Salt Mines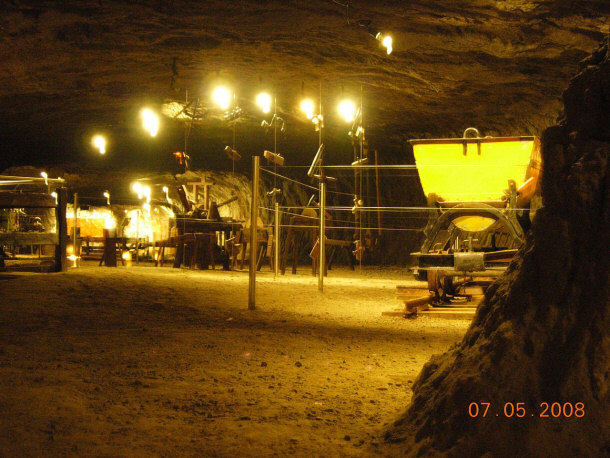 By Tomasz Wachowski via Wikimedia Commons
Tours of the tunnels and mines are offered to anyone eager to see the area and learn about how the mines were used. Visitors can see depictions of how salt mining was done in the year 1684. Even today, the mines provide a rich abundance of the mineral, yielding 10,000 tons of salt every year. Break out the French fries for the salting, you're certainly going to be able to enjoy a lot of them in a place like this.
---
2) The Swiss Path
Next up is the Swiss Path that surrounds Lake Urn in the middle ground of the country. In 1991, on the seven hundredth anniversary of the Swiss Confederation, a 35 kilometer long path was made and named the Swiss Pass. It begins at the birthplace of the confederation, Rutli Moutain, and comes to end at Brunnen at Platz der Auslandschweizer.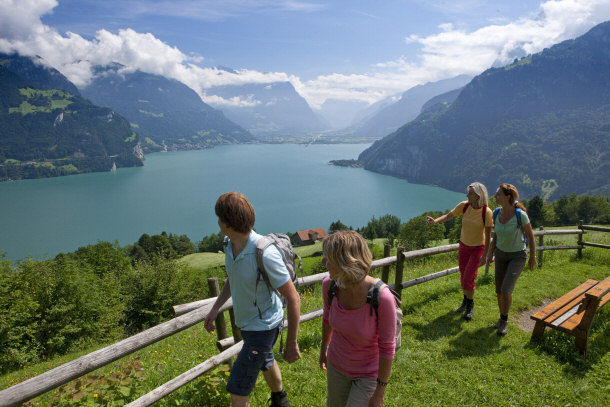 © Lucerne Tourism
Platz der Auslandscweizer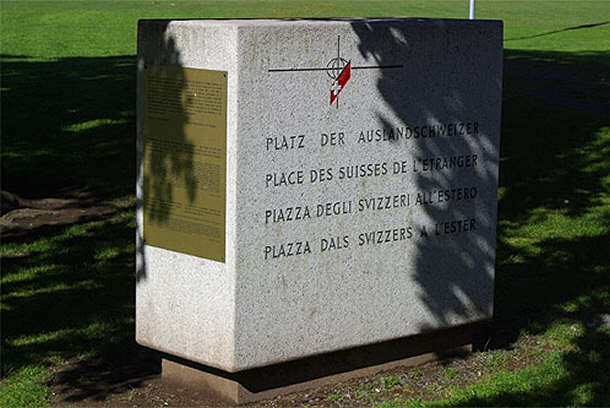 By Roland Zumbühl (Picswiss), Arlesheim, via Wikimedia Commons
The Swiss Path curves around Lake Urn, stretching almost all the way around the body of water. Not only for walking, it is wheelchair accessible, and has several stopping points where you can find inns to rest or spend the night before continuing your journey. It is possible to push through and finish in a day, but the relaxed mood of the place encourages travelers to take their time. The path is easy to access, and many modes of transportation will get you here, including car, train, and even ship. As well as the many other sightseeing perks, there are several religious sites for the spiritually inclined traveler, including a chapel for pilgrims by the name of Maria Sonnenberg. The land is beautiful and fun to cross over, but it is the deep meaning inherent in many of these places that makes the Swiss Path one of the best places to see in Switzerland.
---
1) The Matterhorn
Finally, definitely the biggest and easily the best attraction in Switzerland is the Matterhorn, located near the town of Zermatt.
Zermatt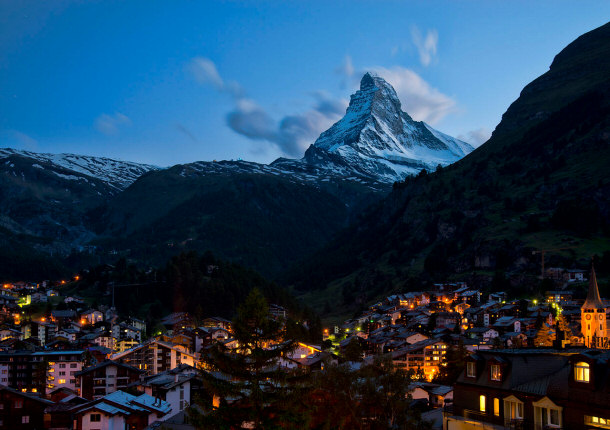 By Chensiyuan via Wikimedia Commons
With a summit that is 4,478 meters high, it is one of the tallest peaks in all of the Alps and remains a considerable challenge to anyone who wishes to tackle it. The Matterhorn claimed the lives of four of the seven men who made the very first ascent in 1865.
It has since become much safer with the installation of rope-ways, rails, ladders and even cottages for less experienced mountain climbers who want to make the attempt. Still, it is not for the faint of heart, though the thrill you feel when reaching the peak can give you a pleasure like no other.
Panorama of Matterhorn - Landmark of Switzerland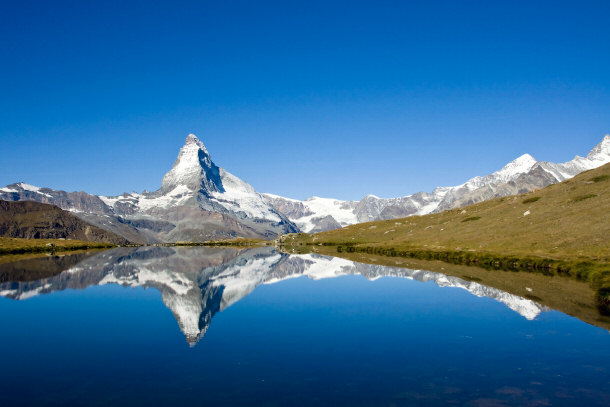 Even tackled more casually up to a certain point, there is fun in this beautiful mountain. Found on the border of Switzerland and Italy, it is one of the truest symbols of the country.
Cable Car Transport to Matterhorn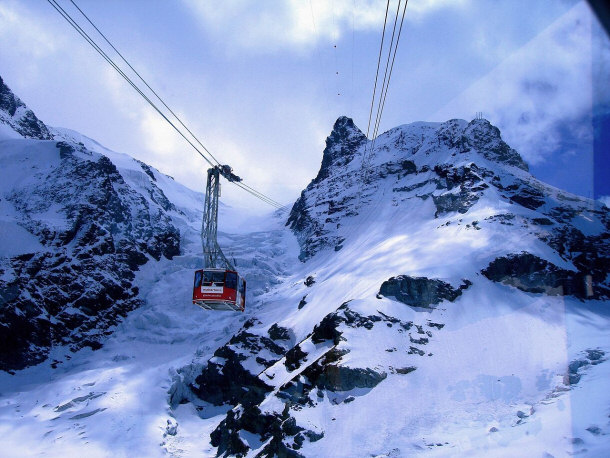 By Papa Lima via Wikimedia Commons
---
Final Words
Switzerland clearly has much to offer for both new visitors, and those who have been there before. Between the rugged and beautiful outdoors, rich and abundant history, and unique and interesting activities available, no traveler will be lacking in things to do once they get here. Whether you prefer the excitement of the outdoors, the peace of spiritual pursuits, or the satisfaction of learning even more fascinating pieces of history, you can find something to please your mind, body, or soul. Choose to pursue the activities that are most appealing to you, and then see if you can work some of the other sights and attractions in as well. You may be surprised by how much fun you'll have. Just remember to pause and savor a chocolate or two along the way.
Vacation Destinations
Top Lists:
Top 15 Interesting Places to Visit in the Bahamas
Top 15 Fun Things to Do in Miami, Florida
Top 15 Fun Things to Do in Chicago
Top 15 Best Unknown Things to do in Las Vegas
Top 15 Fun Things to Do in Hollywood
Top 10 Best Places to Visit in Turkey
The Top 15 Best Things to Do and See in Sydney
Top 10 Things to Do in Edinburgh
Top 10 Things to do on Oʻahu
Top 15 Things to Do in Albuquerque
Top 15 Interesting Places to Visit in Spain
Top 15 Places to Visit in New York City
Top 15 Things to Do in Portland Oregon
Top 15 Things to do in Greece
Top 15 Places to Visit in Houston Texas
Top 15 Interesting & Safe Places to Visit in Mexico
Top 15 Interesting Places to Visit in the Netherlands
Top 15 Interesting Places to Visit in Thailand
Top 15 Interesting Places to Visit in Switzerland
Top 15 Interesting Places to Visit in Portugal
Top 15 Places to Visit in San Francisco
Top 15 Interesting Places to Visit in Shanghai
Top 15 Interesting Places to Visit in Puerto Rico
Top 15 Interesting Places to Visit in Norway
Top 15 Interesting Places to Visit in Las Vegas
Top 15 Interesting Places to Visit in Jamaica
Top 15 Interesting Places to Visit in Croatia
Top 15 Interesting Places to Visit in Belgium
Top 15 Interesting Places to Visit in Bangkok
Top 15 Things to Do in Rio de Janeiro
Top 15 Things to Do in Monaco
Top 15 Interesting Places to Visit in Dubai
Top 15 Interesting Places to Visit in Amsterdam
Top 15 Things to Do in New Zealand
Top 15 Interesting Places to Visit in Paris
Top 15 Interesting Places to Visit in Italy
Top 15 Interesting Places to Visit in Singapore
Top 15 Most Interesting Places to Visit in Berlin
Top 15 Best London Attractions
15 Little Known Facts About New York City
Disney World Articles
Top 15 Disney World Rides for Adults
Top 15 Disney World Rides for Kids
Top 15 Disney World Resorts for Adults
Top 15 Disney World Resorts for Kids
15 Fascinating Facts About Disney World
Top 15 Fun Things to Do at Disney World's Animal Kingdom
Top 15 Fun Things to Do at Disney's Hollywood Studios
Top 15 Fun Things to Do at Disney World's Epcot
Top 15 Fun Things to Do at Disney World's Magic Kingdom

Shorter Top Lists:
Top 10 Tourist Attractions in San Diego
Top 10 Tourist Attractions In India
Top 10 Things to Do In Kansas City
5 Places You Should not Miss in Brazil
Top 5 Things to do in New York City

Informational:
Best Tourist Attractions In Vietnam
Taking in the Sights in Shanghai
Top Tourist Attractions in Perth, Australia
Nice places to visit while in Great Britain
Sampling the Foods at the Night Markets in Taipei
What to do for a Kenya Vacation
Best Attractions in Victoria, B.C.
Photos of the Luxor Hotel in Las Vegas